Mohe County 漠河縣 in Heilongjiang Province黑龍江省is said to be the only place for viewing aurora北極光 in China. A Northern Lights Festival 北極光節 is held annually in Mohe on the date of the Summer Solstice夏至and it is claimed that aurora can be seen around that time. I was puzzled by such claim and decided to make an investigative trip.  Joined by Elaine, Tsui and Kai, we set off on June 16 for Harbin 哈爾濱and arrived at the northernmost settlement which is now named as the Arctic Village北極村at the latitude of 53° 29`N after a 20-hour train ride. As expected, I did not see aurora and the trip is a disappointment for the time and efforts I have spent.  
Background
Aurora is phenomenal and a wonder of the Mother Nature.  In May, I saw a couple of 6-day tours for aurora viewing in Mohe for about HK$10000. I cannot believe that aurora can be seen in June at that altitude. Elaine, Tsui and Kai who travelled with me to Nanjing南京 last October were interested. We decided to travel on our own as the departure dates of tour groups did not suit us.
During the Northern Light Festival, it would be difficult to book plane and train tickets and reserve hotel accommodation. As there is no direct flight from Hong Kong to Harbin, we decided to fly to Harbin from Shenzhen深圳.  Lawrence my brother who lives in Kunming昆明 asked a local agent in Harbin, capital city of Heilongjiang to arrange a private trip of us. We paid a total of RMB7812 for five days' accommodation, train tickets, transportation in Mohe and a day trip in Harbin.
Heilongjiang Province黑龍江省
Located in the northeastern part of China, Heilongjiang has a total area of 454,000 sq. km and a population of 38 million. Its GDP reached US$198.4billion with a GDP per capita of US$4,000 in 2011. In 1858 and 1860, the Qing清government was forced to give up all land beyond the Amur and Ussuri Rivers to the Russian Empire. The province bordering Russia to the north and east contains China's northernmost point (in Mohe County along the Amur River) and the easternmost point (at the junction of the Amur and Ussuri Rivers).
Harbin 哈爾濱
Harbin, capital of the province, was originated in 1898 from a small village. It was founded by a Polish engineer Adam Szydiowski following the construction of the Chinese Eastern Railway, an extension of the Trans-Siberian Railway. Russian influence declined following her defeat in the Russo-Japanese War in 1905.
 During the heyday of the metropolitan city, several thousand nationals from 33 countries lived there and 16 countries established consulates with hundreds of commercial, industrial and banking companies. Over 30,000 Russians, 5000 Jews, over 500 Japanese and German resided in Harbin by early 1910s. The city enjoyed 30 years of rapid development with the construction of many gorgeous buildings. The local cuisine is also Russian influenced. The bakeries are famous for their bread da-lie-ba derived from the Russian word khleb.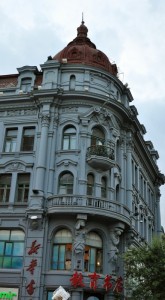 After the Russian October Revolution, Harbin became the largest Russian enclave outside Soviet Union and a major centre of White Russian émigrés with over 300000 Russians at one time. From 1932 to 1945, the present day Heilongjiang province was occupied by the Japanese.
Harbin with a population of about 6 million in the municipal area is now the political, economic and communications hub in Northeast China. Known as the "Ice City", it is famed for its ice sculptures 冰雕 and Russian legacy. The city still plays an important part in Sino-Russian trade today. Also known as "Oriental Moscow" and "Oriental Paris", Harbin is an architectural germ, a living architectural museum displaying plenty of Russian and western influences. Eastern Orthodox, Roman Catholic and Protestant churches dot the city.
June 16 (Saturday): Hong Kong – Shenzhen 深圳– Harbin哈爾濱 via Nanjing南京
I met Elaine, Tsui and Kai at the Elements, West Kowloon at 12:15pm. It only took us an hour to reach the cross border check-point and another half an hour to the Shenzhen Airport深圳機場.
Things did not work out well for this trip from the start.First our plane scheduled for departure at 4:40pm was delayed for over two hours. After a brief stop-over at Nanjing, we finally arrived at Harbin airport around 11:30pm.
Second, we were cheated by the taxi driver. We were told it would cost about RMB120 for a ride to the hotel. But the reading on the meter was RMB 220. The meter must have been tampered.
Third, the hotel next to the train station which was once a decent hotel in early 20th century was terrible. I was put off by the smell and the lack of fresh air. The bed sheets do not look clean. The toilet did not work properly and I had to wade through pools of water.
Fourth, we were hungry and eager to have supper. It was 12:30am and most of the restaurants were closed. The owner of a nearby restaurant agreed to serve us before closing. The place is untidy and dirty: the interior reminds me of the austere atmosphere of the communist era! The food was average but we had to pay over RMB200. Quite expensive for what we had!
June 17 (Sunday): Harbin哈爾濱- Mohe漠河 (overnight train)
I did not sleep till 2am and was woken before 7am by Ms. Wang王小姐, our local travel agent. She told us to get ready to depart for a city tour at 8am! I thought we had booked a private tour and could leave whenever we wished. I told her we were too tired and would not leave till 9am.
Ms. Wang called a couple times as she was anxious to collect the outstanding amount of RM5812 from us. Apparently she had sent a message to my phone the night before. I had not turned on the phone and had no idea about the proposed arrangements.
Finally, I gave up and met Ms. Wang at the lobby at 8:30am. I told her that we were not satisfied with the hotel and wanted a better one on our return from Mohe. She put us in a taxi so that we could join the city tour group at the Dragon Tower龍塔.
Second, it was a mistake to join a local city tour group. There were 20 day-trip passengers in the coach and our guide is young and smart. But our expectations and culture are very different from those in the Mainland. We paid RMB100 each for tour. It would be better for us to take taxi or hire a car for the day.
The Dragon Tower is a landmark in Harbin.  Built with lattice steel in 2000, it rises to 336m. The entrance fee is RMB150. I do not find the panoramic view extraordinary. But what I dislike most is the way the operator encourages superstition. There are many Buddha statutes on one floor, another deity on another and a blessing chamber on the third. The operator keeps asking visitors to put money in a donation box.
The next stop was St. Sophia Cathedral索菲亞大教堂, an Orthodox church in the heart of the city. The Cathedral resembles those commonly found in Russia. The guide said there was nothing much to see except some old photos (He is wrong!). As we only had 10 minutes for photos, we decided to come back on June 22.
We however spent over half an hour in a shop selling Russian products including chocolate, fur, knives and dolls. The guide made clear that his livelihood depends on commissions and appealed to us to help by spending say RMB100 per person on souvenirs.  We spent a lot and bought Russian dark chocolate and Elaine had a nice Russian chocolate ice-cream!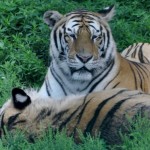 The fourth stop was the tiger sanctuary with some 1000 China's north-west tigers. The entrance fee is RMB90. Here we at least had to get into the sanctuary in a minibus provided by the operator.  The tigers look beautiful and majestic. I note many of them walk in pairs. There is a pair that walks particularly closely together but with a fence between them!   It's my first time to see so many tigers which seem well-fed. They have space to bask in the sun and stretch their legs. But I prefer to see them in the wild!
The local guide took us to a seafood restaurant for lunch.  We could not believe the most expensive fish cost almost RMB300 a catty.  We did not have fish as it's not value for money.  Things are expensive and we paid over RMB300 for a very modest meal.
We went to the famous Sun Island太陽島 after lunch. It was a sunny day and there were hundreds of local visitors. The landscaped park is a favourite spot for wedding photos. We paid RMB110 to go into an ice hall冰雪艺术馆to see ice sculptures. It must be -20°C inside. Though I had put on a heavy coat provided free at the entrance, my fingers were still frozen. But it is nothing compared with my experience on my first visit to Harbin to the outdoor Ice Sculptures Festival in 1983 when the temperature dropped below -30°C.
Our last stop was a
Russian village
. As the island had been mainly inhabited by Russians at the beginning of the 20
th
century, there were a number of old wooden houses in Russian style. The local authority and the Russians have restored some 20 old wooden houses and turned the area into an attraction.  I saw a couple of Russians employees around. But they all looked bored and dispirited!
In the evening, the guide arranged us and a family of three from the Shandong Province to see a Russian cultural performance in a restored Russian theatre. According to the guide, it is the only place in China to see a topless dance脱衣舞! We paid RMB298 each for the show with dinner.  The place was full and there were 15 tourists from Taiwan. We had a quick dinner with Russian broth, grilled meat followed by steak. The food was average and the service was poor.
I thought I had gone to the wrong show when several Shaolin monks appeared and performed kung-fu功夫. Then a senior monk in his late 50s appeared and wrote in ink the character for Buddha 佛in a single stroke. It was auction for RMB1300. Another piece of calligraphy written earlier fetched another RMB1500. It was said the money would be spent on an orphanage.
After almost half an hour, several Russian girls in glittering bikinis came on stage and dance. Three men were invited on stage to take part in a couple of games.  The girls threw their bra off a couple of times leaving their nipples covered by bright gold, red and blue stars! These dancing girls cannot compare with the beautiful tall blonde Russian girls I have seen in Moscow and St. Petersburg. The so-called topless dance is nothing compared with the performance in Lido and Crazy Horse in Paris! Photography is not allowed. The Mainland tourists seemed to enjoy the show and jokes.
We had to leave the theatre at 8:30pm before the end of the show. Our local agent insisted we should arrive at the train station before 8:45pm. It was totally unnecessary as the train did not leave till 9:55pm.
The train was air-conditioned and filled with tourists going to the Northern Lights Festival. We travelled 20 hours in a 'hard sleeping' 硬卧compartment (same compartment I have travelled to Lhasa last year). Elaine took the lower bunk, I slept in the middle and Kai climbed to the top. Tsui slept in the lower bunk opposite Elaine. It was Elaine's first night on a Chinese train. As expected, she found the toilet most disgusting. The lights were turned off at 10:30pm. As we were all exhausted, we slept without problem.