My 21-day trip to the Antarctica in 1999 with Quark Expeditions marks the beginning of my love affair with the polar region.  Its pristine nature and surreal scenery dotted with icebergs, floating ice and glaciers all in white, amazing wildlife, emptiness and vastness are bewitching. I travelled in 2002 on Polar Star from Spitsbergen, Norway to Iceland via Greenland. In 2009, I was on Prince Albert which circumnavigated the Svalbard Archipelago and ended the journey in Tromsø, Norway.
| | |
| --- | --- |
|   |   |
My next dream destination is the North Pole (90ᴼN) in the Arctic which essentially covers the Arctic Ocean, Greenland, the northern extremities of three continents (Asia Europe and North America). The Arctic Ocean includes the Barents Sea, Kara Sea, Laptev Sea, East Siberian Sea, Chukchi Sea, Beaufort Sea, and Lincoln Sea. Its surface area is about 14.5 X 10 ⁶ km² of which a summer minimum of 50% is permanently covered by pack ice. This increases to 85% in winter. The mean ice thickness is 2.5m. The depth at North Pole is 4261m.
When planning my round-the-world trip last year, I asked several friends whether they would be interested in a journey to the North Pole. None of them showed any interest. I therefore had to make this 'once-in-a-life-time' journey to mark my 60th birthday on my own.
June 19 Thursday: London, UK (GMT) – Helsinki, Finland (GMT+2)
The epic journey begins and ends in Helsinki. I left London at 10:20am, arrived in Helsinki at 3pm and proceeded to Hilton Hotel Airport on foot. A reception table had already been set up in the hotel lobby for passengers to register. There were many Chinese in the lobby and I wondered whether they would be on the boat.
June 20 Friday: Helsinki – Murmansk, Russia (GMT+3) – on board Ice Breaker '50 Let Pobedy' ('50 Years of Victory') (Ship time – GMT+2)
There were 120 participants on this expedition. We had to fly to Murmansk, the largest city in the Arctic region with a population of over 300,000 and the base of Russian's arctic fleet. We had a wake-up call at 2:30am, left our bags outside the room and had breakfast. We had to check our luggage in the lobby at 4am before proceeding to the airport on foot thereafter.
We picked up our luggage at the airport and checked in. By the time I went through the immigration, it was 5:30am. I find the arrangement unsatisfactory. Most of us are seasoned travellers. I could have got at 4am, walked to the airport with my own luggage when ready and checked in myself.   The chartered flight took off around 7am.
At 9am, we arrived in Murmansk. It's a bleak day. As usual, it took ages to go through the Russian immigration. I finally came out of the airport at 10:30am. Three coaches were already waiting for us. I sat in the bus for an hour and dozed off.  When we arrived at the port, two Russian immigration officers came on board to check our passports. They took some 45minutes to complete the process.
I was excited when I finally set foot at 1:15pm on 50 Let Pobedy. I shared Cabin 18 located on Bridge Deck 3 with Miss Guan from Beijing. Before lunch, I had a quick orientation tour of the boat, the largest and most sophisticated icebreaker featuring a spoon shaped bow. The name commemorates the defeat of NAZI forces invading Russia on the Eastern Front during World War II.
Our boat can carry a total of 132 passengers and 110 crew members. There are three different staff groups i.e. the Captain and his staff, the Expedition and hotel management teams.   The icebreaker is leased out from mid-June to end August. This means that about 600 persons on five expedition trips can visit the North Pole a year! I am surprised to find over half of the passengers on this expedition are Chinese. Over 45 Chinese came from Mainland China, 17 from Malaysia, two Taiwanese from the US and five including myself from Hong Kong.
After lunch, I watched the crew working at the bow. The icebreaker guided by two small boats finally moved away from the pier shortly after 3pm. At the first briefing session, Alex, the expedition leader welcomed us on board and introduced his team comprising a dozen of specialists who would be giving lectures and organizing our daily activities.
At 6:30pm, I had my first dinner on the boat. The sea was a bit rough and I did not feel well. I sat with Lee and Yung from Hong Kong and had some rice and vegetables. Then came two cakes: one for my birthday and one for a couple who celebrated their 40th wedding anniversary. Anyway, my real birthday is June 22. As I could not eat more, I took a piece to my room and had it for good luck as soon as I felt better.I was tired and went to bed at 9pm. When I woke up at 1am, I had trouble getting back to sleep. I went to the bar to take a look at the sea and then spent half an hour reading in the library. Finally I was able to sleep at 3am.
June 21 Saturday (Summer Solstice): Northbound through the Barents Sea
The icebreaker is a working vessel and not a cruise ship. My cabin is basic with a built-in single bed and a sofa bed. My roommate took the bed.  Sleeping was a problem not because of the sofa bed but because of the 24-hour daylight.  The food is surprisingly good by Russian standards (possibly owing to the professional hotel management team headed by a German). There are always three choices on the menu: Ocean (fish), Explorer (meat) and a vegetarian dish. To cater for the Chinese taste, the chef also prepared one or two oriental dishes for the buffet. Free beers, wine and alcohol are provided till 1am! There is a gym, a small swimming pool, a basketball court and two saunas.
As an adaptable person, I soon got into a new routine: buffet breakfast from 8 to 9am, two lectures in the morning, lunch at 12:30pm, two lectures/activities in the afternoon and dinner at 7:30pm. My stomach was still a bit funny this morning.
At 9:30am, I attended the first lecture on 'The Biologist of Polar Bears Part 1' by Condrad, a South African zoologist. He is a good and knowledgeable speaker. I returned to my cabin for a rest which was interrupted by a mandatory lifeboat briefing at 11am followed by a drill.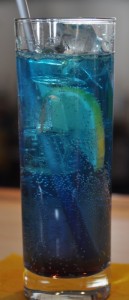 I had a nice grilled trout for lunch. At 1:52pm (i.e.11:52am GMT), Alex announced through the public address system that summer solstice had arrived.  At 2:30pm, I attended a talk 'Unveiling the Arctic' by Bob, a historian from the UK. Unfortunately, I felt asleep owing to his deep and solemn voice and my full stomach.
I took a short lap and was ready for a re-cap and briefing session at 5pm. At the Welcome Cocktail, we met Captain Valentin Davydyants and his team. At dinner, I sat with the Hong Kong gang (Fiona and Roger who are now living in Los Angeles, Yung and Lee). All except Lee are retirees. We have all been to the Antarctica and talked enthusiastically about travelling. After dinner I went to the bar and watched the midnight sun with Kathy, Lynne and Calvin (from the States), Roger, Fiona, and Andy (from Australia). Adam, the bartender is very good and I had a couple of cocktails. I watched the midnight sun shining occasionally through the dark clouds. What an experience!
June 22 Sunday: My 60th birthday at 50 Years of Victory
Today I turned 60 and had a great day. First I had a decent sleep and woke up feeling good. Second, the weather was perfect with clear blue sky. It was the first time we had sunshine on this trip.
My day was filled with excitement and activities. We spotted the first iceberg in a distance and began to see small pieces of floating ice. I attended a mandatory helicopter briefing at 9:30am and an interesting talk by geologist Norm on 'The Rocks We Will be Tripping Over' at 11:30am. Norm explained the evolution of the Earth and various types of land and rock formations in simply terms.
The passengers were divided into 12 groups for activities. I was assigned to Group 6 and my number was 60. What a coincidence! At 2pm, I joined my group on a tour of the engine room. The Chief Engineer told us that the keel was laid in 1989 and the icebreaker was commissioned in 2007 i.e. it has taken 17 years to build.  50 Let Pobedy is the largest icebreaker in the world (length overall 159.6m, breadth overall 30m, draft 11.08m, height 45m on 2 decks, displacement 25,840 tonnes overall) with two pressurised water KLT-40 nuclear reactors each weighing 160 tonnes, three propellers and ten watertight compartments. Its maximum speed is 22 knots and it can penetrate ice of 5-metre thickness.
About 2:30pm, the boat entered the Franz Joseph Archipelago which marked the beginning of our journey on ice. Unfortunately, I was down in the control and engine room to view the nuclear reactors through a window and missed this memorable moment when the icebreaker broke up the first pack ice.
I was captivated by the white and icy scenery. As the weather was nice and warm, I spent a lot of time on deck or at the bridge gazing at the vast white flat empty surface.  At 5pm, I attended Dr Sam's lecture on polar photography. I returned to the bridge standing next to Solan, a member of the expedition team when he sighted our first polar bear at 6pm. It was a female bear: we were all excited watching her from the deck for over half an hour. (I took a few photos but they are not good).
June 23 Monday: Northbound on the Arctic Ocean
When I was on my way to the dining room for breakfast, I heard from the public address system 'bear on the starboard side'. It was a shy bear which walked away quickly. (I did not have my camera and did not take any photo)
We had a mandatory briefing on hot air ballooning at 9:30am. I also attended Bob's lecture 'How Icebreakers do their job'. I learn Russia has the largest icebreaker fleet in the world. A nuclear icebreaker with three reactors is under construction.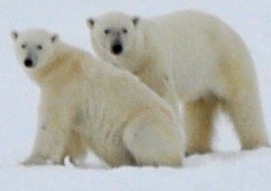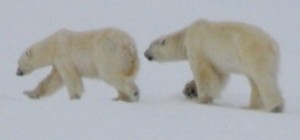 At 2pm I went to the bridge where Bob showed us historical charts of the Central Arctic Ocean and the North Pole. His briefing was disrupted by the sighting of a couple of bears that were courting. My lens are not good enough to catch their intimate moments. Fortunately, Dr Sam had some fantastic shots and showed the pictures at the re-cap session.
At 4:30pm I attended Conrad's talk on polar bears and a ceremony in the bow at 6pm. It is a maritime tradition where all voyagers have to seek Neptune's permission to go to the North Pole. Members of the expedition team dressed up as Neptune, his wife and daughter, devils and a bear. I was standing too far away to hear the words uttered by Neptune. The weather was good and we had fun. Val handed out vodka and I had a shot.
All passengers were scheduled to take two scenic flights during the voyage. As the weather was fine, the flight service commenced after 4pm.  Group 6 was scheduled to go around 7pm. The sky was grey and visibility was so-so. Hence, everything including the ice, the icebreaker and the sea looked dull and not impressive! We were told to dress warmly. But the helicopter was boiling hot inside as there was no fresh air. As a result, I caught a 'heat' flu and my bones began to ache.
July 24 Tuesday: The Polar Pack Ice en route to the Pole
The 9:30am lecture by Norm on 'Ice forms the Arctic' is interesting. Bob's lecture on 'Attainment of the North Pole' provides a useful overall view on polar exploration. After lunch, I watched an interesting film 'The Red Tent' starring young Sean Connery as Roald Amundsen. It is a remarkable film chronicling Umberto Nobile's North Pole expedition on board the airship Italia which crashed on May 25, 1928 and the staging of a dramatic rescue.
The boat was making good progress. We reached 88ᴼN shortly after mid-day and were about 160NM from the Pole. A mandatory talk was held at 4:30pm to prepare us for our landing at the Pole the following day. We had a re-cap at 6pm and dinner at 7:30pm.

We had a quiz at 9pm but my team 'Polar Bears' lost. At about 9:30pm, we were about 89ᴼ20' N i.e. 40NM from the North Pole. If things were well, we might reach the Pole within two to three hours. I tried to go to bed at 10:30pm but could not sleep. I got up before midnight hoping to watch our approach to the Pole. Owing to the icy condition, the boat made slow progress (sometime only travelling at 3 knots). The estimated time of arrival was around 2am. I decided to return to my room to rest but could not sleep as the boat was shaking and made lots of noises when breaking through thick ice.
June 25, Wednesday: The Geographic North Pole: An Unforgettable experience
Around 2:30am, Alex announced that the boat was about 8NM from the Pole. I got up and went to the bow. We had a countdown and finally reached the Pole after 3:30am.The weather was warm and perfect: sunny with clear blue sky without wind. How wonderful to stand on the top of the world! We all jumped with joy and toasted to our successful voyage to the Pole: we had champagne and nice finger food. The Hong Kong gang took pictures with the HKSAR flag brought over by Lee. I took many photos and watched the boat gradually docked and surrounded by firm pack ice. I returned to my room at 5am.
The engineer of the boat was now turned off. Without engineer noise and rocking movements, I finally managed to sleep for two hours. The expedition staff were busy in preparing for our landing. After breakfast, all passengers disembarked to attend the North Pole Circle Ceremony: we formed a circle with the 90ᴼN signboard in the middle and the icebreaker and the hot air balloon in the background. Our boat was the 102th vessel to reach the Pole in history.
We spent the next five hours at the Pole. First, I called Lawrence, my brother with a satellite phone provided free use for two minutes. He was surprised! Second, I rose some 30m in a hot air balloon for the first time in my life. This's also the first time Quark arranged the hot air balloon float right at the Pole. Each time, only four of us could squeeze into the tiny basket.
Third, I joined an hour-long ice walk led by Colin, a glaciologist, who showed us features of the pack ice. We had an excellent view of the icebreaker from a distance.

Fourth, I watched brave (or crazy) swimmers making a polar dip. I love to take one as well. But I had to give up the idea as I already had flu-like symptoms. What a shame!
Fifth, I had an excellent BBQ lunch with lamb and salmon. It's quite an experience to dine outdoor at the Pole! Finally, I joined the Hong Kong gang and had many pictures taken together. I also had photos with Kathy and Lynne who are wonderful companions.
By the time I returned to the boat, it was already 2pm. I was exhausted and ready for a sound sleep. I did not wake up till the boat started to move. It's time to head south.
After the re-cap, Bob conducted an auction in support of the conservation of polar bears. A dozen of items relating to the expedition and the boat fetched over US$15,000. I was tired and went to bed early. But I did not sleep well: I coughed badly and the room and my quilt were too hot.
After the re-cap, Bob conducted an auction in support of the conservation of polar bears. A dozen of items relating to the expedition and the boat fetched over US$15,000. I was tired and went to bed early. But I did not sleep well: I coughed badly and the room and my quilt were too hot.