John Thomson(1836-1921), a renowned Scottish photographer and travel writer of his time spent ten years in Asia and returned home with some 600 glass plates negatives of photographs.  He was the first foreigner to have photographed Angkor Wat. I came to Bangkok to see a photo exhibition "Siam -Through the Lens of John Thomson 1865-66". BackgroundThomson took pictures with sensitivity, professionalism and realism capturing the landscape, customs and architecture individuality and humanity of the kings, nobles as well as people from all walks of life. His photographs form the most extensive records of any region taken in the 19th century.
The Thomson collection has been housed in the Wellcome Library, London since his death.  About ten years ago, my friend Betty Yao after viewing the unique and well-preserved photographs set it her mission to show the world this exquisite collection. Thanks to her zeal and efforts, the first exhibition "China through the Lens of John Thomson 1868-72" in Beijing in 2009 was a great success. This set of photographs has travelled to a dozen of cities in China since. The Hong Kong photos arrived in my city in November 2013.
Betty was thrilled to find imminent local partners and venue for an exhibition in Bangkok. When Betty told me about the opening of the exhibition on January 9 in Bangkok, I gladly accepted her invitation. Last December, I met Peggy Dee whom I had lost contact for over 25 years and told her my next destination. She was fascinated by Thomson's photos on Hong Kong and decided to join me. How fantastic!
Siam – Through the Lens of John Thomson 1865-66
This historic photographic exhibition organised by River Books & the Arts Department is held at the National Gallery from January 9 to February 28, 2015.  The officiating guest is HRH Princess Maha Chakri Sirindhorn who is a keen photographer. 
It's the first time I attended a function officiated by a member of the Royal family in Thailand.  It is an unforgettable experience.
First, Peggy and I left our hotel at 1pm. The taxi driver who did not know where the National Gallery was, dropped us opposite the Palace. As a result, we spent half an hour finding our way to the Gallery. 

Second, I find the formality formidable. All guests were required to arrive before 2pm and remain seated till the royal party had departed.  The Guest of Honour sat on the platform and presented certificate of appreciation to the organisers, sponsors and Betty. She had a private tour of over an hour and left after 4pm. There was no food, drink or music while we were waiting. It's boring. I have attended a couple of events in the presence of members of the British royal family in London. But I have never gone through similar ordeal. What an educational and cultural experience!

Third, I spent an hour and a half gazing at the photos. The setting and details of the photographs with King Mongkut Rama IV, his royal family and entourage are interesting. I however find the photographs of Ayudhya the old capital, the countryside, Bangkok, monks and commoners more interesting.
| | | |
| --- | --- | --- |
| | | |
| | |
| --- | --- |
|   |   |
| | |
Fourth, Peggy and I had a private guided tour by Ed Stokes, a natural landscape photographer whom I met in Hong Kong in early 1990s. As a professional photographer, Ed is fascinated by Thomson's photos and went to Beijing for the first exhibition in 2009.

Finally, I had a most enjoyable evening at Chakrabongse Villas by the Chao Praya River opposite Wat Arun. All Betty's friends coming from Hong Kong and the UK joined the party to celebrate. We had delicious Thai food, excellent companions and a wonderful ambiance. We left before 11pm but could not find a taxi till 11:30pm. Wow, I had a long day!     
Things I have done in Bangkok
The raison d'être of this trip is the exhibition. Peggy and I are both lady of leisure and have no desire to rush. Nonetheless, we found enough things to amuse ourselves and have learnt something about the city and Thai culture. 
We stayed at Mecure Hotel next to the National Stadium. Instead of taking a car from the airport which asked for 1000 baht, we took the Airport City Line (50 baht) and then the sky-train (25baht). The inefficient ticketing system took us by surprise as the mass transit systems are relatively new. I had to queue twice before boarding a train: I had to change notes for coins at the information centre before queuing up at the machine to put in coins for a ticket. Why they do not adopt Hong Kong's simple way of payment? Our Octopus Card has made our life easy and payment without hassles.
Both Peggy and I have been to Bangkok many times. Hence we have selected a few museums which we have not been before. 
Suan Pakkad Palace Museum – This palace was built on "Suan Pakkad" meaning a cabbage garden. It was the residence of Prince Chumbhot Paribatra of Nagor Svarga, a grandson of King Rama V and his consort, M.R. Pantip Paribatra. The palace was built in 1952 using several traditional Thai houses that were transported from their former location. Today, these houses are used to display the collection of artifacts belonging to the royal couple.
| | | |
| --- | --- | --- |
| | |   |
The musical room located on the ground floor of House 1 has a large collection of musical instruments belonging to Prince Chumbhoi's father who has been regarded as a 'Renaissance Man'. The Lacquer Pavillion located near Ayudhya and dating probably from the 17th century is a centre piece and a gem. The mural paintings with gold on black lacquer depicting the life of Buddha and stories from Ramayana, the Indian epic are magnificent.  Another 'must-see' is the Banchiang collection housed in a new building at the entrance. The collection including painted pottery, cor-marked potter, bronze weapons and tools, bronze, precious stones and glass bead ornaments found in Baichiang in northeastern part of Thailand which is now a World Heritage Site.
Jim Thompson House & Museum– Jim Thompson (1906-1967) a charismatic American who built his fame as a man of talents, an entrepreneur and a collector. He was an architect prior to WWII when he joined the US army and was sent to Asia. He fell in love with Thailand and decided to remain in the country after his military service. He was devoted to reviving the craft of hand weaving of silk and has been instrumental in bringing Thai silk to world's attention. On March 26, 1967, he disappeared in Cameron Highland in Malaysia.
Thompson's talents and skills are best exemplified in the house he built using six traditional teak buildings (all over 200-year-old and some coming from Ayudhya). This unique house completed in the spring 1959 is now a show piece and a museum. His exquisite western and oriental art collections fill the rooms. When walking through the house and lush garden, I can feel his eternal presence, charm, talents and spirit. 
Bangkok Art & Cultural Centre– This iconic white-washed building is next to our hotel. We saw two exhibitions there before leaving for the airport on our last day.
The first exhibition "The Great Artist of Tomorrow Will Go Underground" includes several colouful installations. One attempts to show the career paths art students can follow. There is a project on "MoneyFakeTory" (!). Anyway, I am not too impressed.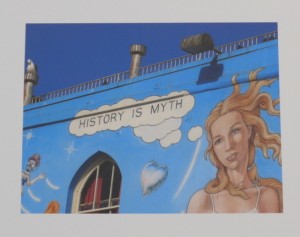 The second exhibition is more interesting. It is a photo exhibition by HRH Princess Maha Chakri Sirindhorn: Clairvoyance (December 10, 2014 – March 8, 2015). Some of the photos taken from a telescope use the scanning electron microscope to see the microscopic structure. A few taken from a drone from high altitude has given the name of this year's exhibition. There are also many snapshots from Thailand, Malta, Timor-Leste and the most famous wooden temple in China. This new art centre provides excellent space well-suited for photo exhibitions owing to its natural lights and setting.
Remarks
My last trip to Bangkok was made in the summer of 2013. Had it not been for Thomson's photo exhibition, I would not have gone back to Bangkok ten days before my 5-month long trip. Anyway, I am glad I have taken up Betty's invitation. 
First the exhibition meets my expectation. It is nice to see Betty and Paul again. A great surprise is how I get reconnected with Peggy and Ed again. As both are fans of Thomson, their presence has made this trip even more enjoyable and educational. I hope to learn more about photography from Ed in future.
Second, I am glad to see a vibrant and prosperous Bangkok.  The political situation in Thailand has been a going concern. But life seems to go on: the commerical centres and shopping malls, night markets, restaurants, street food stalls and sky-trains are packed with locals and some tourists. 
Third, this is an educational trip. I have a chance to meet the popular Princess at the opening. She is approachable and likeable. I have tried the Airport City Link and sky trains. I hope the government/relevant authorities can streamline and improve the ticketing systems. They can learn from our experience and adopt the Octopus Card system.
Finally, I am thrilled to find a great varieties of rice, noodles and dried fruits in supermarkets. I have returned to Hong Kong with my suitcase filled with rice, noodles, dried ginger and mango.