Ethiopia is an intriguing African country which has fascinated me for years. It has a long history and is world famous for its rock-hewn churches, unique and colourful tribes and their culture. It is also one of the poorest countries in Africa scarred with wars and famines in the past thirty years.  I joined a 26-day adventure tour called 'Ethiopia Encompassed' including a 15-days northern highland trail with star attractions such as Lalibela, Gonder, Simein Mountains National Park (all World Heritage Sites) and a 12-day tour in the south to discover the tribes and their culture.
Country Profile
Area:  1,127,127 sq kilometres
Population: 88 million (2009 est) with life expectancy of about 50 years old.  The birth rate is high i.e. on average 5.3 per woman. Ethiopia has over 80 ethnic groups and the Oromo and the Amhara and Tigre account for 40% and 32% of the population respectively. Over 80% of the population reside in the rural areas living on subsistence farming.
GDP: USD76.6 billion (per capita : USD900) (2009 est)
Ethiopia has a long history encompassing legend and tradition, mystery and fact from a powerful and religious ancient civilisation. Archaeologist has found the oldest known human ancestors in Ethiopia (c 5.8-5.2 million years old). Hamitic people migrated to Ethiopia from Asia Minor in prehistoric time and it is Sub-Saharan Africa's oldest state. Legand has it that Emperor Menelik I, son of the Queen of Sheba and King Solomon, brought the Ark of the Covenant from Jerusalem to Axum, where he settled and established one of the world's longest known, uninterrupted monarchical dynasties. Former Emperor Haile Selassie is claimed to be the 225th monarch of the Solomonic line.
Ethiopia is a landlocked country consisting of a long plateau with a central mountain range divided by the Great Rift Valley. The north is plateaus and high land and while the south is the arid lowland featuring more than 50 unique tribes living in the Omo River Region (a World Heritage Site) famous for the tribal people and their cultures.
January 6-7: Addis Ababa
Addis Ababa (2400m), with a population of 3.6 million (2007) is the world's third highest capital. I arrived at noon and my first impression is that ' I am in Africa and the place is hot, dusty, messy and struggling to emerge as a modern city'. There are many construction sites, which can be taken as an indication of economic growth. My hotel is a government – run built many decades ago. But it is centrally located within walking distance to some of the main attractions.
This year, Christmas for the Ethiopian Christians which is a religious but not a national holiday fell on January 7. Many shops and museums were closed and I had a leisure day visiting the few attractions that remained open including St George Cathedral and museum, the Holy Trinity Cathedral and the National Museum of Ethiopia. The star attraction of the National Museum is 'Lucy', the skeleton of a 3.2 million-year-old woman. But the display is not impressive and the explanations inadequate. The first Japanese-funded room with where the skull of a 12-year old girl, Selem (c. 2.5- million years) and other fossils on displayed, in my view, is more nteresting and informative.
15-day Group Tour
(Map under preparation)
Day 1 (January 8, Friday): Addis Ababa
As I could not find my medical bag with anti-malaria and hypertension pills, I thought it was lost and decided to report the loss to the Police in order to claim insurance. It's an interesting and educational experience.
I went to a police station close to the hotel and then a district police station a few kilometres away. The reporting procedure was most cumbersome. I first gave a statement to an interpreter who took the paper to an officer to sign off. Then I went to see a third officer who countersigned while the fourth officer put the details in a big record book. Finally I was taken upstairs to see a fifth officer who wrote a note together with the estimated loss in a sheet for me to take away as proof. While I was waiting, I saw a dozen of men and women brought to the compound hand-cuffed. I did not know the crime they had committed and had no idea on their fate and the legal system in the country. I spent two hours in the police station and another two hours searching for replacement pills in a few pharmacies. Though I later found the bag with all the pills which was safely kept in a hidden compartment in my suitcase, I found these four hours well spent providing me with an eye-opening experience!
The group tour started with a briefing at the hotel.  I met 13 interesting and like-mind travellers who come from Canada, France, Germany, Ireland, New Zealand, Norway, Poland, Switzerland and USA.  I  am the oldest participant of the group and the youngest one is only 26 years old.
Day 2: Addis Ababa -Dehre Berhan – Komboleha (about 370km; 10 hrs)
We set off in an old 20-seater minibus and had our first long driving day with a brief stop for lunch at Dehre Berhan (2840m). The town was founded as a capital by Zara Yaqob in 1456. We drove across the Shoan Plateau which affords magnificent scenery of mountains, valleys, brown fields (after harvest) as well as some green fields under cultivation and dotted with round mud houses and animals (camels, cows, goats etc).
Day 3: Komboleha – Bati – Welcafe – Woldia (260km; 8 hrs)
The tour programme is well-designed. In the morning, we visited the Bati Monday market, the largest one outside Addis Ababa. It is most colourful and lively with different ethnic groups coming in their traditional costumes. Herbs, coffee, grains, shoes, clothes, ropes, recycled goods, pots and pans etc are sold in different sections.  There is also a huge cattle market with hundreds of camels, cows, goats etc. The market is most atmospheric with streams of people flowing in from all directions. I always love going to local markets and fully enjoyed my two hours in the Bati market. Though there were some tourists, I found the experience authentic.
We continued our drive after lunch. Harvest was over and the fields looked dry but picturesque in brown/golden colour. We arrived at Woldia around 7pm. The hotel had no electricity. So, we had our first candle-light dinner!
Day 4: Woldia – Lalibela (185km; 5 hrs)
We had a most scenic drive and arrived in Lalibela (2630m) for a late lunch. The winding roads over mountains reaching 3500m and through the Lasta Massif afford fantastic panoramic views. The round mud houses along the route are also photogenic. The last 60 kilometres to Lalibela on unpaved road threw me off my seat on several occasions!  Located in the rugged Lasta Mountains, it remains an isolated and undeveloped area with a population of about 20,000 (est).  Religious ritual remains central to the life of Lalibela which is a centre of pilgrimage and considered as one of the greatest religio-historical sites
Lalibela, named after king Lalibela, was the capital of the Zagwe dynasty and is one of Ethiopia's holiest cities, second to Aksum. Located in the rugged Lasta Mountains, it remains an isolated and undeveloped area with a population of about 20,000 (est).  Religious ritual remains central to the life of Lalibela which is a centre of pilgrimage and considered as one of the greatest religio-historical sites.
The life of king Lalibela is legendary. It is said that King Lalibela who had seen Jerusalem, attempted to build a New Jerusalem as his capital in response to the capture of Jerusalem by Muslims in 1187. This would enable those who could not make a pilgrimage to the Holy Land. After labouring for 20 years, he abdicated and became a hermit. Today, he is regarded by Ethiopian Christians as a saint.
The 11 rock-hewn churches, each carved entirely out of a single block of granite with its roof at ground level, were built in the 11th and 12th century and remain in use today. We had a guided tour and visited five rock-hewn churches in the northwestern group.
 Bet Medhane Alem is home to the Lalibela Cross and is the world's largest monolithic church. It resembles a Greek temple (33.5m by 23.5m and over 11.5m high) with 34 large columns outside and 38 columns inside.  Unfortunately the view of this splendid church is spoilt by the monstrous roof over the church which is built to preserve it.
Bet Maryam, possibly the oldest of the churches, is a small but highly decorated church dedicated to the Virgin. A stone pillar which is said to have King Lalibela's writing on the secrets of the construction of the building, is kept permanently wrapped in cloth.
Bet Meskel is a tiny semi-chapel.
Bet Danaghel is said to be constructed in memory of the nuns martyred on the order of the 4th-century Roman Emperor Julian.
Bet Golgotha is home to the tomb of King Lalibela. Females are not allowed to enter. Bet Mikael & Selassie Chapel (which is not open) are located under the same roof.
After the guided tour, I went on my own to view Bet Medhane Alem from above. A young boy approached me and said his mother had died and he was living with relatives and studying in Lalibela. He would be going back to his village to see his father and sisters during school break. He followed me around until a man shouted at him. I guessed he was his father and the boy was lying in order to get money from me. I pitied him but refused to give him money as I had not invited him as my guide in the first place. He hanged around outside my hotel. I felt sorry for him but such behaviour should not be encouraged. I told him to study or do something useful.
The hotel has a nice garden with plenty of trees and birds. But the rooms are shabby with basic facilities. I have no problem as long as the room is clean and without bed bugs or mosquitoes as I am allergic.  The living and hygiene conditions in Ethiopia are generally poor. I had fallen easy prey to insects. The problem worsened in Lalibela for two reasons. First, there were bed bugs and plenty of mosquitoes in my room and the garden. Second, the 900-year old rock churches are covered with carpets and no shoe is allowed. Though I had socks on, my legs and feet were still badly bitten. My skin was so itchy that I could not sleep.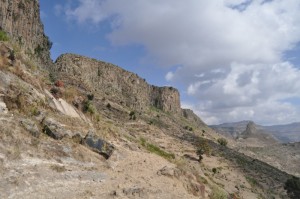 Day 5: Lalibela
To prepare us for a 3-day trek in the Simein Mountains National Park, we were arranged to hike to Ashetan Maryam (3150m), a rock-hewn monastery just above Lalibela. The panoramic views of Lalibela and the countryside were fantastic. I almost climbed to the top (3400m) with Martin, a Norwegian and professional photographer. But we were told to leave to return to Lalibela just before the summit. We had a lovely lunch in the hotel garden.  Unfortunately, I was bitten and the bite turned quickly into a nasty big blister just above the right ankle that evening.
We continued with our rock church tour and spent the afternoon visiting the more impressive southeastern group. We entered the New Jerusalem through a Way to Heaven which is separated by a symbolic Jordan River.
 Bet Gabriel-Rufael (possibly a former royal palace) has a moat-like approach to its entrance and a most impressive facade.
Bet Merkorios (possibly a former prison) is reached after a pitch-dark, long and narrow tunnel from Bet Gabriel-Rufael. Part of the roof has collapsed.  There is beautiful fresco including three wise men and 12 Apostles inside the church.
Bet Amanuel (possibly the former royal chapel), is freestanding and monolithic and one of the finely carved churches.
Bet Abba Libanos is unique among the Lalibela churches. It is hypogenous i.e. only the roof and floor remain attached to the strata. Many architectural features are Aksumite.
Bet Giyorgis (St George's rock church) is Lalibela's masterpiece and most iconic and photographed church. It is a visually perfect church and the most unforgettable sight in Lalibela and Ethiopia.
The group tour finished at Bet Giyorgis. Martin and I stayed behind to wait for the locking of the church by the robed priest.  The site was totally deserted and serene. It was even more atmospheric and mysterious. In the evening, we went to a local place for traditional songs and dance and had some tej (honey wine).
This was a perfect day with a delightful morning hike, an unforgettable tour of the rock churches and an enjoyable cultural evening.
Day 6: Lalibela – Gonder (395km; 10 hrs)
Day 7: Gonder
Gonder (2210m), founded by Emperor Fasiladas in 1636 and located in the Amhara region, has been known for its wealth, splendor and fame at the heyday of the dynasty. It has been called 'Africa's Camelot' and served as the capital from 1636 to 1855 when Tewodros II moved the capital to Magadala.
We started another perfect day with a nice breakfast in a local cafe. The mango juice is sweet and fresh and as thick as yogurt! We had a guided tour of the Gonder Castle which covers some 70,000 sq metres surrounded by high stone walls. There are a dozen of buildings and the most impressive one is Emperor Fasiladas' two-storey high palace with a crenellated parapet and four small domed towers. It is a blend of Indian, Portuguese, Moorish and Aksumite influences. The library which was bombed by the British during the Second World War is an elegant building with interesting features.
I found the guide's English and explanations difficult to follow. Hence I explored the site on my own and spotted the St Michael Church just outside the exit. The church is small but much cleaner (i.e. I was not bitten by bugs/fleas). The church keeper removed the clothes covering the walls with paintings and explained the theme of each painting. I had the church to myself and enjoyed the beautiful and well-preserved painting!
In the afternoon, we visited the Dehre Berhan Salassie Church, which is world famous for its paintings of Ethiopian cherubs and all saints, martyrs and lore.  The whole town was preparing for Timket and the priests and church goers all in their white traditional costume were chanting and singing.  It was a most impressive and enchanting sight. We then went to the bath built by Fasiladas in a beautiful ground with huge fig trees. The small castle in the middle of the pool is most visually perfect. The bath is used for baptism during Timket. We finished a perfect day with a sunset drink at the Gonder Hotel situated at the hilltop with panoramic views of the town and surrounding countryside.
Day 8: Gonder – Simein Mountains National Park (about 400km; 10 hrs)
We set off around 8:30am for the Simein Mountains National Park.  I was not feeling well probably owing to lack of sleep and skin infection and dozed on and off most of the way to Debark. I only took a vegetable soup for lunch. The guide for the trek and three scouts (security guards) got on board at Debark. The road is bad and we had a most bumpy ride to the Park.
The Simein Mountains National Park covers 179 sq kilometres of highland area at an average elevation of 3300m. The Simein Mountain massif is a broad plateau cut off to the north and west by an enormous single crag over 60km long.  Walia ibex and Glelada baboon are endemic to Ethiopia and are found in the Park. We were greeted by a large group of Gelada baboons near the Park entrance.  While I remained on the minibus and went to the campsite at Sankarbar (3200m), others had a pleasant 2-hour walk seeing more baboons on the way. The cook and his team were already at the campsite setting up the tents and preparing tea and dinner.  After a rest, I felt much better and was ready for dinner. I was supposed to share a tent. As I was not feeling well, Christine, Ellen and Catherine decided to share a tent so that I could sleep better.  I was most grateful for their kindness. I did not sleep well and kept turning over the whole night. I was glad that I was alone.
Day 9 – 11: 3-day Trekking
The scenery is most impressive and different from what I have ever seen. There are massive mountain ranges, deep gorges, rivers and waterfalls, valleys and flat land dotted with many picturesque villages and green fields under cultivation or brown fields after harvest, sheer cliffs and several high peaks reaching over 4000m.
We had an easy and short trek of 12km on Day 9. The day was nice and warm and we had a picnic lunch by a stream. In the afternoon, we passed some villages and had a coffee ceremony in a traditional round mud house which is fairly large with the lower level for the livestock and the upper level separated only by some pieces of wood for the family to sleep. There is a fireplace in the middle. The lady served us coffee and we made a contribution. I however dared not stay long inside the house as I had a few bites within minutes after entering the house. We camped at Geech (3600m) and had a beautiful sunset dinner. I went to bed around 8 pm and slept well till midnight. Though the air was not cold, I did not feel warm and could not go back to sleep. Another sleepless night!
| | |
| --- | --- |
| | |
The 20-km trek on Day 10 was more strenuous. We had an early start and walked for an hour to reach Imet Gogo (3926m) which affords most spectacular views of the Simein Mountains. Then we descended along the escarpment of a sheer cliff looking across to Imet Gogo before ascending the other side through a giant heather forest to reach Ennathiye view point (4070m) for lunch. I walked very slowly as I did not feel too well. After lunch, I descended to Chenek at 3600m arriving at the campsite around 4pm (i.e. less than 7 hours' walk). I enjoyed the trek and the splendid scenery. I slept better than the previous night. But I still woke up around 2am and stayed awake listening to the howling wind.
At 7:30am on Day 11, I set off for Bwahit Ras (4430m) together with six members.  The trek is not difficult and we took two and a half hours to reach Bwahit Ras. The weather cleared up just before I started my descent and got a glimpse of Ras Dashen, Ethiopia's highest peak at 4533m.   When I was approaching the campsite, the scout who accompanied me spotted a group of Walia ibex in the wood. I was excited and took many photos. In the meantime, a large group of Gelada baboons was hanging out at our campsite. I spent my lunch time watching these baboons and boarded minibus without a chance to eat.
The drive to Debark took over three hours. As our minibus had a problem, dust came through from a hole and I had to covered myself up! Another authentic African experience.
Day 12 (January 19): Debark – Gonder – Bahir Dahr (280km; 8 hrs)
Timket (Epiphany celebrating Christ's baptism) is a three-day festival in Ethiopia. This year, it fell on January 19. As we would be travelling to Bahir Dahr through Gonder, we had the great fortune to witness this wonderful festival.
On the way to Gonder, we had a brief stop at a Falasha village. Falashas (the black Jews) speak Hebrew and keep the Sabbeth. Many were killed during the insurgence and the remnants immigrated to Israel by chartered planes in 1983 and 1991. There are not many Falashas living in Ethiopia and there is not much to see in the village now.
We arrived in Gonder around 11am and stayed for two and a half hours. What I had seen and experienced was absolutely authentic and most unforgettable. The church's tabots (replicas of the Ark of the Covenant) were taken to the bath of Fasiladas in the afternoon of January 18 and priests and faithful participate in vigil around the tabots. On January 19, the crowds gathered around the bath with water splashed onto them. The tabot was paraded back to the church accompanied by singing and dancing. The priests gathered in the centre of the town and had ceremonies lasting for hours. The procession was most colourful and lively with music and dance.  All women were dressed in white and looked stunning and photogenic. The people recognised I am Chinese and were very friendly. They even allowed me to get very close to the procession! I was totally carried away and followed the flow of the singing and dancing crowd. The atmosphere was mystical and enchanting and the sweet memory will stay with me forever.
I was sad to leave as the ceremony performed by the priests was still going on at the centre stage. The road to Bahir Dahr (1880m) is good and we arrived at our destination around 6pm. What a memorable day!
Day 13: Bahir Dahr
Bahir Dahr located on the shores of Lake Tana (68km wide and 73 km long) is a relaxing town with wide tree-lined streets. We started off another perfect day with a boat ride on the lake and visited the Zege Peninsula's most famous monastery, Ura Kidane Meret. First built in the 14th century, the monastery has a lot of well-preserved paintings of the 16th -18th century. There is also a collection of crosses and crowns in the museum. Then we were separated into two groups, men going to Kibran Gabriel and women the neighbouring Entons. But there was not much to see on both islands.  The boat then moved to the starting point where the river begins flowing from Lake Tana on its 5223km journey to the Mediterranean. The lake is idyllic dotted with lots of pelicans, a few traditional fishing boats and a couple of open-ended papyrus boats (tankwa) which can only be seen in the lake today.
| | | | |
| --- | --- | --- | --- |
| | | | |
After lunch, I joined an excursion to see the Blue Nile Falls and hiked for an hour to reach the bottom of the falls (400m across and a 45m drop) via a historical Portuguese bridge. The falls are picturesque though it cannot be compared with the Victoria Fall, the most famous fall in Africa. I enjoyed the day with leisure sight-seeing, a boat ride and hike to the falls.
Day 14: Bahir Dahr – Dehre Markos (260km; 4 hrs)
We had free time to explore the city before leaving the town at 1pm. Unfortunately, a bite at the back of the left knee had turned into a monstrous thumb-size blister with some yellowish liquid inside. It was so painful that I could hardly walk. I went to a pharmacy but they advised me to consult a doctor first.  I went to a clinic and paid 25 birrels for a consultation. The English speaking doctor could not tell me which insects had bitten me and the cause for the growth of the monstrous blister. He prescribed me two antibiotics and advised me to stay at good and clean hotels and use anti-insect spray! Though there are some places to visit including a local market, I just stayed in the hotel as it was too painful to move around.
The journey to Dehre Markos was fairly smooth. The scenery changed and the villages along the road look tidier and more prosperous with larger and houses with garden. As the weather is much warm than the north, the fields with crops look greener.  This is a stark contrast to the brown fields that I had seen for days. I no longer saw children running bare foot waving madly or asking money for photos. Instead, I saw well-dressed and healthy kids in burgundy school uniform in school ground or heading home after school.
Day 15 (January 22, Friday): Dehre Markos – Addis Ababa (300km; 7 hrs)
We started off at 7am in order to reach Addis Ababa around 3pm. It's a long drive but the highway is in good condition. The highlight of the day is the viewing of the Blue Nile gorge which is often called the African Grand Canyon. Once we arrived in Addis Ababa, I watched world news with anxiety seeing the protests in Cairo and developments in other Middle East and North African countries. I hate bloodshed and believe in self-determination and peaceful transformation.
Eight members of the group finished their trip while six (including me) would continue the tour to the south. We had a farewell dinner at a local restaurant in the park. I was particularly thankful for Mohammad's medical advice, his supply of swaps and bandages which might have saved my life from the dreadful and mysterious bites.
The large blister at the back of the left knee continued to be a cause for concern. Once it burst, it would turn into an open wound which if not properly treated could have serious consequence. I was advised to get salvon, bandages and baking soda power so that I could keep the blister area dry, clean and treat the open wound properly once the blister burst.  I was also reminded to return to Addis Ababa immediately to seek medical treatment if the wound got infected or my situation worsens. It sounded scary. 
(End of Part 1)
Ethiopia is an intriguing African country which has fascinated me for years. It has a long history and is world famous for its rock-hewn churches, unique and colourful tribes and their culture. It is also one of the poorest countries in Africa scarred with wars and famines in the past thirty years.  I joined a 26-day an adventure tour called 'Ethiopia Encompassed' including a 15-days northern highland trail with star attractions such as Lalibela, Gonder, Simein Mountains National Park (all World Heritage Sites) and a 12-day tour in the south to discover the tribes and their culture.