Background
The name "Macedonia" is the oldest surviving name of a country in Europe. The ancient Macedonians were a distinct nation, ethnically, linguistically and culturally different from its neighbours. Old European civilization flourished in Macedonia between 7000 and 3500 BC.
Caranus established the ancient Macedonian kingdom and is the first known Macedonian king (808-778 BC). Philip II (359-336 BC) raised Macedonia into the greatest European Power after subduing all its neighbours. The Battle of Chaeronea where the Macedonians defeated the Greeks in August 338 BC marks the end of Greek history and the beginning of the Macedonia Era.
Philip's son Alexander III the Great (356-323 BC) conquered the Persian Empire and Macedonia became the world's largest empire stretching from Europe to North Africa and India. After his death, the Empire was carved up between his general Antigonus I (Macedonia and Greece), Ptolemy I (Egypt) and Selucus (Asia). The empire split in 395 AD into Western and Eastern.
Macedonia fell into the Eastern (Byzantine) empire. Basil I (867-886) was the first Macedonian to become a Byzantine emperor and founder of the Macedonian dynasty (867-1025 AD). Macedonian Slavs accepted the Christian faith following the mission of Cyril and Methodius in mid ninth century. Their disciples Clement and Naum of Ohrid spread Christianity in Slavonic language and establish the first Slavonic University, the Ohrid Literary School.  Macedonia remained Byzantine territory until the conquest by the Ottomans in 1389.
The Ottoman rule was on the wane in the 19th century. Greece, Serbia and Bulgaria gained independence in 1828, 1830 and 1878 respectively. The "Macedonian Question" emerged as all these countries had territorial aspirations on Macedonian territory. Macedonians also yearned and struggled for independence. The Razlovtzi Uprising in Eastern Macedonia against the Turkish rule heralded the Macedonian national liberation struggle.  In 1891, Bishop Theodosius of Skopje also began a campaign for an independent Macedonian Orthodox Church and restoration of the Ohrid Archbishopric, which was abolished by the Ottoman in 1767.It was finally restored in 1958.
In 1912-13, Greece, Serbia and Bulgaria joined forces and with the help of 100,000 Macedonians defeated the Turkish army in Macedonia. But Macedonia was denied independence and in August 1913, the country was partitioned between Greece, Serbia and Bulgaria under the Treaty of Bucharest. After WWI, the demands of the Macedonians for independent and united Macedonia were ignored and the 1919 Treaty of Versailles sanctioned the partition of Macedonia.
Struggles for independence continued. In 1940, the 5th Nationwide Conference of the Communist Party of Yugoslavia passed a resolution on the equality and self-determination of the Macedonian people. Finally when Federal Yugoslavia disintegrated in 1991, the Macedonians held a referendum on September 8, 1991 and proclaimed independence. Kiro Gligorov was elected President of independent Macedonia.
Macedonia is a landlocked country with a total area of 25,713 square kilometres and a population of 2 million (2011 estimate). It has a GDP and GDP per capita in nominal value of $10billion and $4,935 respectivelyin 2012. In GDP (PPP) terms, the value is at $22 billion and $10,700 respectively.
Macedonians and Albanians account for 64% and 25% of the population.  The country has over 1,800 churches and 580 mosques. Skopje is the capital but Ohrid and Lake Ohrid, a World Heritage Site listed for both its outstanding cultural and natural values is the country's most popular tourist destination.
October 11: Ohrid, Macedonia
I stepped into Macedonia around midnight. But the bus did not leave till 12:20am and I was told to get off at a petrol station outside Struga at 00:45am. I was annoyed but not scared: I had to find a taxi to take me to Villa Mal Sveti Kliment.
The petrol station staff was helpful and found me a taxi. I was told by the Drita Travel lady that Ohrid was close and a taxi would only cost a few euros. But Ohrid is 15km from Struga and I had to pay 8EUR!
The driver is a nice man but he did not know the way to the hotel.  Another taxi driver passed by and took me to the hotel which I had booked online.  But this guy cheated me as the hotel was just on top of a flight of stairs where my taxi got lost.  He drove me to the top of a street and I walked a long way downhill to reach the hotel. As it was about 1:30am, no one answered the door bell. The driver left and I was left alone in a dark street at 1:30am!
I recalled passing a hotel near the lake. As I have a good sense of direction, I found my way without problem. I paid 35EUR for a night and was relieved when I lay down in my bed at 2am.
Ohrid, capital of Emperor Samuilo in the late 10th century, is rich in picturesque houses and famous for its ancient churches, basilicas and monasteries where St Clement and Naum (students of Cyril and Methodus) wrote their teachings and formulated the Cyrillic alphabet used in many Slavic nations. Ohrid once had 365 churches, one for each day of the year and has been referred to as a "Jerusalem (of the Balkans)". The city now has a population of 42,000.
The Ohrid Lake is one of the oldest and deepest lakes in Europe. It lies in the valley between Ohrid and Struga in the border region of Macedonia and Albania. It covers an area of 358square kilometres, two thirds of which belong to Macedonia. The shoreline is 87.5kilometres. The Lake is famous for its trout (Ohrid trout).
I got up at 9am and had a great view of the lake from my balcony. It was a fantastic day with blue sky. After a late breakfast, I went to Villa Mal Sveti Klimentand told the receptionist that I turned up at 1am. She explained that her colleague waited till 10pm.  I like her and decided to stay for 20EUR a night. She showed me some interesting local tours.
A young lady from the tour company came and suggested I take a trip on November 13to see a village in the mountain and Radozda. Her driver could drop me off at the border. The normal price per person was 35EUR and she would look for other tourists for this tour.
I had a most lovely day exploring the old town which is strikingly beautiful and picturesque. Winding cobbled stone streets, elegant architecture, countless monuments and the mirror-like lake with crystal clear water are unforgettable.  I was filled with a sense of excitement which I had felt on my first visit to Capri, Italy in 1980 and visited its main attractions.
Church of St Sophia is one of the most important monuments of the country. I met Gotse, a young man who has just completed his Master's Degree in Archaeology. He appreciated my genuine interest and gave me a private tour of the narthex.  It is a well-preserved jewel with amazing frescoes painted during the reign of Archbishop Leo (1037-1056). I could not take my eyes off the Madonna and Child in the apse, the Communion of the Apostles and the Ascension, Abraham's Sacrifice, Jacob's ladder, Roman Popes,The Archpriests and Forty Martyrs in the altar. The narthex, one of the best examples of Byzantine and Macedonia architecture was completed in 1313-14. It has a portico at the ground floor and a gallery upstairs with remarkable 14th century paintings.
Church of St John at Kaneo (13th century) is probably the most photographed church in Ohrid standing above a cliff overlooking the lake. This small church has Armenian influence in the zigzag line of the roof of the dome.
St Pantelejmon Plaosnik was built by St Clement who used the monastery as a liturgical building and a place for teaching his disciples. He died in 916 and was buried in the crypt inside the monastery which is the most sacred of all the churches in the country.
Church of St Clement (1295) has some of the finest frescoes found in the country.
St Bogorodica Previlepta (13th century)
St Nikola Bolnicki and St Bogorodica Bolnicka
King Samuil Fortress offers fantastic views of the Lake and Ohrid.
The Ohrid fortifications built over for some 1,500 years have several main gates including the Lower Gate, Upper Gate, Front Gate and Water Gate. Some old walls from the 10th century are still standing.
October 12: Ohrid – St Naum Monastery – Ohrid (60km)
One can travel to St Naum Monastery by boat or bus. I arrived at the pier at 9am but was told that no boat would be going. I was frustrated and had to wait two hours for a local bus. I eventually arrived at St Naum before 12noon. The return bus would leave at 1:30pm, 4:20pm and 6:20pm.
I went to the Museum of Archeology located in Robevi's family house close to my hotel early in the morning. The house is beautiful but the exhibits are appalling. Given Ohrid's rich history, the relevant authorities should have done a better job.
Monastery of St Naum is one of Macedonia's most beautiful monasteries.  Established in 905 by St Naum himself, the monastery is an important pilgrimage place as St Naum was buried there in 910. Frescoes covering the whole church were painted in the period of Priest Stefan in 1806. The most impressive are the scenes depicting the life and miracles of St Naum of Ohrid. The iconostasis carved in 1711 was also impressive.
I then took a boat to see a pond with hundreds of underground springs ejecting thousands litres of water every minute. The water running into the Lake is wonderfully clear: I can see water coming out from the springs at the bottom or from the side of the pond. I paid 10EUR as I was the only passenger.  It was windy and the boatman had taken longer to make the round trip. I missed the bus. Instead of sitting there for two hours, I decided to walk and see the beautiful scenery. I could board the bus when it came.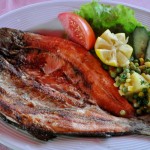 It started to rain and I got wet and cold. Some cars passed by but no one stopped. It was 4pm when a car with two young men stopped and asked whether they could give me a lift. I appreciated their kindness as it started to rain heavily.  One of them is living in Chicago and is on holiday to see his family. He told me that life is not easy as cost of living is relatively high and the salary is generally low. Unemployment rate is high. A worker might get 200-300EUR a month but this is hardly enough. In his case, he and his brother are both working overseas and remit money to support his family.
It was still raining when I went to a nice restaurant for an early dinner. I gave myself a treat and had a delicious grilled Ohrid trout and a glass of white wine for 18EUR.
In the evening, the receptionist told me that I had to pay 60EUR for the tour as the sole passenger. I considered it too costly and asked whether the agent could give me a discount. The company said 'No' and I decided to go without a tour and take a bus back to Tirana direct.
October 13: Ohrid – Radozda – Struga, Macedonia – Tirana, Albany (150km)
A shared taxi to Struga cost 1EUR. I asked the driver to drop me at the bus terminal to buy a bus ticket. As the bus did not leave till 1pm, I asked the driver to take me to Radozda. I emptied my pocket and gave him all the local currency I had which came to about 18EUR.
I had a nice time exploring the western side of the lake and watched two old ladies in peeling off the skin of grilled peppers in a village. I was invited to taste the peppers which were fresh and delicious!Then I walked up a steep slope to see the cave church St Bogorodica which has some impressive frescoes dating back to 11th century.
The driver dropped me off at the bus terminal at 12:15pm. My bus left at 1pm and I was back in Tirana at 6pm.
October 14 Sunday: Tirana, Albania – Milan, Italy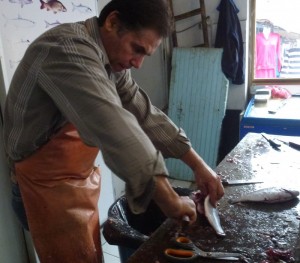 I got up early in order to take the Dajti Exspres cable-car to the top of the Dajti Mountain (1612m). Most of the 6.5-million EUR was delivered by Doppelmayr, an Austrian company famous for its cable-cars as a gift to help developing Albania's tourism industry. Unfortunately, it was closed for maintenance.  Though I had wasted over an hour on the bus, I was glad to have a chance to see other parts of the capital including some local housing estates.
As I did not need to leave for the airport till midday, I went to a nearby fresh food market. It was raining and miserable. But there were still lots of people at the market. I brought two kilos of prunes and figs to bring home and had two grilled fish for 6EUR.
My plane left on time. I had a pleasant flight and arrived in Milan around 5pm.
Remarks
I have a taste of Kosovo, Albania and Macedonia after a 5-day visit.  Lake Ohrid and Ohrid are wonderful: I could spend a couple more days to explore Macedonia.
Tirana and Prizren have taken me by surprise. Apart from several churches and homes which were destroyed in 2004, Prizren shows few signs of a war-inflicted city rising up from ashes.  The city centre of Tirana with Italian architecture and   the revitalized Block area is attractive and bears no trace of its communist past. What I enjoy most is my last hour in the fresh food market in Tirana where I watched the sturdy Albanians plying their trade.
Albania, based on my travel in the Balkans, seems the least organized. There is no bus terminal and it is difficult to get information on buses going to Gjirokaster in southern Albania or to Lake Ohrid, Macedonia. The lady at the Drita Travel has given me wrong information thus wasting a lot of my time. I guess Albania and Macedonia are still having a troubled relationship.  As a result, bus timetable for Tirana cannot be found in the bus terminal in Struga while people working in hotels and tour companies whom I met in Tirana are not forthcoming with information on buses going to Macedonia.
In any case, my last four days in the Balkans could have better spent if information on buses and timetables had been easily available. On reflection, I should have taken a local bus to Pogradec in Albania by Lake Ohrid first. In doing so, I would have avoided late arrival in Ohrid. Pogradec is interesting and I could cross the border on Day 2 to visit St Naum Monastery on my way to Ohrid where I spent two nights.  All in all, I had an interesting adventure in Macedonia!
There is a lot to see in Macedonia and Albany. I am sure I shall return one day.