June 22 (Friday): Harbin哈爾濱
I had a good sleep and woke up around 6am. Elaine greeted me with a 'Happy Birthday'. I am one year older!
We got off the train just before 7am and arrived at the Hanting Hotel 漢庭酒店, a popular Mainland hotel chain before 8am. The receptionists are all young, smart and polite. As the rooms were not available, we went out for a nice breakfast with Nanjing steam buns and black rice porridge for only RMB19!  The room is small but cleaner and airy with sunlight. We paid RMB300 a night. It is a better deal as Ms. Wang charged us RMB260 for the horrible room we had on our first night in Harbin.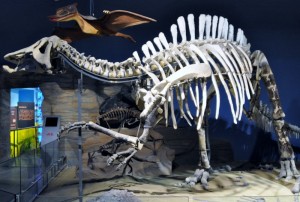 After a nice hot shower and a rest, we set off for the Heilongjiang Provincial Museum housed in a preserved building. It is tiny with few unattractive exhibits. It must be the smallest and least interesting provincial museum in China. The only thing I learn from this museum tour is that Heilongjiang is the first place in China where fossils of dinosaurs were first discovered.  A new museum is apparently under construction.
We were all hungry and had a sumptuous meal with four types of dumplings and plenty of side dishes in a dumpling restaurant. The manager gave me a bowl of noodles as my birthday present. (It is our custom to eat steam peach bun and noodles both of which represent long life)
At the suggestion of a receptionist at the museum, we took a taxi to a new town to see another museum on the Manchus. Unfortunately, we could not find it.  The 30-minute drive has however provided us with a familiarization trip to see Harbin's rapid development. I saw hundreds of high-rise residential blocks under construction and wondered who would take up these expensive new flats.
Our taxi took us back to St Sophie Cathedral. But the museum closes at 5pm and we had to come back for the exhibition the following day. We then went to the Zhongyang Street 中央大街 (Central Street) which is lined with old buildings each with its history and architectural style. Harbin is known for its unique Russian and other European influenced architecture and Central Street is a remnant of the bustling international business activities a century ago.
As the Dragon Boat Festival 端午節 fell on the following day, we experienced a hilarious mood in town. Central Street was like a fair ground with hundreds of hawkers. There were many street eateries.  Girls wore flower garlands on their heads. Many university students had a good time selling all sorts of goods. But there was no effective crowd control measure:  goods were laid on the street leaving only a foot or two for pedestrians. There was a bottleneck and I could hardly move. There was dangerous in case of trampede.
We had a light supper in a restaurant called Tatoc opened by an Armenian a century ago. The food is average but I like the nostalgic and amicable atmosphere. Most of the customers were young people and there were a couple of foreigners.
Most people were heading towards the Songhua River松花江. We followed the crowd and arrived at another landmark namely the Flood Prevention Memorial防洪纪念塔. I guess there must be 200-300,000 people from the Central Street to and the river side.  Traffic had come to a standstill: vehicles had to fight their way at the busy junctions. I have not seen so many people for a long time.
There was no road or directional sign. The only policemen I saw were all lining up along the river wearing a life jacket with a view to stopping the crowd from getting near or jumping into river. How comical!
We walked along the river passing the old steel bridge built a century ago. To our horror, there was no exit for the next two kilometres.  We were tired but could not get a taxi as the traffic hardly moved. We were forced to walk all the way back to the hotel. I was relieved to get to my room before 11pm. What an experience!
June 23 (Saturday): Harbin哈爾濱 – Shenzhen 深圳- Hong Kong
I had an excellent sleep. After breakfast, we set off for St Sophia Cathedral for the third time. I enjoy the exhibition of historical photos of Harbin which was planned and built from the stretch mainly by the Russians. The foreign population even outnumbered the Chinese population in the beginning of the 20th century.
In my view, Harbin was Mainland China's most westernized city in both appearance and substance. Many grandiose buildings which are architectural gems are still standing in the Central Street and many parts of the city.  Unfortunately, some of them have turned into flagship stores of branded goods. Leon lights and inappropriate advertisement signs and boards have ruined the buildings and the atmosphere of this unique city.
We departed for the airport at 1:30pm. The airport bus is comfortable and cheap (no more cheating by dishonest taxi drivers). Our plane was delayed by about an hour. But the nightmare began when we were told at 9pm that the plane would be diverted to the Guangzhou airport as a result of poor weather and the plane might return to Shenzhen later that evening.  About 10pm, we were told to take our hand luggage and leave the plane to wait at the lounge.
Once we were in the lounge, the airline staff told us that we would spend a night in hotel and return to Shenzhen the next day. No one liked the idea as Shenzhen is less than 100 km away. Some passengers were so upset that they shouted at the poor staff. Finally, three coaches were arranged to take passengers to three destinations namely the Shenzhen airport深圳機場, Futian福田 and Huanggang 黄岗 / Lowu 罗湖. Our bus did not leave till 12:30am and we arrived at the Huanggang 24-hour border around 2am.  I was surprised to see many people crossing the border. The overnight bus service is very good and I stepped into my flat at Yaumetai at 3am.
What a day and an unexpected way to end this trip!
Remarks
This is not a comfort or dream trip. I set off with disbelief that aurora can be seen at Mohe at the Summer Solstice. I was not disappointed by the absence of aurora as I had not expected it. But I am sad to discover (or rediscover) some hard facts of developments in China.
Many foreigners have mentioned the difficulties to get accurate information in and from China. They also often complain about misrepresentations. I have indeed found several misrepresentations on this trip.
First, this northernmost point is called shenzhoubeiji 神洲北极 (i.e. China's North Pole). One must not confuse it with the world's geographic North Pole which is thousand miles away.
Second, aurora can be seen at Mohe but it has only appeared 19 times in 49 years including three times in one year.  Given China's good record keeping, I am sure the authority has the full list of the date and time when aurora has appeared.  Unfortunately, no one I have met is able to say even when aurora was last seen.
Third, aurora (northern light) according to the Mohe observatory station cannot be seen in June. It is therefore misleading or even deceptive to promote aurora viewing at the time of the Northern Lights Festival.  If the festival is meant to be a gimmick, the tour companies should use aurora viewing as a selling point or at least point out the rarity of its appearance. Visitors may still come to see the northernmost point in China.
While there is no aurora, the local authorities have made us of modern technology to provide a laser show at the Arctic Village. Some shots of my pictures of the laser show can be mistaken as aurora! I think the festival would be more appropriately named as神洲-北極-光節 (China- North Pole – Lights Festival)!
I give credit to whoever has come up with the idea of using Mohe's geographic position and the possibility of seeing aurora for marketing. Having a Northern Lights Festival on the day of the Summer Solstice is a gimmick which has succeeded in drawing thousands of visitors to this remote part of China in late June.
The Arctic Village is another North Pole theme park.  They are rushing to construct more hotels, build a wetland park and a golf course. Soon, this remote part of China will become a touristy resort. What a pity!
Chinese love travel and tourism is a big industry. Travelling in China is getting expensive. But I often do not feel satisfied and find something lacking.
First, the standard of travel agents varies.  The service of Ms. Wang and the guide in Harbin is disappointing. To go with a tour from Hong Kong normally guarantees better quality since a Hong Kong company at least knows our expectations.
Second, overcharging for poor service/quality is a problem. The hotels arranged by the agent are poor though we paid a fair sum by local standards. We paid RMB1800 for a 7-seater minibus at Mohe.   Mr. Nip told us that a single trip from Mohe to the Arctic Village only cost RMB100-150 and even hiring the minivan for the whole day would be around RMB400. What a rip-off!
I have asked my brother, Lawrence to press Ms. Wang for a refund of the difference of the train ticket back to Harbin (i.e. RMB400 in total) and for the hotel in Mohe (i.e.  RMB 760 for two rooms). So far, she has agreed to refund for the first but not the second item.
Third, the entrance fee for attractions is exorbitant. Many of them are in fact not interesting.
Fourth, China is the most populous country in the world. I have noted most attractions have been developed for mass tourism. I am sad to say that most of the attractions in China have a theme-park feel.  Harbin, Mainland's city with the most Russian and European feel, has also become now just another Chinese city. What a pity!
Anyway, though the trip is a disappointment, I enjoy the company of Elaine, Tsui and Kai, my good friends. To have a simple and wholesome breakfast and lunch on my birthday is also a blessing. What more do I need in my old age!