I was in Vancouver briefly in 2003 after a cruise but I had no reason for a second visit. When I got news of a good friend undergoing medical treatment, I decided it was time to go.  I had a restful holiday spending most of the time with my friend talking about our carefree days in university and our memorable trip to India, Nepal and Bangladesh in 1978. I also made an accidental 3-hour trip to the United States.
 April 1, Sunday: Yellowknife – Vancouver via Edmonton
I departed Yellowknife for Edmonton on schedule at 2:15pm. But I had trouble with my connecting flight to Vancouver. Instead of taking the 4:40pm flight on my original booking, I had to take the 6:40pm flight without any explanation from the Air Canada unhelpful and unfriendly ground staff at Edmonton. That flight was delayed and I did not arrive in Vancouver till 8:30pm. I do not want to travel with this airline again.
My elderly uncle and aunt and their daughter, Winnie, have immigrated to Canada from Guangzhou, China some 20 years ago. They live in Richmond which has a high concentration of Chinese. Winnie works in a factory and has not bothered to learn English. It is sad. I think immigrants while keeping their ethnic identity and culture should also learn the local language and integrate.
My 86-year old uncle has Alzheimer and aged a lot. Though blind, he remains healthy, has a good appetite and can walk without support. He cannot remember me and his sister, my late mother, who died in 1975.
April 2, Monday: Richmond
I had a busy day. I first visited Cathy's parents who live nearby. Uncle Tsang is 91 years old, very healthy and active! He plays mahjong and has good memories. I took my uncle, aunt and Winnie out for a dim sum lunch. My uncle, who normally spends all the time in the flat, loves dim sum. He apparently enjoyed the people, the noises and food in a Chinese restaurant. My mother cared very much for her brother and I am glad that I visit my ailing uncle and take him out for a lunch. (I wanted to take him out again for a dim sum lunch but Winnie was busy and could not drive them to the restaurant. It is a pity as I do not know when I shall see him again as Vancouver is not normally on my radar screen).
After lunch, I met Anne-Marie, a buddy from the 69-day trip in West Africa. She has taken a year off from her teaching post in Ireland and is looking for a temporary teaching post or any job for a few months in Canada. We had a nice chat at the Aberdeen food court which is modern, spacious and most comfortable and affords a fantastic view of the nearby snow-clad mountain.
I had dinner with Shelley (who was on a short holiday in Vancouver), Catherine, Christine and her mom. We had enormous appetite and finished six excellent dishes of seafood and vegetables!
April 3, Tuesday: Surrey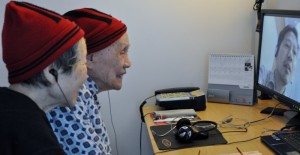 I spent the morning in the flat while my uncle and aunt talked with their eldest daughter and youngest son in Guangzhou (using QQ which is free). Both sprang to life: they smiled and looked blissful.  Modern technology has indeed transformed our life and people who are living and working away from home, can now afford to have regular chats with their families and friends.
Kong, a classmate from the HKU and his wife, Josephine, picked me up before noon and we joined Uncle and Auntie Tsang for a dim sum lunch. After lunch, we went shopping and brought a fresh salmon head, crabs, dumplings and plenty of vegetables from three market places before heading to Paulina's house in Surrey.
Sam, another classmate was also in Vancouver. Kong picked Sam and his wife, Regina and we drove to Surrey. I was pleased to meet Linda, Paulina's godmother from the States. In the evening, we had a feast with steamed crab, scramble eggs and many vegetarian dishes.
Paulina, Kong, Sam and I first met in the University of Hong Kong in 1975. We had 30 students including six males In our social work class. We have become close friends and all four of us joined a 26-day study tour to India, Nepal and Bangladesh in 1978. We chatted about the good old days and this study trip. I have always wanted to write about this inspirational trip but have lost my notes. But Paulina has kept a complete file with photos in good conditions. I have decided to prick their brains, gather information from them so that I can write about this memorable trip.
April 4 – 9: Surrey
I spent most of the time with Paulina and in her house. She lives with her husband, Leslie and two kids, Genie and Wesley. Every day we began the day with a healthy breakfast including congee, cereal, fruit and bread. She took a nap and I prepared lunch around 1pm. Paulina had a rest in the afternoon and I started preparing dinner at 6pm. While she was resting, I read or worked on my website.
Life is simple but I have a few things done. First, I uploaded pictures of my West Africa trip to my website. Second I prepared an initial draft of the 1978 study trip!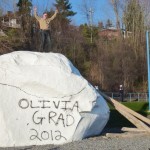 Third, I had been to White Rock. As the weather was fine and sunny, Leslie took Jeanie and me to White Rock close to the border with the US after dinner one evening. The coastline is beautiful. There were plenty of locals or American tourists strolling along the rocky beach enjoying the warm sunshine. We watched a gorgeous sunset on our way home.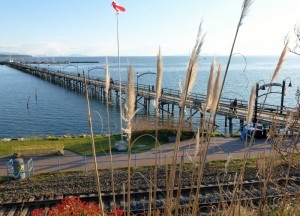 Fourth, I made a whirlwind visit to the United States (US) on Easter Saturday. Jeanie wanted to go shopping in a big mall on the US side. We set off at 2pm and reached the border within 15 minutes. But it took us some 20 minutes to arrive at the check-point. Though I have a 10-year visa for the US, I was told that I need an i-94 (?). I had to queue for half an hour inside the immigration block and paid US$6.  I cannot understand why I have to pay when I have already paid for a 10-year visa. We spent some 40 minutes there. What a waste of time!
Petrol is much cheaper in the US and Leslie wanted to fill up the tank. We waited for an hour at the petrol station. I noted most of the cars had Canadian plates. Many Canadians brought several jerry cans for refill!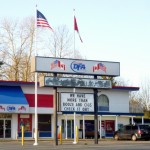 We finally arrived at the mall at 4:30pm. Jeanie headed immediately to check out a couple of stores and got two pairs of shoes and a pair of jeans. We left the mall before 6pm and made a quick stop at a famous diary shop to get a 5-gallon bucket of ice-cream for US$11.90. Great value for money! I can understand why many American are obese as portions of food are often oversize, plentiful and cheap.
We had two more parties at home. Sam, Regina and Kong came again for a hot-pot dinner on April 8. Four of us sat down for an hour to go over our 1978 trip to identify the missing links and information. Kong will scan photos for uploading in my website. We had a most delicious hot-pot dinner with plenty of vegetables and seafood.
Peggy, another classmate came for a pot luck dinner on April 10. Kong and Josephine prepared two vegetable dishes and a big bowl of vermicelli. Peggy brought two big trays of sushi. I prepared scramble eggs with union and fresh prawn, a stir-fry with kale and pork and a pot of mixed vegetables. Leslie cooked a curry fish the night before. We had another sumptuous meal and plenty of laughter!
April 11, Thursday: Vancouver – Hong Kong
Kong drove me to the airport at 10am and my plane took off before 2pm. I was back in Hong Kong at 6pm on April 12.
Remarks
My peaceful retreat in Vancouver is most enjoyable. I had time to rest, meet relatives and close friends, work on my website and cook and eat healthy organic food! As a professional tourist, I treasure my time hibernating as much as the time on the road.
We call Paulina our 'big sister' as she is tough, authoritative and determined.  Though she immigrated to Canada in early 1990s, she has always stayed in close touch. We had lots of fun during our 20th anniversary celebration trip in 2008 to Shunde, China.  I admire her high EQ and perseverance.  She has coped well and made remarkable recovery after her recent surgery and has endured the side effects of medical treatment for the last few months. I am glad to see her in good spirit and wish her speedy recovery.
Following our discussions of the 1978 trip, I shall be able to recap enough details and hope to complete the writing before leaving for my next trip (I do not know when or where yet).
I have now been to Vancouver twice. But I have not yet explored this lovely green city including the famous Vancouver Island. Well, I am sure I shall set foot in Canada again one day to see its pristine scenery and aurora!