Discovery of Mustang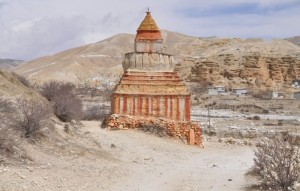 After my visit to Chitwan and Lumbini, I made my way to Pokhara. On April 4, I met up with 11 members of the trekking group (nine Italians including Carlo Amberto, leader of the group, Clifton, an American and Peter, a Swede) and Achut, the local guide. I had an unforgettable 50km-trek to Lo Manthang discovering the stunning landscape and majestic scenery of Upper Mustang. On the way back, we had an adventurous truck drive through the spectacular Kali Gandaki canyon.
Mustang
Tibetan and Ladakhi chronicles have mentioned Lo since the 7th century AD. Its history as an independent kingdom began after 1380 when Ame Pal, a warrior and a devout Buddhist from Western Tibet, built the fortress of Ketcher Dzong.  Having defeated the local warlords, he constructed a walled capital, Lo Manthang.
The kingdom used to occupy a strategic position on the trade route between Tibet and India. Economy and culture thrived. At the end of the 16th century, the kingdom came under the power of Ladakh and became a vassal state of the kingdom of Jumla around 1760 and later the rulers in Kathmandu. Lo largely retained autonomy in its internal affairs and became a district in 1951 following the introduction of a constitutional monarch. The Mustang District was declared a restricted area in 1959. Lower Mustang has been opened for tourism since mid 1970s while Upper Mustang (northern part of Nepal) consisting of 31 settlements, remains a restricted area and closed to foreigners till 1992. Visitors are required to pay USD 500 for an entry fee for ten days and the permit is only issued to agency-organised groups.
Upper Mustang covers some 2,500 square kilometres with a population of about 9,000 people.  The whole region is arid and agriculture is impossible without irrigation. Barley, buckwheat, peas and potatoes are the main crops. Villagers of the greater part of Upper Mustang trek south after the October harvest and spend the cold months in Pokhara, Kathmandu or India. Religion plays a central role in people's life in this area and most gompas (monasteries) belong to the Ngor subsect of Sakya Buddhism.
Day 1 (April 4, Easter Sunday): Pokhara
The group would arrive in the late afternoon from Kathmandu. I therefore had a leisure day in Pokhara on my own. My hotel is opposite the Phel Lake and the Basundhara Park. I had a morning walk and saw for the first time the postcard view of Pokhara in mist with a green lake, reflections and range of snow-clad mountains as backdrop but I did not have my camera. The beautiful image stays with me forever.
After a briefing, Carlo took the group to buy trekking poles, fleece sleeping bags, hats, socks etc. We were well- equipped and ready for the trek!
Day 2 (Easter): Pokhara – Ghasa (by bus)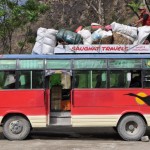 We had a long travelling day. Setting off at 7:30am in a van, we arrived in Beni for lunch and met up with six more support staff. We loaded our stuff onto a local bus and had a most bumpy 3-hour ride on dirt road to Ghasa (2000m) which marks a cultural and ecological milestone as the southernmost limit of Tibetan Buddhism and the beginning of Alpine vegetation. We stayed in a guesthouse and had our first dinner prepared by our fantastic cooking team headed by Kancha. We had a chocolate birthday cake to celebrate Regina's birthday. It's amazing to watch Kancha preparing delicious food including soup, pasta, curry, pizza, salad, rosti and cakes. We had 5-star meals during the entire trek.
Day 3: Ghasa – Jomsom – Kagbeni (by bus; walking 3 hrs)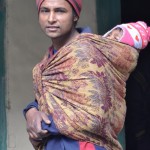 Transportation is a problem in Nepal. We had to change buses from Ghasa to Jomsom, which is a busy regional capital with an airport. The dirt road is not as bad as the day before and the scenery gets better and better with the Dhaulargiri range on the left and the Annapurna range on the right. We had a leisurely lunch at Jomson (2760m) and enjoyed our first spectacular views of Nilgiri.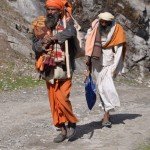 We began our trek after lunch to Kagbeni (2800m) along the river bed of Kali Gandaki. The walk is easy and relatively short. Kagbeni at the edge of the Tibet Plateau, is a picturesque fortress town with medieval buildings and terracotta Buddhist figures. It is a favourite place for film shooting.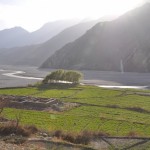 Our first campsite was in a walled field in the village. Nilgiri, dry river bed and mountain ranges on both sides provide a magnificent backdrop. We had biscuit, fried soya beans and maize for afternoon tea followed by a fabulous dinner. I also tried some raksi (rice wine). I had my own tent.
Day 4: Kagbeni – Muktinah – Kagbeni (walking 5 hrs)
Several members of the group did not feel well. After some discussions, Carlo and Achut decided to give us a rest day in Kagbeni. Members could rest or take a side trip. I joined six members and walked along the path to Muktinath (3800m). We had fantastic panoramic views of Dhaulargiri, Nilgiri North (7061m), Annapurna (8091m) and Tilicho (7134m). We stopped for lunch after two hours' walk. While others returned to Kagbeni on foot, I decided to walk on my own to Muktinath and return by jeep.
| | | |
| --- | --- | --- |
| | | |
Accompanied by Adip, Achut's son and Chumbu, I set off after lunch and passed by a couple of picturesque villages. Jharkot looks impressive with a fortress and an old temple. As I did not have much time, I gave it a miss and headed straight to Muktinah which is one of the most important religious sites in the Himalayas for both Hindu pilgrims and Buddhists. The Mahabharata mentions it as the source of mystic shaligrams. The Vishnu temple with 108 water spouts is the centre of activities. Pilgrims visit the temple, take a bath and bring home the holy water. The Buddhist shrine has two perpetual flames. Yartung, an exotic festival of horse riding is held around the full moon of August-September.
We took the 4-pm jeep back to Kagbeni and arrived just in time for tea in a smart dining tent in the campsite. We had Thai fried rice and pasta for dinner followed by performance by our ten Nepali friends. Chumbu was the star singing and dancing. I moved to a room in a guesthouse as I could not sleep well in the tent.
Day 5: Kagbeni – Chele (walking 7hrs)
I got up before 6am to watch sunrise and had a leisure walk before breakfast. The village is very pretty. I watched locals bathing in the river; going to a Hindu temple and student monks playing football in the monastery which is under restoration.  After breakfast, we walked through the village and reached the entrance to the restricted Upper Mustang. From Kagbeni to Lo Manthang is a five-day walk.
We spent most of the day walking leisurely on the dry river bed of Kali Gandaki. Colours of the stunning red cliffs along the river change during the day. The desert-like landscape is unbelievably eerie and beautiful and looks like art work and sculpture. On several occasions, we had to climb up the slope to take the main track when the river is too deep to cross.
| | |
| --- | --- |
| | |
There are five villages in this area, namely Chele, Chhuksang, Ghyakar, Tangbe and Tetang, which are a culturally unified group who call themselves Gurungs. We had a long lunch stop at Chhuksang (2980m) located at the confluence of the Narshing Khola and the Kali Gandaki. Facing some stunning red organ-pipe eroded cliffs across the river, Chhuksang is scenic with high whitewashed stone houses and very narrow alleyways. Many families keep their cows and horses in compounds surrounded by stone walls in the dry river bed.  I saw another settlement not far from Chhuksang with a large old temple and some ruins. Unfortunately, it was not on the itinerary and I did not have a chance for a visit.
After lunch, we had a fossil hunt on the river bed. Achut and his son found a lot of beautiful fossils. We crossed two bridges and walked up a steep hillside to reach Chele (3100m), our second campsite which is sheltered. I managed to have a good sleep in my tent.
 Day 6: Chele – Ghiling (walking 8 hrs)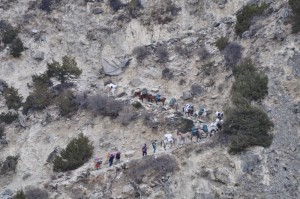 This is the longest walk (16km) for this trek. We started off with a fairly steep climb before reaching Chele La (3630m) followed by a long and gradual descend to the 'oasis' of Samar (3620m) with poplar trees.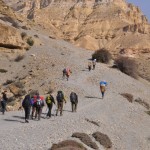 We had tea in Samar and then an excellent cooked picnic lunch with delicious pasta, sandwich and potatoes before embarking on a long uphill trek to Bhena La (3860m). The valley is covered with juniper trees. We reached the highest point, Yamdo La (4010m) which affords fantastic views of the whole region. We saw several mountains ranges with spectacular rainbow colours in a distance (We reached this area the following day).  After a brief tea break at 4pm at Syangboche, another classic Mustang village, we finally descended to Ghiling (3570m). Though it's a long day, I was not exhausted as I walked slowly.
Day 7: Ghiling – Tsarang (walking 6 hrs)
I have settled comfortably with a routine on the trek: an early rise around 6am to watch sunrise; a leisure stroll before breakfast at 7am; setting off around 7:45am; morning tea around 11am; lunch between 12noon and 1 pm; end of trek around 4pm, afternoon tea around 5pm, dinner at 7pm and bed time before 9pm. Such a simple life suits me: I feel as free as a bird, happy and healthy with plenty of exercise, fresh air, simple food and quality sleep.
I wandered around Ghiling before breakfast. The long mhane and chorten in the village centre is picturesque. The monastery built in 13th century was closed and I could not visit.
We set off after breakfast. After an hour's climb, we reached Nyi La (4020m) which is the southern boundary of Lo and had full views of the Annapurna range, Nilgiri and many other peaks. The descent to Ghemi La is relatively easy and we stop at Ghemi (3510m), the third largest village in Lo for a long lunch break. I walked around the village looking at the temple, chortens, mani walls and watching women washing their clothes in the running stream and at the village square.
After lunch we crossed Tangmar Chu and reached the spectacular mani wall (240m-long) and the colourful cliffs which I saw the day before.  The mountains with cliffs in bright red, green and brown on the left side and in darker colours including green, blue, grey and brown on the right are stunning and unearthly beautiful.  The colours change constantly and are most impressive.
For the first time on this trek, I did not feel well and my legs were heavy. Though the trail is neither difficult nor steep, I walked very slowly trailing far behind the group. Anyway, I took my time to enjoy the fantastic landscape and was relieved at the sight of the Tsarang chorten measuring some 7 metres high.
Tsarang (3650m), a former capital and the second largest town in Lo, is located in a semi-arid cold desert. The village with some 400 inhabitants is an oasis with water and greenery. The name Tsarang is derived from the Tibetan word 'Chaptrun Tsetrang (cock's crest), the crest the narrow rocky ridge upon which the castle stands. It is a maze of fields and willow trees and houses are separated by stonewalls at the top of the large Tsarang Chu canyon.
There are two landmarks perched on the edge of the Kali Gandaki gorge at the eastern end of Tsarang. On one side is the five-storey white Samdub Ghephel Palace built in 1375 AD in the form of a dzong (Tibetan style fortress), which was once the greatest library in Lo.  Next to the Palace stands a majestic red gompa built in 1385 AD belonging to the Ngor-pa, a sub sect of the Sakya-pa sect in Tibetan Buddhism. It has a collection of statues and thangkas and a famous gold-leafed prayer book.
When I arrived in the village around 4pm, my hands were cold and eyes swollen.  Though I would like to visit the gompa, I knew I must rest and asked for a room in order to keep warm. Though the room is dusty and not clean, I slept comfortably in my own goose down sleeping bag. I took a nap before dinner and went straight to bed after dinner. A good rest and water are best medicine and I recovered quickly
Day 8: Tsarang – Lo Manthang (walking 5 hrs)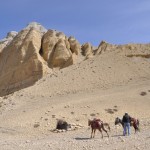 I watched sunrise and the deserted dzong from my room.  I rushed to the gompa hoping to see its treasures. Unfortunately, the monks were on vacation and the gompa was closed.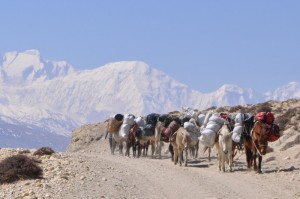 After breakfast, we departed Tsarang for Lo Manthang (3840m), the capital of Lo. The walk was relatively easy and short. The landscape changes again with moon-like surface painted in every hue of grey and yellow. A large isolated chorten marks the boundary between Tsarang and Lo. I could not take photos on my way to Lo Manthang as my battery was flat.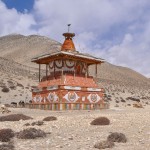 After crossing Lo La (3950m), I had my first sight of the walled city of the capital which is surrounded by many picturesque walled irrigated fields dotted with farmers and cows.  On the top of two hills north of the town are the ruins of castles – the one on the higher hill was the palace of Ame Pal, the founder king of Mustang and the other one, ruins of the Queen's castle, is now a sky burial site.
Lo Manthang first built by Ama Pal, is atmospheric and most photogenic. Its walls are 750m long and 9m high with 14 towers. The whitewashed houses are closely packed together inside the walled city. It has an estimated population of 1,100 and is famous for its three gompas.
After lunch, I went to the information centre. The officer-in-charge suggested I visit the gompas and make a day trip to Chosar to see the Jhrong Cave and some gompas. He kindly allowed me to recharge my battery free of charge.
After dinner, the group reviewed the travel plan. We discussed whether to adhere to the original plan i.e. to spend three nights in Lo Manthang and to return to Jomsom via Drakmar, Shyangmochen, Chhuksang and Kagbeni on foot or take an adventure truck drive through the canyon to Jomsom and trek first from Ghasa to Tatopani (1190m), a place famous for its hot springs and then to Poon Hill (3193m).  As the Italian members had not been to Poon Hill, the group decided to take the second option.  Personally, I prefer to spend as much time as possible in Lo Manthang and Mustang.  As I have been to Poon Hill, I decided to trek to Sarangkot (1590m) on my own on April 15 and meet up with the group in Pokhara on April 16.
Day 9: Lo Manthang – Chosar -Lo Manthang (horse riding and sight-seeing 6 hours)
There is a lot to see in Lo Manthang which is the spiritual, historical and cultural centre of Lo as well as the surrounding areas. I had a full day and visited Chosar and the three gompas in Lo Manthang.
Chosar – I went to Chosar on horseback and was joined by Clifton, the youngest member of the group. Horse riding provides a relaxing way to discover this region. We visited the Jhrong Cave which is about 2500 years old. The setting is spectacular with the cave perched high on the cliffside. The cave has only one entrance gate and provided in the past shelter for the villagers especially in time of danger. There are some 80 rooms of all sizes spreading over several floors. We also visited the Lowo Nyiphug Norbuling Monastery built inside a cave and the old Lo-Garphuk Ka Ning Samten Choeling Monastery.
Jhampa Gompa – Built in 1447-48, the three-storey temple has a most impressive 15-m tall painted clay statute of Jampa (Maitreya), the future Buddha, seated in a meditative cross-legged (lotus) position on a pedestal occupying the entire ground floor. The walls are painted with elaborate mandalas which are said to some of the finest in the Tibetan world. Some can be seen in good sunlight while many are in poor condition. The walls of the gompa are 5 feet 4 inches thick. The view from the rooftop at sunset is fantastic.
Thupchen Gompa – Built in the 15th century by the third king of Mustang, it has a massive assembly hall supported by 35 huge wooden columns. The statues of Sakyamuni Buddha surrounded by Chenresig, Vaisravana (the god of wealth) and Guru Rinpoche are beautiful.  The intricate frescos on the walls are unfortunately in various stages of deterioration.
Chhode Gompa – Founded in 1710 by a king of Mustang, it is the main gompa in Lo Manthang and the resident of monks and higher lamas and is now within the compound of the Tsechhen Shedrubling Monastic School. There is no light and it is difficult to see the painting of Mahakala and the small but beautifully crafted bronze, brass and copper statues placed behind glass cabins.  Choprang Gompa, a new gompa located next to the Chhode Gompa is used for daily praying by student monks. There are pictures of Sakya trichhen Rinpoche (head of the primary Sakya lineage), and heads of two secondary Sakya lineages. Beautiful masks used in the annual Tiji festival are hung on the columns.
I had the good fortune to meet the school principal of the monastic school. He kindly offered me tea and we had a long chat about problems in Lo Manthang including poverty, drinking, lack of medical service and broken families. His school which provides free education and boarding to poor boys relies largely on donations. On knowing my interest in culture and religious heritage, he suggested I visit the Luri Gompa and others. A good time to return is the spring festival at the end of the third Tibetan month (around May). The three-day ritual re-enacts the battle of Dorje Jono against his demon father to save Mustang from drought.  He further offered to help arrange my visit to see other important gompas near Lo Manthang.
Day 10: Lomanthang – Jomsom (by truck 5 hrs and walking 1 hr)
The support team uploaded our stuff into the truck after breakfast. We left Lo Manthang on foot and walked uphill for some 2km until the capital was out of sight.  According to Achut, tourists are not supposed to travel in trucks like the locals.
Our truck had some 25 passengers (our group of 12 and eight staff, a woman with two young kids and a couple of men with their goods). Our caravan of 14 ponies and two staff left the night before so that they could meet up with the group in Jomson.
The truck travelled on the same path we had trekked till we reached Tsarang. It then descended to Kali Gandaki and drove to Jomsom on the dry river bed. On a dozen of occasions, it zigzagged across the flowing river.
We entered a narrow red canyon where we stopped for lunch. I was amazed to see the patterns of salt deposits in the the wind-eroded cliffs. The section of the canyon just before we came out at Chele is stunning and most spectacular. On several areas, the canyon is less than 10m wide with art-work like curving on smooth overhanging cliffs. We arrived in Jomsom before 3:30pm i.e. less than six hours' driving instead of a 5-day trek to cover the 50-km trail.
While it's an experience to travel on a truck (the first time in my life), I still prefer a slower mode of transportation i.e. on foot or horseback which gives more time to enjoy the scenery, appreciate the art work created by nature and soak in the atmosphere.
I am fascinated by Mustang, its culture and landscape and plan to return at the time of the Tiji Festival. For me, my next trek can start with the Annapurna circuit to Muktinath and then take the eastern trail to Lo Manthang with side trips to Yara and Luri. On the way back, a trek to Drakmar, Shyangmochen and Ghemi will enable me to see the Ghar Gompa, one of the oldest in Mustang. I would like to do the final leg through the canyon to Kagbeni on horseback!
Day 11: Jomsom – Tatopani (by bus and walking 6 hrs)
We first took a bus from Jomsom to Ghasa and then walked to Tatopani.  After spending days in the sparsely populated area in Mustang without noise, I had to adjust to life in the real Nepal which is noisy and full of litter. The bus driver put on some very loud music and I felt my blood pressure rising. In fear of a heart attack, I asked Achut at tea break whether I could leave the bus and walk to Ghasa. Achut kindly asked the driver to turn off the music.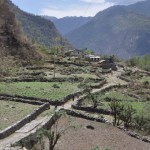 The trek to Tatopani took us through some villages along Kali Gandaki. The huts are much smaller and the hillside is heavily terraced for crop cultivation. Erosion and landside are serious problems.
Heavy rain started to fall after lunch. We had to make a stop at Dana and get some make-shift raincoats using big plastic bags. Walking in the rain is a nice experience – the air is sweet with the flagrance of wild flowers, Alpine vegetation and grass. The river has lot more water and is dotted with many rapids. I finally reached the campsite at 5pm.
Tatopani is famous for its hot spring. After putting on my bathing suit, I headed to the man-made spring which charges 50 rupees. But I discovered a small natural pool with several locals soaking in the water. I joined the locals and had a nice time talking with them through sign language. They were welcoming and told me to get myself totally immersed in the water. But as I had a cut on my leg, I dared not put the wound into the boiling water.
Our chef, Kancha and his team prepared our last dinner on this camping tour. We had spring roll and soup as starter followed by a delicious chicken curry with rice and pasta. The great surprise came when he placed two beautiful cakes on the table i.e. an end-of-trek coconut cake and a belated honeymoon cake for Leo and Rafaela (who got married last December and postponed their honeymoon trip to join this trek). We sang, took turns to cut the end-of-trek cake and had pictures. The room was filled with energy, joy, laughter and singing.
Day 12: Tatopani – Beni – Naudaada (by bus)- Sarangkot (walking over 2hrs)
I had a quick dip in the hot spring before breakfast. I was surprised to see the same group (i.e. five ladies and two men) in the pool.  After soaking in the hot spring, the old ladies curled up and covered themselves with a thick blanket. I suppose such posture help stretching the spine. After breakfast, a group of 10 (except me and Peter, the Swede) set off for an 8-9 hour hike to Gorepani and to watch sunrise at Poon Hill the following day.
Peter and I joined Achut and his staff to travel by local bus to Pokhara. We had to travel to Beni first and waited for over an hour for another bus to Pokhara.  I got off at Naudaada to start my two and a half hour hike to Sarangkot. The walk is easy without any ups and downs. I saw many villages on the way and found a hotel before 5pm. I walked up to the lookout at 1590m for a panoramic view.  The weather was hazy and I found the views unimpressive.
Day 13: Sarangkot – Pokhara (walking and by taxi)
I got up at 5:30am and arrived at the lookout before 6am.  Many people, both locals and tourists were there already.  The weather was not good – hazy and cloudy and the Annapurna range and the famous Fish Tail were barely visible. On my descent to Pokhara, I stopped at a lodge with a terrace overlooking the Phel Lake for breakfast. The morning sun is nice and warm (but not hot) and I had a continental breakfast. Half way down, a taxi stopped and I paid 200 rupees for a ride back. I arrived in Pokhara before 10am.
The group of 10 arrived around 5pm. They had a nice sunrise at Poon Hill and all seemed happy. We had a great steak dinner with plenty of red wine and finished off with rum. We were all very happy and our Italian friends were singing and laughing. They are organising a fund-raising event on September 24 in Finale close to Genoa and asked me to join. (I love to go but shall probably in Tibet at that time)
Day 14: Pokhara (rest day)
I went to Anadu which is a lovely village on the other side of the Phel Lake, to visit Richard, a professional photographer. I had to take a boat and then walked up some 150m to reach the lodge which is a 200-year old farm house surrounded by terraced fields. Its owner has renovated the dilapidated house turning it into a charming, peaceful and beautiful home for his family of three as well as lodgers. It offers one of the best views of the lake, the World Peace Pagoda, Pokhara and the mountains. I then met Sam (an Indian), Mike and Ken (both Canadians) and Tracy (an Australian working for a NGO).
The lodge keeper prepared a nice brunch for us. I enjoyed sitting in the garden which has wifi! Richard was planning a trip to Dolpo in early May to see some remote villages and asked whether Sam and I would like to join. Though Dolpo is on my wish list, I could not go as I had already paid for a trek to Kanchenjunga.  After lunch, Richard gave Tracy and me a lecture on how to take good photos. He also used my photos taken in Ethiopia to illustrate how to crop to bring out the best quality. He sent the set back to my hotmail account (For some unknown reasons, MSN has blocked my account and I could not get access to this set of photos.)
The weather turned bad in the afternoon with heavy rain, hailstorms, thunder and lightning. Tracy and I wanted to take the boat back to Pokhara around 4pm. A vet who came over to treat one of the owner's dogs was also anxious to return to the mainland. After waiting for two hours, we decided to move on at 6pm. Sam volunteered to row together with a boatman.  The rain stopped for a moment when we set off. But thunder and lightning continued non-stop which is scaring. I prayed we would not be hit by lightning and for safe landing before the arrival of the rainstorm. In the middle of the lake, the boatman got sick and stopped paddling. The vet immediately took over and after more than 40 minutes rowing, the landing place was finally in sight. But we got stuck in the mud when a big hailstorm with heavy rain lashed at us without mercy. Sam kindly lent me his coat which kept my head dry.  I was relieved when we finally arrived at the landing. I took them for a hot drink and thanked Sam and the vet for getting us back safely and arranged a taxi to take the vet home.
Day 15 (April 18, Sunday): Pokhara – Kathmandu (6 hrs by private van)
Remarks
I had a most enjoyable time on my Mustang trek.  Mustang is most impressive with its topography, landscape, history, people and culture. I wish I had more knowledge about it before the journey. The people live in a very harsh environment – the soil is poor, the weather is very cold and windy in winter. They are sturdy and hardworking. I admire their perseverance and spiritual way of life.  I hope to return next year.
As a professional tourist, I have been travelling with people from different nationalities. This was my first trip with the Italians and I thoroughly enjoy their company. It is always so delightful to hear to their chatting which sound is musical and full of energy. They are cheerful, energetic, friendly and sing all the time. I find the Italians, like the French, know how to eat and l'art d'e vivre.  I have never had such sumptuous and delicious food on a trekking tour. For breakfast, I found several types of cereals, porridge, eggs in different styles, honey, jam, peanut butter and toast on the table. In addition, we had genuine Italian espresso, pasta, cheese, chocolate and sweets.  Indeed I put on some weight on this trek.
The trip is well-organised thanks to Carlo, Achut and his team. They are flexible, attentive, efficient and cheerful. I shall miss the pasta, espresso in the morning and above all, the company of my Italian friends!
(End of Part 2)