Ethiopia is an intriguing African country which has fascinated me for years. It has a long history and is world famous for its rock-hewn churches, unique and colourful tribes and their culture. It is also one of the poorest countries in Africa scarred with wars and famines in the past thirty years.  I joined a 26-day an adventure tour called 'Ethiopia Encompassed' including a 15-days northern highland trail with star attractions such as Lalibela, Gonder, Simein Mountains National Park (all World Heritage Sites) and a 12-day tour in the south to discover the tribes and their culture.
Day 1 (January 22, Friday) – Addis Ababa
One new member, Mirren who is a nurse from the UK, joined. Once again, we had a briefing with the tour operator and our new guide, Milanlu who came from Jinka.
Day 2: Addis Ababa – Arba Minch (450km; 10hrs)
The new gang of seven (two men and five ladies) together with our guide, Milanlu started off at 7am in two old four-wheel drive vehicles. We had a long and bumpy ride as the road condition got worse the further away we were from the capital. The temperature rose considerably getting hotter and hotter as we moved south. The scenery also changed drastically as we descended into the rift valley after lunch. It looks greener with plenty of banana trees.
The hotel in Arba Minch turned out to be a nice surprise. Though the facilities are old and very basic, the views at the terrace are excellent overlooking Lake Abaya and Lake Chamo. Milanlu who is cheerful, open and likeable, comes from the south and gave us a general overview of the tribes we would be visiting in the coming few days.
Day 3: Arba Minch – Guge Mountains (30km; 2hrs)
I did not sleep well and got up around 5am. I had a nice coffee at the terrace watching a lovely sunrise and listening to the birds singing. What a great way to start a day!
After breakfast, we had a boat ride in Lake Chamo to see crocodiles, hippos and birds. Unfortunately, the man in charge of the boat renting had gone missing and we wasted almost an hour before we could take off.  The lake was calm with only few boats. On a large sandpit, there were birds of all kinds and a few huge crocs. My camera suddenly got out of order.  I could do nothing but enjoyed looking at the scenery with my eyes instead of through the lens!
I had fresh fish caught from the lake for lunch.  I went to a camera shop but the shop keeper could not fix it.  I was annoyed as I had the camera only for six months though I used it almost every day. (That evening, Milandu offered to lend me his digital camera with which I took some 500 pictures.)
Our destination for the day was the Dorze village in the Guge Mountains.  We arrived around 4pm and visited a small local market which is nothing compared with the Bati market.  We saw a traditional beehive house built with the trunk and leaves of enset (false banana tree) in a village. Such a house can reach 12m high when first built. It is cut down over the years as the termites eat up the trunk. But it can last some 60 years. The villagers make bread using the tissues of the enset. Mirren and I stayed in a small traditional house in the Mekonen Lodge run by an enterprising Dorze clan which has built some ten houses for tourists. They provide accommodation, breakfast and dinner generating handsome income for the family/clan while providing some interesting village experience for tourists. The villagers also performed traditional dance after dinner. This Lodge was full that evening. It is a successful example of how a tribe can maintain its lifestyle while benefitting from the tourism development.
Day 4: Guge Mountains – Konso – (100 km; 3hrs)
We had a continental breakfast and eggs with other guests in a long table in a courtyard. The sun was shining and birds singing.  I met a young British lady who is a nurse and her friend. She first came to this community as a volunteer and it was her third visit. She likes the place and has raised money for building a pre-school for 30 kids and a principal has been recruited from Jinka. They have purchased the materials for the building and the whole community would help in the construction work which would not take too long.  I admire her initiative and efforts and made a small donation for this worthwhile project and wish her luck.
We departed this lovely village and reached the Strawberry Field Eco Lodge around 11am. This lodge is run by an Irish man and his Ethiopian wife and is another successful example that has attracted much attention. There are some ten traditional round houses built on two slopes with several well-designed eco- toilets and showers built with wood and dried leaves. There are fruit trees, cotton and other plants within the lodge's boundary and lectures and field practices are organised in the lodge for farmers.  There are also instructions on the use of the eco-toilet which is kept very clean without odor.
The sun was burning and the weather was very hot. After lunch, we visited a Konso fortified village with a labyrinth of narrow curvy alleys, little squares, and small gardens with high fences. A guide from the tribe walked with us and explained the life in the village. The people, known to be hard-working and efficient, are still leading their traditional life and agriculture is the main occupation.  The land is terraced and mixed cropping is practiced. At the centre of the village is an open ground for gathering where a generation pole is erected. Young men from the age of 12 leave their family and live together in common halls and keep watch. A family normally has 8 to 15 kids as birth control is not practiced. Marriage age is 18 years old and virginity is highly regarded. A girl who has lost her virginity will not find a husband. Men can have more than a wife – if his brother passes away, he will take his brother's wife and take care of his children.
The village which may be photogenic is dirty and unhygienic with people and animals living under the same roof or in close proximity. Dozens of children were running after us asking for photo money. Some tiny kids also carried their baby brother or sister on their back. I am sad to see children who apparently are not receiving education and whose future is doubtful.
The population of the tribe is 300,000 with nine clans which have their own chief. There is also a ceremonial king who is hereditary. The local guide took us to meet the 45-year old king Gezahagn of Konso who is an engineer by profession. He left his job in Addis Ababa to return to Konso when his father (the 19th king) passed away eight years ago. He confessed he had to take a year to adjust to his new life as a king. His people bring their problem and conflicts to him and look up to him for advice and solutions. He is a modern king and has taken a course on mediation and uses internet himself. 
We had a frank discussion and he admitted that population growth, selfishness and modern western ideas have changed Konso's people's view on morality, commitment and behaviours as well as their attitude towards tradition and responsibility. It is a big challenge to maintain their tradition amid fast changes in a cyber world without boundaries. The king also took us to see his grandparents' tomb where there are two wakas.
We then visited the Konso Museum established with the help of the French government. It has an excellent collection of wakas, which are wooden anthropomorph statutes erected in honour of important deceased people such as warriors, kings etc. Wakas may be several metres tall and are examples of African art. They have therefore been preys of art traffickers and tomb raiders.
I had a heavy heart at the end of the day's visit. I admire the endurance and the spirit of the people. But I am distraught to see their poor living conditions and am particularly concerned about the future of children without education, sufficient care and parental attention. Population explosion is an issue and I do not know what the future will hold for these kids!
Day 5: Konso – Jinka – Mago National Park (195km; 5 hrs)
After three hours' drive, we arrived in Jinka which looks like a barren dusty frontier town. We met Milandu's father who owns a hotel and we visited Milandu's mother after lunch. It's always nice to see how the local people live. His mother performed a coffee ceremony and we had a nice cup of home-made coffee before visiting the German-funded South Omo Research Centre and Museum which is an ethnographic museum showing the cultures of the people of South Omo.
We drove on a very bumpy road. That evening we stayed in tents by a river in the Mago National Park. I was horrified to discover that I could hardly bow and crawl into the tent. I knew the rough ride had hurt my back and I must find a solution. Otherwise, I might not be able to move as I had experienced on a few occasions. While I was lying in my tent, I came up with an idea – I should use my sleeping bag as a cushion to protect my back. (It worked!!)
Day 6: Mago National Park – Jinka – Key Afar -Turmi (about 190km; 7 hrs)
Milandu arranged a morning game drive and we set off at 6am. Unfortunately, we only found some antelopes and dik-diks. On return to our campsite, we found many baboons and columbus monkeys. In the morning, we drove further into the Mago National Park in order to visit the Mursi tribe (which has a population of about 8000). They live between their dry season range on the Mursi hills and the wet season range on the plain, north of the Mago National Park. Mursi are one of the most photographed tribes where women wear a clay plate on their lip and ears. Lip plate is a sign of beauty and the larger the plate is, the more livestock the bride's family can receive when she gets married. Young girls reaching the age of 15-16 will have their lower lip pierced so that she can wear a lip plate. Men like to adorn their body with white chalk paint and carry an AK-47 rifle on their shoulder!
There are a few Mursi villages along the road. The Mursi men and children lined up and sometimes tried to stop a vehicle seeking photo money. It is both dangerous for them and the tourists. We stopped in a village which had about a dozen round mud huts. Mursi, young and old, men and women all gathered around us for photos and money. Milandu advised us to disperse and take photos if we wished. I had ten photos and paid 5 birrels each.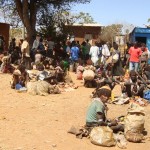 The market activities of the Banna tribe focus on Key Afar and Jinki. They number about 10,000 living in southern part of Omo Valley as pastorists. Banna share many traditions and ritual with Aari and Hamar. We visited the market in Key Afar which is busy and concentrated in a small open place. It was a very hot day. The blister at the back of my left knee had turned into an open wound and hurt so much that I walked with great difficulties. I was in no mood to visit the market and simply sought refuge at our meeting place ready to move onto Turmi. We arrived at a campsite run by a Hamar tribe before 5pm. The site is large but there are only four showers that work and two proper toilets. There were a dozen other tents on site and we set up our five tents under mango trees.
Day 7: Turmi – a Karo tribe – Turmi – a Hamer tribe -Turmi (about 140km)
Our 'tribal' tour continued. In the morning, we drove some 65km to visit a Karo tribe which has about 2000 people living in three villages in a radius of 25km. The village we visited is located on high ground above a river. As there is plenty of water, the fields close to the river are green with crops. The villagers also catch fish from the river. The village is scenic with mountains, green fields and a bending river. But the tribe was not friendly and just asked for photo money. There was no real contact with the people and we left after a brief stay.  We drove back to the campsite for lunch. What a waste of time!
 In the late afternoon, we drove to a Hamer village nearby. The Hamar tribe has a population of about 15,000. They have three names: a human name, a goat name and a cow name. Hamar men wear special hair-style and it is a tradition for women to seek whipping from men and wear the scars with pride and signs of beauty and love and devotion for their loved ones!
More tourists arrived at the campsite and some 60-70 tents were set up. The place was no longer peaceful and quiet. We sought refuge in a luxurious lodge which is ten minutes on foot from our campsite. This lodge also has a campsite with first rate showers and toilets and we could not understand why we were not staying there instead. We had nice cold beers and cleaned our teeth before returning to the campsite to sleep!
Day 8: Turmi -Dimeka – Turmi – Hamer village – Turmi (about 100km)
We started off the day by visiting a local school in Turmi before going to Dimeka. Some group members had brought pencils and other useful things for the students. The school looks tidy and well-run. I saw some students as they went back to school to prepare for exams though it was Saturday. They were well-dressed and behaved.
Dimeka is the administrative centre of the area. The Saturday Hamar market starts at 11am.  As the market was relocated that week to a larger ground further away from the town centre, people including some Hamers who came with their goods apparently got lost.  As we arrived early, we had time to have a cup of tea in town. I wandered on my own and took pictures of a hair salon on the main street. Two young attractive Ethiopian hair-stylists tried to persuade me to have my hair braided. I declined as my hair was too short. I lost my group and finally found them at the market place some 2km from the town centre. 
The market is scattered in a large area. The Hamers were selling all sorts of things including eggs, coffee, herbs, butter as well as souvenirs for tourists. There were not too many locals or tourists. There was no atmosphere and I was not impressed by this market.A Hamar guide told Milandu about a bull jumping ceremony in a village 20km from the campsite. We drove for an hour looking for this village in vain. (The Hamar guide was wrong as the ceremony took place the following day).
When we got back to the camp, we were shocked to find the campsite filled with more tents and ours were all surrounded by tents. One British tourist whom we met in the lodge's bar after dinner simply described the campsite as a 'refugee camp'. There was no wind: I was so hot that I could not sleep.  It's quite an experience.  (I counted the tents in the morning and the number exceeded 100!).
Day 9: Turmi – Omo Valley -Omorate – Hammer village – Turmi (about 150km)
We visited the Dasanech tribe at the bank of Omo River, Ethiopia's most southern people living at the south of Lake Turkana, where Ethiopia borders with Kenya. They number about 50,000 and speak Kushite (which is the same language as the Konso). On the way back to the campsite, one of the old 4-wheel drive vehicles broke down. We were not surprised as they were old and in poor condition.
After lunch, we set off for the Hamar village in a remote mountainous area to watch the 'jumping of the bull' ceremony. We had to cross some 3km-long sandy part and both vehicles got stuck in the sand. We therefore had to walk for over an hour.
By the time we reached the village, the first part of the dance and singing was over. I watched some Hamar men doing face-painting for a while. Unfortunately, the Hamar guide had not briefed us on the ceremony and I did not really know what was going on. I wandered around and watched Hamar women sitting in a big tent drinking home-made beer and singing. Men sat on the other side and seemed more relaxed. Then some women came out to dance and sing. Most of them had blood and scars on their back as a result of whipping by men. Then Hamar men fully dressed up with feather headwear appeared around 5pm and sat in the front part of the tent. One after another would come out with a whip in hand while some women would go up and beg him to whip them. What a gruesome custom!
| | | |
| --- | --- | --- |
| | | |
On the other side of the main ground, men gathered round the young man who would be performing the ceremony – the last stage of attaining adulthood.  The young man wearing a skin would be expected to jump over some 10 to 30 cows at least four times. Before performing this act, I saw him surrounded by other men in the village and performed a few ceremony before taking off the skin and running naked to the other side of the village. Other men also started to round up the cows lining them up in a straight line. It was about 6pm when he re-appeared running to a large open ground. All Hamar men and women followed and cheered when he jumped over the cows.
The sun was setting and the light was perfect for such a remarkable ceremony. He jumped successfully for several times and Hamar women standing in front of I cheered louder and louder. Though there were some 150-200 tourists, this authentic event was still a milestone for the young man and the community. They all seemed to have a good time and the next day, the man's family would slaughter a cow or two to entertain the villagers and their clansmen who came from afar. It was the highlight of my cultural trip to south Ethiopia. Milandu had kindly arranged his friend who was accompanying a group of 17 Israeli tourists in five vehicles to take eight of us in our vehicles.  I therefore did not need to spend another hour walking on the sand to reach our stranded vehicle. We reached the campsite around 7:30pm and had to spend one more night in an overcrowded and noisy campsite.
Day 10: Turmi –  Konso – Yabelo  (300km; 6 hrs)
We had breakfast at 6:30am and gladly packed up our bag to leave. The drive was smooth with ever changing topography. There are vast cotton fields at the rift valley just before we reached Woyto. We passed through Konso again before reaching the area inhabited by the Borena tribe which has a population of about 60000. They are pastoral and raise cattle and camels.  We passed a village but the women we met were not welcoming at all. We finally arrived in Yabelo which is greener with well-paved roads and looks more civilized. I had a nice room and a hot shower.  I enjoyed a clean and comfortable bed for a change!
Day 11: Yabelo – Awasa (300km; 7hrs)
As we approached the capital, the road condition improved. The houses are tidy and some are painted in pink, orange, purple etc. The shops look smarter. There are also plenty of enset trees growing in the field and gardens. We visited a Tutofela stelaes site with some 300 stelaes which are believed to be some 3000 years old. Research on these stelaes is still going on and one of the theories is that stelaes were erected in memory of the deceased. We stopped in Dila for lunch and visited a traditional huge round mud house. In the garden, there are a lot of enset trees and a woman was scrapping the tissues which would be buried in the ground for six months for fermentation before using it to make bread.
We arrived at the hotel around 5pm. I watched BBC World News for the first time since travelling to the south and noted with grave concern the happenings in Egypt and hoped the situation would not get out of control.  I slept badly that night as I had problem with my stomach. This thing happened and I had been lucky as this was the first time I had trouble like this.
Day 12 (Feb 2, Tuesday): Awasa – Addis Ababa (about 230km; 6 hrs)
This was the last day of my 26-day trip. We left the hotel at 6:30am and had a delightful morning watching birds at the Ziway Lake.  It is also said that the Ark of Covenant was once hidden in one of the islands in this lake. We had a nice lunch at a hotel overlooking Lake Bishoftu which is a small but beautiful crater lake. Our tour came to an end when we arrived in Addis Ababa around 3pm. We watched TV and saw Egypt in crisis with clashes breaking out between the protesters and the government forces. As one of the group members, Brad, would be going to Cairo the following day, we all watched development with anxiety. Brad then found out that his tour had been cancelled and had to decide what to do next. We had a nice farewell dinner and I left Ethiopia for Zanzibar, Tanzania in the early morning on 3 February.
Remarks
My 28-day journey in Ethiopia is both agonising and unforgettable.
It is agonising as I had hundreds of insect bites that caused me pain and much anxiety. I had to seek medical advice, take antibiotics and nurse my wounds throughout the trip.  Mohammad (a tour member who is a doctor) said I was brave to carry on the journey to southern Ethiopia when open wounds in a hot and unhygienic condition without proper treatment could cause infection which might lead to amputation of limbs or even one's life!  I am not brave but simply a stubborn old fool!
Despite the agonising pain and most uncomfortable and back-rattling travelling in a dusty minibus in the north and an old 4-wheel drive in the south and poor camping facilities in Turmi, I find this journey extraordinary. I have travelled over 4500km in 26 days with many memorable experiences and unforgettable sights that have given me plenty food for thoughts.
First, of Ethiopia's eight World Heritage Sites, I have visited four of them. Ethiopia is in my view the most fascinating African country with a 3.2-million-year-old Lucy, a long history with an uninterrupted dynasty, colourful cultures and magnificent natural scenery.  It is so unique and full of wonders that it would not disappoint its visitors despite the generally poor standard of service and facilities. It is not surprising that it has become one of the hottest destinations in Africa.
Second, I saw the famous Rift Valley for the first time in my life. Ethiopia has seven of the Great Rift Valley lakes and I have visited three of them (Lake Chamo, Lake Abaya and Ziway Lake). I have seen the famous Simein Mountains and the highlands with plateaus, valleys and gorges in the north as well as the arid and red region dotted with desert vegetation and cotton fields where there is water in the south. The scenery is dramatic, spectacular and most beautiful.
Third, among some 90 countries I have visited including a dozen in Africa, I find Ethiopia one of the poorest countries I have been. Apart from Addis Ababa and main cities such as Gonder, Bahir Dahr and Awasa, the remaining 80% of the population still live in the rural areas on subsistence farming and lack basic facilities such as clean water, toilet and drainage facilities. Lalibela only has electricity recently and power failure is a frequent occurrence.
Birth rate of Ethiopia is high and it is heartbreaking to see children in dirty and tattering clothes without shoes running after tourists for money. Education in rural areas is a problem. Some children have swollen bellies which is a sign of malnutrition or diseases.  The hygiene and living conditions of some of the towns and villages I have visited in the north (i.e. Debark) and the south in tribal villages such as Konso, are very poor. Though a national highway network with properly paved road is near completion with new tarmac roads extending as far south as the Omo Valley, many rural areas including Lalibela can only be reached through dirt roads. Perhaps, for Lalibela, it is a blessing as this would slow the process of mass tourism which would ruin this extraordinary religious and spiritual place.
I was told that the situation has improved since the war and famine ended in the 1990s under more stable governments (though corruption is still a problem). But the country still faces many pressing problems commonly besetting underdeveloped and poor countries like Ethiopia where the majority live in the rural areas and many are still struggling for survival and basic necessities.  UN and many NGOs have tried for years to help these countries through aid and technical advice and assistance. Have they really come up with development models or appropriate approaches to lift them out of poverty and set them on course of social and economic development?
Fourth, I am interested in world heritage management and believe in sustainable tourism development, self-determination and preservation of culture. But I am troubled by what I have seen and experienced. The physical infrastructure for mass tourism is underdeveloped. The "refugee camp' situation is not pleasant for visitors and does not do justice to the place. A realistic standard of service and facilities should be established in order to ensure tourist satisfaction on one hand and preservation of the environment and the cultural heritage on the other. Above all, it must benefit the people i.e. the tribes in this case.  I doubt whether there is any proactive national policy.
Fifth, I am concerned about the future of the tribes in the Omo Valley upon completion of the paved highway bringing mass tourism to this region. People have talked about preservation of the culture and lifestyle of these unique tribes. While many of these tribes continue to lead their life in their traditional way, they however are no strangers to modern living. These tribal men love to carry AK-47; the use of mobile phones is common and men and women of all ages and children are all eager to get photo money from tourists.  For many tourists, these people are photogenic and object like the big five on an African safari (lions, elephants, leopards, buffalos and rhinos). As a result, they line up along the road or pester tourists posing for photos. I have taken a few pictures but photo-taking would not promote visitors' understanding of their culture and help their social and economic progression as a tribe. My question is whether they can remain living like their ancestors 2000 years ago amidst onslaught of modernism and interaction with tourists?
In this regard, I find the Mekonen Lodge run by a Dorze clan a preferred model. On a separate safari trip to Masai Mara in Kenya in February, I paid over USD20 to visit a Masai village and was taken on a guided tour to see the Masai culture and the mud houses and visit a school. But no one in the village posed for photos – they carried on their life without paying much attention to us except when we reached the market place where they tried to sell us souvenirs. I was told the entrance fee would go to a community fund which is used for community development and sending children from poorer families to go to high school in town.
I believe responsible tourism should help these tribes to progress and reap benefit in a dignified manner with self-respect. I do not know what is being done by the Ethiopian government and NGOs in this regard. But I hope something is done before mass tourism comes to this area bringing further and irreversible damages to the tribes and their culture.
I am not a purist advocating for total preservation of traditional practices and am distraught by some of their practices such as circumcision and polygamy where a tribal man can have as many wives as he can afford (30 to 40 cows can buy him a wife) hence many children. But they do not seem to care for education for their children. I was told girls would be denied of education so that they would continue to accept and lead the traditional life. The whipping of Hamar and Banna women resulting in scars as signs of love and the tradition of Mursi women wearing huge lip and ear plates as signs of beauty are cruel. But is it right for outsiders like me to impose our values on these tribes? I am still in search of an answer.
Africa is the second largest continent with over 50 countries and a total population of exceeding one billion. As a whole, Africa is still way behind and needs help. My journey to Ethiopia has shown me the poor living condition and the multitude of problems besetting the country. My own suffering from bites which can be life-threatening has given me a timely reminder – life is precarious and more should be done to help the people without many basic things we have taken for granted. But I also believe that these countries must set their national priorities and help themselves. International aid alone won't solve a lot of the fundamental problems they are facing.