30- day Overland: Day 28 – 30
Day 28 (August 22): Darvaza Gas Crater – Ashgabat (290km)
We had a simple breakfast with fruit salad, bread and cereal at 6am and set off at 7:15am. Part of the road is as bad as what we had the day before. I could not imagine the main highway to the capital could be so bad especially as Turkmenistan is washed with money coming from sales of its gas and oil.
At noon, we finally arrived at our hotel (formerly known as Hotel Ashgabat) opposite the US Embassy on one of the main streets.  The rate was US$50 for a room which is tiny with poor facilities.
| | | |
| --- | --- | --- |
| | | |
| | |
| --- | --- |
| | |
We had a 3-hour city tour for US$10 each. Ashgabat was leveled on October 6, 1948 when about 90% of its population totaling about 170,000 died of a catastrophic earthquake. We saw the golden-dome Palace of Turkmenbashi, the Majlis (parliament), Berzengi (a surreal world built with white marble), an enclosed   Ferris wheel and numerous monuments. We had photo stops at the Independence square, the Earthquake Monument, Lenin's statute and the Azadi Mosque which is modeled on the Blue Mosque in Istanbul. We took the escalator at the Arch of Neutrality for a panoramic view of the city. The golden face of former President Niyazov seems to appear everywhere. To be honest, I find the white marble monuments and buildings ostentatious, tasteless and monolithic. They remind me of tomb markers and mausoleums.
Day 29 (August 23): Ashgabat (40km)
At 10am, Al took us to the new Tolkuchka Sunday Market which is located in many new featureless concrete buildings. It was the most boring market I have ever visited.
Al picked us up again at 1:30pm and took us to see the Turkmenbashi Ruhy Mosque in Gypjak, the home town of former President Niyazov. This mosque is the biggest of its kind in Central Asia with an enormous gold-dome, 48 windows (representing the year of the earthquake), and 91m-tall minarets (symbolizing the year of independence). Next to the mosque is the mausoleum of Niyazov, his parents and two brothers.  But we were not allowed to take pictures of these buildings even from the outside.
I was glad that the tour was over. I went to Yimpas shopping Centre in order to get online. There are only several internet cafés in town.
In the evening, the whole group went to Pizza Haus next to our hotel for a farewell dinner. We said good-bye to Hortensia, Dawn, John, Jackie, Rebecca and Robert before going to bed.
Day 30 (August 24, Monday): Ashgabat (End of the overland trip)
I took a private trip in order to see the Nisa fortress and the famous Akhal-Teke horses. In Turkmenistan, no visitor can go without a guide. But as it would be too expensive to have both a guide and a driver, I asked for an English speaking driver who could also be my guide. The driver had to drive about 100km and I paid him US$80.
I sat off at 8am and my first stop was Nisa, the first capital of the Parthians in the 3rd century BC. I first learnt about the powerful Parthian empire on my trip to Tunisia in 2007.  Dynasties came and went and Nisa remained the seat of power till it was razed to the ground by the Mongols in the 13th century.
On this site once stood a wall with 43 towers, a royal palace and some temples. A Russian speaking guide tried to show me some archaeological findings using pictures from a guide book. I appreciated his help. He particularly took me to see a circular chamber which is thought to be a Zoroastrian temple.  There are still some vases, a hall with several original columns and foundation stones left in-situ.
My second stop was a horse farm in Geok-Depe. The owner, Achir has 35 Akhal-Teke horses and the stable is clean and airy.  This legendary horse has been adorned by the Chinese emperors since the second century BC.  Three horses were taken out from the stable so that I could take closer look at them in the sun and touch them. A horse fetches US$25,000 to 35,000 depending on its age, colour and condition. When I touched them, they looked at me with their intelligent and understanding eyes. They shine in the sun and I ran my hands on their neck and back and felt like touching a silk carpet.
My guide told me that the Chinese Ambassador Zhang Qian accompanied by an army of 20,000 on his second mission reached the Parthian court in Nisa in 107 BC. But the Parthian ruler refused to sell him the Akhal-Teke horses and he had to go to the Fergana valley for the next best horse he could find.
Before returning to Ashgabat, I saw the Saparmurat Hajji Mosque with three sky-blue domes. This was the place which was the Turkmen's last stand against the Russians where some 20,000 Turkmen were killed. The place is serene and more impressive than the Turkmenbashi Ruhy Mosque.
August 25, Tuesday – Ashgabat, Turkmenistan  – Istanbul, Turkey
I had to get up at 4:30am to catch my flight at 7:40am. I said good-bye to Al, Alex, Angie and Duncan, Finn, Gabbi, Helen, James and Mark who would be going all the way to Istanbul the night before. I shared a taxi with Katrien and Jen and our plane left on time. I arrived in Istanbul at 9:30am local time (Turkey is two hours behind Turkmenistan).
Remarks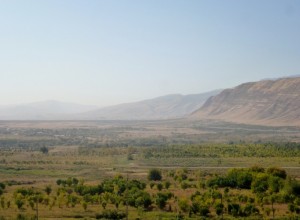 I did not know anything about Turkmenistan before my visit and still have little understanding about the country and the people.  In any case, it has not impressed me as much as Uzbekistan and Kyrgyzstan.  I have seen deserts in China, India, North Africa, Namibia, Australia and the Middle East. I find the Karakum Desert not as picturesque as those I have seen before (Perhaps, I have not seen the best yet).
While some people I met in Central Asia consider Ashgabat beautiful and impressive, the city looks like a massive and grandiose mausoleum (possibly because of its indiscriminate use of white marble). The wide boulevards and government buildings seem empty without people and soul.The only people I can see are policemen/soldiers guarding monuments and government buildings.
The main problem I find is the lack of freedom and transparency. It is not a tourist-friendly country and there are too many restrictions.
First, there is a curfew and people are not allowed on the street from 11pm to 7am.
Second, we are not allowed to take pictures of government buildings and many places. As the balcony of my room faces west, Katrien once tried to take a sunset picture. But the guard emerged from nowhere told her to stop. The reason is that the President's palace is also in the same direction.
Third, visitors are seemingly under surveillance throughout their stay. We are not allowed to visit anywhere without a guide. Katrien left some clothes on the balcony to dry. Then a lady came to tell her to remove the wet clothes as it would not look nice from the Palace!
Fourth, internet is not widely available. It is said that internet traffic is monitored as well!
Fifth, information on government income and expenditure is scanty. Turkmenistan is a rich country with revenue from gas and oil. But the government charges US$20 for a visit to its National Museum of History. This is outrageously expensive. As a result, I did not go.
According to CIA World Factbook, its GDP (PPP) per capita was over US$7800 in 2011. It is said that a considerable sum has been spent on the colossal and monumental buildings which are pet projects bringing little real benefits to the people. I also find some of the government policy in providing free gas and electricity wasteful: people leave the light and air-conditioning on all the time. Anyway, all responsible governments should use their revenue wisely focusing on people's livelihood as well as long term social and infrastructural developments. They should also be accountable to the people.
I had conversations with a couple of men in their 30s. Both expressed great respect for the former president. They believe the western press has been biased towards Turkmenistan and consider the government heading in the right direction. They also consider the curfew and various restrictions on civil liberty acceptable as long as steady progress is made towards long-term development similar to what China has gone through in the past 30 years. So what is the real face of Turkmenistan and life in the country? I have yet to find out!