Day 9 (Tuesday, May 30): Agra
We spent the whole day on the train. We had our own 4-bedded compartment. The long journey was over quickly as we played cards, chatted and poked around to see what was happening on the train. What I remember most vividly about my first long distance train journey is the heat, dust and people.
It was boiling hot and we tried to keep cool by putting wet towels over our head. The towel dried within ten minutes (I am not joking).  There was no air-conditioning and we opened the window. I had a white cheese cloth top on which had turned black when I stepped off at Agra!
I had seen pictures of people sitting on the roof of the train and bus before. Indeed I saw many passengers hanging out on the roof: they looked relaxed, comfortable and cool (by comparing with us sitting inside the compartment which was like an oven!). I wondered whether they paid for the journey at all.  We changed trains at 5pm and finally arrived in Agra at 8pm. What a memorable journey!
We stayed at a cheap local inn. I had a thorough wash and the water turned black! It was so hot that most of us slept outdoors. I was totally exhausted and slept like a baby with warm fresh air. Quite an experience!
Day 10 (Wednesday, May 31): Agra
We stopped in Agra in order to see the world famous Taj Mahal. Agra is located strategically on the banks of the Yamuna and along the Grand Trunk Road, was the seat of the imperial Mughal court during the 16tgh and 17th centuries. Emperors Akbar, Jahangir and Shah Jahan attracted artisans from Persia, Central Asia and other parts of India to construct their palaces, forts, gardens and mausoleums. Taj Mahal, the Agra Fort and Akbar's abandoned capital of Fatehpur Sikri are important architectural gems and historical sites which have been declared as World Heritage Sites since our visit in 1978.
We had breakfast in a street food stall and the milk was surprisingly delicious. It was a very hot day and temperatures soared over 40°C.
We spent the whole day outdoor sightseeing. Our first stop was the Fatehpur Sikri, a Mughal capital for 14 years. Built by Emperor Akbar between 1571 and 1585 in honour of Salim Chishti, a famous Sufi saint of the Chishti order,the architecture of this Mughal walled city is a blend of Hindu and Islamic styles this with defined private and public areas and imposing gateways.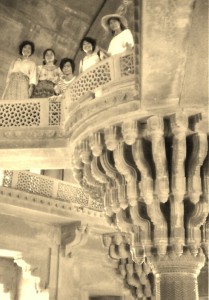 Our next stop was the Agra Fort situated on the west bank of the Yamuna. It was built by Emperor Akbar between 1565 and 1573. Its imposing red sandstone ramparts form a crescent along the river front.
Our final stop was Taj Mahalwhich has been named as one of the world's seven wonders. Built by Emperor Shah Jahan in memory of his favourite wife, Mumtaz Mahal who died in 1631, it is known for its perfect proportions and exquisite craftsmanship. It has been described as "a vision, a dream, a poem, a wonder" and built at a cost of nearly 41 million rupees and 500 kilos of gold. Some 20,000 workers took 12 years to complete it in 1643. All of us took pictures by the Lotus Pool with reflections of the tomb. We were told Taj Mahal seen under a full moon is most romantic and unforgettable. Unfortunately, we did not have a full moon that evening.
Day 11 (Thursday, June 1): Agra – New Delhi
We took the 7am train and arrived in Delhi at 10:30am. Pradeep a young man in his 20s was our local guide.
We stayed at the dormitory of the YMCA. The temperature hit over 44.3°C and we dared not venture outside. Otherwise we might have heat stroke! The dorm was like an oven and many of us took our bed sheets and slept on the lawn.
Day 12 (Friday, June 2): New Delhi
I was woken up by flies in the morning. I had never seen such huge and noisy flies! We took refuge at Restaurant Volga which had air-conditioning. In the evening, we had dinner at another air-conditioned restaurant.
Hong Kong is hot but I found the dry heat unbearable. Sam, Angela, Donna and Maria got sick. We put them in a room with air-conditioning so that they could sleep and recover. Others continued to sleep in the open under the starry sky.
Day 13 (Saturday, June 3):New Delhi
We had a leisure day. We went to the India Gate, visited Gandhi's tomb and then the International Doll Museum (I do not know why we went to this boring museum!).
Life in those days was simple and a delicious mango juice already gave me lots of pleasure. We went to cinema to watch the film "Siddhartha" (1972) which was written by Hermann Hesse on Buddha's life. We found the film philosophical and had lots of discussion afterwards. (On return to Hong Kong, I bought and read the thought-provoking novel)
After lunch in the cool Restaurant Volga, we visited a model town. (In Hong Kong, we were also planning new towns for the growing population in the 1970s)
We had dinner with Mr. Singh whom we met on the train to Agra. Some of us stayed with his family – the first home stay in my life.  He came from Punjab and owned a transportation business. He offered to take us to Kashmir if we could stay longer in Delhi. But we had a tight schedule and could not take his kind offer. He and his family were hospitable and we put on the Punjabi costume for a photo. (On my way to Oxford in 1979, I made a visit to Kashmir and stayed on a boat house on the heavenly Dal Lake)
Day 14 (Sunday, June 4): New Delhi
It was so hot that we did not do much. Mr. Singh took us to his office and the largest Sikh temple in the capital before returning to YMCA. In the late afternoon, the whole group visited Rafia's relatives living in a nice neighbourhood in Delhi.
Day 15 (Monday, June 5): New Delhi
Paulina and I got up early. We went out for a walk in the embassy area and ventured into the lobby of the Asoka Hotel. Wow! We found this grand sandstone building which is a classic example of early modern Indian design impressive. We were poor students and could not afford to stay in such a luxurious hotel.
In the morning, we visited the Delhi Development Authority and were briefed on a housing project. Then we had lunch in the Restaurant Volga for the third time and went shopping around Connaught Circuit after lunch.
In the evening, we had another group meeting with open and frank exchanges of our thoughts about the trip, feelings about each other, our joys as well as grievances.  One member broke down and cried while another was upset by some of the remarks. This is group dynamics and a most therapeutic session!
Day 16 (Tuesday, June 6): New Delhi
I went out with Sam, Ceci and Paulina to see old Delhi at 6am. The old town and market were lively, dirty and crowded with stall keepers and hawkers selling all sorts of stuff. Paulina and I ignoring all health advice tried some local herbal tea contained in a huge jar with ice! Paulina later had diarrhea.
We had a meeting with a professor of School of Social Work of the University of Delhi. In the afternoon, we had a seminar on the information gathered on New Delhi so far.
In the evening, we went to see a Hindu play on the recommendation of a waiter at the YMCA. We could not understand the language and found the play boring. Fortunately, there was a power cut and we left half way through the play.