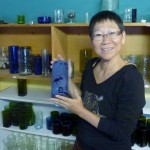 After my lovely stay at the Enodah Lodge, I spent  three nights in Yellowknife before going to Vancouver. Unfortunately, I saw no more aurora as the weather was not good and the sky was not clear.  I had my first dog-sled ride and made my first glass vase using a recycled bottle. 
March 29, Thursday: Enodah Lodge – Yellowknife
We had a leisure day. I did not get up till 10am and we left the lodge at 11:30am. After checking in the Explorer Hotel, I took a hot bath. A real treat!
We had a late lunch in Bullock's Bistro famous for its fish and chip. Celebrities including Prince William have eaten there. The walls and tables are all covered with signatures and remarks. I had white fish which is indeed excellent!
In the evening, we had dinner in a highly rated French restaurant. I find the food average: my bison steak which was overcooked and tough.
At 10pm, we went to the Aurora Village managed by a Japanese company for aurora viewing. We stayed till there 2:30 without seeing any aurora as it was cloudy. I was disappointed. But it is life.
March 30, Friday: Yellowknife
The four-day package ended and I had to move to a B&B outside the town centre as the place where the group would stay was overbooked. I spent a quiet afternoon working on my photos.
Angela picked me up around 4pm to go to the Beck's Kennels for a dog sled ride. We had lots of fun driving. As I was alone, I had a sled to myself. My four Alaska huskies had an easy time: they ran very fast without any need for steer. The ride was so smooth that I took both hands off to take pictures!
In the evening, we had a fantastic dinner at Hees Garden. The chef, who came from Hong Kong, prepared many dishes including roast pigeon, sweet and sour pork. We were surprised to have three types of dessert! I had not expected to find such excellent Chinese food in this far corner of the world!
I went to the Bay View B&B to watch aurora with the group. I returned to my own B & B at 1am without seeing any aurora.
March 31, Saturday: Yellowknife
Angela picked me up around noon to take me to Blue Raven in Ndilo which she had reserved for me. It is nicer and more comfortable with better views of Diolo and the lake. The owner is an artist and a photographer.
I took a glass-making lesson with Mathew at the Old Town Glass studio in the afternoon and made my first vase with designs of aurora, pine trees, an aboriginal, two polar bears, a bison and a fox. The two-hour session cost me C$47 and I took home a unique vase of my own design! Olivia and Jeff made two lovely glasses as well.
Mathew told me that he moved to Canada from the UK and set up this studio since 1990s using recycled bottles. He has witnessed an increase in interest in glass-making from local school children and residents as well as overseas visitors. Business has been improving and they now have six staff.  I hope we can have such a similar studio in Hong Kong.
I walked from Ndilo to the city centre. It started to snow. I was hungry and went to Hees Garden for a noodle bowl. As the bus had stopped running at 6pm, I had to walk all the way back to Blue Raven. It was snowing and beautiful and peaceful.  As it was cloudy, it was unlikely to have aurora. I went to bed early for a change!
April 1, Sunday: Yellowknife – Vancouver via Edmonton
I got up early and went out for a walk at 7am. Just outside Blue Raven, I met a man with a dog on a snowmobile. He asked me where I was heading. I replied "A walk to see the beautiful island and lake in snow!" He offered to give me a ride. I had a wonderful ride on the Great Slave Lake for some 20 minutes! I got off and walked to the tip of Diolo before walking back to my B&B. I had a lovely home-cooked breakfast with fruits, toast and eggs at 9:30am.
After breakfast, I walked to the highest point of the island with a memorial. The views of the the white Great Slave Lake and the skyline of Yellowknife are fantastic.
Angela picked me up at noon. I bid farewell to Angela and Verda and my flight took off as scheduled at 2:30pm. But when I arrived at Edmonton, I realized that my next flight would not leave till 6:40pm instead of 4:40pm as stated in my original itinerary. I was furious but there was nothing I could do. The incoming flight was delayed and I did not arrive in Vancouver till 8:30pm i.e. three hours and fifteen late!
Remarks
I have always wanted to see aurorae. But Yellowknife had never been on my radar screen till I met Yeeyee on my trip to Iraq last November. Yeeyee and Jingjing were making plans for end March 2012. I had no plan to join till February when I decided to make a trip to visit a friend in Vancouver. That is fate!
I am grateful for Yeeyee's invitation to join her group to Yellowknife. I had a lovely holiday. Her friends are nice and they are all savvy world travelers! They are also good photographers and I have learnt a lot from them. The aurora pictures taken by Olivia, Steward and Yeeyee look great and I hope I can do better with my photos on my next aurora viewing trip.
It was lucky for me to see aurorae immediately on arrival in Yellowknife on March 27. But I blamed myself for missing the best part  as I went to bed too early. Anyway, that is life: one must live with some regrets so that there is always something to look and live for!
Ragner and Angela say that aurorae in the summer are equally fascinating with reflections in the lake. It is also more enjoyable as there is no need to put on warm clothes and heavy boots. I am fascinated by aurorae and will go for aurora viewing again somewhere in late August or September.
The sub-arctic scenery in winter is out of the world: pure, serene and photogenic! I had lots of fun riding and driving a snowmobile and a dog sledge. The ice-fishing is memorable as I caught my first ever fish in my life! The blue vase I made myself is a memento of this special and unexpected trip!
My trip though brief has been wonderful. I can recall at least six special events or wonderful and unforgettable moments when my heart was filled with joy.