Oct 5 – 11 Newfoundland
This would be my third visit to Newfoundland off the east coast of the North American mainland. It is Canada's fourth-largest island with an area of 108,860 km2 and a population of about half a million. Surrounded by of 29,000 km rugged coastline, Newfoundland with pristine lakes and rivers, lush forest, arctic tundra, bogs, marshes and open meadows and abundant wildlife, is a paradise for hikers and nature lovers. It also boasts two World Heritage Sites namely Gros Morne National Park and L'Anse aux Meadows.
Newfoundland comprises four regions – western, central, eastern and Avalon. We only had a week here, we decided to visit the Gros Morne National Park, Fogo Island and Trinity/Bonavista.
Oct 5 Saturday: St John's – Gander
After disembarkation, we took a taxi to the airport in order to pick up a rental car. It was close to 11 am when we set off. The Gros Morne National Park is about 700km from St. John's. After consulting the tourism office at the airport, we decided to spend a night in Gander (about 200km).
We mainly followed the Trans-Canada Highway (TCH) which spans 7,821 km across the country. We took a short detour along route 205 to Saint Jones Within, a tiny hamlet which has become famous when its inhabitants won a lottery with a jackpot of some $60 million (!!) a few years ago.
We had an uneventful driving day. Autumn was in the air but the foliage colours were far from reaching its peak. We had a break at Tim Horten before arriving at Gander around 5 pm. It took us a while to find a B&B ($114). We had an early dinner in a popular family seafood restaurant.
Oct 6 Sunday: Gander – Gros Morne National Park; overnight at Norris Point
Driving in Canada is not demanding. The weather was a fine and sunny day with blue sky. We continued driving along TCH till we turned off to follow Route 430 to Gros Morne National Park. We intended to visit the Visitor Centre but were too late to take a left turn. We thought we might find another visitor's centre in Rocky Harbour. We were mistaken.
Gros Morne National Park, the second largest national park in Atlantic Canada with an area of 1,805km2, is a World Heritage Site. It takes its name from the mountain in the park, Gros Morne, which is the second-highest mountain peak in Newfoundland. Gros Morne is the eroded remnants of a continental drift, where deep ocean crust and the rocks of the earth's mantle lie exposed.
The national park is a paradise for geologists and hikers. There are several major areas for exploration.
Main attractions located along the coast include Cow Head, Broom Point, Green Point, Lobster Cove Head and Green Gardens.
Western Brook Pond is a 30-km long narrow fresh water "pond"/fjord carved out by glaciers during the most recent ice age from 25,000 to about 10,000 years ago. Visitors can see spectacular vertical cliffs, waterfalls and glacier-carved land-locked fjord. The water here is extremely pure.
The Tablelands, made up of the ultramafic rock (peridotite) and located between the towns of Trout River and Woody Point in south west of the park, look more like a barren desert than traditional Newfoundland. Peridotite is thought to originate in the Earth's mantle and was forced up from the depths during a plate collision several hundred million years ago.
There are some 20 marked day trip trails for exploring coastal and interior areas of the park. One of the most strenuous day-hikes is the 16km-hike over Gros Morne Mountain.
It's 1 pm when we found a restaurant in Rocky Harbour that remained open. We were told that the last boat tour for the season at Western Brook Pond had left at 12:30pm. The B&B owner in Gander had told us that the tour would be on till October 15. I was disappointed but only had myself to blame: I should have checked the latest information online.
We drove to the visitor centre and found a young lady at the reception. First of all, we had to pay $8.3 per person per day for visiting the park. When we asked where we could stay, she told us to check ourselves. As we did not have a data card, she said we could use the computer in the centre or use free Wi-Fi. Kylie had bought a SIM card but it did not work outside main cities.
In this part of Canada, most of the accommodations can only be reached by phone. As most of the guest houses were closed, we asked whether we could use the centre's phone to contact a couple of guesthouses. 'No' was her answer. We ended up driving to Rocky Harbour and drove to a few guesthouses on our list. All were closed. Anyway, when we had Wi-Fi, we checked a website and found three possible to stay namely a hotel and a guesthouse in Rocky Harbour and a guest house in Norris Point.
We were hungry and returned to the same restaurant in Rocky Harbour for lunch. We had lost enough time in the visitor's centre and looking for accommodation. After lunch, we decided to visit the lighthouse at Lobster Cove Head close to Rocky Harbour.
We were greeted by a friendly Parks Canada staff at the lighthouse. When I told him our frustration in finding a place to stay, he immediately offered to help and used his own mobile phone to call several places. Finally, he booked a B&B in Norris Point for $110 for us (We had seen the same B&B in Booking.com earlier and could have booked online. This would have saved time!)
Time was slipping away fast. We drove straight to Cow Head located close to the northern end of the park. The shoreline is beautiful with many short hiking trails. But we had no time to make too many frequent stops.
It was close to 5pm when we arrived at Cow Head Peninsula. We had our first 2.5km-hike in the park. We soon found ourselves walking along a narrow path between a dense woodland. Half way, we arrived at a lighthouse.
Once we got out of the woodland, we had fantastic view of the peninsula, the expansive sea and mountain ranges. The most remarkable feature is the rock formation: limestone breccia is the main type of rocks on the peninsula. The fossils preserved in these rocks contain evidence of deep sea and shallow water life over 500 million years old. Some other rocks here are gneiss, sandstone, quartz, calciferous algae, and the Cow Head chert.
Chert is a hard, dense sedimentary rock composed of microcrystalline or cryptocrystalline quartz. It was believed that Maritime Archaic Indians, Groswater Paleo Eskimo, Dorset, and recent Indians used chert to make tools dating back over 4,000 years ago.
By the time we were back at the carpark, it was already after 6pm. We hoped to reach the lighthouse in Lobster Cove Head for sunset. Anyway, there was no real sunset today and made several photo stops on the way.
As there was place to eat in Norris Point, we were reminded to bring our own food. We therefore bought instant noodles and tin food for dinner. On arrival, the retired couple who runs the B&B for their son, offered us baked cod and apple pie for dinner. What a treat!
To show our appreciation of their generosity, I gave them the bottle of champagne I got from Silver Explorer. As we had a room without heat, Kylie who did not have a warm blanket/quilt, was too cold to sleep.
Oct 7 Monday: Gros Morne National Park – Reidville
When I looked out of the window in the morning, I saw a small graveyard in front of the B&B! It does not bother me. But some superstitious people would not choose to stay here!
I suggested we spend a day in the park and visit a few places including the West Pond, Green Point, Interpretation Centre, Tableland and Trout River. We should stay near the Deer Lake so that we did could take the 4pm ferry to Fogo Island.
We set off around 8:30am. It looked gloomy with an overcast sky and ghastly wind. We planned to leave the park before 5pm in order to settle down in a hotel in Deer Lake before dark. At the end, we made four stops today.
Western Brook Pond
Without a boat tour, there is no reason to 6-km return hike to see the Western Brook Pond. Anyway, we took a short 10-minute walk to the first viewpoint for a panoramic view.
Green Point – a place of hidden fossils and destroyed oceans – Today's Highlight
Green Point is a world geological benchmark. The sea cliffs formed by exquisite and intriguing sequence of layered rocks, are breath-taking. Almost 500 million years ago, these rocks formed on the bottom of an ancient ocean, were uplifted. Fossils that define the boundary between the Cambrian and Ordovician periods have been discovered.
We followed the staircase and walked along the cliff top pathway for some 15 minutes. We were almost blown off the cliff. As it started to drizzle, we moved on quickly.
Discovery Centre at Woody Point
The weather changed fast. On the way to the Discovery Centre, it started to rain. It was foggy and miserable. By the time we reached the Discovery Centre, it was well after 1 pm.
Our original plan was to take either the 5-km Lookout or the 4-km Tablelands hike near the Discovery Centre. In view of poor visibility and rain, it was not advisable to hike. Hence, we spent more time in the Discovery Centre: we had coffee and a snack and looked at the exhibits that explain land formation, geology, flora and fauna as well as the culture of the indigenous people.
The Tablelands
We continued driving to Trout River located at the end of Route 431. The fog lifted a little with slightly improved visibility. We therefore took the Tablelands hike which is easy with well-maintained path.
We saw the waterfalls and took some photos. Unfortunately, we could not see the top of the Tablelands at all.
I was soaking wet by the time I got back to the car and had to take off the rain pants. We set off before 5:30 pm heading to the Deer Lake.
We intended to stay in Holiday Inn Express and finally arrived at the hotel around 7pm. As standard rooms were unavailable, we were asked to pay almost $200 for an ungraded room. It was too expensive. Luckily, we had Plan B: we found a self-contained suite in Cache Rapid Vacation Rentals in Reidville for $135. The receptionist kindly called the owner so that we could check availability.
The bungalow is located in the wood next to the Humber River. We like the suite which is cosy, clean and most comfortable. We had tinned ravioli for dinner.
Oct 8 Tuesday: Reidville – Fogo Island
When I got up, I took a walk outside our cabin by the Humber River. It was misty with some foliage colours. I like this area and do not mind staying here for a few days. We set off around 8:30am as we had a long way and must reach the pier at Farewell in good time before 4 pm.
Fogo Island
Measuring 25km long and 14 km wide with a total area of 237 km2, Fogo Island is the largest of the offshore islands of Newfoundland and Labrador. Though migratory French fishermen visited Fogo Island from early 16th century until 1718, the first permanent settlement of the island took place in the 18th century. Fogo Harbour and Tilting Harbour were the first settlements on the island. As a result, the island still has many ancient folk customs brought from England and Ireland that are now disappearing. The permanent population of the island was 2,244 in the 2016 census. The inhabitants settle in 11 settlement located along the coast.
Fogo Island has maritime history, picturesque bright-coloured clapboard houses, lush forest, sea cliffs and rocky coast. National Geography's description (October 16, 2019) i.e. "Fogo Island is not so much a place as a state of mind" sums up the spirit and appeal of the island.
The island has received emerged on world stage when Fogo Inn Island which faces the ocean in the village of Joe Batt's Arm, opened in 2013. Owned by the Shorefast Foundation, a Canadian charitable organisation established by Zita Cobb and her brothers with the aim of fostering cultural and economic resilience for this traditional fishing community, the Inn with 29 rooms was designed by the Newfoundland born and Norway based architect Todd Saunders. Described as "one of the world's most magnificent hotels, yet there is absolutely nothing fussy about the place", it has successfully redefined the island and an inspired arts scene has brought new life to Fogo's struggling fishing communities.
Things went well. After an uneventful drive and a light lunch, we arrived at the ferry pier at Farewell shortly after 3 pm. We queued up for a while before the ferry arrived. It was filled up and set sail on schedule around 4 pm. While on the boat, we took the address and phone number of places to stay on the island.
We got off at Stag Harbour before 5 pm. We followed the main road (Route 334) to Fogo Harbour. After looking at two places, we decided to stay at Peg's B&B ($110 a night) located opposite the Cathedral. The house is clean, cosy, homely and most comfortable.
The sun would be setting soon. After leaving our stuff inside our room, we drove to a nearby cove at the bottom of Brimstone Head for a snapshot. Then we headed west to the Marconi Wireless Interpretation Centre at the far end of the Harbour.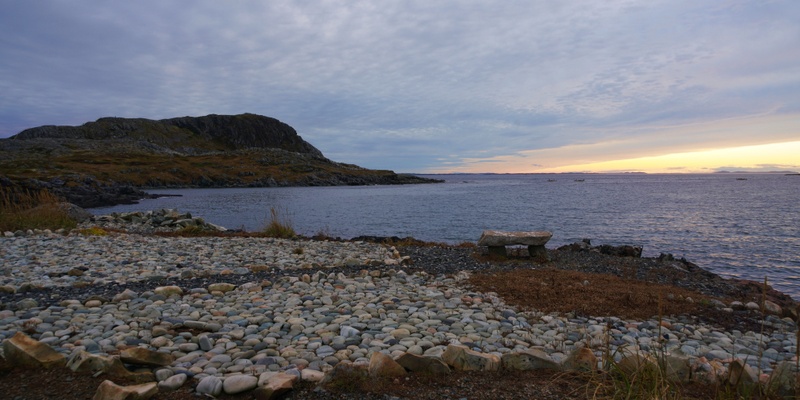 Standing on much higher ground, we had panoramic view of Fogo Harbour, the sea. Chang Island and many islands extending to the horizon. We watched an awesome sunset with the harbour in the foreground. The sky was partially covered with beautiful clouds. The colours ranging from golden, orange to purple, were incredibly beautiful. We did not leave till it was totally dark.
There is a Chinese restaurant in Fogo Harbour. But we do not fancy unauthentic Chinese food. As a result, I went to the supermarket, bought a pack of chicken thigh, two instant noodles and celery for dinner. A simple home-cooked meal is always preferred to poor take-away Chinese food. As we were hungry, we enjoyed our meal and had a good sleep.
Oct 9 Wednesday: Fogo Island
Fogo Island is small yet full of surprises. While one can easily drive to all 11 settlements which are accessible within a couple of hours, one can spend a week exploring all corners of this sparsely populated island. There are also eight well-marked walking trails.
We set off leisurely heading to Tilting located at the end of Route 334. We stopped at a cove opposite Barr's Island to take a photo. Then we met a father and son working in their shed. The father was delighted to have visitors. They spent half an hour talking to us detailing the way to catch cod, treat it before drying.
The father also said that his son had spent 46 days on a fishing boat off Greenland this year earning some $56,000 for his work. He then complained that how local residents had sold their property to outsiders who turned them into holiday rental homes. As a result, the place is no longer as safe as it used to be.
We drove back to Barr's Island and stopped several times to take photos of Fogo Island Inn and the coastline. Then I saw a beautifully designed house under construction by the water. I can picture this beautiful and comfortable house upon completion: the sitting room on the ground floor and two bedrooms on the first floor would have perfect view of the Fogo Island Inn across the bay.
I was curious and went in to look at the interior. Then a man arrived to discuss work progress with the workman. The owner's name is Todd who is a builder based in Bergen, Norway. He loves Fogo and spends a few months a year on the island. Later on, I discover that Todd was the architect of Fogo Island Inn. No wonder, his new home would look at the Inn – his labour of love! I am honoured to meet the famous architect.
Our third stop was Titling, an old Irish settlement. We walked to the lighthouse and watched a lady picking berries. She is very friendly and nice. We ended up visiting her shed by the water and looked at her souvenirs collected all over the world.
Next, we stopped in a café in Tilting by the road side. It is a local favourite. Before we sat down, we saw the two brothers on Silver Explorer, Collin and Richard, arriving with their tour guide. They stayed at the Fogo Island Inn for three nights. They are impressed by the awesome interior design with all furniture made of wood and by hand on site. The hotel is now the largest employer on the island. We planned to go in for a drink. In this way, we could see and have an experience of the hotel.
But when we arrived at the hotel's carpark, we were told that unless we had already made a reservation, we could not enter. What a pity! If I ever return to Fogo one day, I would love to stay at the Inn. If I can't afford it, I would at least have tea or lunch in this iconic hotel.
We decided to reach all the settlements on Fogo. Hence, we drove to Deep Bay and finally Island Harbour. Both are quiet and peaceful.
We returned to Fogo Harbour for a climb to Brimstone Head (0.5km return) which was touted as one of the four corners of the world by the tongue-in-cheek Flat Earth Society of Canada.
We returned to the Marconi Wireless Interpretation Centre to watch sunset. The colours were gorgeous: deep orange and golden. But the sky was cloudless. I found it less intriguing and impressive as compared with the day before.
Kylie was bored with instant noodles. But as there is nowhere to go for a decent meal during off season, we had to cook again. Eileen, the owner, returned from St John's in the evening. We had a nice chat for over half an hour. She kindly called a B&B in Trinity and arranged us to stay there the following evening. We are impressed by her organisation and efficiency. Had we met her on our arrival, we were sure we could have been able to join a free guided tour to the Fogo Island Inn.
Oct 10 Thursday: Fogo Island – Bonavista
We got up before 5:30am in order to catch the 7am ferry to the mainland. We watched a beautiful sunrise while on the ferry.
We decided to take Route 330 which winds through the picturesque Kittiwake Coast. The lights were perfect and the water in the bay was calm with perfect reflection. We stopped many times to take photos of stones in the bay.
We spent over half an hour exploring Barbour which is known for its picturesque Living Heritage Village which consists of some well-preserved houses next to the canal. Unfortunately, it was already closed for the season.
We drove through Gambo which is beautiful with full-blown foliage colours. We stopped for a quick lunch. After a short drive, we were back on TCH and drove on the highway till we turned off to take Route 230 which runs through the Bonavista Peninsula and ends at Bonavista.
Bonavista is of historical significance: John Cabot, a freelance Italian explorer who was contracted by Henry VII of England to find new lands and a sea route to the Orient, landed here on June 24, 1497. It became one of the most important towns in Newfoundland due to its proximity to the rich fishing and sealing grounds to the north of the peninsula. During the 16th century, the Spanish, Portuguese, French and English fished off Cape Bonavista. The Spanish and Portuguese presence soon decline. The French and English remained the dominant powers and the fishing rights in the area continued to be a source of tension between them. There are many historical buildings in the old town.
On the way to Bonavista, we stopped at the B&B which Eileen had helped us to reserve. As the place was under renovation and had a strong smell of paint, we decided not to stay. We therefore stopped at a hotel 5 km from Bonavista. We did not like the room which is old-styled and dark. The receptionist suggested us stay with her in-laws who runs a B&B in Cape Bonavista.
We found the recommended B&B at Cape Bonavista Drive easily. We liked it very much. But there is only a double bed. The owner suggested us look for two other B&B in the same area. But they were closed for the season.
We had wasted a lot of time finding accommodation while the sun was setting. We decided to enjoy the sunset first and headed to the light house at the tip of the cape. We found spectacular cliffs and rock formations.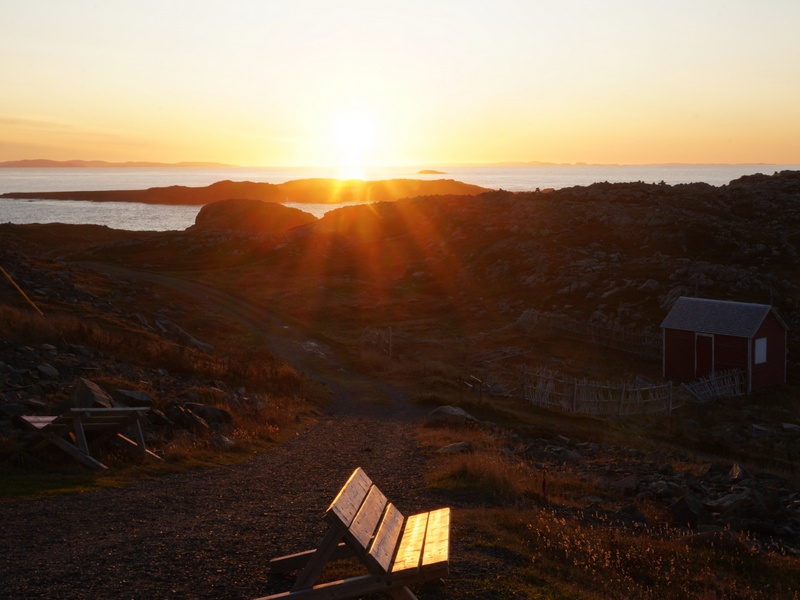 The sunset was gorgeous with fascinating colours. But as we arrived too late, we did not have time to find a good location to set up the tripod. I only had time to take a few photos near the lighthouse.
Later, I even put away my tripod and camera: I relaxed and enjoyed the splendid scenery with my naked eyes. Marvellous!
We had been driving up and down Cape Bonavista Drive several times today. Hence, we had no problem driving around the old town even at night. We tried to look for two more B&B on Coster Street in the old town. But they were closed as well.
Then at the junction between Coster Street and the Church Street, we found a pub and café. I went in to ask whether the locals knew a guesthouse nearby that might be open. I was lucky to meet Peggy who was playing on the one-arm-bandit in the pub. Her brother has vacation cottages. She called and got us a cottage at 161 Cape Bonavista Drive for $135 a night.
We followed Peggy and were pleased with the cottage which was opened since May. It has two bedrooms, a fully-equipped kitchen, a toilet and a nice sitting room. We returned to the café in the town centre for a hot meal. We were pleased that everything ended well!
Oct 11 Friday: Bonasvista – St John's
Today, I would depart for St John's around 3:30pm for Toronto to take a connecting flight to London. I packed up and was ready for leaving before 7am. I watched sunrise through the window.
We left the cottage at 7:30am and had breakfast at the café. We had a short tour of the centre of the old town and the harbour. We walked along the Church Street to see the two churches.
We spent a while at the Pond located behind the Church. The place was quiet, peaceful and picturesque with lots of birds in the middle of the Pond and grass covered with frost. The reflections of colourful houses around the Pond were beautiful.
We finally left Bonavista after 8:30 am. There are many places to visit in Trinity. But as we were in a hurry, we only stopped at some beautiful bays and a fishing village near Trinity East before heading back to St John's.
We had a hectic time before I left St John's. First, Kylie dropped me at the airport around 1:30pm so that I could check in and drop my bag. Next, we went to the airport hotel so that Kylie would check in for a night. Then we took the car back to the airport and returned it. Mission completed: we drove 2480km in Newfoundland in seven days!
It was around 2:45pm when I said good-bye to Kylie at the airport. My flight was delayed for some 25 minutes. Luckily, I still had enough time to catch my connecting flight to London. My flight took off around 8pm and I arrived in London the following day at 6:30am.
End of my Newfoundland Tour