Iqaluit, Labrador & Newfoundland
Day 10 Sept 29 Sunday: Iqaluit, Nunavut, Canada
After two long sea days, we finally could get off at Iqaluit which I visited a year ago on my High Canadian Arctic expedition. It was a grey and misty morning when we were ready to disembark.
I do not find Iqaluit interesting: I have already spent enough time in the city on my first visit last year. I was therefore glad that Danny offered us a walk to the Sylvia Grimnell National Park. I could exercise a bit and see nature.
We set off after 8:30 am and had a long zodiac ride before arriving at the port. Then we got on a bus that took us to the national park. We had a local and a French guide who talked about the Inuit culture and their harsh life, flora and fauna in the area.
If we had had better weather, the walk would have been more enjoyable. I was wet after having walked in the rain for over an hour. The 3km-walk finished around 11 am.
The bus dropped us off at the visitors centre. The whole hiking group took the last bus at 11:45am to return to the port. It's time for another sumptuous buffet lunch.
In the afternoon, I heard Malcolm talking about "Raving about Ravens, and other Arctic birds".
At the briefing session, Danny told us we would be heading to Savage Island which is220NM from Iqaluit. The Captain and Danny had decided not to visit the Monumental Island (MI) as scheduled because there might be more interesting things to see at the Lower Savage Island.
I totally supported the change not because I had cruised around MI last year. Based on my observation and my experience, MI is a barren rocky island in the middle of the ocean with few birds at this time of the year. The swell and wind would make a zodiac cruise most uncomfortable. Captain Eric had been contemplating changing the course since leaving Greenland. Well done, Captain!
Day 11 Sept 30 Monday: Lower Savage Island
Lower Savage Island is an uninhabited offshore island group of Baffin Island lying in the Gabriel Strait, an arm of Davis Strait northwest of Resolution Island and west of Edgell Island. The local guide in Iqaluit had told Danny that they had recently caught a walrus here. This would be the first time the ship explored this area.
We arrived at our destination around breakfast time. The plan was to drop off two groups at one end of the island while the ship relocated to the other end of the island to pick them up two hours later. While these two groups had their zodiac cruise, the rest would have a lecture on the ship.
But when Captain Eric found the sea and wind conditions not unsuitable for such operation, he changed plan. He took the ship to the sheltered side of the island.
It was foggy, cold and windy. While we watched the crew getting the zodiacs ready, we spotted a polar bear on the rocks on the port side. The first bear of this expedition!
The Blue and Green groups took off first. Though they had a grilling and bitterly cold time on the zodiac, they were rewarded with the sighting of a bear on the island and another one swimming in the water. One never knows what is in the waiting in the wild.
I attended a talk given by Danny on "The Forgotten War – The Aleutian Campaign 1942-43". I am glad to learn more about the rise and modernisation of Japan and its wars with China, Russia, Korea and America and what happened in the Aleutian chain of islands during WWII. I shall likely join an expedition and visit these American islands one day.
At lunch time, we were excited to find a bear hanging out on the rock. Was it the same bear that we saw in the morning? We were not sure.
After lunch, the Red and Yellow Groups set off in a bright and sunny afternoon. As the tide had dropped, our zodiac could not get into some of the areas where the water was too shallow. The colours were bright and striking.
I would say I had a pleasant but uneventful cruise. A few things were worth mentioning.
First, the rock formation and the rocky coastline of Lower Savage Island are beautiful.
Second, the water was crystal clear with plenty of gigantic and healthy kelp (large brown algae seaweeds).
Third, I was delighted to see a large group of ptarmigans (belong to the grouse family). They are the official bird of Nunavut and gamebird of Newfoundland and Labrador.
We were back on the boat around 5:30 pm. After the briefing, I got straight to the hot tub on Deck 6. It was wonderful to stay in tub while watching sunset. As a result, we did not have dinner till 7:30pm.
Danny said there was a high chance for seeing Northern lights tonight. Owing to swell, the ship was rocking and some guests were seasick again. Around midnight, we were told to go out to the bow to watch the dancing light.
I saw greyish white lights moving across the sky. By the time I set up the tripod, the light had gone. I spotted some on the starboard side later. But the ship had too many lights on and was moving fast. It was a challenger to get decent photo. Luckily, Bruno took and shared his photos with us.
Day 12 Oct 1 Tuesday: Torngat Mountain National Park, Saglek Fjord
We sailed 150 NM to reach the entrance to the Saglek Fjord of the Torngat Mountains National Park before breakfast. The park with an area of 9,700 km2, is a showcase of spectacular wildness and dramatic landscape. Though I had spent two days in this park on my Baffin Island expedition, I did not mind revisiting it.
We had an overcast sky today. As I saw the fjord on a sunny day last time, I enjoyed watching a moody Saglek Fjord. Captain Eric opened the bow at Deck 4 for guests so that we could feel closer to the magnificent landscape. I had a busy time walking up and down in search of the best spot to watch the dramatic landscape and later the bears.
First, we spotted a polar bear on the portside. I was at the right spot.
Then, I went to the bow on Deck 4 to enjoy the scenery. An expedition team member told me to go to Deck 6 to look for two black bears on the starboard side.
By the time I reached Deck 6, the bears could no longer be seen. Fortunately, a caribou timely arrived posing for us. Soon it walked up the steep slope behind.
Before long, two black bears appearing as two tiny dark dots on a spleen in a distance.
After a while, we heard an announcement about a bear with two cub on the port-side. We all rushed to the port-side. Captain Eric skilfully manoeuvred the ship close to the shore. I guessed we might be some 500m away from the bears.
The mom was lying down most of the time. One of her cubs lay in front of her without moving much. But the other cub seemed more active, moving around and posing for us! The bears were not as fat as those I had just seen in Wrangle Island in Russian Arctic.
All guests were thrilled and satisfied with the morning wildlife show featuring four polar bears, four black bears and a caribou!
At 2:15 pm, Kylie and I attended a talk by Silversea's travel consultant Natasjha who highlighted the voyages in the coming three years. There are too many wonderful voyages. It is tempting to book trips on the ship: we can enjoy early bird and further discount. At the end, both Kylie and I have signed up for our next Silversea voyage.
I attended Elisabeth's talk "Gateway to New World: L'Anse aux Meadows and the Norse in North America" that would prepare us for the next landing. Though I had not landed in L'Anse aux Meadows last year owing to poor weather and sea conditions, I had already heard about the Norse's discovery of North America some 500 years before Columbus.
Day 13 Oct 2 Wednesday at sea
St Anthony is 570 NM south of the Torngat Mountain National Park. We therefore had another sea day during which I attended three more lectures: "Managing Climate Change: Melting Ice to Coral Bleaching" by Malcolm; "Whales and Humans – Towards a Peaceful Relationship" by Babi and "Plankton – Fascinating Views of a Drifting World" by Uli.
Tonight, we had the farewell dinner. Many guests dressed up for the occasion. Before dinner, our charismatic and handsome captain talked about highlights of this voyage. He invited his team to join him on stage. Two staff, Joy and Joy working in the restaurant and the bar, have a beautiful voice. They sang a farewell song. All passengers were moved and gave Captain Eric and his team a standing ovation.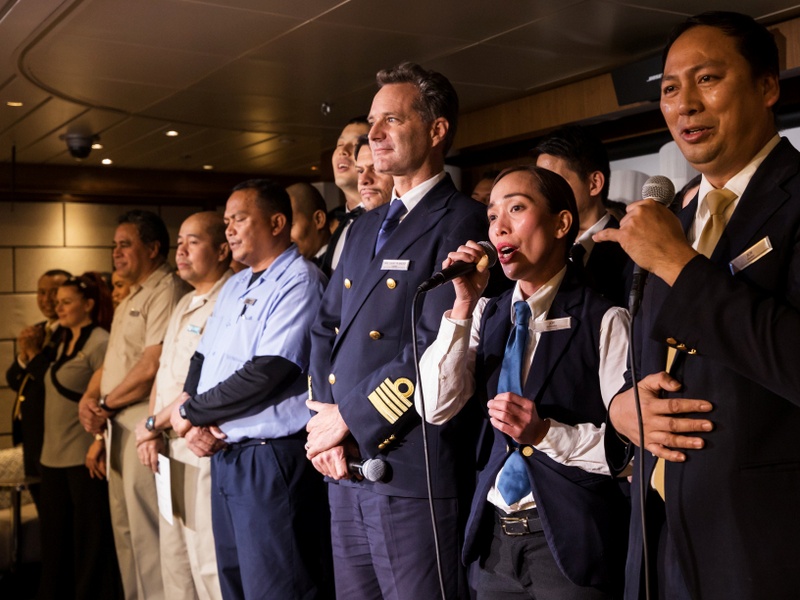 I was at a table hosted by Sarah, a senior receptionist from Mainland China. The Taiwanese ladies, Selina and King were also at the table. We had a delicious four-course dinner and talked about happy moments of this voyage. My Taiwanese friends had signed up for four voyages in the coming two years. Incredible!
Day 14 Oct 3 Thursday: St Anthony & L' Anse aux Meadows
We had a dry landing at the port of St Anthony which is far from the town centre. It was drizzling and we decided to walk to the centre. As we took time to enjoy our breakfast, we ended up having insufficient time to explore St Anthony which is several kilometres from the port.
We took over an hour to reach the visitors centre on foot. After spending less than half an hour in town, we took a taxi for $10 to the port. Though we were not too hungry, we had a light lunch.
At 1 pm our bus departed for Nortstead, a recreated Norse Village. A replica of the Viking Knarr "Snorri", the boat that sailed from Greenland to L'Anse aux Meadows is shown here. We were the last group of visitors for this season.
Then the bus took us to the site where the Norse first landed in North America with ruins of a Viking village dating back to c. 1000 (carbon dating estimate 990-1050 AD). Norseman Leif Eriksson, son of Erik the Red, established a colony with a group of 60-90 people in the New World on the northernmost tip of the Great Northern Peninsula on today's island of Newfoundland. It served as an over-wintering base for exploring the south via the Gulf of St. Lawrence. For the next decade or two, successive expeditions travelled to this region they called Vinland, mainly in search of hardwood lumber. They reached at least as far south as the east coast of New Brunswick.
Archaeological evidence of a Norse presence was discovered here in the 1960s by Norwegian explorer Helge Ingstad and his archaeologist wife Anne. It is the only confirmed Norse or Viking site in or near North America outside the settlements found in Greenland and has been widely accepted as evidence of pre-Columbian trans-oceanic contact. In 1978, this village was designated a World Heritage Site.
The area mostly consists of open, grassy lands today. The weather had improved and stopped drizzling.
We began our visit at the interpretation centre where we watched a video. Next, we followed a well-constructed broad-walk to see the archaeological site which remains natural and unspoilt.
Remains of eight buildings are well marked.
The largest dwelling (A) measuring 28.8mx15.6m consisted of several rooms.
Three small buildings (B, C, E & G) might have been workshops or living quarters for lower-status crew or slaves.
Building D was the smallest of the three halls, probably built for a crew of labourers.
Building F, the Leader's Hall, was the largest building probably lived here with his crew.
Building J was a smelting hut containing a furnace for producing iron from bog ore.
I visited three buildings reconstructed near the original site to provide visitors insight into the lifestyles of these hardy explorers.
We were back on the ship before 5 pm and set sail for Twillingate which is 110 NM away.
Day 15 Oct 4 Friday: Twillingate
We disembarked at 8 am. I was on Bus 1 while Kylie who came out later was put on the next bus. Four buses had been laid on and we would take turn to visit four places. In this way, each place would have some 30 visitors at one time.
We had a good guide who is a retired teacher. He spoke clearly. We first stopped at Auk Island Winery where we could taste five fruit wine and spirit. Though the tour had paid for the wine tasting, few guests were in the mood to drink at 9 am in the morning.
We moved on quickly and spent half an hour at the Twillingate Museum, the former house of an Anglican priest opposite the church which was the oldest church in the area.
The museum located in an old wooden house opposite the church is well-preserved with artefacts donated by the locals. It is the most visited local museum in the province.
Next, we went to the Long Point Lighthouse at Crow Head. We had a fabulous view of the Kittiwake Coast with a web of interconnected islands, villages and small harbours.
Our final stop was a fish store where the fisherman owner showed us how cod was caught and salted. He also had the skeleton of two Sei Whales on display.
I watched his relative cleaning a big bucket of mackerels which were caught earlier. He had also caught a few squids and cods in the net.
We had a beautiful and warm day. At 12:30 pm, King, Selina and I took the last zodiac back to the ship. We were in an excellent mood after a wonderful morning tour.
In the afternoon, everyone was busy packing, settling accounts etc. I am good at packing. My priority was to get all the dirty clothes washed before packing. Luckily, the laundry with two washing machines and dryers, is located near my suite. It did not take me long to wash and dry my washing. I now have enough clean clothes for the seven days in Newfoundland.
At 5 pm, all guest gathered in the Explorer Lounge for the last time to watch a video made by Bruno on this voyage. He has also given us photos he had taken and I would use some of his photos in my website. This would save me time to sort out my photos.
The end of the voyage was fast approaching. We sailed 208 NM overnight and entered St John's harbour at sunrise. At breakfast, we were all busy saying good-bye to our friends and the staff who have been wonderful and attentive.
We all shook hands with Captain Eric, Danny and his team members. Kylie and I disembarked at 8:30 am and took a taxi to the airport to collect a car for our next adventure in Newfoundland.
My 3067NM-Expedition came to an end at 8:30am on October 5, 2019 in St. John's Newfoundland, Canada