Liwonde National Park, Zomba & Blantyre, Malawi & Dar es Salam, Tanzania August 21 – 23
August 21 Tuesday: Liwonde NP – Chilwa Lake – Zomba
I was disturbed the whole night by the noises of hippos, warthogs and birds. Around 5am, the noisy birds finally got me out of my comfortable bed. I later found out the birds were ibis and not cormorant.

It was 6 am when I went to the lounge for a cup of tea. A few groups of lodgers were about to set off for a game drive. I went to the pier to watch life on the river. The light was soft and perfect. There were plenty of birds around.
Breakfast started at 7 am. The baboons had left me alone as I had no bread on the table. But Ling's toasts were snatched away by baboons within seconds.
We were off on a river cruise at 8 am and an amazing time. The river with extensive mud plain and wetland is a hot spot for bird-watching. I have read that one might spot 3,000 birds from 60 species during a two-hour river cruise.
As it was not the migrating season, I probably saw 800 – 1,000 birds of over 20 species including black-winged stilt, spur-winged goose, egret, great cormorant, white breasted cormorant, pelican, yellow billed stork, open billed stork, common sandpiper, hadida ibis, glossy ibis, grey headed gull, heron, black-headed heron, common squacco heron, African fish eagle, western banded snake eagle, African jacana, malachite kingfisher, plover, dove, white-billed go-away bird etc during the cruise. There were some Nile crocodiles in the river.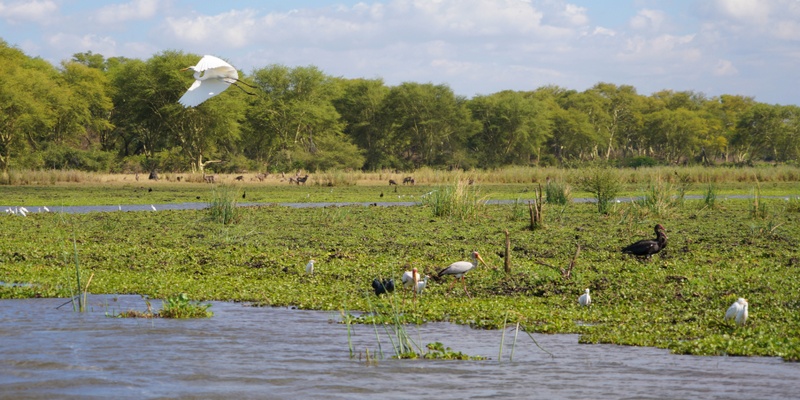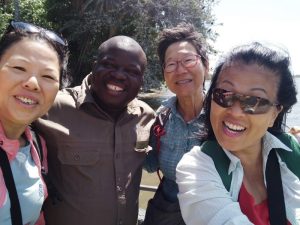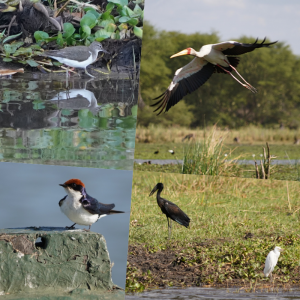 Soon after we stepped off the boat around 10 am, we spotted a dozen of elephants on the opposite side of the bank. Patrick kindly took us over to see the elephants.
We checked out after 10:45 am. Patrick took us across the river for the last time and we asked Patrick to take a photo with us at the pier. All of a sudden, Patrick called out "Oh, my boat".
We looked around and saw his boat drifting away! We could not stop laughing. Patrick had to call his colleague at the lodge to go and get his boat.
When we were putting our luggage in the car, a baboon jumped into the driver's seat and snatched my box of preserved ginger. It is amazing to see how this clever primate tried to open the lid. When it failed to turn the lid, it used its teeth to break it open and put a piece into its mouth. From its facial gesture, I think it does not like the peculiar taste. Patrick raced after it and got the box back. I did not take it back and give it to Patrick.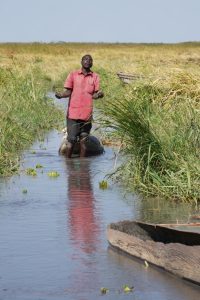 Our next stop was the Chilwa Lake, Malawi's second largest lake bordering Mozambique. The Chilwa plain as a whole consists of seven agro-ecological zones defined by different soil groups, making it quite unique. Lake Chilwa wetland is a biosphere reserve and home to one of the world's most diverse populations of bird species.
We drove through many small villages with mud huts and unpaved path. Locals were friendly and waved at us. We finally arrived at the lake shore which has dried up since July. As a result, villagers have to punt for two hours on a narrow river channel to reach the lake shore.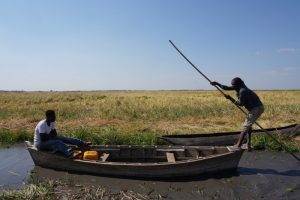 Sydney had prepared a lunch box for us. We stayed in the car and finished our sandwich quickly so that we could move on. Around 4:30 pm, we arrived in Zomba which is located at the foothill of the Zomba Mountain, a massive granite massif which dominates the western edge of the town.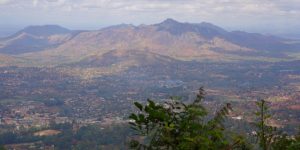 In the late 19th century, British settlers began to arrive owing to the pleasant temperate climate as a respite from the heat of the low-lying plains. Its development is similar to the hill stations of India that I have visited e.g. Darjeeling. It became the capital city of the old British Central African Protectorate and later capital of Malawi till 1975.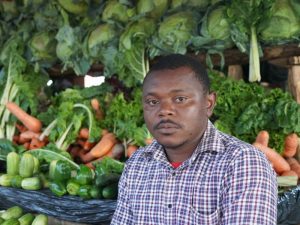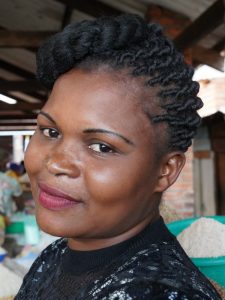 We had a quick tour of the city which is tidy and clean with a cool colonial atmosphere. The small city centre looks quint with many turn of the 19th century colonial buildings.
Sydney had arranged his friends to take us on a walking tour. We visited the central local market which is one of the busiest and most colourful in Malawi. I find it well-organised and clean. We walked through different sections selling dried goods such as grains and herbs, building materials, clothes and shoes, fish and dried fish, freshly picked fruit and vegetables etc. We love local markets. Ling and Karen bought local beans and herbs.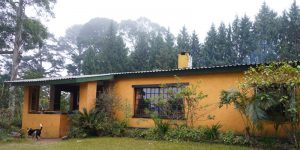 It was getting dark when we drove uphill to reach the Zomba Forest Lodge run by Edward and Petal. This eco-lodge has only four en-suite rooms. We had hot water for shower, candle light at the dinner table and solar lamps in the room.
Our hosts came from the UK and have been running this lovely lodge for seven years. They are friendly and warm and the small sitting cum dining room is cosy and homely.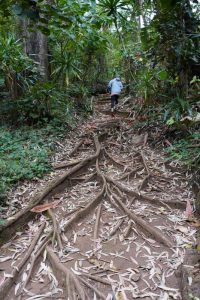 We met three cheerful guests (Eric from Paris and two ladies from Zambia) who had been staying in the lodge for a couple of days. It was chilly and we sat by the fire for a drink before dinner. We had delicious Moroccan beef and vegetables for dinner. All guests went to bed before 10 pm.
August 22 Wednesday: Zomba – Blantyre – Dar es Salam Tanzania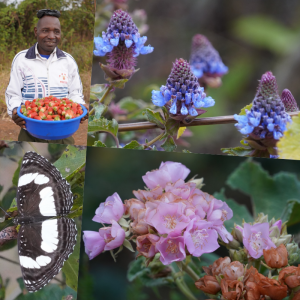 We did not have a good view of the lodge till we got up in the morning. The lodge is a dream house built in brick sitting on 20 acres of stunning gardens and mixed woodland,
After breakfast, Petal took us on a walk with her two dogs. We walked for an hour and a half through indigenous rain forest in the valley by the stream which is within the boundary of the lodge as well as forest plantations.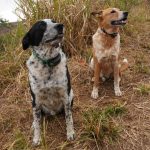 She told us how they had spent years in renovating the lodge. They work with the local community: they hire ten permanent workers for the lodge and many temporary workmen on a need basis, buy vegetables and eggs from the villagers and plant trees to help reforesting in the area. I am impressed by their devotion and passion to help the Malawians.
We said good-bye to our host at 10am. Sydney took us to see the Mulunguzi Dam a scenic area and a great picnic lunch spot. But it was too early for lunch.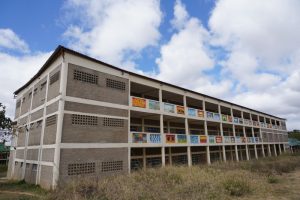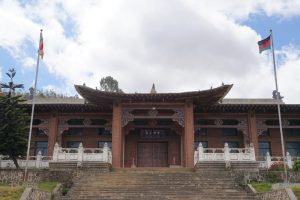 Around 11 am, we sped towards Blantyre which is about 70 km away. On the way, I visited an orphanage established a monk from Taiwan some 15 years ago. It now has about 400 children from 4 to 18-year-old.
The place is impressive and well-run. The children receive primary and secondary education. Some also get vocational training so that they can get a job when they leave the institution. As many as 30 volunteers mainly from Taiwan work in the orphanage. The director showed us around and told us that the annual recurrent expenditure amounted to US$400,000. I made a small donation in support of this meaningful project.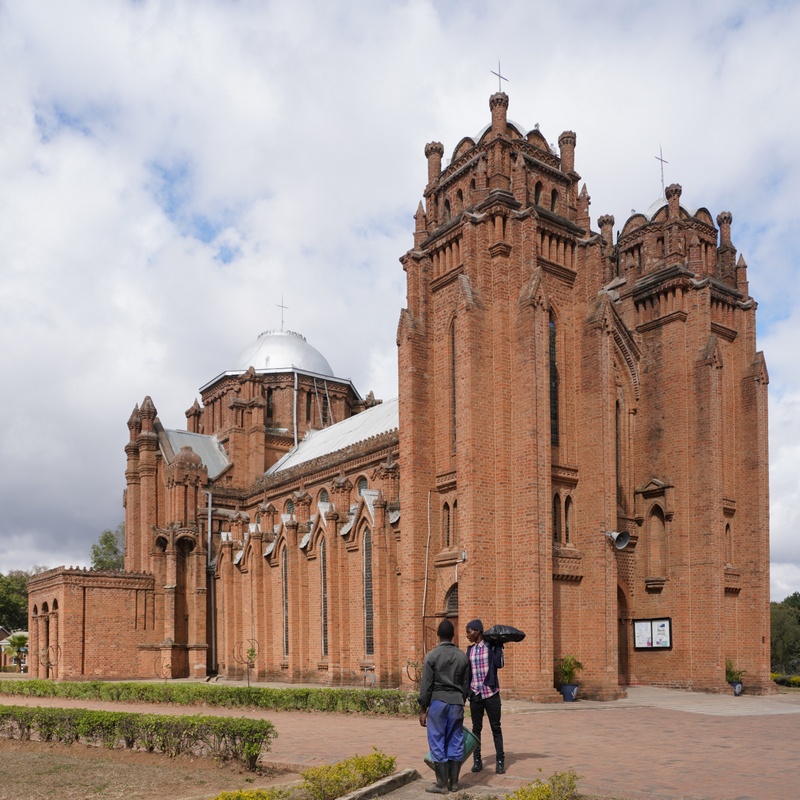 We reached Blantyre, which is named after the suburb of Glasgow in which the legendary explorer David Livingstone was borne and brought up. The foundation and early history of the town is inextricably linked with the early Scottish Missionaries and settlers. Blantyre, the commercial hub of the Malawi, is bustling and busy with plenty of lively street stalls and open-air markets.
Our first stop was the Mandela House belonging to the African Lakes Company which started in the 1890s by the Moir Brothers. Built as the company headquarters, the house was the first 2 story dwelling in Central Africa. Today, it houses an art gallery featuring the best works by local artists and a selection of wood carvings from the Mua Mission.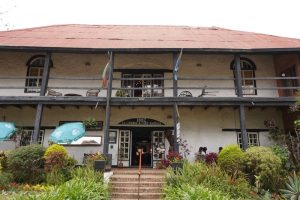 Then we visited the St. Michael and All Angels Church constructed from 1888 to 1891 at the Blantyre Mission in Blantyre. Located on the original Scottish mission site which was the first permanent Christian Church erected between Zambia and the Nile, it is the Church of Central Africa, Presbyterian's Blantyre Synod. The gothic building in red brick looks elegant and charming.
Our short but memorable stay in Malawi came to an end when Sydney dropped us at the airport shortly after 2:30pm. We were the first group to check in. The check-in and security staff were most helpful and courteous. The immigration staff were polite too. We boarded a small jet plane which took off at 5:40pm and had a short 2-hour flight. Dar es Salam is an hour ahead. We arrived in the capital of Tanzania shortly before 9 pm local time.
Remarks (written and uploaded on May 8, 2020)
I set off on this journey almost nine months ago. Today, when I look back and try to recollect my thoughts, I am still in anguish. According to my original plan, I would leave HK on August 14 and spend eight nights in Malawi before leaving for Tanzania on August 22. When the protestors stopped the check-in service and passengers from entering the immigration area, my flight was cancelled. I was at the airport and saw the heart-breaking scene when some young people spoke and behaved like red-guards during the Cultural Revolution in China. They set up barricade using the luggage carts and stopped passengers to walk toward the immigration area. I saw a group of young men chasing a man they suspected and bought him down to the ground. No one should behave like this. I can't forget these ugly scenes for the rest of my life.
I was lucky to get a seat on the flight on August 16. As a result, I still spent five nights in Malawi. My anguish does not stem from the loss of a few days sightseeing in Malawi. I deplore the insanity and naivety of these protestors and their motive. Their slogan is "I want mutual destruction" or "I want Hong Kong to burn with us". They advocate that "I shall fight till I die". What do they want? Independence? Hong Kong is part of China and their ideal does not reflect the majority view of the people of Hong Kong.
I believe in freedoms as well as rule of law. Whatever their belief and ideals, they can't be above the law and use violence and home-made bombs to destroy Hong Kong in order to bring the government and society to a halt. My Malawi trip has been marred by the ugly scene of the protestors at the airport on August 13, 2019. I departed Hong Kong with a heavy heart – something I had never experienced before.
Despite I must say I have had a great time in Malawi. First, I had two fantastic travel mates Ling and Karen whom I met on an organised tour to north Xinjian. We all love nature and Africa. They are easy-going and accommodating.
Second, we have been lucky to book our tour with a reputable local travel company introduced by a close friend in Hong Kong. Chris, the boss of the company, was able to re-arrange our itinerary immediately so that we were still able to visit the Chongoni Rock-Art Area and Lake Malawi National Park (both are World Heritage Properties), Liwonde NP and Zomba. We had a fantastic driver-cum-guide Patrick.
Thirdly,we enjoyed the accommodation arranged by Chris at the Pottery Lodge, Mumbo Island in Lake Malawi, Mvuu Camp and Zomba Forest Lodge. Both the standard and services are excellent and most value-for-money.
All in all, I have fond memories of Malawi, one of the world's poorest countries. Eco-tourism can help its economy and people. I love to return to Liwonde NP and northern part of Lake Malawi. From Malawi, I can travel overland to Zambia, Tanzania or Mozambique.
The whole world is now facing unprecedented uncertainty and global recession. Hong Kong has been in recession ahead of the curve owing to social unrest since mid-2019. These trouble-makers have kept their head low during the pandemic. But they have initiated sporadic protest actions recently. I am afraid these 'brained-washed' protestors who blindly believed in democracy, would continue to destroy the foundation and prosperity of Hong Kong. I worry about the future of the world in general and Hong Kong in particular. Now, we have been double-hit by the pandemic and the social actions. What will be coming next? Where shall I be able to visit my Africa again! I wonder.