Lilongwe, Dedza & Lake Malawi
Trip Plan
I have been to Africa many times and have seen the big fives on many occasions. When Venus planned a trip to see migration in Tanzania and Kenya, I decided to join as I had never been to Ngorongoro Crater and Serengeti. On my way to Tanzania, I would visit Malawi for the first time. When Ling and Karen whom I met on a trip to Xinjiang a few years ago, heard about my trip, they wanted to join. Three of us would visit Malawi from August 14 to 22 and spend two days in Dar es Salam together. Then I would fly to Arusha to meet Venus and her group on August 24 while Ling and Karen returned to Hong Kong.  But things never happen as planned.
August 13 Tuesday
Hong Kong has been in turmoil since mid-June with widespread civil disobedience which began with objection to a draft bill dealing with an extradition bill. On August 12, the aggressive protestors which had been staging protest at the airport began to disrupt check-in service. As a result, several hundred flights were cancelled.
My flight with Ethiopian Airline (ET) flight was scheduled for departure at 0025hr on August 14. I was anxious and worried further disturbance at the airport might result in cancellation of my flight. I checked the website of the Airport Authority (AA) the whole day and departed for the airport at 8 pm when I learnt that my flight would be departing as scheduled.
Alas, when I arrived at the airport, I knew something had gone wrong.  Protestors in black T-shirts swarmed the departure hall. Apparently, they had harassed ground check-in staff and set up barricade with suitcase carts to stop passengers going to the immigration hall. My heart dropped when I heard the announcement that all flights would be cancelled and passengers were advised to leave the airport as soon as possible.
I found Karen at the check-in counter and told her that our flight had been cancelled. I walked around and was disgusted at the way the protestors had bought the airport to a standstill. They are reckless and irresponsible. Most of the protestors are young people. Some of them tried to apologise to affected travellers and justify their actions.
I have no problem with peaceful protest and freedom of expression. But protestors have no right to stop people from using the airport and leaving Hong Kong. Karen and I were frustrated. Our friend Ling who left Hong Kong on August 10, was waiting for us in Addis Ababa (ADD). Our plan was to meet up in ADD and fly to Lilongwe together. We immediately contacted Ling via WhatsApp to update her on our situation. I told Ling to go ahead as she could not cancel her flight to Lilongwe without penalty. There was nothing we could do but return home. What a mess!
August 14 Thursday
After a good sleep, I got up early and rushed to the ET office in Kowloon. I must be the first passenger to arrive to re-book my flight. The staff were most helpful. Unfortunately, the flight on August 15 and the midnight flight on August 16 had been fully booked. I could only get two seats for Karen and myself on the late evening flight on August 16 which would stop-over in Bangkok on the way to ADD. I sent a message to Ling to inform her of our new arrival date and told her to continue with her journey to and wait for us in Lilongwe.
The AA after two days' disruption at the airport had successfully applied for an injunction to stop the protesters from entering the airport. I prayed that we could leave on August 16. But as the protesters were out of control, I was not sure whether I could leave Hong Kong.
I contacted Chris, our agent in Lilongwe immediately to notify him of the new flight details. Our original plan would be to take a car and driver for seven days (from August 15 to 21) to see rock art in Dedze Mountain, Lake Malawi, the Liwonde National Park, Zomba and the Mulanje National Park before arriving in Blantyre on August 21.  As we could not start our trip till August 18, I asked Chris to adjust our itinerary to skip the Mulanje National Park. Chris kindly rearranged our programme without penalty. But we lost the deposit we had paid for hotels in the Mulanje National Park and Blantyre.
August 16 Friday: Hong Kong – Ethiopia  
My flight was scheduled for departure at 10:40 pm. Today, the airport functioned without disruption. I met up with Karen and checked in without problem. Our flight departed on schedule with an hour stop-over in Bangkok.
August 17 Saturday: Addis Ababa, Ethiopia – Lilongwe, Malawi
I was exhausted and managed to doze off for a couple of hours on the plane. We landed in ADD before 6 am and waited for our connecting flight to Lilongwe via Congo which would depart around 9am. We arrived at Gate 10 before 8 am. As it was crowded, we sat in a nearby lounge.
When we saw the queue start moving, we joined the end of the queue. Suddenly a few passengers rushed past me and jumped the queue. I sensed something might be wrong and followed them.  At the same time, Karen saw that our flight number had been removed from the gate. We suddenly realised that people in the queue were waiting for another flight. Luckily, we together with a couple of passengers managed to get on the bus just before it drove off.
Our flight was about half an hour late. I had a good aerial view of Congo which looks under developed and poor. We arrived in Lilongwe about 30 minutes late.  We had to wait an hour for the luggage.  By the time I changed money (750 Malawian Kwacha (MWK) to US$1), it was after 4:30pm. We paid US$35 for a taxi to the Thumbi View Lodge and jumped with joy when we met Ling in the lodge. We were tired and went to bed before 9pm. I had a good sleep.
August 18 Sunday: Lilongwe – Dedze 320km
Malawi
A landlocked country with an area of 118,484km2and a population of 18 million, Malawi borders Zambia to the northwest, Tanzania to the northeast and Mozambique on the east, south and west. The name Malawi comes from the Maravi, an old name of the Nyanja people that inhabit the area. Lake Malawi takes up about a third of Malawi's area.
Migrating Bantu groups settled in the land now known as Malawi around the 10th century.  In 1891, it became a British colony and a protectorate of the UK in 1953. It gained independence in 1964 and became a republic in 1966.  Hastings Banda, the first president of Malawi ruled the country for 30 years. The country is among the world's least-developed countries and its economy is heavily based in agriculture with a largely rural population. The government beset by challenges in building and expanding the economy and creating jobs, improving education, healthcare and environmental protection, depends heavily on outside aid to meet development needs. 
Malawi is a poor country with a low life expectancy and high infant mortality. There is also a high prevalence of HIV/AIDS. Nonetheless, Malawi which is nicknamed "The Warm Heart of Africa", is known for its friendly people. It boasts two World Heritage Sites namely the Chongoni Rock-art Area and Lake Malawi.
We sat off around 8:30 am with our driver cum guide, Sydney. We had a city tour.  Lilongwe, the capital of Malawi since 1975, is a relatively new city. We visited a war memorial, the mausoleum of Hastings Banda, the Parliament building, the Capital Hill, the Chinese Embassy and the Presidential Palace, all of which are located in the new part of the city.
I bought a data card from an Airtel stand. The lady charged me 3,000MWK for the card and 1 GB for 15 days. But something must have gone wrong and I was not connected after an hour. I went to another stall and paid 300MWK for a new card. Somehow, I could not register under my name as they could not believe 'WU' is my surname. It's stupid as the name 'WU' was printed in my passport. At the end, Sydney registered the card in his name so that I could use the data.
We lost at least an hour in order to fix my phone. We set off after lunch and turned off the main road (M1) after 2:30 pm. Then we ran into a large funeral procession possibly with 1,000 villagers. Our car had to follow the crowd and did not arrive at our destination till 3:15pm.
The Chongoni Rock-Art Area located near the mountainous region of Dedza, is one of the two World Heritage Sites in Malawi. The area consists of 127 sites which spread over an area of 126.4km2.
The rock arts in granite formations and consist of art depictions attributing to the hunter gathering community of BaTwa Pygmies who lived here during the late Stone Age period and of the community of Chewa agriculturalists whose ancestors lived there from the late Iron Age period. The agriculturalists practised rock painting until well into the 20th century.
White rock art depicted by the farmers could be traced from the first millennium AD. The local Nyau people who inhabited in the area, the missionaries and the colonial administration have ensured preservation of their culture. These sites are categorised under four traditions, two belong to the Batwa Pygmies (the earliest community of hunter gatherers), the agriculturalists, the Ngoni invaders, and the colonisers. 
The symbols in the rock art, which are strongly associated with women, still have cultural relevance amongst the Chewa, and the sites are actively associated with ceremony and rituals. It has also served as a symbol of the Chewa secret society of the Nyau people.
Three sites are open for visitors. The Chentcherere Rock Art site forming the core area with six rock shelters located in the Chentcherere hills, is described as in the "schematic and naturalistic" styles. The Namzeze Rock Art Site consists of paintings in red geometrical patterns and several paintings in white colour. The Mphunzi Rock Art Site are "zoomorphism" paintings.  
We were met by our local guide when we arrived at the Mphunzi site.  We followed our guide and walked uphill about 20 minutes to reach Site 7 which is an open rock cave.
The guide pointed out some white clay paintings of masks, figures, lizards and animals.  He said this site had been used for female initiation ceremony, rain-making and funeral rites.  I fear some of the paintings are not authentic: white paint might have been applied on some of the figures to make the outline clearer.
From here, we had fantastic views of the plateau below. We could also see Mozambique.
Then we walked downhill to see the two sites attributed to the BaTwa Pygmies. Site 1 (a natural shelter formed with two gigantic rocks) is covered red colour paintings on one side of a rock face. Most of them are in the form of ladders. There are also many hand prints and round faces.
Site 5 comprising a few big rocks close to Site 1 shows a giraffe with a very long neck. There are traces of paintings in a nearby rock. The guide said it might be flowers.
Finally, we walked to Site 2 next to the parking lot. We saw another giraffe in red colour with its head bending: it was drinking water.
Then we drove a short distance to see Site 3 and 4 located behind a small settlement.  The white rock art here is small in scale.  The guide said that Livingstone and his party had been in this area and they slept on the rock at Site 4.
The sun was setting. Children from the village were asking us for money. I told them to stop begging: they should study and earn their living!
Sydney had told us that the visit would take an hour or so. We ended up spending over two hours enjoying the scenery and appreciating the rock art.
I must say the rock art in this World Heritage Site is not as impressive as those I have seen in Namibia, Algeria and Sudan. The paintings are not well-preserved owing to weathering and human factors. I was upset to see the guide and local children touching the paintings with their hands and sticks. They do not know they are ruining something invaluable and irreplaceable.
It was dark when we headed to the Pottery Lodge in Dedza.  We arrived at the lodge around 6:45pm. Karen was so tired that she skipped dinner and went to bed. Ling and I had nice chicken and beef with rice at the restaurant. We were tired and had a good sleep.
August 19 Monday: Dedza – Cape Maclear – Mumbo Island, Lake Malawi
I got up before 6 am. When I opened the door, I was greeted with chilly fresh air and nice view of the Dedza Mountain that reaches up to 2,000m. The lodge with six spacious old-styled rooms, is located within the Dedza Pottery which was opened in 1987 and has become the largest hand-crafted production of pottery in Southern Africa. It is known for its handmade pottery.
We had to leave the lodge before 7:30 am in order to reach the pier at Cape Maclear before 10:30 am.  We had a beautiful scenic ride through this mountainous region famous for woodcarving. We stopped at two places to look at wood works and handicrafts. At 10:30 am, we took a 45-minute boat ride to the Mumbo Island in Lake Malawi.
Lake Malawi National Park, the world's first-ever freshwater national park, has been declared a Natural World Heritage Site since 1984. It contains the largest number of fish species of any lake in the world with 1,000 fish species including 350 cichlids of which all but 5 are endemic. Its importance is likened to that of the Galapagos Island finches.
The lake is 600km long and 80km wide and over 700m deep. with crystal clear waters and innumerable species of cichlid fish. It is unique and forms a separate bio-geographical province.
Mumbo Island, a pristine island lying 10km north-west of Cape Maclear, has an exclusive eco-lodge. There are only six tents on the island each perching on rocks high above the water. Each tent is provided with bucket showers, eco-loos and wooden deck. Lodgers can enjoy all activities including kayak, snorkelling, hiking and sunset cruise, free of charge.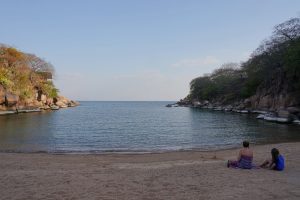 Today, an Italian couple and Annie from Johannesburg and her 9-year-old daughter Olivia were staying on the island. The hotel manager kindly put Ling, Karen and me each in a tent! I enjoyed the Idyllic lake view from the deck!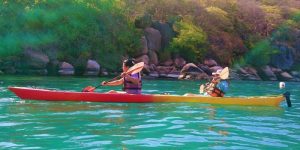 At 2 pm, we took a kayak trip. Our original plan was to circumnavigate the island which might take over an hour. But after ten minutes, we realised our limitations and made our way back to the next bay.
Ling and I then went for snorkelling. There is plenty of fish in the crystal-clear turquoise lake. But the fish is not colourful. I snorkelled for over an hour as the water was not warm.
On the beach, I saw lizards with different colours, a giant kingfisher, a pair of hamerkops, many pied wagtails, cormorants and yellow weavers.
At 4:30 pm, Karen, Annie, Olivia and I took the sunset cruise with Mario. We saw five fish eagles and their nests from the boat. We also watched many otters popping their heads out of the water.
The sunset was not as spectacular as expected. Anyway, I had a beer and chatted with my new friend Annie. She is speaking strongly for Johannesburg which is vibrant and interesting with a law and order problem. She told me to look up her on my next visit to Johannesburg.
When we got back to the lodge, Annie kindly bought me a gin tonic prepared by Olivia who acted as the bar maid. She is clever and mature for her age.
Dinner was served at 7 pm. All of us were tired and returned to our own tent. The island is safe. But I closed the door and windows fearing small animals and insects might get into the room and the mosquito net. I listened to the sound of the waves.
Though I was tired, I was restless and could not sleep well. First the room was too hot as the door and windows were closed. Second, I found the waves creating too much noise.  I woke up several times to open the door to get fresh air.
August 20 Tuesday: Mumbo Island – Mvuu Camp, Liwonde National Park
I opened the door when dark red hues started to appear on the horizon around 5 am. I joined Karen and Ling on a guide walk with Mario at 6 am.
As the sun was rising, Karen and I watched sunrise at the pier before the party set off.  We had a lovely walk. Though the island is relatively small, it is a paradise with many secret enclaves.  The hotel owner has developed several trails on the island.
We first walked to a sheltered bay where fishermen from the village on the mainland stay. They take their boat out and lay the hooks in the afternoon. Around 4 am the following day, they take their boat out to take up the line. If lucky, they can have a catch valuing 160,000-200,000MWK. They then take the fish back to the mainland for sale.  In the afternoon, they come back to the cove and repeat the same procedure.
The fishermen mostly young men, were friendly. Apparently, they had a poor catch. Hence, they had not gone to the mainland. We watched them preparing the baits and getting ready to go out in the afternoon. They lead a hard life.
We followed the Fish Eagle Trail and spotted a fish eagle hoovering above a cliff. We could see another cove below us with a few fishermen. As we were in a rush, we did not visit this cove.
We headed to the Pod Rock which is the best spot on the island for sunset. I would prefer to sit here with a drink to watch sunset. But the problem is to return to the lodge in the dark.
We were back on the circular trail and passed the Victor's Rock (like a rock armchair facing the lake) named after a Canadian, an employee of the hotel who developed the trails some 16 years ago.
Soon, I spotted a red-billed hornbill sitting on a tree. It flew away when we tried to get closer. Shortly afterward, we spotted another two hornbills. According to Mario, there are five of them on the island.
We were back in the lodge at 8 am.  Breakfast was ready. I had nice home-made cereal, sausage and egg. We left this paradise island with fond memories at 9:30 am.
Once we were back on the mainland, Sydney took us to see a graveyard in memory of Livingstone's missionary group. Some of the members died of malaria here in 1875.
We left Cape Maclear and drove all the way to the Liwonde National Park. Here, we would spend a night at the Mvuu Camp located on the banks of the Shire River which is a magnet for wildlife.
It was after 2 pm when we arrived in the camp. The last part of the journey was over 14 km of dirt and bumpy road. Our local guide Patrick was already waiting for us with a motor boat at the pier. It only took us five minutes to cross the river.
I had a great impression of the place. The camp has 12 units with a more exclusive lodge (with eight units) and a campsite nearby. Some 80 staff are working in the camp. The thatched dining and lounge area is framed by two giant baobab trees in the garden. We had magnificent river vista and were greeted by plenty of birds and yellow baboons in the garden.
We had a lovely luxurious chalet with two adjoining units right by the river bank. Each unit is fitted with a toilet, a bath tub and shower.
But we had a scaring lunch. The yellow baboons jumped from nowhere to snatch the bread from our plate. At the end, a staff had to station next to our table to protect us and our food!
At 3:30 pm, we set off on an afternoon and night game drive with Patrick and his assistant.   We saw countless hippos, antelopes, warthogs, wild pigs, kudus and elands.
Then came a lone elephant about 40 years old with only one tusk.   It jumped four times to reach a branch of a tree for its leaves. It was the first time I saw an elephant jumping so high. It looked exhausted after the jump and walked towards the river. We saw him again the next morning on the other side of the river.
I also saw a few hornbills. We had a sundown drink by the river. But it was too cloudy and the sunset was not impressive.
After sunset, we had an hour's night game drive. Apart from antelopes, we saw a civet cat, wild pigs and two genets. Patrick said a few sable antelopes were standing in the bush. But I turned my head too late and missed them.
When we were approaching the camp, our vehicle suddenly broke down. Three of us and the assistant guide had to push it. What an adventure! We signed with relief when Patrick managed to start the engine again. We arrived in the camp safely after 7 pm.
We had a buffet dinner with chicken and plenty of vegetables. The food was nice. We were tired and went to bed early.