Togo is a cultural melting pot with some 40 ethnic groups in a population of five million people and an area of 57000 square kilometres. I had four most relaxing nights by the Togo Lake and Mt Klouto. Batik and wax printing is popular and I brought several pieces of cloth in Togoville and had two suits made in Kpalime.
Background
Togo is a long, thin country stretching across six geographical zones. The south and coastal area around the Gulf of Guinea is tropical while the north covered with savannah trees. Its diverse and scenic landscapes especially in Tamberma Valley in the northeast close to Benin are enchanting. Koutammakou, the land of Batammariba known for the fortress-like houses (similar to those in the Somba country in Benin), is a World Heritage Site
It has one of Africa's more heterogeneous populations. The three largest groups are the southern Ewe and Mina, and the northern Kabye. Christianity is evident in the south while Islam in the north. Voodoo is strong in the southeast close to Grand Popo.
Once seen as the pearl of West Africa, Togo's development has sadly been stunted as a result of political turmoil of the 1990s and mid-2000s. Historically this region was at the edge of several empires including the Dahomey and Akan-Ashanti kingdoms (present day Benin and Ghana respectively). The Europeans arrived in the 16th century and Togo became an important conduit for slave trading. In 1884, Germany signed a treaty in Togoville with the local king, Mlapa which sought protection in return for German sovereignty. Togoland, as the German called the area, underwent considerable economic development before World War I.
After the war, the League of Nations split Togoland with France having the eastern two-thirds and Britain the remainder.  Following the 1956 plebiscite, British Togoland was incorporated into the Gold Coast (present-day Ghana) and French Togoland became an autonomous republic. Togo gained independence in 1960 with Sylvanus Olympio as the first president.
Togo was the first African country to have a military coup after independence. Olympio was killed in 1963 at the gates of the US embassy as he sought refuge. Nicolas Grunitzky took over till he was deposed of in a bloodless coup in 1965 led by Gnassingbe Eyadema who remained in power for 42 years till his death at 69 in February 2005. His son, Faure Gnassingbe seized power in a military coup and then held presidential elections. He was re-elected president in 2010.
Togo has a small and underdeveloped economy. The GDP at official exchange rate and GDP (PPP) (2011 est.) was US$3.6 billion and US$6.3 billion respectively. The GDP per capita (PPP) was US$900. Agriculture plays an important part contributing to 40% of the GDP and the livelihood of 65% of the population. Cocoa, coffee and cotton form 40% of the export market. Togo is the world's fourth-largest producer of phosphate.
Day 27 (Tuesday, January, 31): Grand Popo, Benin – Agbodrafo, Togo (35km; 90 minutes)
We left the idyllic beach at Auberge de Grand Popo at 11:30am and reached the border before noon. Mike got our passports stamped at the Benin border and we applied for a Togo visa at the border. I paid CFA10000 (i.e. US$20) and got my visa without hassles! Other African countries should follow Togo!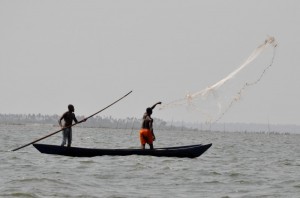 I find the street scene, dress and faces of the people change. Cars are older and the place looks less tidy with more food street stalls selling grilled chicken, fish and beef. I had a big plate of rice with fish and chicken wing only for CFA500. The sauce is spicy and delicious!
We stopped in a border town for shopping. My team had to cook breakfast and lunch on Day 29. We arrived at Auberge du Lac by Lake Togo before 4pm and I had a tent by myself for the first time on this trip. What a luxury! I can move, stretch my legs and arms without hitting Dara. Even if I snore, I shall not disturb my tent mate! I do not mind camping if I have my own tent.
The lake is picturesque dotted with many tiny pirogues (i.e. canoes). The water is calm and very shallow. The bottom is muddy and not pleasant to walk on bare-footed. I strolled along the sandy beach and met a man standing by his pirogue with dozens of traps for crabs. He has a job at the port and goes crabbing to get extra money for his family when he is off duty. He is from Cameroon while his wife is from the village here. He was about to go in his pirogue to catch crabs and invited me to join.
I jumped in the pirogue without hesitation and had a great time watching him dropping his traps in the water. After waiting for some 20 minutes, he pulled them out one by one. Unfortunately, he did not have much luck and got only a tiny crab!
Before dinner, I dropped by his house next to our camp site and met his wife, two kids and his father-in-law. He climbed a coconut tree and gave me a glass of fresh coco juice. He then took me to see the chief of the village who lives nearby.
Day 28: Lake Togo – Togoville
Togoville is right across the lake opposite our camp site. We went in a big boat and a poor guy punted for some 90 minutes. Though the guy is strong and fit, he must find the boat with 15 passengers too heavy. He looked totally exhausted!
We were met by a local guide who took us to see the cathedral which Pope John Paul II visited in 1985. We saw a voodoo tree, a voodoo male figure and a temple for a female voodoo in the centre of the town before visiting a local school.
Then I spent the next hour in the market sampling local food including two fried sweet potatoes with chili sauce, a fried dumpling (which looks and tastes exactly the same as I can get in Hong Kong) and a grilled fish from the lake, all for CFA850! I bought three pieces of cloth as I want to have a couple of cool cotton suits made for the trip and Togo is a good place to get clothes made.
The group had a party drinking, joking and laughing while I lay awake in my tent. It was hot and humid and I slept badly.
Day 29: Agbodrafo – Mt Klouto (165km; 5hrs)
I got up before 6am to sort out the photos and then boiled some 20 eggs for lunch. Jens cooked scrambled eggs; Naomi got the egg salad ready for lunch and I cut four pineapples for a fruit salad for breakfast. Good team work!
We were supposed to leave at 9am. But the battery was flat again as they had put music on all evening. Mike got local technicians to take the two batteries for recharging. While waiting, I selected photos for the Cameroon trip (But they can only be uploaded with good internet connection).
We had an early lunch with fresh bread, egg salad, tuna, corned beef, cucumber etc. (the standard stuff) leisurely in the shade. We set off before 1:30pm.
I had a quick tour of Lome as Mike and Ant maneuvered the truck through the city. As some the roads are under repair/construction, they had a hard time finding the main road heading northwest to Kpalime. I find the roads in Togo generally not too bad by African standard except those near the Benin border and some of the side roads in Lome. The fields along the road to Mt Klouto are mostly under cultivation. As we approached the mountain, the landscape changes with rolling hills and taller trees. It is pleasant and scenic.
Then the sky suddenly darkened. There were thunder and lightning and torrential rains poured down for some 20 minutes. The truck was leaking and I who sat behind the driver was wet. Dara and I held a big bucket to hold the water.  The rain stopped and we had blue sky again.
We reached Auberge des Papillons tucked away in the wood around 7pm. I had a half chicken with delicious sauce for dinner. Dara and I shared a very basic room and I had a good sleep.
Day 30: Mt Klouto
The village of Kouma-Konda, 12km northwest of Kpalime is at the heart of the forested slopes of Mt Klouto. 11 of us joined a butterfly walk. A local guide took us to the village pointing out the cocoa and coffee trees and other local trees and plants used to make natural dye such as indigo. We had a nice dip at a waterfall before hiking back to the Auberge.
Mike took us in the truck to Kpalime where we spent the afternoon. The guide took us to a local restaurant for lunch where we had to wait for over an hour As a result, I just had enough time to go to a tailor with Anne-Maria and Barb before rushing back to the truck at 5pm. I gave the tailor two pieces of cloth and asked him to get two suits made. He charged me CFA10000 for making five items. I wished I had not eaten at the restaurant and joined Dara to have street food and explore the market place.
In the evening, we had a dinner in the village followed by a drumming performance. The villagers gathered around while we sat opposite the band.  Four male dancers performed first. Then a dancer and a young boy did all sorts of acrobatic acts while another man performed with fire for over ten minutes. He put the fire inside his mouth and even his pants. I do not like seeing people inflicting harm. It was however nice to watch villagers gathering around us and seemingly enjoying themselves.
Day 31 (Saturday February 4): Mt Klouto – Kpalime, Togo – Akosombo (255km; 5 hrs)
I got up at 6am and spent two hours in selecting photos for Nigeria. Barb, Anne-Maria and I went back to the tailor only to find our clothes were still in the making! They knew we were in a rush. As a result, two or three girls worked on one piece together. Finally, only three of my five items were completed. I left the tailor with two unfinished pieces at 11:30am and had to find another tailor to finish sewing up the arm-pit of a sleeveless-top and the bottom of a shirt. It is quite an experience to see how the tailor and his team of female dress-makers tried to get ten pieces of clothes ready in 90 minutes.
We left for the border at 11:30am and reached a check point before noon. As there was no officer there, we went to another check point further away. We had no problem at the border and crossed the river into Ghana before 1pm. This ends my happy stay in Togo.
Remarks
I had no knowledge about Togo before the trip.Though small, it is charming with friendly people. Both Lake Togo and Mt Klouto are worth visiting. I find Togoville picturesque and authentic. I shall always remember how my tailor and his lady team in Kpalime trying to finish our order in 90 minutes!
My brief look at Lome on the truck and the number of boutiques selling designed fabric and clothes remind visitors of Togo's heyday as the pearl of West Africa. There are also a lot of nice French and German colonial buildings still standing.
If I were travelling on my own, I would prefer to see the entire Togo. This can be done either by crossing from Benin to Togo near the Somba country and visiting Koutammakou before heading south to Lome or entering Togo on the coastal route before heading north and entering Burkina Faso. Given its diverse landscape and scenery, people and culture and colonial past, Togo can be a nice eco-tourism destination for those looking for a tranquil and off-the-track experience. This can also generate income for the locals.
Togo seems to be more stable after years of autocratic rule. People are yearning for a better life, stability and economic development. People need jobs and hope more tourists will come. I believe small nations like Togo, Benin and Burkina Faso should work together to promote inter-regional eco-tourism and put themselves on the world tourism map.