Vinakulo, Maputo, Nampula & Mozambique Island March 11 – 18
Day 5 March 11 Sunday: Barra Beach – Vilankulo
I got up at 5am to watch sunrise on the beach. Then I took a short walk to see mangroves growing on the other side of the peninsula. A long broad way built over the mangroves provides a passage to a pier on the river flowing into the Inhambane Bay. Justin and Dylan were ahead of me filming sunrise over the mangroves.
After breakfast, we set off and had a picnic lunch on the way. We first spent an hour in the Inhambane market. Inhambane was the first place the Portuguese settled before moving to Mozambique Island. There was old railway track connected to the port. The town dominated by a cathedral has a nostalgic atmosphere.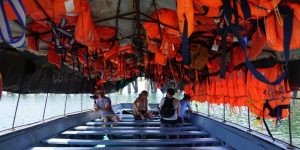 Don arranged us to take a boat ride across the river to Maxixa. It's a pleasant ride which took about half an hour. We had time to enjoy a snack at KFC while waiting for Don who had to drive the truck from Inhambane back to EN1 before continuing to Maxixa. Around 11:30am, we set off from Maxixa heading north.  Soon we crossed the Tropic of Capricorn and found a nice place for a quick picnic lunch.
Around 3:30pm, we arrived at the Golden Sands Apartments. This time, I stayed in a two-bedroom luxurious apartment with Becky and Ross. We also had a large balcony overlooking the beach.
It was hot. My truck mates soon jumped into the swimming pool. Around 4pm, I set off for a walk along the long empty golden sand beach. Soon I arrived at the beautiful Beach Lodge Hotel with a large swimming pool. I went to the bar and had a gin tonic (200Mtc). The lodge with 24 rooms looks classy and comfortable. I love to stay for a few days. I got back to my apartment before 6pm. A relaxing afternoon!
Day 6 March 12 Monday: Bazaruto Excursion
Bazaruto Archipelago is a group of six islands formed from sand deposited by the Save River, which has since shifted its course. It comprises the islands of Bazaruto, Benguerra, Magaruque, Banque, Santa Carolina (also known as Paradise Island) and Shell. Famous for sandy beaches, coral reefs, marine life (including dugong) and fishing, the archipelago has become a national park since 1971 and one of Mozambique's top tourist destinations.
At 8am, Don dropped us near the beach where we met our guide Dominique and picked up snorkelling gears. Then we boarded a dhow a 15-year-old traditional wooden boat who took us to the Magaruque Island just off Vilankulo. The sea was very calm and our boat (with motor) moved slowly on the glass-like sea. It was totally different from the sea safari day. Time passed quickly. Once we got close to the shore, we jumped into the sea for snorkelling along a reef. But most of the coral is dead. Visibility was low though I could still see plenty of reef fish including surgeon, Moorish idols, parrots, angel, butterfly and trumpet fish. Unfortunately, it is not the natural habitat for dugongs.

After snorkelling, Dominique took us on a walk to the other side of the island to climb a big white sand dune. We had postcard views of the sun dunes and nearby islands. The fun part was to take a very steep sandy (almost vertical) slope from the top of the dune back to the beach.  I managed to come down safely!
While we had our sand dune walk, the chef prepared our lunch on the boat. The grilled barracuda served with salad and rice was fresh and delicious. Around 2:30pm, we sailed back to Vilankulo.  As I had been coughing and my left ear was blocked since my arrival in Maputo, I asked Don to take me to a pharmacy to get antibiotics and some stuff for the cough and ear-drop.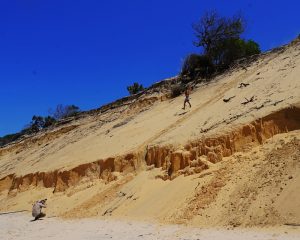 Kathi and Don who had not joined the island excursion, prepared a great dinner for us. We had BBQ rum steak and sausage with plenty of vegetables. To our surprise, we had a fantastic a grilled banana wrapped in hot chocolate. Delicious!
Day 7 March 13 Tuesday: Vilankulo – Xai Xai
Our truck adventure was coming to an end. We turned back heading south on EN1. We had breakfast at 7am and set off when ready. As I had taken medication, I felt drowsy and slept in the truck. The landscape and scenery look tiring (as we had seen it just a few days ago).
We arrived at the Sunset Beach Lodge in Chidenguele around 3:30pm. This time, I had a rustic stone cottage by myself. I walked down to the beach which was totally deserted. The long sandy beach bordered by high sand dunes and big waves somehow looks a bit eerie.
I returned to the dirt road where we came from looking for a good west-facing spot for sunset. There is too much vegetation for good viewing. I returned to the lodge and Christian bought me a gin tonic. For dinner, Kathi prepared us two types of sausages and vegetables. I slept early as we had to get up early.
Day 8 March 14 Wednesday: Xai Xai to Maputo
Somehow, I could not sleep and got up before 5am to watch sunrise. We had breakfast at 6:30am and set off before 7am.  We stopped in Xai Xai so that we could get snacks and drinks. We were too early: the supermarket opens at 9am. Don pushed on and we arrived at Southern Sun Hotel around 12noon. I took my stuff with me and left my truck mates, Don, Kathi and Nikki. I watched Cohen (the truck) departing with my friends at 12:15pm. My 8-day Mozambique Escape came to an end!
March 14 Wednesday: Maputo
I feel I have known Maputo for a long time. I took a taxi to Delgoa Bay City Hotel which made me feel like home. I went to a Thai restaurant and had a lunch buffet. The food was so-so but I at least could have plenty of vegetables. As I intended to leave my suitcase in the hotel and pack a small hand-carry suitcase for my adventure in Northern Mozambique, I had to find a small and cheap suitcase. Locals told me to go to a Chinese shop not too far from the hotel. I did and found a small one for 1000Mtc. I spent a leisure day in my room working on the travel notes.
March 15 Thursday:  Maputo – Nampula by Air
My flight originally scheduled for 4pm was rescheduled to 5pm. I spent the whole day in the hotel without any desire to venture out. I had a nice prawn curry in the hotel restaurant and a beer. The food is better than the one I had in the Indian and Thai restaurants!
At 2:30pm, I took a taxi (500Mtc) to the airport as I was told to arrive two hours before departure. Anyway, the plane departed on time and I arrived at Nampula around 7:30pm. I took a taxi (300Mtc) to Ruby Nampula where I had booked a single room. But when I arrived, I was told it was full and I could take the last bed in a 6-bedded dormitory.  It was dark and the area did not look safe. I had no option but stayed. It turned out not too bad. The first person I spoke with was Kyla, a young American working in the Peace Corp in Malawi. She crossed the border and then took the 12-hour train. She was exhausted and went to sleep soon. The room was dark and there were lots of mosquitos. I soon took refuge inside the mosquito net and went to bed. The windows were open and the ceiling fan was on. Hence, I ended up having a sound sleep!
March 16 Friday: Nampula – Mozambique Island by Chapa 
Everyone in the room got up early. A simple breakfast was served at 7am. Kyla said she would leave early to take a chapa (mininus) to Mozambique Island. I intended to spend a while to walk to see the cathedral and the market and did not leave with Kyla. My preliminary plan was to spend 3-4 days in Mozambique Island before heading to the Quirimbas Archipelago consisting of 32 islands strung out along the 250km of Indian Ocean in northern Mozambique. To travel around in public transportation can take considerable time. But the cost of hiring a car with a driver is exorbitant for a solo traveller.
Everyone has reminded me to be careful with my camera and money. It made me feel a bit nervous. Anyway, I walked to the white-washed cathedral which is the most imposing building in the city. Then I walked to a market near the hostel which sells clothes and shoes but not food. By 8am, I was ready to leave. Chapas leave next to the train station which is close by. But the receptionist suggested me take a taxi (100Mtc). The driver dropped me off at the chapa ready to leave. It was 8:30am and I was the eighth passenger. I waited till 10:30am when it had 16 passengers and the roof top fully loaded with goods. It was frustrating!
Once the chapa started moving, it was better with fresh air though uncomfortable. A teenager girl carrying her one-year-old son was sitting next to me. She has a child-like face (probably around 14). What a miserable life for without much future for these young brides and moms! This a common problem for young girls in Africa and many under-developed countries. At one time, there were 22 passengers in the chapa (four on each row and two in the front seats).
To my horror, I was told to take another chapa in Monapo. The vehicle is in bad conditions and very dirty. I waited for another hour till it was filled with some 20 passengers. More got on and at one time, we had 30 persons including a baby and six kids! I have spent over six months in Africa in total taking a dozen of trips including a 2-month long overland journey in West Africa and a month-long truck driver from Cairo to Sudan. But I have taken tuk-tuk but not chapa before. It is a real African experience.
The chapa dropped me off at the bridge linking to the Mozambique Island. I had either to walk to the island or take a motorbike. I gladly paid 50Mtc for a motor bike to drop me off at Ruby Backpacker located in the Stone Town, the area the Portuguese lived during the 400-year of colonial rule.
Mozambique Island is the only World Heritage Site in Mozambique for it historical and cultural values. The island is 500m wide and 3km long. In the heyday of the Portuguese rule, there were some 600 buildings and many churches in the stone town located in the northern half of the island. Further south lies Makuti Town a crowded shanty town with reed houses that houses about 15,000 Mozambicans. Today, most of the grand buildings in stone town are semi-ruins though a small number has been restored as guest houses and boutique hotels and restaurants.
While I was filling in the guest information form at the hostel, I saw three familiar faces walking in. Wow, I had met them in Ruby Nampula. Nicola (French) and Taciana (Brazilian) were in the room I stayed. Edourd, a professor in anthropology from Brazil, who was here for his research project, had rented a car. They left Nampula after 11:30am, spent two hours in a village and arrived here at 3:30pm. Edourd said he would have offered me a lift! Well, c'est la vie!
We had a beer and discussed programme for the next day. At the end five of us (Edourd, Kyla, Taciana, Nicola and I) decided to join a tour organised by Genito Magic Tour run by a well-known local guide who speaks half a dozen of language and is knowledgeable and funny and whose is Harry Potter.
We then watched sunset from the rooftop. It was pinkish read and enchanting. I walked out of the hostel in search of a better position to take photos. I stopped at the church (Igreja da Misericordia) with a simple but beautiful white façade. The present building dated from the 17th century. I went in and watched the ongoing service for a while.  My conclusion is that one should go to the end of the island which is west-facing. I told myself I should go there at least once to watch sunrise before leaving. (at the end, I did not have a chance to do so)
At 7pm, Edourd, Nicola, Taciana and I went to Sara's Place for dinner. Food is cheaper here than Maputo. I had grilled grouper and rice for dinner. But the fish was over-cooked and too meaty to my liking. I had a private room for 1700Mtc. But there is a small window and a fan. It was so hot that I could not sleep soundly.
March 17 Saturday: Excursion with Harry Potter's Magic Tour
I woke up after 2am and could not sleep. I got up shortly after 3am and wrote my travel notes in the kitchen with a nice breeze. Before 5am, I headed for sunrise. Unfortunately, it was too cloudy. I walked around the deserted Stone Town before heading back to the hostel. After a quick shower, I had a nap before breakfast.  I have done a lot by 7am.
Our trip was supposed to start at 8am. But Harry Potter did not appear. Five of us accompanied by a man from the hostel went to the pier in front of the Governor's House which is now a museum. Eventually he turned up and said his tour normally started at 9am. His men took half an hour to get the boat ready and we set sail around 9:30am.
The weather was fine and the sea was calm. We had spectacular views of the imposing Fort of Sao Sebastiao constructed in 1558 and completed in 1620. It is oldest complete fort still standing in sub-Saharan Africa.
We were rejoiced when the guys pulled the sail up stopping the engine noise. Harry Potter and the guy from our hostel cracked jokes and sang all the time. Then we snorkelled in the middle of the sea where there is plenty of soft corals and coral fish. Some fishermen in tiny traditional dingy were fishing nearby. Harry bought fresh squids and a lobster from a fisherman for 500Mtc.
Just before noon, we landed in a beautiful deserted white sand beach beyond Mossuril. Ken, the owner of the land, is building a couple of cabins. We had beer and clams and mud crabs as snacks. It began to rain heavily till about 2pm when we returned to the beach for lunch. Harry's men had prepared a nice lunch with grilled fish and lobster, stewed squid and rice.  Fresh and delicious!
We were ready to go when the sky darkened again. We feared the bad weather might be coming. It turned out to be true with strong head wind and a choppy sea.
We sailed against the wind and had a hard time. Luckily we managed to back without getting seasick around 4:30pm. I immediately took a shower and washed my salty clothes and snorkelling gears. As a result, I almost missed the sunset. I only saw the last rays with pinkish purple clouds when hanging up my clothes on the line.
Suddenly the power was off: the island fell into darkness.  The town with narrow alleys and solid high-walled half-ruin and half- restored edifices looked eerie but atmospheric. Though Kyla and I were not hungry, we decided to go out for a walk and had drink in Karibu, a popular restaurant near the church.
We were surprised to find lights in the restaurant: it has its own generator. We had wine which is refreshing. I ordered a soup while she had cheese cake. My drink and soup only cost 370Mtc. Before leaving I met a group of Chinese from Nampula who had come for the weekend. Li kindly offered to give me a lift to Nampula the next day. He could also take me to Pemba, my next destination on Tuesday or Wednesday. I am very lucky!
That evening, I moved from my single room (1700Mtc a night) to the large dormitory (750Mtc a bed) with high ceiling and a couple of windows. I also left the doors wide open to improve circulation as the fans could not be turned on without power. But the bed was too soft and had bugs. I was beaten and had to move to another empty bed. I got out of the mosquito net as it was too hot. Finally, I slept for two to three hours.
March 18 Sunday: Mozambique Island – Nampula by Car
Next morning, I got up before 5am, watched sunrise and then walked along the Rua dos Combatentes past the fishing port before reaching the western tip of the island. I walked past Makuti Town the area inhabited by Muslims with several mosques. This area looks like a shanty town with little facilities and dirty. I returned to the hostel via Av 25 de Junho the main road.
I joined my friends for breakfast. After settling my bill and packed my bag, I had two hours sight-seeing with Kyla. We first visited the Governor's House dating from 1610. The renovated interior looks stately with nice furniture mostly beautiful crafted and shipped from Goa. We also saw the small Chapel of St Paul with an imposing terracitta edifice.
Then we went to the Fort of Sao Sebastiao which is derelict. It was humid and hot. I found the heat unbearable. We went to the Chapel of Nossa Senhora de Baluarte built in 1522 at the tip of the fortress. This is the oldest European building in southern hemisphere.
We tried to find the Museum of Decorative Sacred Art which is next to the church without success! It was so hot that I did not want to walk any more. We escaped to Rickshaw's Café run by an American. This boutique hotel is quint with good food and decoration. I had lobster curry and lemongrass tea (1000Mtc).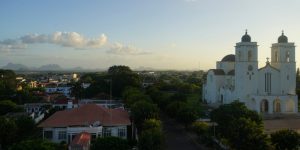 Li and his family had to return to Nampula. I quickly finished my lunch and said good-bye to Kyla. We set off just before 1pm and I was back in Nampula at 3pm. What a quick drive as compared to my torturing 8 hours with the chapa.
I asked Li to drop me off at Girassol Hotel opposite the Cathedral on Av Eduardo Mondlane. The view from my room on the 4th floor is very good. The area surrounded by hills and mountain ranges in the distance looks green and surprisingly pleasant. The sunset was crimson and gorgeous. But I could not find a spot good enough for a decent photo. I did not want to trouble Li again and decided to take the bus to Pemba the next day at 5am. It was hot and I did not feel hungry. I did not bother to go out for dinner and went to bed after 9pm. I did not turn on the air-con but had a decent sleep after two sleepless nights.