Maputo, Inhambane March 5-11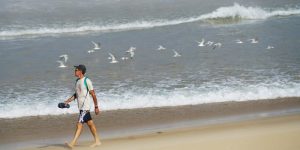 Southern Africa includes Angola, Botswana, Lesotho, Malawi, Mozambique, Namibia, South Africa, Swaziland, Zambia and Zimbabwe.  I have visited all these countries except Angola and Mozambique (both former Portuguese colonies). As direct flights to both countries are available from Portugal, I decide to give it a go. Visa for Angola may be a problem whereas visa for Mozambique can be obtained in Hong Kong within two days. I would start off joining an organised 8-day Nomad Africa tour along the well-developed southern Mozambique circuit before heading to the less-travelled northern Mozambique for two weeks.Mozambique
Located in the southeast Africa and bordered by the Indian Ocean to the east, Mozambique has an area of 801,590km2, 2,470km-long coastline and a population of about 29 million (2016 estimate). Between the first and fifth centuries AD, Bantu-speaking peoples migrated to present-day Mozambique from farther north and west of the continent. Arab, Persian and Somali merchants began establishing commercial ports along the coast. The Portuguese arrived in 1498 and began a gradual process of colonisation and settlement in 1505 which lasted for four centuries.
Independence – When anti-colonial and communist ideologies spread across Africa after WWII, the Front for the Liberation of Mozambique (FRELIMO) was formed and struggled for independence. It initiated a guerrilla campaign against the Portuguese rule in September 1964. FRELIMO took control of the territory after ten years of sporadic warfare. Following the Carnation Revolution in Portugal in April 1974, Portugal returned to democracy and ended its rule in Mozambique in 1975. A new government was formed under President Samora Machel who established a one-party state based on Marxist principles.
Civil War – A civil war broke out in 1977 between the FRELIMO regime and the opposition forces of anti-Communist Mozambican National Resistance (RENAMO).  This period was marked by the exodus of Portuguese nationals and Mozambicans of Portuguese heritage, a collapse infrastructure, lack of investment, nationalisation of privately owned industries and widespread famine. An estimated one million Mozambicans perished while 1.7 million fled to neighbouring countries. On October 19, 1986, Samora Machel died in a plane crash on his way back from an international meeting in Zambia. Machel's successor Joaquim Chissano switched from Marxism to capitalism and began peace talks with RENAMO. The civil war ended in October 1992 with the signing of the Rome General Peace Accords. Peace returned under a peacekeeping force of the UN. By 1993, more than 1.5 million Mozambican refugees returned home.
Mozambique Today – Portuguese is the only official language while Makhuwa, Sena and Swahili are the common native languages. Christianity is the main religion. The government is still plagued by corruption.
Though rich in natural resources, it remains one of the poorest and most underdeveloped countries in the world. The estimated GDP nominal for 2017 was $12.345 billion and 417per capita. But the GDP PPP and per capita were much higher at $37.386billion and $1,265 respectively. Its economy is based largely on agriculture though it is estimated that 90% of the arable land is not under cultivation.  Industry is growing, mainly food and beverages, chemical manufacturing and aluminium and petroleum production. Tourism is also expanding fast. South Africa is its main trading partner and source of foreign direct investment.
March 5 Monday: Maputo, Mozambique (GMT+2)
My flight departed Lisbon after 7:30pm on schedule. The plane was quite full. I was assigned a seat 25H which is the narrowest seat I have ever had: my seat cannot be pushed back. When the passenger in the front pushes his seat back, my TV screen is less than 20cm from me. I found an empty seat on row 24 and sat next to a young Mozambique lady. Soon, she told me she was afraid of flying and wanted to hold my hand. Later, she put her arm around my left arm and slept. It was awkward and I could not move. I got a chance to pull my arm away when meal was served. Then as soon as I put down my arm on the side, she would put her arms around me. Finally, I folded my arms up giving her no chance to push her arm through. Strange behaviour!
The plane landed on time after a ten-hour flight. The immigration is slow (but still fasting than the service in Delhi, India). By the time I fetched my luggage and came out, it was after 8:30am. The driver from the Delgoa Bay City Hotel was already waiting for me. The airport is only 6km from the city centre. I had a pleasant drive to the hotel and found the city look fairly tidy by African standard with paved roads and tree-lined boulevard.
I booked the hotel online. Located in a decent leafy embassy area, it is a modest hotel in a colonial building just off Av Julius Nyerere. with helpful staff. The helpful hotel staff managed to find me the first available room around 10am.  I was so tired that I slept for three hours till 1pm. capital and largest city is Maputo.
In the afternoon, I did only three things. First, I changed money. The exchange rate was US$1 to 62 meticals (Mtc).  Next, I visited two travel agents with a view to sorting out my trip to the north. I found out that they mainly arrange flights and lodge accommodation. I found no agent offering small group organised tours that cover north Mozambique. Though it is possible to travel by road to Nampula in north Mozambique, the bus takes 36 hours.
Options for a solo elderly lady and not a die-hard backpacker, are limited and expensive. Travel overland is my preference. But the bus to Nampula which takes 37 hours is unbearably long and tiring. I met Michella, a young and charming lady who offered to find me a driver. If hiring a car and driver would not work, my only option was to fly to Nampula first. (The next day, she messaged me the following morning to give me a quote of 6,500 to 10,000Mtc a day depending on the vehicle. In addition, I had to pay for his accommodation and meals. This would be too expensive for me)
The last meal I had was on the plane. Though I still did not feel hungry, I should eat a light meal before going to bed. On Michella's recommendation, I walked to 'The Ocean' near a hospital for a seafood dinner. I had beer and a grilled fish for 1000Mtc. Unfortunately, the fish was not fresh though the presentation was good. I went to bed before 9pm and had an excellent sleep.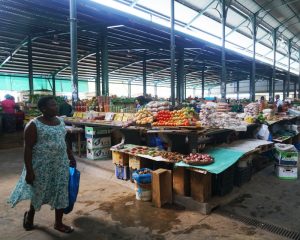 March 6 Tuesday: Maputo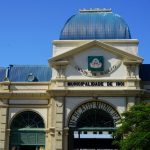 I had a relaxing day. I got up after 9am, had breakfast and then took a tuk-tuk (150Mtc) to the Central Market (1901), a landmark in the downtown. It was around 10:30am. I was surprised to find an empty tidy and clean market. Was I late to see a bustling market with African flavour? I found fresh tiger prawns (1000Mtc a kg) in one of the stalls. The vendor has a hearty broad smile. I bought two for 250Mtc and she told me to return after 11:30am when she would cook the prawns for 50Mtc.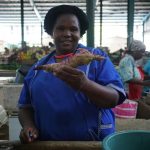 As usual, it is interesting to stroll around the market to discover the old town. There are many dilapidated colonial buildings. I walked uphill along Av Karl Marx with a huge Samora Machel Statue facing the sea and in front of the City Council. Nearby is the Cathedral Sé.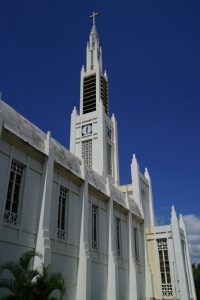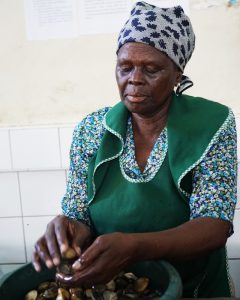 Below the church is the "Tunduru" Botanical Garden, Iron House (designed by Gustave Eiffel) and Franco-Mozambicano Cultural Centre. It was so hot that I had to find shelter. I retreated to the Central Market and find my prawn lady. I told her to cook the prawn with just garlic and herbs. The outcome was fabulous: even the ladies selling prawns in the market enjoyed the fresh taste of prawns.
I saw large fresh clams at another stall. I asked my prawn lady to buy 150Mtc clams and cooked for me for 50Mtc. This time, she suggested to cook just with garlic. Excellent and most delicious!  At the end, she asked me for 20Mtc to buy a coke to drink. I gave her the money as an appreciation of her service. But I told her not to drink coke which has too much sugar and bad for her. Then her friend came up and asked for coke money. I refused.
After having funs in the market and prawns and clams for lunch, I walked uphill to the National Art Museum on Av Ho Chi Min. Somehow, I started to have pains in right leg. The museum (20Mtc entrance fee) has sculptures and paintings by contemporary Mozambican painters with vivid bold colours. Mozambique is known for its woodcarvings. The painting collection though not large is very good with many painting by the country's most famous painter, Malangatans.
It was a very hot day with a scotching sun. I had done enough especially on a hot day. I limped along and found a small filthy local market with many barracas (food stalls) the grand City Council building. I took a tuk-tuk and returned to the hotel. In the evening, I went to an Indian restaurant nearby for dinner. I ordered a hot chicken dish. I was disappointed: there were only three small pieces of chicken with plenty of hot chili paste.
8-day Mozambique Escape (March 7-14)
Day 1 March 7 Wednesday: Maputo
I was told to meet the group at 1pm at the Southern Sun Maputo Hotel. I turned up at midday and was greeted by Donald (Don-the leader) and Kathi (crew) from Nomad Africa. He quickly introduced me to my fellow truck mates (Christian and Gabby, Ross and Becky, Wanda, Justin, Dylan and Nikki) who began their 14-day trip from Johannesburg last Friday and visited Swaziland and Kruger National Park before arriving in Maputo.
When I got Michella's message about the cost of having a car and driver, I ruled out the travel by car option. Don advised me to book my flight on March 15 in case we got stuck on the way to Maputo. From midday to 2pm, I tried feverishly to book a ticket with LAM online.  From its website, the ticket Maputo-Nampula and Pemba-Maputo would cost around 20,000Mtc. But it was impossible to book online. I sent message to Michella and asked her agent to quote and book the tickets. I did not hear anything from her. When I joined the group on a walking tour in the downtown, my mind was pre-occupied by the tickets.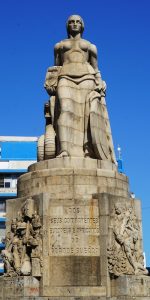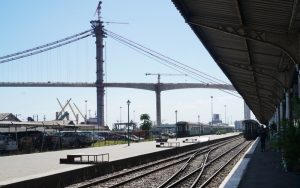 We had a local guide who met us at the Railway Station, a landmark in Maputo. The next stop was  the Central Market which was dead quiet at 3pm. While we were walking toward the old fort, I saw a travel agent and immediately left the group to organise my tickets. I did the right things: Zahir of Indian origin, was able to issue my tickets without problem. But the cost was higher at 24,000Mtc. I was relieved once I got my tickets.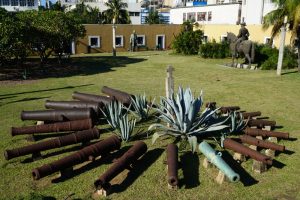 Now I looked for my friends. Otherwise I would have to take a tuk-tuk to the hotel. When I arrived at the small Fortress "Our Lady of the Conception" built in the 18th century, I did not find my friends. So I paid 20Mtc for a quick visit. When I got out, I saw 'Cohen' the truck coming down the road. I jumped in and was reunited with the group. Fantastic! Once I was back in the luxurious 5-star hotel (US$245 a night), I had a swim in the pool before having a bubble bath in my room. What a treat!
At 7pm, I joined the group for dinner. I paid 1,000Mtc for a large grilled snapper and a beer. The fish was fresh and tasty. Good value. With good Wi-Fi at the hotel, I managed to complete and upload travel notes on the Azores to my website. It was after 1am when I went to bed.
Day 2 March 8 Thursday: Maputo – Barra Beach (about 470km; 9 hours)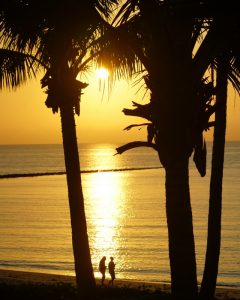 Don told us to put our luggage inside the truck by 6:30am. I got up just before 6am and saw a most radiant sun already high above the horizon. As I was in a hurry, I could not go to the beach to enjoy the gorgeous sunrise. Anyway, I took a few snapshots from the balcony.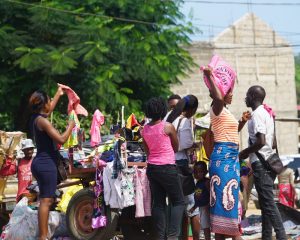 The buffet breakfast was sumptuous (or excessive). I wonder whether over half of the food laid on the table would end up in trash. I saw our truck "Cohen" which looks smart. We set off at 7:15am. It was a long drive along EN1. This 2-lane national highway completed for a few years is much better than the two-lane national highway I have travelled in India. The countryside is pleasantly green all sort of small scale plantations of cassava, rice and cashew nuts.
We had a picnic lunch on the way. We had to leave EN1 and drove 35km on a country road which is in fairly good condition. We finally arrived at the Sea View Lodge where we would spend three nights. I shared a two-bedroom cabin with Wanda from the Netherlands.
Tonight, we had dinner in a nearby restaurant on the beach run by Heather from South Africa. Before dinner, we had briefing on a sea safari for the next day (2,500Mtc). I enjoyed the traditional fish stew cooked with coconut (tokossado). The sauce is tasty and light.  I was exhausted and slept like a baby after dinner.
Day 3 March 9 Friday: Excursion to Tofu Beach
I did not get up till 6am. It was raining. Our sea safari trip had to be cancelled. I enjoyed a free morning and had a body massage for an hour by Tana from South Africa. I paid 2500Mtc (more than I pay in Hong Kong). The boys played football on the beach. Unfortunately, Christian fell and might have torn his alignment. He could not walk and limp around for the rest of the trip. I lent him my walking poles and hoped they helped.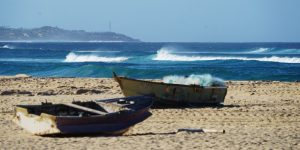 The weather soon cleared up. After lunch, Don drove us to the Tofu Beach where we could swim, visit the market and drink. It is a beautiful beach. I spent over an hour walking along the beach, climbed sand dunes and watched a flock of terns feeding. The place was quiet with a local fishing and a few visitors surfing.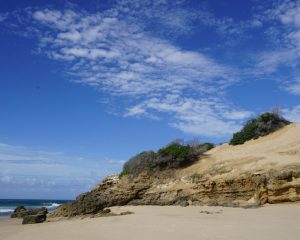 I bought two coconuts for 110Mtc. The fresh coconut juice is excellent. Sunset watching is one of my favourites. I walked along the beach but did not have full views of the setting sun. At 7pm, we had briefing followed by dinner. Don expected the weather would be fine for sea safari the next day. I had my first meal prepared by Kathi: the chicken a la king with rice was perfect, light and delicious! As I had not done much today, I was not tired and could not sleep.
Day 4 March 10 Saturday: Sea Safari along Barra Beach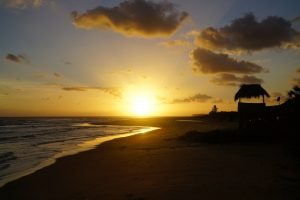 We had breakfast at 8:30am and assembled at the water activity centre at 10am.  Apart from our group, we had a half a dozen people on vacation here on the boat. By the time we collected the snorkelling gears and had a briefing, it was close to 11am when we set off.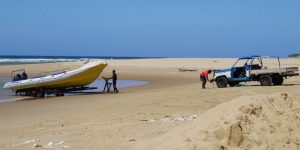 The speed boat went fast and was noisy. I set at the front and got totally wet. Fortunately it was sunny and warm. We sailed past the Tofu Beach and stopped not far from where I walked the day before.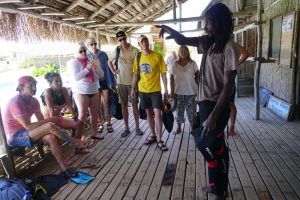 Soon we spotted the first whale shark of the day. The skipper told us to jump into the water to see it. Once I was in the water, I discovered it was swimming towards me. It is black and small without spots on its back. Had I got my underwater camera, I would have taken an excellent close-up! Soon, it disappeared.
Whale sharks are staying in the area which is rich in plankton this time of the year. Soon, a second whale shark with white spots on its back appeared. I jumped in and soon saw it swimming almost next to me. I could stare at its eyes. Marvellous. But soon, I found my face, right hand and wrist were burning. Wow jelly fish! It was painful and I immediately got myself out of the water. Two more persons swimming next to me had the same problem.
Later, half a dozen of dolphins swam past the boat. Some jumped in for a swim with dolphins. I was scared by the jelly fish and stayed on the boat. Anyway, my sweetest memory of swimming with dolphin was in the Galapagos a few years ago when a playful dolphin tried to attack a school of fish. Some people also saw a huge ray (I did not see it). Poor Ross was seasick and looked miserable. Justin had problem too.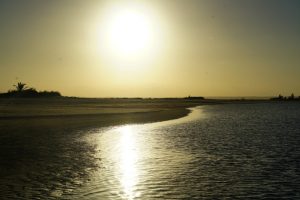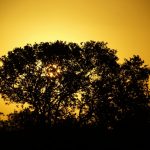 By the time we returned to the lodge, it was after 1:30pm. We had a free afternoon. I did not go out for a walk till 4:30pm when it was cooler. My plan was to walk by the beach to the tip of the peninsula and take another path back to the lodge.
I walked slowly and by the time the sun was setting, I was only about half way to the tip and reached the White Sand Hotel located at the end of sandy road. I knew I should turn back before dark. I followed the sandy road till I reached a construction site. Suddenly I lost my sense of direction and the Google Map on my cell phone stopped functioning. After walking some 15 minutes, I found myself back in front of the White Sand Hotel! The sun was almost gone. I went to the bar and asked for direction. The man who looks like the boss, is very friendly and helpful. He asked his friend who was about to return to Tofu Beach to give me a lift. It was about 6:30pm when I was back in Bay View Lodge. A pleasant walk with nice surprises!
Tonight, we had a wonderful local dish with beef and all sorts of vegetables in a pot slow cooked over a charcoal fire. Most delicious!