Expedition to Ojos del Salado, Chile: March 6-15, 2017
The Expedition (March 6 – 15, 2017)
This expedition took place in the Province of Copiapó in theAtacama Region (which has three provinces with a total area of 75,176km²). The region occupies the southern portion of the Atacama Desert which is a plateau in South America covering a 105,000-km² strip of land on the Pacific coast and west of the Andes mountains. Most of the desert is composed of stony terrain, salt lakes, sand and felsic lava. It is the world's driest non-polar desert: the average rainfall is about 15mm a year. The desert is so arid that many mountains over 6,000m are completely free of glaciers. Only the highest peaks such as Ojos del Salado and Llullaillaco have some permanent snow coverage. The regional capital is Copiapó (390m).
The goal was to reach the summit of Nevado Ojos del Salado (6893m). This is a stratovolcano in the Andes on the Argentina-Chile border and the world's highest active volcano. Its name meaning "Eyes of the Salty One" in Spanish, comes from the enormous deposit of salt that in the form of lagoons or 'eyes' appearing in its glacier. There is a permanent crater lake about 100m in diameter at an elevation of 6390m (likely to be the highest lake of any kind in the world) on the eastern side of the mountain. Owing to its location near the Atacama Desert, the mountain has very dry conditions with snow usually only remain on the peak during winter.
The ascent is non-technical except of the final section to the summit which might require ropes. A Polish expedition team made the first ascent in 1937. It is now a popular mountain for attaining the highest altitude aboard a land vehicle. In April, two Chileans reached 6,688m with a modified Suzuki. A Mercedes Benz Zetros truck also set a record when reaching 6,675m. About 600km from this volcano is Aconcagua, the highest mountain in South America located in Argentina.
Day 1 Monday: Drive from Caldera to Vallecito
Maximiliano and Mario arrived before 11am and I met Hernán, the second guide and four expedition members from Poland – Artur, Tomazc, Monica and Andrzej. We stopped in Bahia Inglesa to pick up Fabiola. I was in a 4×4 with Mario, Tomazc and Artur while the rest was in Hernán's vehicle. We made a brief stop in the city Copiapó founded in 1744, the capital city of Copiapó Province and Atacama Region which is about 800km from Santiago, for shopping. This area is a rich silver and copper district.
We drove along the desert route and saw several mines including some exhausted ones. The landscape is eerie but amazing: arid, hills in full range of hues including orange, red, purple, brown, green, yellow, black etc. We had a short drive and by 3pm, we arrived in Vallecito (3100m) at the foot of an abandoned mine of semi-precious stones. Suddenly we found ourselves in an oasis with a clear stream, plenty of green glass and golden weeds.
Mario and Hernán immediately sprang to action. First they erected a large tent for cooking and dining. Then Mario showed my friends how to set up their tents. While I was watching my friends, Mario had put up my tent next to the communal tent. Fabiola was busy preparing our first meal with fried potatoes and chicken. As I had no assignment, I strolled around and soaked in the atmosphere. About 100 sheep were munching bathing in the fading sunlight while the herd keeper sat on a rock watching.
By 6pm, we sat comfortably in the tent and ready for our first dinner. Mario and Artur both opened a bottle of red wine. So I had two beers and a glass of red wine. Too much alcohol! I had a sound sleep. When I stepped out of my tent in the middle of the night, I saw a beautiful bright moon and the fathomless Milky Way. How wonderful!
Day 2 Tuesday: Drive to Laguna Santa Rosa (3780m) – 20km
I got up around 7 am. As breakfast would be served around 8:30am, Mario suggested us take a short hike. I walked up the hill next to the campsite. Unfortunately the slope is too steep for me without the walking poles. After struggling for 30 minutes, I decided to make a descent.
After a good breakfast, we had to pack up to leave. I took down my tent without problem. But Mario and his team had lots to pack away. Around 10:30am, Mario told us to walk ahead. Great idea: the exercise would be good for us. Also I could enjoy the scenery and stop to take photos whenever I liked. After walking for about 2km, we were picked up by Mario and Hernán. The winding road took us over 4000m before arriving at a pass that gave us our first sight of Nevado Tres Cruces and Laguna Santa Rosa. Magnificent!
| | |
| --- | --- |
| | |
Nevado Tres Cruces, a massif of volcanic origin on the Argentina-Chile border with three summits namely Tres Cruces Sur (6748m, the sixth highest mountain in the Andes), Tres Cruces Centro (6629m) and Tres Cruces Norte (6206m). The National Park located about 95km from Copiapó,has an area of 591km². It includes Laguna Santa Rosa known for its Andean flamingos which reside on the lagoon year-round, Laguna del Negro Francesco and a part of the Salar de Maricunga. We went to the northern zone. These lagoons are both proclaimed Wetland of International Importance under the Ramsar Convention.
We soon arrived at Laguna Santa Rosa. Instead of camping, five of us stayed in the Refugio Flamenco which provides eight comfortable bunk beds ($25pp). While Hernán was preparing roast beef for lunch-cum-dinner, I had a delightful two-hour walk around the lake and the salt pan. It's fantastic to watching flamingos (Chilean and Andean flamingos), ducks and a few types of birds. Then I saw a fox watching and barking at me.
It was after 4pm when I was back in the refugio. The smell of the roast beef also attracted a fox to stop by. Sorry, no feeding is allowed! Finally we sat around the table enjoying the beef and red wine! I had a sip of Pisco from Tomazc but did not like the taste.
After dinner I took another walk around the salt pan. Tonight I could not sleep. At times, I detected early signs of altitude sickness including headache and nausea. Signs of trouble!!!
Day 3 Wednesday: Laguna Santa Rosa & Acclimatisation Hike
Today`s plan was to have breakfast around 7am and depart for "Sieto Hermanos" (Seven Brothers) at 4780m for climatisation purpose. As I had early signs of altitude sickness, I began taking a pill (acetazolamide) given to me by Geoffrey, my doctor cousin. I did not drink tea or coffee: instead I made a sweet potato porridge with the powder I brought from Hong Kong. My stomach felt full as well as settled thereafter. By the time we departed, it was after 10am. The slope for the first 300-400m is gentle and easy. But my legs and knees felt so tired and heavy that I had to take tremendous efforts to walk uphill. My lungs were tight and seemed compressed: I did not have such feeling even when reaching Kilimanjaro which is over 5800m.
I knew it's time to descend after reaching around 4200m. Hernán who was walking with me, fully understood my concern. We sat down for some 20 minutes, having a snack and enjoying the beautiful scenery and tranquility. We were back in the refugio around midday.
I was in our cabin when spotting two men with an oriental look outside. They just arrived and were looking at the refugio and the hotel accommodation ($100pp a night). Then we realised three of us are all from Hong Kong and they were heading to Ojos del Salado too. Incredible! After checking out all the facilities, Messrs Chan and Chung decided to stay in the hotel which has private facilities and hot shower which is a real luxury as all water has to be trucked in from Copiapó.
| | |
| --- | --- |
| | |
I enjoyed the lakeside walk so much that I decided to take a third walk. After walking for a kilometre, I heard shouts in Spanish behind me. I stopped and looked back. A young man who is a ranger, finally caught up with me. He told me walking outside the stony path and around the lake is prohibited as visitors may step on the bird nests. No vehicle is allowed in order not to disrupt migration paths of the animals. He comes from Valparaiso and works here one week and goes home for another week. He suggests me take a tour to see the Humboldt penguins on the Pacific coast.
My Polish friends turned up after 3pm after doing some 20km in 5 hours with an ascent of some 1200m. Hernán had already prepared chicken risotto which was delicious. My appetite had returned and I felt fine. Tonight everyone slept well.
Day 4 Thursday: Drive 150km to Laguna Verde
I did not wake up till the first sun-ray came through the curtainless window. We had a rest day and did not have breakfast till 9am. Time to move on. Packing was easier and effortless this time. We first drove along the opposite side of the lagoon with superb views of Nevado Tres Cruces. Then we joined the main highway heading to Paso San Francesco. We stopped at a picturesque waterfall before arriving at Laguna Verde (4328m) around 2pm.
Laguna Verde ("green lake") (4328m above sea level) lying near San Francesco Pass is a salt lake with a surface area of 15 km². It is surrounded by high mountains including El Muerto, Incahuasi, Falso Azufre, Pena Blanca, Barrancas Blancas, El Ermitano, Vicunas and Ojos del Salado. On our way, we had our first glimpse of Nevado Ojos del Salado from a distance. The arid landscape reminds me of those in Arizona. But the scenery here is more stunning as dozens of snow peaks of 6000m+ rise from the barren ground. Though the camp site located below a sandy cliff is sheltered, the wind was very strong. Once in the shade, the air was crisp and cold.
Mario told us to relax and do nothing in the afternoon in order to let our body adjust to the altitude. We followed his advice. The only thing we did was to enjoy ourselves in nan inside pool (2m by 2m) filled with hot spring water from a source nearby. A real treat!
After dinner, we all went to bed early. It was cold and I took out the sleeping bag given by Maximiliano for the first time. But I realised it was too big for me. It is nothing compared with the one I had rented for Kilimanjaro. I slipped into my own down sleeping bag before getting into the rented one. I still felt cold and could not sleep well.
Day 5 Friday: Acclimatisation Hike to Mulas Muertas (Dead Donkeys) 5200m; 12km
We set off around 10am. As usual, I was slow trailing at the back with Hernán as my guarding angel. The wind was very strong and I thought I would be blown off at times. I held tightly onto my walking poles. The slope is very steep in parts and I shouldered on moving at a snail pace. The scenery of Laguna Verde below and the surrounding areas with a dozen of snow peaks is stunning. I took a photo whenever I had a chance to stop to catch my breath.
My friends reached 5200m an hour ahead of me. They found a shelter and waited for me to arrive. They cheered when I appeared. But I felt bad as I had kept them waiting. Mario pointed at San Francesco which would be the hike for the next day. There was not much snow at the top.
We descended together. While they raced downhill and took less than an hour and a half to get back to the campsite, I took almost two hours. When I sat down for tea in the communal tent, it was 4pm. We finished the day with a soak in the bathhouse. Then I saw my two Hong Kong friends and their guide again. Tonight we had pasta for dinner.
I found a way to keep myself warm at night. First, I put a dry bag and a big plastic bag above the thin ground sheet. In this way, I would keep off the cold air from the sandy ground. Second, I folded the end of the big sleeping bag up and tucked it underneath. As a result, I had my back warm and considerably reduced the empty space of the oversized sleeping bag. I no longer felt cold and slept better.
Day 6 Saturday: Drive to Atacama Camp 5200m and Acclimatisation Hike to over 6000m
Our original plan was to take a 6-8 hours hike to reach the top of San Francesco (6100m). When we were about to set off, Mario told us that given the good weather, it would be nice to walk from Atacama Camp 5200m to the Refugio Tejos 5837m as part of the acclimatisation exercise. No problem. We departed around 10am and arrived at the Atacama camp around noon. The scenery en route is surreal and amazing: we seemed to be surrounded by a dozen of 6000m+ peaks.
The 4km trail to Refugio Tejos is sandy and not as steep as the ascent to the Gilman Point in Kilimanjaro. But I had to stop endless times. Poor Hernán had to put up with me. With great relief, I finally reached the refugio at 3pm. My only wish for this trip was to go beyond 6000m. Realising my knee problem and poor physic, I know I cannot bear the weight of the heavy hiking boots with double insulation and crampons. Hence it would be impossible for me to reach the summit of Ojos del Salado which is anyway not on my list. As we would not have a chance to go to summit the summit is unrealistic and not on my list. As we would not hike to San Francesco now, I asked Hernán to walk with me to a knoll above 6000m! While we were on our way, my friends came down the path after reaching 6400m as part of the rehearsal for the ultimate climb. I descended after taking a photo with the majestic Ojos del Salado as the background.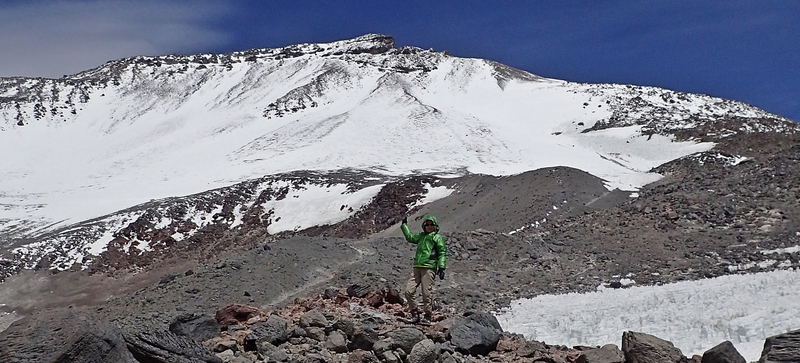 | | |
| --- | --- |
| | |
Today I walked about 8km, made an ascent of about 800m and stood at a point over 6000m – the highest point I ever reached in my life. We had a great day and arrived at Laguna Verde at 5pm. While Fabiola prepared dinner, the gang of five had a hot bath! While we were having dinner, Mr Chung came over and asked whether there was a doctor around. Apparently, his friend Mr Chan did not feel well and his heart beat was very high. Mario went over to their tent and their guide decided to make a descent immediately. I quickly finished my meal and arrived at their tent just in time to say good-bye and wish him a speedy recovery. I watched their 4X4 speeding off to Copiapó. Tonight, I was in high spirit as I had reached the 6000m-mark. I was tired and had a good sleep.
Day 7 Sunday: A 22-km Laguna Verde Walk
Today's a rest day as the group had to prepare for their summit day. As I had no way to reach the summit, I would not join them and needed no rest. Instead, I set off at 10am on my own for a 22km-long walk around the lake. It's relatively easy as it is flat and sandy. I had the lake by myself without noise, people and car. The scenery changed all the time. I saw some 16 snow peaks/mountains, two streams flowing into the lagoon, two flamingos and some birds.
At 5pm, I was back in the communal tent which was empty. I found a steak and mesh potato on the stove. I enjoyed my dinner while others were resting or sleeping. Soon after 8pm, I watched the full moon rising with twinkling stars spreading all over the sky. The Milky Way was visible too. Then I crawled into my tent before 9pm. I did not sleep too well, probably as I was not tired.
Day 8 Monday: Leisure Day at Laguna Verde
The party left after 1am. I was lazy and did not get out of my warm sleeping bag to wish them a successful climb. I felt that they would have no problem in reaching the summit given their fitness, preparation and the good weather condition with a full moon and little wind. Fabiola and I had a lazy day. I spent most of the time writing travel notes with my mobile phone while Fabiola prepared food for the climbing party. It's hot and the sky was cloudless and had a deep azur colour. When the battery of my phone was exhausted, I took a 2-hour walk near the campsite. Peaceful and relaxing!
When I got back to the tent at 5pm, Fabiola told me that Messrs Chan and Chung had come back. I went over to their tent and was glad to find Mr Chan in good conditions. He explained his heart-beat was 170 which is an extremely high level for his age. Though he did not feel uncomfortable at that time, his friend and guide were anxious and rushed him to Copiapó. His heart-beat was soon back to normal and he was ready for the climb. They would move to the Atacama Camp the following day and planned to summit on March 17. I wished them luck.
At 5:15pm, I was excited to see Mario's 4×4 followed by the second vehicle. My friends all looked tired and did not talk much. Monica looked not happy and exhausted. Fabiola served us a soup around 6pm followed by dinner at 8:30pm. Tomazc was so exhausted that he slipped into his tent and did not get out till dinner time.
While I saw Artur and Andrzej at the hot-spring after the soup, I learnt more about their arduous climb. Mario drove the party all the way to Refugio Tejos and they set off shortly after 4am. It was freezing cold. Fortunately there was little wind. The terrain was difficult with rocks, snow and ice. Monica was cold and decided to turn back after reaching 6600m. The guys and Mario marched on and reached the summit after midday. The wind picked up on their descent. It must be a thrilling moment for them to take a photo with the Polish and Chilean flags at the summit. They would be able to tell their story when meeting the Polish Ambassador in Santiago on March 17.
We had spaghetti with sausage for dinner. Perhaps as I had done nothing and eaten too much too late, I had a sleepless night. It's not cold and I got out once to watch the full moon and stars for the last time on this expedition trip.