4-day Retreat at Borgvåg & World Cod Fishing Championships in Svolvær
4-day Retreat at Borgvåg (March 27-31)
Borgvåg located at the end of a 4-km road off E10 near Borg, is isolated with only half a dozen of houses. There is no light pollution! I booked a room through Airbnb and Geir, a young professional working in Leknes, is my host. His house faces the sea with superb views of mountains on both sides. He has four rooms to let.
Day 1 (March 27 Easter Monday) – I arrived around midday and Geir opened the door with open arms and a broad smile. He showed me my room which faces the sea. I had lunch with my friends in the kitchen and they left me plenty of food including four drumsticks, two pieces of pork chops, vegetables and noodles. Geir's house is so cozy and comfortable that I felt at home and spent most of my time in the sitting room and the kitchen. Two young French medical students, Claire and Robin arrived in the evening. They went to Sortland and saw eight sperm whales on a whale safari (over 1200 NOK pp). I have never seen a sperm whale and would like to see one if I return to Lofoten for the third time!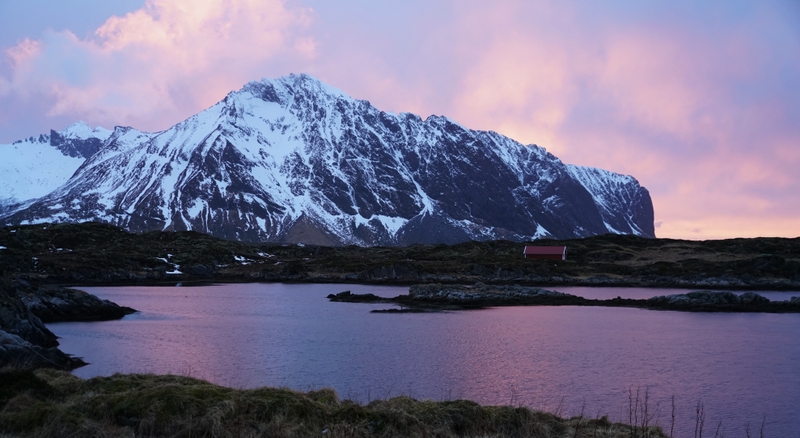 The sky was clear and I looked out of my window every now and then. It must be around 11pm when I first spotted some whitish patches across the sky. I knocked at my friends' door urging them to come out. They had never seen Northern Lights in their life and jumped with joy while watching the lights dancing across the sky.
We had a fantastic display. The highlight of the evening was the moment when lights shooting across the sky above my head, exploded in a split second before falling down like a waterfall. Owing to the gale and freezing temperature, I dared not move around as my camera was shaking. I had to stand withmy back to the wall of the house and keep both hands on the tripod.
I have watched Northern Lights a dozen times since 2011. But I still feel excited to watch this magical phenomenon: the colours, patterns and shape are different each time! Tonight, the lights were very active: I could see green, pink and purple colours with naked eyes. The lights moved so quickly that I could not capture the best and most beautiful movements owing to my poor technique and inadequate equipment. I also committed a stupid mistake: I had not set the focus properly. As a result the photos did not come out well. It's sadly my own fault. What a pity!
That evening the wind was blowing so strongly that the house was shaking. My bed was moving too. I could not sleep till the wind dropped a bit around 5 am!
Day 2 (March 28 Tuesday) – I intend to hike to a tiny village at Eggum which lies on the opposite side of the bay. The distance by road from Borgvåg to Eggum is round 10km. But it is possible to walk across at its narrowest point during low tide. When I arrived there, I found the water flowing fairly fast. The gap is 10-15m wide and some parts seem to be too deep for me to walk across safely. I would not risk my life especially I am by myself. So I turned back after having walked about 2km. It started to drizzle all the way back to the house.
| | |
| --- | --- |
| | |
I prepared a hot meal for myself and then settled down with my computer working on the photos. Then I discovered the sky had cleared up. But I lost all interest to leave the house: I simply had a lazy afternoon by myself. Northern Lights appeared again around 10pm. This time, I managed to set the focus with the aid of a bright star. The display lasted over an hour with many beautiful movements before a mountain on my right and over the sea in front of me. The wind had dropped and I found a sheltered spot next to the water. The photos came out better though the display was not as stunning as the night before.
Day 3 (March 29 Wednesday) – Claire and Robin had rented a car and invited me to join a hike to Kvalvika Beach which has been described as a 'secret treasure'. We could not set off in the morning as he had lost his wallet somewhere in Reine and planned to return to look for it or to report loss in Leknes. He called the supermarket in Reine to see whether someone had found his wallet. The receptionist said 'No'. So we were on our way to Leknes when Robin got a call informing him that someone had found his wallet outside the supermarket and had brought it to the receptionist. We all jumped with you and proceeded to Reine without delay. We made a few stops on the way to Reine including the beach in Ramberg.
We also stopped at a fish rack to talk to the men at work. They said they had been working in Lofoten since February and would go home after having taking down the dried cod in April/May. The fish would be shipped to Italy while the fish head would go to Nigeria.
We had a picnic lunch in Reine with full view of the beautiful fjord and fishing villages in the area.
After having coffee and a hot bun, we were back on E10 and then took a side road in the direction of Fredvang. Soon, we parked our car in a car park and hiked three kilometres to reach our destination. It's not an easy walk. Though the ice was melting, some parts were still covered by snow or ice. It was slippery and I had to walk cautiously. I felt guilty as I had slowed my companions considerably.
The beach is isolated, exclusive and most beautiful. Two British guys had built a hut where they spent a few months in a self-sufficient way cut off from the materialistic world! The hut is basic with a fireplace, two beds and all the basic stuff required for survival. They even built a toilet between rocks with a fantastic view of the beach!
Robin found a wet suit hanging in the hut which fit him perfectly. He put it on and had a swim! I made my way back well ahead of my young friends as I would take more time. By 6:45pm, we assembled in the car park. We booked a table in a restaurant in Ramberg for dinner. I had scallop as starter, lamb as the main course and a draft beer. This ordinary dinner cost me about 500 NOK. But the food I had in Henningsvær and Hamnøy is much better.  It started to rain when we were in the car. There is no Northern Lights on a rainy night. So I had a sound sleep after my hike.
Day 4 (March 30 Thursday): Rest Day
Claire and Robin who would take a ferry to Bodo after 3 pm, left the house with bright sunshine around noon. I had the place till Geir and his girlfriend returned from work. The weather had changed: the temperature dropped and hail and snow began to fall. Soon the ground turned white: we were back in winter again. I knew there would be no Northern Lights tonight.
March 31 Thursday: Borgvåg – Svolvær
The World Cod Fishing Championships is the most important local event. First organised in 1991, it has become the signature event attracting 650 participants from 26 countries. Thousands of people also turn up to party, watch and support the participants. During the two days, over 100,000 kilos of cod may be caught under 'perfect conditions'.
All hotels in Svolvær are expensive during this period. Hence I had to find a room through Airbnb in Osan which is about 20 minutes' walk from Svolvær. The price is just a bit cheaper than a hotel. Geir gave me a lift to Leknes and I caught the 8:15am bus. I got off at Osan and walked some 300m to reach my destination. I knocked many times on the door without any response. Then I found out that the door was not locked. I opened it and climbed up the staircase. Then Ben with mustache appeared at the top of the staircase.
Ben, my Italian host had just returned from Italy to watch the fishing event. He is a great guy and has been working in tourism industry in both Italy and Norway. We talked non-stop for over half an hour about Italy, Lofoten, Nepal and our common flavourite destinations. I also met Niel who runs the place while Ben is away. The house is impeccable with stylish décor. I feel at home and enjoy my room with a mountain view. I also met six tourists (three Norwegians and three Swiss). We all love the place and feel at home.
Niel suggested a hike just behind the house which would lead to a lookout point offering fantastic views of Svolvær and even Bodo on a clear day. It took me almost an hour to reach the radio station owing to the deep snow. I dared not go to the top for the promised panoramic view. Anyway, I enjoyed the walk and fresh air and found a good spot for taking Northern Lights pictures close to the house. Unfortunately, there was no display.
The weather was cloudy but fine. I decided to walk to Svinøya to look at the gigantic fish racks which were empty last November. I know the place well after having stayed in Svolvær for two days last year. The whole place is smelly though half of the racks remained empty. I watched three men working as a team in hanging up the fish.
When the sky cleared up, I strolled around the town centre where workmen were busy setting up two large tents, one in the main square and another next to the fish factory. Many smaller tents had already been set up next to restaurants and hotels ready for thousands of participants and tourists coming for the event. I bought a pack of cod and prepared a fish soup with carrots for dinner. I spent a quiet evening in my comfortable room reading and writing my travel notes.
World Cod Fishing Championships in Svolvær April 1-2
April 1 Friday – I had a good sleep and got up around 8am. The weather was awful with gusty wind and sleet. I had no incentive to go out and took my time to enjoy a wholesome breakfast with bread baked by Niel the day before. Then I talked with my Norwegian friends, Iren, Paul and Olav from southern Norway.We all admire the table laid by Niel and the décor of the house which is beautiful and stylish. They would be preparing cod for dinner and invited me to join. I accepted with gratitude.
The weather cleared up slowly. After lunch, I made my way to the harbour to find out what's happening. The girls at the tourist information centre told me that participants competed for the Lofoten Cup on April 1 and the World Championship the following day. The stormy weather in the morning had delayed the competition by two hours and the boats would not be returning till 4:30pm.
As it was now sunny and warm, people looked cheerful drinking and dining. Cafes and bars were full. Then I watched boats coming in and how the catch was handled in the hall of the fish factory while most people stayed in the tent drinking with a band playing music. On the pier I saw a fisherman coming back with 12 fish while one had only a small cod!
I bought a bottle of white wine and had a most enjoyable dinner with at least six bottles of wine with Ben, Niel, Iren, Paul, Olav and the three young Swiss travellers. After dinner, we had excellent entertainment. The Swiss girl, a musician, sang us several songs while Niel played the piano. Ben was in high spirit sang an Italian song. Paul gave us a surprise by singing in Sami language. Then Ben got a call from friends inviting him to meet them in town for a drink. He suggested us come along. I took this opportunity to have a night out. Otherwise, I would not go out in the evening.
It must be after 11 pm when Ben, Niel, Iren, Paul and I arrived in town by taxi. We popped into a popular pub-restaurants called DV (I had my Christmas dinner there last November). As it was full, we went to another one by the harbour. It was full too. At the end, we found one further away. We had to pay a cover charge to enter! We lost Ben and four of us stayed there till 2:30am. I only had a beer while the others had more. The music was loud and it's difficult to talk. Anyway, I enjoy the festive atmosphere: the Norwegians drink heartily and are happy.
All bars must be closed by 3am. When we came out, we did not feel cold and decided to walk as the taxi queue was long. Niel took a shortcut and we were home around 3am. I looked out of the window hoping to find Northern Lights as the forecast suggested a G1 storm around 3 am. Though the sky was clear, there was no trace of Northern Lights. I gave up and went to bed about 4am disappointed for the first time.
April 2 Saturday: Svolvær – at sea on board MS Nordlys
Today, I would continue my voyage with Hurtigruten after the fishing competition. I did not get up till 11am. After breakfast, Niel gave me a lift. I first visited the Lofoten Krigsminne Museumwhich kindly allowed me to leave my suitcase. The entrance fee is 80 NOK. It is Norway's largest exhibition of uniforms and small objects from WWII including over 100 uniforms worn by those who fought during the war. There is a room onLofoten which was raided on March 4, 1941. When I returned in the evening to collect my suitcase, I met William Hakvaag, the owner of the museum.
The weather was fine. The competition went ahead on schedule and participants would return around 2:30pm. Many spectators gathered at the pier to watch boats coming in. It's a beautiful sight with boat after boat sailing into the harbour and lining up at the pier to unload. The big boats might have some 20 fishermen on board. As there were a few off-loading points, I moved to and fro for almost two hours.
The place was bubbling with activities and enthusiasm. Cranes were hauling up boxes of fish. Fishermen were walking around in their colourful gear and fishing rod over their shoulder. Spectators were everywhere watching and taking photos. In the fish hall, staff were busy weighing and counting while many participants were working feverishly filleting the fish they had caught. For those who did not take their catch home, the staff cleaned the fish and sold it over the counter at 30 NOK a kilo.
Outside the fish hall, hundreds of people had a good time chatting, drinking and listening to music. The final results came out before 6pm: the biggest cod caught weighed some 28kg and a winner caught a total of 56kg of fish. I watched the proud and happy winners on stage. The hall was filled with joy, smiles and laughters. Everyone seemed to have a good time.
At 7pm, I embarked on MS Nordlys (meaning Northern Lights) and settled in cabin 347. I went to the deck on Level 7 to watching sunset and how the boat manoeuvered a perfect 180º turn in very confined space when leaving the harbour at 8:30pm. I stayed on deck to watch the boat sailing past Henningsvær. Unfortunately, it's too dark to see the spectacular landscape.
Tonight the forecast for Northern Lights was good (G1 storm). But as it was cloudy, I could only see scattered patches of green. When I watched the live feed from the Aurora Sky Station in Abisko in Sweden, I realised what I had missed: the colours there were vibrant, vivid and spectacular. Well, Northern Lights viewing is all about luck, timing and location.