Toronto, Ottawa, Montreal September 20 – October 12,2014
September 20 Saturday: Yellowknife – Toronto (GMT -4- Daylight Time)
Bing and I departed Yellowknife at 2pm and said good-bye to Karen and Tony who took another flight to Vancouver in Edmonton. We finally arrived in Toronto at 10pm and stayed with Yvonne, Bing's cousin who lives Brampton.
Toronto, Ottawa & Montreal: September 21- October 2, 2014
September 21-27, Sunday-Saturday: Toronto
This is my fourth visit to Toronto. The main purposes of my visit are to visit relatives and friends and to see foliage in Algonquin Park. I was lucky with perfect sunny and hot weather. I had a most relaxing week spending the first night with Yvonne, six nights with Katherine, my secondary school friend and one night at Deerhurst Resort near Algonquin Park.
Time for reunion
Most people say there is not much to see and do in Toronto. I agree. But many Hong Kong people have settled here and I am glad to meet up with my 91-year-old aunt and her daughter, my cousin Alan and family, Thomas and Denise (former colleagues), Katherine, Esther and May (classmates from DGS and HKU), Aliana and Ellen. I also took this opportunity to pay respect to Bing's mom and a girlfriend. Their resting place at Highland Memorial Garden and Mt. Pheasant Memorial Park is peaceful, dignified and well-designed. Hong Kong has a lot to learn in this regard from Canada.
I have known Katherine since 1973. Tony, her husband has now retired and they have been most hospitable taking me to visit the old town of Unionville on September 22 and Toronto's botanic garden on September 27.   I dined out during my entire stay in Toronto and found the Cantonese food nice, authentic and value-for-money.
Foliage Tour (September 25-26)
Algonquin Park established in 1893 has an area of 7653 km² with 2,400 lakes and 1,200 km of streams and rivers inside the park. It is famous for its jaw-dropping foliage scenery when the reds and oranges of Red and Sugar Maples reach full colour. This often occurs in the last week of September or occasionally in the first few days in October.
Michelle, Bing's secondary school friend took two days off (September 25-26) to take us to the park. A party of five (Michelle, Sharon, Denise, Bing and I) departed Toronto after 10am and arrived at the West Gate of the park around 2pm. The 56-km strip along Highway 60 corridor cuts through the park with the West Gate and East Gate at each end. Its 15 walking interpretative trails (1km to 10.8km) offers fantastic views.
During our 2-day stay in the Park, we stopped in seven spots and were mesmerized by the blazing maples along Highway 60. Words and photos, in my view, cannot do justice to the awesome foliage scenery. We were lucky to arrive just at the right time witnessing the best show of autumn colours in all shades of pink, orange, red, gold, yellow and purple.
First stop- Hardwood Lookout at km 14: The 1km-long trail taking us to a lookout point over Canoe Lake is relatively easy. Unfortunately views at the lookout over the lake are blocked by the trees.
Second stop- Canoe Lake close to Hardwood Lookout: Canoeing is a fantastic way to experience wilderness. Canoe Lake offers a unique way to see the Park. Unfortunately time did not allow me to join a one-day canoe trip. Views of the lake with reflections of autumn colours by the café are breathtaking!
Third stop- Peck Lake at km 19: The 2.3km-long trail round this small lake is interesting. I took about 75 minutes to complete the trail and sat for half an hour at the finishing point enjoying the stillness, peace and gorgeous autumn colours.
Fourth stop- Oxtongue Lake outside West Gate: It was already dark when we arrived. The dark red but blur reflections on the lake were impressionistic.
Fifth stop- Deerhurst Hotel near Huntsville (45km from West Gate): The hotel by the Peninsula Lake has a beautiful setting with fantastic autumn colours. I was tired and had a good sleep. The next day, I had my aqua exercise before taking a leisure stroll around the Peninsula Lake.
Six stop- Beaver Pond at km 45: After a quick lunch at Canoe Lake, we proceeded to Beaver Pond close to the East Gate. The 2km-long trail takes us to see two ponds made by beavers. Most of the trees here are every green ones interspersed by maples. Though the colours were not as impressive, the trail is tranquil offering a totally different feel.
Final stop- Visitor Centre at km 43: This is one of the best visitor centres I have visited with good interpretations. Exhibits featuring wolves, deer, moose, bear and beaver are nicely presented.
We headed back to Toronto before 6pm. After a delicious vegetarian dinner, Michelle dropped me off at Katherine's house. What an amazing short but memorable foliage trip! I am most grateful for Michelle and Sharon for taking us to visit the park. The weather was perfect and the scenery is incredible and breathtaking.
September 27 Saturday: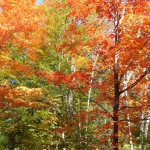 Today's my last day in Toronto. Katherine and Tony took me to see the botanic garden and we had sushi and sashimi for dinner. As I had to use Tony's computer which has a large screen and fast to sort out my photos, I worked the whole night and did not go to bed till 2am!
September 28 Sunday: Toronto – Ottawa
It's time to move on. Tong and Katherine drove me to Michelle's place in Finch and Michelle took Bing and I took Greyhound's terminal on Bay Street.  The bus set off at 11:30am and we arrived in Ottawa three hours later.
Ann (Bing's niece) and Tom (Ann's husband) and their 2 month-old baby Scarlet met us on arrival. Once we had left our luggage in their house, we went for an early dinner in a Vietnamese restaurant. I love rice noodles and ordered a medium size bowl. It's delicious and I could have finished a large bowl.  I worked on my northern lights photos till 2am.
September 29 Monday: Ottawa
This is my first visit to the capital city of Canada which was founded in 1826 as Bytown and incorporated as "Ottawa" in 1855. In 1857, Queen Victoria chose it as the common capital of the Province of Canada.  Some friends have told me Ottawa (the fourth largest city in Canada) is boring. I do not agree: I find it appealing: it is not flat with plenty of water (coming from the Ottawa River and the Rideau Canal), green parks and impressive buildings.
The weather was perfect with blue sky, sunshine and a gentle breeze. Tom took a day off to drive us around. We began our day with a nice brunch at 'Art is in', a popular eatery in a once derelict go-down area. I had a combo (a sirloin steak sandwich with chowder for $14) and Bing a pull pork sandwich ($15). The food is wholesome: the bread is baked in-house and all ingredients are organic.
Gatineau Park, our second stop, affords excellent views of the escarpment. Few maple trees have turned full colours. We stopped at the Pink Lake and Champlain Lookouts. Then, Bing and I took a 1-km trail from Champlain Lookout to Etiénne Brúle. As it was Monday, there were few visitors.  Unfortunately, I was badly bitten by mosquitoes.
We returned to the city centre and went to Byward Market a colourful market place and a popular place with dozens of restaurants and pubs. This is a historic part of Ottawa where the Parliament Hill, Fairmont Hotel and the Rideau Canal are located.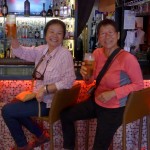 We had an early dinner at Wontonmama, a nice Japanese restaurant owned by Ken, a friend of Tom.  We had lobster and salmon sashimi, salmon sushi and rolls and lobster fried rice. Ken treated us with ice-wine mixed with brandy. Wow, this is the best Japanese meal I have this year.
A miracle happened. Verda of Yellowknife Tours told sent me an email saying that a guide from Trout Rock Lodge had found my mobile phone on the Wasp Island (the spot where Bing and I picked cranberry and took a picture with the phone).  I had promised Ragnar (owner of the lodge) to return if my phone was found. I will keep my promise and return one day to Yellowknife.
September 30 Tuesday: Ottawa 
Today we had a cultural day. Ann took us to the National Gallery of Canada in front of which is a gigantic bronze spider called Maman by Louise Bourgeois. The sculpture casted in 2003 is 9.25 metres tall and weighs over 6,000kg. It carries 26 white marble eggs in its underbelly. This installation reminds of Ai Weiwie's spider displayed in the Liverpool Biennial 2010.
The National Gallery has a good collection of European and Canadian artists. I also learn something about painter Tom Thomson (1877-1917) and the Group of Seven, the Algonquin School of landscape painters from 1920 to 1930. There are paintings by Thomson including his most famous The Jack Pine and The West Wind. I find a 'church' feel about the gallery (possibly due to its architecture) intriguing.
After spending more than two hours in the gallery, Bing and I went to Wontonmama for lunch. Ann had to return home to feed her baby. Ken recommended the daily special – a red curry beef with rice. We also had sushi and a salmon roll. Another delicious and sumptuous meal for $50!

We spent the whole afternoon exploring historical Ottawa on foot. We began at the locks of the canal and walked back to the National Gallery in order to reach the lookout with a statute of Champlain, founder of Nouvelle France. We had panoramic views of Ottawa River, Alexandra Bridge, Canadian Museum of Civilisation, Supreme Court, Parliament Hill, Fairmont Hotel and National Gallery. We waited for the sun to emerge in order to take a few pictures with blue sky.
Our final stop of the day was the Parliament Hill dominated by an imposing and impressive Parliament building. As the visitor centre closed at 4pm, we could not go in. A local reminded us that we could go to the public gallery to listen to the debate. About 20-30 members of the parliament were present to debate on a Canadian – Korean investment agreement. A couple of legislators expressed their concern and raised objection to the agreement believing it is not in Canada's interest.
At 5:45pm, we met up with Ann and Tom in Byward market. Tom took us to Supply and Demand, a restaurant specialized in seafood. We had a dozen of oysters, four different starters, a plate of ravioli and some drinks for about $200 (inclusive of tax and tips). I find the food too salty and not value for money. I believe we would have a much better meal at Wontonmama for the same price.
October 1 Wednesday: Ottawa – Montreal
We said good-bye to Ann and Scarlet. Tom dropped us off at the train station before the rush hours. We waited for almost an hour and were surprised when a staff came up to weigh our bags. Bing's suitcase was about 50lb while mine was less than 40lbs. Bing had to re-pack in order to avoid paying $20 for excess luggage.
We had to queue up in the hall and followed the staff to go to the platform when the train was approaching the station. There might be around 50 passengers with several staff around. I think efficiency and productivity are both problems here.
The journey was comfortable. There were a couple of spots with beautiful fall colours in the corn field. We arrived in Montreal shortly after 11:15am.
Montreal, the second largest city in Canada, was first visited in 1535 by French explorer Jacques Cartier. In 1611 Champlain established a fur trading post in La Place Royale. In 1642, Maisonneuver who led a group of colonist from France arrived and became the first governor. Today some 60% of the population are French-speaking.
We took a taxi to L'Apartment Hotel on Sherbrooke Street close to McGill University. We walked to Schwartz famous for smoked meat, on Rue St Laurent. We shared a sandwich and 5oz of meat. The smoked brisket is most delicious but very filling:  my stomach could hardly move afterwards.
Both Bing and I had been in Montreal before. Tom told us to try Au Pie du Couchon near Rue St Denis. We found our way away on foot taking a look at churches and historical buildings. After booking a table for the following day, we walked towards the old town along the Rue St Denis. Suddenly we saw L'Institut de Tourisme et D'hôtelierie and decided to try the students' cooking. We booked a table for 7pm (though we were not hungry at all!).We spent over two hours in old Montreal. My memories returned when I saw Marche Bonsecours and Notre-Dame-de-Bon-Secours Chapel. Marguerite Bourgeoys (1620-1700) arrived in Montreal from France in November 1653 and was canonized in 1982.
| | |
| --- | --- |
| Marche Bonsecours | |
| | |

The sun was setting and many people were walking along the pier lined with a dozen of maple trees. We finally reached to the Place Jacques-Cartier which used to be the market place in front of the City Hall. We continued and arrived at Place d'Armes and later China Town.
At 7pm, we were back to the Restaurant de l'Institut to take a 3-course meal. The food is very good and value-for-money ($25). We were so full that we walked back to our hotel on Sherbrooke Street. Wow, we walked for about 7 hours. Hopefully we could use up the extra calories we had consumed today!
October 2 Thursday: Montreal
We had a leisure day. After having a good continental breakfast, we walked to the Museum of Fine Arts which is also on the Sherbrooke Street. The area is filled with luxurious hotel and apartment buildings similar to those in New York- evidence of its heyday as an economic, industrial and financial centre. McGill University is prominently located here too.
The museum opens at 11am. As we were early, we passed time by looking at a few galleries nearby. I came across a nice stone sculpture by William Skye (an Inuit sculptor). But I am not prepared to pay a hefty shipment cost. It is not easy.
We paid $20 entrance fee. Most people have come to see the special exhibition on jewelry by Fabergé. The collection is interesting with four Easter eggs belonging to the last Tsar and hundreds of other items which are exquisite and beautiful.
Apart from this exhibition, the museum has a lot to offer. I enjoy the collections from South America and Africa as I have visited these two amazing continents.  The masks, wood sculpture and ceramic items on display look familiar. I also enjoy the section on design featuring iconic tables and chairs by renowned designers. There is also a small but excellent collection of impressionist paintings and stone and whale bone sculptures by Inuit artists.
After the museum, we walked up to Mont-Royal which offers a panoramic view of the city. The walk is enjoyable and we saw some fall colours (though not impressive).

At 4pm, we started walking to Au Pie de Couchon for our seating at 5pm. We ordered two starters and one main course – the pig's foot with foie gras. The huge pig's foot took us by surprise. It's too heavy and salty. But we had to finish it as we hate wasting food. The meal cost us some $130.  Unless one is hungry and has a big appetite, one should not order this dish. We had overeaten again!