Belize, a small and peaceful country has more similarities with the Caribbean than Central America. I spent six nights in San Ignacio and Caye Caulker enjoying caving, tubing, snorkeling and a scenic flight over the world's second largest barrier reef and the Blue Hole.  
Background
Belize was pirate's paradise in 17th century. It became part of the British Empire in end 18th century thus sharing a common colonial history with other Anglophone Caribbean countries. It thrived on logwood business in the 18th century and in sale of arms, ammunition and other supplies sold to the Maya rebels during mid-19th century. Known as British Honduras from 1862 to 1973, it was renamed Belize in 1973.
In 1964, Britain granted Belize self-government. Progress towards independence was hampered by a claim to sovereignty over the territory of Belize by Guatemala. Finally, Belize attained independence in September 1981 while retaining Queen Elizabeth II as head of state. The border dispute with Guatemala remains unresolved. Since independence, it has largely escaped the struggles, chaos and bloodshed as experienced in other Central American countries.
Belize with an area of 22,800km² and a population of about 340,000 (2013 est.), has the lowest population density in Central America. Its 2012 estimate of GDP (PPP) and GDP – per capita (PPP) is about $3 billion and $8,753 respectively. Belize dollar (B$) is fixed at a rate of US$1 to B$2.
Some 40% of Belize's territory is designated nature and marine reserves (Some 50% of territory in Hong Kong is designated country parks or marine reserves too). Its abundance of terrestrial and marine species and its diversity of ecosystems give it a key place in the globally significant Mesoamerican Biological Corridor.Belize is a leader in protecting biodiversity and natural resources. Belize has over 200 cayes (islands) and its submarine shelf and its barrier reef with World Heritage status, is a 300km long section of the 900km long Mesoamerican Barrier Reef System. It is the world second largest reef system and the largest reef complex in the Atlantic-Caribbean area. Outside the barrier, there are three large atolls: Turneffe Islands, Lighthouse Reef and Glover's Reef.  Ecotourism is well developed attracting a million tourists a year.
The country though small is a diverse society, with many cultures and languages. The earliest inhabitants were the Maya. Today, the three major ethnic groups are Mestizo (Spanish – Mayan) (50%), Creole (European – African) (21%) and Mayan (10%) based on the 2010 census. It is the birthplace of chewing gum and Punta music. In 1961, hurricane Hattie devastated Belize City, the then capital. Hence, Belmopan is now the new capital of Belize though Belize remains the hub of the country.
May 19 Monday: Tikal, Guatemala – San Ignacio, Belize
Once putting my feet in Belize, I could feel the British influence in this corner of Central America. Things are more orderly and English is the official language: a legacy of the British administration. While we had no problem in entering Belize, Yves and Tom had to spend five hours to complete the formalities to bring Bessy in though our bus had an Alaskan car plate by then.
After wasting two hours at the border, we realised we might be stuck for a few more hours. Hence we decided to pay for a taxi to go to San Ignacio. I made the right decision: Bessy did not turn up till 3:30pm.
It was hot and humid and the heat was unbearable. Around 3pm, the sky darkened followed by 20 minutes' of torrential rainfall and thunders. We were relieved when Yves and Tom turned up. They took us to the market where cook groups 2-4 shopped for the next three days. We stayed in an eco-lodge called Tropical Wings located on 22 acres of land. Eco-toilets are used and the rain is the main source of water. Ulli and I had a tiny but lovely wooden cabin.
May 20-21, Tuesday & Wednesday: San Ignacio
San Ignacio has a host of archaeological and natural attractions. I joined two full-day tours for B$156 though I love to do the Actun Tunichil Muknal (ATM) cave and Caracol – the largest Mayan ruin in Belize, as well.
On Tuesday, Sarah (UK), Emma and Dave and I took a 3km-long tubing trip. At my request, the tour operator kindly agreed to take us to visit Xunantunich first which is reached by a free ferry crossing at San Succotz. Our guide picked us up at 8am and we reached this small but magnificent Maya ruin half an hour later.
The site is dominated by El Castillo rising some 40m above the jungle forest. We climbed to the roof for a panoramic view. In the opposite end of the Castillo is a residential complex for the 'ruling' family. There are also two ball courts, several pyramid-like structures and administrative buildings.
We had an excellent guide who is like a walking dictionary. Though the ruin is relatively small as compared with Copan and Tikal, it is scenic with an intimate atmosphere. The view is fabulous. I learn much more about the Maya culture during this visit.
At 11am, we departed for tubing. We arrived at the site 90 minutes later and had a nice picnic lunch with smoke turkey, salad and wraps. Then came torrential rain which lasted for over half an hour.  Around 2pm, we began our 30-minute hike to the cave. Fortunately, the rain stopped by the time we began the tubing (though it would make no difference as we would be inside a cave).
I have done tubing on a river and in caves in Laos. But the experience here is totally different: the total length for tubing can be as long as 6km. But today visitors are only allowed to tube in two large caves for about 3km. The first elongated cave is about 3 metres high with a smooth roof i.e. without many features. Our head-lamp was too weak to see the bats and other features inside the cave. There was no current and we had to paddle hard with our harms.
The second cave is enormous and more interesting. Its entrance is impressive: there are rocks resembling a man  or a sphinx who guards the cave. The cave ceiling is covered with beautiful formations. There is also a waterfall inside the cave. It is pitch dark and some areas are very shallow. Our guide kept shouting "legs up, bums up"! He had to pull me from the shallow ends several times.
After coming out from the second cave, we had to float down the river for another 10 minutes. Then we saw three young men each sitting on a floating seat chained together with a guide pulling them along. My guide said that "this is the normal way cruise ship passengers have their tubing". I could not stop laughing when seeing these strong young men sitting idly on the float while the poor guide did all the work.
It took us two hours to get back to the starting point. What a fun day! We were back at the lodge at 6pm.
On Wednesday, I joined Brad, Chris, Dave, Freddie, Steve and Yves on an adventure trip to the Crystal Cave. We departed at 7:20am and returned to the lodge at 5:45pm. It takes 90 minutes to drive to the Blue Hole (a water-filled limestone sinkhole some 100m in diameter and 33m deep) National Park and another 45 minutes to walk up to cave entrance.
It was 10am when we entered the cave. We had a quick sandwich lunch. For the next five hours, we climbed up and down passing through several chambers (According to the guide, the lowest point we reached inside the cave is about 300-400m below the entrance). There is no light and the cave is muddy, slippery and dangerous.
The formation inside the cave is interesting: there are some beautiful and enormous stalagmites and stalactites. On several occasions, we had to crawl or wiggle through narrow passages, lower ourselves down in a tiny hole, climb up and down slippery rocky or muddy surfaces.
I was scared of slippery paths, rocks and surface. I took extra caution watching every step I placed my foot: a wrong step would mean a broken leg or serious injury! We found ourselves in several large chambers where the Mayan had performed religious ceremonies. Potteries were broken and fire was lit. Inside one of the caves, there is a skull too. Our guide explained the Maya practice of human sacrifice and bloodletting. Remains of a snake have also been discovered inside another cave.
Finally we spent 45 minutes making a final ascent to the Crystal Cave, highlight of the trip. It is a tough climb: we had to take off the shoes and walked with our socks.
I was thrilled when I came out of the cave at 3:20pm without falling once or hurting myself. It was raining. The guide took us through a short cut which is an illegal trail. Here, I fell three times before reaching the car park and I was all covered in mud!
Ideally it would be nice to take a dip in the Blue Hole to get the mud out of the clothes. As it would be closed at 4pm, we did not have time for a swim. So I had to put up with my dirty clothes till I reached the lodge.
Unfortunately, the battery had gone flat. We could not set off till 4:30pm. What a strenuous and long day! I am too old for caving: it is my first as well as my last caving adventure.
May 22, Thursday: San Ignacio – Caye Caulker (100km; 2.5hrs)
We packed up, set off at 7am and had a comfortable ride to Belize City. Bessy was left in a secured car park while we took a ferry to Caye Caulker for three night. The ferry departed at 10:40am and we arrived on this popular spot for backpackers at 11:30am.
I like the Caribbean not so much because of the beaches, rum and salsa. I love its smell/scent, and atmosphere, the sea breeze and above all its people. This region is a melting pot of people from all corners of the globe. Somehow, I do not find Caye Caulker "Caribbean". But this small island has a lot to offer including swimming (which is free), snorkeling, diving, fishing, scenic flight over the Blue Hole and clubbing. But the clubbing scene is nothing compared with Roátan, Honduras.
I am surprised to find many Mainland Chinese who run most of the supermarkets on the island. There are also a few Chinese restaurants. I had fried noodle for lunch (B$8). At 5pm, I joined Ulli to watch sunset by our hotel while others were drinking at the Split, a hot spot for clubbing. I shared a lovely wooden cabin with Victoria and had an excellent sleep.
May 23, Friday: Snorkeling
Ten of us took a full day snorkeling trip at the Hol Chan Marine Reserve established since 1987, the first of its kind in Central America.  We left in a small boat at 10:30am with five stops for B$130.
First stop- It is the mating season for manatees and it's easy to spot them in certain areas. We swam with one for some 15 minutes. It is the first time I have seen a manatee in my life.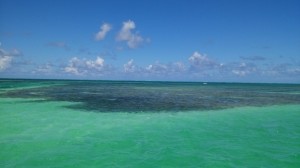 Second stop: eagle rays and turtles- A man was feeding a loggerhead turtle with conch. I watched lots of fish and half a dozen of manta rays feeding on sea grass on shallow water with a sandy bottom.
Third stop: fish viewing– We snorkeled in the Hol Chan Marine Park which is teamed with blue and yellow damsel fish, groupers, surgeon fish, snappers, etc.
Fourth stop: shark alley– I had already seen half a dozen sharks in the morning. But about 20 nurse sharks some are 5-8m long gathered around our boat as our guide fed them with sardines. Hundreds of fish and a couple of rays also gathered next to our boat.
Fifth stop: coral garden– The water is clear. But the coral here is not colourful as compared with those I have seen in Australia, the Philippines, Red Sea and Maldives.
I had a good day and was pleased to leave the boat at 3:30pm. After a sunset drink with Ulli, we joined the rest of the group for dinner at a Cuban restaurant. I had fish and three fruit punch for B$25. Value-for-money!
May 24, Saturday: Scenic flight
I spent the morning reading and writing. At 1pm Chris, Michelle, Eva, Michael and I were taken to the air strip for our scenic flight to the Blue Hole, a sink hole at the centre of Lighthouse Reef Atoll. An hour-long flight in a 6-seater plane cost $200.
How's the flight? Everyone asked me afterwards. Well, it rained shortly after the plane took off. The low dark rain clouds did not help bringing out the best colours of the reef. We flew over the Turneffe Atoll before reaching the Lighthouse Atoll where the amazing Blue Hole measuring 1,000 feet in diameter and 412 feet deep is located.
I had good views of the Blue Hole and took some pictures. But the flight is not as spectacular as I had imagined possibly owing to the weather. I had good views of the Great Barrier Reef on several occasions when flying to or from Cairns for nothing! The colours there are impressive!
At 2:10pm, I was already back in town having a noodle soup (B$5). Later I discovered that my smartphone had been left on the plane. Despite the torrential rain, I ran back to the agency that arranged my flight. Just when I stepped into the shop, the receptionist picked up a call from the pilot who had discovered my phone when he landed in Belize City. He had put my phone on the next flight back to Caye Caulker. I walked all the way back to the air strip and paid $6 to get back my phone. Fantastic! I am impressed by the people!
I had my last sunset drink with Ulli before joining the group for a fare-well dinner. I appreciate their friendship, fellowship and humor (though I have no sense of humour).
May 25, Sunday: Caye Caulker – Belize City – Panama City, Panama
We took the first ferry to Belize City as the group had a long drive Tulum in Mexico. At 8am, I said goodbye to my friends especially Yvonne, Gordon, Anika, Freddie and Dave whom I first met in Quito on March 25. I shall miss Ulli who has been drinking red wine and Campari with me for two weeks. I promise to visit her one day. Anyway, I have already scheduled a reunion with Victoria, Emma and Sarah (UK) in London on June 13!
Suddenly I found myself standing alone with my stuff in the car park. After leaving my bags at the Radisson Hotel, I walked to the city centre which is a ghost town on Sundays. There is nothing to do: everything is closed. I found a nice a coffee shop with air-con and stayed there till noon.
Despite the heat, I forced myself to go out to see the Swing Bridge and the Supreme Court building (1926) and walked along the Albert and Regent Streets. But I did not drag myself to see the St John's Cathedral which is the oldest Anglican cathedral in Central America as it was too hot. All restaurants were closed: I could only get street food. I tried to look for a shady corner without success. Eventually I had to have my lunch box sitting by the roadside under a tree.
I arrived at the airport by taxi (B$40) at 2:30pm. The airport is small without a business/VIP lounge and no air-con. It's hot and crowded. I should have stayed in a coffee shop in town and come out after 4pm. I was glad my flight departed on time at 5:20pm.
Remarks
I made a short trip to Belize with Wai Leuk my nephew more than ten years ago. I did not remember much about the place except our snorkeling trip to swim with the rays and a day trip to see some Maya ruins. My second trip is much longer and more interesting as I have done tubing, caving and snorkeling in addition to a helicopter flight over the Blue Hole. I am surprised to see so many Chinese running supermarkets in the country.
This small country looks well-run and tidy with fairly good highway. The city centre with its tidy and smart colonial buildings looks pleasant. I had three pleasant days in Caye Caulker though the island is full of tourists.
Belize is a nice country which is more familiar due to our common colonial past.  Two things have also impressed me. First, the small but well-preserved Maya ruin at Xunantunich is a nice surprise. The guide is the most knowledgeable one I have encountered on this 62-day journey. Second, the locals are efficient, polite and helpful. I cannot forget how quickly the pilot who found my mobile phone on the plane when he was back in the Belize airport, sent it back to Caye Caulker for me.