Whale Watching Sailing from San Diego to Los Cabos, Baja California March 1 – 6
Day 8- 12 March 1-5: Southern Tip of Baja California & Sea of Cortez
Day 8 March 1 Saturday
We crossed the Tropic of Cancer overnight and found the boat rounding the tip of Baja California at sunrise. Today, we travelled through an important humpback whale breeding ground at Gorda Bank, rounding the southern tip of Baja before entering the Sea of Cortez(also known as the Gulf of California).
The Sea of Cortez is a marginal sea of the Pacific Ocean with a coastline of approximately 4,000km with a surface area of about 160,000 km2. It separates the Baja California Peninsula from the Mexican mainland.
This gulf with its deepest part in excess of 3,000m, is thought to be one of the most diverse seas on Earth and home to more than 5,000 species of micro-invertebrates. The Gulf has more than 900 islets and islands out of which 37 are major islands. Parts of the gulf are a UNESCO World Heritage Site.
According to Mark, this particular area is best to find blue, fin, humpback, Bryde's and sperm whales in addition to short-finned pilot whales and enormous pods of common dolphins and bottlenose dolphins. One might also see killer whales, dwarf sperm whales, rare beaked whales, whale sharks and more. It is one of the places where almost anything can happen!
We had another great day watching humpback whales and pods of common bottlenose dolphins.
The humpbacks we saw today behaved differently. We first saw a calf, then its mom. On a few occasions, we saw them with the mom's escort. I got a photo with three of them.
The trio was followed by a group of males that were aspired to be an escort and mate with the female one day.
In the afternoon, we had a live concert of the humpbacks. Males produce a complex song lasting 10 to 20 minutes. It is said that all the males in a group will produce the same song which is different each season. Mark put a microphone into the water and we listened with excitement for almost half an hour. It's incredible!
Then we saw our first hammerhead shark, which suddenly swam towards our boat. As the water was crystal clear, I even managed to take a photo!
We were also excited to see a spot a few pygmy devil rays at the horizon. There are as many as 600 species of rays in the world belong to 24 ray families. I have seen manta ray, sting ray, spotted ray etc when snorkelling and diving. Later on, a few rays swam past the boat. I guess they are the spinetail devil ray (also known as the spinetail mobula ray).
After an exciting day, we discovered it was Trevor's birthday when he showered us with margarita. Congratulations, Trevor! We all joined in to sing 'Happy Birthday' and had a piece of birthday cake as dessert.
Day 9 March 2: Swimming with Whale Shark at La Paz
Whale Shark is a slow -moving filter-feeding carpet shark and the largest known extant fish species. They are dark grey with a white belly. Their skin is marked with pale grey or white spots and stripes which are unique to each individual. It has three prominent ridges along its sides, two dorsal fins set relatively far back on the body, a pair of pelvic fins and a single medial anal fin. The tail has a larger upper lobe than the lower lobe.
Found in open waters of the tropical oceans, they feed almost exclusively on plankton and small fishes. They have a mouth that can be 1.5m wide containing over 300 rows of tiny teeth and 20 filter pads which it uses to filter feed.
We had to get up at 5 am in order to ready to take a swim with whale sharks at the cost of US$65 pp. I got up early and watched the best sunrise of this trip over La Paz.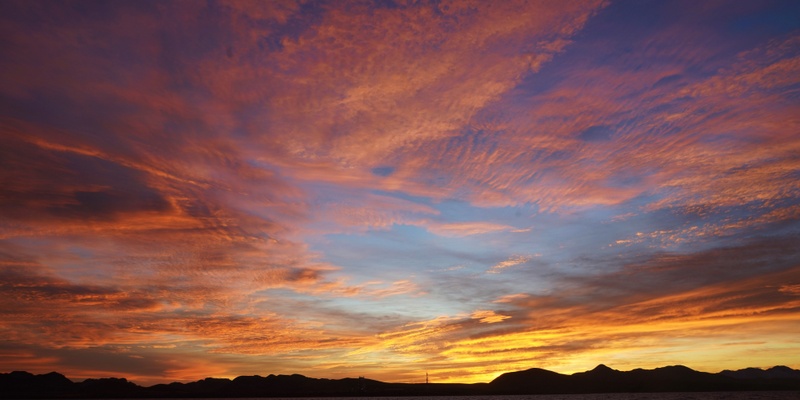 In recent years, a number of whale sharks have gathered in a shallow bay near La Paz. Swimming with whale sharks has become a major tourist attraction. In order to protect these mammals and conserve the bay, the local authority has introduced some regulations. I am all in favour of a proper management regime. Unfortunately, the regime seems unnecessarily burdensome.
First, our boat had to moor at the entrance of the bay.
Second, the local operators would come along with their smaller vessels and take ten in each boat. They provided us with wet suits. It was cold and windy.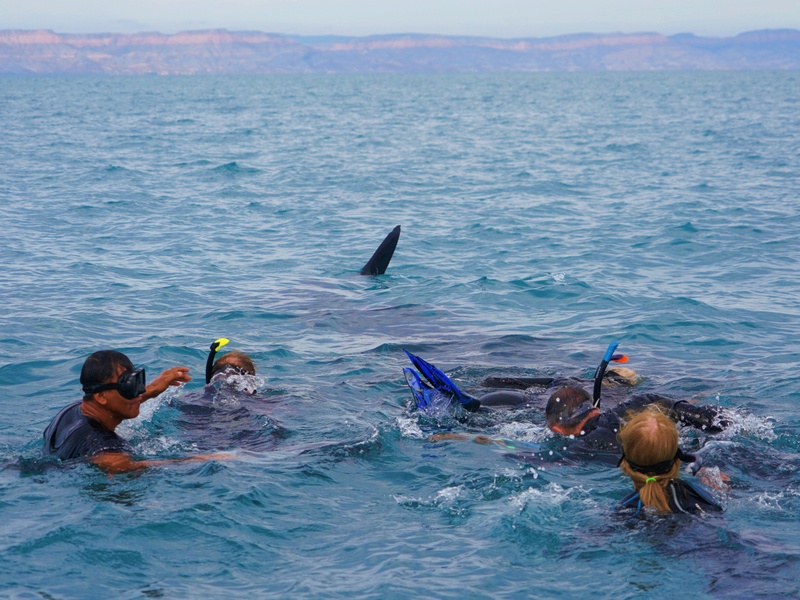 We had a long ride before reaching a control point at a pier where a lady counted the number in each boat and checked we all had a life jacket on. Mark said over 100 vessels had been licensed to take tourists to watch the whale sharks. But at any time, no more than 14 boats can enter the protected bay area. As a result, one of our groups which could not get a place in the first slot, had to wait for two hours.
Third, all the 14 vessels had to wait in the harbour area till 8 am. Then they sped towards the bay. The journey takes over half an hour.
Fourth, each passenger could snorkel with whale shark three times. A guide can take a maximum of five passengers each time. With ten passengers, our guide made six short snorkelling trips in about 30 minutes.
Fifth, the water was shallow and I could easily see the whale shark. When the guide told us to jump in, we would get into the water. Once I put my head into the water, I saw this wonderful gigantic creature swimming slowly below me. It's unreal!
I happened to land on top of it on all the three occasions. Hence, I missed the chance to get a glimpse of it from the side or at its front. Eddie told me he was swimming in front of its mouth and could have touched its baleen! Another group watched one feeding in an upright position for a few minutes.
I found the long ride back to our boat unbearably. It was windy and cold. I felt freezingly cold in a wet wet-suit. I worried that I might catch a cold. I rushed for a hot shower as soon as I was back on the boat.
Two hours later, the last group returned to the boat and we set sail after lunch. Our quiet afternoon was livened up on arrival of a school of bottlenose dolphins.
Day 10 March 3
Mark told us to get up to watch spectacular landscape at sunrise. We all had high expectations. Unfortunately, as the sunrise was so-so, we did not see the pink sandstone cliff and rock formations lighting up at sunrise.
After breakfast, we spent over two hours ashore. Marked first took us on a fossil hunting walk showing us fossils of a whale bone and a turtle.
Then I had a lovely stroll along the beach and explored a dry sandy gorge. We returned to the boat before 10:30am.
The weather was good, nice and sunny. We had time snorkelling in another bay. The water was chilly but comfortable once I got in. I saw a lot of fish by the rocky coast.
We saw a big school of common bottlenose dolphins which rode on the surfs. They jumped remarkably high. It was the best dolphin jump show I have seen!
After lunch, we headed off to an islet comprising a few rocks. Mark explained that hundreds of hammerhead sharks were once swarming in these waters. But they have either been killed for their fins or have flee.
Now we found many Guadalupe fur seals and brown booties. When I looked at photos taken earlier in the morning, I found a brown booty hanging out with the pelicans on the beach.
We also saw many pelicans and frigate birds on the rocks. California sea lions were around too.
In the late afternoon, the sea became very rough. I stayed in the common room most of the time till the captain told us to get out to watch whales.
This time, we spotted three Bryde's whales which belong to the same group as blue whales and humpback whales. They closely resemble their close relative – the sei whale, and are remarkably elongated.
Bryde's whales are fast – moving displaying seemingly erratic behaviour compared to other baleens. We watched them surface half a dozen times over half an hour. They changed directions all the time and it was not easy to know where it might surface.
Day 11 March 4 Wednesday: Whale Watching near Isla Monserrate
Today we had an excellent whale watching day seeing many blue, fin and humpback whales!
The blue whale, the largest animal known to have ever existed, can reach a maximum length of about 30m and weigh 190 tons. It has a long and slender body that can show various shades of greyish-blue dorsally and somewhat lighter underneath.
There are currently five subspecies of blue whale locating in different parts of the world. They were almost hunted to extinction until the International Whaling Commission banned all hunting of blue whales in 1967. Today, the estimated population of blue whale is between 10,000 and 25,000.
Today, we saw the Northern subspecies, B. m. musculus that is found along the US West Coast and Mexico. According to Mark, these blue whales have come from California to winter here.
Its diet consists almost exclusively of krill: they feed at the surface and at depths greater than 100m. They capture krill through lunge feeding, a bulk filter-feeding strategy that involves accelerating towards a prey patch at high speeds, opening the mouth 80-90°and inverting the tongue, thus creating a large sac. They can engulf as much as 220 tons of water at one time. After squeezing out the water through their baleen plates, they swallow the remaining krill.
We watched a beautiful sunrise. Soon we spotted a couple of blows of blue whales in different parts of the bay. As it would normally dive for about 13-15 minutes, we could take a cup of coffee or go to the toilet before coming out to watch its next blow.
Apart from blows of blue whales, we also saw many from humpback whales.
Besides the whales, we also had a fun time watching a big group of pelicans feeding.
After lunch, we found some pink patches on the sea surface which turned out to be krill, staple food for blue whales. Suddenly we saw a whale showing up on its side. It was feeding! For the next two hours, we watched several blue whales feeding. It was a spectacular show.
The whole feeding process took place very fast. At first, I hardly made out what was happening. Also, I was often at the wrong place at the wrong them. As I spent most of my time on the upper deck, I missed the chance for having close-up views of the whale, its mouth and baleen.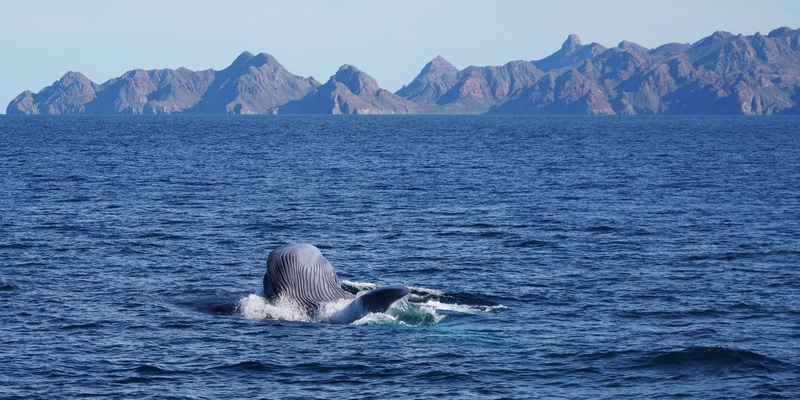 I could have a perfect shot when one came up on the right side of the bow where I was standing. I saw its mouth open in a split second. Unfortunately, all happened so fast when my camera had not even been turned on. C'est la vie!
Towards the late afternoon, we spotted two fin whales not far from a blue whale. We also had a great show with a large pod of common bottlenose dolphins.
To finish off a wonderful day, our nice crew spoilt us with margarita on the deck at sunset. Then a blue whale appeared with a blow near the coast against a setting sun. A perfect composition for postcard photography!
Day 12 March 5 Thursday: Snorkelling with Sea Lions
We were told to get up early for a morning swim with sea lions. By 6 am, our boat was moored next to a few rock outcrops with a big colony of California sea lions. On the cliff, one could find yellow-foot gulls, brown and blue-footed booties, frigate birds and pelicans.
After breakfast, we began cruising along the rocky shore. After the cruise, we had time to swim with the sea lions.
The water was around 21°C. I don't like cold water and have already swam with sea lions in the Galapagos. After some hesitation, I picked up my courage and jumped in!
I survived and had a dozen sea lions swimming around me. One got close behind me and I felt a push. I was scared and turned my head around. But it had gone. The water was not freezing but uncomfortably cold. To play safe, I got out after 10-15 minutes.
Swimming with the sea lions was fine. But I was more thrilled to watch large schools of fish swimming by. The sea lions and birds must have an easy and enjoyable life here!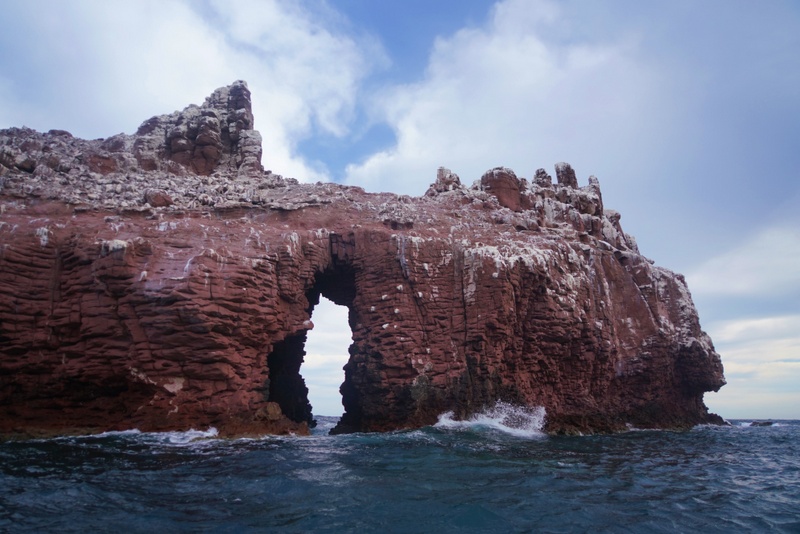 When I was got out of the water, I saw Denise in agony with a severe headache (possibly a result of the low water temperature and low sugar level) while Eddie was shivering. Andy and Sharon who had enough of the cold water, were getting out too. I was glad to get back to the boat and had a hot drink.
As many were still swimming in the water, Scott offered to take us on the last scenic cruise of the trip. I had a wonderful cruise: many sea lions swam towards our boat jumping up and down. They seemed to take us as old friends!
When everyone was on board, we began our homeward journey. It was a sunny afternoon. A few of us stood at the bow hoping to find more whales, killer whales, large pods of dolphins and mobula rays.
Nothing exciting happened. We only saw a few mobula rays jumping out of the water in a distance.
Around 5 pm, Andy invited us to a drinking party to celebrate the birthday of his wife, Mary. They are sweet.
We all enjoyed watching sunset with a glass of wine on deck. Then a mobula ray jumping out of the water at sunset marking a perfect ending of our trip!
March 6 Friday: End of Trip at Los Cabos
I had packed my bag the night before. Everyone was ready to disembark after breakfast. Anyway, I watched sunrise for the last time from the boat with a mug of coffee.
By 8 am, we were off our floating home and stood on solid ground. Rachel had arranged a bus to take us to the airport at 10 am. We therefore had two hours in Los Cabos which does not appeal to me.
I crave for cerviche (the Latin American dish of fish cured in lime juice). Before leaving Mexico, I must try a good one. I found a nice local restaurant and was having cerviche when Cathy and Annie (my cabin mates) passed by. They sat down and we had a happy reunion!
It took 45 minutes to get to the airport. I said goodbye to my new friends. We all treasure the most amazing and unforgettable moments on this wonderful Baja California journey.
My plane to Los Angeles was delayed for an hour till 3 pm. Andy and Mary were on the same flight and we had fried rice and Thai noodles together. Shortly after 10 pm, I boarded the Norwegian Air flight to Barcelona.
I arrived in Barcelona after 6 pm on March 7. My connecting flight to Gatwick departed after 9 pm. I finally arrived in the UK around 10:30 pm after spending 15 hours in the air and another 15 hours in three airports.
Remarks
I have to thank Mike and Rachael for luring me to join the whale watching trip to Baja California. As a result, I have spent a fantastic month in Mexico, visiting Puebla, Oaxaca, Chihuahua and the Copper Canyon and watching the natural wonder with millions of Monarch butterflies overwintering in sanctuaries and whales along the coast of Baja California. It is one of the best journeys I have had.
Mexico is an amazing country with rich tourism resources. As at 2019, it has 35 World Heritage Sites (27 cultural sites, 6 natural sites and 2 mixed sites). I have been lucky to visit five World Heritage Sites during my stay in Mexico namely Puebla, Oaxaca, Paquime, the whale sanctuary at San Ignacio Lagoon and the Monarch butterfly biosphere reserve. All the places I have visited are worth visiting. Of course, I have my favourites and treasure some unique experiences.
First, I find Oaxaca charming and enchanting. With its rich history, beautiful cityscape, architecture, culture and food, Oaxaca is sensual enticing and unforgettable. There is so much to see and do in the Oaxaca Valley which was home to the Zapotec civilisation, one of the earliest complex societies in Mesoamerica and the later Mixtec culture. I shall definitely return here to see the celebrations during the Day of the Dead (October 31 – November 2), to revisit Monte Alban and explore other archaeological sites in the area.
Second, the annual migration of the Monarch butterflies is indeed most intriguing and incredible. I have visited three reserves namely El Rosario, Cerro Pelon and Piedra Herrada. They have totally different topography, character and ambience. El Rosario undoubtedly boasts the biggest colony: the scenes with millions of butterflies flying around or covering the trees which turned into orange are awesome, spectacular and beyond description. One must see to believe!
But I enjoy my time in Cerro Piedra even more: it resembles a holy sanctuary that is tranquil and inspiring. Though I must have spent some ten hours gazing at these majestic butterflies, I have not seen enough. I must return in November to watch them arriving next time.
Third, the whale watching trip exceeds my expectations. I think I must have seen hundreds of whales before this trip. This time, I have seen six types of whales including false killer and Bryde's whales that I have not never seen before. I have also watched countless blows far and near.
But what has made this whale watching trip special is the experience and encounters with whales.
I have seen blue whales a couple of times. But it is the first time in my life to watch them feeding for some two hours. How amazing!
I have seen numerous humpback whales in both Arctic and Antarctica waters. But it was the first time I spent hours watching a large group of rowdy humpback whales and their mischievous behaviours next to our boat. How many people can attend a live concert of humpback whales? I am the lucky few who have a chance to do so!
I have seen a whale shark in Maldives while diving and two in Mozambique for a split second when I jumped into the water from a tourist boat. But this time, I was snorkelling three times a few metres above the amazing giant for one to three minutes. It swam slowly enabling me to see its white spots, its body, a deep cut on one of the sharks back and their enormous dorsal fin and tail. I wish I had a chance to swim next or in front of it so that I could get another perspective. I am too greedy!
Of course, the most amazing experience was when I touched the soft skin of grey whale. San Ignacio Lagoon is a paradise for whale encounters. I could not have imaged how these amazing mammals would come on their own accord to us to be caressed like a pet. Their skin is unbelievably soft. They are intelligent and naughty: it is amazing to watch them acting in concert to play tricks on my friends on the two other boats. Simply mind blowing.
The sunrise in the lagoon with the whales hop-spying and blowing in all directions are surreal and most beautiful and memorable.
Many passengers on the boat have taken this trip before. I can understand their passion as one never knows what to expect on these trips. I love to watch their grey whales in the lagoon again. Unfortunately, this trip is expensive and I might not take a second trip. Nonetheless, I shall always remember my close and blissful encounters with these amazing grey whales.
I like Baja California and have originally planned to travel overland from Los Cabos to San Diego. I have changed my plan in order to visit my Godmother in Taunton. Hence, I would definitely return one day to see Baja California by road.
Mexico is one of my favourite countries. I am sure I would return for the sixth time and spend a few months to explore this amazing country.