March 12 – 17 Divisadero, Cerocahui, Urique, El Fuerte & Los Mochis
February 12 Tuesday: Creel to Divisadero by bus
Guests staying at La Troje often highly recommend its excellent coffee. We paid 150 MXN for the coffee and two pieces of carrot cake. Very good indeed!
The bus ride to Divisadero takes less than an hour (60MXN pp). We planned to take the 10:15 am. But it was late. We did not arrive in Divisadero till 12:30 pm.
Divisadero is a key train stop and vista point with amazing views down into the Urique Canyon. We stayed at the hotel at Divisadero and paid over 2300 MXN for a room. Sadly, we were only given a room at the back without canyon views. We were disappointed at the service as well. We had two small bottles of water in the room. When we asked for more, we were told to pay MXN 30 for a bottle. What a reap-off!
Anyway, the only benefit for staying here is the unrivalled canyon especially at sunrise. Guests can enjoy fantastic views from the bar and the restaurant. Two free guided tours are also available.
The hotel is about 2 km from the cable car station and the adventure park. After having a cup noodles for lunch, we began our exploration and followed a well-maintained trail along the rim. The weather was excellent and the views were awesome.
I was walking ahead while Kylie stayed behind to take photos. Later on, I took a path while she followed another. I ended up at the cable car station and checked out the zip-line and cable car what we might take the following day.
Eventually, I met her back in the hotel just before 4 pm when we joined a free guided walk. It was a short and easy walk to visit an indigenous family. We did not have a chance to watch sunset as the hotel is east facing.
The hotel offers a set dinner at 350 MXN pp. The menu did not look appealing. We therefore had porridge in our room instead.
February 13 Thursday: Divisadero to Bahuichivo by bus
We got up before 6 am to watch sunrise and were not disappointed.
We enquired about the timetable of the bus to Bahuichivo as soon as we arrived at the hotel. But we got different answers and were confused. One receptionist said it would arrive at 1 pm while one mentioned 2 pm. Another girl said it would be at 3 pm. Oh, God! We decided to be back around 12:30 pm to wait and hoped there would be a bus around 1 pm.
The plan for the morning was to walk to the cable car station. While I would definitely take the zipline, Kylie who had never taken zipline before was scared, might take the cable car. Instead of joining the free guided walk to the park, we decided to start early so that we could have more time. Thing worked out well.
We arrived at the cable car station when it opened at 9 am. We were the first customers at the ticket office. The energetic staff persuaded Kylie to try to zipline which would be very safe. We finally took a 800 MXN – package that included five short zipline rides, crossing two suspension bridges and a cable car ride.
It is great fun and the best adventure I have ever had in a canyon. Kylie seemed to enjoy the thrill and experience once her fear had gone.
The last zipline ride brought us to the cable car station. We had a short hike to the edge and had fantastic views of the canyon and the Urique River.
We managed our time well and were at the bus station before 1 pm. No bus came at 1 pm. A guy selling tortilla at the bus stop said one would be coming. We gave up and adopted a wait-and-see attitude.
Around 1:45 pm, a bus turned up. I rushed up and asked the driver whether it was heading to Bauichivo. He said "Yes"!
Kylie had just gone to the hotel. I asked the tortilla guy's girlfriend to go to the hotel to find Kylie while I put our suitcases to the luggage compartment. I could not believe we were finally on our way to Bahuichivo.
We had booked two nights at Hotel Paradiso de Oso, a family-run hotel in Cerocahui which is over 10 km from Bahuichivo. We eventually arrived after 3:30 pm and were met by Hugo who had been waiting for us for over an hour.
Hugo suggested us stretch our legs and take a short walk to the creek behind the hotel. When we got back to the hotel, we met Diego, the American owner of the hotel. He moved here some 30 years ago and has built the hotel from stretch. He gave us a welcome drink: I had margarita while Kylie took a hot chocolate.
We like the hotel which issimple, spacious and clean. Our room was cozy and comfortable with a fire place. The home-cooking prepared by Annie, the chef, is fantastic. We ended up having two dinners and a lunch at the hotel (250 MXN pp per meal).
February 14 Friday: Urique
Urique, an ex-mining town at an elevation of 560m, lies at the bottom of the deepest of all the canyons, the Urique Canyon measuring 1870m from rim to the Urique River. This town is 30 km from Batopilas and can now be reached via a dirt road by 4WD or one to two days' hike.
We booked a full day tour for USD71pp. (Late on Kylie met a hotel owner from Cerocahui who charged less than 1000 MXN pp for the trip and about 100 MXN for a meal). Anyway, Diego was not feeling well after driving a group of five guests to El fuerte (8 hours' drive one way). Hugo who is nice but quiet was our guide.
We had a scenic drive. One of the best views of the Copper Canyon is at the Mirador Cerro del Gallego. Hugo dropped us off and told us to follow a trail to the lookout. As he did not make clear the direction of the trail, we almost got lost when we could not find the trail. While I thought the lookout would be at the rim and we should be walking uphill, the lookout is actually located some 100m below from where Hugo dropped us off.
Instead of taking 20 minutes to reach the lookout, we took half an hour. Hugo might have realised something had gone wrong. I saw him walking up the trail to look for us.
We stayed at the lookout for over 20 minutes to enjoy the views and take photos. But the light was too strong. We met a large group of American tourists who had a picnic lunch at the lookout.
We followed a narrow winding road down the nearly sheer canyon wall with numerous hairpin bends. It is a thrilling drive.
At 12:30 pm, we reached Urique by the river. Urique is smaller with a population of over 1,000. It is not as picturesque, atmospheric and interesting as Batopilas.
It was very hot and we had lunch in Hugo's favourite restaurant. We ordered a bowl of cold shrimp soup each. The soup cost 170 MXN here but 130 MXN in Batopilas!
At 2:30 pm, we departed for Cerocahui. We arrived at the hotel just after 4:30 pm. Kylie suggested a hike to the Cave of Curucez (cross) mentioned by Diego the night before. In this cave, some 60 locals fighting for independence had hidden and subsequently died during the Spanish flu.
Hugo told us to follow a creek and walk for about half an hour. We followed his instruction and saw a few red arrow marks along the trail. We almost missed it. Kylie was persistent and finally found it.
It was 5:30pm when we began our search for the trail home. It was getting dark and we could not find the red arrow marks. I was not afraid as I knew we would find our way out as long as we followed the creek. We were right.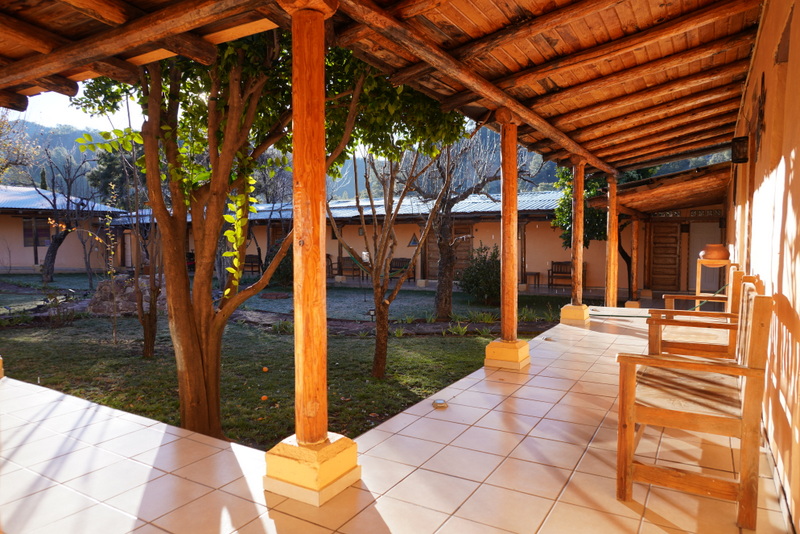 When we were about 500m from the main road, we saw Hugo's cousin in a distance. Hugo had sent him to look for us!
It was after 6pm when we got back to the hotel. Diego was feeling better after a full day's rest. He made me a margarita (US$2) and we talked about a few places he likes most in Mexico. He suggested us join his special trips in future.
Tonight, we had tilapia for dinner. The fish was light and delicious. I am not a dessert person. But the cheesecake prepared by Annie was wonderful.
February 15 Saturday: Bahuichivo – El Fuerte by train
We decided to take El Chepe train from Bahuichivo to El Fuerte. We have heard the section is most spectacular and impressive. As the train would depart after 3 pm, we had a morning for sight-seeing. Hugo proposed us a hiking tour to the Cerocahui Waterfall (USD11 pp).
We took Hugo's advice and had a leisure hike partly through a forest to the waterfall.
On the way back, we stopped in the town city of Cerocahui and visited the Church San Francisco.
We had a nice lunch in the hotel before departing at 2 pm for the Bahuichivo train station. A lot of passengers were already waiting at the station. But by 3 pm, we saw no trace of the train and there was no announcement whatsoever.
People started to move around. What was happening? When would it arrive? Kylie wandered off and finally found a hotel owner from Cerocahui who speaks good English. He got news from his friend who was on the train and told Kylie that the train would arrive at 5 pm.
The train did not turn up till 5:45pm and set off before 6 pm. It was totally dark within half an hour. I hardly saw anything during entire four hours' journey to El Fuerte which had cost me over 900 MXN. I am yet to verify whether the Copper Canyon train journey can be billed as one of the world's most scenic train rides. What a pity!
We arrived in El Fuerte after 10 pm. Diego had booked a room for us at the Hotel Torres Del Fuerte (1400 MXN with breakfast)which had arranged a taxi to pick us up. The poor driver had waited three hours and we gladly paid him MXN 200 for the short ride.
Our hotel is located in a restored antique hacienda which was owned by Torres family for over 200 years. We were exhausted and hungry. It was too late to go out. We just had cup noodles in our room. By the time I lay down in my bed, it must be about 1 am.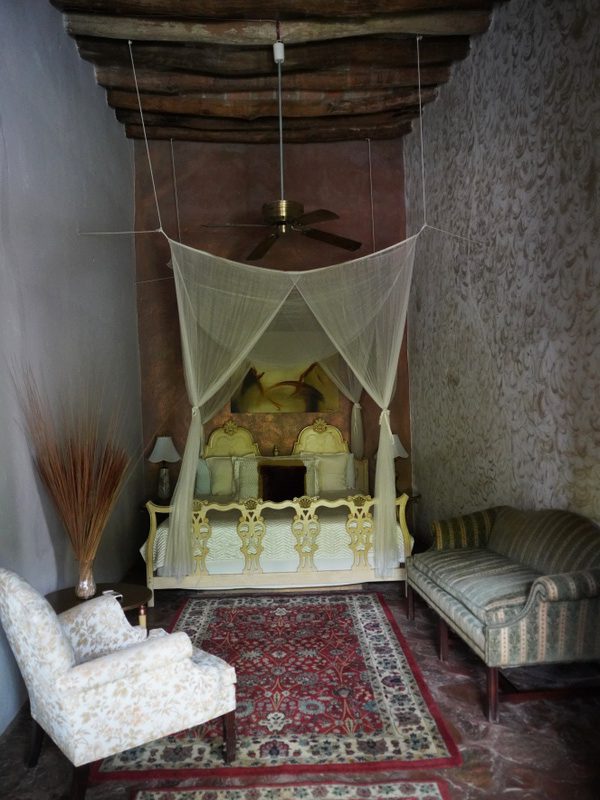 February 16 Sunday: El Fuerte – Los Mochis by minibus
El Fuerte was founded in 1563 by the Spanish conquistador Francisco de Ibarra, the first explorer of the Sierra Madre Occidental mountains. In 1610, a fort was built to ward off the Zuaque and Tehueco Native Americans. For nearly three centuries, El Fuerte was the most important commercial and agricultural centre of the vast north-western region of Mexico. For years, it served as the gateway to the vast frontier of the northern territories of Sonora, Arizona and California. Today, it serves as a gateway to the Copper Canyon and tourism is a major industry in town.
We had a fantastic sleep and did not get up till 9 am! The room was totally dark and the bed was comfortable. We had a nice breakfast in the garden which is most beautiful and peaceful.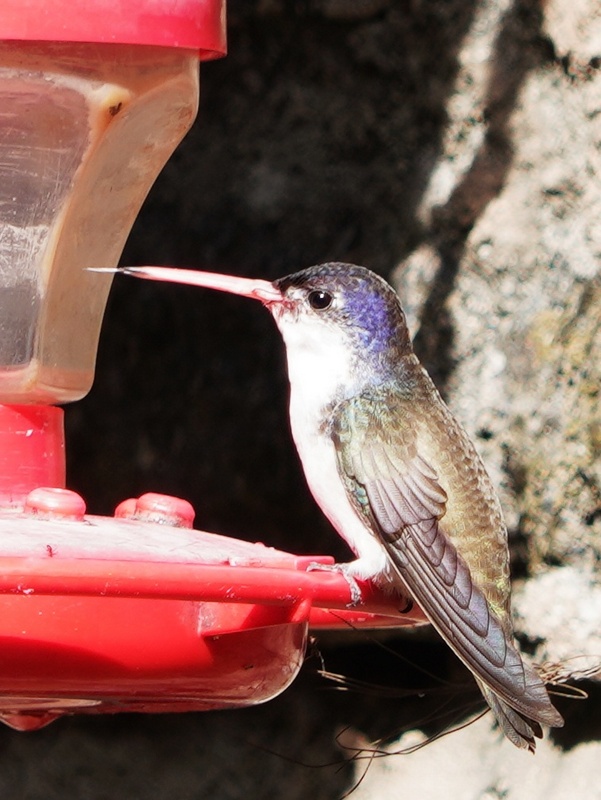 We had a leisure day as we planned to take a bus to Los Mochis in the late afternoon. This small quaint colonial town has a few main streets which are lined with grand colonial houses.
We found it easy to explore on foot. We first went to Calle Juarez market in order to find out the bus timetable. Then we walked to the central plaza planked by the Church of Sacred Heart of Jesus and Palacio Municipal, Casa de la Cultura originally known as "House of Vaults" built in the 18th century.
A visit to the historical fort located at the highest point of the town is a must. We walked up the gentle path to the fort which has been turned into a museum. There are exhibits on the history of the town and its leaders and leading families. There are also interesting many old photos.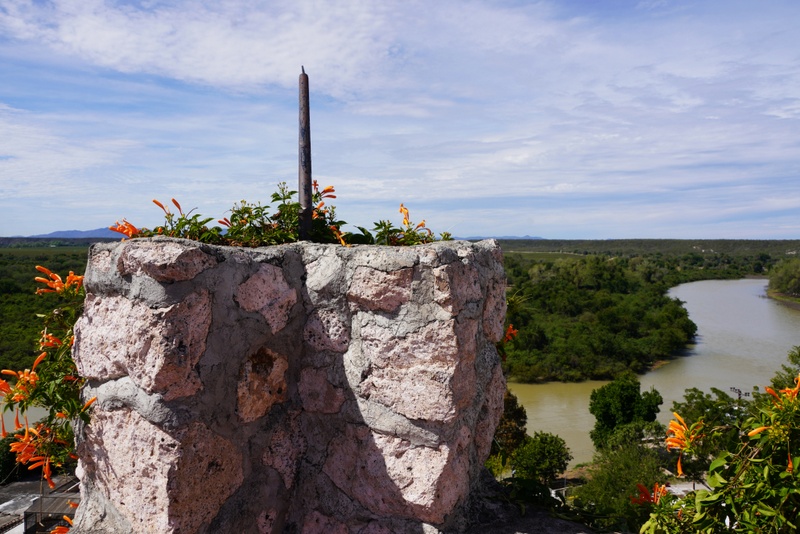 The panoramic views of the city, Fuerte River and the flat plain are fantastic. After the fort, we stopped by Hotel Posada Hidalgo built in 1890 by Rafael Aimada, a wealthy and influential "alcalde" (Mayor) who spent five years and 100,000 gold pesos in constructing the mansion.
Before leaving the town, we had three large glasses of fruit juice (40-50 MXN for each) between us. They are natural and refreshing. Not far from the hotel, we managed to get on an air-con minibus to Los Mochis (80 MXN pp) which is about 100km away.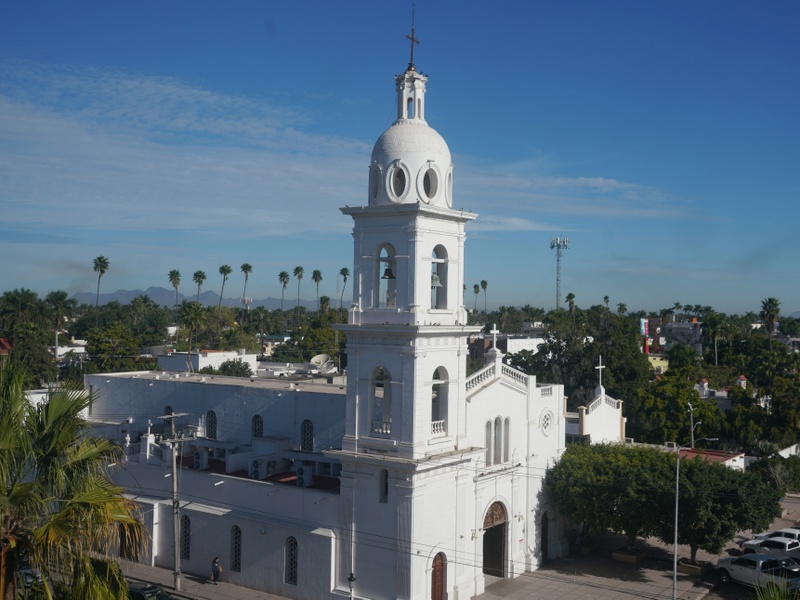 We stayed at the Best Western Plus Hotel opposite the cathedral. We did not do much as it was after 5 pm when we settled down. We took a stroll around in the leafy central plaza and visited a large mall. We even bought a whole roast chicken for less than 80 MXN for dinner. Life here is cheap, easy and laid-back!
End of Our Copper Canyon Journey