Hangzhou, Hongcun & Huangshan January 5 – 8, 2020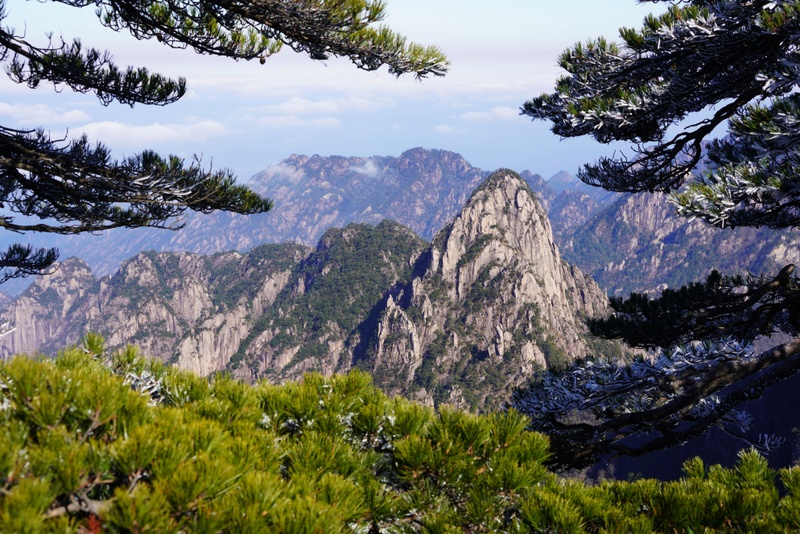 Mount Huangshan (Huangshan) is the most beautiful mountain in China. After my first visit in early 1990s, I always want to return to see this majestic mountain in all seasons especially in the winter to see the mountain peaks and pine trees with snow.
I had time in early January before leaving for Mexico in end January. So I made a week-long trip with Wai Leuk, my nephew and his wife Isabel, Flora and Leung to see winter Huangshan and ancient Huizhou-style villages in Anhui Province.
January 5 Sunday: Hong Kong – Hangzhou – Hongcun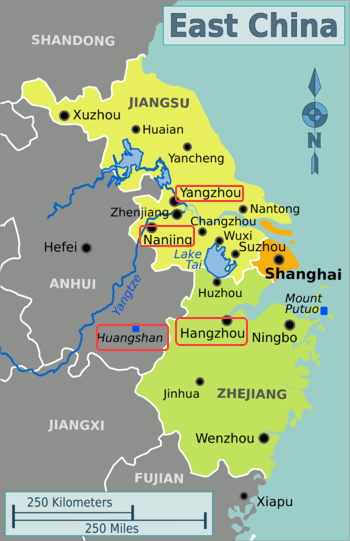 My 2-hour flight to Hangzhou 杭州 took off shortly after 8 am. Things went smoothly and Wai Leuk and Isabel who flew in from Kunming, landed shortly after 10 am. By 11 am, we were on our way to the Hangzhou East Train Station where we bought tickets for the 3:45pm fast train to Huangshan North Station (RMB110pp).
Hangzhou, the capital and most populous city of Zhejiang Province, has often been described as the most beautiful city in China. It grew to prominence as the southern terminus of the Grand Canal and was one of the seven ancient capital cities.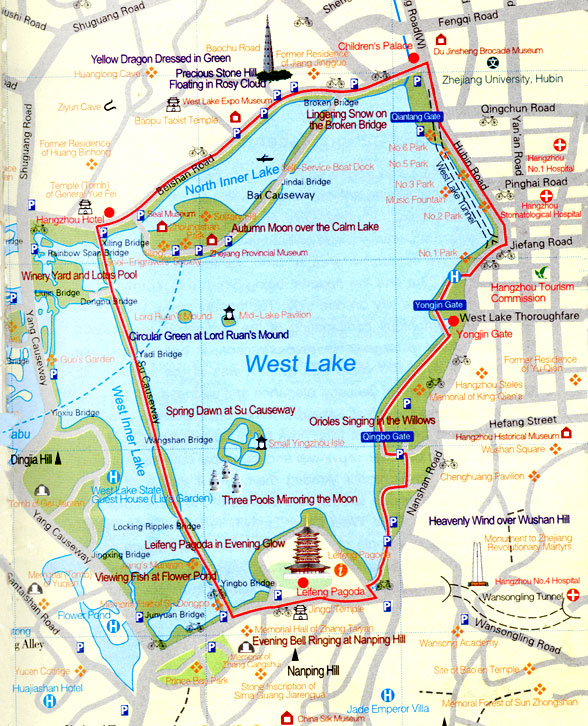 The city's landmark is the iconic West Lake 西湖, a freshwater lake with an area of 6.5km2. Divided into five sections by three causeways, the lake has numerous temples, pagodas, gardens and a few artificial islands within the lake. It is an outstanding example of a cultural landscape that displays the ideals of Chinese landscape aesthetics as expounded by writers and scholars in Tang and Song Dynasties. The West Lake Cultural Landscape has been listed as a World Heritage Site.
Known for its historic relics and natural environment, Hangzhou has been a mecca for artists, scholars and tourists. In recent years, it has also emerged as popular commercial centre where Alibaba is headquartered.
Wai Leuk has never been to Hangzhou. We therefore tried to discover as much as possible within four hours before catching the train to Huangshan. We took the efficient and modern metro to Fengqi Road which is close to the lake.
On the way to the lake, we stopped at the Former Residence of Sha Menghai 沙孟海 (1900-1992) a great master of calligraphy and seal carving, a theoretician of traditional Chinese art and a master of Shanghai School of Art.
West Lake, in my view, is always pretty but is at its best in spring. Today was Sunday and the lake shore was swarming with locals. We strolled along Baidi 白堤 (one of the three causeways across the lake).
At the end of the causeway is the Zhongshan Park 中山公園 with a cluster of attractions. We had time only to visit three museums.
First, A Library housing the Siku Quanshu 四庫全書which compilation was ordered by Qing Qianlong Emperor 乾隆皇帝 in 1772. An editorial board comprising 361 scholars was set up to gather and review books bought to them. Some 3,826 scribes also laboured in this momentous task.
The Siku Quanshu Zongmu Tiyao published in 1793, contains accurate information of bibliography of the 3,593 titles in the Siku Quanshu itself. In addition, it contains bibliography information of 6,793 other books that are not available in Siku Quanshu. It became the largest Chinese book catalogue of the time.
The emperor had commissioned seven copies of the Siku Quanshu to be made. Four copies were kept in the Forbidden City, Old Summer Palace, Shenyang and Chengde while three copies were sent south to Hangzhou, Zhenjiang and Yangzhou. I am glad to see the library and the exhibits that had not been destroyed.
Second, a small museum built on the Zoushidian Relic site where over 50 precious artefacts including Buddha statues, ceramic and sutra were unearthed in underground chambers.
Third, the Zhejiang Museum on ceramic and porcelain in the region. The presentation on the long history and development of ceramic and porcelain was good and informative with illustrations in both English and Chinese.
After having noodles and baked bread, we returned to the train station just in time for the fast train to Huangshan. We had a comfortable train ride: three of us all fell asleep.
We arrived at new Huangshan train station just before 6 pm. But the connecting bus for Hongcun left at 6 pm sharp. It is a good example illustrating the lack of coordination between the train and bus schedules and inconsideration on the part of the management.
Hongcun 宏村, a World Heritage Site, is about 65 km away. We paid RMB200 for a taxi ride. Wai Leuk and Isabel paid an entrance fee of RMB104 and 94 respectively for a 3-day pass. As I am over 65, I can go into the heritage village for free.
I visited Hungcun in 2014 for a couple of hours on my way to Xidi 西遞(another World Heritage village in the vicinity). This time we stayed in a YHA hostel with five rooms housed in a 200-year-old traditional home. As it was low season, we paid under RMB250 for two rooms.
It is lovely to travel in low season in China. The village is not overrun by tourists. The staff showed our way to a restaurant by the Moon Pond. We had an excellent meal for about RMB200. Good value!
When we returned to the hostel, Wai Leuk and Isabel joined the staff to sing for over half an hour. We thoroughly enjoyed the rustic atmosphere and the staff's hospitality.
January 6 Monday: Hongcun – Huangshan
There are numerous traditional Huizhou 徽州-style villages at the foothill of Huangshan and in the present-day Zhejiang and Jiangxi Provinces. Hongcun with a history of 900 years, is one of the ancient villages dating backto the southern Song Dynasty. In 1131, the Wang clan settled here with 13 families/houses. It flourished during the Ming (1368-1644) and Qing (1644-1911) when it became a thriving trade centre.
The village is arranged in the shape of an ox with nearby hill interpreted as the head, and two trees standing on it as the horns. Four bridges across the Jiyin stream can be seen as the legs while the houses of the village form the body.
The architecture and carving of the approximately 150 residences dating back to the Ming and Qing Dynasties are said to be among the best of their kind in China. Hongcun, which was featured in the film Crouching Tiger, Hidden Dragon, has been listed as a World Heritage Site since 2000.
I got up before 7am and had a leisure walk near the hostel for over an hour and a half. I was alone and was able to enjoy and photo the Southern Lake and traditional houses undisturbed.
I returned to the hostel and had breakfast with Wai Leuk. We paid RMB10 each for a wholesome and healthy breakfast with steamed buns, porridge and eggs.
Then we took an hour-long guided tour with a local guide. We started at the Southern Lake, visited the Southern Lake Academy (a grand complex covering an area of over 6,000m2 built in 1814 with six family schools) and the Chengzhi Hall (ancestral hall of the Wang clan) and several houses.
The guide explained how the Wang clan chose this place with good fengshui (Chinese geomancy) to settle down in the 12th century and prospered. We ended the tour where the two trees that represent the cow's horns, are located.

Though I had a quick tour of Hongcun before, I thoroughly enjoyed the guided tour which refreshes my memory of the history of the village and key places of interest. Without doubt, the villagers seem to enjoy a higher standard of living today.
Nonetheless, I find the village too touristy. I am sorry to see most of the houses have been turned into guesthouses.
Instead of taking the public bus which would leave at 11:30 am or 1:45 pm, we decided to pay RMB100 for a car so that we could spend more time in the village.
We left at 12:30 pm for Tangkouzhen 湯口鎮, the southern entrance of the Huangshan Scenic Area. After having a nice lunch and storing our luggage in the restaurant, we walked to the entrance. As an elderly person, I did not pay while anyone under 60 has to pay an entrance fee of RMB150. Nonetheless, I had to pay RMB65 (a reduced fare for winter) for a ride on the Yungu Cable Car.
Huangshan 黄山 (Yellow Mountain)
Located in southern Anhui Provincein eastern China, Huangshan covers an area of 154km2 with a buffer zone of 142km2. The mountain was formed in the Mesozoic Period approximately 100 million years ago when an ancient sea disappeared due to uplift. During the Quaternary Period, the landscape was shaped by glaciations.
Huangshan, a granite massif consisting of 36 separate peaks rising over 1,800m, represents the typical mountain in Chinese paintings. The highest three and best-known peaks are Lotus Peak 蓮花峰 (1864m), Bright Peak (Guangming Ding) 光明頂 (1860m) and Celestial Peak (Tiandu Feng) 天都峰 (1829m).
Huangshan has played an important role in the history of art and literature in China since Tang Dynasty. A legend dated from 747 AD described the mountain as the place of discovery of the long-sought elixir of immortality. It is famous for its magnificent landscape made of peculiarly-shaped granite peaks and rocks emerging out of a sea of clouds.
From around 16th century, this landscape and its numerous grotesquely-shaped rocks and ancient pine trees inspired the influential Shanshui 山水 (mountain and water) School of Landscape Painting. This type of painting has been taken as a representation of the oriental landscape in the world's imagination and art.
Huangshan is also of outstanding importance for its botanical richness and for the conservation of a number of locally or nationally endemic plant species. Vegetations vary with elevation: mesic forests cover the landscape below 1,000m, deciduous forests spread between 1,100m to 1,800m. Alpine grassland can be found over 1,800m. The most iconic flora is Huangshan pine trees many of which grow straight out of rocks and vary greatly in shape and size.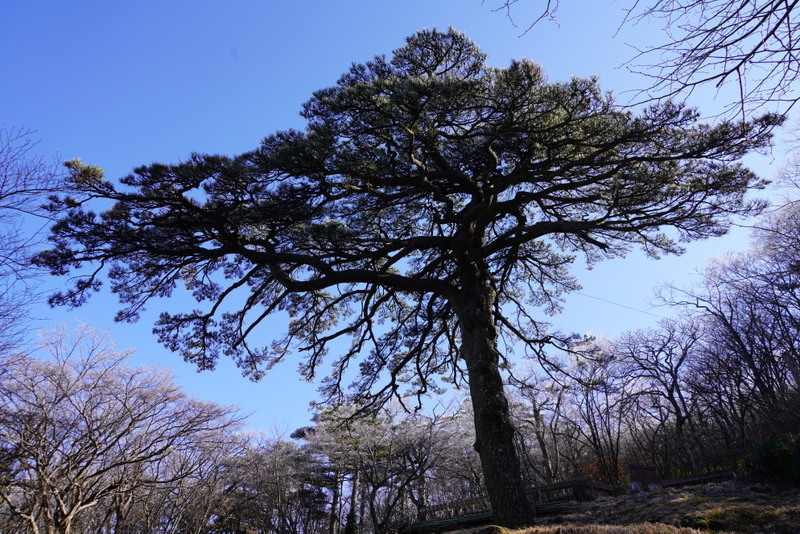 Huangshan is famous for its 'four wonders'namely pine trees, rocks/stones, sea of clouds and hot springs. Light effects especially at sunrise, are spectacular too. A phenomenon known as Buddha's Light 佛光 may appear a few times a month. The sea of clouds is often seen after rain and snow falls.
Owing to its splendid and beautiful landscape, history and rich flora, Huangshan has been listed as a World Heritage Cultural and Natural Site since 2000. The World Heritage property covers an area of 62 km2 and a buffer zone of 190 km2.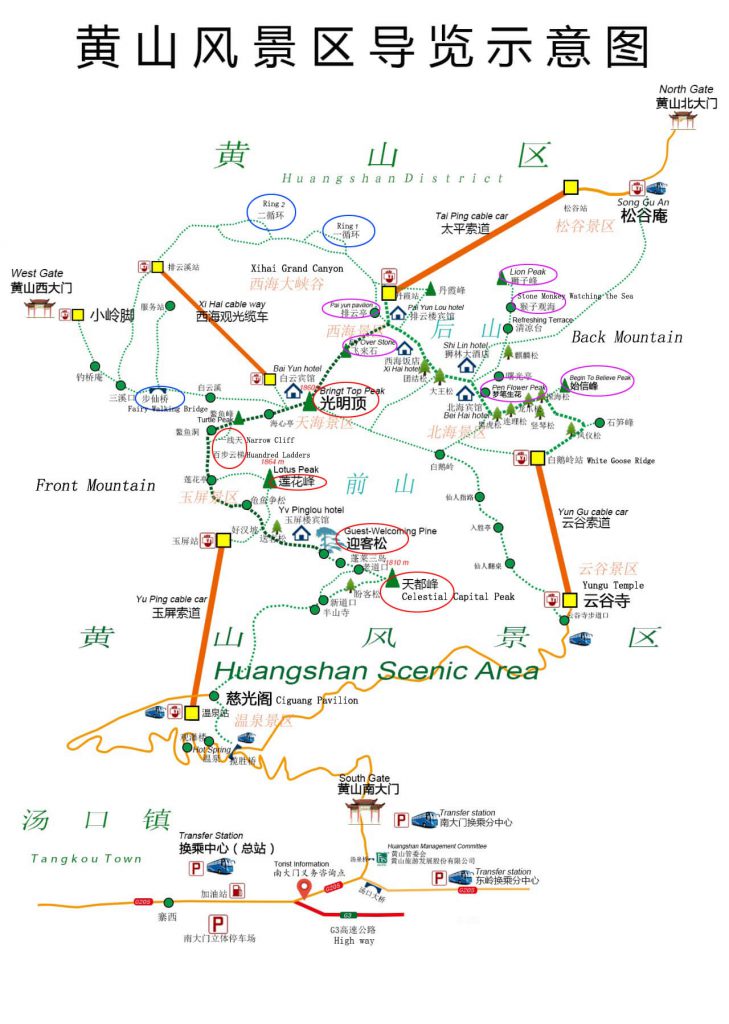 In the Huangshan Scenic Area, there are some 400 scenic spots, over 50km of footpaths, eight hotels in the mountain. three cable cars namely Yungu Cable Car 云谷索道 (from Yungu Temple to White Goose Pavilion); Yuping Cable Car 玉屏索道 (from Mercy Light Pavilion to Jade Screen Pavilion) and Taiping Cable Car 太平索道 (from Purple Cloud Peak Station to Songgu Temple Station) and a monorail tram in the West Sea Canyon 西海大峡谷 running between Cloud Dispelling Station and Heavenly Sea Station. Many visitors hike instead of taking the cable cars.
Flora and Leung took the Yuping Cable Car the day before and spent a night at the Jade Screen Pavilion Hotel. Today, they would walk to the West Sea and met us up at Xihai (West Sea) Hotel 西海酒店where we would stay three nights.
Wai Leuk, Isabel and I took the Yungu Cable Car and walked 3 km to Xihai Hotel. We arrived around 4:45 pm while Flora and Leung were still on their way.
After leaving our backpack at the hotel, I took them to the 'Dispelling Cloud Pavilion' which is one of the spots to watch sunset. We were lucky and saw both sunset and sea of clouds.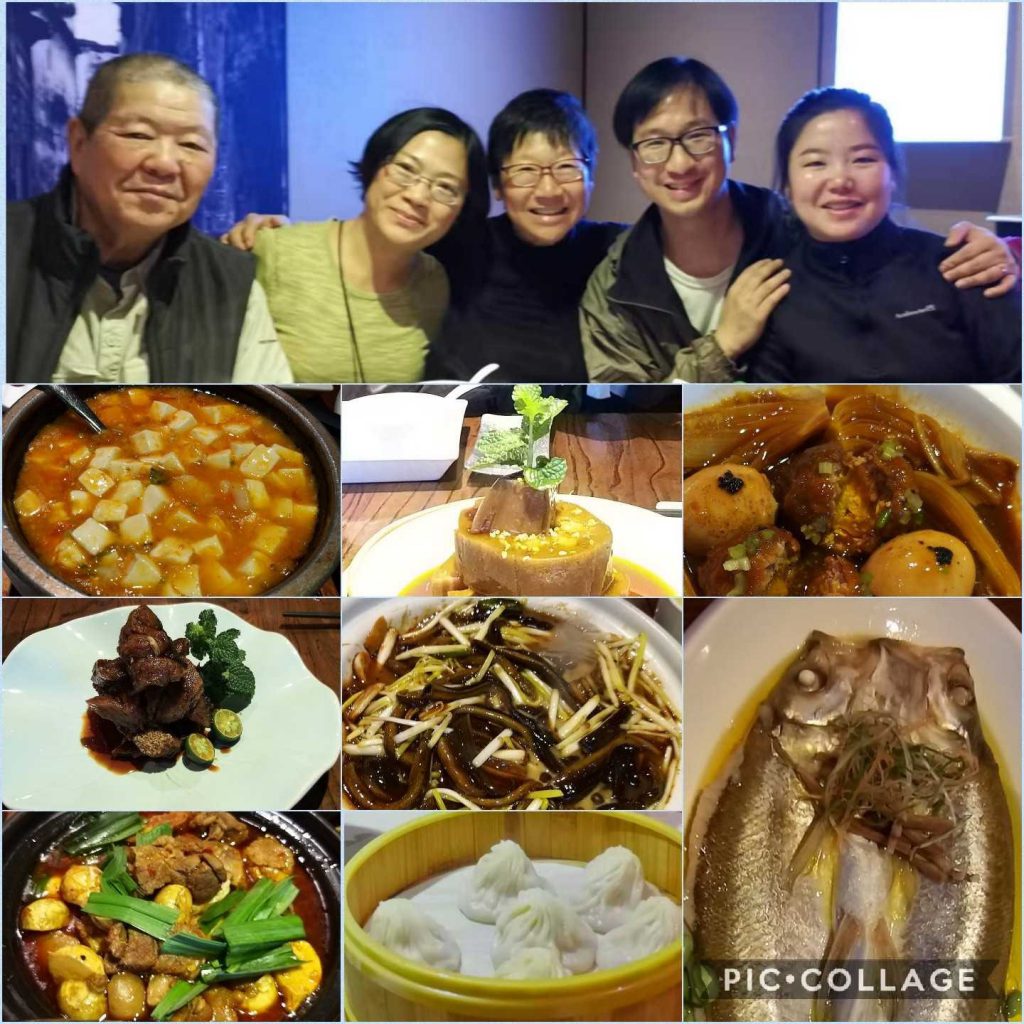 Apparently, Flora and Leung had taken the long trail to Xihai via the Bright Peak. They should have followed the shorter and gentler path via Beihai (North Sea). As a result of the long and steep hike, Leung was exhausted after walking over six hours.
I stayed in Xihai Hotel on my first visit. The 4-satr hotel has been rebuilt and is pricy (about RMB1000 for a room even in low season). Instead of having the buffet dinner (RMB180 each), we ordered a few dishes and had a delicious dinner with chili fish and lamb stew for less than RMB700. We were tired and had a good sleep.
January 7 Tuesday: Rainy Misty Huangshan
Watching sunrise is a must for visitors. But according to weather forecast, it would be raining today. When we got up before 6am, it was misty. We therefore did not bother to get out as there was no chance to watch sunrise.
Breakfast was included in the room price. The buffet breakfast was excellent. As the weather was poor, we had a late breakfast and did not set off after 10 am.
It was raining. We walked to the 'Dispelling Cloud Pavilion' 排雲樓to watch sea of clouds.
Then we followed the path to the West Sea Canyon. After walking for less than 200m, we reached the gate to the canyon which was locked (the canyon scenic area, the Lotus Peak and Celestial Peakare all closed in winter).
We had spectacular views of the cliffs and canyon on this stretch and vowed to return to take a walk down the canyon on our next visit. One can take the monorail up to the mountain or hike up.
On the way back to the hotel, Flora, Leung and I followed the path to 'Danxia Peak' 丹霞峰. But it is too slippery and steep. We dropped the idea and returned to the hotel after 2 pm.
It was raining and miserable. Everyone advised us to take a rest and got ready for a sunny day tomorrow.
Instead of dining at Xihai Hotel, we decided to go to the restaurant in Paiyunlou Hotel which is not far from the 'Dispelling Cloud Pavilion'. The set dinner with a dozen dishes cost RMB160pp. The food quality is nothing compared with Xihai Hotel. Not-value-for-money!
We were taken by surprise when we came out of the restaurant: all vegetations were covered by misty frost! It was exquisitely beautiful. We decided to walk to the 'Dispelling Cloud Pavilion'. Despite the darkness, we could see the pines in white and clouds rolling in. We were hilarious!
January 8 Wednesday: A Fantastic Day with Sunrise, Hike & Sunset
According to weather forecast, we would have a perfect day. The forecast was accurate and we had a most enjoyable day.
We got up earlier and hiked just over half an hour to the 'Stone Monkey Watching the Sea' 猴子觀海, one of the favourite spots for sunrise. It was a clear day with beautiful sea of clouds, sunrise and misty-frost pine trees.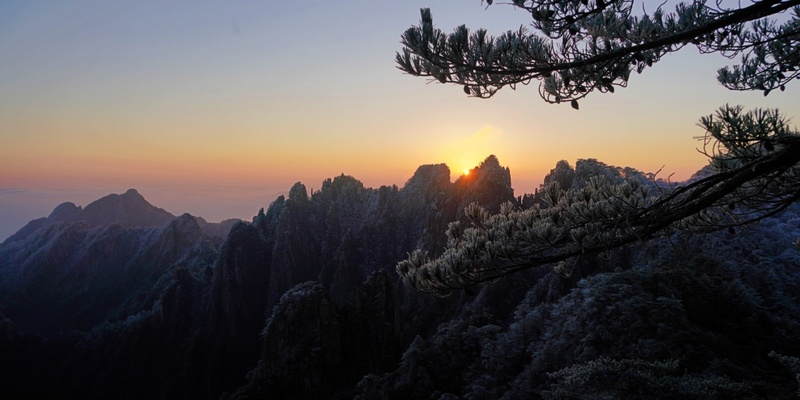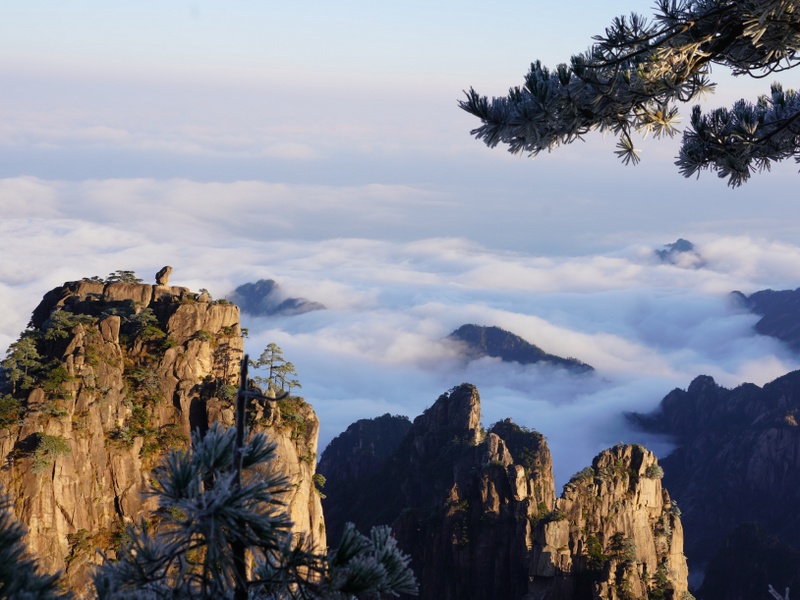 The sunrise was around 7:15 am. About 20 people were already at this tiny rocky spot when we arrived before 7am.
The Mainland tourists were excited, screamed and talked non-stopped for over half an hour. They should respect and appreciate nature and beauty in silence and learn to lower their voices in public places.
After sunrise, all the Mainland tourists left. I was relieved as I could enjoy the splendid scenery in peace.
Apart from our group, there were a few tourists from Hong Kong who did not break the silence. We soaked in the atmosphere while taking a few photos. I did not want to leave. But we had to go back for breakfast which would end at 9 am.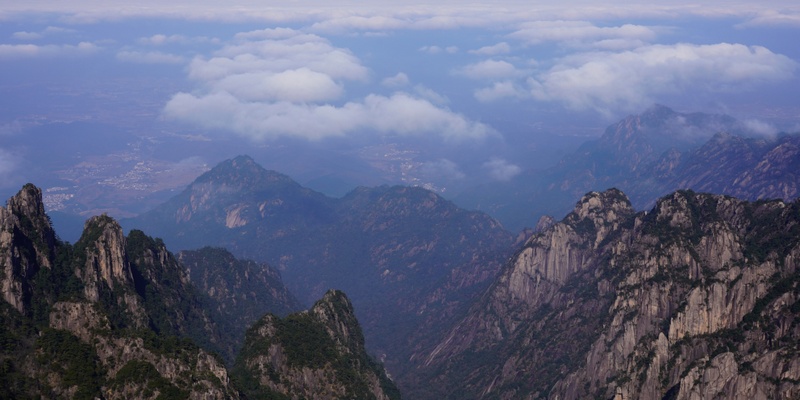 We had a great day. Wai Leuk, Isabel and I set off shortly after 10 am for the 'Begin-to-Believe Peak'始信峰which offers one of the best views in Huangshan. We stayed much longer than expected as there were few tourists around. We even had the luxury to have a picnic lunch at the peak.
Then we followed the scenic path to see the 'Harp Pine' before walking another 500m to the 'Mushroom Pavilion'. It is amazing to find lonely pine trees cropping out from rocky peaks or vertical cliffs in all directions.
It was about 1:30pm when we began our climb to the Bright Peak. The staircase just before reaching the peak is steep. Isabel was panting. At the top, we had the best views of the Lotus Peak and Celestial Peak against a clear blue sky.
We had a sunny hot day. We therefore sat down to enjoy an afternoon snack with full views of the three tallest peaks wrapping around us and a sea of clouds.
From the Bright Peak, we followed a downhill path all the way back to Xihai. On the way, we stopped at the 'Flying-over-Rock' 飛來石, another iconic spot.
A short distance from this rock, I found a perfect spot to watch sunset. Though it was not yet 4:30 pm, I suggested Wai Leuk and Isabel to sit down and relax while waiting for the magical moment.
Our patience paid off. We had the place to ourselves as all day-trippers had to rush off before 4 pm to catch the last cable-car at 4:30 pm.
After watching a beautiful sunset, we headed back to our hotel. We met up with Flora and Leung and had our dinner at Xihai Hotel which food is delicious and value-for-money.