Kyoto, Kanazawa, Shirakawa-go, Takayama, Kaga & Sakai
November 15 Friday: Kyoto
I planned to spend another week in Japan to see foliage. Cat decided to stay on for two days. So, we booked a hotel near the train station for three nights. Elsa who would also stay behind kindly gave us a lift to Kyoto. We checked in the hotel before 3 pm.
We did not do much for the rest of the day. We first went to the tourism office in the train station to get the latest information on foliage in the area. Based on the foliage forecast, the tourist office recommended us to make a side trip to Takao and Ohara.
We went window shopping and had an early dinner before 6 pm. After having vegetarian food for five days, we decided to have BBQ beef for a change.
November 16 Saturday: Takao
While on the tour, we had to get up before 6 am. Today, we were on our own and did not get up till 8:30 am. We bought a JR-bus day pass to Takao 高雄for ¥800 and boarded a bus at 10 am. We got off at Yamashiro Takao 山城高雄just before 11 am.
Takao is a sparsely mountainous area north of central Kyoto. It boasts three historic temples along its forested valley which is known for its autumn colours.
We first went to Takaosan Jingoji Temple 高雄山神護寺, the most visited temple in the area. We followed a staircase that took us to the river valley. After crossing the Kiyotaki River with crystal clear water, we stopped in a restaurant for a bowl of noodles. Then we had a strenuous uphill walk to the temple grounds. We saw many eateries and tea houses along the path which was covered with maple trees with colourful leaves.
The temple was established in 824 by merging two private temples (namely Jingan-ji and Takaosan-ji) founded earlier by Wake no Kiyomaro. It belongs to the Shingon sect.
The expansive temple grounds feature a large entrance gate and multiple halls. It has suffered repeated fires and the present Kondo Hall (main temple) and pagoda were built in 1935. We spent almost two hours in the beautiful temple grounds.
Then we took the same staircase down to the river, crossed the bridge and followed a path to the Saimyoji Temple 西明寺. Once again, we crossed the river and had a short walk uphill.Founded in the Tencho Era (824 – 834) by Chisen (one of the ten disciples of Kukai), the temple was originally built as a detached temple of Jingoji. The principal image here is Yashu Buddha.
The temple ground though small is beautiful. I saw a row of stone lanterns in front of the bell tower. The landscaped garden in front of the main hall which was covered by several maple trees with vibrant colours, was beautiful and atmospheric.
We entered the temple from the back entrance and left from the main gate. The staircase covered with moss and leafy is atmospheric. We crossed the beautiful vermilion covered Shigetsukyo Bridge.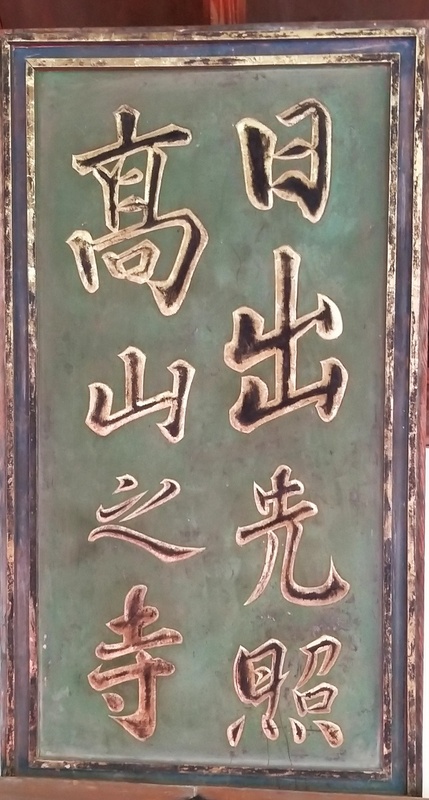 After a short walk along the river, we crossed it for the third time in order to reach Kozanji Temple 高山寺originally founded in 774 on imperial decree and was renamed Toganno Jumujin-in in 814. During the Kamakura period, Abbot Myoe (1173-1232) of the temple who obtained the patronage of the cloistered Emperor Gotoba (1180-1239) and other influential families, was able to reconstruct the temple. In 1206, it was renamed Kosan-ji with imperial approval. In later years it was regarded as a sacred site of Buddhist worship.
The temple has been badly damaged by a landslide. But visitors can still see two important historical sites here.
The Sekisui-in was originally the study hall of the Emperor Gotoba and relocated from the Kamoshinzan to this temple. This building built in Irimoyazukuri style with a gabled, hipped, shingled roof, is simple, elegant, modest and functional.
As the only building extant from the time of Abbot Myoe and thought to be his hermitage, Sekisui-in is now a World Heritage Property. The entrance fee to Sekisui-in is ¥800. We saw a number of national treasures. I find the four handscrolls called the Chojugiga (Picture scrolls of Frolicking Birds and Animals) most interesting. They are considered Japan's first manga, which depicts animals in a satire of the court life of the Heian Period.
We also saw a tea plantation on the slope which is said to be the "oldest tea plantation in Japan". Zen Master Yosai (1141-1215) who travelled to China and learnt about tea, brought and presented seeds to Abbot Myoe. As a result, Toganoo 栂ノ尾was the birthplace of tea in Japan.
We arrived at the bus terminal at Toganoo in time for the 3:39pm bus to Kyoto. We had an early dinner in a chain restaurant.
November 17 Sunday: Ohara
Today we bought a day-pass for 900. We first took the Karasuma Subway line to Kokusaikaikan Station where we caught Bus No 19 to Ohara大原, a rural town in the mountains of northern Kyoto. Visitors flock here in the autumn which is famous for the foliage colours.
Visitors mostly come here to visit the Sanzenin Temple and Jakko-in Temple. Looking at the light and directions of the valley and mountain ranges, I proposed to go to Jakko-in Temple first. I thought the morning sun ray would be lighting up the valley and the Jakko-in Temple. I was glad that my guess was correct.
On the way, we walked through fields under cultivation. We stopped in a roadside family-run restaurant and had the best noodle soup and preserved vegetables. The foliage colours were most beautiful.
Jakko-in Temple寂光院, a nunnery of the Tendai sect, was established in 594 by Prince Shotoku to pray for the soul of his father Emperor Yomei (¥600). The principal image is Rokumantai-Jizoson. The first nun who lived here was Princess Tamateru (who became a nun in 548 and was one of the first three nuns in Japan). The temple had been the retreat for a succession of princesses from prestigious families for generations.
The temple ground is not big but has beautiful landscaped gardens with ponds, tea house, trees, rocks, stone lanterns, flowers and waterfalls. The main trunk of a 1,000-year-old pine tree that had been destroyed in a fire, still stands in the garden.
I walked outside the main temple to see the site of the residence of Kenreimon-in, the mother of Emperor Antoku who moved to live here in 1185. On the way out, I lost Cat. I thought she might be at the entrance by the main road looking at shops.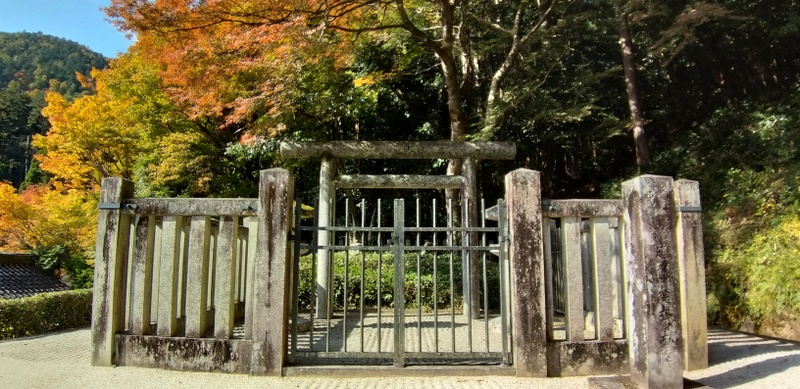 When I was at the entrance, I did not find her. I wondered whether she might have followed the staircase to see the grave of Kenreimon-in. I got there but could not find her.
I walked to the shop that she had looked at before. Suddenly, I saw her standing behind me. What happened was that Cat was in the museum when I walked past it. As I had not gone in, I missed her.
Once we met up, we walked to the Sanzenin Temple三千院on the other side of the valley (entrance fee (¥700). Established originally as a hermitage by Saicho (767-822), the founder of the Tendai sect, it is one of the five Tendai Monzeki temples. Certain members of the imperial family served in the priesthood throughout the temple's history. a sacred spot for the sect. The path from the town to the temple is lined with small shops selling local specialities.
The temple grounds are expansive and beautiful with many temples and landscaped gardens. Many of the halls are linked up. We first walked through the Kyakuden Hall (Guest Hall) serving as the administrative office. One has full views of the exquisite landscaped Shuheki-en Garden in a "pond appreciating" style.
Then we arrived at the Shiden (Main House). The principal image of worship in this hall is Yashu Buddha. In the west room, images of all successive imperial priests are kept.
Outside the Shiden is the Yusei-en Garden in a "pond strolling" style. The garden was most beautiful with a large moss garden and full foliage colours surrounded by tall cedar trees.
Next, we stopped at the impressive Ojo-Gokuraku-in Hall built in 986 by a priest Eshin Sozu. This hall houses the Amitabha Trinity (Amitabha in the centre, Kanzeon Bosatttsu on the right and Seishi Bosatsu on the left).
We walked uphill and visited the Konjiki Fudo-do (Hall of Golden Acalanatha) and then Kannon-do (Hall of Avalokitesvara).
On the way to the exit, we passed by another garden and a row of stone Buddha images. The foliage colours were stunning: I could not stop looking at the vibrant colours, shapes of the trees and shadows from different angles. It was an exhilarating experience.
As the light was still beautiful, we continued our temple tour. We visited two smaller temples of Tendai sect nearby.
Shorin-in Temple 勝林院was funded in 1031 by Jakugen, a disciple of En-nin as a place to practise Hoji Shomyo (¥300). This temple later became the centre for the learning of Tendai-style Shomyo.
For some unknown reason, I found this small temple awesome and inspiring on first sight. After reading the leaflet given to me at the temple, I realised this was the place for the "Ohara mondo" (or Discussion at Ohara) during which Kenshin a priest of the Tendai sect, invited Honen, founder of the Jodo sect, for a discussion on the intent of prayer. According to the legend, Amitabha, the principal image of the temple, proved enlightenment by dispersing light from his hand during the discussion. This image has therefore been called "Amitabha of Proof".
Hosenin Temple 宝泉院is a sub-temple of Shorin-in Temple. It has attractive gardens and a large carefully pruned 700-year-old pine tree. It is also one of the so-called "Bloody Temples of Kyoto" with parts of its ceiling made up of blood-stained wooden floorboards taken from Fushimi Castle after its last defenders loyal to warlord Ieyasu Tokugawa, committed ritual suicide when the castle was stormed in 1600.
We paid an entrance fee of ¥800 and had tea and sweet served in the tatami room. We also took a stroll in a landscaped Japanese garden with big rocks. We discovered a concert would be held in the hall at 6pm (¥800 a ticket). We loved to attend but eventually returned to Kyoto before dark.
We were hungry as we had nothing since 10 am. We hoped to have a good crab dinner in Kyoto. But when we got to the famous crab restaurant before 6 pm, we were told to wait till 7:45 pm for a table. We left and found excellent sushi in a tiny eatery with only half a dozen seats. We spent over ¥5,400 for a dozen pieces of sushi.
We were not full yet. Hence, we stopped at another seafood restaurant opposite our hotel for grilled fish and noodles. We ended up spending another ¥2,500. We had a great day!
November 18 – 22: 5-day Train Journey on Takayama – Hokuriku Area Tourist Pass
Trip Plan
Cat would return to Hong Kong on November 18. As I could spend a few more days in Japan, I decided to travel on the Takayama – Hokuriku Area Tourist Pass (¥14,260) to see Shirakawa-go and Takayama in autumn and explore Kagaonsen for the first time.
November 18 Monday: Kanazawa & Shirakawa-go
After having seen Shirakawa-go with cherry blossom in April 2013 and snow in February 2019, I love to see its foliage colours. Cat left for the airport at 6 am while I took a train to Kanazawa at 7:29 am. When I arrived in Kanazawa two hours later, I immediately reserved a ticket on the 2:40pm bus to Shirakawa-go.
I like Kanazawa. But how should I spend four hours here? My original plan was to visit the 21st century Museum of Contemporary Art. Unfortunately, it closes on Monday. As my primary aim of this journey was to see foliage, I decided to visit the Kenroku Garden 兼六園where I saw beautiful cherry blossoms some 20 years ago.
The garden literally means "Garden of the Six Sublimities" referring to the spaciousness, seclusion, artificiality, antiquity, abundant water and broad views" which according to Chinese landscape theory are the six essential attributes making up a perfect garden. A sophisticated water system was constructed in 1632 to divert water from a distant river to feed the garden's streams and ponds.
The "strolling style" garden has the characteristics of a typical landscape garden of the Edo period (1603-1868). It was constructed by the ruling Maeda family over a period of nearly two centuries (from 1620 to 1840s). The spacious grounds used to be the outer garden of the Kanazawa Castle. Following the abolition of the domain system in 1874, the garden was open to the public.
The garden with an area of over 25 acres, is famed as one of Japan's "three most beautiful landscape gardens" alongside Mito's Kairakuen and Okayama's Korakuen. Featuring a variety of trees including the majestic Karasakinomatsu Pine and maple, and flowering trees such as cherry, plum ad wisteria, the garden takes on a different look for each season.
I spent an hour and a half strolling in the garden. I was overwhelmed by its beauty and impressed by its vegetation as well as man-made features. The main features include two main ponds (Kasumigaike and Hisagoike), an over 2m-tall Kotojitoro Lantern, winding streams, waterfall, tea houses (Yugaotei and Shiguretei), the man-made Horaijima Island, numerous stone bridge, beautiful rocks, mounds with viewpoints and pavilions.
The foliage colours with all imaginable hues were awesome. I have been in the garden in spring. After this visit, I would say the garden is the fall is even more impressive. As visitors over 65 do not have to pay an entrance fee, I shall surely return one day.
I took a bus to the Omi-cho market and had a bowl of crab meat and rice (¥2,800). But the crab was not as tasty as I had imagined. Perhaps, my expectations were too high.
The bus took an hour and a half to reach Shirakawa-go. This's my third visit. It was getting dark and started to rain. As the AntHut (the guesthouse) would not pick me up till 5:30 pm, I had over an hour for a leisure stroll.
The place was almost empty with most of the shops closed. As it was not high season, I could have booked a place to stay on arrival. Unfortunately, I had already booked a place with a 72-year-old-lady in a nearby hamlet. The house has room for ten guests. The sitting room and kitchen are both spacious and clean.
I met a group of Vietnamese tourists who were preparing a hot pot with beef, crab, salmon and vegetables. I had udon and sardines for dinner and went to bed early. There is nothing to do at night.
November 19 Tuesday: Takayama
I got up early and had an hour's walk before taking a free transfer to the bus terminal at 8:30 am. The bus for Takayama would be leaving at 9:30 am. I therefore took a second walk in the village before boarding the bus.
The weather was good but the foliage was not impressive. As there were few tourists, I found it quiet and lovely.
I had a pleasant bus ride to Takayama in the mountainous Hida region of Gifu Prefecture. The bus took me through Hida region with surprisingly beautiful autumn colours. I arrived in Takayama an hour later and was surprised to find this town all surrounded by hills with beautiful patches of orange, red yellow and golden colours.
I would be staying at the Takayama Kanko Hotel which provides free shuttle bus for guests after 3 pm. I therefore planned to visit the historic town before going to the hotel. In Japan, one can find lockers everywhere. After leaving my suitcase in a locker (¥400), I began my discovery tour.
Takayama 高山has a beautifully preserved old town and still retains a traditional touch. It gained importance as a source of timber of high quality and highly skilled carpenters during the feudal ages. Owing to its valuable timber resources, the Hida region was put under direct control of the Tokugawa Shogunate in 1692 and the town became prosperous despite its remote location. Takayama is famous for its spring and autumn festivals. I was lucky to see the spring festival on my first visit some 20 years ago.
My first stop was the Takayama Jinya 高山陣屋 which served as the local government office till 1868. It was headed by the officials dispatched from Edo Bakufu (government) which ruled about 60 domains in various important areas of Japan while 250 feudal lords (called Daimyo) ruled their own domain.
This historic site is related to the period when Hida province (today's Takayama regions) became Tenryo for 176 years. Twenty-five generations of head official called Daikan were sent here from Edo to perform duties including tax collection, finance, law enforcement, forest management etc.
The museum is well-preserved and managed. I walked through numerous tatami mat rooms that once served as the office for local officials and scribes, law court, guest room, reception room, conference room, tea room and residential areas. I also saw the areas used as kitchen, bathroom, guard room, living quarter for maids, toilet, and interrogation room.
The rice storehouse built around 1600 which is one of the biggest and oldest in Japan, has been turned into a museum. Many artefacts including old maps of Hida region, official documents of past feudal lords, historic town plans and calligraphy, are nicely presented here. I enjoy this educational visit.
Then, I crossed the Nakabashi Bridge over the Miya River. I love Takayama's traditional townscape. Wooden private houses in the old town have mostly been turned into shops and eateries. I can still remember some of the houses on the main street.
There are many museums in Takayama. I stopped at the City Archives Museum. Then I strolled aimlessly along the main street. I was hungry and had a bowl of rice with beef in a tea house.
There are many private house museums which take entrance fee. But the Museum of History and Art converted from old warehouses is nice and free.
Next, I headed to the Higashiyama Yuhodo 東山遊歩道near Teramachi (the city's rural suburb). The walk starting at the castle park is 3.5 km long. As I would not have time to cover the whole length, I only walked along the route covering a dozen of temples and shrines and graveyards.
The walk has excellent signage. I began with the Soyuji Temple. Then I visited the Zennoji Temple and Hokkeji.
When I arrived at the Tenshoji of the Tendai sect, I immediately recognised that I had stayed here for two nights twenty years ago. It is now a youth hostel. Built in the late 12th century, the temple has several beautiful maple trees in the yard.
I walked uphill to reach the Shinmei Shrine. In the forest, I watched a Japanese man in full samurai entire with a sword posing for a photo.
I stopped at the Sogenji Temple before crossing Route 158. There are a few small temples on the other side. But it was time to walk back to the station to catch the shuttle bus.
On the way, I stopped at the Hida Kokubunji 飛騨国分寺a Shingon sect temple established by Emperor Shomu during the Nara period (710-794). The foundation stones of the pagoda on temple grounds were designated as a National Historic Site in 1929. In the courtyard is a 1200-year-old gingko tree.
I took the shuttle bus at 5:40pm. As soon as I arrived at the hotel, I was told that all the dinner seats at ¥6,600 per head had been booked. As a result, after leaving my suitcase in my room, I took the next shuttle bus at 5:15 pm to return to the town centre. At first, I tried to go to a popular restaurant for local beef which is famous for its high-quality. But there were 30-40 guests in the queue.
I found a quieter place nearby and paid ¥3,500 for three types of beef. Anyway, I found the meat too rich for my stomach. .
I took the last shuttle bus and was back in the hotel before 7 pm. I had a beautiful and spacious room. The hotel has an onsen. The water is excellent. I found my skin soft and smooth after staying in the outdoor pool for half an hour.
November 20 Wednesday: Yamanak Onsen, Ishikawa Prefecture:
My destination today was Kaga Onsen 加賀温泉. I took the 9 am shuttle bus to the train station and boarded a local train at 9:40 am. I had to take three trains before arriving at Kaga Onsen station around 1:30 pm. Had I taken the bus back to Kanazawa via Shirakawa-go and then a train to Kaga Onsen, I would be arriving in my destination more or less the same time. But by taking the local train, I had a wonderful time enjoying the gorges and the foliage along the river valley.

Hot springs were discovered in Kaga over 1300 years ago by monk Gyoki. Kaga is famous for its many onsen resorts including Yamanaka, Yamasiro and Katayamazu. The area is surrounded by the coast of Sea of Japan on one side and Mt Hakusan on the other. The town was lauded by the famous Japanese poet and traveller Basho as one of Japan's three best hot springs alongside Kusatsu Onsen and Arima Onsen.
I had booked a night in a lady-only hotel in Yamanaka Onsen 山中温泉a small resort town along the Kakusenkei Gorge. Yamanaka Onsen is said to contain the most hydrogen of any hot springs in Japan The hot spring waters are said to ease muscle and joint pain, speed up recovery from disease and improve one's health in general.
I took a free hotel shuttle and arrived at the hotel after 2 pm. The receptionist kindly gave me a room before the check-in time at 3 pm. I had a spacious room overlooking the gorge.
As it would get dark before 5 pm, I took a walk along the famous Kakusenkei Gorge once I dropped my suitcase. The gorge is situated in the upper reaches of the Daishoji river. I followed the 1.3 km natural trail which is leafy.
I started at the Korogi Bridge. Though the autumn colours here were so-so, the sounds of the running water of the river were soothing. Anyway, nature with rocks in the river, trees along the river and the gorge itself are beautiful. I had an enjoyable stroll.
I passed by the Ayatori Bridge designed by Hiroshi Teshigawara in a curved S-shape. I did not walk up to cross this bridge and take a photo. I first planned to walk all the way to the Kurotani Bridge at the end of the trail. But when I saw a picturesque rock and mud crossing, I decided to cross and start walking back to the hotel.
The area is well-known for the Yamanaka lacquer and Kutani-yaki porcelain. The famous Kutani Kilin Ruins is not far from Yamanaka Onsen. I had time for window-shopping along the main street which is lined with charming shops set with latticework doors.
Not too far from the hotel is a 2,300-year-old sacred tree – a Japanese Cedar of Kayano which is 54 metre tall with a girth of 11 metre. But it is too far to walk.
I got back to the hotel shortly after 5 pm. I had time to take a rock salt spa for 15 minutes before dinner. Tonight, I had an excellent buffet dinner with free beer, wine and spirit. I tried everything and had beers and wine.
As the onsen in my hotel was under maintenance, I had to use the onsen of another hotel of the same group. I was driven to that hotel at 8 pm and picked up again at 9:30 pm. I had an enjoyable and relaxing time by myself in the outdoor pool. The temperature was perfect.
November 21 Thursday: Sakai
There are many attractions in the Kaga area including Hashitate, the coast (Kasa-no-misaki Cape and Amagozen Cape), Daishoji, Katayamazu and Yamashiro Onsen. One can spend a day or two on a Can Bus Pass (a day for ¥1,100 and 2-day for ¥1,300). But as I would be leaving Japan on the following day at 10 am, I decided to depart for Osaka without touring around the Kaga area. If I return one day, I would like to explore the coast of the Sea of Japan by car.
I took the 9:15 am shuttle bus to Kaga train station and had to wait for almost an hour for a train to Osaka. Then I took another train to the Kansai Airport as I had booked a hotel in Rinku-town next to the airport. As a result, I wasted too much time on travelling today.
It was 2:30 pm when I checked in the hotel. My plan was to visit the Mozu-Furuichi Kofungun (or tumulus clusters) which has just been inscribed on the World Heritage List. I could take the JR train to Mikunigaoka Station in Sakai and walked to site.
Kofun古墳 are megalithic tombs or tumuli in Japan constructed between the early 3rd and early 7th century. The term is the origin of the name of the Kofun period which indicates the middle 3rd century to early-middle 6th century. Many of the kofun have distinctive key-hold mounds which are unique in ancient Japan. Originally these kofun tombs were kept relatively free of vegetation. But today, most of them are covered by trees. Many of the larger ones are of a key-hole shape and surrounded by moats.
It was almost 4:30 pm when I stood in front ofkofun of Emperor Nintoku (the 16th emperor of Japan) which is the largest one encircled by a 2.8 km long sightseeing walkway. With the surrounding moats included, it measures 800m long and 600m wide. Over ten smaller kofun are found in the surrounding area.
I could only have a glimpse of the tomb complex from the torii gate. Visitors can only have a full view of the kofun clusters from the observation deck on the 21st floor of the Sakai City Hall.
I walked across the road and had a stroll in the Daisen Park. I had ten minutes in the beautiful Japanese Garden just before it closed at 5pm.
The sun was setting and it would get dark before 6 pm. I discovered the famous crab restaurant has a shop near the Sakai City Hall. Hence, I treated myself and had a crab feast. I ordered a crab dinner set with six courses, a steamed fresh crab and a beer. My special dinner cost me just under ¥8,000. It's not cheap but I find it value-for-money.
November 22: Hong Kong
My plane would depart at 10 am. I left the hotel at 7 am and was already at the airport by 7:30 am. Cathay Pacific left on time and I landed in Hong Kong around 1:30 pm. Life was back to normal today and I managed to get a bus and was home before 3 pm.
Remarks (written and uploaded on May 3, 2020)
The Covid-19 pandemic has suddenly thrown the world in disarray. I returned to Hong Kong on March 22, 2020 and had to cancel my trip to Miyakojima and Okinawa, Japan in April and Kamchatka in May. No one knows when it would be safe to travel again. As I have to stay home, I have time to reflect and complete this 'Remarks' section.
The travel notes and photos refresh my memories of this wonderful journey. Looking back, I can't believe I have done so much (yet leisurely) in 25 days. My journey essentially comprises four parts.
Part 1- Setouchi Triennale. This once-every-three-years art extravaganza has prompted me to make this trip. I have spent eight days seeing numerous art installations in Takamatsu and on seven islands namely Ogijima, Megijima, Naoshima, Teshima, Shodoshima, Inujima and Oshima. The best art works and inspiring museums are of course found in Naoshima, Teshima and Inujima which are already on the radar screen of art lovers and museum – goers. One can visit these world-famous museums anytime.
What I find more impressive about this festival is the way and belief of the founders and promoters to revitalise the islands through art. The organisation of this mammoth extravaganza is horrific. But the meticulous Japanese, as expected, did an excellent job. I can feel the joy, pride and hope of the islanders.
For me, island hopping is the best part of this art trip. The tranquil small islands with rustic ambience have escaped urbanism. I enjoy strolling aimlessly, soaking in the atmosphere and admiring the islanders' simple way of life.
During the triennial, art works have been installed on 12 islands. I have only visited seven islands this time. When I return for the triennial 2022, I shall definitely check out on the other five islands.
Part 2 – With a 5-day Kansai-wide train Pass, I travelled comfortably and efficiently to Tottori. Kinosaki Onsen, Amanohashidate and Takeda (a historic castle town). I also had a glimpse of the Uradome Coast and the Tajima Highland. I enjoyed my onsen experience in Kinosaki Onsen. But I would like to hike along the beautiful Uradome Coast and to return to Takeda when cherry blossoms are in full bloom.
Part 3 – 5-day Temple Tour. Kyoto has countless temples. Our group visited ten Buddhist temples in four days and I visited Chion-in Temple, Konkaikomyo-ji Temple, Daichu-in Temple and Enryaku-ji Temple for the first time. This trip has provided me an opportunity to learn more about the development of different sects of Buddhism in Japan including the Shingon, Tendai, Jodo, Jodo Seizan Zenrin-ji andRinzai Zen.
We had a leisure trip as a whole. When we were in Chion-in Temple, we were received by a priest, copied a short script and had tea. We copied Heart Sutra and practised meditation in Enryaku-ji Temple at the end of the tour. We also had delicious Japanese vegetarian food.
It is always lovely to visit Kyoto during foliage time. But this year, only the foliage colours at Eikando Zenrin-ji Temple and Tenryu-ji Temple could match what I had seen before.
Part 4 – 5 Days in Search of Foliage. I love nature and autumn foliage in Japan is most adorable. Catherine and I ventured outside Kyoto and were lucky to see beautiful foliage in the Takaosan Jingoji Temple and Saimyoji Temple in Takao and the Jakko-in Temple and Sanzenin Temple in Ohara.
After Catherine left for Hong Kong, I continued my journey with a 5-day train pass. I was again most fortunate to find beautiful foliage colours in Kenroku Garden in Kanazawa. I spent a night in Shirakawa-go, a World Heritage Site where I have seen it in snow and with cherry blossom. But as it is located on higher altitude, the foliage colours had already gone.
I was totally taken surprise when I arrived at Takayama which had most gorgeous foliage colours on display. I enjoyed walking along the Higashiyama Yuhodo and found exquisite and vibrant red and orange colours outside Tenshoji (the temple I stayed during my first visit to Takayama. It is now a youth hostel). The shining golden leaves next to Shinmei Shrine were most impressive. My last stop at Kaga Onsen was enjoyable though the foliage was average.
Before leaving Osaka, I travelled to see the Mozu-Furuichi Kofungun, a World Heritage Site, with my train pass and had a sumptuous crab dinner.
All in all, I had a remarkably full 25-day trip with vivid memories of the Setouchi Triennale and the awesome foliage colours.