September 20 – October 5: Reykjavik to St John's onboard Silver Explorer
Why Silver Explorer?
I first travelled on this ship probably in 2008 (?) when it was still known as Prince Albert. I then sailed from Svalbard to Tromso, Norway. It is a small luxurious expedition boat with capacity for 144 guests and a crew of over 100. I am not looking for a luxurious expedition – cruise. But it offers an interesting itinerary that I can't resist.
Day 1 Sept 20 Friday: Reykjavik
Most passengers boarded Silver Explorer between noon and 1 pm. After going through normal registration procedures, guests were invited to have a buffet lunch at the Restaurant on Deck 4 while the porters took our luggage to our suite.
Kylie and I had a Vista suite on Deck 4 close to the Restaurant. We walked around to check things out. We had expected the ship to set sail at 6pm. Instead, we were told to go to the Explorer Lounge on Deck 6 for an update.
We were greeted by Danny, the expedition leader and the Captain Eric Plancat. Danny broke the bad news that owing to swell and wind conditions at sea in the coming few days, the ship could not leave as scheduled for Greenland tonight. Instead, we would spend the next two days in Iceland. Many passengers were disappointed and angry. Some immediately asked about refund and compensation arrangements.
Anyway, the expedition team that had been working feverishly the whole afternoon, had come up with three options for Day 2. Passengers could go on a full-day excursion to the "Golden Circle" or the "South Coast & Lava Centre" or a half day "HD Super 4X4 Adventure". Both Kylie and I decided to take the half day adventure tour as we had been to the Golden Circle and the South Coast.
Day 2 Sept 21 Saturday: Reykjavik
We disembarked at 8:30am. Some 50 passengers were on this half-day adventure. We set off with an impressive entourage of super specially fitted 4×4 vehicles.
The weather was poor: grey, misty and windy. Shortly after we left the city, we drove along the Pipeline Road to Hengill Mountain. The mountain pass offers fantastic panoramic views of the city.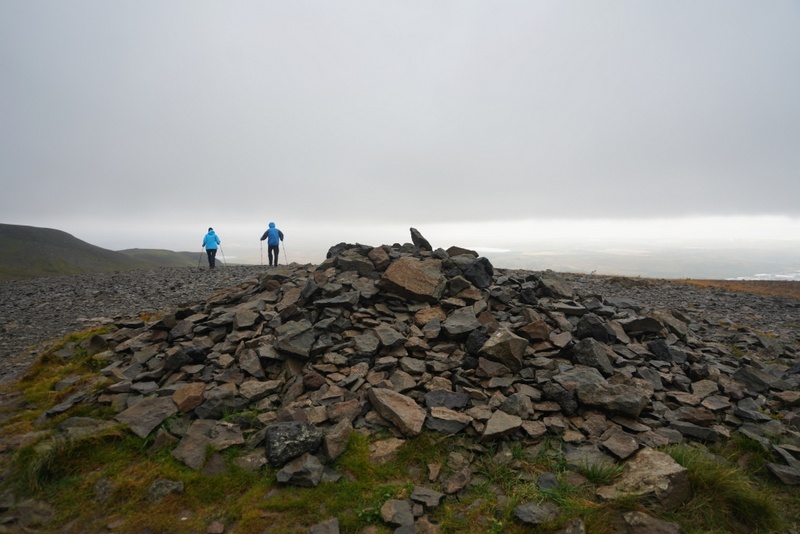 Later on, we stopped at another viewpoint with full view of the surrounding area and the geothermal power plant of Nesjavellir, the country's second-largest thermal power station located near the Hengill Volcano. It was so windy that I was almost blown off!
On the way back, we drove through this area and saw in a distance the Hellisheiði Power Station, the world's third largest geothermal power station. Iceland is blessed with thermal power, a clean source of energy.
Our third stop was an interpretation centre to learn about an earthquake which is part of Icelandic history and life. After a comfortable coffee and toilet break, we had a thrilling drive over mud terrain and riverbanks on the way back to the pier. I did not know where we had been exactly especially it was misty with poor visibility.
I thoroughly enjoyed my first super 4×4 ride through an area that I have never visited before. We were back on the boat around noon. We were hungry and had a nice lunch.
We had free time till 5:30 pm. I therefore decided to take a stroll to the cathedral and visit the thermal pool near it. Eventually, I spent my afternoon at the Art Museum Kjarvalsstaöir which is not far from the cathedral. The building itself is a fine example of Nordic modernism.
When I explained to the receptionist that I could not visit the museum the day before, the young lady kindly let me visit the museum with my expired 24-hour city card.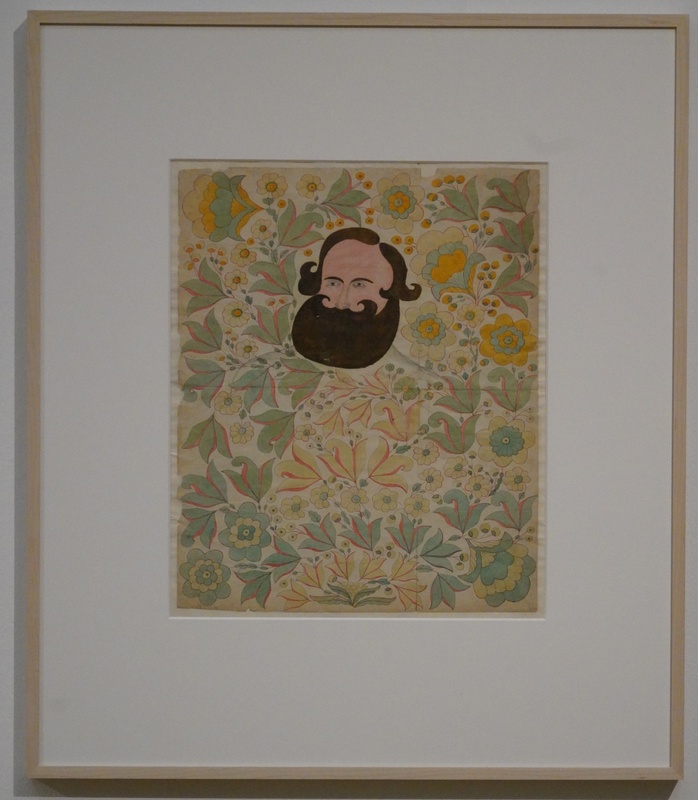 The main focus of the museum's collection in on paintings and sculptures of the established masters of modern art. It houses the works of one of Iceland's most influential and recognised artists, Jóhannes Sveinsson Kjarval (1885-1972). He did not begin his formal study of art till he went to Denmark and graduated from the Royal Danish Academy of Fine Art in 1917. He moved back to Iceland in 1922 and his works bear witness to a new vision of nature. His subject matters fall into three main groups: landscapes, portraits and fantasies or works of imagination.
I had a wonderful time in the museum and saw the works ofKjaval, William Morris and Sölvi Helgason. The main hall presented an exhibition on Kjaval (25.05.2019-09.02.2020). I am glad to discover this Icelandic master and his unique style!
The other two exhibition were also interesting. One was on the hand-painted originals, woven fabrics, print plates, books, furniture, stained glass and titles by legendary British artist, poet and craftsman William Morris (1834-1896) and his collaborators, friends and family. He was also a socialist and activist who founded the predecessor of the Labour Party in Britain. On his trips to Iceland in the 1870s, Morris fell in love with the country's ever-changing landscape and its traditions of craftsmanship.
The other exhibition was on the works of Sölvi Helgason (1820-1895), a self-taught Iceland artist. His portraits of ordinary folks are more interesting and likeable than the conventional ones we normally see.
I returned to the ship before 5 pm and attended the daily briefing by Danny after 6pm. He showed us weather forecast charts and activities planned for the next day. I was glad to know the ship would set sail at 10 pm tonight and we would have a full-day excursion to explore the Snæfellsnes Peninsula.
At 6:30 pm, we had Captain's Welcome Presentation. Captain Eric after introducing himself and his team, went on sharing his life, career and nautical adventures, his family photos and stories with us. It was the first time I met a captain who is so open, friendly and approachable.
We had a welcome dinner at 7 pm. At 10 pm, I went on deck to watch the ship leaving the harbour sailing towards Grundarfjördur which is 101 nautical miles (NM) away.
Day 3 Sept 22 Sunday: Grundarfjördur & Snæfellsnes Peninsula
I had a good night sleep though some passengers including Kylie felt seasick. By 8 am, our ship arrived alongside Grundarfjördur. We disembarked andgoton one of the four tour buses at 8:30 am.
The weather was still moody and changeable. The wind and shower were sometimes irritating. Anyway, I was glad to know I would be seeing different places on the peninsula.
Our first stop was Stykkishólmur with a large harbour and a museum on Eider ducks. But Kylie and I preferred a hike to a mound behind the harbour. We had no difficulty to reach the top with a lighthouse. It was windy and wet.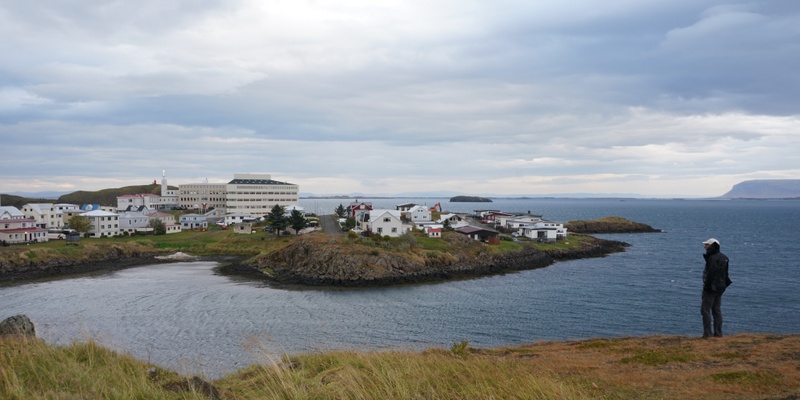 Then we had a long stop at a holy spot not far from Stykkishólmur. We were told to walk in silence to the hill top and to make a wish facing east at the top.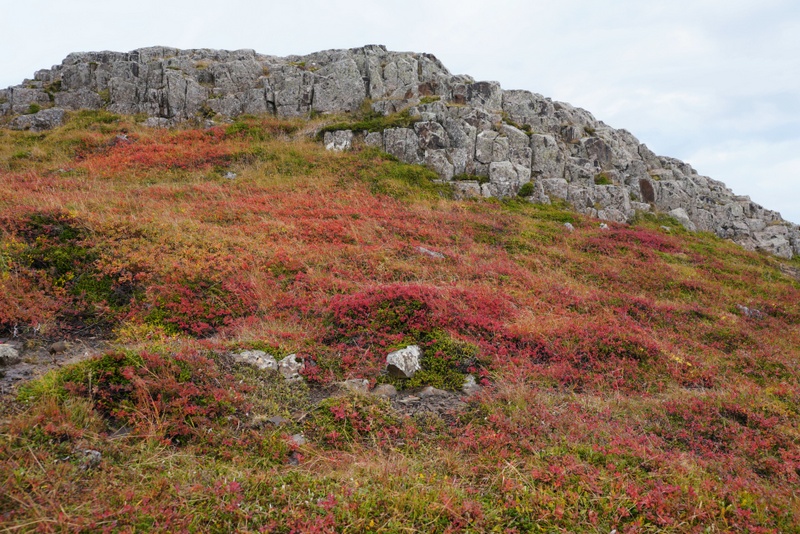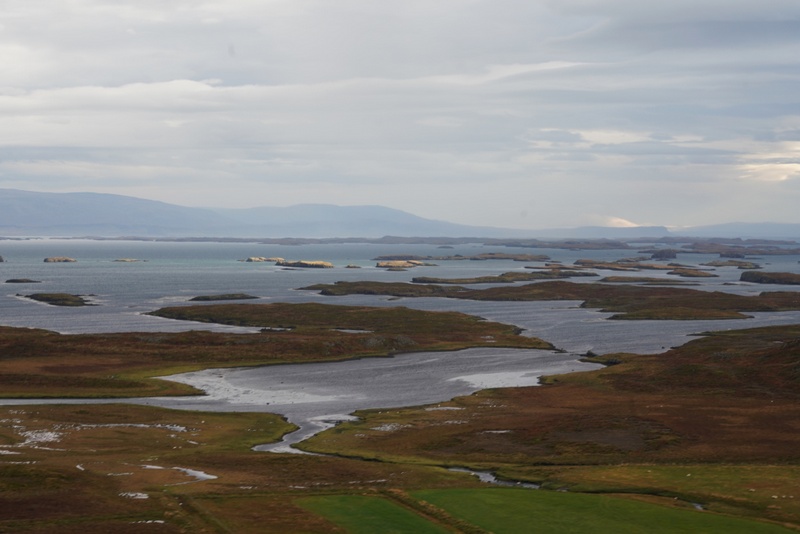 It was a not a difficult short hike to the top where a small stone enclosure stands. Is it a ruin of a sanctuary? The views were stunning as the sky had cleared up. The landscape and scenery with a picturesque church and foliage colours in the foreground, expansive rolling plains, farms and farmsteads, majestic mountains, lakes and the sea in the background, was breath-taking.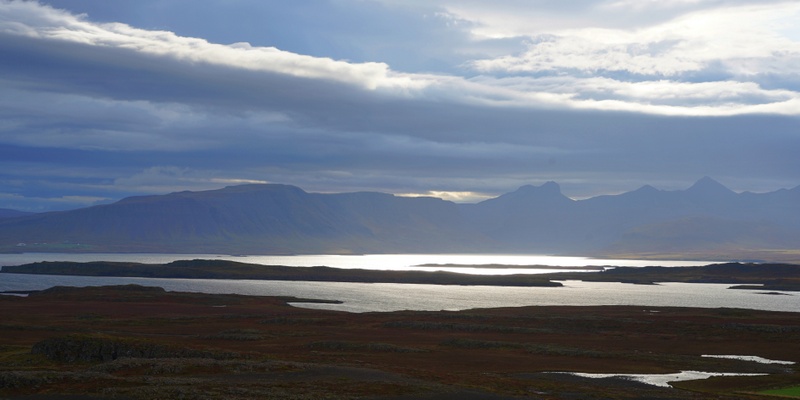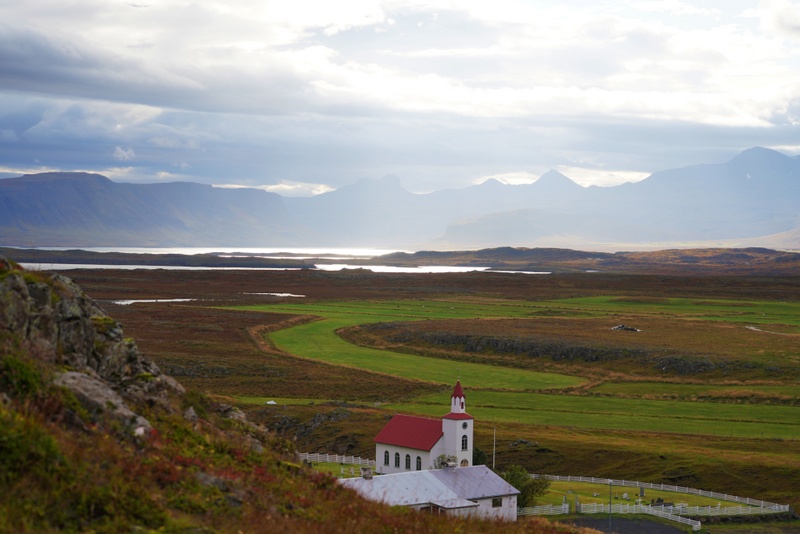 I also walked down the path to visit a picturesque church with a graveyard below the hill.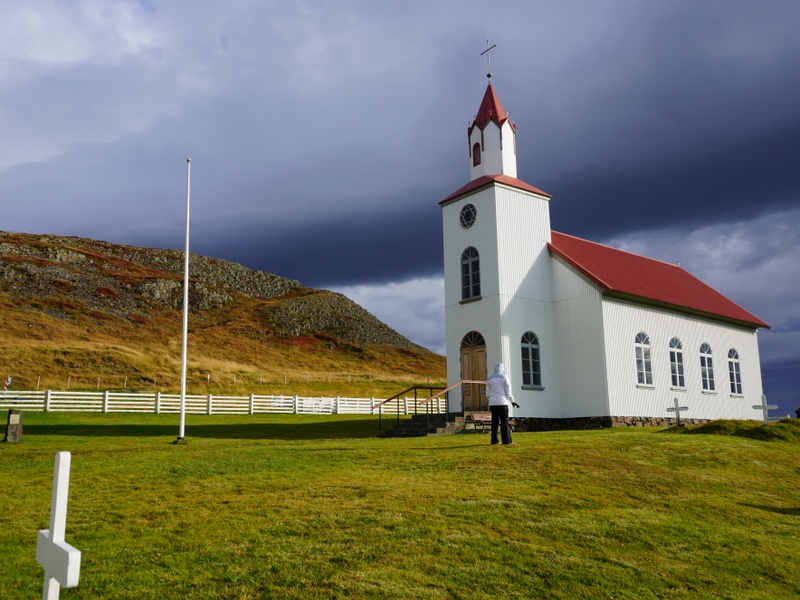 The third stop was a lunch break at Arnarstapi. Before lunch, our guide took us on an hour's walk from the harbour to the arch at Arnarstapi. The shoreline looked moody and atmospheric on cloudy day.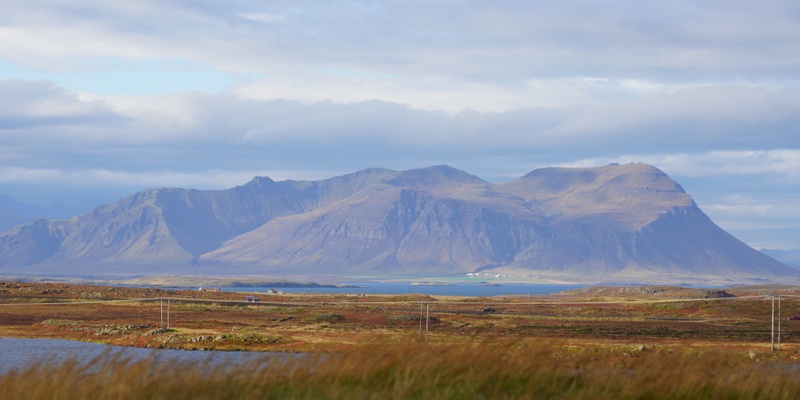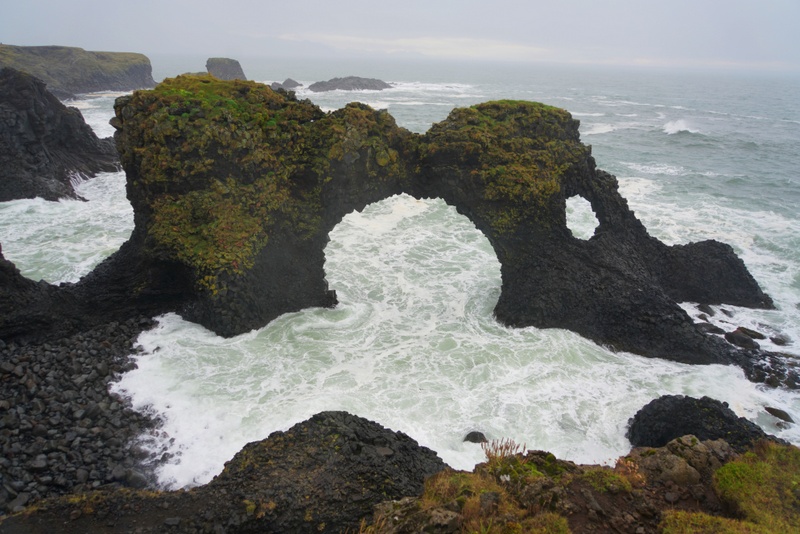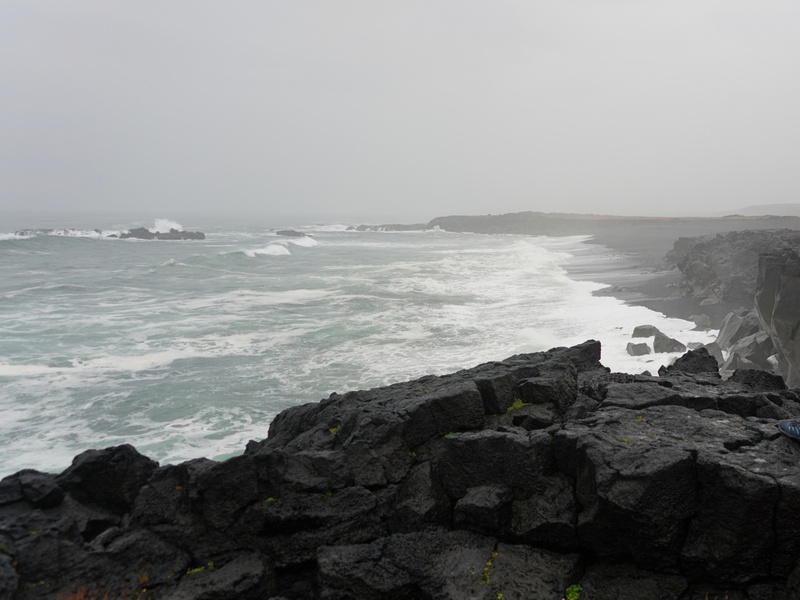 After lunch, we stopped at a historical lighthouse. The interpretation centre provides useful information on the geology, flora, fauna and human history of the area.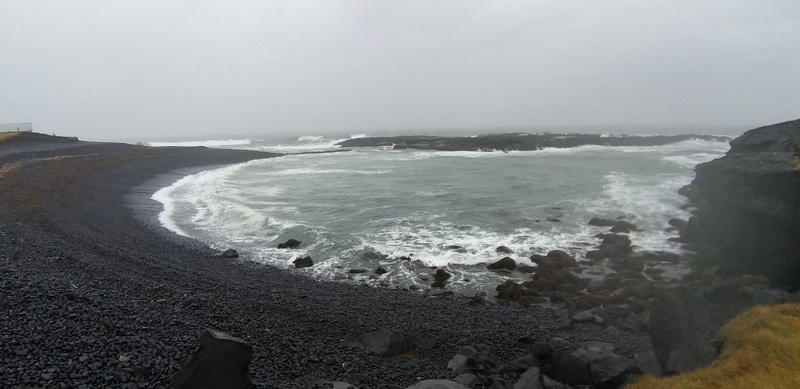 Our last stop was the Djúpalónssandur Beach which I had visited a few days ago.Luckily the walking path on the right side was reopened so that I could take a different path to see the beach from another angle.
At this end of the beach, I saw the "lifting stones" and remnants of a British fishing trawler which had been stranded on the sand reefs of Djúpalónssandur. During thisaccident, five perished and 14 were rescued by local squads
I do not mind visiting this beautiful beach again. As the weather was bleak this time, I got a totally different impression of the beach.
After a fantastic excursion, I was glad to board Silver Explorer shortly after 4 pm. I felt at home!
We set sail at 6 pm. At the recap at 6:15 pm, Danny began with a programme preview while his teammates talked about history, flora, fauna, geology etc relating to what we had just seen.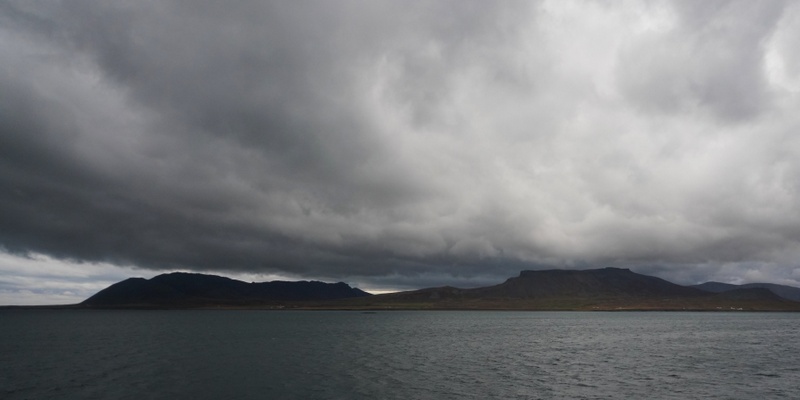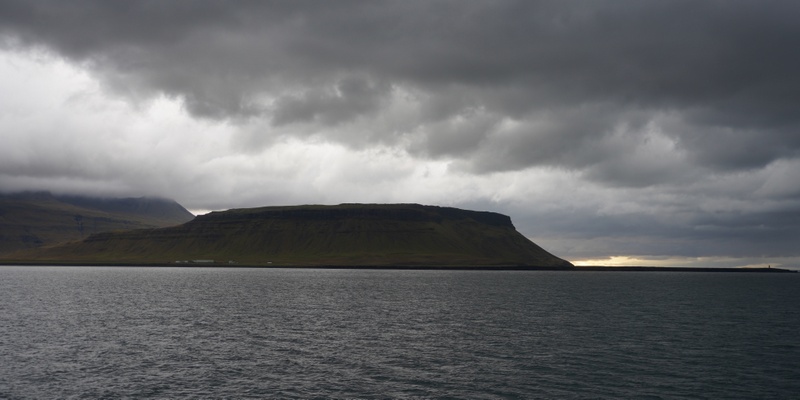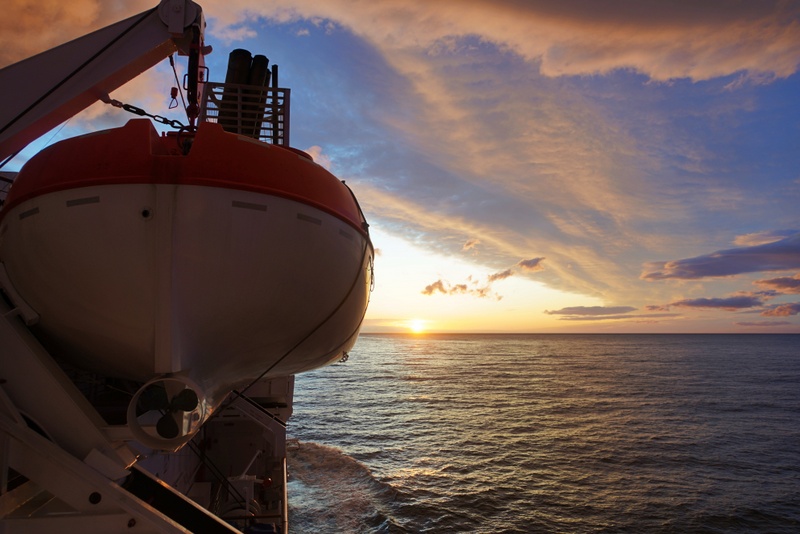 As usual, Kylie and I would have a 4-course dinner in the Restaurant around 7 pm. We often set with other guests, many of them seem seasoned and elderly travellers. On this ship, we met a few passengers with Hong Kong connections: King and Selina are from Hong Kong, Francis and Marie have emigrated to Australia and Anita's parents have lived in Hong Kong before emigrating to Canada. We also met two ladies from Taiwan.
Day 4 Sept 23 Monday: At Sea
We had a long way to go i.e. 510 NM before reaching our next destination – Skjoldungen in Greenland. Danny as usual tried to fill up the uneventful sea days with lectures.
Today, we had three lectures namely 'Ivory and Iron: Life in Norse Greenland' by Elisabeth at 9:30 am; 'Icelandic Horses – From Helping Hand to Ambassadors of a Small Island Nation' by Babsi at 11 am and 'Why does Greenland have the World's largest National Park?' by Malcom at 5pm.
I attended all lectures which were informative, educational and well-delivered. Each lecture would last about 45 minutes with lots of photos and graphic presentations. As Silver Explorer is a luxurious expedition ship, we were spoilt and pampered. We could have tea, coffee, champagne or whatever we fancied anytime of the day! As I had a throat problem and bad cough, I often took mint or lemon tea with honey especially at the beginning of the journey.
Captain Eric kindly opened the bridge on Deck 5 today. Not many passengers dropped in. I of course took a tour. Anyway, unlike other bigger expedition boats I have been travelling on, there is no much room at the bridge on Silver Explorer.
At the daily recap, Danny reminded us to get up early when the ship approached the entrance of the Skjoldungen Fjord around 6:30 am.