Reykjavik, Golden Circle, Snæfellsnes Peninsula & South Coast
Trip Plan
In February 2018, I discovered an expedition from Reykjavik, Iceland to St John's Newfoundland (NL) via southern Greenland on Silver Explorer from September 20 to October 5, 2019. I found the 15-day itinerary appealing as I had already seen the north-eastern and western parts of Greenland. This expedition would take me to areas I have yet to visit in Greenland. My friend, Kylie was interested. By paying in full in March last year, we enjoyed an early bird discount.
It would be Kylie's first visit to NL but my third visit. NL is vast and I have only been to St John's and the Gros Morne National Park. We therefore planned to spend a week in NL before Kylie returned to Hong Kong while I went to England to visit friends. I would end up having a "4-land" themed tour i.e. Iceland, Greenland, Newfoundland and England.
September 15 Sunday Hong Kong (UCT+8) – Helsinki Finland (UTC+3) – Reykjavik Iceland (UCT+0)
I departed Hong Kong at 0025hr and arrived in Reykjavik around 6am. I waited for my connecting flight for two hours. Given the time change, it was only 8:30am when I landed in Reykjavik, capital of Iceland.
Iceland
A volcanically and geologically active island country in North Atlantic, Iceland with an area of 103,000km and a population of some 360,000, is the most sparsely populated country in Europe.
Most Icelanders are descendants of Norse and Gaelic settlers. Icelandic culture is founded upon its Scandinavian heritage. According to ancient manuscript, settlement of Iceland began in 874 AD when Norse chieftain Ingolfr Arnarson became the first permanent settler on the island. Norwegians and some Scandinavians emigrated to Iceland in the following centuries.
The island was governed as an independent commonwealth under the Althing, one of the world's oldest functioning legislative assembly. Although the Althing was suspended from 1799 to 1845, Iceland has been credited with sustaining the world's oldest and longest-running parliament.
Following a period of civil strife, Iceland acceded to Norwegian rule in the 13th century. In 1523, it came under the Danish rule following Norway's integration into the Kalmar Union that united the kingdoms of Norway, Denmark and Sweden in 1397. However, Iceland remained a distant semi-colonial territory under the Danish rule. In the wake of French revolution and the Napoleonic Wars, Iceland began its struggle for independence, became independent in 1918. A republic was founded in 1944.
The country born out of volcanic eruptions over millions of years, has been aptly known as the "Land of Fire and Ice". The interior consists of a plateau characterised by sand and lava fields, mountains and glaciers. It is warmed by the Gulf Stream and has a temperate climate despite its high latitude.
Iceland has a market economy with relatively low taxes, compared to other OECD countries, as well as the highest trade union membership in the world. It ranks high in economic, democratic, social stability and equality. Its nominal GDP in 2018 was estimated to be about US$27 billion and USD75,700 per capita while the GDP (PPP) was US$19 billion and $54,753 per capita. It currently ranks first in the world by median wealth per adult. In 2018, it was ranked the sixth most developed country in the world by the UN's Human Development Index and first on the Global Peace Index. The country runs almost completely on renewable energy.
I took the airport bus to the city's main bus terminal. I had to either get a taxi or walk over a kilometre to a guest house in Amtmannsst in the old city. I managed to pull my suitcase along and found the guest house without problem. It would have been a pleasant walk had it not been for the drizzle and my heavy suitcase.
Though I had the key code, I could not open the door. I asked someone in an eatery nearby to phone the owner to find a way to get in. It turned out that I had missed an important step while keying in the code.
The guesthouse is small with seven rooms: it is cosy, quiet, tidy and clean with a nice kitchen. It was cold and I had shrimp noodles (which I bought from Hong Kong) for brunch.
This is my second visit to Iceland (It could have been my third visit had my passport not been stolen in Madrid on the day I was due to fly to Reykavik in September 2017). During my first visit in 2004 (?), I drove around the island in six days!
Reykjavik with an area of 273km2 and a population of some 200,000, has grown a lot since my first visit. I find lots of many new developments especially around the harbour. Iceland has become a tourist hotspot and receives some 2.5 million tourists a year. It is not surprising to find countless hotels, shops, restaurants, eateries and pubs in the city.
When I passed by Apotek Hotel, the board at its door showing its Sunday roast with leg of lamb for ISK2,900, caught my attention. I walked in without hesitation though I just had a big bowl of noodles and I ended up having a feast. The cheerful waitress brought me three wooden plates: eight pieces of lamb, grilled vegetables and hot bread. I looked at the couple at the next table: they had the same portion as mine! It's the best and most enjoyable meal I had in Iceland.
After spending an hour and a half in this elegant and old-styled dining room, I ventured out. As the weather was fine when I left the guest house, I had not taken my umbrella. It was a mistake: I had to battle with strong wind and shower. It was miserable!
I strolled along Austurstraat and saw a few shops that were there 15 years ago. As my expedition would begin on September 20, I had four days to spend on my own. I looked around and booked three tours: Golden Circle & Northern Lights (ISK11,999), Snæfellsnes Peninsula (ISK16,999) and south shore adventure for (ISK13,900).
When the sun suddenly emerged behind clouds, I saw a beautiful rainbow over the harbour. I tried to find a shortcut to the waterfront. But by the time I arrived at the waterfront, it was almost gone. Too bad!
I walked along the waterfront towards the concert hall at Harpa which is the city's latest landmark. I discovered that I would be embarking on Silver Explorer from a nearby pier.
Icelandic weather is known to be unpredictable. The old town looked wonderfully colourful after the shower. Unfortunately, as I was tired, I did not bring my camera with me. This was another mistake of the day: the blue sky was gone when I explored the city on my own a few days later. I ended up having few photos of this quaint Nordic capital.
I returned to the guest house around 5 pm and was in bed before 6 pm.
September 16 Monday: Golden Circle & Northern Lights
After a sound sleep, I got up around 3 am. I spent a few hours in the kitchen writing my travel notes. It is a good way to relax and live through the wonderful journey I have. Hopefully, it would delay the onset of dementia.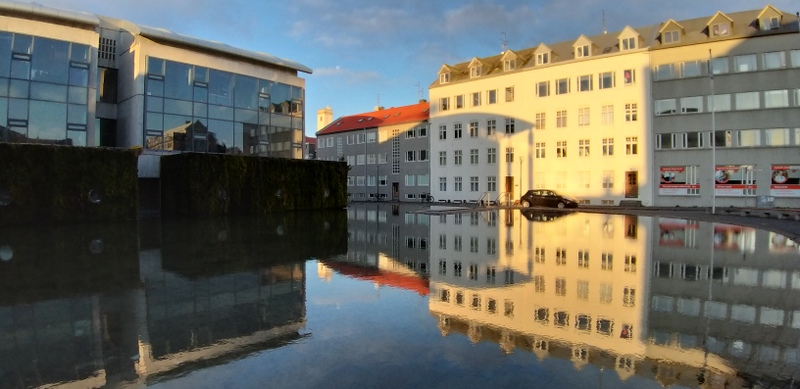 The Golden Circle tour started at 10:30am from the bus terminal. I had a wonderful leisure walk (thankfully without luggage) through the Pond (which is a city park). The tour bus was full with about 50 tourists. We had three stops.
Pingvellir National Park
The Park located in an active volcanic area 49km east of Reykjavik, is enclosed by a varied belt of mountains on three sides and features grass-covered lava fields with Lake Pingvallavatn lying at its southern end. It covers an area of 24,000 ha of which 9,270 ha constitute a World Heritage property.
The World Heritage Site includes part of the Park and the remains of the Althing itself i.e. fragments of around 50 booths built from turf and stone, the Pingvellir Church and adjacent farm, the population of arctic char in Lake Pingvallavatn and remains of agricultural use from the 18th and 19th centuries. Althing is the most important historical and symbolic site in Iceland.
The best-defined feature of this World Heritage property is the major rift which has produced dramatic fissures and cliffs demonstrating inter-continental drifting.
The scenery with some snow-cladded mountains in the distance and autumn foliage was stunning. A pavement has been built between the rift planked by spectacular vertical volcanic rocks covered with lush green mosses and lichens of different colours.
It is an awesome feeling to actually walking on the location where the two tectonic plates, the North American and the Eurasian plate, are moving away from each other.
As I had about 30 minutes on my own, I went to see the Silfra Fissure by following the pavement to reach the viewing platform at the lower level. The view of Althing with the church, surrounding buildings and ponds and the lake is mesmerising.
I made my way to the viewing platform at the top for a few more snapshots. I wished I had come on my own so that I could spend half a day to explore the remains of Althing itself.
Geysir Geothermal Area
We drove for an hour before arriving at the famous Geysir geothermal area dotted with hundreds of colourful hot springs and two geysers. One is called 'Geysir' which has come to be the name of similar feature (which spells 'geyser' elsewhere). But Geysir seldom erupts now. The other geyser known as 'Stroku' is active: it erupts every 10-15 minutes up to 40 metres.
We had just over an hour for sightseeing and lunch. I skipped lunch and spent my time strolling around.
I followed a path and reached the top for a panoramic view of the whole area. I saw a lovely rainbow from the top.
Before leaving the site, I stopped by the 'Stroku' for a snapshot. Then it erupted earlier than expected: I therefore got a good shot!
Gullfoss Waterfall
The melting water from Iceland's second biggest glacier Langjökull, falls into a deep canyon forming this majestic "Golden Falls" which has been described as the 'Queen of Icelandic Waterfalls',
The drizzle stopped when I was walking towards the view point on the low platform. Though I missed the rainbow which had been seen from the upper viewing platform, I was able to spend over half an hour gazing at the cascades of waterfalls from various angles. After having seen many world-famous waterfalls, I would put Gullfoss Waterfall as one of the best and most spectacular waterfalls on my list.
After a very good tour of seven hours, I got off in the city centre around 5:30pm. I returned to my guest house, picked up my suitcase and moved to a hostel near the harbour for three more nights. The area of working-class dwellings and go-downs has been revitalised with museums, galleries, hotels, bars and seafood restaurants!
In the evening, I cooked and had chicken and noodles for dinner. Then I walked back to the bus terminal for the second time to join a Northern Lights tour that started at 10pm. I was surprised to see three buses with some 150 tourists in total. I later found out that it was the second trip for many of the tourists who had gone the night before without seeing the lights. As a result, they were given a free tour the following night.
Tonight, we had a clear sky and a full moon. The tour guide was hopeful for a good show: she was right.
I watched the road signs and believed we were on the road to Selfoss. The drivers parked in a big car park next to a road with a mountain behind. All tourists were told to watch the lights on the road. I could see a stream beside the road and rows of lights from houses at the far end. We had a full bright moon that lit up the sky.
Anyway, we saw northern lights moving across the sky soon after our arrival. The lights looked greyish with naked eyes and lasted probably for ten minutes. I stayed outside for another half an hour. It was cold and I returned to the bus.
Shortly after midnight, the guide told everyone to come out. This time, the lights though still greyish white, were more active and impressive. They flashed across the sky, appearing as double arches several times. They danced and sped rapidly across the dark sky in all directions.
The tourists especially those watching the lights for the first time were excited. They jumped with joy. Some took photos with their phone and flash.
I have seen Northern lights many times in different settings often with beautiful backgrounds (Yellowknife in Canada, Greenland, Norway, Sweden and Finland). This time, the lights show was not bad but the setting was poor. I was also surrounded by an excited group of tourists who made too much noise.
I did not bother to set up the tripod at the beginning. But as the lights became stronger, I decided to give it a go. I suppose I could have taken a few interesting had I been alone or in the company of a photography group. The lights could be even more beautiful if we could have had the beach, a waterfall, a lake, open field with a farmstead or snow-cladded mountain in the background
We headed back to the city sometime after 1 am. I was dropped after 2 am. Luckily the hostel is not far from the bus stop and the area is safe. I was in bed just before 2:30 am after a long and nice day.
September 17 Tuesday: Hidden Treasure of the West
I had less than five hours' sleep as I had to wait for a pick-up outside the City Hall before 8 am. Charlie from Troll Expeditions arrived on time and he spent the next half an hour picking up 15 more guests. I like Charlie, a Costa Rican, who is cheerful, energetic and social.
The Snæfellsnes Peninsula, often called Iceland in Miniature, as everything Iceland can offer can be found in this area: Volcanic craters, lava fields, a glacier, waterfalls, fjords, hot springs, black and golden sand beaches, lush meadows and picturesque fishing villages with colourful wooden houses.
The weather was fantastic with sunshine and blue sky. We had nine stops today.
Gerŏuberg Cliffs is one of the most impressive basalt column sites in Iceland. The cliff is around 500m long with hundreds of regular-shaped basalt columns measuring 12 to 14m-high and half a metre in diameter, stacking in a side by side row. Some are even leaning forward giving the cliff a spectacular view. I looked up as I walked along the road. What an awesome sight!
Ytri-Tunga Beach has a seal colony. Charlie took us on a walk and we watched the Grey and Common seals basking in the sun for some 15 minutes.
Búdakirkja (The Black Church of Búdir) was built in 1703 and reconstructed in 1987. This picturesque small chapel has a historical graveyard, a bell and chalice from the time it was constructed.
Snæfellsjökul Glacier. The weather was good and Charlie drove us to a vantage point to see the glacier. We even climbed to a higher ground for a snapshot.
Arnarstapi. We stopped at this fishing village for lunch for an hour. I skipped lunch and took a stroll to see the statue of Bárõur and the rocky shore. The story had it that Bárõur a half-man half-troll mystical figure in Icelandic legend, had committed many misdeeds and his spirit trapped under the glacier now protects the area. The gigantic sculpture is made up of stone pieces.
Then I followed a paved path to the edge where I had views of a row of jagged cliffs. There are several viewpoints for visitors to appreciate the dramatic landscape, the arch and black basalt rocky shore.
Lóndrangar is an impressive pair of 75m-high basalt pinnacles off the awesome shore planked by basalt cliffs. The pinnacles are remnants from a bigger crater that has mostly eroded away.
Djúpalónssandur Beach is a black basalt round pebble beach. We only had half an hour and one of the two paths leading to the beach was closed. I therefore had to walk down and up of the path on the left side. There are many spectacular and beautifully volcanic rocks sculptured by erosion.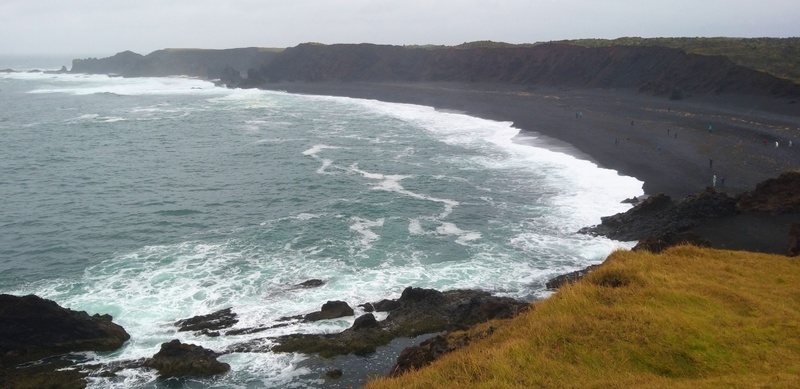 Saxhóll Volcanic crater formed over 4,000 years ago, is easily accessible through an iron staircase. When standing at the rim of the crater, I could see the Snæfellsjökul Glacier looming over at the back and the lava fields and the sea at the front.
Kirkjufell (Church) Mountain which has been used to depict the "Arrowhead Mountain" in the series Games of Thornes, has become an icon of the peninsula. The best snapshot is taken from the base of the scenic Kirkjufellfoss Waterfall. I walked some 300m up a well-trodden path to the waterfall and had a nice snapshot.
We had a toilet stop at Olafsvik a fishing village before heading back to the capital shortly after 5:15 pm. The return journey always seems shorter. We were back in Reykjavik around 7:45 pm. I had a great day: the landscape and scenery of the peninsula are awesome.
Sept 18 Wednesday: South Coast
I almost missed my tour as I had not read carefully the joining instruction sent to me in an email after the booking. First, I did not realise the tour company today was Saga Travel/GeoIceland/IcelandHorizon and not Troll Expeditions. Second, I thought the pick-up time was 8 am as the day before. When I realised from the invoice that the tour would start at 9 am, I took a stroll and did not return to the Town Hall till 8:30am. Finally, I was looking out for a Troll bus though I saw a Saga tour bus with a sign for 'South Coast' approaching. I was puzzled and read the email on the tour on my mobile phone and realised my mistake. I reached the Saga bus when the driver was calling me through WhatsApp. Luckily, I could use WhatsApp as the City Hall provides free Wi-Fi.
Today, there were only seven tourists: each took two seats! Owing to the terrible weather with heavy rain, ghastly wind and a dark sky, we all looked miserable and unenthusiastic. Our Icelandic driver cum guide has a low and dull tone. Though he tried to talk about the country and the volcanic activities in this particular region, most of us seemed to have gone to sleep.
We had our first stop at Sólheimajökull Glacier where we would walk to the glacier which has been receding fast in the last few decades. It was drizzling when we started the hike. After walking 200-300 metres, we had to give up owing to the howling wind. I was almost blown off from the cliff!
I was fairly wet when I got back to the bus. Then we moved on to Reynisfjara, a black sand beach with spectacular basalt columns in the cliffs along the beach. The driver told us about the horrific sneaky waves known for this coast.
The basalt beach, cliffs, caves, waves and two gigantic sculptured rocks off the coast looked dramatic, melancholic and atmospheric! Owing to the rain, I often did not bother to take my camera out. Anyway, all the photos I had taken looked like black & white photos of yesterday.
Then the driver took us to the Vik village which was once a fishing village. Today, it looks like a busy tourist town. We had time for lunch till 2 pm. I did not eat as I was busy looking for a waterproof pant so that I could change and keep myself dry. Unfortunately, I could not find something that fitted me at the right price. At the end, I took off the top layer and only wore a thin silk pant on for the rest of the day. I was cold and uncomfortable!
After lunch, we went to 60m-high Skögafoss that has been described as "the most photogenic waterfall in the country". I do not share this view perhaps owing to the poor weather.
It was still raining when we arrived at the impressive Selijalandsfoss where one can walk behind. The rain was not as heavy as before and all of us managed to walk behind the waterfalls.
None of us seemed to be in a mood to enjoy the journey. All looked relieved when getting off the bus. I was glad to be back in the cosy hostel and prepared myself a delicious hot meal with chicken wings. I met a young lady from Hong Kong and we had a nice chat. I went to bed early as I was tired.
Sept 19 Thursday: Reykjavik
I bought a Reykjavik City Card for 24 hours (ISK3900) which offers an excellent way to explore the city. The card gives free access to 13 museums, the Reykjavik Zoo and Family Park, the city's eight thermal pools, and free ride on the ferry to Vioey Island and on city buses in Zone 1.
I had a late start as I did not want to get up early. I began at the Museum of Photography which is located close to the hostel. It has a small exhibition on immigrates in Iceland. Not too interesting.
I went next door to visit the Art Museum at Hafnarhús, which is housed in an old harbour warehouse built in 1930s. It has six galleries and exhibits regularly works of both local and international contemporary artists. It is also home to the works of Erró, born in 1932 in Ólafsvík, Iceland, who is best known for his painted pop art collages of images from comic books and advertisements.
I saw an exhibition "Erró: Mao's World" which is on from May 1, 2019 for a year. I find the paintings visually striking with familiar background of international famous landmarks with Mao.
It is a treat to have a nice and free coffee at the end of the tour.
I went to see the Settlement Exhibition which is not far from the Town Hall. This excavation that uncovers the city's Viking history, was discovered during construction work and was opened after my first visit to Reykjavik. The long house and the artefacts are interesting. The interpretations are good and most informative.
I had a long walk before reaching the National Museum of Iceland. One can learn about the history of Iceland's past, from the medieval days of Viking settlements to its current contemporary culture. Over 2,000 artefacts discovered in various parts of the country are on displayed. But I find the display dull.
On the way back to the old town, I stopped at the National Gallery first founded in 1884 and presently housed in an old building which was originally erected as a freezing plant in 1916. It is connected to a modern new wing. The gallery has over 11,000 art works in its collection with its main emphasis on 19th and 20th century Icelandic art.
I saw two excellent exhibitions. The first one was a retrospective of the works of Hulda Hákon "Who are Your People?". Born in 1956 in Reykjavik, she has a special place for herself in Icelandic art history with respect to both media and imagery.
Environmentalism, consumerism and customs of communication are the principal themes of her art. Most of her works are reliefs and her earliest pieces were made with scraps of timber. I find her works expressive, humorous and human.
The main exhibition was the "Treasures of a Nation". This collection on display from April 2017 to December 2019 displays the evolution of art in Iceland from the early 19th century to the present times. I do not know any of the Icelandic artists. But their works especially those of Jón Stefansson (1881-1962), Iceland's first modern landscape artist and one of the founders of modern art in Iceland, take me on a visual journey to appreciate the uniqueness of the land and the spirit of Iceland.
I had two cups of excellent free coffee at the end of the tour. Excellent way to conclude my museum visit today!
As Kylie would be arriving in the late afternoon, we would stay in a hotel for a night. I returned to the hostel and took a bus with my luggage to the hotel in Laugardalslaug.
Kylie's plane was delayed and did not turn up till 6:30pm. We were both hungry and had a hearty seafood dinner in a nice restaurant nearby. With my City Card, I went to the Laugardalslaug Thermal Pool close to the hotel after dinner.
Swimming and hot springs are part of the Icelandic way of life. Every child has to learn to swim and good pools are available even in small communities. The pool I visited tonight has very large indoor and outdoor swimming pools and more than half a dozen of hot tubs of different sizes with temperature ranging from 38 to 44C.
It was drizzling and the weather hoovered around 5°C. I tried half a dozen pools within an hour watching locals of all ages soaking in the pool chatting and socialising. What a wonderful and authentic Icelandic experience!
Sept 20 Friday Morning: Reykjavik
Our expedition would begin around noon when we could go aboard Silver Explorer. As a result, I had a few more hours to explore the city with my 24-hour city card. I decided to visit the Art Museum at Kjarvalsstaöir which is not far from the hotel. The museum would open at 10 am and I could return to the hotel to check out and depart for the Miobakki Pier at noon.
I walked to the museum only to find that it would open at 11 am today owing to a special staff meeting. I met a disappointed couple from the US at the entrance: they offered to drop me in the old town. Hence, I visited the Cultural House instead. This historical building houses a former library, many beautifully preserved artefacts offering a unique journey through Iceland's visual legacy.
By now, I knew the public transportation and the city well. I took Bus No 12 back to hotel and checked out with Kylie who came back after her swim in the same swimming pool. We took a taxi to the pier which is close to the hostel I had stayed. The taxi fare was ISK 2,100. Very reasonable for an expensive Nordic country at 66 °N!