Maasai Mara, Kenya September 1-4, 2019
Day 9 September 1: Northern Serengeti – Maasai Mara, Kenya
Today we left Serengeti for Maasai Mara. I got up early in order to watch sunrise in Serengeti for the last time. It was beautiful and peaceful.
At 8:30 am, Ali drove us to Kogatende airstrip near our camp. Our 9:30am charter flight was delayed for an hour. I enjoyed viewing the plains and Mara River from the plane. When we arrived in Tarime, we were driven in a mini bus for 20 minutes to the border at Sirari. The Tanzanian Port Health which never checked our Yellow Fever card on arrival, demanded all except me to pay US$30 for a Yellow Fever Yellow Book as my friends who had their vaccination in Hong Kong were only given a certificate and not a yellow book. It is a rip-off and waste of time! It took them over half an hour to issue twelve books.
When we were ready to leave Tanzania, Stewart could not find his luggage which had been taken by another van of the same company to the Kenyan side. All ended well and we went through the Kenyan immigration at Isebania with relative ease despite the fact that I and two other members had not printed out the e-visa for inspection. But they saw our invoice and payment and were able to find our record from their computer system.
We were on Kenya soil around midday and had to catch another flight from Migori. As we were late, our driver sped for half an hour to reach the airstrip. We had a 20-minute scenic flight with Governors Aviation.We were met by two drivers when we landed at the Musiara airstrip located in the Mara Triangle. Our group of seven took an open-top 4WD driven by Solomon who is a game driver with the camp for ten years. We would spend the first two nights at this camp before moving to the nearby Governors Camp for the last night.
Located around the river in the northwest corner of the Maasai Mara National Reserve, the exclusive Little Governors Camp has 17 luxurious tents. We had to take a short boat ride to the camp. Upon arrival, we were treated with the best lunch on this trip. The BBQ pork chop and fresh salad were most delicious. Ellen and I had a luxurious and spacious tent with 24-hour solar-heated hot-water.
Bounded by the Serengeti National park in Tanzania to the south, the Siria escarpment to the west, and Maasai pastoral ranches to the north, east and west, Maasai Mara is a large game reserve in Kenya with an area of 1,510 km2. The Sand, Talek River and Mara River are the major rivers draining the reserve.

The Greater Mara Ecosystem encompasses areas known as the Maasai Mara National Reserve, the Mara Triangle and several Maasai Conservancies nearby while the Mara-Serengeti Ecosystem as a whole covers some 25,000 km2 in Tanzania and Kenya.
Maasai is world famous for its exceptional populations of lions (about 600), leopards, cheetahs and elephant. The annual Great Migration involving 1.3 million wildebeest, 200,000 zebra, 500,000 Thomson's gazelle and 97,000 Topi, and 18,000 elands, is regarded as a natural wonder.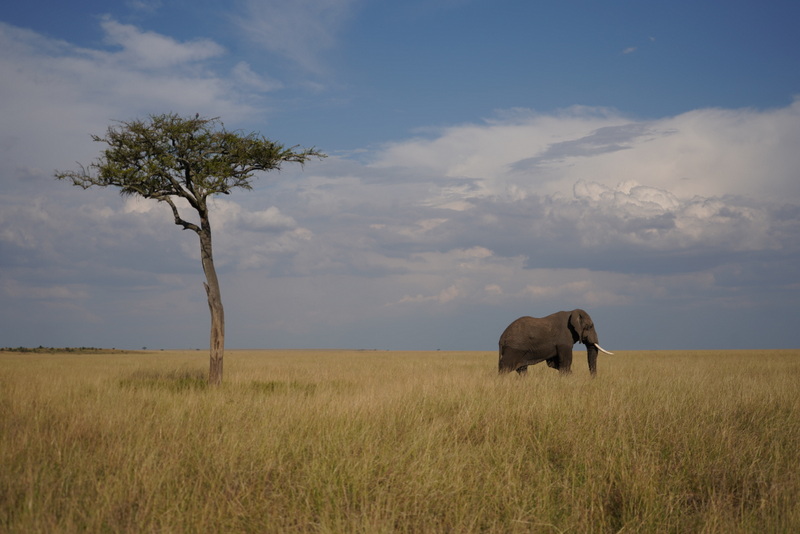 We were off on our first game drive at 3:30pm. Today, I experienced a few iconic moments that are uniquely African. We had blue sky and perfect sunlight.
First, I watched for over half an hour a lone old elephant walking peacefully across boundless golden grassland towards an acacia tree.
On top of the tree was a lilac-breasted roller (the national bird of Kenya). What a timeless and African image!
Next, we saw a group of four cheetahs including two cubs a few hundred metres away. As the battery was flat and I forgot to take a spare one, I packed my camera away. I enjoyed watching these beautiful animals with my naked eyes for a change. Their movements are so swift but graceful.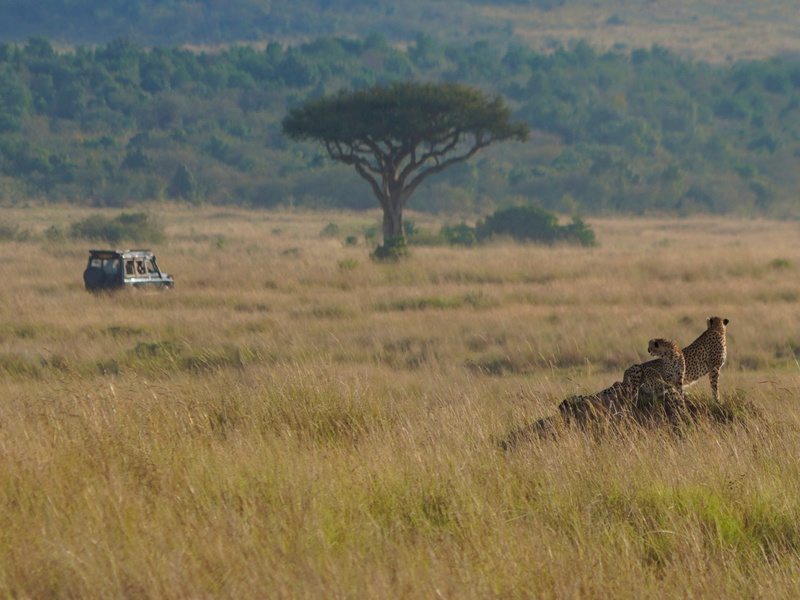 We were supposed to be back in the camp around 6pm. Half way back, Solomon spotted a majestic lion in a distance and soon found its mate lying in the grass nearby. Then she moved to a mound less than 2 metres high. He drove the vehicle right next to the lioness. As a result, I had my longest and closest eye contact with a lioness which might be less than 4 metres from me. I looked directly into her glassy cool eyes. She looked at me but without motion.
After spending ten minutes with the lioness, we moved to another spot of action: over 10 vultures stood on watch on a mound while over 20 vultures and storks gathered around a carcass. A hyena joined in having a bite.
Suddenly, the vultures on the mound flew away. The hyena began to flee. When I looked at the carcass, I realised why the vultures and hyena had left: the lioness that we watched before, had arrived to claim her dinner!
After sunset, it got dark quickly. Then came lightning and thunder. A ranger vehicle stopped us after 6:30 pm and asked our drivers for their details. At the end, they had to pay a fine of USD100 each. Of course, our group picked up the bill.
While we were enjoying our dinner, torrential rain poured down. Heavy rain, thunder and lightning are part of our African experience. We saw a hippo on our way back to our tent. Later another hippo walked past our tent before submerging itself in the marsh in front of our tent. We live and have to respect the animals who are the real master of this part of the world!
Day 10 September 2: Maasai Mara
This morning, the Botswana group of eight took a sunrise hot balloon flight (just under US$500 pp). Ellen, Joyce, Susanna, Lee and I had a game drive with Solomon instead. George, manager of the Little Governors Camp kindly arranged us to join our friends for a champagne breakfast at their landing site.
We left the camp after 7 am and had an exceptionally wonderful game drive.
First, we spotted two black rhinos (a mom and her calf) a few hundred metres away. There were only a few vehicles around and they were not disturbed. We had them in sight for almost half an hour.
Next, we saw a few lionesses lying in a bush in a distance. Behind them were several gazelles lying and resting on the grass. Solomon told us to look ahead as a lion was walking towards us. Then it crossed the road and walked towards the lionesses.
I was more interested in the rhinos than the lions. I tried to find my rhinos which were moving further and further away into the bush.
It was about 8 am when we arrived at the breakfast site close to the escarpment. I saw another typical tourism promotion scene: champagne breakfast with waiters in Maasai colourful wraps.
I guessed 50-60 tourists had taken the balloon flight that morning. They all looked jolly and content. We continued with our leisure game drive after breakfast. We took numerous pictures of lilac-breasted roller and vultures.
Solomon took us to a river bank where wildebeests might cross the river. We saw many hippos on the river and watched a few juvenile hippos diving and playing with each other for half an hour.
We saw two crocodiles: one was lying motionless in the sun on the bank while another was half submerged in the water. I also saw a crime scene: two dead wildebeests were lying on the river bank close to the crocodiles.
But there was no sign of crossing today. We drove back to the camp before noon and had a wonderful and leisure lunch by the marsh. It was peaceful and relaxing. Another advertised luxurious African safari experience!
I sat in front of the tent and watched wildlife in comfort. The marsh is always green with plenty of wildlife. I watched three hippos and several buffaloes keeping themselves cool in water, a resident Egyptian goose guarding its territory, a few plovers and egrets feeding, a few elephants and zebras appearing at the far end of the marsh. There were many butterflies and birds in the garden.
We departed at 4pm looking for rhinos. As soon as we left the Little Governors Camp, we saw two giraffes performing a kind of dance/ritual with their long neck for some five minutes. Amazing!
Solomon believed the rhinos we saw in the morning were still in the bush which has plenty of leaves that rhinos love to eat. We drove around the area a few times but filed to find a rhino.
The sky was dark and we found rain clouds in the west and the east. We saw lightning and rain coming. Around 5:30pm, we gave up and headed back to the camp. Solomon who was hopeful to find a rhino for the Botswana Group in the afternoon, was disappointed. But it's not his fault: it is a reserve not a zoo!
Day 11 September 3: Maasai Mara
We left the camp at 6:30 am for a morning game drive. The sun rose above the horizon when we were near the airstrip. We had a wonderful time with a lion family and a couple of black-backed jackals.
We had seen lots of lionesses and were wondering where the lions had gone. We had good visibility over the flat treeless plain. Solomon spotted two lions in a great distance. They looked like identical twins with beautiful dark mane. According to Solomon, this family comprising six lions, eight lionesses and their cubs, is famous and has been filmed before.
Solomon moved the vehicle close to a mound. Soon the lions walked in our direction, past us in no time and disappeared.
Then came four lionesses and five cubs. They sat and rest on the mound posing for us with the soft morning sun behind them. We jumped with joy and took many photos.
Next, Solomon spotted another lion coming. But it stopped and lay on a mound. We got close to the lion which opened its eyes from time to time. It was still sitting on the mound when we left around 7:30 am. One of his eyes seemed to have problem and was half-closed most of the time.
According to Solomon, this lion must have just returned from another lioness and her family. Hence the lionesses in this group would know his whereabout as he had a different smell. They would not welcome him back. This lion would be staying alone till the smell from the other lionesses had gone.
A short distance away, we spotted a couple of black-backed jackals. The male definitely looked more beautiful than the female. They took turn to eat their kill (possibly a baby gazelle). Solomon said this pair would consume one to two baby gazelles a day. They were not afraid of us and walked up to our vehicle to smell it. We spent some 15 minutes with the jackals.
On our way back to the camp for breakfast, we saw five noisy spotted hyenas by the roadside. Four were fighting against one who seemed to defend its territory from the intruders.
We had a wonderful full breakfast in the garden. The setting was perfect for a luxurious camp. The food was excellent too.
After breakfast, we checked out and crossed the river for a transfer to the Governors Camp nearby for one night. On the tree close to the car park was a large Verreaux's eagle owl with closed eyes. From the front seat, I did not have a good view of the owl. But Josephine shared her nice photo with us.
It did not take long to arrive at the Governors Camp located which is much bigger with 37 tents (29 with river views and 8 with views over the plain). We had Tent 35 which is a family tent with four beds.
Before lunch Ellen and I explored the camp on foot. We walked all the way to Tent 1 located at the far end of the camp next to the river. We saw crocodiles and hippos on the river and a warthog sleeping outside the tent of Susanna and Lee. There were plenty of butterflies too.
We had a relaxing time and a simple lunch. I like this camp which has a sundeck overlooking the river and a lovely cosy lounge with a bar.
We sat off at 3:30pm on our last afternoon game drive. Solomon's plan was to take us to the river to watch migration. On our way, we spotted a beautiful slim cheetah with lighter colour spots in the open field close to the river. It sat on a mound looking out for its prey of the day. After a while, it walked and sat on a mound nearby.
We stayed with this beautiful animal for at least 20 minutes before moving to the river. We saw thousands of wildebeests spreading out on the other side of the river and some were walking in the direction of the river. We expected them to cross soon. After watching for a while, we noticed that other vehicles started to leave as the wildebeests seemed to settle down and made no move to cross the river.
We returned to our cheetah for a while. It was still on the mound. Then we saw a group of wildebeests running towards us heading to the river. Vehicles began to follow them to the river and we were back at the same spot with many vehicles blocking our view. But Solomon assured us the location would be fine.
Solomon was right. I guessed there might be some 50 wildebeests in this group. It moved towards the river but stopped. There were signs of retreat. Ten minutes passed and we saw movements again. Then we saw the leader of the group in the river. This must be the most civilised river crossing: the wildebeests moved slowly and gracefully. They did not seem to worry about predators. The whole group made a safe crossing and took their time to reach the opposite bank. This was the fifth time we watched wildebeests crossing the river.
We returned to the cheetah which was now stalking a gazelle behind a fig tree not far from the river. Solomon stopped the car far from the tree as he expected the animal with its kill might come this way.
We watched several gazelles standing under the same fig tree. But a vehicle drove too near the tree: the gazelles were scared and ran away. Then the cheetah came out without a chance to catch its prey.
The poor cheetah walked towards us with its fur lit up by the golden late afternoon lights. We were lucky to be able to spend so much time with this beautiful animal.
We watched the sun setting behind the escarpment on the way back to the camp. Venus on behalf of the group gave our two drivers US$200 to cover the fine they had paid. We had dinner followed by a welcome jumping ceremony / performance by the Maasai employees of the camp. We watched the same performance on Day 2. We packed and ready to leave after a game drive on the last day.
Day 12 September 4: Maasai Mara – Nairobi – Addis Ababa – Hong Kong
Solomon took us on our last game drive at 6:30am. He found a good location with a dead tree as foreground for us to take a sunrise photo.
Then instead of heading to the river to watch another migration crossing, he spent the whole morning looking for a rhino in the bush area. As a result, we saw many birds including a bateleur eagle, several lilac-breasted rollers, several hornbills, a longclaw, several storks, eagles and vultures etc.
I did not find anything special. But I enjoyed every minute of the drive soaking in the unique African safari atmosphere.
We checked out after breakfast and Solomon dropped us at the airstrip. While waiting for our charter flight to Nairobi, I began to miss the surreal safari world stretching from Ngorongoro Crater to Maasai Mara.
We landed at Nairobi around midday. When Josephine and Peter arrived on a later flight, the whole group was transferred to Crown Plaza Hotel inside the international airport.
The group would split here: eight would continue with the safari trip to Botswana while five would return to Hong Kong. We had nice buffet lunch in the hotel. Then, I said good-bye to my friend. I would travel by myself on Ethiopian Airline while Joyce, Ellen, Susanna and Lee would fly with Qatar.
I had a free transfer to the airport at 4 pm. My 90-minute flight to Addis Ababa took off around 7 pm. My direct flight to Hong Kong departed Addis Ababa on schedule after 11 pm. I was so exhausted that I managed to doze off for several hours during the 10-hour flight. I landed in Hong Kong at 2:30 pm (10 minutes earlier) on September 5.
While I was away in Africa, turmoil in Hong Kong continued. Luckily, the airport and ground transportation were operating normally today. I walked into my tiny but sweet home at 4pm. As a result, I had time for a haircut before attending the wedding of my cousin's daughter at 6pm. I spent the whole evening with my two brothers and six cousins and their family. The wedding was the reason why I had to return to Hong Kong immediately after the safari trip.
Remarks (written and uploaded on May 12, 2020)
This 12-day safari trip in Tanzania and Kenya is my most luxurious and expensive journey through a very unique part of Africa. I might have spent around US$8500 (package plus airfare). It is a lot of money for a backpacker like me. But given the quality of the accommodation, the guides and supporting services, and the cost of internal flights, I consider it a value-for-money trip.
First, I have a chance to sample the larger Serengeti ecosystem and landscape. We saw different landscape, topography, flora and fauna in the Ngorongoro Conservation area, Central and Northern Serengeti and Maasai Mara. We crossed the Mara River several times.
My first sight of the Ngorongoro Crater, the world's largest caldera, when descending into it through mist was most memorable. Its expansiveness and landform have created its own eco-system with abundant animals. It looks like a paradise.
We drove through the dry hot central Serengeti before reaching north Serengeti where Tanzania meets Kenya. The northern part is more remote with few tourists. We began to see thousands of wildebeests and zebras moving slowly across the dry plain towards the Mara River. In Maasai Mara, I found it much greener with a mountain range at one side, the Mara River in the middle and gradual elevation on the other side of the river. As a result of the different vegetation, topography and abundance of wildlife, I can understand why Serengeti and Maasai Mara have been billed as one of the world's top safari destinations.
Second, Venus, my friend who organised this trip, has done an excellent job and found a good tour company. We stayed in two comfortable lodges and four beautiful camp grounds. The ones I like most are the Mara under Canvass in North Serengeti and the Governors Camp in Maasai Mara. From my bed in a basic but comfortable tent in Mara under Canvass, I watched thousands of zebras and wildebeests walking less than 50-100m in front of my tent. The luxurious Governors Camp with superb service and excellent food was a real treat. Hippos roam freely and are regular visitors while African buffalos soak in the pond. I can easily spend a leisure day under a tree or outside my tent to watch wildlife and birds and soak in the atmosphere.
Third, we had excellent game drives. In total, we had three full-day game drives on Day 4, 7 and 8, four half -day drives in Tanzania and six half-day drives in Maasai Mara. For me, I had an extra drive on Day 10 when our guide took Ellen, Dr Lee, Susanna and I to the hot balloon landing site to join our friends for a champagne breakfast. During this short drive, we saw a black rhino and her calf, a lion and two lionesses, elephants, wildebeests at sunrise.
Fourth, after having visited most of the top destinations for wildlife in Botswana, Ethiopia, Kenya, Madagascar, Malawi, Namibia, South Africa, Tanzania and Uganda, I find the sheer number and varieties of animals and settings for wildlife watching in Serengeti and Maasai Mara amazing and most impressive.
Migration was the raison d'être for our trip. We saw wildebeests and zebras in migration and constant move during the entire trip. We also watched the highlight of migration by the Mara River five times – four times in north Serengeti and once in Maasai Mara. Though I did not see the most splendid action scenes as captured by National Geographic in terms of number and struggles of wildebeests and zebras when caught by crocodiles, I did watch how they crossed the river or suddenly turned back.
The best and most exciting viewing was the first crossing on Day 7. Things happened very fast. From photos taken by Josephine, we could vaguely see a crocodile in the water and blood streaking out from a zebra's leg. But the most touching scene was on Day 8 when we watched a group of wildebeests crossing the river to the Kenya side. A calf lost its mom, crying aloud and returned to the river to find its mom on the Tanzanian side of the river. It galloped nervously to and fro for a while before picking up its courage to across the river again. It was spared by a crocodile and reunited with its mom which licked it fondly. It was so moving!
We of course saw the African Big Five.
Lion –I have seen lions before this trip. What has made this trip special is the number of lions I saw and the setting of the sighting. I may have seen 60-80 lions including a couple of lions lying on trees and some on rocks (like those appearing in the film 'Lion King'). I have also seen half a dozen majestic lions with beautiful manes.
The best memory was on Day 11 when we sighted a group of ten lions shortly after sunrise. This group according to our guide is famous and often filmed. The pair of lions are siblings and were hunting together. Their four lionesses and five cubs sitting on a small mound looked relaxed. The moms had intimate encounters with their cubs. The lights were warm and perfect. We also found a lone old lion on a mound about 200m away. It seemed to be half-blind and was panting. It must have been deserted by the group and might die soon. We watched this group for almost half an hour.
Leopard– I reckon we have seen four leopards. We watched a cub in a playful act trying to catch a bird on Day 5 and one lying on a tree on Day 6. But the best leopard show was on Day 7 when we watched a leopard dragging its prey up a rock. Though it was strong and muscular, it was panting.
Rhinoceros – I was lucky to watch a mom and her calf soon after we left our camp ground on Day 10. They were not far from our jeep when we first spotted them. We watched them walking across the plain and finally disappeared in the bush several kilometres away.
Elephant – We might have seen hundreds of elephants on this trip often in groups of 10 to 20 each time. The best moment for me was when we spotted an old and lone enormous elephant walking across the expansive golden grassland at sunset. We followed it from a distance for several kilometres.
African Buffalo – They are too common and abundant and can't complete with others for attention!
Apart from the African Big Five, I enjoy watching cheetah, giraffe, hippo, topi, waterbuck, gazelle, jackal and hyena. I have vivid fond memories of cheetah and giraffe.
Giraffe is cute, lovable and photogenic. We must have seen dozens of giraffes. But the most memorable occasion took place on Day 10 when we watched a couple of giraffes engaged in synchronized movements for some five minutes. Were they in courtship? I have subsequently learnt that they were indeed dancing. Amazing!
Cheetah is photogenic and easily recognised. I have seen a total of 13 cheetahs i.e. eight in Tanzania and five in Kenya. The best memory was on Day 11 when we watched a cheetah trying to stalk a gazelle for an hour. Its attempt failed when a jeep got too close to the bush where it was hiding. The gazelles flee just in time! The sun was setting behind the cheetah giving us fantastic light for photography.
During the game drive, we also spotted many distinctive birds. The ones I can recognise and like most are the iconic lilac-breasted roller (the national bird of Kenya), secretary bird, marabou stork, yellow-billed stork, tawny eagle, bateleur eagle, hornbill and the Verreaux's eagle owl.
This dream safari trip has indeed brought me many sweet memories. We had a nice group and I have made some new friends. Josephine and Peter love photography and have shared their beautiful photos with us. Dr Tung is studious and has taught us a lot about animals and birds. Raymond, the selfie expert, was the group photographer. Finally, we have to give a big cheer to Venus, our group leader who planned the trip for a year and liaised with the tour company.