Northern Siberia & Chukotka Coast & Anandyr July 31 – August 5, 2019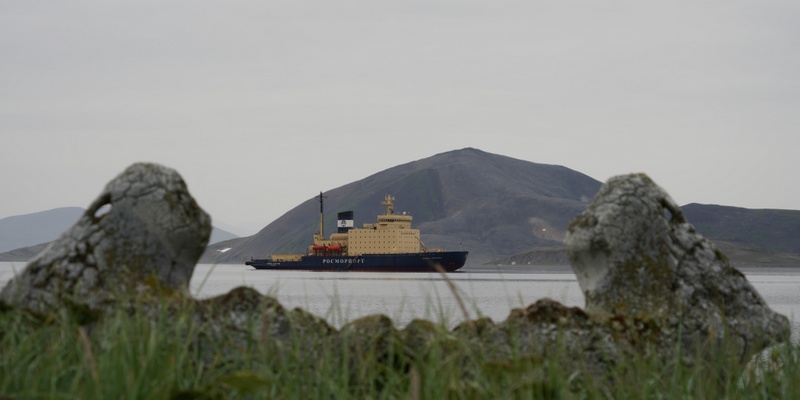 Day 10: Wednesday July 31 At Sea – North Siberian and Chukotka Coast
I got up before 5 am. There was patchy fog and the air was crisp. The sea was flat and calm though. I picked up a coffee table book on some 100 islands. I was particularly interested in those (about 40-50) I have yet to visit.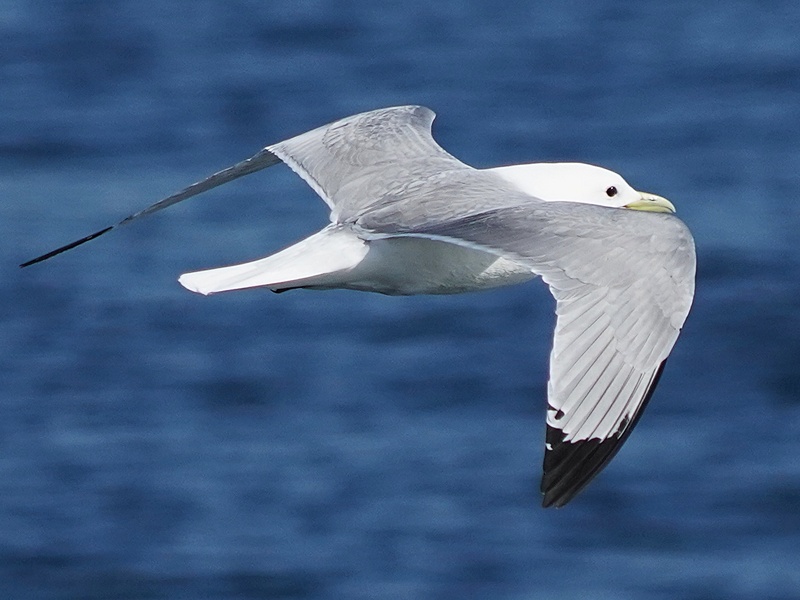 We spent the whole day at sea catching up with lectures and sorting out photos. I spent a lot of time in the lecture theatre listening to Joe on 'A Landscape Photographer in the Polar Regions' and Agnes on 'Sea Ice'. I have heard many times about sea ice. Agnes's talk is so far the most informative, well-structured and easily comprehensible (though I have already forgotten most of the details she has mentioned). Maxim touched on a more serious topic and spoke out the importance of the Arctic to the rise of communism.
I love puffin which looks cute and funny. I was able to take my first photo of a flying Tufted Puffin when I was standing on the bow. Though it is not a perfect photo, I am content.
After lunch, we were going through a feeding ground for whales. Hence, we had a spectacular panoramic show with countless whale blows, fluking and bridging – mostly Humpbacks, but occasionally Bowheads and a couple of Minke Whales.
It was sunny and warm. I was out at the bow and sometimes at the top deck. According to our expert whale watchers, we might have seen some 200 whales over a couple of hours.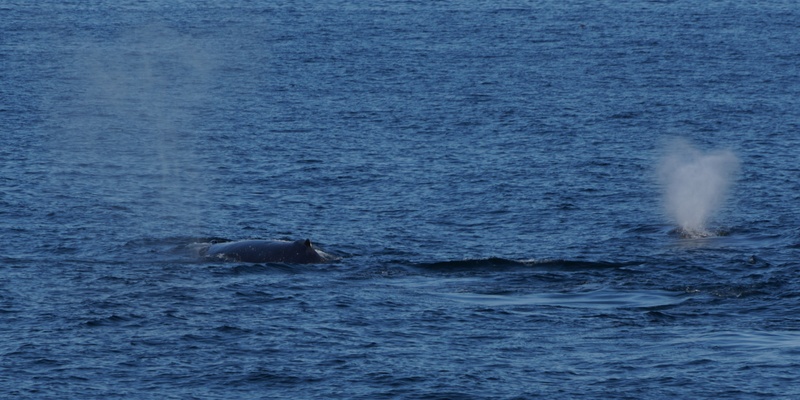 At the recap, Mark gave a short talk on whales and showed us some of his beautiful photos on whales. One photo shows a group feeding with over half a dozen Humpbacks. I recall I saw four Humpbacks doing the same off Greenland once.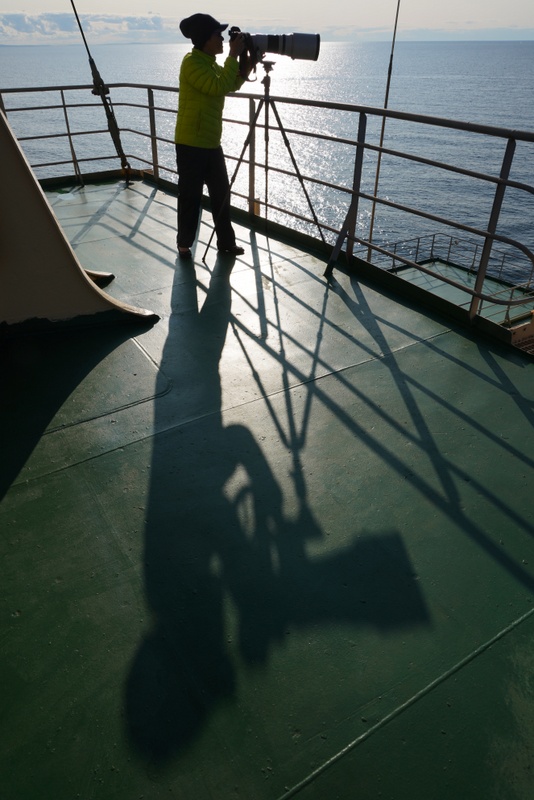 After dinner, Mark and Joe kindly offered a drop-in-photography clinic in the lounge. I also watched a vintage film about Wrangel Island in the auditorium. We had another busy day!
Highlight of the Day: Whales off the Chukotka Coast
Day 11: Thursday August 1 Bukhta Puutin 65°51.526'N 170°29.558'W & Unnamed Bay
Overnight we travelled through the Bering Strait. When I got up before 6am, I watched the ship dropping anchor at Bukhta Puutin. It was a bright, sunny day and the sea was calm. Apparently, the onboard expedition team has not explored this area in the past.
As the wind picked up around the disembarkation time at 8:30am, we were told the landing had to be cancelled and we would have a lecture instead. How disappointing!

Weather in this part is fast changing! All of a sudden, the wind dropped and the zodiac cruise and landing were on again. Bravo! It turned out to be the best zodiac cruise of the expedition.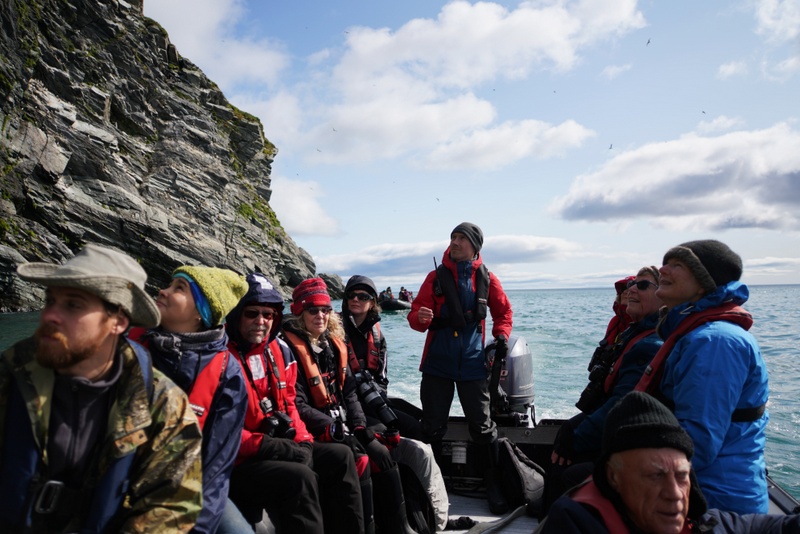 We cruised the bird cliffs on the way to the shore. We saw Common, Brunnich's and Pigeon Guillemot, Parakeet, Least and Crested Auklet, Tufted and Horned Puffin. The birdies also saw a pair of Peregrines and even some White Wagtails.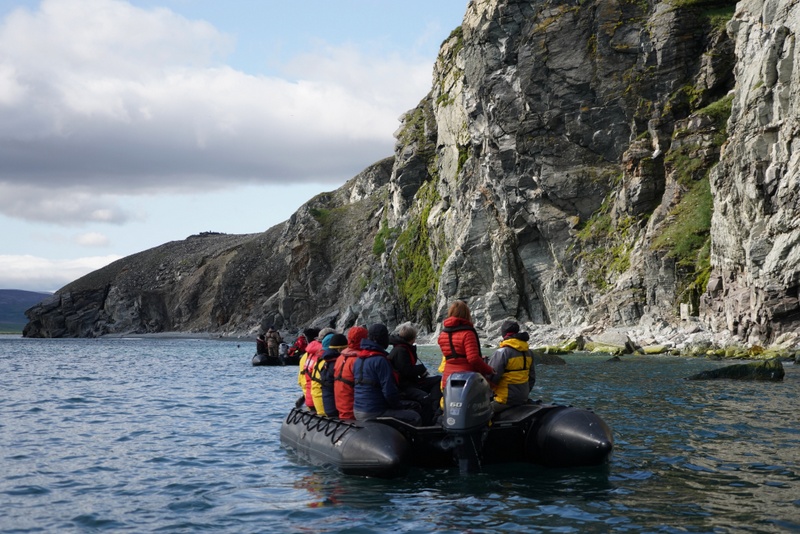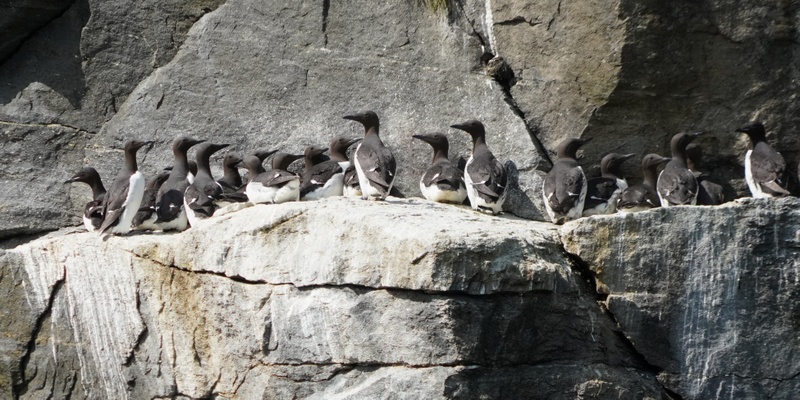 We landed on a beach behind a picturesque lagoon. We were allowed to roam freely within a wide perimeter. Some walked along a spit and saw some Bowhead whalebones and a series of pits that were perhaps food stores in the past.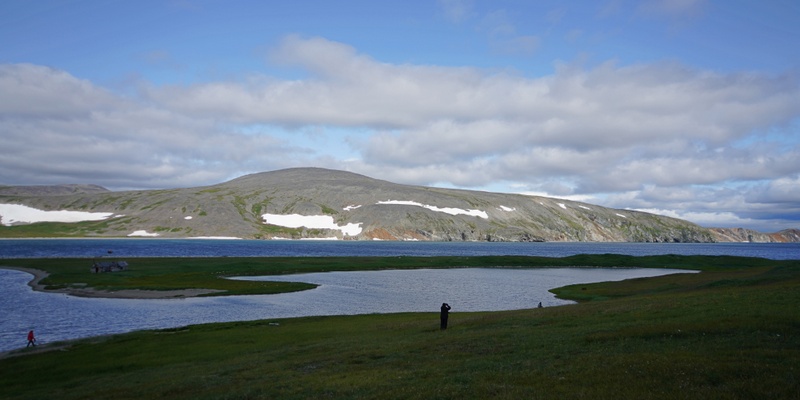 Some climbed the hill behind the beach and found some bones. Joe thought it might be mammoth tusks. Upon further examination, it was found to be just very old and decayed whale bones.
Some were wandering around the shore and found many dead birds (Common and Brunnich's Guillemots particularly), some dead fish and a dead seal. What happened? Has a form of poison been used in the area? Was there an algal bloom?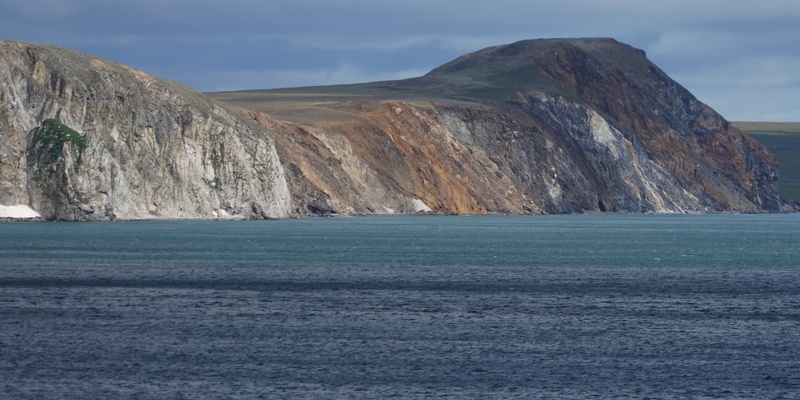 I missed all these excitements. I wandered off on my own and looked at wildflowers and enjoyed tranquillity and the scenery. Anyway, I had a nice time.
Our return to the ship was windy and we got wet. A few passengers who stayed on deck, said they had seen a distant Kamchatka Brown Bear.
After lunch, I attended a workshop on digital workflow by Mark and Joe. Most professional photographers use lightroom software. Though I do not use this programme, I still learn something from the masters on how to make better use light, clarity, brightness etc in creating an image reflecting the content and mood.
As I was at this workshop, I missed the talk on Ada Blackjack given by Katie. Ada Blackjack, a Yupik (an Eskimo) woman was the sole survivor on the 1921 expedition organised by Stefansson. She spent two years on her own till rescue came in August 1923. I must read Jennifer Niven's book 'Ada Blackjack: a True Story of Survival in the Arctic' one day.
Once presentations were over, it was time to go ashore the Unnamed Bay – a strange name for a named spot! Once ashore, we split into four groups. I joined the second photo workshop group led by Joe and Mark. Soon we stopped looking at Arctic fox on a hillside in a distance and some ground squirrels nearby.
As I had looked at the wrong direction, I missed the fox near its den. But I watched a few squirrels hiding among rocks for 15 minutes. Mark and a dozen of keen wildlife photographers lay on the ground and photographed for another half an hour.
Joe who is more interested in landscape, began hiking up an escarpment. Gail and I followed his footsteps. Soon, Gail and I caught up with the medium hiking group led by Agnes.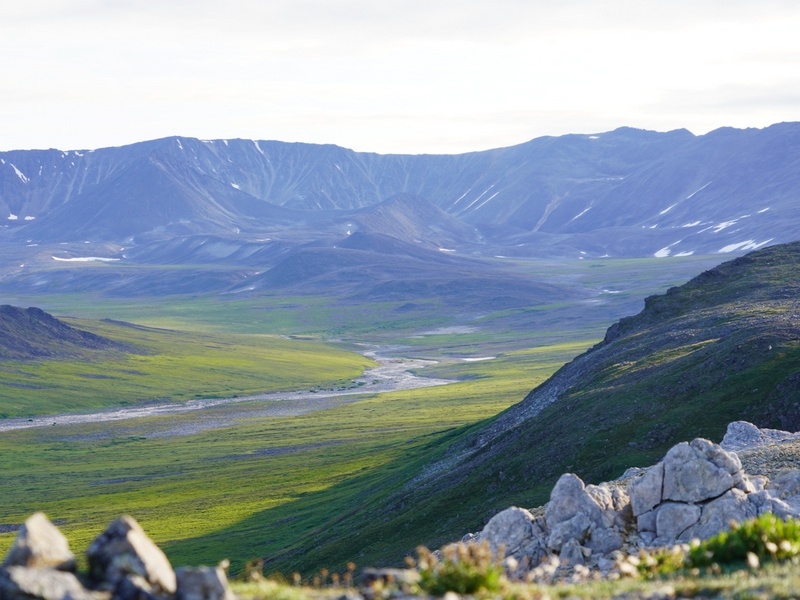 Her group was lucky and had just seen a Kamchatka Brown Bear in the distance feeding on the salmon run. Soon, the one bear turned into three. By the time I joined Agnes' group, the show was over!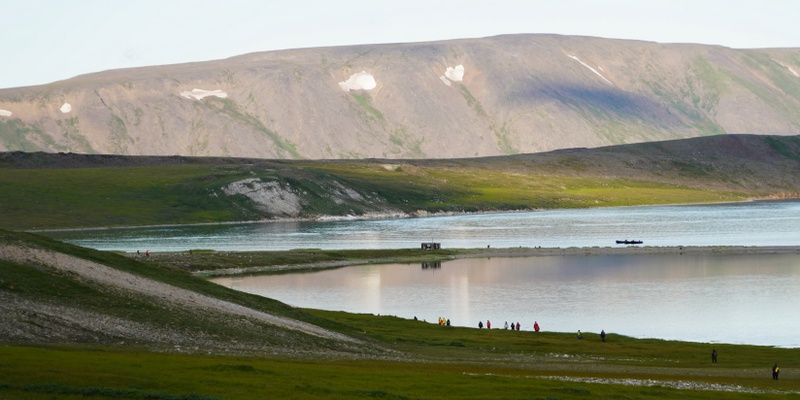 The landscape was magnificent and the light was perfect. I saw salmon jumping out of the river and loved to stay and try to take a photo of a jumping salmon. No, No… I was told to hurry and take the last zodiac. I was back on the ship about 7 pm. I had an excellent day!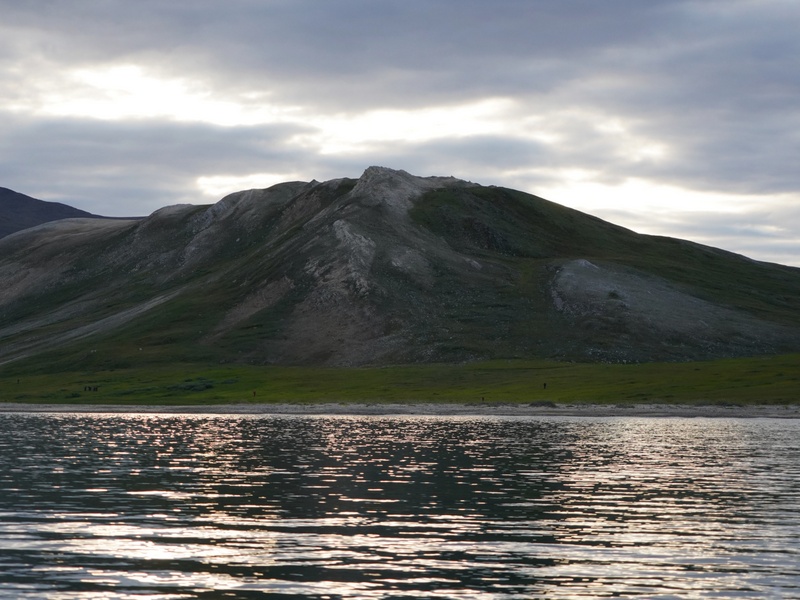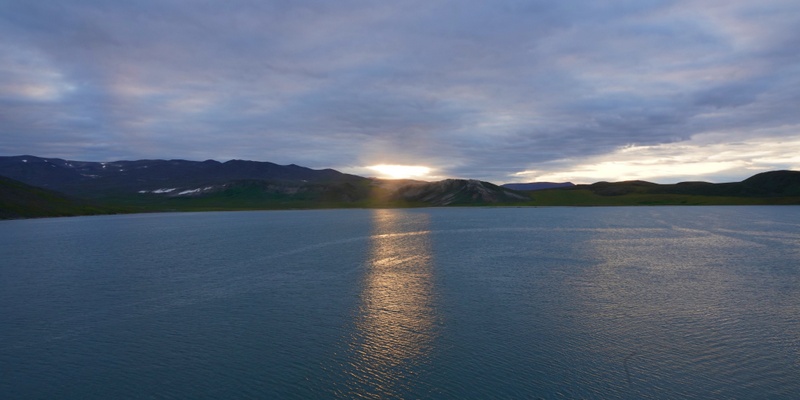 Bear Count for the day: 5 Brown Bear
Total for the Trip: 57 (52 Polar Bears & 5 Brown Bears)
Day 12: Friday August 2 Whale Bone Alley (66°39.091'N 172°32.118'W) & Gil'mimyl
I must be tired and slept till 6 am. Sharon was up too and spotted half a dozen of Humpback and Grey Whales while having a mug of coffee in the lounge.
After an early breakfast, we had to attend a lecture by Elena at 8 am before disembarking for the Whale Bone Alley. Elena tried to give us some background about the alley before our visit.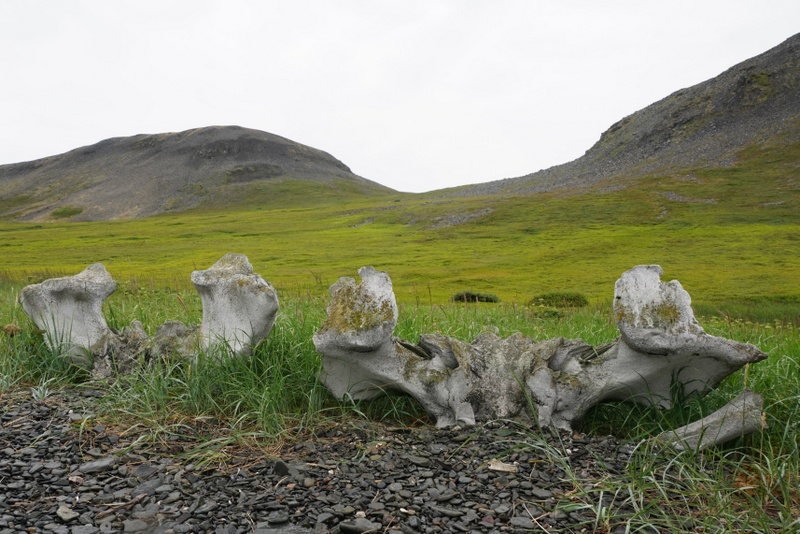 The weather was cool and drizzly. The sea was calm though. Soon we arrived at Yttyran, an island with two other names – Siklyuk and Nepyakhut, located in a natural protected bay with lots of whales. The island was explored in detail by an expedition of F P Litke on the stoop Senyavin. On this island, there were remains of six small ancient Eskimo settlements dating back to various periods of time. The total population of the island did not exceed 150-200 people. The settlement of Siklyuk located next to the Whale Bone Alley was one of the largest on the island.
At 9 am, we headed to the Whale Bone Alley. Once ashore, we had a guided tour by the Beringia guide who helped to interpret the landscape for us. To the left of the beach as we landed was the village of Siklyuk where until 1950s, there had been a small settlement of six buildings.
To the right of the beach was the Whale Bone Alley itself. It was only in 1976 that Russian ethnographers discovered' this 14th century site on the north side of Yttygran Island. It is thought that it was erected by the indigenous Yuppiat Eskimo people. Located on a major whale migration route, this site might be the place where they gathered to feast or trade or solve internal conflicts.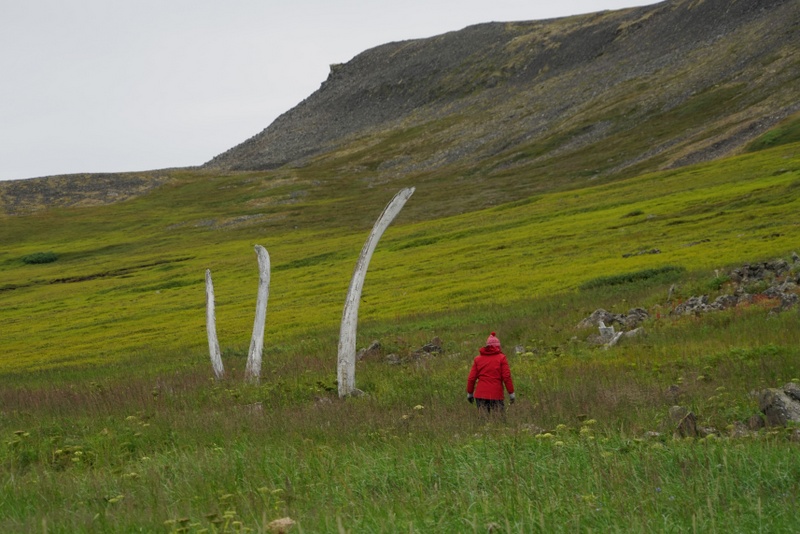 Today, we can still trace and imagine what must once have been an incredibly imposing 'monument' – a 550-metre long stretch containing 52 pairs of Bowhead Whale jaw bones, set in parallel lines and interspersed with skulls spaced 10 to 20 metres apart – a distance that is thought to represent the length (and double the length) of a traditional umiak (a skin covered boat)- and stone-lined square pits used for keeping and preserving meat.
The site and the sight of the whale bone alley are both awesome. This 15 groups of vertebrae and whale bone alley is now a World Heritage Site. We are the privileged few to be able to visit this exquisite and unique site.
Around 10:45am, I was on a watching cruise with Agnes. We saw blows, occasional head and plenty of flukes in all directions. What an amazing encounter with Grey Whales in a beautiful and sheltered bay.!
We returned to the ship for lunch and had a group photo on the helicopter deck. After lunch, we were heading for our last landing of this expedition. Once a permanent Chukcki settlement, Gil'mimyl is now used by a Chukchi family as a summer residence. Situated in a spacious basin, it has plentiful food resources available from sea, lagoon, river and tundra.
We were again divided into several groups. It was drizzling and cold. I walked along the ridge looking at wildflowers before making my way to a hot tub with water coming from hot springs by the river.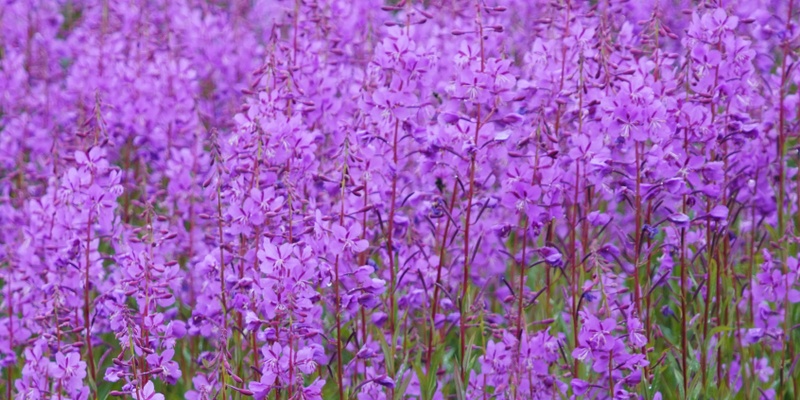 I watched steam rising from the ground and could smell sulphur. It was not easy to take off my clothes in the rain. But I felt most wonderful when watching the unearthly magnificent landscape from the hot tub for 15 minutes.
Some of the Russian crew also came ashore and fished. They caught salmon.Birdies hanged around the ponds and rivers. They got beautiful photos of stilts, sandpipers, plovers etc.
We all had a great and relaxing time ashore. Once everyone was back on board, Mark gave a half-hour presentation on Bowhead Whales which are known to live for hundreds of years. I am thrilled to have seen one at no distance from the boat. It is an unforgettable experience.
Day 13: Saturday August 3 Penkigngey Bay
We woke up to strong winds, rain, hail and fog. Despite the poor weather, we had our last landing at Penkigngey Bay where we were able to roam around and do whatever we wanted within a perimeter zone.
The wind was strong but I was determined to walk to the highest point for a panoramic view of the bay and surrounding area. I failed once. I tried to approach the top from a less steep path and reached without problem.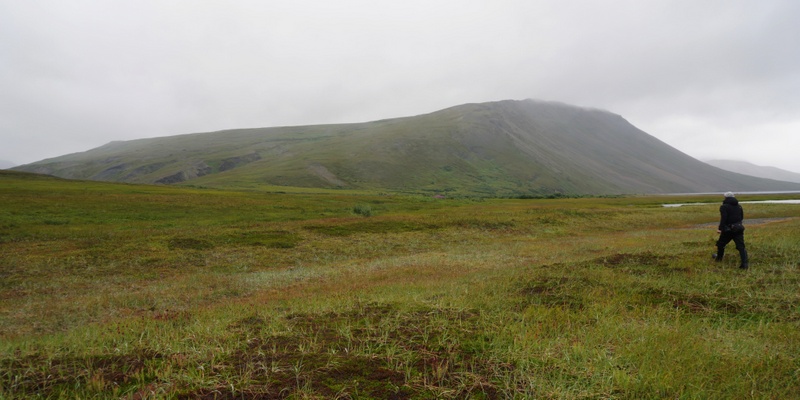 I spent over an hour walking on the tundra covered with blooming wildflowers. On the way back, I found a Tufted Puffin sitting on grass. It looked dull and motionless: it must be sick and dying. What had happened to it?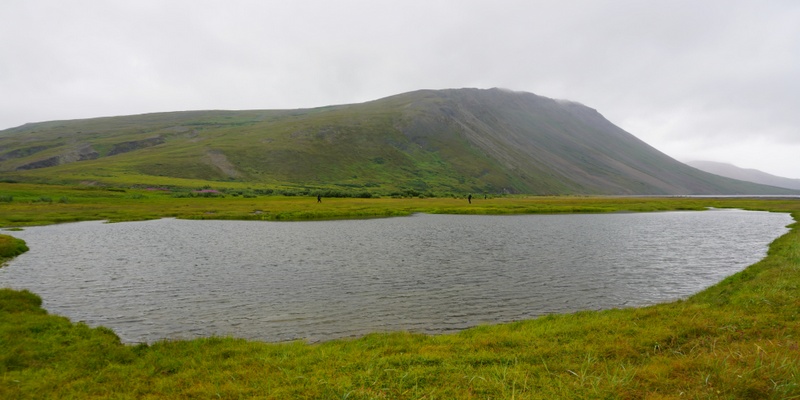 Once back on the boat, I attended another lecture by Elena who talked about Russian customs and lifestyle.
In the afternoon, Nathan arranged a cruise who were ready to brave the wind and rain. I must be out of my mind to join the cruise. Samuel was our zodiac driver.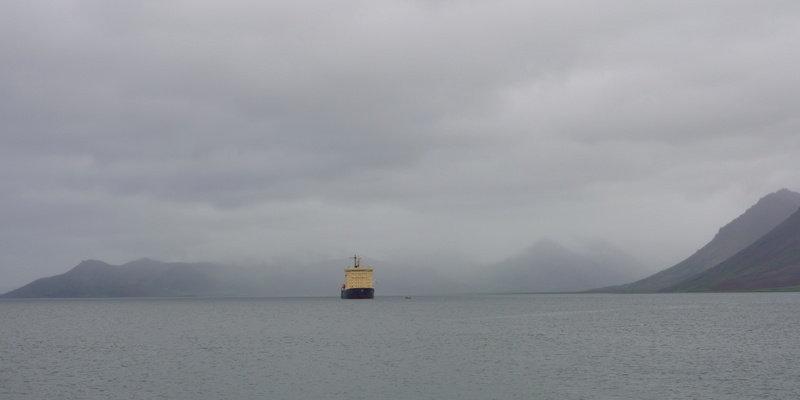 It was cold and miserable. I saw plenty of puffins but I did not bother to take my camera out from my dry bag. It was cold, grey and miserable. I saw another puffin which hardly moved and sat by the beach. I suspected it was sick and about to die too.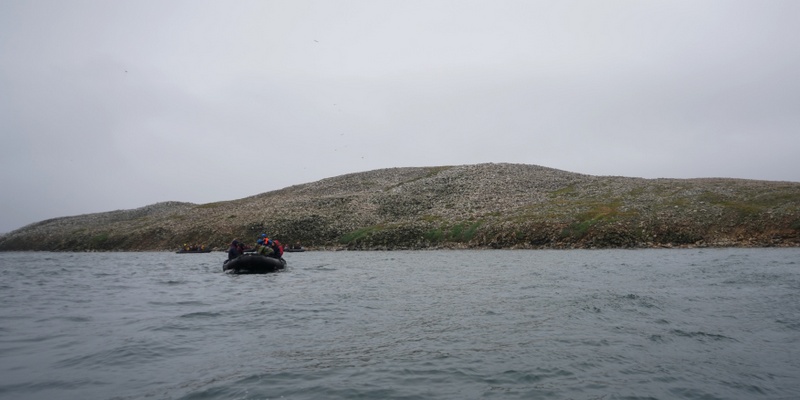 Then we saw a few blows in a distance. We began our whale watching cruise for another half an hour in the rain. It was freezingly cold. Finally, I saw five humpback Whales surfacing not too far from our zodiac.
I was soaking wet. Once we got onboard, Gail and I headed to the sauna. Anyway, I should have attended Joe's talk 'Evolution and Revolution: The Life and Times of a Landscape Photographer' instead of the zodiac cruise. My friends enjoyed Joe's beautifully illustrated and philosophical account of his craft.
At today's recap, we heard more about Skua, Pika, Ground Squirrels and Salmon. We had our farewell dinner tonight.
Day 14: Sunday August 4 At sea
Nathan's original plan was to arrange a zodiac cruise before breakfast at Preobrazheniya Bay before returning to Anadyr. But poor weather and swell condition ruined his plan. Hence, we spent our last day at sea.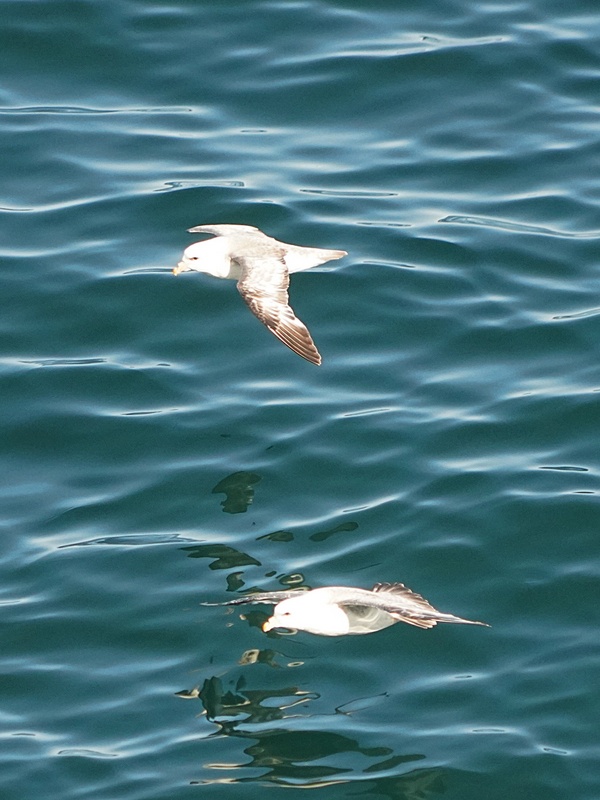 Mark who is a good story teller, gave a talk in the auditorium entitled 'The Trials and Tribulations of a Zoologist'. He has an amazing career working for WWF, museum and as a speech writing for a member of the Royal Family, a wildlife photographer, a writer of 60 books and a film producer.
In another session, Mark and Joe gave an entertaining talk in the lounge by showing us images they have taken on this expedition. They would point out what they liked and did not like of their own works. The small lounge was packed and many had to sit on the floor. The way the masters look for an angel, composition, light and perfection accounts for the high quality and standard of their images.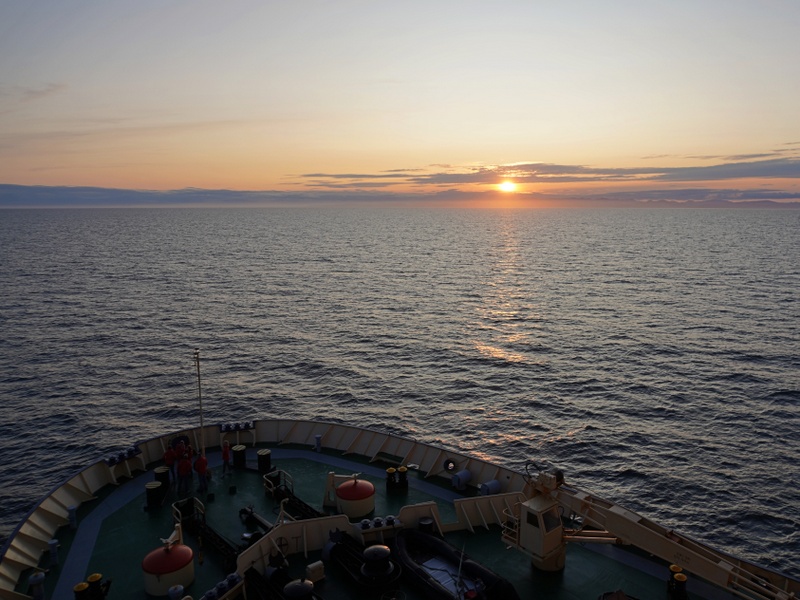 Much of the rest of the day was spent dealing with nitty-gritties including settlement of account, returning life jackets and boots, briefing on disembarkation the following day and above all packing.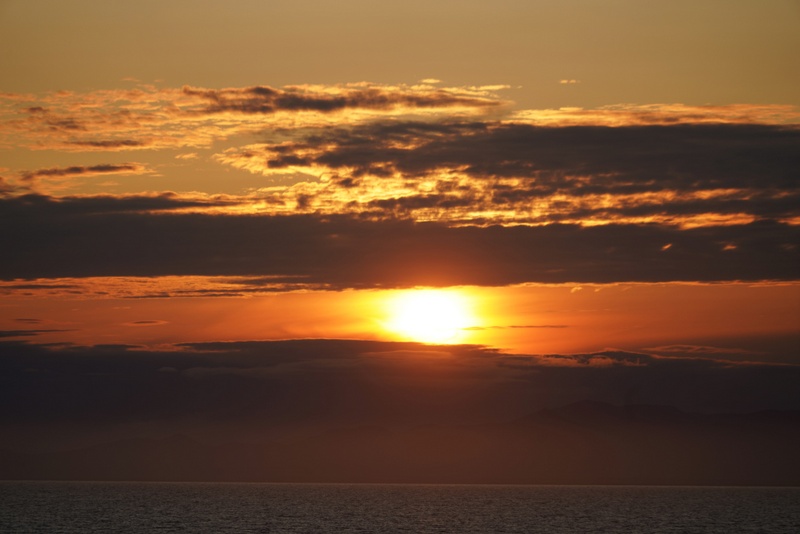 Before dinner, we had our last and the best recap of the expedition. Nathan gave an account of highlights of the expedition including the sighting of hundreds of whales, 52 Polar Bears, Arctic fox, Lemming, Ground Squirrel, many Musk Oxen, rich flora and fauna etc. He was emotional and reckoned this was an exceptional expedition even for him.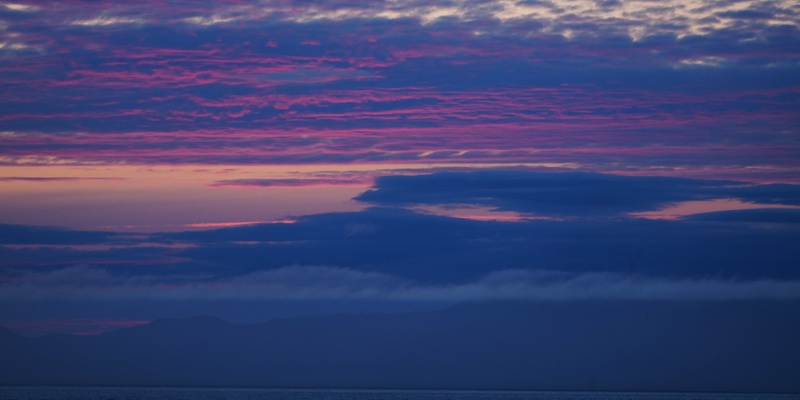 We knew we were lucky. The wildlife, the ice and the weather made some of the landings and zodiac cruising most mesmerising. Nathan thanked key members of his team who came forward to receive a hearty round of applause. He also thanked Chris, Mark, Joe, Rachel and Katie from Wildlife Worldwide for their great contributions.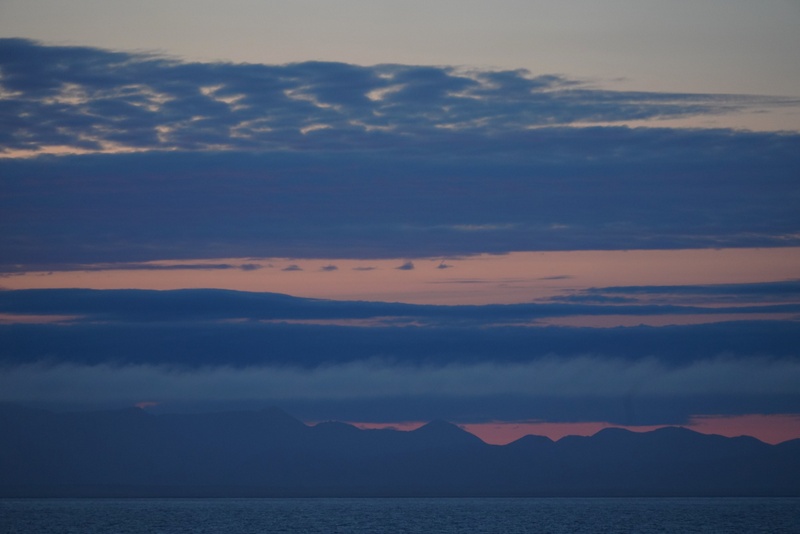 Then we watched a 45-minute film that Rachel had been working on all week. The mind-blowing images bought back the wonderful images of the wildlife and wilderness we had seen and sweet memories to treasure for a lifetime.
Day 15: Monday August 5 Anadyr 64°43'N 177°37'E
Today, I had the most hectic and tiring day of the entire expedition. I had to take three flights and did not lie down to sleep for some 50 hours till I got up home the next day.
First, we got up before 4 am when the ship anchored out in Anadyr Bay. We repeated the same procedure and had a transfer by the Spirit of Enderby to the harbour. As the pier had been taken up by another vessel, Nathan had to hire an old barge to ferry us ashore.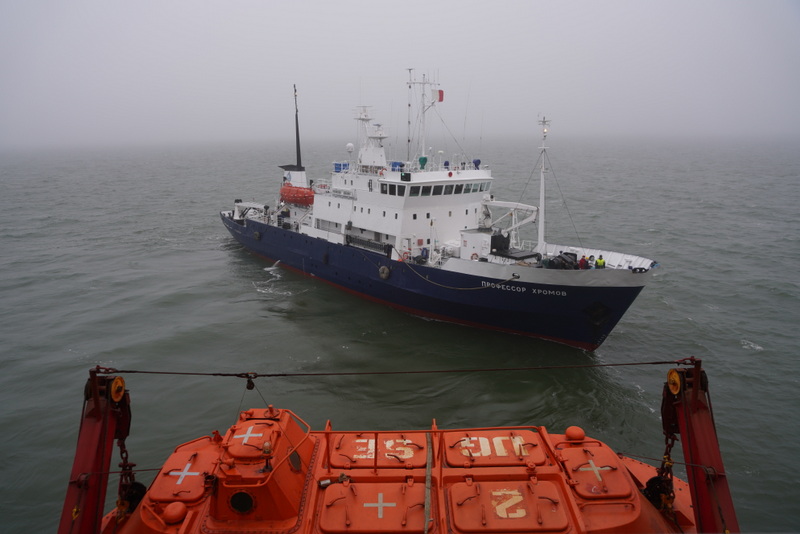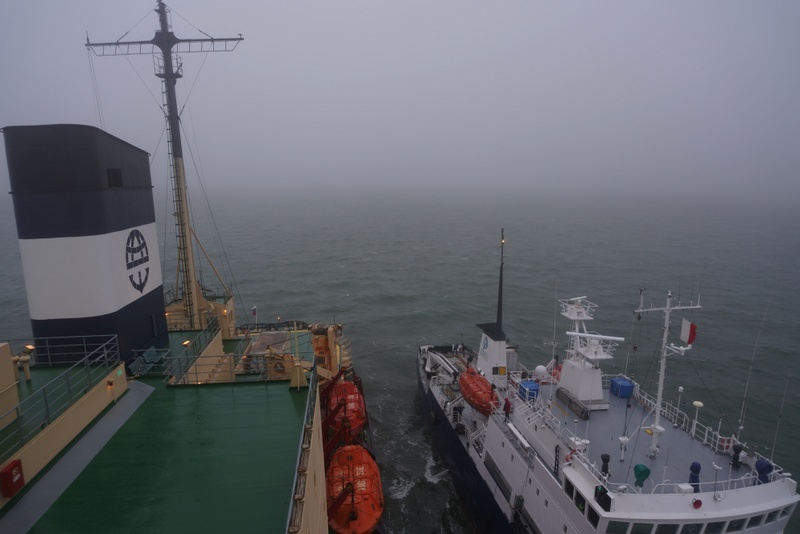 The old barge could only take 12 people at a time. As a result, we were divided into some ten groups. Those who would be taking the first chartered flight to Nome around 11 am were to go first. As my flight would be departing around 3 pm, I did not leave the Spirit of Enderby till 10am.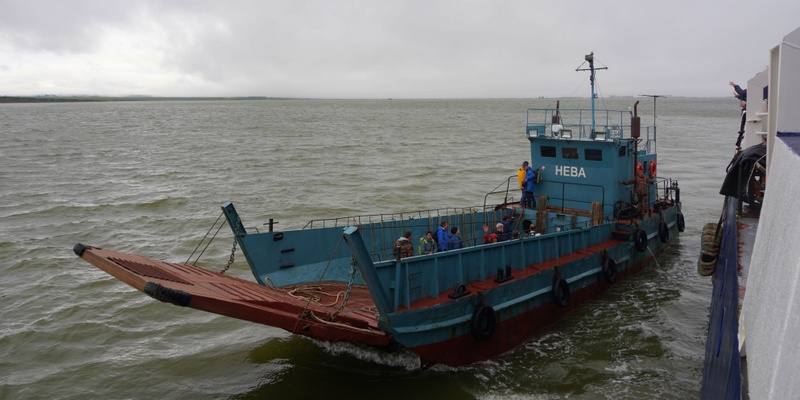 After arriving ashore, we were transferred on an old school bus to the airport. Over half of the passengers took the flight to Moscow. Luckily, the Utair flight departed on time.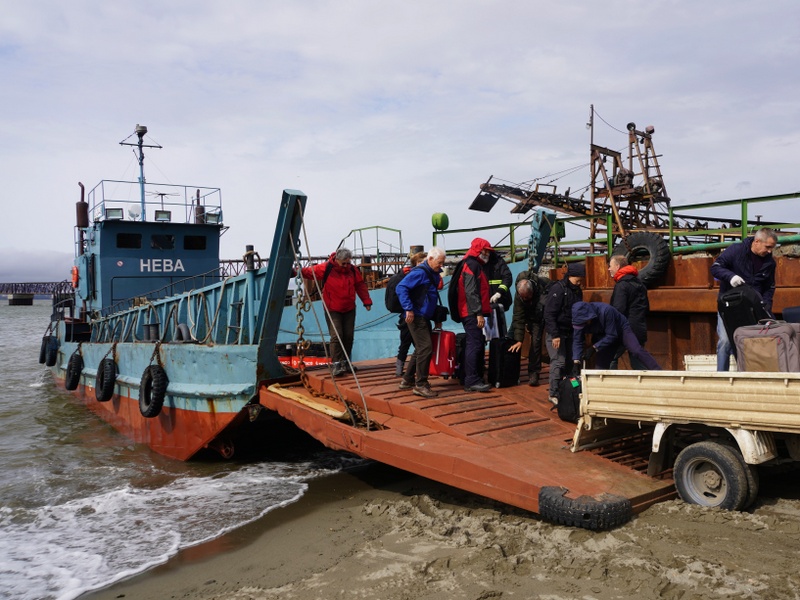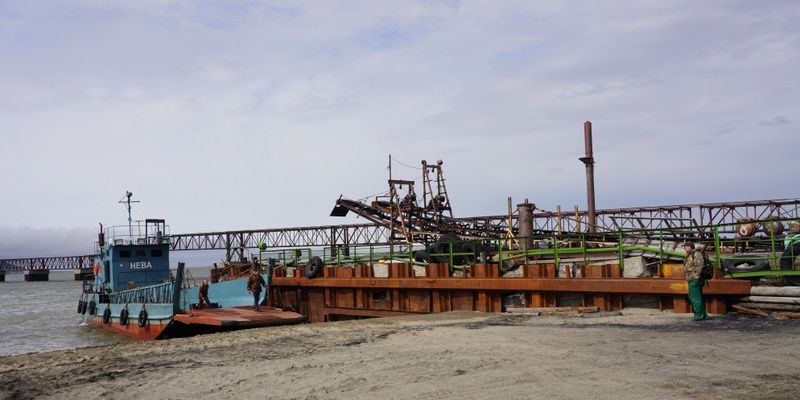 When I landed in VKO, Moscow around 1pm local time, I spent another six hours at the airport. When I found a Turkish Airline counter open for Business Class passengers, I asked whether I could check in though I only had an economy ticket. The lady was helpful and I was able to check in. As a result, I was able to spent for a few hours in a lounge with my Priority Pass. My plane departed for Istanbul after 8 pm. The flight took less than three hours.
I had to wait at the Istanbul airport till 1:30am. I was exhausted and slept on and off on my way to Hong Kong. Luckily, no one sat next to me and I had enough room to lie down. I was glad when the plane landed in Hong Kong around 6pm on August 6.
Remarks (written and uploaded on May 4, 2020)
The Northeast passage going through Russian Arctic region has always been on my list. My journey 'Across the Top of the World' with Heritage Foundation (HF) which gives me a glimpse of a part of this epic voyage, far exceeds my expectations. I am lucky and feel blessed with my good fortune.
When I discovered I had no commitment between June and mid-August, I asked my agent Polar Cruises in early 2019 to enquire about this expedition. I booked just in time for a place in a triple cabin on the Spirit of Enderby. It was a nice surprise when I learned that I would be travelling on an ice breaker Kapitan Khlebnikov (KK) which is much larger and more comfortable.
I took my first expedition trip in 1999 to the Antarctica Peninsula. Since then, I have been to some ten expeditions in both Arctic and Antarctic waters. I may say this 'Across the Top of the World' expedition is the best one I have so far for the following reasons.
First, we had highlights almost every day and many landings. There were few boring sea days.
Second, we were lucky with the weather most of the time. As there was still much ice around Wrangle Island, we had excellent conditions for bear watching.
Third, the Chuktka coast and Wrangle Island are still off the beaten track with few visitors. The landscape and scenery are spectacular while wildlife is abundant: I have seen dozens of polar bears and hundreds of whales and walruses.
Finally, we were fortunate to have an expedition leader, Nathan, and two accomplished photographers Mark and Joe who came with a photography group from the UK. They gave talks and masterclass on the boat and during landings. They have been generous and other passengers have been able to attend the lectures. They are good speakers and I thoroughly enjoy their talks. (After this expedition, I joined a whale watching trip with Mark from February 23 to March 6, 2020)
I note down below the main highlights of this expedition.
Day 4- We watched some two hundred whales (fin, humpback and bowhead whales) along the coast. Later in the day, I saw my first ever Bowhead Whale in my life: it swam right in front of the bow. How amazing!
Day 5- I woke up early and had the best bear watching experience before breakfast. While the experienced spotters with binoculars claimed to have spotted a dozen, I was content to watch a dirty bear, a mom and two cubs and a sturdy furry one coming close to our boat. They were aware of the boat and came around to take a look us. It was wonderful to watch the cub's behaviours. One came right up to the boat to check us out. It looked at us and I looked back into its eyes!
Day 6- I would say this was the best day of the expedition with two landings. I have seen walrus lying on ice before. But this time, a large group of walruses that was resting on ice jumped into the water when our boat was some 150m from them. They unexpectedly swam towards our boat. The water was crystal clear and we could see them moving under water. I even got a few photos of these lovely creatures. From the video taken by the expedition team, I could feel they were performing a ballet. Despite their size and weight, their movements were agile and graceful in the water!
In the afternoon, we arrived at Ptichy Bazaard. I had a beautiful stroll across the expansive plain with mist and wonderful lights. Then I began walking up a slope with vertical cliffs with lots of birds. It was a miracle when we spotted a grey whale swimming along the base of the cliff. Joe who was on a lower slope was lucky to take a photo with the whale feeding on the shallow sea bottom. Mark said that this whale had come from Baja California for feeding and would be returning soon to Baja California. We finished the day with a beautiful sunset.
Day 7 – We had two landings. Nathan, the expedition leader decided to make the second landing when we spotted a large group of musk oxen in the area. I joined the medium walking group. But as the musk oxen kept moving, I gave up and sat down to watch a large group of snow geese instead. Equally enjoyable!
Day 8- We could not land on Herald Island or have a zodiac cruise close to the shore owing to strong wind. But the ship cruise was wonderful and enjoyable.
Day 9- We had our last landing on Wrangle Island at Doubtful Bay. It was so foggy: we could not see beyond 10-20m at one time and it took us over 45 minutes to get ashore. For me, this was the most atmospheric and memorable zodiac ride of the expedition. Here, I had a photo with a 4,000-years-old mammoth tusk in my hand.
Day 10- When we passed through the Chuktka coast, we once again saw hundreds of whales.
Day 11- I had the best zodiac cruise along a rugged coast with bird cliffs. I love the cute and funny-looking puffins. It was my Puffin Day as I was able towatch lots of them on the cliffs as well as in the water. I even managed to take a few photos.
Day 12- I enjoy the Whale Bone Alley which is tranquil, atmospheric and iconic. It is also a great place for grey whale watching.
I spent a wonderful afternoon in Gil'mimyl which isbordered by expansive majestic mountain ranges. I walked in the rain along the river valley, looking at fumarole and lovely wildflowers. Despite the drizzle and the low temperature, I picked up my courage and took a soak in the hot hub by the river. A wonderful experience!
Happy memories of this expedition will last forever!
(At the time of writing, Covid-19 has brought the world in general and tourism industry in particular to a halt. I was lucky to take this expedition in 2019. This year, all expeditions to Russia have been cancelled)