April 28 – May 2 Tokyo & Ashikaga Flower Park
April 28 Sunday: Tokyo
I had a wonderful cultural day. I began my day at Zojoji 増上寺, founded by Priest Yuyo Shoso in 1393. During the Edo period (1600-1868) this temple belonging to the Pure Land sect of Buddhism, was the family temple of the Tokugawa shoguns and the administrative centre of all Jodo Shu temples in Japan. At its peak, the extensive temple grounds held more than 120 buildings with some 3,000 priests.
The original buildings, temples and mausoleums were destroyed by fire, natural disasters or air raids during WWII. Only the main gate, the oldest wooden building in Tokyo dating 1622, remains.
I paid ¥500 to visit the Taitoku-in Mausoleum in the temple grounds where six of the Tokugawa shoguns were buried. There was a guided tour at 10:30 am and I expected to learn more about the shoguns and the structures.  Unfortunately, the guide only speaks Japanese. I was given a sheet without much information. Anyway, the mausoleum is very modest in a relatively small burial ground. I should have saved my time and money.
Gokukiji 護国寺is a temple of the Shingon (True Word) sect of Buddhism founded by Kubo Daishi.  Closely associated with the Tokugawa family, it was founded in 1681 by the fifth shogun Tsunayoshi Tokugawa to commemorate his natural mother, Keishoin. This temple has miraculously survived over three centuries unscathed by fires, earthquakes and wars.  Today, it retains the Edo period structures.
The temple is authentic and has spacious grounds known for their azaleas and varieties of late-blooming cherry trees. I love old wooden buildings, the landscaped yet fairly natural compound, the atmosphere and time-worn feel.
I first climbed up a stone path lined with azaleas and passed through the main gate before coming into full view of the impressive main wooden Kannon-do (Buddha Hall).
After the main hall, I turned left and arrived in a most charming corner with a small temple dedicated to the Medicine Buddha.
I was captivated by the scene here: several beautiful cherry trees were in full bloom with a well and the small temple in the background.  It was enchanting. I stayed for over 15 minutes soaking in the atmosphere which has a Zen feel. I was bewitched while watching whitish pink petals falling like snowflakes on the ground.
I saw a cluster of smaller houses / buildings in the temple grounds. Ladies in kimono were going in and out of the buildings while some were queuing outside. I asked a lady in the queue what was going on. She told me in English that they had paid ¥5,000 to attend tea ceremony in eight venues over a few days. Had I known about this event well in advance, I could have bought a ticket to enjoy a beautiful and authentic experience.
On the way out, I went to Kubo Daishi Hall to pay respect.  Graves of many famous Japanese people and foreigners are located in the cemetery attached to the temple.
My third stop was Nezu Shrine 根津神社. Legend has it that this shrine was first founded in Sedagi by Prince Osu in first AD. It was relocated to the present site on the occasion when Shogun Tsunayoshi Tokygawa chose his successor.
The shrine styled after Toshogu Shrine in Nikko, though occupying a modest sized plot of land, looks grand and impressive. Nearly all of the structures are extant from when they were built or rebuilt in 1706.
When I arrived, I was lost in a sea of people who had come for the famous azalea festival. Hundreds of people were queuing to visit the azalea garden barely occupying a plot about an acre and a half of land. In the garden, there are over 3,000 plants with over 100 varieties of azalea with different characters in all shapes, sizes and colours. It is one of the most remarkable sights I had on this trip.
I skipped the long queue to see the azalea.  A photogenic tunnel of small vermillion torii shrine gates covering the paths on the hillside above the main shrine caught my attention. I joined the queue and walked through it before reaching a viewing platform that is part of the smaller Otome Inari Shrine. I had a panoramic view of the main shrine, a pond and a stage with hundreds of spectators thousands of people.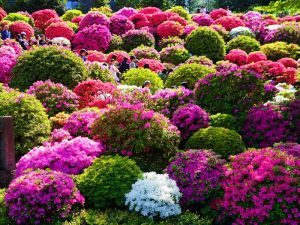 I learn that there are other features of note in the compound including the Enazuka (Placenta Mound) contains the afterbirth of Tokugawa Ienobu (1662-1712) and the Bungo no Ishi (Stone of the Literary Greats). But it was too crowded to walk around. Anyway, I had to return to Ueno Park for a ballet performance at 3 pm.
Nezu Shrine is not far from Ueno Park. I left around 2:15 pm thinking I had plenty of time. I should have taken a bus or taxi or walked using the Google Map.  But I was pennywise and made a mistake in taking a metro. At the end, I had to take a taxi (¥890).  How foolish!
I reached Tokyo Bunka Kaikan around 2:45pm. I bought a ticket for a good seat for ¥10,000 the day before. Though I was sitting at the rear on the first floor, I had full view of the stage.
I have seen "Swan Lake" which is synonymous with ballet a couple of times. I have high expectation as the first performance I saw was by Dame Margot Fonteyn (1919-1991) and Rudolf Nureyev (1938-1993) in Covent Garden in 1980. This performance with Yukari Saito as artistic director of the Tokyo Ballet exceed my expectations.
Saito has taken a bold step producing a different production of "Swan Lake" using Vladimir Burmeister's interpretation with a happy ending. The setting, costume and colours are most exquisite and breath-taking.  It was premiered in 2016 and has been well received.
What is more interesting for me is the atmosphere inside the Tokyo Bunka Kaikan. Normally the lobby has a souvenir / book shop, ticket office, coffee shop and restaurant. But here I found a joyful festival atmosphere with stalls selling stuff relating to ballet costume and accessories, gifts etc. It was crowded, lively and noisy like a market place.
After a fantastic and relaxing day, I found a Nepali restaurant in a side street near my hotel. I had delicious mutton biryani and a beer. Diarrhoea had almost gone though I had slight pain in the tummy occasionally.
April 29 Monday: Ashikaga Flower Park
The Golden Week this year ran from April 29 to May 6. While the offices, banks and government offices were closed, domestic tourists roamed the country. Today, the holiday week began with perfect weather and a clear blue sky.
I had a long tiring but fabulous day at Ashikaga Flower Park. I had to check out of the hotel as it had raised the daily rate to ¥14,000.  But I was able to leave my luggage at the hotel.
A returned ticket to the flower park costs ¥3,880.  I took the 8 am rapid local train of the JR Tohoku Main Line that begins at Ueno Station to Oyama. At 9:27 am, I was on a train on the JR Ryomo Line and got off outside the park around 10 am.
The train was packed like sardines. As I was amongst the first passengers boarding the train, I had a seat. When I saw an elderly lady with a cast over her arm without a seat, I offered her my seat though two young men were sitting in front of her.  These selfish young men are disgusting. They kept their heads low pretending they did not see her condition.
Ashikaga Flower Park with an area of about 9 hectares is famed for wisteria. In its 92,000m2 wisteria garden, there are over 350 variety of wisteria and five big trees.
From late April to early May, the park is a live extravaganza featuring the wisteria in full bloom, late-blooming cherry blossoms, over 5,000 azalea flowers and rhododendron in addition to countless spring flowers. 
The Japanese are great horticulturist, landscaper and perfectionist. They spare no effects in taking care of and training the trees. As a result, the wisteria trees have become living artworks. Half a dozen gigantic trees have thousands long strings of flowers hanging in the air.  The two 80m-long tunnels formed with white and yellow wisteria create a dreamy romantic and timeless time-tunnel.
Other wisteria displays include domes, pyramids, hillocks, arches, a waterfall, a huge screen over which wisteria climbs. The ponds also create dream-like water mirror effects. 
I entered the park around 10:30 am and did not leave till 7 pm. The entrance fee was ¥1,800. I was fortunate to have fine weather: it was sunny but not hot and it was bright but not glaring. The cheerful and vivid colours were dazzling.
I went with the flow moving in a sea of visitors. I appreciated the spectacle from all angles. I began my exploration on the hill slopes overlooking the expansive park grounds and the low-lying hill range on the opposite side. I felt blessed that I could see such a beautiful and breath-taking sea of flowers below.
I am mesmerized by the few gigantic wisteria trees:

The "Great Wisteria" over 150-year-old spreads over 1,000m2. Its spectacular trunk shows its age and has an antique appearance.
Two other 150-year-old trees that were successfully transplanted here twenty years ago, are thriving. They now spread over an area of 1,000m2.
One wisteria tree has 1.8m long string.
The rare double wisteria is impressive.
The expansive pink wisteria canopy with seats for visitors to sit and contemplate by a pond is spectacular.
The pink wisteria bridge is romantic.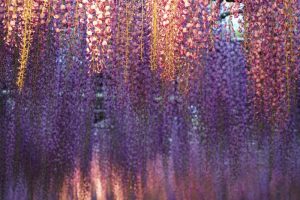 The park was illuminated from 5:30 to 9 pm. The flowers took on a new appearance softer and more romantic. I walked around one more time to look at the big trees and took more photos. I sat by the ponds to soak in the magical atmosphere.
I would love to stay longer. But as I had to spend over two hours to return to Ueno, I left shortly after 7 pm. When I could not find my ticket in the pocket, I knew I would be in trouble. The train was about to leave and the staff knew I was anxious to get on the train. Just before it closed the door, the train master gave me a ticket showing the name of the station.
The moment of truth arrived at Ueno Station. The staff would not accept my explanation: they kept repeating that JR regulations requires one to show a ticket at exit. Even if I had lost it in good faith, I had to buy a new ticket. I was annoyed: after wrestling for half an hour, I paid another ¥1,940 before I was allowed to leave.
From this incident, I have a glimpse of Japanese true character.  They are rigid and can be inhumane: flexibility, discretion, judgement and empathy might not be in their dictionary.
I returned to APA Hotel to pick up my suitcase and walked to Sadou Hostel nearby. This modern and well-designed hostel has six floors with 70 beds.  I had a large bed with privacy in a female dormitory for ¥5,000. By the time I settled down and had a hot shower, it was close to midnight. I did not bother to go out for dinner and had instant noodles instead. Anyway, I had been feeding myself on ice cream and noodles in the flower park.
April 30 Monday: Abdication of Emperor Akihito
Today the 85-year-old Emperor Akihito would abdicate marking the end of three decades of Heisei Era.  My original plan was to visit  Hitachi Seaside Park today.  But I could not face another long day spending hours on the train. Anyway, it was raining.
All guests of the hostel are required to leave by 10 am to enable the staff to clean up. I decided to revisit Asakusa which I visited on my first visit to Tokyo some 20 years ago.
Sensoji浅草寺founded in 628 at the heart of Asakusa, is the oldest and most famous and photographed temples in Tokyo. Over 30 million visitors come here a year.
Though the temple ground is not expansive, it is photogenic with an imposing decorative main gate, a five-storey pagoda and an impressive approach known as Nakamise Dori lined with about a hundred shops selling crafts, souvenirs and plenty of sweet and savory snacks.
The temple dedicated to Kannon Bosatsu the Bodhisattva of Compassion was formerly was associated with the Tendai sect of Buddhism. It became independent after WWII. The present building was built after the war.
The Asakusa Shrine is located next to the main hall. I saw many Japanese were lining up to seek blessing.
The drizzle had not dampened the enthusiasm of local and overseas tourists. The place was filled with a festive spring atmosphere.
I tried to find a place to eat. But all the popular eateries were full. I found one without too many customers. Unfortunately, the fish set I had was not too good. Hence, it is always better to go for places that are packed!
I made my way back to Ueno walking through narrow alleys. One street is lined with shops selling kitchen knives and restaurant equipments. This street reminds me of Shanghai Street in my neighbourhood in Hong Kong.
My initial plan was to visit a museum on a rainy day.  It was after 3 pm. when I arrived at the Tokyo National Museum. I discovered it would close at 5 pm. There is no point to visit the museum within two hours.
I decided to continue my exploration on foot. I read about Yanaka which has been advertised in the hostel and had signed up for a 2-hour walking tour at the hostel on May 1. But if I visited it today, I could skip the walk tomorrow.
Yanaka 谷中is one of the few districts in Tokyo which and retains the shitamachi atmosphere with an air of nostalgia and a rustic charm. It boasts the highest concentration of temples with a total of 76. Most of the temples belong to the Nichiren and Tendai sect of Buddhism.
I walked aimlessly through the narrow alleys and stopped at a few studios and art galleries. I finally arrived at Yanaka Ginza, a shopping street which best represents the shitamachi flavour. The shops here sell goods and produce.
It was still raining. I bought a bottle of beer, sat in front of a wine shop to drink. It was a fantastic way to watch people and soak in the atmosphere.
It was approaching 6 pm. I started to head back to Ueno. This time I took a different route and walked through the cemetery. Had I read more about the cemetery, I would have looked for the grave of Tokugawa Yoshinobu, the last Shogun.
I had a wonderful and most relaxing walking day from Asakusa to Yanaka. I might have walked over 10 km. Good exercise!
May 1 Wednesday: Enthronement of Emperor Naruhito
Today, Japanese watched the new 59-year-old Emperor Naruhito receiving the sacred imperial regalia that represents his rightful succession to the throne at a special ceremony in the Imperial Palace.  This ushers in a new era of 'Reiwa'.
Originally, I did not plan to join the walking tour to Yanaka. But I changed my mind when I met the enthusiastic manager of the hostel who organised the tour and the two volunteers. Otherwise, three of them would be taking only one guest from Argentina on this walking tour.
My guide is a patent lawyer. She told me about her work, life as a modern professional woman and interest. She asked me about my life and travel. We had a nice chat for over two hours.
I was glad that the manager took a different route to Yanaka. After passing the Tokyo National Museum, we turned right and soon made our first stop at Kaneiji 寛永寺a Tendai Buddhist temple founded in 1625. The main hall of the temple we see today was taken from Kita-in in Kawagoe (Saitama Prefecture) and transferred to the site of a former Kaneiji sub-temple. The main object of worship is Yakushiruriko Nyorai 薬師瑠璃光如来.
Our second stop was Shitamachi Museum Annex which is a former Yoshidaya Liquor Shop. Another volunteer who speaks English joined and walked with us.
We stopped at a beautiful lush green corner with several wooden huts which have been turned into a beer hall, an eatery and a bakery. Most of the people working here are young and enthusiastic. I bought a loaf of freshly baked bread and shared with the group.
We next stopped to look at a thatched roof and mud walls typical of the Tsuijibel style of the Kannon-ji which reflect the Edo influence.
At noon, we arrived at Yanaka Ginza after passing by the Asakusa Museum of Sculpture. The walking tour ended here. The Argentine and I thanked our guides for a lovely walk.
Today, the weather was fine and sunny. The street scene and atmosphere with many domestic and overseas tourists were totally different from the day before. I saw a queue in front of a meat shop where two ladies were selling fried fish and meat.  I enjoy fresh street food. A decent-sized fried mackerel only cost ¥100. It tasted so good that I lined up again and paid ¥200 for a beef burger. Excellent and delicious!
I thoroughly enjoy the vibrant and rustic feel and pray mass tourism would not ruin Yanaka.
On my way to Tokyo National Museum, I visited half a dozen of temples and the Okakura Tenshin Memorial Park.
By the time I reached Tokyo National Museum東京国立博物館, it was after 2 pm.  Established in 1872, it is the oldest Japanese national museum holding over 110,00 objects, the largest art museum in Japan and one of the largest art museums in the world. It has several galleries including the Honkan (Japanese Gallery), the Asian Gallery, Heiseikan (for Special Exhibitions and Japanese Archaeology), the Gallery of Horyu-ji Treasures and other facilities. The collections focus on ancient Japanese art and Asian art along the Silk Road. There is also a large collection on Greco-Buddhist art.
The museum is presenting a special exhibition 'National Treasures of To-ji Temple; Kukai and the Sculpture Mandala' from March to June 2.  I bought a ticket for ¥1,600.
My museum tour at the Gallery of Horyu-ji Treasures which is housed in a beautiful new building in minimalist style. Art works from 319 treasures mainly from 7th and 8th centuries from Horyu-ji which I have visited, are exhibited in six rooms.  Many are small and intricate statues.
Then I spent half an hour strolling in the garden. It started to rain.  The lush green garden dotted with several old wooden tea houses and a pond was beautiful and atmospheric. I bought an ice cream and sat by the pond with my umbrella in my hand. I enjoyed the peace and tranquillity.
I spent over an hour and a half at the special exhibition held with the aid of an audio guide (¥500).  I must have yuanfen (a Chinese concept meaning "fateful coincidence") with Kukai (774-825) commonly known as Kobo Daishi.
I have visited many temples belonging to the Esoteric Shingon sect of Buddhism established by Kukai in 826 after having spent two years in Tang China under the tutelage of Keika. He used To-ji in Kyoto and Mount Koya as bases to promulgate the teachings of Esoteric Buddhism. I am on course to complete the 88-Temple Pilgrimage of his temples in Shikoku in the coming year.
This exhibition held in Heiseikan presents cultural properties handed down at To-ji which are of immense artistic quality holding an exceptional position among Buddhist art of Japan. There are 110 exhibits including Kukai's own calligraphy, 15 wooden sculpture statues dating 839 and one from China of 8th century, many paintings from 12th to 16th centuries, and decorative art items. The exhibits represent the pinnacle of artistic expression in Esoteric Buddhism.
The exhibition is divided into four sections.
Chapter 1 is on Kukai's life and the Goshichinichi Mishiho Ceremony which is Shingon Buddhism's most important ceremony and its rituals are closely-guarded secrets. Established by Kukai at the Imperial Court to pray for the prosperity of the nation, it is still held at To-ji today.
Chapter 2 is about the treasures of Esoteric Buddhist art. I saw the paintings of Mandala of the Two Realms which portray numerous Buddhist deities in a set order and two scrolls with 12 Devas.  There are also objects such as offertory vessels, a large daidan platform for holding ritual implements and a majestic canopy hung above Buddhist statues.
Chapter 3 details To-ji's religious practices and history. Some outstanding sculptures are on display here. They include the Masks of 12 Devas and the Assembly of Eight used in consecration rituals and ceremonies to enshrine relics of the Buddha, a Seated Female Deity, a Standing Tobatsu Bishamonten (Vaisravana), a Standing Jizo Bosatsu (Ksitigarbha), a Seated Holy Priest and a Shishi Lion.  The Toboki (To-ji's official record) is also on display.
Chapter 4 explains the world of mandalas. The mandala is a three-dimensional representation of the pantheon of Shingon Buddhism. I have seen the complete mandala in To-ji in 2016.  At the exhibition, 15 of the mandala's 21 sculptures which were all dated 839 and housed in the Lecture Hall of To-ji, are presented.
I did not enjoy this exhibition.  First, there were too many people.  Second, the 115 precious exhibits were crammed into a limited space Third, I saw the 21 statues in the solemn and atmospheric Lecture Hall in To-ji on April 23, 2013. The image of the 21 statues on the platform is still vivid in my memory.
On the way out, I spent half an hour looking at the ground floor of the Archaeology Gallery which has some impressive pottery from the Jomon Period dating around 10,000 BC. I also had a cursory look at a few rooms on the ground floor of Honkan building with some impressive well-preserved sculptures including some from Tang China. I have not never seen wooden sculptures of such quality in China.
I came out of the museum when it closed at 5pm. It was still raining. I had grilled eel for dinner in Ueno before moving to Hisayo's Inn located near the Haneda Airport. Hisayo who quitted her managerial job with a large American company to run a guesthouse, speaks good English. She is cheerful and most helpful. As I had to leave for the airport around 4:30 am, she offered to get up around 4 am to call a taxi for me.
May 2 Thursday: Tokyo, Japan – Hong Kong
I got up around 4 am and took a taxi arranged by Hisayo at 4:30 am.  I paid ¥1,900 for a 10-minute ride to the airport. My plane took off shortly after 6:30 am. I sat on the right side of the plane and got a superb and beautiful view of Mt. Fuji. I had a comfortable flight and landed in Hong Kong around 10 am after a relaxing and most enjoyable trip.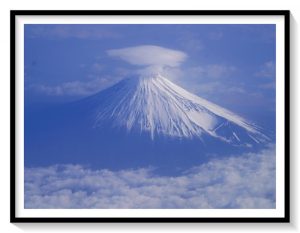 Remarks (to add)