April 20-23 Toba, Kashikojima, Toshijima, Nagoya & Fuji Lake Area
April 20 Saturday: Toba – Kashikojima- Toshijima – Nagoya
I first came to the Shima Peninsula in January 2017 when I visited Ise. I went to Toba where I had a lovely seafood dinner. With a Kinktetsu Pass this time, I decided to make best use of it to discover new places of interest.
Today, my plan was to take the train to Kashikojima 賢島a scenic island located at the southern tip of the Shima Peninsula. After that, I would take a ferry from Toba to visit an island before returning to Nagoya in the evening.
Originally, I planned to take a train around 8 am. My host however urged me to visit the Toba Castle. I took his advice and had a nice panoramic view of the port of Toba and the surrounding bays.
By the time I arrived at the train station, the local train had just departed. Instead of wasting 30 minutes to wait for the one, I paid a supplement of ¥510 for an express train that left at 9:14 am. Only a dozen passengers were on the train: all except me got off at Shima-Isobe and Ugata. I guess this service runs at a hefty loss and the Japan Rail (JR) must be heavily subsidised.
After getting off the train, I walked to the pier nearby. Visitors mostly come here for a cruise to see the Ago Bay which is well-known for its rugged coastline and is famous for pearl cultivation, the art of which was first mastered by Mikimoto Kokichi in 1893 not far from this bay.
There are two 50-minute cruises: the Espana runs a big fancy pirate boat for ¥1,600 while a local company takes a smaller number of tourists on its boat for ¥1,400. I prefer mingling with locals and took the small boat.
The bay is photogenic dotted with countless oyster rafts, seaweed farms, islets and rugged coast. The weather was perfect with sunshine and a light breeze. I had a most enjoyable cruise
The only trouble I had was language: the pilot gave detailed  explanation about the bay and its history, the culture peal and sea-weed industry in the area in Japanese.
On the way to the train station, I stopped in a food stall and had four fresh gigantic local oysters for ¥880. Unbelievably cheap!
I took the 11:45 am local train which made 14 stops on the way to Toba. As I was not in a rush, I thoroughly enjoyed the slow train. If I had more time, I would have gotten off at Funatsu which has been described as 'Venice of Japan'. The next boat leaving Toba would be heading to Toshi and Wagu on Toshijima 答志島at 1:20 pm. I had time to stroll around the port area and found a bag with 5-6 medium-sized fresh fish only cost ¥980. Toshijima located 2.5km northeast of Toba port, is the largest of Ise Bay's island with an area of about 7km2 and a circumference of about 26km. The island's three hamlets (Toshi, Wagu and Momotori) have about 2,500. Its economy is based on commercial fishing, aquaculture and tourism. The one-way ticket costs  ¥540.
On this island, its inhabitants are mostly fishermen. They put on their door and boat a circle maru with the figure of 'eight'. This mark is a talisman to attract big catches and to ward off misfortune.  The island also has historic sites associated with Yoshitaka Kuki who led a band of seafaring warriors during the Sengoku period roughly between 15th and 17th centuries. The ferry stopped first in the port of Wagu. I decided to get off at Toshi and follow a walking trail to Wagu to catch the 4:30pm ferry back to Toba. In this way, I would have about 2:30 hours on the island.
But the signage is unsatisfactory. I spent over half an hour wandering through narrow alleys only to find myself back to the starting point. Nonetheless, I am able to discover how the locals harvest, dry and prepare the seaweed for sale.
The houses are small and closely packed. But they love plants and flowers which adorn their front door and landing.
A lady who noted I was lost, kindly showed me the way to the starting point of the trail which is just opposite the Ama (lady divers) Hut.
The trail is fairly well maintained with a few viewpoints. I had a nice panoramic view of the sea and surrounding islands. On a clear day, one is supposed to see Mt. Fuji.
There are a couple of old graves, shrines and temples. Though the scenery is so-so, I enjoyed the walk in solitude.  I finally arrived at Wagu which is much smaller than Toshi well before 4 pm. I did not feel energetic possibly owing to the heat and did not bother to walk another kilometre to see a few attractions nearby. Anyway, I was content as I had a good day.
I took the 5:25 pm train and arrived in Nagoya after 7:30 pm.  I had booked two nights at the Toyoku-Inn with a member rate when I was in Kyoto. But when I checked in, the receptionist told me I would not be entitled to a member discount as I had not brought with me the membership card. I am annoyed as my record can be found in its computer system. I therefore cancelled the booking for the following night when she charged me ¥8,000 a night for a no-frill economy room. I would have no problem in finding a room nearby.
I had a fruitful evening and sorted out the logistics for the next few days.
First, I booked a room at the Meitetsu New Grand Hotel nearby. I got a good deal and paid ¥6,800 for a much better single room.
Second, I found out the exact locations of the two parks to see wisterias. Third, I bought a Meitetsu bus ticket (¥4,100) to Kawaguichiko on April 22.
Lastly after making enquiries at the JR office, I decided to buy a 3-day mini JR pass for Mt Fuji-Shizuoka Area (¥5,000).
My programme for the next five days was set!
April 21 Sunday: Wisterias in Nagoya
Wisteria (fuji 藤 in Japanese) is a climber and a stunning flowering plot that can bloom in purple, white, pink yellow, or blue. The plant is native in Japan, China and east US and plays a big role in Japanese culture.
According travel guides, the best places to see wisterias in Japan are the Kawachi Wisteria Garden in Fukuoka Prefecture; Ashikaga Flower Park in Tochigi Prefecture, Mandaraji Temple and Tennogawa Park in Aichi Prefecture and Kameido Tenjin Shrine in Tokyo. Given my limited time available, I could only visit four sites in the Aichi Prefecture, the Ashikaga Flower Park and the Kameido Tenjin Shrine.
I did not begin my wisteria discovery trip after 10:30am after having a nice breakfast. I took a train to Tsushima where the Tennogawa Park is located. When I got off the train, two ladies handed me a map of the town and gave me direction to the park.
Tsushima is a nice surprise: it is known for its wisteria festival in spring and three historic festivals of God in the summer, autumn and winter. It has as many as 18 temples and five shrines.
I followed the main street (Uoryo) and stopped at two temples namely the Jorakuji Temple belonging to the Soto School of Zen Buddhism and the Saihoji Temple belonging to Jodo Buddhism. I discovered more temples are located at the southern side of the town. But I give them as a miss as my mission is to enjoy the wisterias. The town is small and the signage to the park is very good. I had no problem in finding it.  The landscaped park is pretty with an artificial lake and canals.
There was an information desk at the entrance of the park. Enthusiastic volunteers handed out a leaflet with a map of the park and pictures of the 12 types of wisterias found in the park. The supporting frames where wisterias cover a total area of 5,034m2.
It was the first time in my life to see a sea of wisterias in full blossom. Though only a few small wisteria trees were blooming, I was already thrilled and happy.  It's a beautiful experience. I was told most of the flowers would be in full bloom in a week's time. By then, I would be in the famed Ashikaga Flower Park and hoped to see the best of the best.
I enjoyed the festive atmosphere in the park. Though I am keen about BBQ meat, I bought a skewer of grilled beef for ¥500. Alas, the meat must be too fatty: my stomach seemed bloated and I felt uncomfortable. I must be careful next time and avoid oily food in future.
After the park, I walked to the Tsushima-jinja Shrine which enshrines Takehaya Susano-no-mikoto which has power to avoid plagues and repel evil. His spirit are also enshrined in five other smaller shrines: Aramitama (rough spirit) in the Aramitama Shrine, Nigitama (spirit of peace) in the Nigitama Shrine and the Hashika Shrine, Kushitama (wondrous spirit) in the Kashiwagi Shrine and Sachimitama (propitious spirit) in the Imori Shrine.
I followed the main road and got back to the station easily. I had a wonderful time in this lovely and sleepy town.
My next destination was the Wisteria Festival which took place this year from April 20 to May 6 in a park next to the Mandaraji Temple. I made the same way back to Nagoya and the change train to Konan.
I knew the park is located a couple of kilometres away. The distance is not a problem and I had a sketch map. But there was no sign or no information desk with volunteers giving out information on how to get there. No bus or taxi was in sight.
I followed the main road which I thought was in the right direction. I asked locals: some did not know and others could not speak English. I wandered through a few characterless neighbourhoods and wasted over an hour. I finally found my way with the aid of Google map.
My frustration was gone as soon as I stepped into the park. Stall keepers were packing up as the temples and shrines would be closing at 5 pm. I first visited the Mandaraji Temple founded in the 14th century. The landscaped park with ponds, wisterias, peonies, many old trees and a man-made mound provides a picturesque and beautiful setting for a cluster of temples and shrines.
Temples and shrines in Japan close at 5 pm. I therefore went first to see Mandariji Temple. This park is smaller than Tennoji Park but has some 60 wisteria from 12 species ranging from early to late  bloomers, from coloured wisterias in purple, crimson, white and so-on and from long elegant flower clusters to short and pretty ones.
In addition, there are some 300 peonies which are blooming at the same time. Some are gigantic with bright colours.
The weather changed all the time. It became cloudy in the afternoon. Nonetheless the sun broke through after 5:30 pm. The soft light brought out a most enchanting purple colour of a wisteria in full bloom. What a wonderful experience.
It was after 6 pm when I left the park. I saw a reference to bus and asked a local tour guide in the car park for direction. He told me to walk straight. I followed his advice and walk till the cross section of two main roads. I still could not see any bus stop. I decided to walk as I recognised the way to the station.  By the time I was back in Nagoya, it was close to 8 pm.
I had a light dinner in an izakaya (Japanese styled pub) which takes a cover charge. I had a small bowl of beef stew (similar to those we have at home) and an egg omelette with yam.  I went to bed early as I had to catch an early bus to Mt. Fuji.
April 22 Easter Monday: Fuji Five Lakes
Fuji Five Lakes is the name of the area located at the base of Mount Fuji in the Yamanashi Prefecture at an elevation of above 1,000m above sea level. The five lakes are Lake Motosu, Lake Sai, Lake Shoji, Lake Kawaguchi and Lake Yamanaka.
I got up early and had a breakfast at McDonald near the bus terminal before 7 am. The 36-seat bus departed on time at 7:10 am only half full. I had a comfortable ride with two seats. I had a tea break for 25-minute tea break and arrived at Kawaguchiko shortly after 11:30 am. I had booked two nights at the Royal Lake Kawaguchiko Hotel near the Kawaguchiko Bridge.
For first-time visitors to the lake area, the 2-day bus pass at a price of ¥1,500 is a most economic way to see the main attractions. I did not bother to buy one despite its cheap price as I saw no need to do so.
I know the town fairly well after having spent two nights at Hotel Wakausa-no-yado Maruei near the Yagisaki Park.  This time I found a nice offer at the Royal Lake Kawaguchiko Hotel next to the Oike Park near the bridge on the southern shore.  It took me about half an hour to walk to the hotel along the lakeshore.
As I could not check in till 3 pm, I spent the afternoon strolling along the lakeshore. My original plan was to walk round Lake Kawaguchiko if possible. But this is unrealistic.
It was a beautiful day with blue sky though Mt. Fuji was hidden in clouds. Most tourists who had come over Easter had mostly gone. My plan was derailed within ten minutes. When I stopped at the Oike Park opposite the hotel, I was captivated by a cluster of cherry trees in white, pale and deep pink colours.
I stopped several times just gazing at the beautiful cherry blossoms and watching the feather-like petals being blown off by gusts of wind. They floated and fell like snowflakes. It was so charming and atmospheric.
The northern shores of the lake especially around the Kawaguchiko Music Forest is considered one of the best spots for cherry blossoms and photography with Mt Fuji in the background.  I thought of crossing the bridge to revisit the art museum and walk to the music forest. Somewhere I changed my mind when I saw the hotel at the end of a long row of spectacular cherry trees in a distance. I must return to the hotel to take a look.
On the way, I stopped at my favourite Yagisaki Park and had a nice cup of sakura tea in a museum café.
By then, it was too late to follow the lakeshore on foot to reach the northern shore and return to the hotel before dark. I saw no point in rushing.
I took the same way back to the Royal Hotel Kawaguchiko before 5 pm. I went to the onsen before dinner at 6:30 pm. Though this hotel cannot be compared with the luxurious Hotel Wakausa-no-yado Maruei, it has a lovely outdoor onsen under a white cherry tree in full blossom. There was no guest around and I had the onsen by myself.
I was in a good mood and treated myself with a set dinner in the hotel for ¥3,500. But the shabu-shabu and sashimi were not as good as expected. I stayed in a Japanese-styled room with a nice young Iranian girl who is working and living in Sweden. But she misses her family so much that she has decided to leave her job and sell her flat to return to Iran after travelling in Japan and Korea.
April 23 Tuesday: Shimobe-Onsen & Chureito Pagoda
Today, I began using my mini Fuji 3-day bus cum train pass which would help me explore the area. I planned to go bus S3 to Shimobe-Onsen which lies beyond Lake Momosuko. In this way, I could look more closely at the mountains and small halmets beyond the lake area.
S3 departs once a day at 10:05 am from Kawaguchiko. As I got up early, I managed to take S4 shortly after 9 am to Lake Motosuko famed for having the image of Mt. Fuji on the ¥1,000 note taken from its lakeshore.
It was cloudy and I did not Mt. Fuji. After spending more than half an hour strolling along the lakeshore, I boarded S3 at the same stop at 10:50 am. The Japanese bus and train services are perfect.
Shimobe-Onsen 下部温泉is famed for its therapeutic hot spring and gold mines.  After a scenic drive, I got off at a car park outside a museum. This quiet spa hamlet is served once a day by bus from Kawaguchiko but more frequently by local train running on the Minobu Line which ends at the Fuji Station 51.7km away.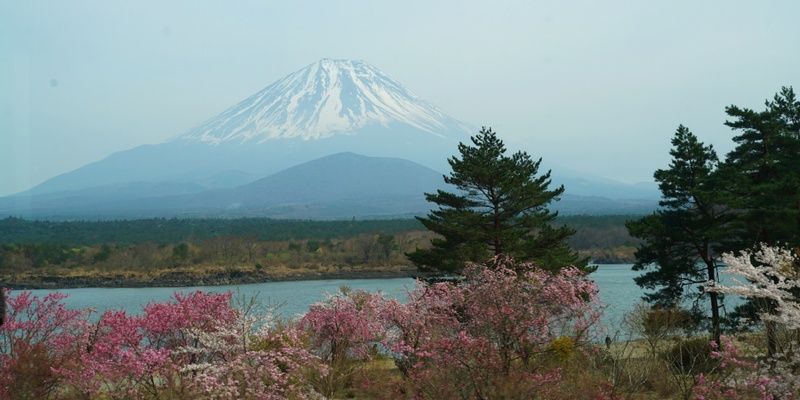 I had about two hours to explore the area as my bus would be leaving at 1:30pm. First of all, I soaked my feet in a foot bath outside the museum. Next, I went into the museum which is about gold mining in the area. I did not bother to pay to see it as the explanation is in Japanese.  But the receptionist was kind and served me a free drink from the locality. Before leaving, I took a short walk along the river valley to see this sleepy onsen village.
The journey back to Kawaguchiko was more enjoyable as the sky had cleared up. When the bus passed by Lake Motosuko, I saw Mt. Fuji just as it appeared on the bank note! Alas, my camera was in my bag.
I was back in Kawaguchiko before 3 pm and planned to go to the Chureito Pagoda on the hills of Fujiyoshida City.  It is one of the iconic spots for viewing and photographing Mt. Fuji particularly during the cherry blossom season: the pagoda floats in a sea of cherry blossoms with Mt Fuji in the background.
I had to wait for the 3:30 pm local train to Fujiyoshida (¥300 one way). It took me some 20 minutes to walk from the station to the  pagoda. It was not a hard climb as I had come prepared with my walking poles.
It was hazy now. The cherry blossoms here had mostly gone. The view of Mt. Fuji was blurred. Soon, the setting sun threw a soft beautiful golden light on the pagoda. Though I did not see the postcard view of the pagoda and Mt. Fuji, the place was not crowded. I had a nice time enjoying the views and soaking in the atmosphere.  Anyway, beauty is always in the eyes of the beholder: I treasure whatever I find, see and experience!
I took the 5:17 pm train back to Kawaguchiko. I discovered a new restaurant called Shaw's which was opened the month before. I had a chicken set dinner for ¥1,700. It tasted much better than the ¥3,500 set at the hotel.
I went to the hotel onsen and met a few tourists from Mainland China. They made a lot of noises and spoilt my mood.
Tonight, I had two roommates: a young lady from Mainland China and a nice young doctor from Mexico. I find the Chinese girl inconsiderate. There was nothing wrong for her to have her computer on. But she put the lights on while we were already in bed for an hour. Then she felt asleep and I had to get up to turn off the light.