April 16 – 19: Mount Yoshino & Kyoto & Shima Peninsula 
Trip Plan
I am not crazy about Japan but it is amazing how much to see in a such a small but cultured, modern and aesthetic country imbedded in traditions.  I spent 23 days in three prefectures (Shikoku, Kansai and Chubu) from January 16 to February 4 this year. During that journey, I decided to make a trip to see wisterias which would be in full bloom in late April to early May and the Spring Encounters of the Setouchi Triennale which would take place from April 26 to May 26. I am also keen to complete my 88 -Temple Pilgrimage in Shikoku as I still have some 35 temples in Stages 2 and 3 to visit.
I bought a single ticket to fly to Nagoya on April 16 and planned to return from Takamatsu, Shikoku on completion of the 88-Temple pilgrimage in mid- May. But when I was at the airport on April 16, I got a message that disrupted my plan: I returned to Hong Kong on May 2 without visiting the Triennale and Shikoku.
April 16 Tuesday: Hong Kong – Nagoya, Japan – Nara (GMT+9)
My flight would be leaving at 11:35 am. I felt very relaxed till I got an email from my travel agent in Seattle on the way to the airport. It asked me to send in by May 13 my Russian visa for an expedition to Wrangel Island.  I am annoyed as it is a ridiculous demand: the expedition would only begin on July 22!
What should I do? I had already booked accommodation in Takamatsu and on two islands with exhibitions of the Setouchi Triennale and bought a 7-day train ticket for Shikoku. (I slept over it for a few days. Eventually I cancelled all my hotel bookings and redeemed my Asia Miles for a ticket to return from Tokyo to Hong Kong on May 2).
I was in Nagoya in February and knew my way well. I landed at the Chubu Centrair International Airport around 4pm and I was on the Kinktetsu train to Nagoya by 4:45 pm (¥870) at.  Then I bought a 5-day Kinktetsu Train Pass for ¥3,800 at the Nagoya station. With the pass, I could travel freely on Kinktetsu railway lines that run between Nagoya, Osaka, Nara, Yoshino and Shima Peninsula. It is the most economic ways to travel in this region.
I hopped on a local express train heading to Nara. As I had to change train twice, I did not arrive at my destination till 9:30 pm.  Sally, my sister-in-law and Lili, my niece, who made the same journey the day before, met me at the train station.
I had breakfast and nothing else for the whole day. I was ready for a large bowl of home-made noodles. We stayed at the Smile Hotel next to the JR train station.
April 17 Wednesday: Nara – Mt Yoshino – Kyoto
After a long travel day, I had a sound sleep and did not get up till Sally knocked on my door! We checked out and began another day of train journey. We got on board a local express around 9:15am and had to change once before arriving at Mount Yoshino station around 11 am.
Cherry Blossom
Japan is world renowned for its cherry blossoms which is a symbolism. Mount Yoshino 吉野山 in Nara Prefecture has been Japan's most famous cherry blossom viewing post for many centuries. Other often mentioned top viewing sites include the Takato Castle Park, the Hirosaki Castle Park, Mt Fuji, a few spots in Tokyo and the Philosopher's Walk in Kyoto.
The free-standing Mount Yoshino is divided into four areas: the Shimo (lower) Senbo at the base of the mountain, Naka (middle) Senbon, Kami (upper) Senbo and Oku Senbon at the top of the mountain. It was said the first trees in Yoshino were planted along its slopes more than 1,300 years ago. Today, the mountain is covered by approximately 30,000 cherry trees of many different varieties.
The cherry blossom season in Yoshino begins in late March or early April. The trees reach full bloom around early to mid-April. Owing to the range of elevation, the blooming season is staggered by a couple of days between the Shimo (lower) and Kami Senbon areas.
The train station is located in Shimo Senbon.  After leaving our luggage in a locker (¥600), we took a bus (¥450) to Naka Senbon where the majority of Yoshino's accommodations, shops, restaurants, temples and shrines are located.  One can take a minibus from here to Kami Senbon (¥400).
We began our walk at the Cherry Exhibition Garden where a lot of the flowers were still in full bloom.
We followed the road to the Naka Senbon Park. Most of the trees here had already past their peak.
It was not a clear day. The hazy views of the ridge at Naka Senbon, the roof of the Kinpusenji Temple and ranges of mountains in a distance were equally charming and atmospheric.   I found the cool weather perfect for hiking.
I notice one phenomenon: most tourists are busy taking selfies and photos while the Japanese look relaxed and mesmerised by the transient beauty of cherry blossoms.  The Japanese sit comfortably under the trees or on a bench under a tree or on a viewing platform or inside a tea-house. They look graceful chatting in low voices, sipping tea or having picnic lunch.
Sally loves spring wild flowers. We stopped every few minutes to enjoy the views and take photos. The Hanayagura View Point is one of the best spots to enjoy the splendid scenery. Here we, like the locals, sat on a bench below a cherry tree soaking in the atmosphere. While the locals enjoyed their hanami, we had a banana which would us some energy to move on.
Our next stop was the Mikumari Shrine, a World Heritage Property, which is small but beautiful and atmospheric. Dedicated to a female Shinto kami associated with water, fertility and safe birth, it was rebuilt in 1605 by Toyotomi Hideyoshi.
We walked for another 2 km and arrived at Kinpu-jinjya Shrine at the entrance of the Oku-Senbon. We discovered most of the trees here were in full bloom.
We had no plan to follow the trail to go around Oku Senbon. It started to rain when we began the descent.
It was around 3 pm when we reached the main street in Naka Senbon which is lined with shops, eateries, guesthouses as well as temples and shrines. We were hungry and bought a pack of hand-made red-bean sweet cakes from a local.
We visited a few interesting monuments here. First, we walked past the Sakuramotobo櫻本坊, a centre of Shugendo mountain worship. Founded some 1,350 years ago, it has an iconic large weeping cherry tree. But the petals had mostly fallen off.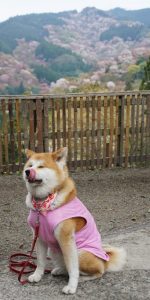 Next, we went to the historical Yoshimizu Shrine 吉水神社, a World Heritage Property.  Originally founded as a temple in the 8th century, it had served as living quarters for practitioners of Shugendo mountain worship and gave refuge to several prominent historical personalities since the 12th century, became an imperial palace under Emperor Go-Daigo in the 14th century and played host to Toyotomi Hideyoshi in the 16th century. It was converted to a shrine during the Meiji Period.
Today, it exhibits some national treasures. But most people come here for its breath-taking cherry blossom viewing: from here one has unobstructed views of one thousand cherry trees covering the mountain slopes.  It was getting late and most tourists had gone. Lili had the luxury to take as many as selfies as she liked.  I watched a lady taking pictures of her dog that could pose! Cute!
Finally, we reached the iconic Kinpusenji Temple 金峯山寺, another World Heritage Property. It is the head temple of a branch of the Shugendo religion called Kinpusen-Shugendo in Yoshino district which is a form of mountain asceticism drawing from Shinto and Buddhist beliefs.
In the temple's main hall dedicated to Zao Gongen is Japan's second largest wooden structure after the great Buddha hall at Todai-ji in Nara. Apparently, the statute was open for public viewing. As we were in a hurry to catch the local express train around 5pm, I did not go in.
We passed through the Kane-no-torii Gate before descending to Shimo Senbon which has about 1000 cherry trees. The pale pink petals covering the path and the lush green grassy slopes created a dreamy and romantic feel.
We were back in the train station before 5 pm. I had time for an ice-cream before boarding the 5:14 pm train. We changed train once before arriving at Kyoto Station around 8 pm.
We had not eaten and were hungry. We had no problem in finding something nice to eat as there are countless eateries and restaurants inside the train station. I had sashimi, Sally had grilled fish and Lili had a special rice bowl. We paid less than ¥5,000 for three dinner set. Great value!
We took a taxi to our guesthouse at Gojozaka near the Kiyomizudera Temple.  I notice many new modern and well-run guesthouses and hostels have sprung up in all major cities: Japan is getting ready to welcome visitors without deep pockets to the 2020 Olympics.  I was tired and slept well.
April 18 Thursday: Kyoto
Sally and Lili set off for Uji after breakfast. I have been in Kyoto many times and visited most of the must-see attractions. I was not in a hurry: a 24-hour bus ticket for ¥600 would be the best option for a leisure happy wanderer.
I need a SIM card. The hostel only had a ¥3,800 card for a month. As I did not need much data, the receptionist suggested me go to a shop in Shijo Keihan-mae to get a card. I took a bus and got off at Shijo-dori and loitered around the Nishiki Market for an hour. I visited the small but pretty Nishiki Tenmangu 錦天満宮, a Shinto shrine dedicated to the deity Tenjin. There is a natural spring at the entrance.
I did not find a SIM card at the shop recommended by the receptionist. Instead, I bought one at the Big Camera for ¥1,800 with 1.5 GB for 30 days. Then I took Bus 32 and got off near the Ginkakuji Temple in order to revisit the famed Philosopher's Walk.
Most of the cherry blossoms along the walk had gone. Nonetheless, I still found a few trees in full bloom. I vaguely recall the first time I was here in spring about 20 years ago.
As the peak season had gone, the place was semi-deserted. I found it more appealing. I strolled aimlessly and visited a couple of temples and shrines along the path. The secluded Honenin Temple is beautiful and tranquil.
My battery was dead and I had to get a spare one from my suitcase. I took Bus 100 to the hostel. With the help of a young lady from Mainland China, I managed to activate the SIM card after an hour's exhausting work.  My young friend got her SIM card at the Hong Kong airport and could not understand why I had not done so. She had a point: I bought a Hong Kong SIM for my January trip and had no problem at all.
I would be meeting Sally and Lili for dinner after 8 pm. It was about 4 pm when I was ready to venture out again. I thought of going to the modern art museum. The receptionist told me it would be closing at 6 pm. (He is wrong: it closes at 8 pm on Friday).
Where to go next before dinner? As my last visit to Arashiyama to see foliage was mesmerising, I loved to see it in spring and at sunset. I took Bus 100 to the Kyoto station and then Bus 28.
By the time I stepped off at the famed Togetsu-kyo Bridge, it was getting dark. I loved to visit the captivating Bamboo Grove. But it would take time. Few cherry blossoms were still in full bloom. The sunset was not impressive.
Shortly after 6:30 pm, I jumped onto Bus 11 which runs directly to the city centre. I was early and took a walk along Shijo Keihan-mae. Then I ran into Sally and Lili who were also early. We explored the bustling narrow streets full of bars, eateries and restaurants along the canals. Finally, we picked a restaurant located on the 8th floor of a modern building. It was almost empty! The waitress told us that business had not been good. Lili and I had a chicken hot pot while Sally had beef. The food was delicious and we paid just over ¥6,000 for both food and three drinks. Excellent!
As Easter was coming, I was keen to book accommodation after leaving Kyoto. I planned to stay in Toyoko-Inn in Nagoya for two nights. As a member, I would have a more favourable rate.
The receptionist gave me my membership number and told me to book online. But the system did not work. After wasting some 40 minutes to no avail, I asked the receptionist to book for me. By the time I finished booking, the last bus had gone and the next one was due an hour later.  As a result, I walked all the way back to the hostel. The streets were almost empty.  I always enjoy walking in old cities which have a nostalgic atmosphere when the tourists have gone. It was almost 11:30 pm when I was back in the hostel. Good exercise!
April 19 Good Friday: Kyoto – Toba
Today Sally and Lili would spend a day in Kyoto before taking a train to Osaka where they would spend their last night. They would return to Hong Kong from Kansai International Airport on April 20.
I would travel on my own for the rest of my trip. As I had the 5-day train pass, I planned to go to Toba for a night before spending two nights in Nagoya during the Easter Holiday.
What should I do today? I decided to visit the Kyoto National Museum for the first time and to see the special exhibition on "Priest Shinkyo 700th Memorial Special Exhibition, Art of Ji Shu, A New Sect of Buddhism in the Kamakura Period".  I had no idea about Shinkyo and Ji Shu.  I paid an entrance fee of ¥1,500 and ¥520 for an audio guide.
Ji Shu 時宗(Time Sect) is a sect of Japanese Buddhism founded by Ippen 一遍上人(1239-89) who was born at Hogon-ji, a temple in Iyo (modern Ehime Prefecture) in Shikoku. It is perhaps best known for its tradition of Dancing Nenbutsu – a practice of dancing while reciting the Buddha's name in an incantatory prayer. Ippen preached that everyone who performed Nenbutsu would be able to achieve rebirth in the Pure Land. He travelled all over Japan propagating this message and handing out talismanic slips of paper sealed with a Nenbutsu prayer. Shinkyo (1237-1319) who succeeded Ippen made great contributions to the sect's development.
On the occasion of the 700th anniversary of Shinkyo's death, the museum brings under one roof the great treasures of Ji Shu in this  memorial exhibition. The exhibits are meticulously laid out with explanations in five sections.
Section 1 outlines how Ippen found a new Buddhist sect Ji Shu during the Kamakura period (1185-1333). The methods and beliefs that Ippen popularized can be traced various influences: the teachings of the Tang dynasty Chinese monk Shandao (603-681), Japanese tradition of Pure Land Buddhism, his personal experiences of itinerant practice and the imagery known as the "White Path between Two Rivers" that he encountered at Zenko-ji Temple, and the oracle he received from Kumano Gongen.
Section II focuses on the teaching of the Ji Shu embodying the Ji Shu in its early days. Ippen's teaching emerged after 1274 upon receipt of an oracle from Kumano Gongen in Kumano Shrine. Objects including the sets of handscrolls illustrating Ippen's itinerant practice and the Six-character Homage to the scared name of Amida hanging rolls, priests' robes, gongs and proprietary chests are on displayed. Upon Ippen's death in 1289, his disciple Shinkyo (1237-1319) formalised his teachings and organised those to the nascent tradition to found the Ji Shu.
Section III is the highlight of the exhibition. Visitors have the rare opportunity to view all the twelve handrolls of the National Treasure Illustrated Biography of Priest Ippen . This masterwork of medieval painting by Priest En'I, depicts in 49 scenes the life of Ippen and his travels and teachings across the entire country. The scrolls seem to have been completed on the tenth anniversary of Ippen's death.
Section IV is on the late patriarchs of Ji Shu and their preserved writings. They had expanded the teachings through itinerant practice. The portraits of the patriarchs either sculptural or painted, are well-preserved. I find the sculptures life-like and in excellent conditions.
Section V focuses on dojo, "places of practice" of Ji Shu Temple and their treasures, particularly those in Shiga prefecture, Fukisawa and Kyoto. Principle objects of worship of various dojo are seldom loan to exhibitions.
I was totally ignorant of the Ji Shu sect. This excellent exhibition has introduced me to the Ippen and Shinkyo and the visual culture of this sect as a whole. To be able to see the Illustrated Biography of Priest Ippen in its entirety is a real treat: I have a glimpse into Japan in the middle ages!  Apart from the special exhibitions, I also saw a small permanent collection of excellent and well-preserved Buddhist statues on my way out.
I felt exhausted after spending over two hours in the museum. What next? I thought it was time for Miyako Odori, a cultural performance at the Minamiza Theatre, a historical kabuki theatre location in the Gion geisha district.
This performance has been on since 1872 except for six years during war time. The programme of 2019 has been developed in celebration of the new Emperor's enthronement in May and to pay homage to kabuki.
I arrived at the ticket office shortly after 1 pm looking for a ticket for the 2 pm show. Less than five seats on the upper floor were still available. I would rather pay more for a better seat with full view and went to the next office which handles pre-paid tickets. I asked whether some reserved/paid tickets would not be picked up. Bingo! I got an excellent seat with full view for ¥5,500.
The show with eight scenes lasted an hour. Scene One is an extravaganza with music, singing and a unique Kyoto-style dance called kyomai performed by dancers wearing exquisite kimono.
The next six scenes have their own story: Lucky Bamboo at Kyoto Ebisu Shrine (Two); Poetry Party at Hojyuji Palace (Three); Okuni's Dance in Shijogawara (Four); Straw Millionaire – A man gets fortune by trading (Five), Autumn Leaves at Katsura Detached Palace (Six) and Snowscape at Teahouse in Gion.
The last scene 'Cherry Blossoms at Daikakuji Temple' is a grand breath-taking finale: dancers in most beautiful and colourful kimono danced gracefully under cherry trees in full bloom.
I thoroughly enjoyed the performance. The money spent was well-spent. I was hungry and held a combo i.e. a bowl of noodle and rice near the theatre for ¥990. A
As I still had time, I went to the nearby Kenninji Temple which was surprisingly quiet with few tourists.
I spent another hour looking at three satellite events organised under the umbrella of the Kyotographie International Photography Festival (4.13-5.12).  Main events of the festival spread over 11 venues and one had to pay for a ticket to see the exhibitions.  But there are many free satellite events. I saw the three satellite exhibitions all located near Gion: Herbie Yamaguchi at the Leica Gallery, Vik Muniz, a Brazilian photographer, at Asphodel and Kenryou Gu at Sfera.
I returned to the guesthouse to pick up my suitcase and took the 6:46 pm train heading to Toba 鳥羽市in Shima Peninsula. The train ride took about four hours involving changing train twice. A fairly long ride!
I had booked a guesthouse not far from the Toba train station. As it was late, I decided to take a taxi. It was a mistake: the driver did not know the way. Eventually, I had to navigate using the Google Map.
My host is Hanatani Toshino, an editor and writer. He rents a small two-storeyed house and turns the first floor into two guestrooms each with three beds. I guess the total area of each floor is less than 30m2. The ground floor is too cramped with an open kitchen, a wash basin, a table and four chairs, a toilet, a shower room and his own room. By comparison, the two bedrooms are more spacious. I found the bed comfortable and had a wonderful sleep.