March 20 – 24: Wanderlust in Assam 
March 20 Wednesday: Darjeeling – NJP – Guwahati
I got up early around 5 am hoping to catch my last glimpse of Kanchenjunga. I was disappointed: it was too cloudy. Bobby kindly arranged breakfast for me at 7 am.
Shortly after 7:30 am, I got on a shared jeep and paid R300 for two seats in the middle row. It was much more comfortable. The other two passengers on the middle row also looked pleased.  When we arrived in Siliguri around 10:30 am, the driver kindly arranged a tuk tuk to take me to the NJP station for R150.
The train which was supposed to leave at 1:30 pm was late. Once again, the train information was confusing. I waited for the train on one platform. The station staff were not helpful and could not confirm which platform the train would arrive. I asked passengers on the platform. They told me to go to the next platform.  This meant that I had to carry my suitcase and walk over a flyover to the next platform. When the train arrived, I showed the guy from the train. He told me I had to wait for the next train from the other platform. I was therefore back to square one: I returned to the first platform and wait. What a nuisance!
Finally, the train arrived some 30 minutes late.  I had a lower bunk bed in a sleeper. But the condition of this carriage was far worse than the sleeper I had taken from Madurai to Hyderabad.  It has three layers of bunk beds. I had no intention to sleep. I looked around: most if not all the passengers in the sleeper were men.  I was surrounded by men in uniform. They looked relaxed and slept comfortably in their bed.
Looking out of the filthy window, I saw expansive agricultural land on both side of the rail track in Assam.  There is no major town till we arrived in Guwahati around 8:30 pm.
Just before I got off the train, a local asked me where I was going.  I told him I had already booked a hotel.  He offered help and suggested me take the bus.  I told him I would take a taxi. Then he used his phone to call an Uber taxi for me. He had some trouble and the first car did not turn up but charge us R42 for cancelling the trip. We had not cancelled: it was the driver who failed to find our location. The second driver asked for R120 + R42 penalty. He is a nice driver and I ended up giving him R180.
I finally reached Hotel D Courtyard around 9 pm. I decided to stay for two nights (instead of one) so that I could relax after a long journey and enjoy the Holi Festival in Guwahati.  The city lying between the south banks of the Brahmaputra River and the foothills of the Shillong plateau, is the largest city in Assam and the largest urban area in Northeast India. Many ancient Hindu temples are in the city, thus giving it the name "City of Temples".
I had an excellent chicken biryani in the hotel restaurant and a sound sleep after a tiring and long day.
March 21 Thursday: Holi Festival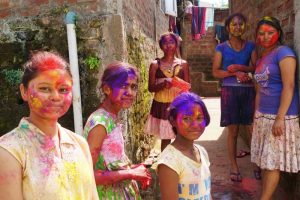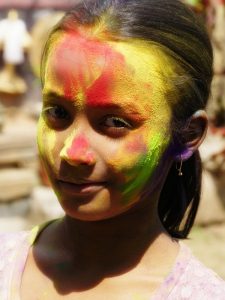 Today's the Holi Festival which commemorates the victory of good over evil, particularly the burning and destruction of a demoness named Holika. This was made possible with the help of Lord Vishnu (Hindu god of preservation). Holi got its name as the "Festival of Colours" from the childhood antics of Lord Krishna, a reincarnation of Vishnu, who liked to play pranks on the village girls by drenching them in water and colours. Each year, it is held on the day after the full moon in March. Hence, it has also celebrated as a spring festival.
I decided to celebrate the festival visiting temples.
First, I took an Uber taxi to the Kamakhya Temple situated on the Nilachal Hill. Dedicated to the mother goddess Kamakhya, it is one of the oldest of the 51 Shakti Pithas.
This temple is the main one in a complex of individual temples dedicated to ten Mahavidyas (ten aspects of Adi Parashakti – all forms of Goddess Parvati, wife of Shiva) of Shaktism (a major tradition of Hinduism wherein the metaphysical reality is considered metaphorically feminine and Adi Parashakti is supreme). It is an important pilgrimage destination for Hindus and especially Tantric worshippers.
The temple built in a hybrid indigenous style that is sometimes called the "Nilachal type", has a hemispherical dome on a cruciform base with four chambers and three mandapas aligned from east to west.  It was built and renovated many times between 8th and 17th centuries.
As today was an important festival and holiday, countless pilgrims arrived. They had to wait in a queue in gated corridors for 4 to 6 hours to get into the small sanctum. To prevent people from jumping queue, the gates were locked. I would never get into a narrow passage with a locked gate. In case of fire or any accident, one will be burnt to death, or died as a result of stampede or suffocation.
When I heard drums beating, I followed the crowd to the sacrifice house and saw for the first time in my life a ritual killing.  The poor oxen struggled with fear when being dragged into the sacrifice house. It refused to put its head between poles. Half a dozen strong men grabbed its legs and fixed the position of the head and four legs between poles. Then a man with an axe chopped the head off, filled a bowl with blood and rushed into the sanctum with the offerings.
My heart sank: I was sad: my heart was filled with grief for a long time. We are now in the 21st century and no longer live in a tribal age. Why do they continue with animal sacrifice to appease deities? I respect religions and one can remain faithful without carrying on certain rituals. I saw another cow still tied to a pole outside the sacrifice house. Would it be sacrificed later in the day?
There are many temples on this hill. I walked down the hill and visited another temple which has been built over a rock. I notice the temples are comparatively clean without litter. The floor is dry and not sticky.
I took an Uber taxi to Navagraha Temple (or the temple of the nine celestial bodies) situated on a hill named Chitrachal. The present temple was built by king Rajesvar Singha in 1752. There are nine phallic emblems of Lord Shiva each clad in a different coloured cloth representing Surya, Chandra, Mangala, Budha, Brihaspati, Shukra, Shani, Rahu and Ketu. The temple is also a research centre of both astrology and astronomy.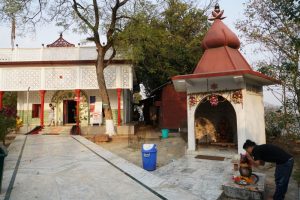 The last temple I visited today was the Umananda Temple, located at the top of the tiny Peacock Island in the middle of the Brahmaputra River. I took a short ride on an overcrowded ferry (R20 return) and then walked up a staircase to the top. The temple is dedicated to Lord Shiva. There are also ten other Hindu deities whose idols reside in the shrines.
The sun was setting. I tried to find a place to watch sunset. After walking along the southern bank for a while, I ended up at the fish market which has litter everywhere and is filthy and smelly. Anyway, I watched a fishing boat arriving and the fisherman offloaded the catch of the day into two trays. Locals came and bought fish for dinner.
I had dinner in a local eatery nearby before returning to the hotel. Today I downloaded the Uber App and had used Uber taxi four times at a total cost of R600. Not cheap for locals but affordable for a senior tourist like me!
I wanted to visit the Manas National Park which is a World Heritage Site. As a private trip by car with one-night accommodation would cost R12000-16000, I decided to make my own way by public transportation. The manager was helpful and gave me information on how to get there.
March 22 Friday: Manas National Park
I left my suitcase in the hotel and travelled only with a light backpack. I took an Uber taxi to Belrola Chariali before catching a bus to Barpeta which is about 95km away. Locals were still enjoying the Holi Festival and pranked colours on each other's face. The road is well-paved and I had a comfortable ride. Many passengers got on and off the bus which took over three hours to arrive at Barpeta. The bus conductor asked for R200. I eventually paid R150 (already paying much more than the locals!)
The manager of the hotel told me there is public transportation to the park. Unfortunately, the conductor put me on a tuk tuk that took me to the taxi stand by the railway station.
Today I had my first bad experience with a taxi driver. At first, he asked R1500 but I was ready only to pay R1000.  He accepted and we set off.  A section of the road which was being paved was bad. Then it was fine with lovely green countryside.  The driver speaks broken English. Soon he asked me whether I was married and kept saying 'sex in Hong Kong'. I ignored him saying 'I don't understand'. He called a friend to find out how to express himself in English.  Most disgusting! I of course said 'NO'.
As it was daytime, I was not scared of him. Anyway, I was on guard. I had not booked any place to stay but I had a couple of places in mind. Unfortunately, the three nice guest houses near the park were all full. Eventually I ended up in the Manas Guest House Lodge about 3km from the park. The owner does not speak much English but looks decent. He asked R1,500 for a room with fan. I had no option though the place does not look too clean.
The driver demanded R1500 as he had been driving around to look for accommodation for me. I refused and he looked unfriendly.  The owner gave him R100 and suggested me pay him more.  Eventually, I reluctantly paid this villain R1400.
It was around 3:30 pm when I had a cup of tea in the garden.  It was too late to take an afternoon ride in the park. I spent the rest of the afternoon strolling around. I met some locals at the river when I sat down to watch sunset.
It got dark early. I returned to the guest house. A family of five was also staying here tonight. Apparently, they had brought fish and meat from the market and were having barbecue in the garden. The man said they had a drive in the afternoon in their own 4WD. But there was not much to see. My heart sank!
I asked the owner about elephant ride and jeep ride to the park. He was not able to give me useful information. I had dinner with fish and rice for R200 at the guesthouse.  I splashed plenty of repellent around to drive away mosquitoes before slipping into my sleeping bag liner. Surprisingly, I slept without problem!
March 23 Saturday: Manas National Park – Guwahati
Manas National Park (or Manas Wildlife Sanctuary) located in the foothills of the Eastern Himalaya at a height of 61m to 110 m above sea level has an area of 950 km2.  It is contiguous with the Royal Manas National Park in Bhutan.  The densely forested park is one of the richest areas of biodiversity in the world and is a World Heritage Natural Site.  It is known for its rare and endangered endemic wildlife such as the Assam roofed turtle, hispid hare, golden langur and pygmy hog.
I got up before 6 am and had a cup of tea. As the owner could not help organise my trip to the park. I decided to walk and find out what I could do. I had a pleasant 3-km walk to park enjoying the fresh air and lush green countryside.
When I reached the park, I found out that I could not take an elephant ride as the two working elephants had been fully booked. The other elephants in the park were deployed for animal counting. There is no arrangement for a shared jeep.
I had no option but to pay a total of R2,950 to visit the park. The jeep for four hours costs R2000, entry for the jeep R650 and a permit to visit the Manas Tiger Reserve R300. The jeep is actually cheap if one comes with a group!
The jeep followed the assigned route and I got off at a couple of watch towers. I saw a dozen of elephants, numerous peacocks and deer.
We had a photo stop at the boundary stone between India and Bhutan. The final stop was by the Manas River with an open view of the mountain range, the Bhutan side and the river.
On the way out, I was lucky to see half a dozen rare golden langurs (leaf-eating monkeys and one of India's most endangered primates). But I still had not seen a tiger.
I took a shared taxi for R500 to the railway station. I was lucky to get on the train leaving at 1:45pm and arrived in Guwahati around 3 pm. The train ride only cost R55 as I could not get an A/C chair.
I was now in an old and dusty carriage mingling with locals. The carriage might not have been clean for ages. I watched two young people sitting opposite me throwing plates out of the window after they finished eating. I don't know how India can be cleaned up if even young people with better education cannot change their habits of littering and spitting.
When I arrived at D Courtyard Hotel, I told the manage about my trip and the disgusting behaviour of the driver. At the reception desk, I met Laurelyn from San Francisco. At dinner, I saw her friend Susan as well.  I now met two out of the 13 fellow group members.
15-day Assam Explorer
Day 1 Sunday: Guwahati, Assam
The group meeting would be held at 6 pm. I therefore had a free day. When I stepped out of my room around 8:30 am, I ran into Susan and her friend David who had arranged a visit to a bird sanctuary 15 km away. David asked me whether I would like to join as the car could take four people. I took the invitation with delight.
I rushed to finish my breakfast within 15 minutes and got ready before 9 am.
I had a wonderful time watching birds with David from Canada, Veronica from Australia and Laurelyn. It is amazing how tranquil and beautiful this small corner of the lake is.
We only paid R500 each for the taxi. We were back in the hotel before 12:30 pm. I wanted to see the Assam State Museum. Laurelyn joined me. We set off at 1 pm, took an uber for R90 and spent almost two hours in the museum.
Then we took uber to the zoo looking at lion, tiger, leopard, elephant and deer. We did not get back to the hotel till 5 pm. A tiring day!
At 6 pm, I met our guide Navin and 11 new group members from the UK (Susie & Jeff, Janet & Leslie, Susie & Steve, Lesley (my roommate), Victoria, Patricia & ). Navin briefed us on the itinerary as usual. Tonight, I had grilled fish for dinner.
Wonderful!