Murghab, Langar, Khorogr and Kaka Khum September 26 – 30
September 25 Tuesday Sost, Pakistan (GMT+5) – Tashkurgan 塔什库尔干镇 (3010m), China (GMT+8)
At 12:30 pm (Pakistan time) / 3:30 (Beijing time), we crossed the Khunjerab Pass 红其拉甫口岸, the world's highest border at 4880m above sea level, into Xinjiang, China.  After 100m, we came to a tower and after a short drive, we arrived at the custom office. All vehicles are required to line up and enter through a rolling gate one by one. Vehicles are thoroughly checked inside the depot while passengers and their luggage are checked in a separate room.
We waited a long time outside before being admitted into the depot. We sat inside our vehicle for over half an hour while the passengers in the vehicle in front were inspected.
Finally, it was our group's turn. Three officers took half an hour to check our luggage. An officer told me to open my suitcase and looked at bags of dried fruits and bottles of oil I had bought in Pakistan. He also looked at my camera and a few photos I had taken.
It was well after 5 pm (Beijing time) when our group got through. We asked an officer to find us a toilet. Reluctantly, he took us to a primitive toilet in an open shed. Then, six vehicles left together with an officer riding with us.
The 120km-long journey along Route 108 (part of the Karakoram Highway) to Tashkurgan Port of Entry took two hours. On the way, the officer told us that the border crossing would be closing in mid-October as the highway is blocked by snow in winter.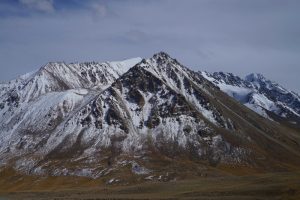 We finally arrived at the port two hours later. Our guide greeted us at the car park entrance and told us to meet him up outside at the exit gate after going through immigration. We thought we would meet him again soon. Alas we did not come out till 9:30 pm!
It was incredible what happened after entering the car park. Half a dozen of vehicles coming from the border had arrived. But the port which was supposed to open around 6 pm remained closed. We were told to stay inside our vehicle. But passengers on other vehicles got outside for fresh air. I got off too as I found the air inside too stuffy.
After an hour's wait, officers appeared and passengers piled in.  Two counters were open without a special queue for Chinese nationals.  We asked for an explanation for the long wait outside and were told that the computer system in Urumqi had broken down.
We also asked why there was no queue for Chinese. After a while, the officers realised it would be easier to handle us as a group as we all hold Home Visit Permit. Anyway, it did not make things easier: the officer took half an hour to input Sunny's data. As a result, the group did not get out till 9:30 pm.
By the time we checked in the Crown Inn Hotel and ready to go out for dinner, it was 10 pm.  We had a good dinner with mutton, soup, chicken and plenty of vegetables for RMB435. Everyone was happy after having the same food without varieties in Pakistan for two weeks. Carmen from Hong Kong is the manager of hotel. She speaks Cantonese and makes us feel at home. The hotel is clean, comfortable and well-designed.  It was almost 1 am when I went to bed.  What a long and tiring day!
September 26 Wednesday: Tashkurgan, China – Murghab, Tajikistan (GMT+5)
Xinjiang was not our destination: we only travelled through Tashkurgan (3093m) in order to go to Tajikistan the following day. Tashkurgan, meaning "Stone Fortress" 石头城 is the principal town and seat of the Tashkurgan Tajik Autonomous County, Xinjiang, with a long history as a stop on the Silk Road.  The majority population of the town are ethnic Mountain Tajiks.
I asked our guide whether we could see the town before leaving. He said the Karasu Port 卡拉苏口岸would open at 11 am and we had no time for sightseeing. But he could take us to the grassland to watch sunrise. We left the hotel at 8:30 am and were delighted to find a full moon just above a mountain range. Very pretty!
The grassland is only five minutes' drive away. We had a fantastic time taking photos of the famous Stone Fortress, the expansive grassland, a clear stream and reflections of the fortress at sunrise.
We rushed back to the hotel an hour later, checked out and had breakfast. We were back on the road before 10 am. An hour later, we arrived at the port which is about 60 km away. But the port was not open till midday. When we asked why it was not opened on time, an officer explained that they had something special today. It was just a lame excuse! I have passed through numerous ports in China and have only come across these two ports in Xinjiang that do not observe the official opening hours.
We were the only people at the port till two Tajik-looking men arrived. Only one counter was opened though two more officers looked on. I did not know why the officer took an hour to check our Home Visit Permit.  In other ports in China, we can just use the card and self-check through within a minute.
Then we had to wait for and take the two Tajiks in our vehicle to the custom office on the border about 14 km away. By the time we arrived at the office, it was about 1:30 pm. The custom officer told us that they had to go for lunch and would be back at 3:30 pm. We asked them to clear our group and let us go. 'No, we have to eat!'. It is an outrageous respond: we had not eaten and had been delayed owing to the delay in opening the port by an hour and the inefficiency and problem of the computer system.  They could have opened two counters and we could have gone through well before 1:30 pm.
We were told to remain in the vehicle. The air was too stuffy. Kylie and I went out for fresh air and exercise.  The officers returned at 3:15 pm and we went through within ten minutes as they only wrote down our names by hand in their register book. They did not even look at our luggage.
Foreign travellers have long been complaining about the Chinese borders at Xinjiang. I now have first-hand experience in one of the most bureaucratic and inefficient China ports. It is the most frustrating bordering crossing I have ever had in my life after travelling in some 150 countries.
We took our luggage and walked less than 100m across the Kulma /Qolma/Karasu Pass 闊勒買山口 (4362m) to the Tajik check-point. We were glad to be greeted by Alisho, our Tajik guide, who had been waiting for us since noon. He could not believe we had spent four hours at the Chinese border.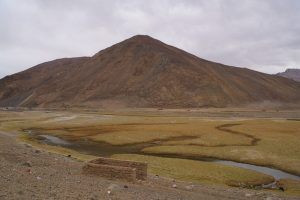 The Tajik border is much more welcoming and efficient. The small shed is manned by a couple of officers who input our visa information in an old computer and took our photos.  They had all our passports stamped in less than 30 minutes. What a contrast with the bureaucratic and inefficient Chinese immigration and custom services!
Murghab is about 80 km from the border. Owing to the poor road conditions, Alisho had arranged us to travel in three 4WD jeeps.  We greeted our three drivers Shams, Mardon and Mirzobek.  We were hungry but had to drive 20 km before arriving at a truck depot with a kitchen.  We had surprisingly nice soup with tomato, potato and mutton. The bread was hard though.  After a short rest, we continued and drove along the Aksu river to Murghab (3650m), located at the junction of the Murghab River and the Pamir Highway.
Founded by the Russians as Pamirsky Post in 1893, the city with a population of 4,000 is now the capital of Murghob District in the Pamir Mountains of autonomous province of Gorno-Badakhshan (GBAQ) and the only significant town in the eastern half of GBAQ. We checked in the Pamir Hotel around 5 pm. Though being considered as the best hotel in town, it is very basic with a leaking sink, two toilets and three showers on the first floor for some 20 rooms. We met a group of 16 Dutch on a 16-day driving trip in Tajikistan and several individual travellers.
I find the town spartan and miserable. The bazaar is small with most of the shops accommodated in containers. Most of them were closed by the time we arrived.  I bought a 5GB sim card for 49 Tajikistani Somoni (TSJ) (the exchange rate was about 1 USD to 9,40 TJS). I simply paid US$5.
Alisho took Brenda to a local pharmacy to get plasters and antiseptic wipes. Kylie and I joined Brenda for a drive through the town. We bought some drops for our dry throat. We found the small pharmacy surprisingly clean and tidy. Our rooms looked shabby and not clean. I used my own sleeping bag liner and managed to stay warm. I was tired and had a decent sleep.
September 27 Thursday: Murghab – Langar 250km
Tajikistan
Bordered by Afghanistan to the south, Uzbekistan to the west, Kyrgyzstan to the north and China to the east, Tajikistan is a mountainous landlock country with an area of 143,000km² and an estimated population of 8.7 million (2016).
The territory that constitutes Tajikistan today has been home to several ancient cultures including the city of Sarazm of the Neolithic and Bronze Age. Later it was ruled by numerous empires and dynasties including the Achaemenid Empire, Sasanian Empire, Hephthalite Empire, Samanid Empire and Mongol Empire, Timurid dynasty, the Russian Empire and subsequently the Soviet Union.
On September 9, 1991, Tajikistan became an independent sovereign nation when Soviet Union disintegrated. The new nation immediately plunged into civil war which lasted till 1997.  A central government began to take form with peaceful elections in 1999. President Emonali Rahmon who has been leading the country since 1994, has been criticised for authoritarian leadership, lack of religious freedom, corruption and violations of human rights.
The country is covered by mountains of the Pamir range and more than 50% of the country is over 3000m above sea level.  Amu Darya and Panj rivers mark the border with Afghanistan. The only major areas of lower land are in the north (part of the Fergana Valley) and in the southern Kofarnihon and Vakhsh river valleys which form the Amu Darya. The country has abundant water resources with over 900 rivers longer than 10 km.
Tajikistan consists of four administrative divisions namely the Sughd, Khatlon, the GBAQ, and the Region of Republican Subordination (RRP). Eighty-four percent of the population is Tajik who speak Tajik (a dialect of Persian). The second largest ethnic group is Uzbek (13.8%). Islam is practised by 98% of the population. Dushanbe is the capital.
The GDP and GDP (PPP) in 2017 were estimated to be $28.3 billion and $3,200 respectively.  According to some estimates, about 20% of the population lives below the poverty line i.e. on less than US1.25 per day. The economy is dominated by aluminium production, cotton growing and remittances. Cotton accounts for 60% of the agricultural output supporting 75% of the population and using 45% of the irrigated arable land. Remittances from about a million citizens (90% in Russia) in 2017 were equivalent to nearly 35% of GDP. Drug trafficking is a major illegal resource of income.
I woke up early and watched sunrise.   At 7 am, we had breakfast with porridge, yak milk and egg.  We set off following M41 which was built between the Southern and Northern Alichur Ranges and goes to Kyrgyzstan. The area looks expansive and barren with poor soil. We saw a few lakes and some herds.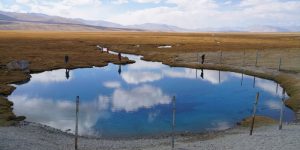 We had a long stop at the photogenic Ak Balik, a holy lake with crystal clear spring water in turquoise colours. This wetland is gorgeous: a stream from the spring winds through the golden grassland. I watched a few birds having their feed.  Reflections were perfect once the wind dropped. I did not want to leave this paradise.
We stopped in a small settlement and had a quick lunch with meat and noodle soup.  We continued and passed a large salt lake, Sasykkul.  Brenda who suffered from altitude sickness, looked exhausted and lifeless. While my friends took a long walk to the lake shore for photos, Kylie, Brenda and I decided to move on.
Soon we turned off the main road and followed a dirt road heading south towards the Wakhan Corridor. We passed the Khargush Pass (4344m). The dry and barren landscape looks surreal.  We saw a few more dried salt lakes.
At the end of the dirt road, we arrived at the Pamir River with the Wakhan Corridor on the other side of the river. There is a check-point at Khargush. The soldiers /guards checked our documents before letting us continue our journey.
The border runs along the Pamir River.  The Wakham Range on the Afghanistan side and Shakhdara Range on the Tajik side are dramatic, rocky and barren. The scenery is impressive: the narrow dirt road goes up and down with numerous bends. Some of the slopes look scary and unstable with loose gravels.
The narrow river valley has no settlement till we reached Langar (2900m) at the confluence of Pamir and Wakhan Rivers. Here we began to see the Hindu Kush Range on the Afghanistan side.
We were relieved to come to the end of the bumpy ride before 6 pm. We stopped in front of a large Pamir house owned by a nice family with two boys and a baby girl. We had a light meal with soup, salad, fried potato and meat once we settled down.
The place is clean with enough room for more than 20 people. Tonight, there were 11 guests including a couple from France and four drivers and two guides. But there is only a toilet and bathroom.
As we were all dusty and dirty and had not washed the night before, we were desperate for a shower. But there is only one toilet and a bathroom inside the house. The group would probably take two hours to take a shower.  The owner told us we could go to a hot spring nearby. I jumped with joy. At the end, the adventurous four (namely Joy, Karen, Ophelia and I) picked up our stuff and our driver drove us to the hot spring.
We had an authentic experience.  A rustic shed with two compartments have been built (one for each sex). As a man with his young daughter had occupied the lady's bath, we had to kick him out before we could go in. We waited for about 15 minutes for him to come out.  While waiting, we had a wonderful time gazing at the star and the milky way. It was stunning.
When we got into the shed, we were shocked by the poor design.  Clean and hot water runs out of a pipe into a knee-high basin which is about two feet below the ground. There is no drainage. As a result, dirty water from the floor flows into the bath.
We took turn to wash our hair under the running water. We used our towel to get water and splash over our body. Had we taken a bucket with us, it would be perfect. Anyway, even without using soap and shampoo, we felt our hair and skin were softer and silky after the wash. Wonderful!
Alisho and two drivers also took the opportunity to take a bath.  When we got back to the house, Sunny was still waiting for his turn for a shower.  We had indeed made the right decision! We went to bed before 9:30 pm. I slept well as the room was warm and the bedsheet and quilt were relatively clean.
September 28 Friday: Langar – Ishkashim – Khorog 230km
I woke up around 5 am but did not move as my friends were sleeping. When I heard Kylie moving just before 6 pm, I jumped up. We had plain rice porridge (like baby food) and fried egg for breakfast.
I watched the eldest son of the owner polishing his shoes before leaving home for school. I was impressed by his good manner and smart school uniform. This is an indication of the importance the Ismali Muslims who live in this area place on education.
We had a long but great day.  First, we drove a short distance to Vrang where we walked uphill to see a Buddha stupa. Owing to weathering and erosion, only the lower base of the stupa remains. I can still many caves cut into the cliff. Some might have been inhabited by Buddhist monks in the heyday of Buddhism in the area.
The valley looks fertile, peaceful and other-worldly. Children were walking to school. The friendly Ismalis with fair skin are welcoming and photogenic. Some villagers were busy harvesting while a few herders were walking with large herds of goats.
Our second stop was Yamg to visit the Sufi Muborak-Kadam Museum housed in a rebuilt Pamir house. We met his grandson who told us about his grandfather who is a man of talent as a poet, musician and inventor.  He showed us papers he made, played some old musical instruments, some of which had been made and played by his grandfather.
Our third stop was the holy Bibi Fatima, a natural hot spring famous for its fertility power. Tajik ladies come here to bath if they want to bear a child. The hot spring located almost at the top of a canyon is amazing. Hot water pours out from broken stalactites in virtual waterfalls. The water is about 40C, crystal clear with lovely crystal blue hues.  A natural bath has been created with enclosure so that no one can see the bathers.  We could not resist the temptation and got in for a soak for 10 minutes. What a nice surprise and luxury!
On the way, we passed by the ruins of the Yamchun Fort built in the 3rd century BC and perching on the top of a bluff at 500m above the river. The slope is too steep. We were happy for just a photo stop.
We had lunch in a family house below the fortress. At that time, we did not know it is Alisho's family home. We had soup with noodle, salad, potato and meat.
After a late lunch, we set off after 2:30 pm. The fourth stop was the Abrashim Fortress which occupies a strategic position on a hilltop right by the Panj River. Built in third century BC to guard this stretch of the Silk Road from the Chinese and Afghan invaders, it covers a large area.  There was no tourist when our jeep arrived. Standing at the highest point of the fort, I looked at the awesome panoramic views of the Wakham Valley and the Panj River. I have never been to Afghanistan which was now only about 100m away.  It is so close yet so far and not safe to travel!
At 4 pm, we moved on and soon saw the first set of traffic light on a main road in Ishkashim (2510m).  Standing at the mouth of the Wakham River valley, Ishkashim is where the 19th century Great Game ended when Britain and Russia signed a treaty adding a strip of the Wakham Valley to Afghanistan to create a neutral buffer zone between their Russian and British Empires.
Here the Panj River makes a 90° turn to the north.  Soon, we saw the first border bridge across the Panj River. The narrow river valley is planked by the Ishkashim Range on our right.
It got dark after 6 pm. The dirt road is narrow and bumpy. We had a roller coaster ride for an hour and were relieved when we finally reached Khorog (2100m) around 7:15pm.
Strategically located at the confluence of the Ghund, Shakdara and Panj Rivers, Khorog is the administrative capital of GMAQ with a population of 30,000.  We were supposed to stay in Serena Hotel. But as our rooms had been taken by an official mission, Alisho arranged us to stay at Lal Hotel a family hotel and promised us a refund. We were surprised to find the rooms clean and comfortable with good shower.
Alisho took us to an Indian restaurant for a change. I had beer with curry chicken and rice. A lovely dinner. I was tired and slept shortly after 10 pm.
September 29 Saturday: Khorog – Kalai Khum 240 km
We had another long driving day. As Alisho had to get cash from a bank, we could not leave Khorog till almost 10 am.  Had I known we would have an hour free time, I would have suggested him take us to the bazaar where we could meet the locals and have a feel about their daily and cost of living.
We had another long driving day. We came upon the Rushan Range and crossed the Bartang River.  We stopped in a roadside restaurant for lunch. It was interesting to watch a group of ladies walking a herd of goats and sheep.
As I had been gazing at soaring mountain ranges and awesome narrow river valley for two weeks, I was no longer excited about the dramatic scenery. I fewer and fewer photos as we moved on.
The great surprise today was the 5-star Karon Palace Hotel where we stayed. It is relatively new with 29 rooms. We were all happy with our rooms which are modern, comfortable and clean. We had soup, plov (a traditional rice dish cooked with lamb fat and root vegetables) and salad in the guesthouse where our guide and drivers stayed.
September 30 Sunday: Kalai khum – Dushanbe 380km
I got up early and had a nice walk for over an hour before breakfast. The town again looks tidy and clean with huge pictures of the President hanging out in all government buildings. 
By chance, I spotted a memorial for the four foreign cyclists (two Americans, a Swiss and a Dutch citizen) who were killed after a deliberate attach by a car in the Danghara district on July 30. The Islamic State has claimed responsibility. This incident has not scared foreign cyclists off: we came across half a dozen cyclists including a young lady on her own.
From Kalai Khum, we turned north leaving Panj River behind. We stopped at Kulob in a self-service restaurant, for lunch. It was the first buffet on this trip. I was not hungry and only took a small bowl of plov and vegetables. We also bought grapes that were cheap, fresh and sweet.
As Shams had troubles with his jeep, we were given some time after lunch to watching three couples taking wedding photos in a reconstructed fortress. The couple was accompanied by a band playing traditional music and guests dancing. They invited us to join in. After this surprise party, we moved on and continued to follow the river.
After crossing the Shurabad Pass (2200m), we found the spot where the four cyclists were killed. But for safety reason, Alisho told the drivers not to stop for photos.
We finally arrived in the posh Serena Hotel before 7 pm. Instead of going out for dinner, we decided to use the money refunded to us on a buffet dinner in the hotel. We heartily celebrated the end of our 20-day trip from Pakistan to Tajikistan.