Baffin Island, Devon Island & Edmonton August 9 – 15

Day 7 August 9 Thursday: Buchan Bay Baffin Island (Gibb Fjord cancelled)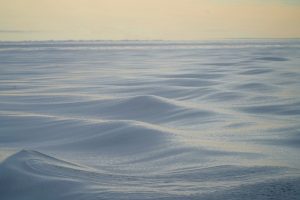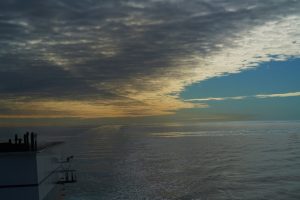 The boat had been going at full speed (about 14.5 nautical miles an hour) once we were free of ice floes yesterday afternoon. The wind had dropped to 7 knots. If things went well, Danny hoped to get us off the boat around late afternoon at Buchan Bay.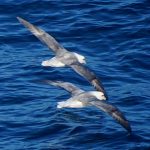 In the morning, we had two lectures, one by Robyn on "Under Water Archaeology" while Matt talked about "Science of Seals: Hydraulic Jetting". Though water archaeology is fascinating, I think we had more than enough on the discovery of Franklin's lost ship and new developments in under water with advanced technology. Matt's talk is well-prepared and much more interesting.
As the boat was still far from our destination after lunch, Danny arranged a "Tech Tour" and a cultural session on drum and dance. I did not join the tour since I had taken one on the last expedition.  Alex's performance on throat-singing, dance and drum is authentic.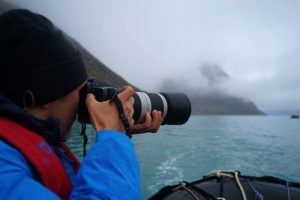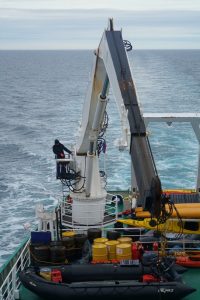 The weather continued to mess up Danny's plan: we did not approach Buchan Bay till early evening. Dinner was advanced to 6 pm and we stepped off the boat after 8 pm. It was grey and foggy.
I joined a photography group led by Roger hoping to learn a few tricks. But he is not familiar with Sony and cannot give specific tips.  Nonetheless he asked our zodiac driver to take us to places offering good shots and angles.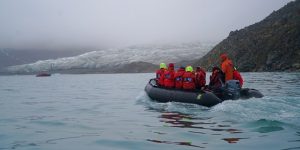 We cruised for two hours. At the end of the bay, we were fronted with a strange glacier with horizontal layers of curved dark ice. It looks eerie and evil.
On the way back to the boat, we followed the other side of the bay which is flanked by steep rocky cliffs. There are few waterfalls.
Then a German bird expert spotted a snowy owl high up on a cliff. I saw a white spot. I took a photo and could only get a blurred image. Roger showed me his photo which was much better than mine. A dozen of guillemots including a white one, were swimming close to the base of the cliff.

I was finally back on the boat after 10 pm. It was not a great zodiac cruise. But I could not have asked for more.
Day 8 August 10 Friday: Guy's Bight & Pond Inlet, Baffin Island

In the morning, Danny arranged a landing at Guy's Bight which was new to him too.  As we were in bear land, some members of the expedition team had to bear arms and station along the ridge. We could only roam freely within the area under surveillance.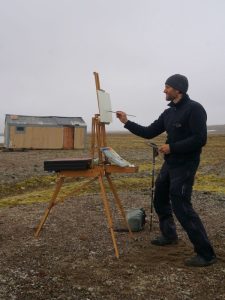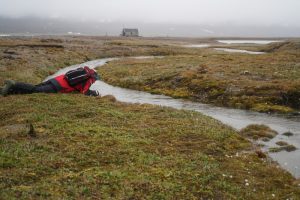 The bay surrounded by low-lying mountains on both sides and a ridge at the end with a running river, is about 1 – 1.5 km wide.  The few rustic hunter's huts and animal skulls scattering around created a melancholic atmosphere in an overcast morning. Mist and clouds rolled in veiling the low-lying mountains. The shore lined with ice floes and small icebergs looked strangely cinematic. The sandy and muddy river valley was covered with wild flowers and Arctic plants. I could not stop taking pictures of flowers with dew.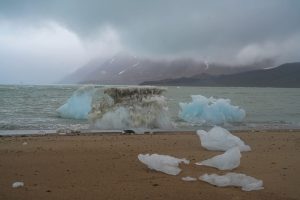 I had a great time soaking in the atmosphere. I watched Cory setting up his easel in front of a lonely hut. He sketched in style: he must be the first artist on earth to paint at this place. He was immediately surrounded by curious onlookers. I hoped our presence had not distracted him.
The weather was improving remarkably in the afternoon.  I stood on deck looking at the landscape on our approach to Pond Inlet, a small settlement with a population of 1,600. We landed after lunch and I joined the group for a walk along the beach before joining a cultural performance. It was a pleasant walk of about 2 km. We found several seal skulls and the bones of a beluga on the beach.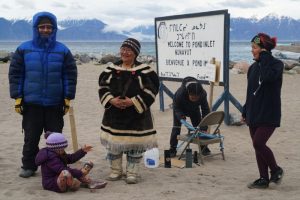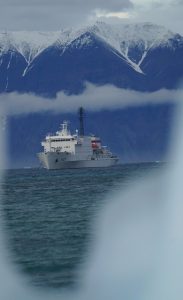 I walked slowly breathing in fresh air, enjoying the clear blue sky and my time walking on the beach. At the end of the walk, a dozen of us had to wait for the bus for some 15 minutes. By the time we arrived at the hall, the cultural performance was half over. Anyway, I was glad to watch two ladies performing throat-singing followed by group dance with performers all dressed in traditional costumes.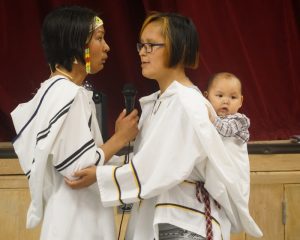 We walked downhill and returned to the landing beach. I was back on the boat around 7 pm. After dinner, Cory conducted a casual art session in the bar. I was too tired and found his talk too technical for an idiot like me. I went to bed instead.
Day 9 Aug 11 Saturday: Dundas Harbour and Croker Bay, Devon Island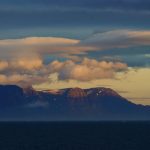 I could not sleep and got up around 2:30 am to take a hot drink at the bar. The sun never sets in the high Arctic in summer. I watched the fascinating colours for a while before returning to my cabin. I managed to sleep for three hours before getting up at 7 am.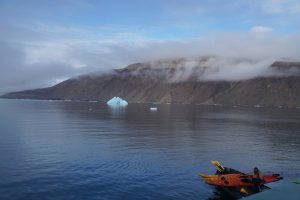 Dundas Harbour (74°31′N 82°23′W) (known in Inuktitut as 'Talluruti', a woman's chin with tattoos on it), is an abandoned settlement in Qikiqtaaluk, Nunavut, located on Devon Island at the eastern shore of the waterway.  Established in August 1924 as part of a government presence intended to curb foreign whaling and other activity, this outpost was leased to Hudson's Bay Company in 1933. The following year, 52 Inuit were relocated to Dundas Habour from Cape Dorset. But they returned to the mainland 13 years later.
The plan for the morning was to land on a beach and hike to the Dundas Harbour located on the other side of the headland. It was foggy when we got into the zodiac. Matt had to use a compass to find his way to the beach. Luckily, once we were ashore, the weather improved and the sun came out.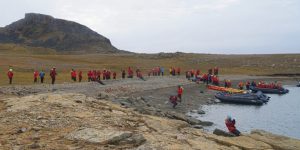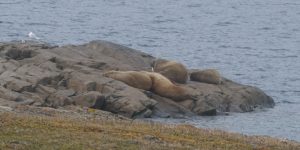 We had the best excursion of the expedition.  One could join one of three activity groups. The charger group would take a challenging and long walk, scaling the highest peak before descending onto the harbour.  The leisure group would stroll in the landing bay for a while before taking a zodiac cruise to reach the harbour.  I joined the medium hiking group led by Cobra and Robyn.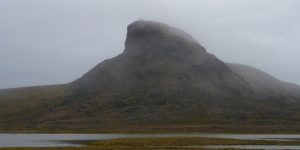 Our group moved at snail pace as some of us were inquisitive asking too many silly questions. We first looked at an extensive archaeological site with sod houses, graves and traps. We then watched four walruses basking on a rock before taking a gentle uphill path offering fantastic views.
We had the first glimpse of the harbour at a ridge before descending onto the harbour. The landscape and scenery were breath-taking with blue sky and a white harbour covered with ice floes and icebergs of all sizes.  The beach is dotted with several old huts belonging to the Royal Canadian Mounted Police (RCMP).  Alex's grandpa was born in one of the huts.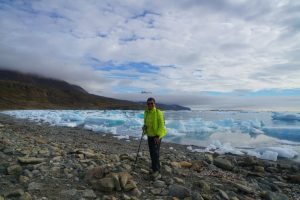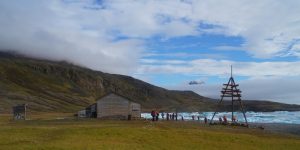 I walked slowly and stopped every few minutes to enjoy the views and take photos. I was glad I was not the only naughty one: Sandy was doing the same. Unfortunately, the expedition team told us to leave within ten minutes as we were late. I hardly had time to take a decent look at the huts. Why did we have to rush? I wished we could have been given more time on this excursion especially when we had decent weather for the first time on this expedition.

I was back on the boat at 1 pm for lunch. The boat moved some 50km westward to Croker Bay (originally: Croker's Bay), an Arctic waterway in Qikiqtaaluk Region. The bay with two glaciers was named by William Edward Parry in honour of John Wilson Croker.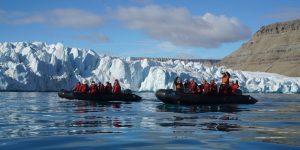 Danny arranged a zodiac cruise in the afternoon. Again, I joined the photography group led by Roger. As I am not a keen photographer, I would have been better off with a group with general interest.
We started our cruise from one end of the glacier and moved slowly across its front. We could not get too close in case it calved. We spent considerable time photographing a few icebergs.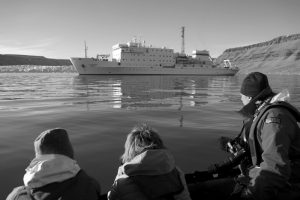 Then we heard over the radio that one of the zodiacs had spotted a few narwhals and a beluga near the shore. We stopped the engine and tried not to disturb these shy marine mammals. We waited and waited in silence. But we had no luck as they had already swum away towards the kayak group.
Anyway, I did not feel comfortable on this zodiac cruise.  My right arm was troubling me. It got worse as I had to sit sideway and kneel in order not to obstruct others to take photos. My shoulder, neck and back were hurting me. I was glad to return to the boat at 6:30 pm.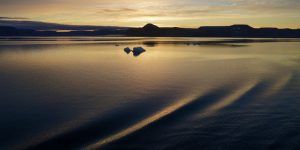 We had a magical BBQ dinner on Deck 3. It was warm and sunny. Everyone was in high spirit after the best day we had on this expedition. A dozen passengers took to the floor and danced joyfully. We all had a great time chatting, laughing, drinking and taking photos.
Cobra finished the great day by explaining the origin of his nickname in the bar. I had heard it once but still enjoyed his humorous jokes.
Day 10 Aug 12 Sunday: Maxwell Bay, Devon Island (Prince Leopold Island Cancelled)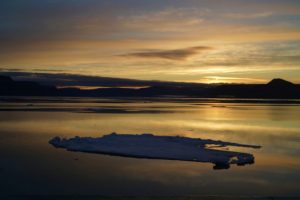 I could not sleep after a busy and exciting day. After tossing in bed for hours, I got out of bed at 2 am and watched amazing m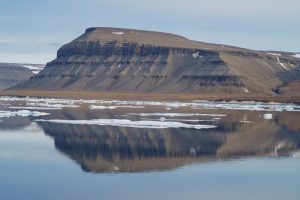 orning colours on the horizon for a while.  When I felt tired, I returned to the cabin and finally managed to doze off.
The weather was not bad today but it was not a good day for me. I was disappointed that the visit to the Prince Leopold Island, one of the most significant bird sanctuaries in the entire arctic ecosystem important migratory bird sanctuary, had to be cancelled owing to ice condition. This island is also home to thick-billed murres, black guillemots, northern fulmars and black-legged kittiwakes, and a good spot for sighting seal, bear, beluga, narwhal and bowhead whale.  We would be visiting the Maxwell Bay instead.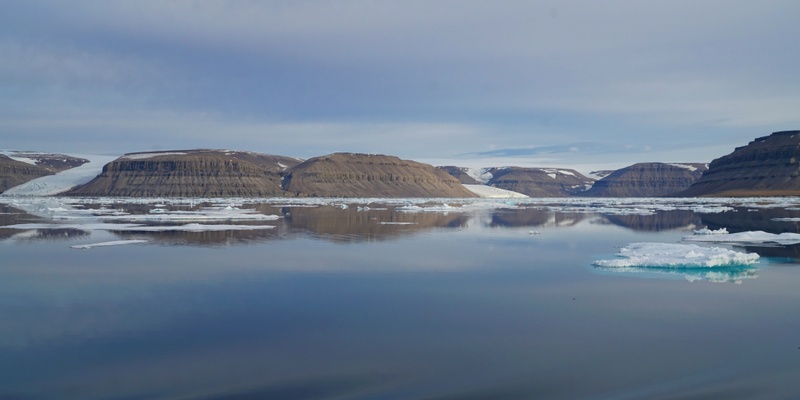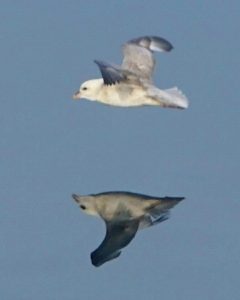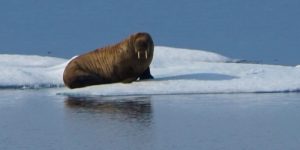 As the wind had dropped, the sea was as flat as glass. I spent a lot of time outside fascinated by the mesmerising silky blue sea and the glorious Arctic morning lights. A couple of Northern Fulmars were circling around the boat. I occasionally spotted a few seals popped up in a distance.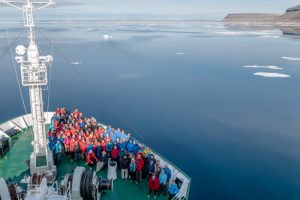 We had a group photo at the bow at 9:30 am. Soon the boat went past a walrus on ice.  It did not move much and I managed to take a good photo.
.Around 11:45 am, I suddenly had the urge to go to the bridge where I met Robyn. Rose and Cobra all with their binoculars looking at the bow. They were debating whether they had found a bear. I picked up a pair of binoculars and found a large white spot on a slope which I mistook as the bear they referred to. They then announced with joy that a bear and two cubs were spotted in a green patch at 2 o'clock. Everyone rushed out and watched from the starboard side.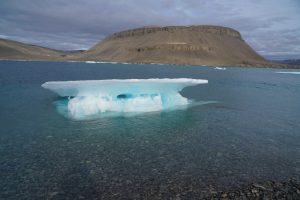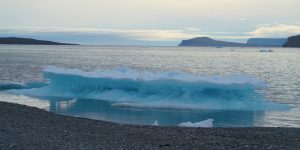 Somehow, I was fixated and oblivious of the direction the other people were looking. I kept staring in the direction of the bow (12 to 1 o'clock). By the time I realised I had been looking at a rock bear, it was too late: the bear and its two cubs had gone disappearing within a minute over the ridge.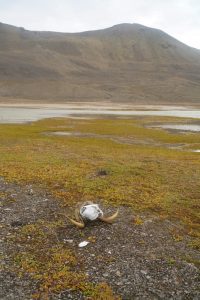 What was wrong with me? I was at the right place at the right time. I was somehow stuck in my own belief ignoring cues and facts that I had been given. This was the second time I had committed the same mistake in less than six months. Missing the chance to see another bear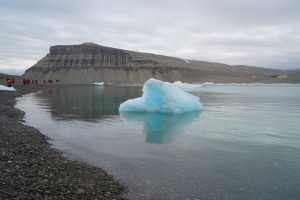 At 2 pm, we went ashore to explore Maxwell Bay. Today we had four activity groups. I joined the naturalist hiking group led by Cobra. The group was too large and moved too slowly. The scenery and the flora cannot be compared with Dundas Harbour and I was not impressed. The only benefit was that the hike was not strenuous and would not hurt my hip and knee.
Before dinner, we had a charity auction which brought in some $4,800. Cory was the star and three items with his works accounted for some $4,000.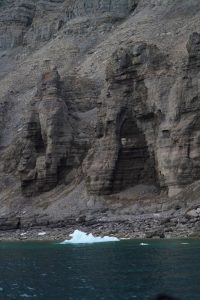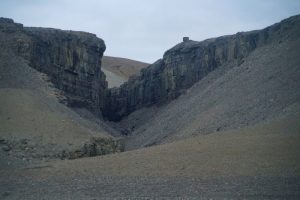 After dinner, Danny confirmed that we could not visit Beechey Island, another highlight of this expedition owing to ice condition. We were all disappointed. Anyway, he would arrange a zodiac cruise to another bay not far from Maxwell Bay after dinner. Many of the passengers decided not to join and preferred to say on board. They made the right decision: there was not much to see.
Anyway, I did not miss any chance to leave the boat. I took my binoculars and tried to spot a muskox. I thought I found one on the slope when Trsitan, our zodiac driver cried out "a bearded seal" near the shore. By the time I discovered it was a rock muskox, the seal had gone.
By the time I was back on the boat and had a hot shower, it was time for bed. I had a disappointing day and seemed to have missed everything!
Day 11 August 13 Monday: At Sea (Beechey Island cancelled)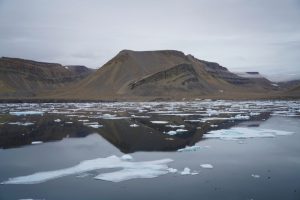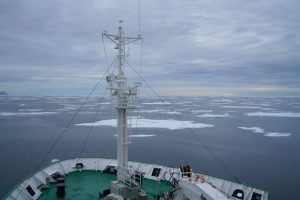 At breakfast, Danny broke the news that we were not heading to Resolute owing to ice condition and had to return to Pond Inlet. Apparently, the captain and expedition team got the news when we were at Maxwell Bay and had to keep the news secret while One Ocean Expedition had to work out the logistics for 90 departing passengers and 80+ incoming passengers.  As the Pont Inlet airport is smaller, they had to arrange two smaller planes (carrying about 40 passengers each), a cargo plane and arrange ten volunteers to fly to and stay in Iqaluit for a night before taking another flight to Ottawa the next day. What a mess! But this is Arctic travel and there is nothing one can do!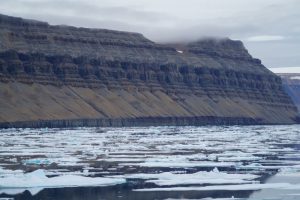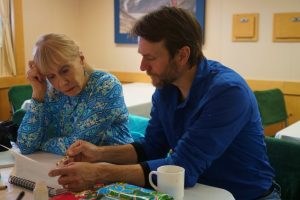 Danny had to keep us occupied. We settled our accounts in the morning. Later we watched a moving documentary film "Sands in Stone" on the life of Alma Houston, a pioneer in the world of Inuit art. I admire her passion for the people and their culture. She raised her sons in Cape Dorset and was dedicated in promoting Inuit art all her life. She passed away in 1998.
In the afternoon, I dropped in the sketching recap session with Cory. Though I have no talent, I like watching how he grips the pencil moving it swiftly but gracefully on the paper.
A5:30 pm we gathered for the last time in the dark and stuffy presentation room for the recap session with Danny. We then watched the video on the expedition by Roger. I like this video more than the one on the previous expedition.
Then came the Captain's dinner. I was honoured when Patti asked me whether I would like to join the Captain's table.  Three other passengers namely Rus, Joe and Dee, Danny, the First Mate and Second Mate were also at the table. I am surprised to learn that the captain is only 34. He is the youngest captain I have met on my polar expeditions since 1999. He and his two officers are all young and westernised representing the new generation of Russian mariners.
I dropped in the bar which was full. Many were singing including the jolly Scottish brothers from Glasgow, John and Richard. They are bird experts and are funny. I am not a night owl and decided to go back to my cabin after 10pm. In a way, I envied a cabin young mate who could stayed till 3 to 4 am to play games and drink. I am really old!
Day 12 August 14 Tuesday: Pont Inlet – Yellowknife – Edmonton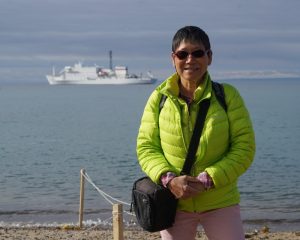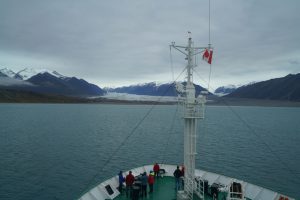 We had a long and tiring day. I got up at 7 am. As we had to wait for our planes which would likely arrive in the late afternoon, the captain arranged a boat cruise on the way to Pond Inlet.
We had good weather and it was nice to stay outside the landscape on Baffin Island and Bylot Island. We got close to a glacier on the Bylot Island facing Pond Inlet before lunch. I disembarked at 2 pm and spent a couple of hours in the visitor centre, the library and the two supermarkets in town. The librarian came up to me taking me as an Inuit. I do think we look alike.
I arrived at the tiny airport before 4:30 pm only to find our planes had been delayed to 7 pm. Anyway, we checked in and waited anxiously. After 6pm, the plane for Iqaluit arrived but did not leave.  The cargo plane landed after 7 pm.
Then our plane arrived with incoming passengers. They must be relieved to land and could get on board after a long day. We got on board and took off after 8 pm. An hour later, the plane stopped at an airport for refuel. We landed at Yellowknife before 11 pm. A much bigger plane was waiting for us on the tarmac.
The second plane arrived some 20 minutes later. Shortly after 11:30 pm, all of us were on board ready to take off. I stared outside the window and believed I had seen faint northern lights for a short while.
We finally landed in Edmonton before 2 am in a private jet airport. We were taken to the Fairmont Hotel MacDonald in the city. I had already spent more than enough on the expeditions. Hence, I booked a cheaper hotel nearby. I checked in around 3 am and did not sleep till 4 am too busy in looking at emails and WhatsApp messages.