Baffin Island August 3 – 8
August 3 – 14: Baffin Island "Jewel of Canadian Arctic" on Loffe
The Expedition: Where & What?
Canadian Arctic Archipelago is a group of 36,563 islands with an area of 1,424,500km2 in the Arctic Sea comprising much of the territory of Northern Canada – most of Nunavut and part of the Northwest Territories.  It extends some 2,400km longitudinally and 1,900km from the mainland to Cape Columbia, the northernmost point on Ellesmere Island. It is bounded by the Beaufort Sea on the west, the Arctic Ocean on the northwest, Greenland, Baffin Bay and Davis Strait on the east and the Hudson Bay and the Canadian mainland on the south.
Baffin Island named after English explorer William Baffin, is the largest island in Canada and the fifth largest island in the world with an area of 507,451 km2. The Baffin Island Mountains running along its northeastern shore form a part of the Arctic Cordillera. The island has been inhabited by Inuit people for centuries and has a small population of 11,000 (2007 est).
The Northwest Passage (NWP) refers to the sea route to the Pacific Ocean through the Arctic Ocean, along the northern coast of North America via waterways through the Canadian Arctic Archipelago. From 15th and mid-19th centuries, numerous European explorers attempted to find a navigable passage as a possible trade route to Asia and had explored the area by sea and on land.
The first recorded attempt to find the NWP was made by John Cabot under the instruction of Henry VII. English explorers had taken the lead in search of the passage from the Northern Atlantic.
In 1576, Martin Frobisher, a privateer, set sail in search of Cathy with three boats and reached the present-day Frobisher Bay (which measures 230km long and 40km to 20km wide).
In 1585, John Davis reached Cumberland Sound, Baffin Island.
In 1602, George Weymouth became the first European to explore the Hudson Strait.
In 1609, Henry Hudson sailed up Hudson River and later explored the Arctic and Hudson Bay before being abandoned by his crew in 1611 in James Bay and disappeared.
In 1612, Sir Thomas Button was sent out in Discovery to find Henry Hudson and to find the passage. In 1614, William Gibbons set out followed by Robert Bylot a survivor of Hudson's crew and William Baffin in 1616, who sailed as far as Lancaster Sound and reached 77°45´N.
In 1845, Sir John Franklin set sail under HMS Erebus and HMS Terror and vanished. Many expeditions were sent out between 1847 and 1859 to search for the lost ships. Their efforts helped in mapping out the area.
There was also exploration from the Northern Pacific. Vitus Bering, a Danish Navy officer in Russian service proved North America and Russia were separate land masses by sailing between them in 1648. Spanish Juan Francisco de la Bodega y Quadra made several voyages in the northwest coast of North America in 1775 and 1779. English Captain James Cook used the journal by the Spaniard during his exploration of the region and finally reached 70°N.  From 1792 and 1794, the Vancouver Expedition led by George Vancouver who had accompanied Cook surveyed in detail all the passages from the Northwest coast.
In the first half of the 19th century, some parts of the NWP (north of the Bering Strait) were explored separately by many expeditions including those of John Ross, William Edward Parry and James Clark Ross. There were a few overland expeditions led by John Rae in 1854, Sir Robert McClure who was the first to transit the NWP in 1854 by boat and sledge, Francis Leopold McClintock in 1859, Charles Francis Hall in 1860s and Frederick Schwatka 1878-1880.Roald Amundsen made the first complete passage in 1904-1906 from Greenland to Alaska sailing in Gjoa with a Norwegian crew of six.
Day 1 August 3 Friday: Iqaluit – Embarkation
I spent six hours in Iqaluit before returning the boat at 4pm with the arriving passengers. Iqaluit has grown 4-5 times since becoming the capital city of Nunavat. About 10% of its 9,000 inhabitants is French-speaking Canadian.
The visitor centre provides with information on the establishment of Nunavat and its 26 communities, the Inuit and their way of life.  It is co-located with the public library which offers free Wi-Fi. I spent over half an hour in going through hundreds of emails and messages. I was delighted to see the lovely wedding photos of Leuk and Isabella taken in a studio in February (their wedding will take place in late December).
I explored the city on foot and walked uphill to the hospital which though small looks tidy. Here I also had a better view of the bay. I stopped at the Frobisher Inn, the largest hotel in town. Then I walked downhill and went to the St Jude Church, an Anglican church in town.  I did not go to see the oldest church St Simon as it is located outside the capital.
There was not much to do. I went into the largest supermarket in the city and looked at the prices of food and goods. Fairly expensive! I had a white chocolate and croissant in Tim Horton for $4.25.
According to the visitor guide, there is free tour of the Legislative Assembly at 1:30pm. I went to the assembly building only to find that the tour was not on till two weeks later. The visitor centre staff were obviously not aware of this when they advised me to join the tour. I returned to the museum though small has nice exhibits of carving and stone sculptures. I also saw a photo exhibition of Fred Lemire who lives in Nunavut.
It started to rain. All joining passengers would be taken by bus to the harbour for a zodiac ride to the boat at 3:30pm. Unfortunately, the boarding had to be delayed as the Canadian customs officers were still clearing the boat. I was cold standing in the rain and was relieved to board the boat around 5pm.
As soon as all the passengers were on board, we had a welcoming drink and snack in the dining room at 6pm. We had 94 passengers and the same crew. Most of the expedition team members stayed on except David and Franco. Danny, an American and nature lover, was the new expedition leader. I moved to Cabin 327 which is more spacious than Cabin 324. I had the bed-sofa while my new cabin mates Diana and Lynsey took the bunk beds.
We had a mandatory safety boat drill before dinner at 7:30pm. Everyone was exhausted and few people stayed in the bar. I went to bed before 10 pm.
Day 2 August 4 Saturday: Monumental Island
The Arctic clear sky and crisp air made me feel at home. I was in high spirit for the first time since leaving Louisbourg on July 24. I had an easy time as I did not need to attend mandatory briefings. Before lunch, we already had full views of the famous monumental island which was on the itinerary of the last expedition.  The captain also sighted a bear on the slope.
After lunch, the first zodiac group with passengers on the Port Side set off. left. I left with the second group at 4 pm and returned at 6 pm. Luckily, the weather held up and I had a nice cruise.
We circumnavigated the island. We spent 15 minutes watching our first bear's movements.  It was too far for a decent picture. Matt with his sharp eyes spotted another bear at a ridge. I thought I vaguely saw it (pure imagination or hallucination?). Later, we saw another bear  running up a slope. But by the time I took my camera out, it was gone.
After dinner, I joined an enthusiastic crowd to listen to Brian's mariner superstitions. I have no sense of humour. Hence, I could only understand a couple of jokes while my fellow passengers laughed heartily and loudly non-stop. I felt stupid!
Day 3 August 5 Sunday: Pangniqtuuq
The sea was rough with the wind blowing at 26 knots. I attended Roger's talk on Expedition Photography and Cobra's talk on Seabirds of the Canadian Coast for the second time.  Both are humorous speakers and I find their talks refreshing.
Once we were inside the fjord and heading to Pangniqtuuq, the wind dropped. We had an early lunch and lined up at the gangway before 2 pm. The town with a population of 1,600 arranged a guided tour for the boat.
We were divided into four groups. I was first taken to the visitor centre with an Inuit lady showing the group a tipi, how bow whale was hunted and tools they used, how they made parka and boots with caribou hides and sealskins and show Inuit had lived in the past. She showed us the traditional amautik she wore.
Pangniqtuuq is the gateway to Auyuittuq National Park. Our second stop was the Parks Office. The park with rugged mountains, soaring peaks including the Mount Asgard (2,011m) and glaciers is exceptionally beautiful and off the beaten track with only about 200 visitors and ten climbers a year. Visitors must be accompanied by bear guards.
We crossed the road and spent over half an hour in the print house. The community boasts many renowned artists whose works show their culture and daily life including hunting, whales, narwhals, bears, seals, mom with baby in her on her amautik. The price of a small painting or a print ranges from $50 to $400.
The fourth stop was the souvenir shop. I looked at the carvings, weaving, prints and paintings, seal skins, footwears and gloves and woollen hats. But I am not a shopper.
Finally, we gathered at the community hall after 4:30pm and met a group of ladies and girls who performed for us. The eldest lady made fire on a seal oil lamp. Two young ladies performed throat singing which is amazing.
In the next performance, two young girls jumped and kicked while the two ladies sang. The girls then played with two bags throwing one up with one hand while catching the other with the other hand. I recall playing similar game when I was a kid. But we had smaller bags filled with beans or rice.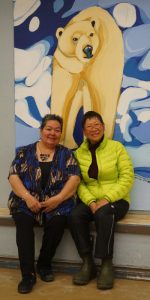 Finally, the elderly lady played an accordion which had possibly been bought by a sailor. The Inuit have their version of "Old Susanna". We clapped and sang and danced.
The ladies prepared fried dumplings and a char and vegetables stew.  I find the dumpling tasting like what the Chinese have. The stew was so delicious that I had two bowls.
On the way back to the boat, the weather had suddenly changed. Strong wind was blowing down the valley and it started to drizzle. I prayed for good weather so that we could continue with our journey north.
At the dinner, we were formally introduced to Cory Trépanier who got on board at Pangniqtuuq after his 10-day hike in Auyuittuq National Park. Cory, an artist, filmmaker and explorer, launched in 2006 a multi-year "Into the Arctic" project which involves three expeditions. So far, he has made three films and created a collection of over 50 oil paintings which are exhibited in Canada and America.
After dinner, Alex taught us Inuktitut syllables and how to write our names.  I was dead tired and went to bed after 10pm. But I could not sleep.
Day 4 August 6 Monday: At Sea (Sunshine Fjord Cancelled)
My right arm had been troubling me since I got on board.  I simply could not find a comfortable position to sleep. I got up at 2 am, spent half an hour at the bar reading before going back to my cabin at 2:30 am. Finally, I fell asleep and woke up at 7 am when Danny's wake-up call came through the public-address system.
The weather was not in our favour and the wind was blowing at 15 knots. Visibility was poor with heavy foggy and rain. It was atmospheric with expansive sea ice floes and a few large icebergs.  As a result, the boat was making at times about 1-2 knots an hour. There was no way we could reach Sunshine Fjord.  We understood.
Our morning lecture "Franklin and Forensics" with Russell and Robyn was interrupted around 9:30 am when a polar bear was sighted with its kill on ice. We all rushed to the bridge or to the bow. The bear was aware of our approach, looked at us but remained on the same ice floe to guard its kill. The captain slowed down the boat so that we could spend as much time with the bear as possible. This became the highlight of the day. The lecture resumed around 10am. As I had read the book "Franklin's Lost Ship", I was able to follow the talk with ease.
I enjoyed Matt's lecture on "Arctic Whales: An Exfoliation Crisis". As usual, he packed a lot of information into his presentation which is interesting and easy to follow.
In the afternoon, we were privileged to have a private screening of Cory's new 90-minute film "Into The Arctic 3" which is about his 9-week exploration into remote parts of the Canadian Archipelago including Baffin Island and Ellesmere Island.  Serious about his painting and passionate about his country and nature, he is able to bring his easel and sketches in front of the most remote part of the Canadian Arctic capturing its spirit, grandeur and exceptional beauty that no one might have done before. His film will be screened in a film festival in Iceland in November.  I wish him great success.
The fireside chat tonight was by Cobra on "Anaconda" was as funny as ever.
Day 5 August 7 Tuesday: At Sea (Auyuittuq National Park and Qikiqtarjuaq Cancelled)
Our scheduled programme was again derailed by the unpredictable Arctic weather. The wind was still blowing at 16 knots and it was foggy. Given the extent of sea ice, the captain and Danny decided any zodiac cruise or landing would be out of question. As the ice charts were not correct, the boat kept sailing to and fro without making progress. At times, the boat was only making 1-2 knots an hour. Finally, the boat had to sail eastward towards the Davis Strait in the direction of Greenland. I thought we could have spent a lovely day or two looking at glaciers and gigantic icebergs in Greenland instead of wasting time along the Baffin Island coast.
The expedition team tried to keep us busy with lectures. Robyn and Russell presented a "Franklin Relic Show" with replicas including the bell of HMS Erebus, a white-blue plate, the notes in a canister and many photos taken underwater on display.
Then I watched a film on Pond Inlet which is Alex's home town. A few Inuit were interviewed. They sounded unhappy with the white men and Canadian government telling them what to do and how to live. As a result, they have lost their culture and way of life. Some said they felt sick and were not well. I am sympathetic with the Inuit especially the older generation that has suffered from their submission to what had been imposed on them.  But what will happen to the young Inuit?
Life went on but lifelessly. In the afternoon, Matt talked about "Life and Death in the Arctic". In the evening, Tristan talked about his most memorable moments with animals. He is a shy and sentimental young man. When he came across a hungry juvenile wild wolf, he gave it some food. This wolf had returned a couple of times looking at him as though he tried to say hello. On another occasion, when he whistled while taking some visitors on a whale watching boat, a young humpback whale came up. He saw the same humpback again when he was out one day: it swam close to his boat and looked him right into his eyes! Rus and Sandy also came up sharing their close encounter with brown bear and galloping horse respectively.
Day 6 August 8 Wednesday: At Sea (Isabella Bay – Niginganiq National Wildlife Area Cancelled)
I have learnt to take life easy when travelling by sea.  Man is always humbled before Mother Nature. I was at the mercy of the sea and spent less than 20 hours on land during the entire voyage from Ushuaia to Cabo Verde in 2015. Still, I could not hide my disappointment as the boat sailed away further and further away from Baffin Island owing to the sea ice floes close to the shore.
At breakfast, we were told we were 30 nautical miles from the Arctic Circle and would celebrate the crossing later in the day. We had 14 knots of wind and we had heavy fog from time to time. For the first time, we had big swells and a few passengers were sick. The bridge was closed most part of the day as the captain and his officers had to concentrate on navigation. By dinner time, we were still 20 nautical miles from the Arctic Circle at dinner time.
Anyway, life went on. I attended a lecture "Across the Top of the World" by Robyn. She mentioned the explorers who had contributed to the finding of the Northwest Passage from the 15th to 20th centuries by sea from the Atlantic and the Pacific Oceans as well as overland. I also watched a new video made by Cory on his recent 10-day Asgard Expedition with his daughter before meeting us at Pangniqtuuq on August 5.
I have no talent and have never draw or sketch. But I joined a session "Sketching with Cory" in the afternoon. He had given all passengers a sketch book and a box of pencils. He encouraged us to sketch and showed us how to start sketching. I picked a cup on the table as my sketch subject.  My sketch was of course a failure without dimension and depth. He kindly showed me how it should be done. As a result, I had a sketch by Cory. What a nice souvenir!
We had a fun game "How Big Is It?" after dinner. We formed ourselves into groups. Cobra and Matt asked us to guess the length of a few things including the largest zodiac on the boat, the buffet table in the dining room, the wingspan of a fulmar etc. My group almost came last.
Today, I picked up a book "Islands of the Arctic" by Dowdeswell & Hambrey (2002). Since I have visited a number of Arctic islands, I read with interest the wide range of subjects including the evolution of the islands, weather, climate, glacier and ice sheets, icebergs and sea ice, frost action, Arctic coast, glaciers and lakes, animals and plants, indigenous people, exploration and environmental impacts.