Hopedale, Hebron, Torngat Mountains National Park & Iqaluit July 28 – August 3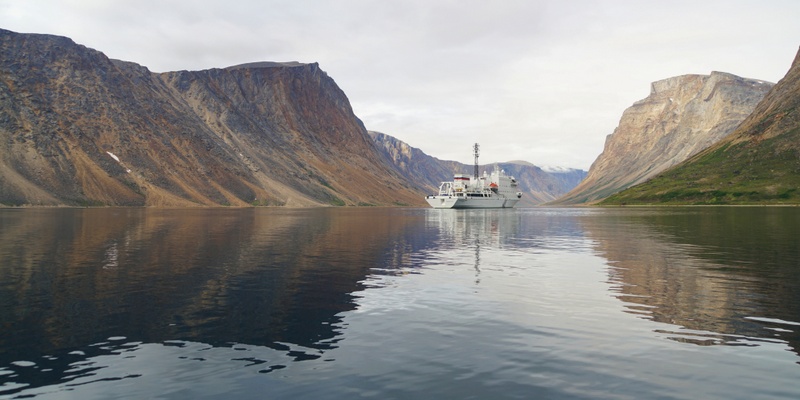 Day 5 July 28 Saturday: Hopedale (GMT-3)
Nunatsiavut (meaning "Our Beautiful Land") is an autonomous area covering 72,520 km2 claimed by the Inuit in Newfoundland and Labrador which received Royal Assent on June 23, 2005. The legislature of the new government is based in Hopedale while its administrative arm is in Nain.  It is sparsely populated with a tiny population of about 2,000.
Today, we would step into Nunatsiavut soil for the first time on this voyage. Russel gave a talk "From Hopedale to Hollywood" about the life of the most well-known Eskimo girl Nancy kept me awake without problem. Born in USA when her mom Esther came with a group of Eskimos to take part in an Eskimo village shown in a fair in 1893, she grew up travelling around the world to be shown like exhibits.  In those days, Eskimos were taken as curios and exhibits. She became an actress in Hollywood before getting married an American and died at the age of 67.
Brainy Brian gave a presentation of whales including beluga, humpback, narwhal with videos he has taken during his kayaking trips. The videos were wonderful with incredible recording of the sounds made by these intriguing mammals. In one video, Brian placed the microphone in water to record the sound and a curious beluga looked at it before putting it in its mouth. It then bought it out of the water swimming towards Brian. Whales are clear and have good memories!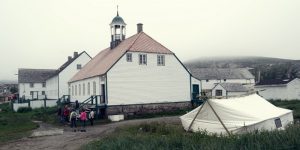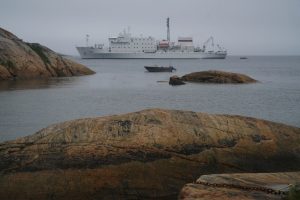 After lunch, we landed in Hopedale (the Inuit name "Arvetok" means "the place of whales") after sailing through narrow channels on an overcast day.  We were greeted by several Inuit guides and went on a cultural guided tour in a few groups while the serious hikers set off on a hike to the communication tower overlooking the bay.  David, the expedition leader, kept reminding us that participants should be walking at a speed of 5km an hour. As a slow walker, I decided to stay with the cultural group. We first had a tour of the Moravian Missionary House and church, the most prominent and important structure in the community with a population of 700.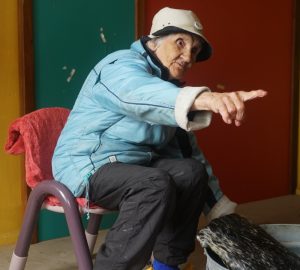 The church was first built in 1782 and rebuilt in the mid-19th century. The wood came from Germany. The interior of the church is white and simple with long benches. We visited the 2 – storeyed Mission House and met three young girls in a classroom used for Sunday school, a group of men selling stone carvings and ladies selling handicrafts in other rooms.  The building looks empty and run-down.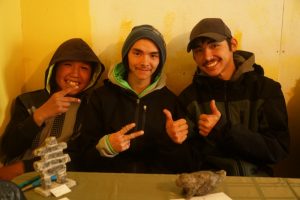 I wandered around the ground floor of the building with Geoff and a small group. We met a young lady doing archaeologic field work in Hopedale for the second summer. The most important archaeological sites in Hopedale include the old village inhabited by Inuit before the arrival of the missionary, the Mission House and the cemetery.
Next, we moved to the food tent which tables were covered with smoked salmon and char, fish and bread, berries and pies. Our host was a Canadian who settled here when he married his Inuit wife. They are still working and have a good income, several grandchildren, a house, a car and a boat. Unemployment is however a problem: many Inuit families are on welfare with about C$500 a month. Cost of living is high: a 2-litre carton of milk costs $7-8. Family problems and drinking are not uncommon.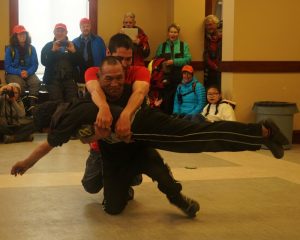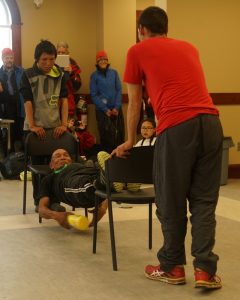 Our third stop was the modern Assembly building with a metallic dome-roof. An Inuit in his late 50s performed games including the head-pull, the high-kick, and knuckle-hop with his two nephews and niece. He demonstrates a hunter's skill, strength and coordination. But the games are too demanding, strenuous and bad for the knee. He said that young Inuit prefer to spend time on TV and computer games and their traditional games are in decline.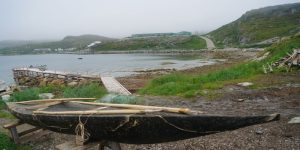 On the way back to the pier, I stopped outside a house to look at a hand-made kayak made of seal skin. Inside the house a polar bear skin was on display.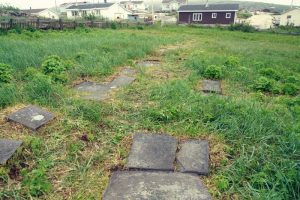 Then I walked past the Mission House to visit the cemetery and found the grave stones of Kruth (who had rebuilt the church) and his family.  I continued my stroll and met a frail bony lady in her 60s. She told me her family moved here in 1950s and life had improved. I should have spent more time to find out her story, how her family settled down and the changes over the years.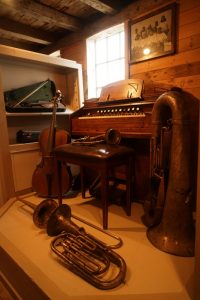 My final stop was the museum near the pier which has a good collection of exhibits. I was back on the boat around 5:30pm. Inuit have the Chinese and oriental look: I must read up to appreciate their culture and live in extreme.
Brain gave a lively bar talk on his three most embarrassing moments as a naturalist guide. One was about a bite by a crocodile, another on his close encounter with a hyena while sleeping in his tent in Africa and the last one was about his efforts in bringing an elephant skull into Canada.
Day 6 July 29 Sunday: Hebron
I must be very tired and slept for over nine hours: I opened my eyes only when the wake-up call came through the public-address system at 7:30am. After breakfast, we had a compulsory briefing on safety in polar bear land which would prepare us for landing in Hebron and travelling beyond.
We had a talk by Russel on the sad history of Hebron, once the northernmost settlement in Labrador established by the Moravian missionaries in 1831. When the mission decided to close due to outbreaks of tuberculosis and shortages of firewood, the Canadian government decided to relocate 58 families in Hebron to other communities without prior consultation. The cruel decision was announced at an Easter Monday service in April 1959. The relocation broke up extended families to different communities. Some arrived at their new home where promised housing was not available.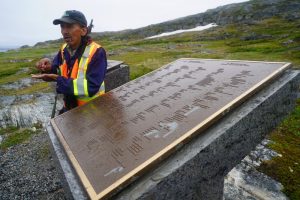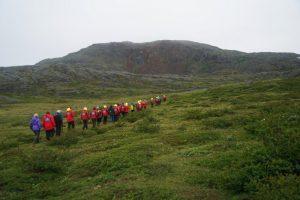 The site where the original buildings in Hebron still stand, has been designated a National Historic Site and is considered one of the most historically significant mission-built structures in the entire province.
When the boat was approaching Hebron, I saw a large wooden house which looks over-sized standing out on a windswept narrow coastal strip against a backdrop of dark barren rocky range. We had a wet landing.
It was drizzling. I walked past a few derelict houses which look eerie and somber. Outside one of the houses, we saw an Arctic hare with big ears. It sat still posing for us for over 15 minutes.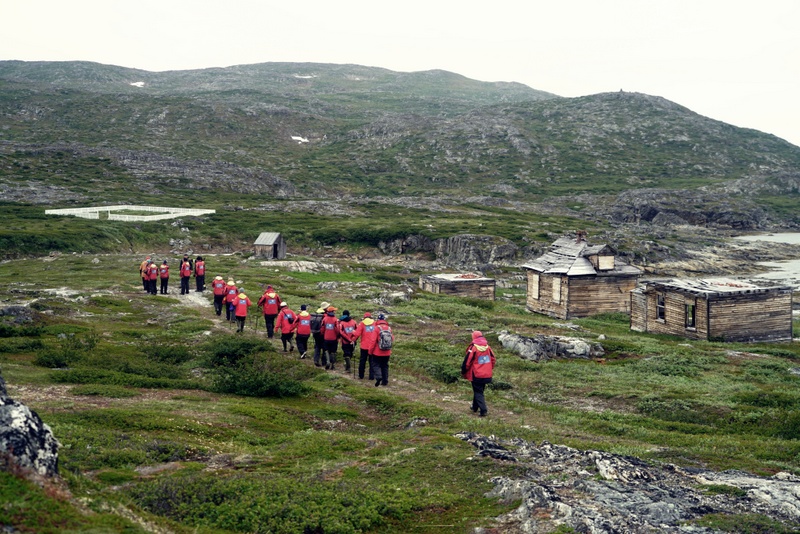 Our guide was Levi, a 62-years-old Inuit whose family was relocated to Nain in 1959. He has retired and is spending his time in Hebron as a guide and carpenter. He took us on a tour of the empty missionary complex, led the way to the cemetery before ending the tour at the monument with three plagues with the names of the relocated families, the Canadian government's apology and Inuit's acceptance statement.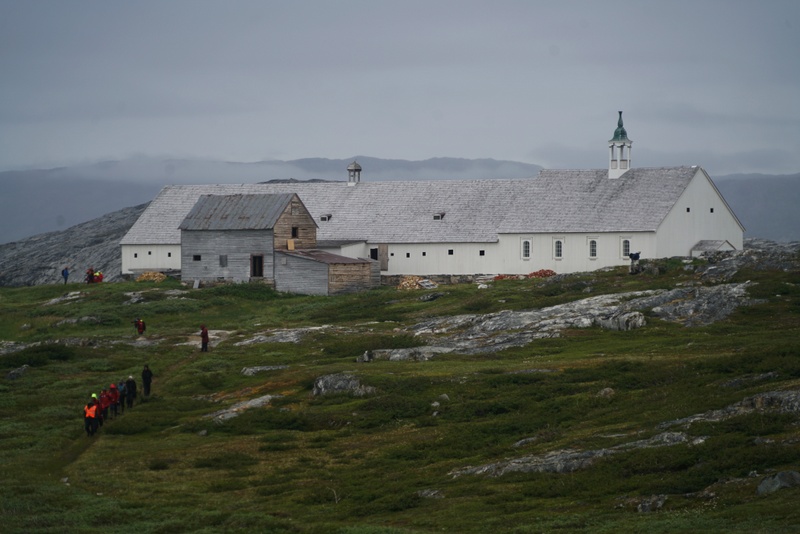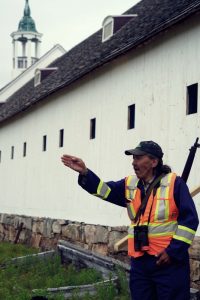 Levi said many of the Inuit who were relocated against their will have already passed away. He loves the land where he was born and has taught his only son the Inuit culture, hunting and kayaking. He is gracious and talks about the tragedy objectively without remorse. His ambition is to restore the church in his life time. It is a demanding job. I hope someone possibly a historian has already recorded the oral history from Levi.
On the way back to the boat, our zodiac driver Matti took us on a cruise where we saw a couple of Minke whales and seals (or a whale and a seal that appeared several times in different locations).
I was in a good mood. The rain had stopped with the sun coming out and the wind dropping. The Labrador coast was formed with ancient rocks of the Canadian Shield estimated to be over 3 billion-years-old. The landscape though not dramatic, is pretty.  I spent half an hour on the deck for the first time enjoying the expansive sea, fresh warm air and beautiful landscape.
Tonight, Jesse, the physician and Kelis a nurse, talked about the limited medical service for the scattering Inuit communities in Newfoundland and Labrador. Kelis shared her scaring experience when she was told to hop on a helicopter in short notice to deliver a baby with the temperature around -20° to -30°C. A few hours later she had to carry the new born baby inside her coat sitting on the jump seat next to the pilot while the mom lying in a stretcher at the back of the helicopter.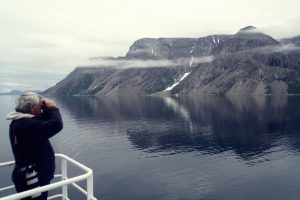 Day 7 July 30 Monday: Saglek Fjord, Torngat Mountains National Park
Torngat Mountains National Park officially established in 2008, covers an area of about 100,00km2. "Torngat" (the Inuit word for "places of spirits") is known for rugged mountains, breath- taking fjords, glacier systems and stunning landscape. Inuit representatives sit on the management board. The park land had once had a significant population of caribou which was dropped to around 800 a decade ago. Now the herd has increased to about 1,200. This fjord rich in char and seals has been an important ground to Inuit.
For the first time on this voyage, I set the alarm clock at 6am as I wanted to get up in time to watch the boat sailing into the Saglek Fjord. When I looked out of my pot-hole, I was captivated by the soaring steep mountains on both side of the fjord.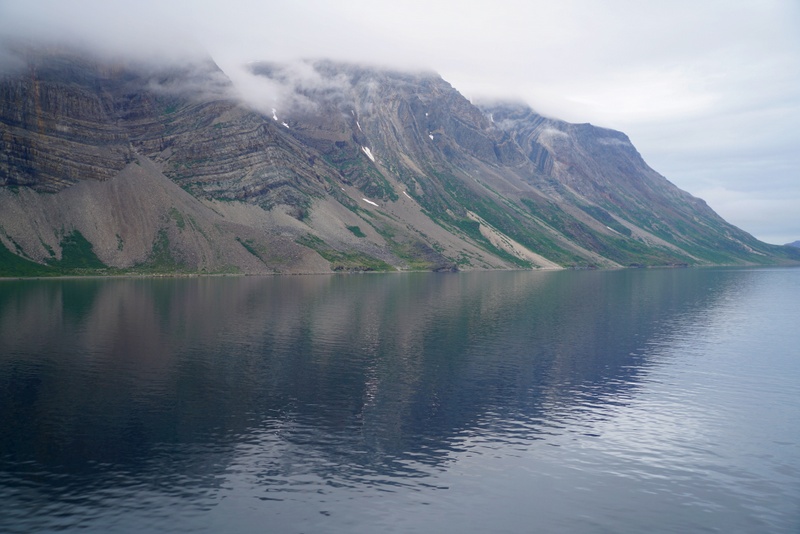 As soon as I was on deck, I heard the announcement of sighting of a polar bear on the port side. I watched it moving from the shore, stepped on an icy patch before walking uphill. I followed it till our boat sailed further into the fjord.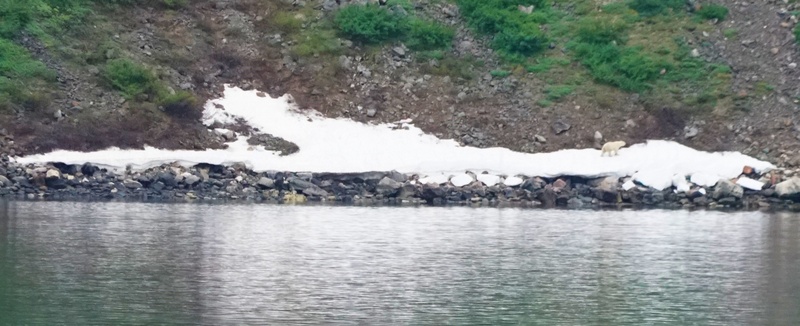 We spent the morning in the north arm of the fjord. Passengers were divided into three activity groups: a kayak group, a zodiac cruise group and a hike + cruise group. The third group was divided into two smaller groups i.e. while one group was hiking, the other group would be cruising.
I began with a zodiac cruise and soon spotted a Common Winke whale. It seemed curious and swam under our zodiac before swimming towards the entrance of the fjord coming to the other three zodiacs out there.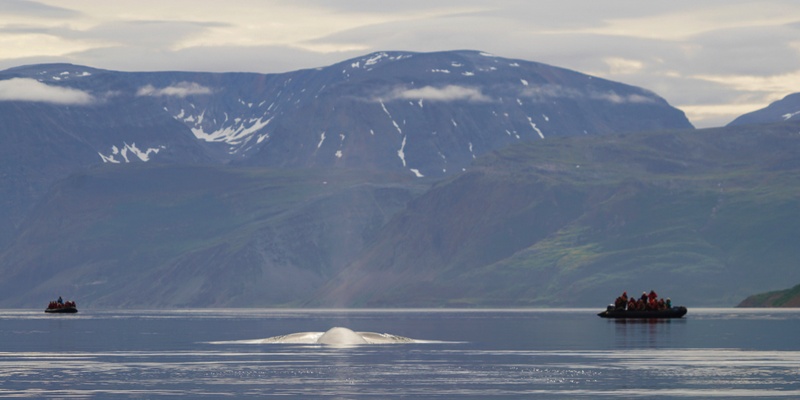 We had a wet landing and walked in the meadow between towering peaks on both sides. During the guided walk on the meadow, we had a park ranger at the front and a bear guard at the back, both carried firearms. There are some piles of rocks (known as cache) at the mouth of the stream. The Inuit used to store fish and seal blubber cached in hide bags in preparation of winter. There are a few graves but without names.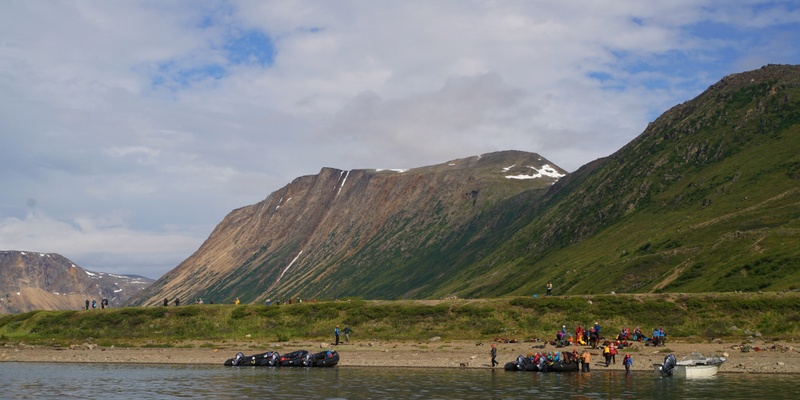 We then climbed to see a waterfall which carved through rocks. We crossed a stream below the waterfall and hiked to a beautiful lake with a wonderful range of hues.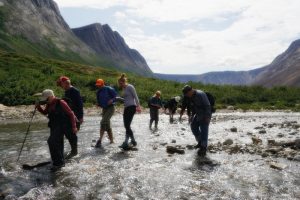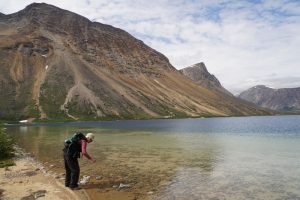 The sand is pinkish red as the area is rich in garnet. This was the best excursion and cruise of this trip so far. I was back on the boat just before 2 pm for a late lunch.
In the afternoon, David planned an excursion at 3:30 pm to see flora in the region. After the expedition team had scouted the landing area which is shallow with some big rocks under the water, they called off the excursion.  Instead, we went on a bear hunt: a black bear was sighted on a beach on the other side of the fjord.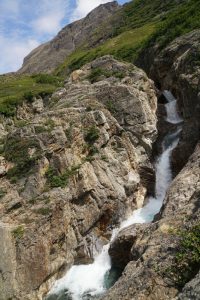 The sea was rough. I was on the fourth boat and by the time we approached the beach, the bear had already moved uphill.  As many passengers were still waiting for their turn to come to see the bear, we headed back to the boat only to find the last passenger had boarded a zodiac. As a result, we cruised around again heading to the beach to see the bear for the last time. Soon, we smelt leaking gasoline and rushed back to the boat.
We had a BBQ on the back of Deck 3. It was warm and there was almost no wind. We were in the middle of the fjord and surrounded by mountains on three sides. Everyone had fun and the food was good. I had a steak, spare ribs, chicken wings, shrimps and fish. I should not have eaten so much!
We watched sunset over dinner. Then we saw a lovely rainbow though the colours were not vivid enough for a good photo.  Around 9:30 pm, I joined a quiz conducted by Matt and Cobra. Our team did poorly: we got 13 questions right out of 25.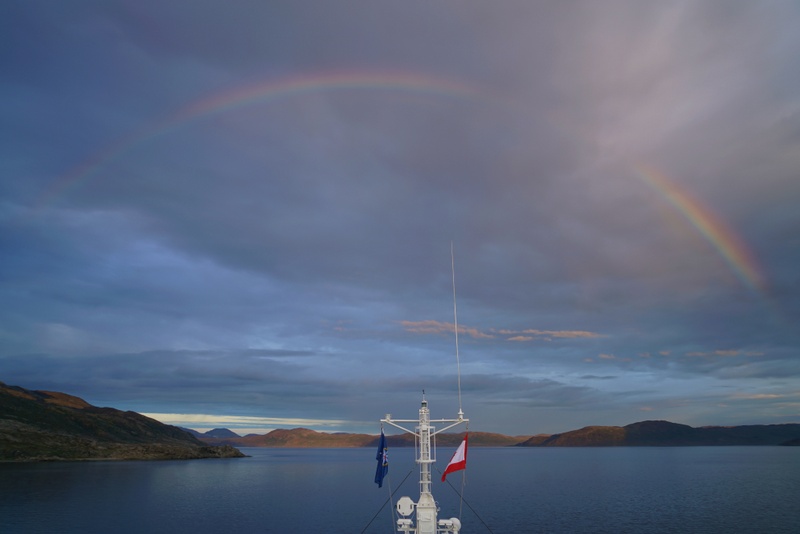 Day 8 July 31 Tuesday: Nachvak Fjord, Torngat Mountains National Park
When I looked out of the pot-hole around 7 am, I was fronted by a nearly vertical wall with the top covered in mist. The boat had entered the Nachvak Fjord which is over 12 miles long with many marine mammals migrating through the area during the summer.  The surrounding mountains are the tallest in Labrador with rocky walls of the fjord often soar over 1,000 m. I went to the bow and could see the end of fjord not far away.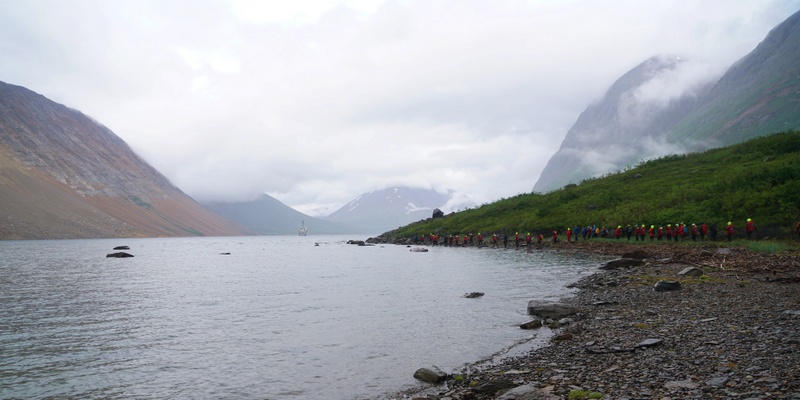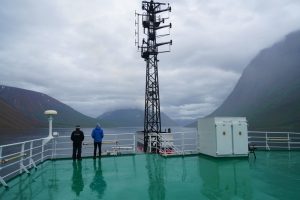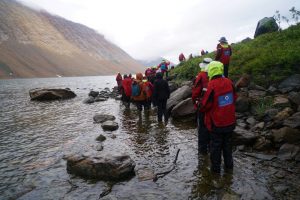 We were again divided into three activity groups. The strong hikers joined David while the nature walk group was led by Brian. I stayed with Brian and had a leisure walk through some tough terrain for about an hour. We looked at a few flowering plants, skulls and bones of seal and fox. The shoreline was covered with debris and broken branches of willow trees that had been destroyed following a major landslide on the opposite side of the fjord. The highlight of the hike was the sighting of some Harlequin ducks.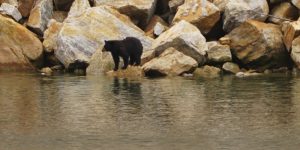 We saw a black bear on the zodiac cruise. Franco spent a short time with us on our zodiac and tried to explain the ecology and food chain here – lemmings, weasel, hare, fox, wolf, caribou and bear. It was cold. There was nothing to see from the zodiac.  I was glad to get back to the boat around 1 pm.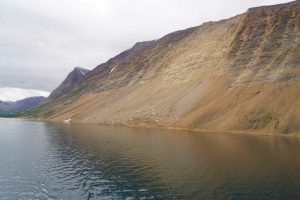 After lunch, we began a boat cruise on our way out of the fjord. Weather had improved: I stayed on the top deck gazing at the stunning landscape and scenery. We soon saw a black bear, then another and finally a mom and its cub.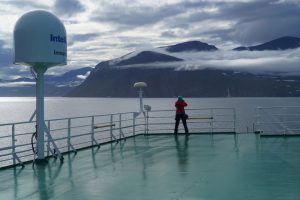 Karen and Neil gave a talk "Making Magic with Wildlife Films" on the different technology they have used through years. I am most amazed by the footage where a bat with a long tongue over 3.5 inches long gets into a flower to suck out the nectar and how Arctic plants capture lights 24 hours by rotating their flowers in Ellesmere Island.  The world-famous naturalist David Attenborough was the narrator.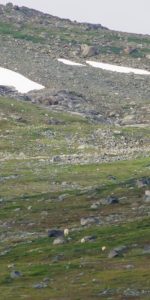 At the end of their talk, a thrilling announcement arrived: a polar bear and her two cubs were on a slope on the port side. We all rushed up the outer deck or the bridge. They soon disappeared over the ridge. We then found two caribous on a nearby snow patch.
We had done well with the sighting of five black bears and three polar bears in the afternoon. Karen's bar talk on "Bears, Sex, and Salmon" was about the spectacular salmon run in Canada which I have yet to see.  But I think the brown bears feeding effortlessly on salmon in Kamchatka must be the luckiest mammal on earth!
Day 9 August 1 Wednesday: Button Islands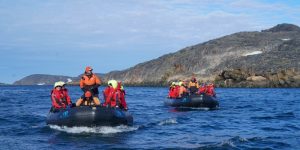 Button Islands named after Thomas Button who explored the area in 1612, are located at the northern tip off the Labrador coast in the middle of the upwelling of nutrients on the edge of the continental shelfs. They consist of two groupings of islands lying in a northeast-southwest direction.  They are barren, long, and narrow. A passage flowing through the Button Islands' midsection, measures 0.32 km to 0.97 km wide. One grouping includes Lacy Island, Lawson Island, Goodwin Island, and MacColl Island. The other includes Erhardt Island, Clark Island, King Island, Holdridge Island, Leading Island, Niels Island, and Dolphin Island.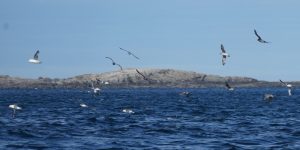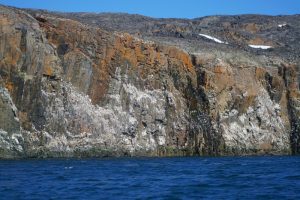 This area is a magnet for thousands of seabirds and other marine mammals. We were divided into two zodiac groups. The first set off after 8:30am for a two-hour zodiac cruise. The weather was perfect: sunny, windy but not chilly. I signed up for the first group and was on the last and the most powerful zodiac with 90 horse-power. We cruised around and spotted some bear footprints on snow just before 9 am. Promising!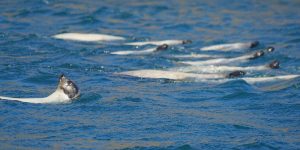 We did not find anything interesting till we spotted lots of seabirds feeding on water in a distance around 9:30 am. All zodiacs raced towards the area which was teeming with birds and harp seals. It was the best sighting of wildlife of this expedition.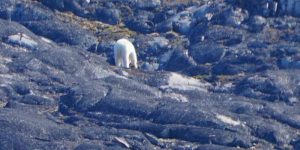 By 10 am, we spotted our first polar bear strolling on a slope on Goodwin Island. Then another one basking in the sun on a rock in a nearby island.  Brian shouted: 'A bearded seal'. As the seal appeared on the other side of the zodiac and I was too preoccupied by the bears, I did not see the bearded seal. Too bad! Anyway, we had a good time gazing at the bear on the rock for some 15 minutes and taking photos from all angles.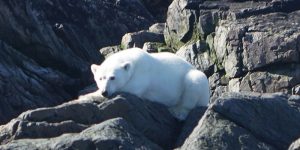 Half an hour later, we found a large kittiwake colony on another island. We spotted our third bear of the day standing near the water and another one by the water not too far away. Then I saw the fifth bear of the day!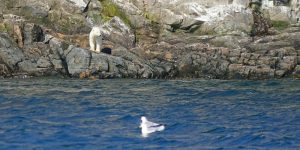 I was thrilling to watch hundreds of harp seals swimming in groups of ten swam in all directions. The flurry of activities made me dizzy. I looked through my binoculars, then took off my glasses to look through the viewfinder before taking a photo. My head moved from one side to another and had to kneel from time to time to enable others' having better views. I was exhausted. The zodiac was rocking and most of my pictures were out of focus.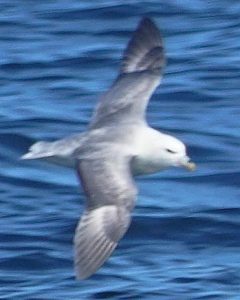 We had covered 27km and saw five polar bears, plenty of birds and harp seals during our zodiac cruise. I was back in the boat just before noon.
While the second zodiac group was out, we had a lecture at noon by Robyn and Russel on "Many Facets of Frobisher" introducing us to the history of Frobisher Bay. Martin Frobisher (c. 1535 – 1594), a privateer was made three voyages to the New World looking for the Northwest passage. Russel gave a brief introduction to Iqaluit today.
In the afternoon, we had a most interesting talk "Filming in Extremes" by Neil and Karen.  I particularly enjoyed the footage showing how polar bear hunting seal and how a flowering plant surviving winter and summer all happening in 24 hours in Mt Kenya are amazing. Franco talked about "What's up with Polar Bears" and illustrated different physiology and habits of polar bears and grizzly bears. Now some are living in closer proximity of each other owing to climate change. The last slide showed a polar bear mom with her three brown cubs. What would be the future of polar bears and their hybrid offspring?  Would these cubs grow up as a marine mammal that swims and feeds on ringed seal or live on land? I love to know.
We had a quiz in the bar with Matt and Cobra with questions on wildlife which had been covered during various presentations.  My team got only 15 questions right out of 26 while the winning team got only one wrong!
Day 10 August 2 Thursday: Charles Hall Bay, Baffin Island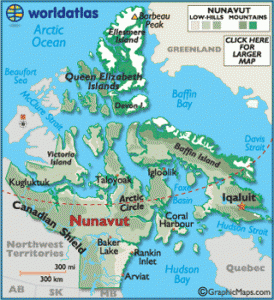 Nunavut officially established on April 1, 1999, is the newest, largest and northernmost territory of Canada with a land area of 1,877,787 km2 and water area of 160,935 km2 (about 20% of Canada) and estimated population of less than 40,000. Iqaluit (formerly known as Frobisher Bay), is the capital with a population of about 9,000 of which 10% is French Canadian.
Charles Francis Hall (1821 – 1871) was an American Arctic explorer born in the state of Vermont. Hall was a businessman in Ohio and became interested in the Arctic especially Franklin's lost expedition.  During his first expedition in 1860-63, Hall got as far as Baffin Island where he was forced to winter over. The Inuit told him of surviving relics from Martin Frobisher's mining venture at Frobisher Bay. He interviewed Inuit witnesses and between 1865 and 1869 compiled a record of the expeditions final days as evidence that some members of Franklin's lost expedition might be alive.  His second expedition 1864-69 took him to King William Island. He set on sail on Polaris on September 10,1981 on an expedition to the North Pole and died on November 8, 1871.
According to the itinerary, we would cruise to Monumental Island today before sailing to Iqaluit. But we were told that we would visit Charles Hall Bay instead as there were too much ice around the island.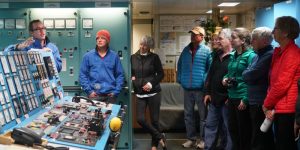 At 9:30am, I joined a "Tech Tour". Matt took us to the mud room and explained the unique and sophisticated acoustic device.  Russia built these two boats in Rauma, Finland in the 1980s at the time of the Cold War. Loffe could drop a detector 1.2km underwater and its sister boat Vavilov could pick up the signals 3,000km away.
We next went to the engine and control rooms which are neat. The computer systems installed in the 80s are still working well and compared superbly with technology today. Amazing! We ended our tour in the bridge.
After the tour, I settled my bills. As I had $150 credit on board, I was able to purchase two bottles of red wine and a book "Antarctic First" by Geoff. At 11:30am, we had to attend a compulsory briefing on what not to do in the Arctic region. I have seen this 10-minute film prepared by the International Association of Arctic Cruise Operators (IAACO) a couple times.

As I was in the second zodiac cruise group, we did not get off the boat till 4 pm.  The weather held up well and we had a scenic cruise to three coves. The rugged mountains with glaciers form a forbidden backdrop. We arrived at a hidden glacier standing about 20-30m high, which could not see it from the entrance to the cove. There were dozens of big blue icebergs landed at the bottom of the cliff or at the shore.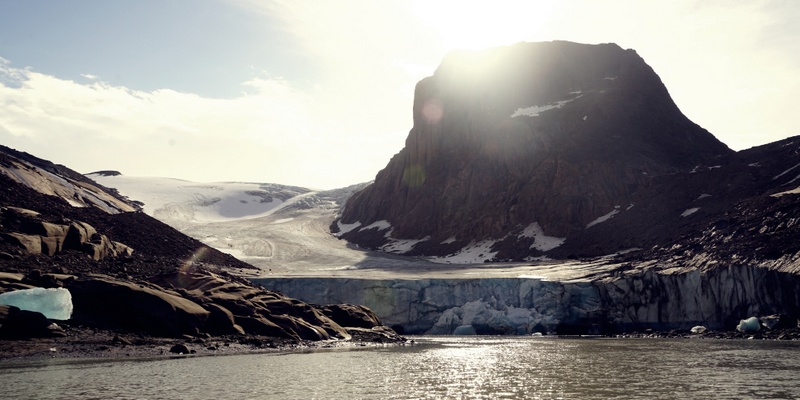 We then stopped at a magnificent waterfall over 100m high. Our last stop was at a small cove with a running stream. I spotted a few Glaucose gulls and an Eider. We were back on the boat before 6pm.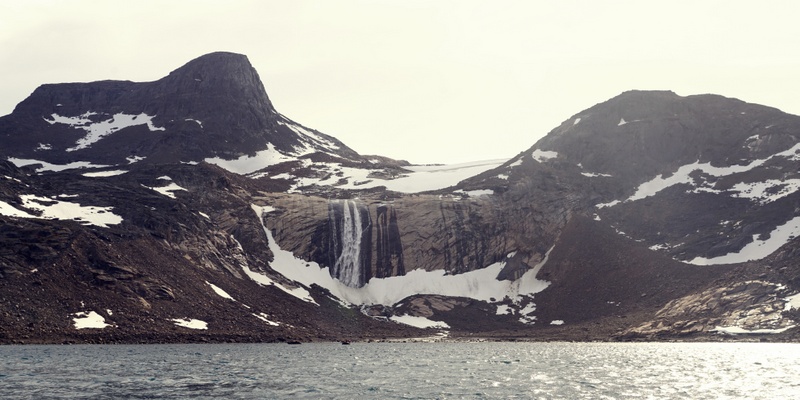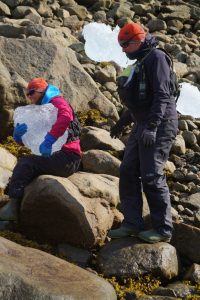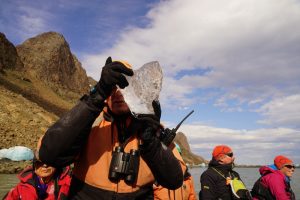 We had a charity auction before dinner. Half a dozen items including the route map of this expedition, two books (one by Russell and another by Cobra), a whiskey and an old map were sold for some 2,800 which would go to a few charity organisations.
At dinner, our handsome captain arrived in his smart uniform. We gave hearty cheers to the crew, the expedition team and above all our chefs.  After dinner, we gathered for the last time at the presentation room for David's recap of our voyage and Roger's video, all information saved on an USB.
Day 11 August 3 Friday: Iqaluit (GMT-4) & End of Expedition
I did not sleep well, looked at my mobile phone and got up before 6 am. Alas I had forgotten to put the clock back by an hour: it was 5 am local time. I did not go back to sleep.  Instead, I went to the library with my computer and worked on my travel notes.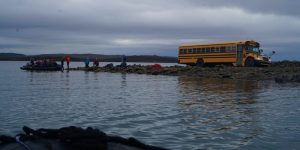 All passengers except Agnes and Kathy from Australia, Judith and Stan from Canada, Rus from the US and I would disembark here. All departing passengers had to leave their suitcases outside their cabin before breakfast. After they had all gone, I packed my bags and moved to Cabin 327.  Then I boarded the last zodiac with the staff and set foot on Iqaluit at 10 am. The bus dropped me at the visitor centre. Around 10:30 am, all departing passengers left for the airport signalling the end of the expedition.