Canadian East Coast: from Sydney, NS to Iqaluit July 23 – August 3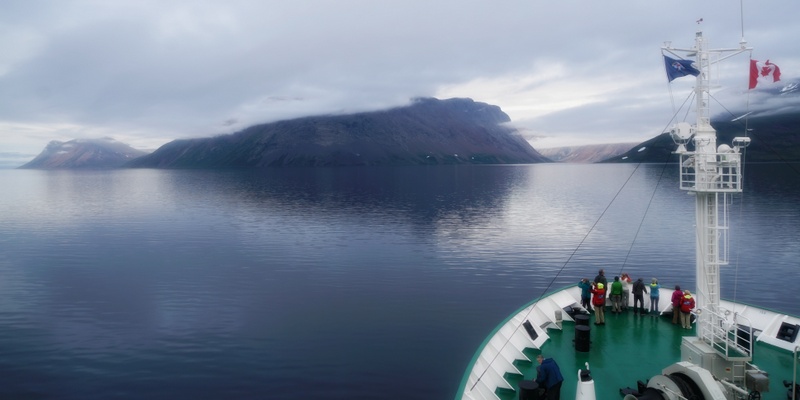 July 23 Monday: Toronto (GMT- 4) – Sydney, Nova Scotia (GMT – 3)
I got up early and said good-bye to Thu who could hardly open her eyes. The medication that she had taken for the allergy had made her drowsy. I wished she would feel better soon. I had breakfast with Wini and Geoffrey before leaving the hotel at 9am. It was an exhausting walk to the Union Station as I had a heavy suitcase. The train to the airport only takes 25 minutes to the airport. The one-way fare is $12.35. I was at the airport before 10:15am.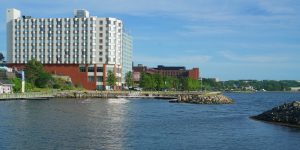 The signage at the airport is confusing. I noticed my plane would leave at Gate D but did not find where to check in. I followed the sign to Gate D when the security guard at the gate told me to take the escalator to the upper floor.  It was close to 11 am when I finally completed all formalities and reached the departure lounge. The plane departed around noon and I arrived in Sydney two hours later.  A representative of the One Ocean Expeditions greeted me on arrival. I was transferred to Cambridge Suites with a dozen of passengers. I had a spacious suite with a harbour view.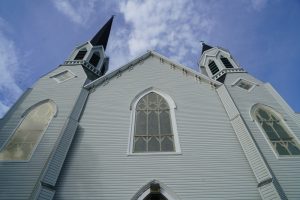 I was in Sydney with Bing on a cruise ship three years ago where we had spent a couple of hours. I therefore preferred to spend a lazy afternoon to sample seafood in the Governor's Pub. The weather was fine and sunny. I sat at the patio enjoying half a dozen of local oysters, a pound of steamed mussels and a glass of white wine for $45.  The mussel is delicious but the oyster though fresh is too small.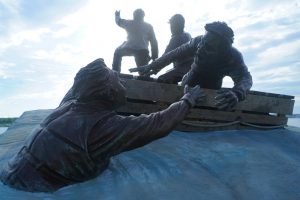 I took a leisure stroll along the harbour front before returning to the hotel shortly after 7pm. I spent the whole evening writing travel notes as I must upload them to my website before boarding Loffe the next day. It is impossible to have access to Wi-Fi at sea for the next 20 days.
July 24 – August 3: Labrador & Torngat Explorer on Loffe
Why this trip?
I have been to a few Arctic regions in Greenland, Finland, Norway, Sweden and Russia. Canadian Arctic and Russian Far East are the two remaining regions that I want to visit. As I am in Canada in July for a family gathering, it would be ideal to visit the Canadian Arctic after the reunion. I take two back-to-back expeditions starting in Louisbourg on July 24 and ending in Resolute on August 14.
The first expedition takes me to L'Anse aux Meadows, a Viking settlement around 1000 AD and a French-built fortress in the historic port town of Louisbourg in Newfoundland and several Moravian mission locations in Labrador.  The Torngat Mountains National Park is a major draw of this expedition.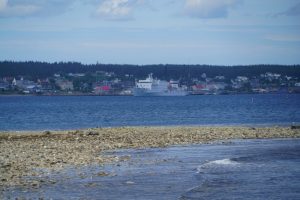 Day 1 July 24 Tuesday: Embarkment at Louisbourg 45°54´.8N / 059°58´.3W (GMT-4)
I had to wake up early to finish the notes. I managed to upload the notes to my website before checking out at 10:45am.  I also spoke with Aliana and was glad she had managed well with her left arm since I left her. As the boat was not ready for boarding till 3pm, One Ocean Expeditions arranged a tour for joining passengers to the fortress of Louisbourg, a national historic site. I have visited the fortress with Bing and memories are still fresh. Anyway, it was a beautiful day with blue sky and light wind and I did not mind wandering for three hours in this lovely historic site.  I also had my first sight of Loffe from the fortress.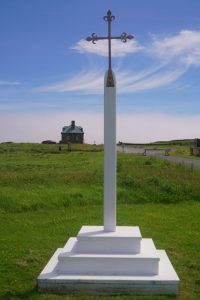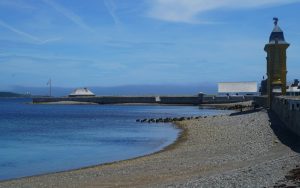 First visited by the English in 1597, Louisbourg was taken by the French who fortified it in 1713.  During the 18th century, Louisbourg was the third busiest seaport in North America.  Today's town has been reconstructed since 1960s and has become a major tourist attraction. July is a peak tourist season and the place springs to life.
I walked to the King's Baston and watched soldiers in full uniform march in the parade ground. I followed the path to the Dauphine Demi-Bastion and walked to the quay. I stopped at a few restored houses on the main street and went into the De la Valliere House which has been turned into Mi'kmaw Interpretation Centre showing Mi'kmaw culture and history. In some of the houses of rich merchants or men of importance, I found men and ladies dressed in costumes of 18th century telling visitors about the daily life of the time.  I visited the Ordonnateur's Residence which has a collection of paintings of the harbour and exhibits.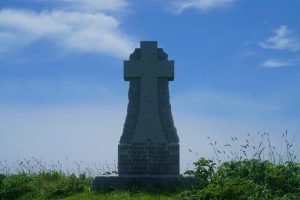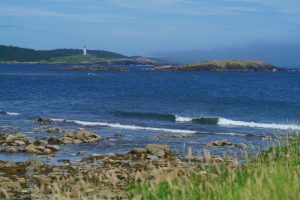 I then took the 2.3-km Ruins Walk which end faces the lighthouse on the other side of the channel leading to the harbour. I saw a few memorials and an area under excavation. I learn it had been a cemetery.
When all the passengers were back on the bus at 3pm, we were told that the boat was not ready for boarding. We therefore had time for a coffee in the harbour of Louisbourg. I found a café with free Wi-Fi and logged on hastily. Then I found an email from a member of the tour group to Pakistan and Tajikistan in September saying that it might not be possible to get e-visa for Tajikistan. As the coordinator for this tour, I immediately alerted Iman of Snow Leopard Tours and other members of the problem. As I would be out of reach at sea, I asked them to liaise with Iman direct.  I remained anxious.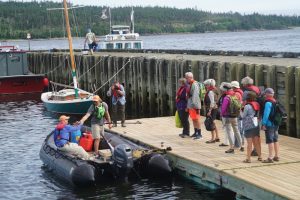 Passengers were taken in groups of ten in zodiac to board the boat. I was on the last but one zodiac and got onboard just before 5pm. I met my roommate, Heather in Cabin 324 on Deck 3 opposite the dining room. The cabin measuring about 7ft wide and 11ft deep with two pot holes, though small is net and cosy.
At 5:30pm, all passengers gathered at the dining room and were greeted with a welcome drink and food. I was hungry as I only had an egg and a peach since breakfast. We had a mandatory safety drill before dinner when we were formally met the expedition team.
The Expedition Team
The boat was full: 102 passengers, a crew of 37 and four chefs. We had a large expedition team of 23 headed by David. Other key expedition members include Neil (Creative Director of BBC Earth and his wife Karen who is also a TV and film producer and director of wildlife), Lee (assistant expedition leader), Brian and Matt (naturalist), Geoff (an ornithologist), Franco (a biologist & science communicator), Robyn (archaeologist) and Russel (historian), Roger (photographer in residence), Gavin from Canadian Geographic, (a doctor) and Jesse (a physician) and several certified zodiac drivers (Joao, Maria, Corey).
According to the itinerary, the boat would set sail around 3pm. But as a crew member fell and broke her ankle, she was rushed to hospital.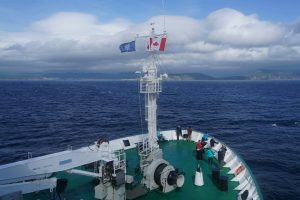 Day 2 July 25 Wednesday: First Day at Sea & Landing at Bonne Bay
Life on the boat is simple: breakfast between 7 and 8 am, lunch normally between noon and 1pm; happy hour and dinner after 7pm.  Passengers are kept busy by land excursions, zodiac cruises, lectures, wildlife watching at the bridge or deck and bar talks after dinner.
According to the itinerary, we would be visiting the World Heritage-listed Tablelands of the Gros Morne National Park and re-board the boat at Bonne Bay. As the boat was delayed for at least five hours the day before, we spent the morning sailing instead and attended a mandatory lecture on zodiac safety and gill suit and boot fitting.

After lunch, we had a trivia with Gavin from the Royal Canadian Geographic Society. All the questions are on Canada and the Canadian have an obvious advantage.  At 4 pm, we arrived at Bonne Bay and were taken ashore by zodiac. For unknown reasons, only two zodiacs were in operation and we spent some 40 minutes to go ashore. David later explained that owing to a sudden change of policy, all zodiac drivers must have valid certificate recognised by the Canadian authority. As they only had two licensed drivers, they could only carry passengers in two zodiacs. David said more zodiac drivers would be picked up at Bonne Bay.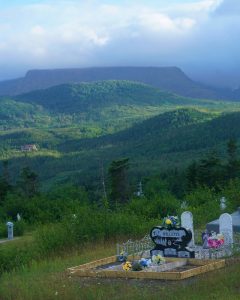 As soon as I landed at the bay, I tried to find Wi-Fi.  A lady of a store kindly let me use her private Wi-Fi. I was relieved when Iman replied to my email assuring us that e-visa should not be a problem for tourists from Hong Kong. Modern technology is a beauty especially when you need to stay in touch!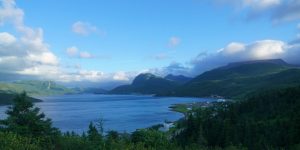 We spent over two hours ashore and I joined a hiking group. We walked about 2 km from the pier to the discovery centre. On the way, we had good views of the bay, the surrounding mountain ranges and Tablelands.  As it was a cloudy day, the reddish majestic Tableland half hidden in cloud was colourless. The hike though not strenuous, gave me an opportunity to stretch my legs. We had a buffet dinner at 8 pm.  David ticked off the first bar talk at 9:15 pm by telling passengers about maritime superstitions. The bar was packed. As I could not find a place to stand or sit, I returned to my cabin and had an early night.
Reading is a favourite pastime at sea. I went to the library and picked up a book "Frozen in Time: The Fate of Franklin Expedition'' by Owen Beattie and John Geiger.  Sir John Franklin who had led his first and second expedition in 1819-1822 and 1825-1828 respectively was put in charge of the 129-man expedition sailing to find the Northwest Passage (a polar shortcut from the Atlantic to the Pacific Ocean) on board HMS Erebus and HMS Terror. The expedition set off on May 19, 1845 and disappeared. From 1847 onwards more than 30 expeditions were organised or supported by the Royal Navy, the Hudson's Bay Company and private sponsored, sailed, steamed or sledged into the Arctic to search for the lost boats and men. This book gives a detailed and most interesting forensic account of the first three men (John Torrington, John Hartnell and William Braine) who died in 1846. The findings show that they died of pneumonia, suffered from tuberculosis and had an unusually high level of lead in their bodies. It was likely that tinned food prepared using a new technology of the time was the culprit.
Day 3 July 26 Thursday: No landing at L'Anse aux Meadows
We began the day with two morning lectures. Robyn's lecture on the "The World of Viking" would prepare us for the afternoon visit to L'Anse aux Meadows. She explained how the Norsemen spread south to continental and eastern Europe and west to western cost of North American from the eight to eleventh centuries. L'Anse aux Meadows is where Norseman, Leif Erikson (son of Eric the Red) is thought to have founded "Vinland" around 1000 AD. The Norse ruins show the Vikings discovered North America five hundred years before Christopher Columbus. Though her talk was well-prepared and informative, I dozed off a couple times owing to her soft voice and the windowless and stuffy presentation room on Deck 1.
Geoff (whose nickname is Cobra), gave an interesting and comprehensive introductory talk on seabirds. Though I have seen thousands of Arctic and Antarctic birds, I enjoy his lively and amusing style of presentation. A useful recap!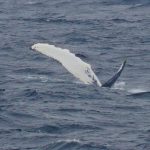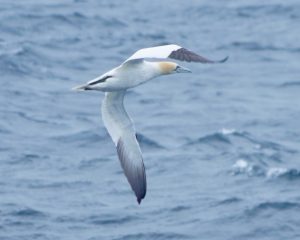 We were sailing through the Strait of Bella Isle, a hot spot for marine life. In between the talks, we gathered at the bridge to watch dozens of humpback whales with blows in all directions. Some bridged and showed their flukes and fins. A few had their white dorsal fin up as though they waved us good-bye. Some passengers with quick eyes spotted a Minke whale and some dolphins. Bird experts confirmed sighting of many species of birds including Northern Fulmar and jaegers (also known as skua). What a wonderful start of our expedition!
Life at sea is often at the mercy of the Mother Nature. My high spirit was dashed in the afternoon when wind started to pick up.  We all lined on the Port side by 2pm and watched the expedition team led by David getting into the first zodiac. But they soon turned back soaking wet when being hit by the first wave. The wind was too strong for zodiac operation. As a result, we could not proceed with the land programme. But my disappointment today is nothing compared with those I experienced when I could not land at the Scott's hut in Antarctica and Tristan de Cuna (the world's remotest inhabited island) in the Atlantic Ocean in 2015.

As we had a free afternoon, the team immediately arranged two lectures. Brian, an amusing speaker and naturalist, gave a lively talk on seals and sea lions. Franco an Italian Canadian talked passionately about whales. Though I have been to many lectures on whales, I find Franco's talk informative and captivating.  As the weather had not improved, we had to move on after 4 pm.
Tonight, the bar was packed as we were all eager to hear stories from Karen and Neil.  Their talk's title was "What Goes Bump in The Water".  Witty Karen told us vividly about her three close encounters during wildlife filming. One of them occurred when filming in Africa when she found something at her bump while standing in a river holding lights for the film crew. She was scared to death when her colleagues told her two big crocodiles were at her bump!
Tonight, I started reading my second book on this voyage. Intrigued by the mystery surrounding Franklin's expedition, I was glad to find "Franklin's Lost Ship: The Historic Discovery of HMS Erebus" by John Geiger and Alanna Mitchell published in 2015. The incredible and discovery of Erebus off during the Victoria Strait expedition in 2014 has been hailed as a major archaeological discovery.
Day 4 July 27 Friday: Battle Harbour (GMT-2.30), Newfoundland
I spent an uneventful morning attending two lectures. Title of Robyn's talk was "Labrador- The Big Country". She detailed the changing boundaries of Newfoundland and Labrador. She also mentioned the arrival of the Moravian missionaries (which came from the modern day Czech Republic).  The Moravian Church is one of the oldest Protestant denominations in the world with its heritage dating back to the Bohemian Reformation in the 15th century and the Unity of the Brethren established in the Kingdom of Bohemia. The Church's emblem is the Lamb of God with a flag of victory. The first Moravian mission in Labrador was set up in Nain. I had to struggle to keep my eyes open. I hope she would give more information on the history of the Inuit, their history and culture before their contacts with the missionaries.
Roger's talk on "Expedition Photography" was more useful and relevant. Though I have taken millions of photos since retirement, I remain a poor amateur photographer. He has given me many useful tips. His best and most encouraging advice is "photography is for enjoyment".  I can also forget the basic rules on composition. I totally agree photos should tell our own travel story and experience.
My time at the bridge was well spent. I saw with the help of others Northern fulmar, northern gannet, loon, shearwater, storm-petrel, jaeger, kittiwake and murre.  After lunch, I got ready for action but had to queue in the rain for the zodiac. It was fantastic to be on land again. Battle Harbour though small, is pretty and historic. Once an important gateway to the rich Labrador fisheries, it fell into decline following reductions in the cod industry and a major fire in 1930 and was abandoned as a permanent settlement following government resettlement activities in the 1960s.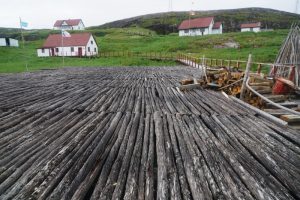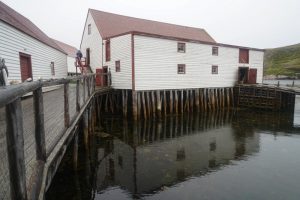 The Battle Harbour Historic Trust has been giving the fishing premises and other properties. It has preserved the site and operates a museum. Today, the site is a National Historic Site. There are now cottages and accommodation for visitors. The imposing and picturesque wooden buildings near the pier are former warehouse and salt house which have been restored.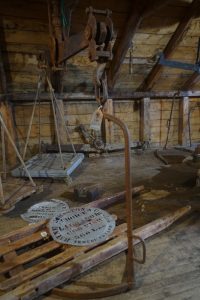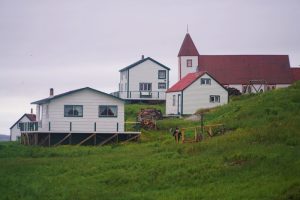 We were greeted by a passionate local guide, a retired teacher whose parents had come from the island. She told us life of fishermen on the island and the joy of fishing with traditional nets before the invention of gills. In those days, a fisherman could return with a full boat of about 110 lb of salmon. She explained how salmon and cod were salted and dried a few days before export. When she was a child, she and her brothers would help their parents turning the fish a few times a day on a flat rack which still stands not far from the pier. When consumers preferred fresh to salted fish, locals harvested iceberg to keep fish fresh for export. Great stories!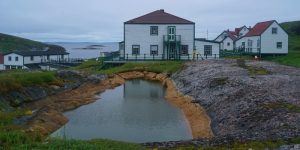 Life on the island has changed with restriction imposed on fishing and protection for seals which are fed on fish. While the seal population in the area has increased to around a million, the fish population has declined dramatically. Furthermore, locals who used to fish for living, are only allowed to take a small number of fish a year. She explained the plight of the local fishing community and hoped for sustainable solution for conservation and livelihood for the local fishing community. Food for thoughts!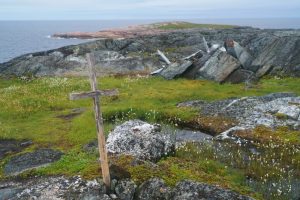 After the cultural tour, I had over an hour in exploring the island on foot. I followed a footpath and stopped at the spot where a small plane had crash. Today this spot was marked by a memorial.
Later I passed by two cemeteries before returning to the village. I visited the picturesque wooden church before dropping by the visitor centre where I had free Wi-Fi. I was relieved to learn that Aliana was fine. She had the cast of her right arm removed on July 25 and the doctor did not find any broken bone. I also learned that e-visa for Tajikistan was not an issue: one member already got her visa online.
Tonight, Lee, the assistant expedition leader, gave a talk "Cross Canada Cycle Tales".  His record was over 220km in a day. Eventually he spent two months covering some 85,000km.