Flores & Komodo National Park June 9 – 12, 2018 
8-day Happy Wandering in Flores and Bali
Trip Plan
Komodo National Park known for the Komodo dragon, the world's largest lizard has been on my list. I plan to visit this part of Indonesia after the boat trip. While on the boat, I sorted out my travel plan with the help of Alan who has worked in Flores and bought a return ticket to Labaun Bajo (about US$170). As a result, I would spend five nights in Flores and the last two nights in Ubud, Bali.
Background information
Bali Island located at the westernmost end of the Lesser Sunda Island east of Java and west of Lombok, has a population of about four million people and an area of 5,782km2. The province of Bali including Bali Island and a few smaller neighbouring islands, notably Nusa Penida, Nusa Lembongan and Nusa Ceningan, has the biggest Hindu population in Indonesia with over 80% of its population as Hindus.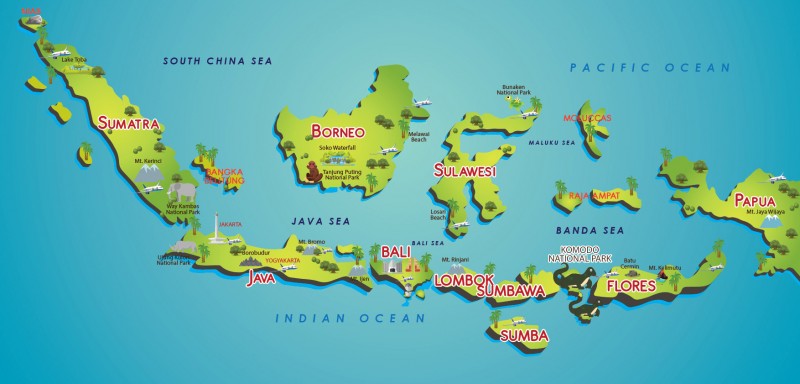 Bali is rich in tourism resources. It is part of the Coral Triangle, the area with the highest biodiversity of marine species. It is home to a unified confederation of kingdoms composed of ten traditional royal Balinese houses. Full of festivities and colours in addition to its natural beauty, Bali received some 6 million tourists last year and the tourism-related business makes up 80% of its economy.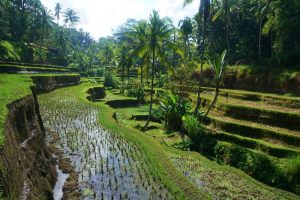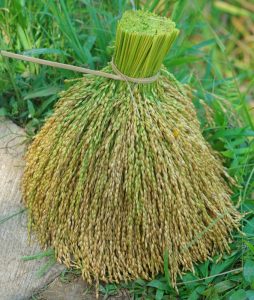 Bali has a World Heritage Site, namely the Subak irrigation system. As a manifestation of the Tri Hita Karana philosophy which draws together the realms of the spirit, the human world and nature, subak components are the forests that protect the water supply, terraced paddy landscape, rice fields connected by a system of canals, tunnels and weirs, villages and temples of varying sizes and importance that mark either the source of water or its passage through the temple on its way downhill to irrigate subak land.  Five sites namely the Supreme Water Temple Pura Ulun Danu Batur and Lake Batur (ultimate origin of every spring and river), Subak landscape of Pakerisan watershed (the oldest known irrigation system in Bali) and Catur Angga Baturkaru and Royal Temple of Taman Ayun (the largest and most architecturally distinguished regional water temple) are property on the World Heritage List.
Flores, also one of the Lesser Sunda Islands in the eastern half of Indonesia, is part of the East Nusa Tenggara Province with some 500 islands and an area of 47,245km2. Flores with an area of 13,540km2 and 2 million inhabitants, was first visited by Portuguese traders and missionaries in the 16th century and Portugal did not cede its historical claims on Flores to the Dutch till 1854. Today, East Nusa Tenggara is the only province where Roman Catholicism is the majority faith.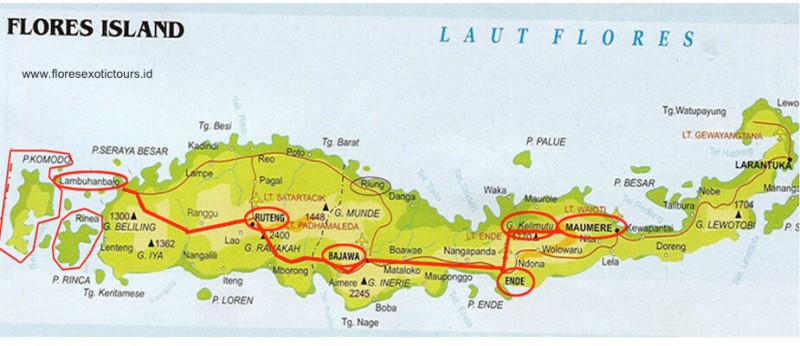 The main economic activities on Flores are agriculture, fishing, seaweed production and tourism. Tourism has grown rapidly in recent years owing to its rich tourism resources. The iconic prehistoric Komodo dragons found in The Komodo National Park, a World Heritage Site, is a main draw. Its rich marine life attracts divers and snorkellers. The 1639metre-high Kelimutu volcano with three coloured-lakes and traditional villages with their own culture in Wae Rebo, Todo, Bena, Luba and Gurusina, are getting popular. Larantuka on the island's eastern end is known for its Holy Week festivals.
June 9 Saturday: Bali – Labaun Bajo, Flores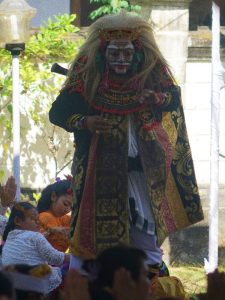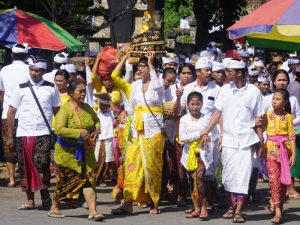 My plane to Labaun Bajo would be leaving at 2pm. Alan had kindly organised a taxi to take me from the pier to the airport for Rp.200000. I said good-bye to my mates and gave them a hearty hug. Soon, I saw hundreds of Hindus in traditional attires with offerings in their hand or on their head walking towards a temple in Serangan Island.  My driver told me that they were heading to the Sakenan Temple on the island. I stopped the car and went to a nearby temple which would be performing similar ceremony. As I am not a Hindu, I could only watch outside the main entrance. I saw pilgrims kneeling /sitting on the floor while the priest prayed.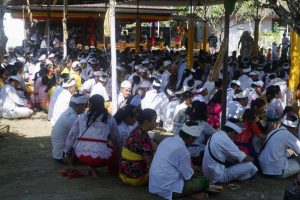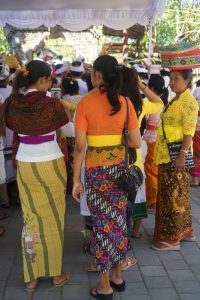 I subsequently learn more about the Galungan festivity which starts on May 29. It is a major Balinese holiday when Balinese Hindus commemorate the legendary battle of good versus evil, or the triumph of the spread of Hinduism in Bali. Bamboo poles decorated with young coconut leaf decorations erected at each household gate on the eve of festival line the streets all over Bali. These poles would stay till Kuningan, another associated observance that comes 10 days after on June 10. The Kuningan celebrations are most significant at the Sakenan Temple as pilgrims from all over Bali come to make offering on June 9 and 10.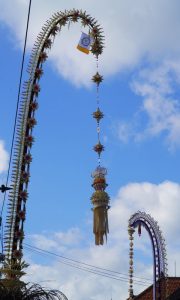 I have been very lucky to be in the right place at the right time. My plane took off on time. It's a short scenic flight: the islands and coastline are clearly visible. I was also sitting on the right side and had my first glimpse of the world famous Komodo Island before descending to the Komodo Airport at Labaun Bajo around 3pm.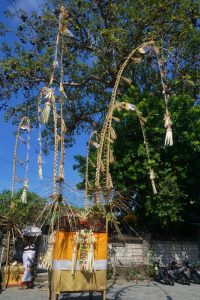 While waiting for the luggage, I visited a few booths. One agent told me a day trip to Komodo Island and a few spots would cost 2 million (this was the same price provided by Alan's friend). A man in uniform approached me with a standard 2D1N package for Rp. 1.2 million. The price sounded reasonable and the itinerary looked good. He also offered free transportation to my guesthouse saving me a taxi fee of Rp.50000. Great everything was fixed.
After check-in at Manta Manta Guesthouse, I washed my clothes that had been soaked in salty water. The sun was setting when I strolled along the main street in Labaun Bajo which has a rustic and wild west atmosphere with potholes and unpaved footpaths. But there are nice western restaurants and bars, numerous diving shops and travel agents (40-50 I guess!). I was hungry and saw a local restaurant opposite the mosque.  Attracted by its cleanliness and the queue outside, I went in and paid Rp. 15000 for a small grilled mackerel, vegetable and rice with curry sauce. The fish was surprisingly juicy and tasty. It is indeed much better than the fish I had on the boat and at the BBQ dinner on Nusa Sudak. By the time I finished my dinner, the sun had sadly gone.
As my guesthouse was fully booked on June 11, I had to find another place to stay. After looking at half a dozen places, I picked the Greenhill Bed Station (a new modern hostel) and paid Rp. 170000 a night. I noticed a bed in a hostel next door costs as little as Rp.75000. This place is a backpackers' paradise.
June 10 Sunday: Komodo National Park
Komodo National Park includes the three larger islands of Komodo (390km2), Padar and Rinca (198km2) and 26 smaller ones, with a total surface area of 1,733 km2. First founded in 1980 to protect the Komodo dragon, the world's largest lizard not found elsewhere, the park was later dedicated to protecting other species including marine ones. The park is part of the Coral Triangle. In 1991, it was declared a World Heritage Site and has been selected as one of the New 7 Wonders of Nature. At present there are about 5,700 giant lizards with an average length of 2 to 3 metres are living in the park.  All the islands are of volcanic origin and the terrain is generally rugged, characterized by rounded hills. The climate is one of the driest of Indonesia with annual rainfall between 800 and 1000mm.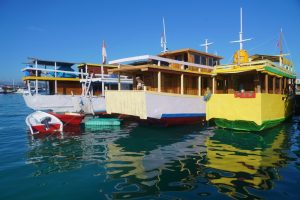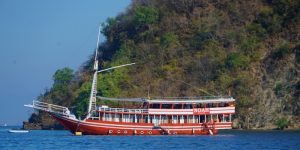 I got up around 5am after a sound sleep of eight hours. I packed a small overnight bag and left my suitcase in the guesthouse. I expected the agent to pick me up at 8am. But a young guy on motor bike arrived shortly after 7am. Luckily, I was almost ready to go. He first took me to a shop where a man gave me snorkelling gears. As I had my own mask with prescription and tube, I only required a pair of fins. The man had to take me to his house in a side street to find a pair. I noticed there is no sewage system with everything draining into the harbour. Awful and bad for the environment! I realised the agent sold me the trip is only a middle-man and things did not look good.
We rode the motorbike to the harbour where he dropped me in front of an old, dirty and tatty wooden boat manned by an old man and three young guys. The toilet is dirty without much water. None of them speaks English. My heart felt. There were ten more tourists on the boat (a Russian family of three, an Englishman and his French girlfriend, Linea (a Danish young lady) and four Indonesian). Apparently, the price we paid ranged from Rp.800000 to 1.5 million each depending on the agent. Definitely, both Linea and I had been taken for a ride at the airport.

Today, the boat took us to three places. We first spent an hour snorkelling at Kanawa Island. I was annoyed when we had to pay Rp. 100000 as entrance fee. Ridiculous especially for the price we had already paid. The water was clear with some coral and fish. But there was nothing special by my standard.
Then we sailed to the Manta Point. Unfortunately, no mantra was in sight though I saw a turtle when I was swimming near the boat.

The most interesting stop was the last one at the Padar Island where we spent about two hours. Its topography is rugged with steep volcanic mountains and hills set against deep bays. The island is barren with only bushes and grassland vegetation creating savanna hills. I later learn that only four Komodo dragons are living on the island.
I followed the path walking along the ridge which affords most fantastic views of its four deep bays with beaches below and the surrounding islands. It was very hot making the walk even more challenging given my hip problem. Luckily, I had my walking poles. For me, this was the best activity of the day.
Around 5pm, the boat moved to moor in a shelter bay in Komodo Island. It got dark very fast. After a simple dinner, the guys rolled out mattresses on the upper deck. I took a mattress at a corner. It was windy but not cold. I had a wrap to cover my body and felt quite comfortable. I fell asleep in no time. I woke up many times owing to the noises made by a plastic sheet off the hook.
June 11 Monday: Komodo National Park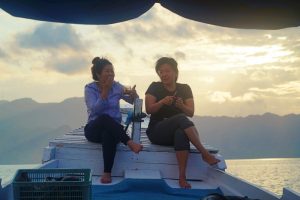 When I got up, I found Linea sleeping on the deck. Poor Linea had diarrhoea and moved to the deck close to the toilet. She did not eat food prepared on the boat and only had biscuits. The boat moved to the entrance to the national park and we paid Rp, 150000 each for a day pass including a guide.
Our Indonesian friends followed a guide while the rest of us took an English-speaking guide. We walked for more than an hour.
According to our guide, Komodo Island has about 1,500 dragons. As June and July are the mating season, it would be difficult to find them in day time. He showed us a mould which had been made by a female dragon to lay her eggs. We did not see any dragon during the walk.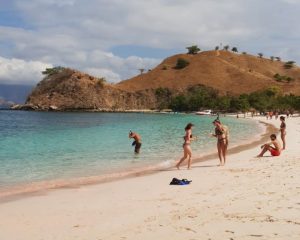 Then we saw our first dragon under a tree on the beach. Then a bigger one roaming on the beach. Finally, we caught sight of one more in the bush. But they are medium size one and do not look aggressive and scaring. We left the island around 9:30am.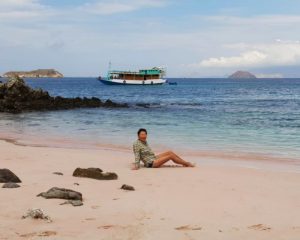 The next destination is the Pink Beach on Bidadari Island not far from the Komodo Island. The exotic red sandy beach with turquoise water and coral is most beautiful. There are viewpoints at each end of the beach for panoramic views of the bay and surrounding areas. Unfortunately, I swam ashore and did not have my sandals and camera. Hence, I was unable to take photos of this beautiful spot. I spent almost an hour sitting on the beach massaging myself with the fine pink sand. What a treat! My Indonesian friend Lily kindly took a photo for me.
We had lunch on the boat which took almost two hours to reach Rinca Island.  Though we already had a ticket, we had to pay Rp. 12000 each for a guide. I was glad to have a good one this time: he is knowledgeable and humorous.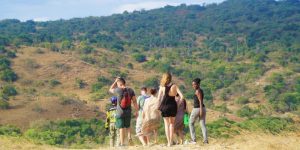 The island has some 1,700 dragons. We saw our first one near the café and another small one near a hut. Then we saw five big ones, each over 2 metres long, next to a ranger's hut. We followed our guide and had an enjoyable walk all the way to a viewpoint on the ridge.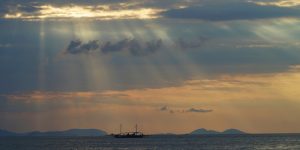 I find the landscape and scenery better than those in the Komodo Island. Close to the end of the walk, we encountered the biggest dragon of the day. He suddenly came into our view with its tongue out. I finally got a photo of a real dragon!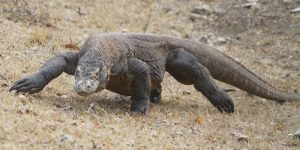 Then we had a walk over the rolling hills. the landscape and scenery better than those in the Komodo Island.  are both more attractive I fiGood walk and enjoy the scenery. Saw a juvenile first, then another small dragon, then a group of five big ones near the ranger house, after the walk, we saw a big male roaming. I finally took a photo with its tongue out! I saw a total of eight dragons on this island.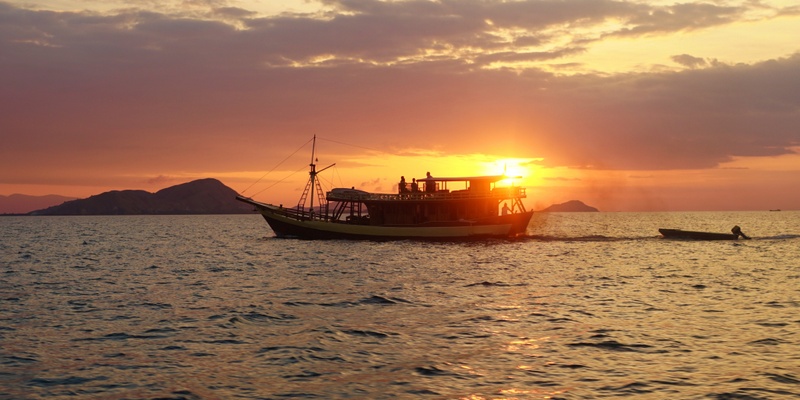 We sailed back to Labaun Bajo. The sun was setting and I watched a beautiful sunset all the way. We got off the boat at 6pm. I returned to Manta Manta Guesthouse to pick up my suitcase before settling down in Greenhill Bed Station. The toilet and shower facilities are excellent. I felt clean after a good hot shower, the first time since I left Hong Kong!
I had dinner with Linea at Mediterano, an Italian restaurant opposite my hostel. I had a large bottle of beer and fish which was prepared in Italian style and tasty. My delicious dinner cost me just Rp. 110000. Great value!
June 12 Tuesday: Ruteng
Trip Plan
After having seen the Komodo dragon, I hoped to visit Wae Rebo Village a World Heritage Site famous for its cone shaped houses known as Mbaru Niang.  The village located in Manggarai Regency situated 1200m above sea level, can only be reached on foot. One has to go to south coast of Floes and stay overnight at Denge before taking a 3-4 hours' hike to the village to see the seven traditional houses. As I would not have enough time to make my way to this village, I decided to go to Ruteng to see the famous 'spider web' rice fields and visit the Todo Village instead.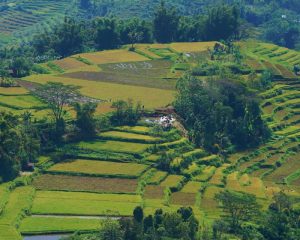 The journey to Ruteng from Labaun Bajo takes about 4 hours.  I was advised to take a minibus (Rp.130000 pp) or a taxi/private car (about Rp 1million). When I tried to get a ticket, the minibus company told me I could only get a seat at 11am. It would be too late. The staff told me I could take the normal bus instead. I therefore sat outside their shop waiting for the bus. Around 7:30am, they suddenly said I could get on a minibus at 8am. My patience and persistence paid off!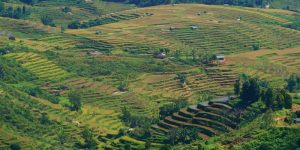 The driver arrived before 8am with three passengers already in his 7-seater vehicle. He told me to take a seat at the back row. He picked up more passengers to fill all the seats. The distance between Labaun Bajo and Ruteng is about 160km. The road is well-paved and sealed but winding and narrow in some places. As a result, three passengers had road sickness and vomited terribly. I was upset when they kept throwing their dirty plastic bags out of the window and told the driver that he should tell them not to throw litters out of the window.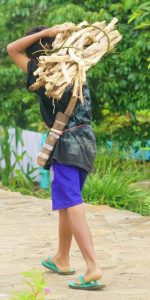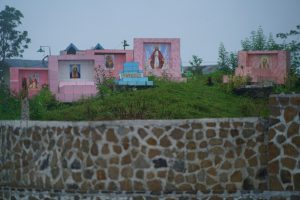 The driver picked up more passengers as they got on and off along the route. When two young boys sitting next to me got off, a middle-aged man got on.  He wore a mask and coughed badly. Soon, he started to throw up. Judging from the way he coughed, I feared he might have TB. I told the driver my concern and suggested him tell the man to go for medical check-up. The driver speaks little English and I doubt he understands.
Around 11:45am, the driver dropped me at a homestay which charged me Rp.200000 for a room. The place is clean. The helpful owner arranged a motorbike for Rp. 150000 to take me to Todo Village located 36km from Ruteng. I set off before 1pm. It is my first long-distance bike ride. The driver, though young, looks confident and competent. We were riding on the same road I took in the morning for some 20km. After Golo Cala, we turned to Pongkor and began a bumpy ride on mostly unpaved road. Some parts are steep and I simply got off and walked. It took us over two hours to arrive at our destination.  Though it was an uncomfortable ride, I had seen the countryside, passed many villages and saw picturesque hill-side rice fields in green, brown and golden colours.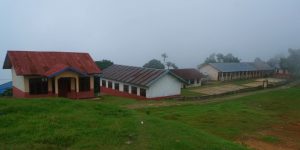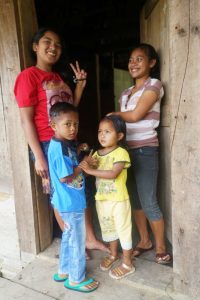 Todo Village laying in south-central Manggarai was the centre of the Manggaraian kingdom and the home of the royal clan. The clan of Todo had been the dominant power in this region long before the involvement of the Dutch administration in local politics.  The clan leader was chosen to be King of Manggarai by the colonial government in 1930. In the past, there were nine mbaru niang (drum houses) around the compang, village's ritual centre, a circular construction of stones and rocks with a few small old British cannons. Today, a couple of traditional ceremonial houses have been restored.
I was greeted by a man and his wife and had a local coffee. I made a small contribution and was told to pay more if I wanted a guided tour. I wandered around the village without a guide.  The weather in the mountain changes constantly. One moment, I had clear views of the village and surrounding mountains. Mist suddenly rolled in. I then found myself standing in solitude at the compang where the top of the royal ceremonial drum house came in and out of focus. Atmospheric!
The mbaru niang next to the royal house was open. Four children were inside and invited to take a look.  Apart from a couple of mattresses on the floor and cooking utensils, there is nothing inside. I was told that the mbaru niang in Wae Rebo Village inhabited by descendants from Todo people, are the same in shape and in the philosophical meaning but smaller. I love to reach Wae Rebo on foot. But as I have no time and am not sure about my knee and hip, I have to skip it.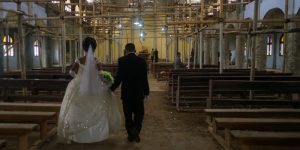 I walked through the village, looking at the graveyard, a large school and an imposing church which is half built. A choir was singing getting ready for a wedding ceremony. The couple arrived when I was leaving. My long and uncomfortable bike ride is indeed worthwhile!
I was back in the homestay around 5:30pm. The bike driver did a good job and was home safely. I gave him a tip of Rp. 10000.  He was happy. On the recommendation of the owner, I went to Spring Hill Hotel nearby for dinner. The hotel is lovely with a garden and pond. I had noodles, vegetables and beer for about US$10. The off-season rate of a room is about US$50 a night.  I could have stayed here instead.