Sailing Indonesia Bali and Lombok June 2- 9, 2018
Trip Plan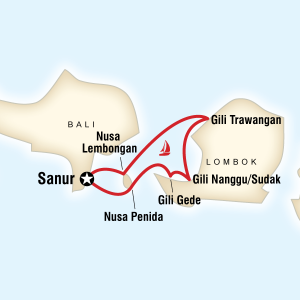 I visited Indonesia once in early 1980s. Out of the blue, I looked at the Gadventures website while I was in Mozambique and found a 7-day Sailing Indonesia Bali and Lombok trip starting June 3 with 25% discount. Next, I found a reasonable 14-day excursion airfare with Cathay Pacific Airways. I plan to visit the Komodo National Park to see the world's biggest lizard after the sailing trip.
June 2 Saturday: Hong Kong – Bali, Indonesia
I took a direct flight leaving Hong Kong after 10am and arriving in Bali in good shape around 3pm. I was surprised to find a full plane. The Bali airport is fairly new. But I took some 30 minutes to go through the immigration service as hundreds of tourists landed around the same time. I took an airport car for Rp. 250000 (exchange rate at airport US$1 for Rp.13600) to Paros Pasa Lodge in Serangan Village close to the Golden Sand Beach Club which was the meeting point of the sailing tour the next day.
The lodge is simple but clean. I paid about Rp. 300000 for an air-conditioning room. By the time I settled down, I noticed the sun was going down fast. I picked up my camera and arrived at the rooftop only to find the sun almost gone behind clouds.
I walked around the village looking for a restaurant. Not much seemed to be going on. A local eatery asked me for Rp80000 for a grilled fish. Finally, I had Indonesian fried rice and a beer in the lodge for Rp. 51000. As I did not sleep well the night before, I was dead tired and went to bed by 8pm. I slept like a log for the next 12 hours.
7-day Sailing Indonesia: Bali & Lombok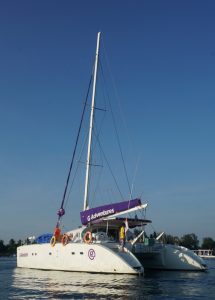 Day 1 June 3 Sunday: Seragan Village – Nusa Lembongan 11 nautical miles (NM)
Participants were required to arrive at the Gold Sand Beach Club by 10am. After leaving my suitcase in the lodge, I walked to the beach area without clear idea about the exact location of the meeting point. Then I saw a lady who looked lost (like me!). I went up and asked whether she was sailing with Gadventures.  "Yes" she said. I was relieved. Finally, Alan, our tour guide turned up and took us to the right place where seven ladies were waiting for us. Wow, the trip turned out to be a lady-group.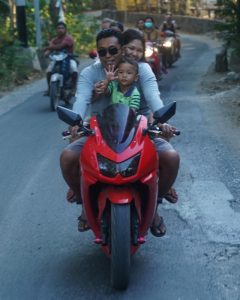 We were transferred in two groups in a tender to NUSA LEMBONGAN, a 17m-long catamaran which would be our floating home for the next six nights. Alan introduced the crew (Captain Ketut; Chef Iwan, Engineer Suherman and Assistant Samsol). My eight boat mates come from five countries: three American (Natalie, Marie and Angela), two German (Rika and Evelyn), a Brazilian (Cass), a Canadian (Linzi) and a Luxembourger (Jill). I am the oldest member while the youngest one is 27.  As we had an odd number, I ended up having a cabin to myself possibly owing to my age and as a loyal customer (I forget the number of trips I have taken with Gadventures).
My mates are friendly and lively.  Angela who is an engineer working in an American base in Yokohama, Japan, is bubbling and most entertaining.  They laugh all the time and take about anything under the sun. Rika, a travel journalist and Evelyn, a photographer, were on an assignment to write about this sailing trip.
After a light lunch we set off sailing across Badung Strait towards Nusa Lembongan, a small island with an area of approximately 8km2.  We saw a couple of manta rays when approaching the Sunset Bay.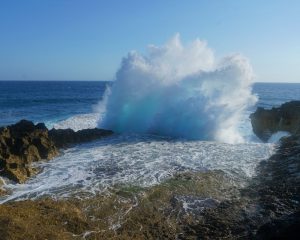 Shortly after 3pm, we disembarked and took a truck to see the Devil's Tear, a rocky coast with towering waves. Then we spent an hour in at a resort at Dream Beach enjoying our first happy hour cocktail on this trip. We paid the price of one and got two drinks (i.e. buy one and get one free). I paired up with Natalie and paid for our first drink (Rp.80000). We paid Rp. 60000 each for the truck ride.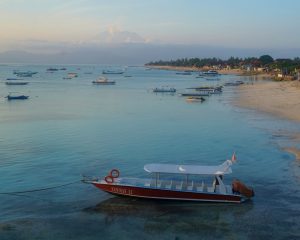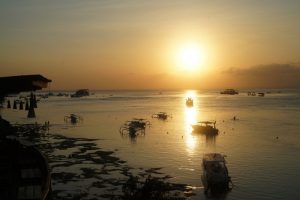 We returned to the Sunset Beach ready for another drink. Natalie bought me a drink this time. The sunset was pretty with deep reddish, gold and orange hues. Owing to low tide, our crew had a hard time pushing the dingy out when taking us back to the boat. We had our first dinner on board after 8pm. Iwan is a good chef. Tonight, he prepared black pepper chicken and vegetable. I was tired and went to bed shortly after dinner.
June 4 Monday: Nusa Lembongan – Tulamban (35NM) – Amed (3NM)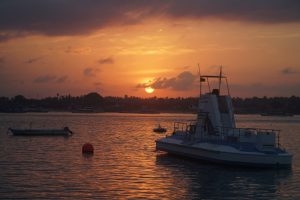 I got up at 6am and got out just in time to watch sunrise. At 7:30am, we were taken in our dingy to a nearby protected area for snorkelling. Several floating platforms have been installed and all boats have to stop outside the snorkelling area. It is a good way to ensure safe snorkelling and prevent boats dropping anchor that damage the coral. Though the area is small, one finds a healthy population of hard coral and marine life. Visibility was excellent with vivid aqua blue water. I gave 7 out of 10 for this spot.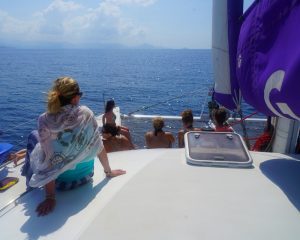 We had a leisure and healthy cooked breakfast before setting sail just before 10am. We followed the east coast of Bali and finally reached Tulamban, a popular site for divers. Close to the shore is the USS Liberty wreck. It was after 3:30pm when we jumped into the water. Owing to strong current and poor visibility, I could vaguely see some schools of fish in a distance.  There were some big fish too. A dozen of divers were 10 -15m below me.  On perfect conditions with a calm sea and good visibility, this would be an excellent snorkelling site. But I could only give 4 out 10 for this snorkel owing to poor conditions.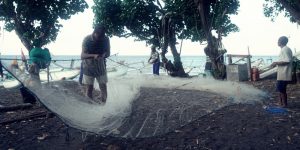 We sailed to Amed where our boat moored here for the night. Lying at the north-eastern tip of Bali, Amed whose inhabitants have been living on fishing, has been a fast-growing tourist destination in recent years. Small hotels, homestay and bars have sprung.
We had two hours to explore this sleepy village. I followed the girls who planned to visit a local market.  Somehow, they took the wrong turn and had to turn back after wandering around for half an hour. While they walked westward to find a bar, I walked in the opposite direction looking for a good spot to watch sunset. I watched two boats returning. A young fisherman told me that the sea was rough and he caught nothing. He had to go out at dawn and hoped for better luck. Fishermen have a hard life!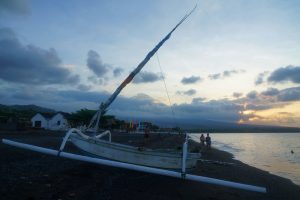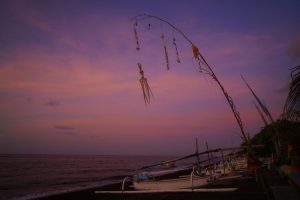 It was cloudy and there was no sunset with majestic Mount Agung (Bali's highest peak at 3124m) looming at the background. While we spent two hours ashore, Iwan was busy preparing two roasted chickens for dinner. The meat was juicy, tender and tasty. I like home cooking and have been well-fed on the boat. Every meal consists of some meat or fish, plenty of vegetables, rice or pasta, fruits and dessert. The food is simple, fresh, healthy and tasty.
June 5 Tuesday: Amed – Gili Air (22NM) – Gili Trawangan (3NM)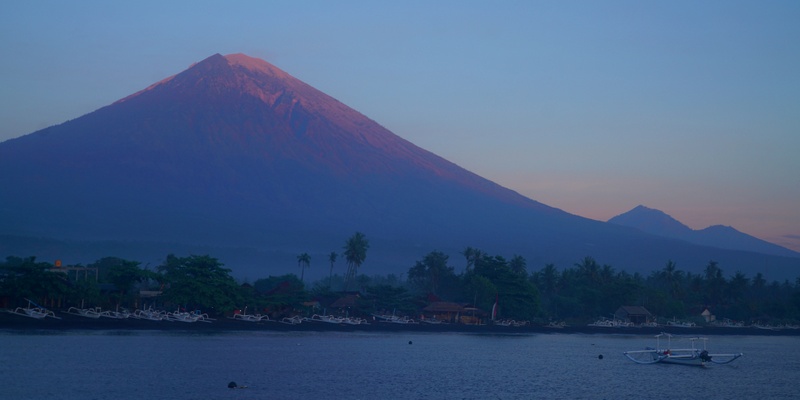 I watched sunrise on the horizon and Mount Agung glowing in soft morning rays. The catamaran moved to Jemeluk which is a good snorkelling site. Visibility was so-so and I saw many schools of fish, a few trumpet and needle fish. I was glad to find a few clusters of healthy coral.
We sailed back to Amed where Alan spent some 45 minutes to clear procedures with the authorities. About 10am, we set sail heading to the Gili Islands off the northwest coast of Lombok namely Gili Air, Gili Meno and Gili Trawangan. We had fried fish and rice for lunch.
The Gili Islands have become a popular tourist destination. Automobiles and motorised traffic are prohibited on the islands by local law. Hence, bicycles and horse-drawn carriages called cidomo are the common modes of transportation. Scuba diving and snorkelling in and around the Gilis is also popular due to the abundance of marine life and attractive coral formations. Most famous diving spots are Shark point, Manta point and Simon's reef.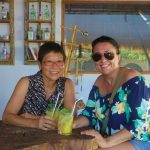 After lunch, we stepped ashore on Gili Air with a permanent population of 1,800. One can walk around the island within 90 minutes. We started off as a group along the beach. I found the sun unbearably strong and decided to take a side shady path heading to the interior part of the island.  Cass joined me while the other girls continued with the beach walk round the island.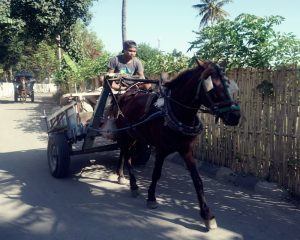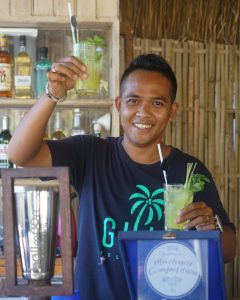 I was amazed by the tranquil and rural atmosphere. A few guesthouses have already been built in this part of the island. Out of curiosity we went in the Slow Gili Air a luxurious guesthouse with ten bungalows and a spa. The receptionist from Eastern Europe showed us around. Built by a Belgium architect, the place is simple, stylish and elegant with a zen feel. Each bungalow has a pool and garden. If I return one day, I would spend a few days in this lovely retreat.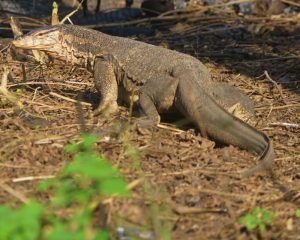 My second discovery of the day is a nice bar with the best bar-tender on the island who has won many awards. He made us an exquisite herbal cocktail. We ended up having two cocktails before continuing our path of discovery.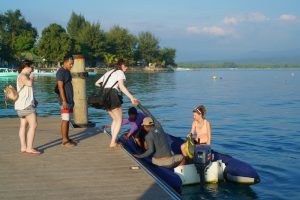 My third discovery of the day was a large monitor lizard. I must have explored a third of the island in four and a half hours.
Around 5pm, we set sail Gili Trawangan where we moored for two nights. After dinner, all, except Cass and I, went ashore to sample the night life of this famous party island.  But during Ramadan, bars close around 11pm. The girls returned to the boat before midnight while I was already in bed for a couple of hours.
June 6 Wednesday: Gili Meno – Gili Trawangan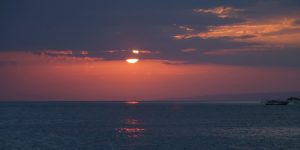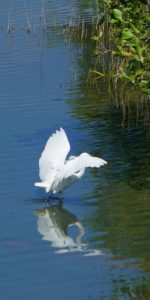 Gili Meno, the smallest island in the group with a population of about 500, is said to be home to the best dive sites and snorkelling reefs in this area. One may find groups of turtles in the Gili Meno Wall and crustaceans, Spanish dancers, crabs, lobsters, cuttlefish and scorpion fish. There is a salt-lake inside the island.
Alan arranged us to snorkel off the north-western coast of Gili Meno before breakfast. The main attraction is turtle. I saw one as soon as I jumped into the water and followed it for a few minutes. A good start!  Then I swam along the coast in the shallower end. What I should have done was to swim out to the sea and follow the slope to the deeper end. Some of girls who swam towards the boat saw a few more turtles. I find my snorkelling experience below my expectations. It is dangerous for snorkellers as boats come from all directions. The coral population where I snorkelled is dead or has been severely damaged. Perhaps, if I had seen a large group of turtles as described by the promotional materials, I might have come to a different conclusion.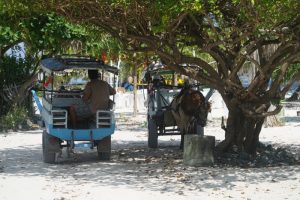 After breakfast, Alan took us back to Gili Meno where we spent an hour and a half. While others stopped for a drink in a bar on the beach, I walked on my own to explore the island on foot. I wandered aimlessly and soon found myself in a local village. The houses/huts look smaller and basic.  Locals greeted me with a smile while a few stared at me. Perhaps they have enough trouble from noisy and stupid tourists.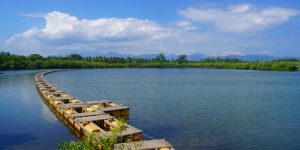 I found my way to the salt-lake. The place was peaceful and tranquil.  I spotted a couple of birds though most of them would be resting in the shade. I was alone and enjoyed this small corner of paradise.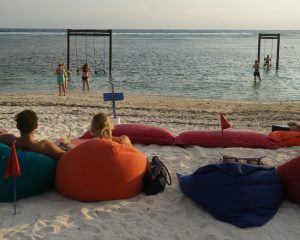 After lunch, we spent five hours in Gili Trawangan, the largest island measuring 3km long and 2km wide with a population of about 1,500. It is most established with a wide range of accommodation, diving shops, travel agents, shops and bars. I find it too noisy, crowded and busy.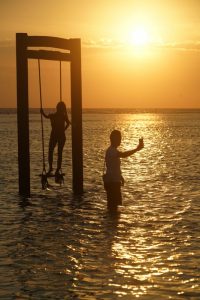 We all rented a bike (Rp. 50000 each for an afternoon).  I had not cycled for years and was not comfortable to ride especially when there were too many horse-drawn carriages, bikes, pedestrians coming from both directions. With my poor riding skill and a low-quality bike, I was not in full control of the bike and worried I would run into pedestrians or be run down by carriages. I tried to be brave and after a while I felt more in control. But I stopped whenever I passed by a carriage or felt uncomfortable. It was a painful ride: on many occasions, I simply got off and pushed the bike. I fell twice luckily without hurting myself. What a horrible experience!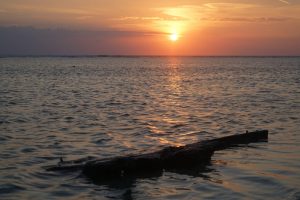 Alan told us to meet at Malibu Bar on the western side of the island to watch sunset. I arrived there at 4pm, took a rest and had a large bottle of beer. The girls all arrived early. I watched young people taking selfies on the beach, on a swing or on horseback with the setting sun as the background. The sunset was beautiful but the crowd on the beach spoilt the atmosphere. After sunset, we cycled back to the main harbour and returned to our boat.
I love noodles. Tonight, we had glass noodles and chicken for dinner. I must have eaten a third of the noodles.  After dinner, three girls went ashore shopping and drinking while the rest of us stayed onboard. Prayer was broadcast loudly from the mosque and lasted the whole night. Fortunately, I was too tired and managed to sleep despite the noise.
June 7 Thursday: Gili Trawangan – Gili Sudak (20NM)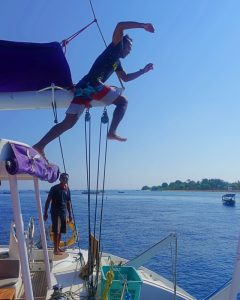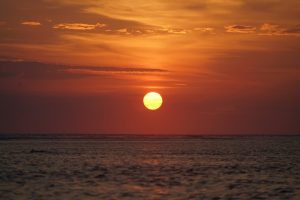 I watched a beautiful sunrise and had a late breakfast at 8:30am. Then we went off to see an underwater art installation with a dozen of statutes placed on a sandy bottom off the coast of Gili Meno. With good visibility, snorkelling is fun. I also managed to find a small patch of 'blue coral' that exists only in this part of the world. Nonetheless, I do not feel safe snorkelling here as there are too many motor boats moving around in a small area.  The local authority should regular the boats as what has been done in Nusa Lembongan.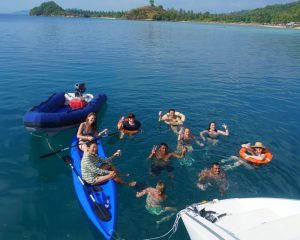 We set sail after 10am. Around 1:30pm, we moored at a protected bay near Gili Sudak. The expansive sheltered bay is a major maricultural zone. Most of the inhabitants are fishermen. After a late lunch with fried squid and tuna fish, we had free time till 4:30pm.  Natalie and I kayaked to the sandy island Kedis which is picturesque.
Then I went off on my own to snorkel around Gili Sudak.  The sandy bottom is covered with sea grass providing a feeding ground for dugong. I also saw some soft coral and small schools of fish.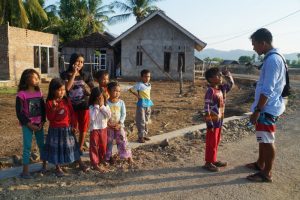 At 4:30pm, we stepped for the first as well as last time on Lombok island. We strolled through a small fishing village. I am surprised to find huts/houses in reasonable conditions with glass windows and wooden doors. A lady was taking clothes off the line while another was collecting dry cooking pots from a rack. They are shy and do not want to be photographed. But the children are enthusiastic and love to be the model. Evelyn had a great time taking photos of the village and people.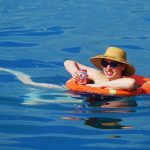 Not far from the village is a good sunset spot at a hill top less than 100m high. We fought our way through bushes and I found part of the path slippery.  We spent over half an hour watching the sunset which was beautiful with deep orange and gold hues.
Alan arranged a seafood BBQ dinner on Gili Sudak for Rp. 15000 pp. I expected a whole fish but was disappointed to be served a grilled fillet. In any case, the fish was too dry and meaty to my liking.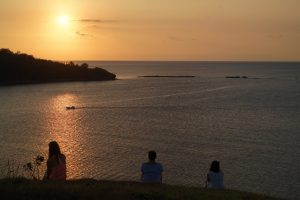 I had a most educational and entertaining evening. The conversation was centred around modern-day relationship, online dating and how people communicate with emoji (i.e. egg-plant and peach stand for the reproduction organ of male and female). I am a dinosaur totally ignorant of pop culture and life of younger people. Also my friends never talk about these subjects.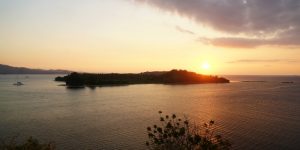 I returned to the boat at 9:45pm as I could not stop yawning. The girls sat around a fire and chatted till midnight. Am I asocial or just old and out of touch? I was asleep when they returned to the boat. Apparently, they continued their discussion till the earlier hours on the upper deck. Good for them!
Day 6 June 8 Friday: Gili Sudak – Nusa Penida (30NM)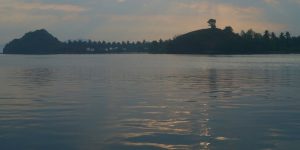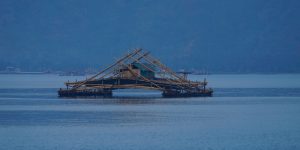 While taking a photo of sunrise, I saw a large dark object rising out of the water about 10m from the boat. Then with a big splash, it disappeared within a second. At first, I thought it was a man. But it was not possible as I saw no one swimming around. I began to suspect it was a dugong. Later Alan confirmed that it should be a dugong. He had seen one near the boat when we first arrived.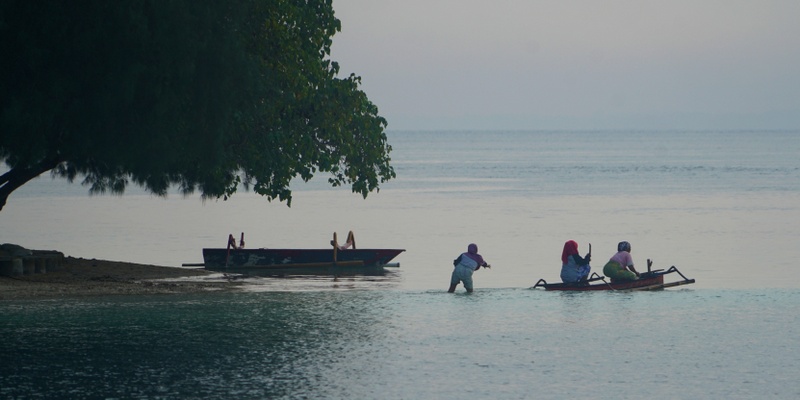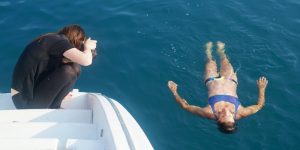 As I expected the boat would be leaving soon, I did not bother to get into the water. But Marie and Rika did and found two sleeping turtles near the sandy bottom. I wished I had joined them. The girls and the crew had a fun time jumping from the boat and posing for Evelyn's photos. We finally sat sail after 9 am.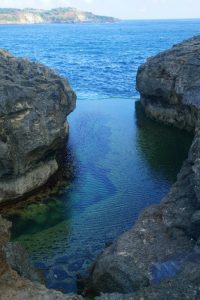 At 1pm, we arrived at Nusa Penida with an area of 200km2 and a population of 50,000. The tourist infrastructure is still fairly limited as compared with the Gili Islands and the neighbouring Nusa Lembongan.  We had perfect conditions for snorkelling.  The light was good and the turquoise water was crystal clear. We swam along a rocky coast towards the beach. I saw lots of colourful coral fish and was delighted to see healthy soft coral covering an expansive area.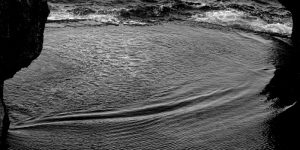 I enjoyed watching seeing the needle and trumpet fish swimming along the rocky limestone coast. Despite the large coverage of soft corals, I only spotted a couple of large dark coloured clownfish. Surprising!
After lunch, we went ashore for an excursion on two vehicles (Rp. 1.2 million for 9 persons). After an hour's drive on dirt and bumpy road, we got off in a carpark close to sea cliffs. We followed a path to Angel's Billabong, a natural pool. On the way, Marie spotted a dugong popping out of the water for a second. We saw a young couple from Mainland China taking wedding photos with strange postures at the edge of the rocky coast. We must have very difference sense of beauty and romance!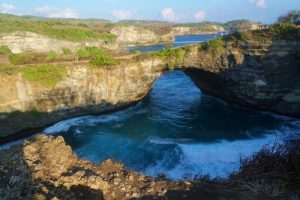 We walked on and soon reached the Broken Beach, the remains of what once was a massive cave. After the collapse of the roof, the walled bay can only be accessed through a hole in the form of an arc bridge. I last saw similar feature in Tonga. But the setting and scenery here are much more impressive.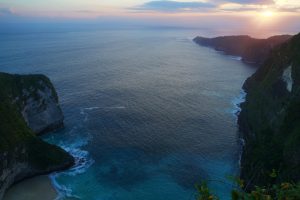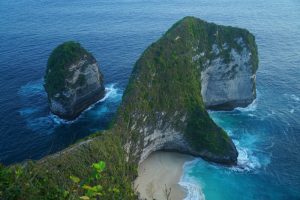 We walked back to the car and drove for half an hour to watch sunset at the most iconic spot on the island – the dinosaur-shaped Kelingking Beach or Secret Point Beach.  On a clear day, one can see Mount Agung in the distance. We stood about 100m above the white sand beach planked by massive limestone cliffs. People lined up for photos with the setting sun and cliffs as background. I waited patiently for my turn for a quick shot of the setting sun and the breath-taking landscape but without people. The sun dropped too quickly and disappeared behind clouds when I had an opportunity to do so. What a pity!
We had a long drive back to the pier. It was after 7 pm when we returned to the boat. We bought five bottles of wine to share (Rp.110000 pp). Iwan prepared chicken, tuna and squid for dinner. As they were all fried or cooked in the oven, I found the meat too dry and tough. Anyway, we had a great time and I had five glasses of wine. Unfortunately, I am a boring person and have no joke or love stories to share with my mates. They must find me weird. I went to bed after ten while some of them stayed till midnight.
Day 7 June 9 Saturday: Nusa Penida – Serangan (15NM)
We got up early and snorkelled for half an hour till 7am. The water was not clear.  Without sunlight, the undersea world is not colourful. I spotted nothing special but Cass had at least saw a turtle. After breakfast, we set sail at 8am and was back at Serangan, Bali at 10am. The sailing trip came to a happy ending. Alan and the crew dropped us off at the pier. END OF SAILING TRIP
Marine life seen during this sailing trip
Indonesia has rich marine life with many world-class diving and snorkelling sites. I snorkelled eight times and have spotted squirrelfish, trumpetfish, needlefish, tilefish, dotty-backs, anthias, groupers, hawkfish, cardinalfish, trevally, fusiliers, sweetlips, seabream, butterflyfish, angelfish, damselfish, six-bar wrasses, checkerboard wrasse, parrotfish, powder-blue surgeonfish, Moorish idol Picasso triggerfish, titan triggerfish, yellow boxfish, longhorn cowfish, sea snake. I have also seen dolphin, dugong and turtle. For coral, I have seen the common ones including stone coral, table coral, yellow scroll coral, staghorn coral, fan coral and many types of soft corals. I am thrilled to see 'blue coral', the first time in my life. All in all, the first snorkel at Nusa Lembongan and the seventh one at Nusa Penida are the best.