Taunton, London, Bergen & Stockholm March 31 – April 8
March 31 Saturday: Nairobi, Kenya (GMT +2) – London, UK (GMT) – Taunton
I had a most exhausting travel day. After spending 13 hours at the Nairobi Airport, I boarded a Kenya Airway flight to London around 10am. I had a poor impression of the Kenya Airport on my first visit some ten years ago. It has since been expanded and renovated with one of its lounges that takes Priority Pass which enables a holder to stay three hours maximum at the lounge.  As a result, I paid for two sessions in a relatively small, crowded and noisy lounge. The seats are not comfortable. Some guests simply put the cushions on the floor for a lie-down.  I tried but could not sleep owing to the loud background noises.
I left the lounge before 3am and found a surprisingly quiet corner at one of the gates. I was so exhausted that I slept for over an hour on a 3-seat bench. An Englishman in a grey suit did the same not far from my bench! Despite my criticism about the airport, I must say Kenya Airways has made remarkable progress since I flied with it a decade ago. The two planes I have taken look new with comfortable seats and decent meals. There is a good selection of films. I watched a couple of films, dozed off from time to time and was glad to step off the plane just before 5pm.
I was not aware that a fast track facility is now available for passport holders of some countries/territories including Hong Kong. But the passport holder is required to pre-register on-line. I therefore had to queue for some 45 minutes to go through the immigration. By the time I got my luggage it was after 6pm.
Terminal 4 is far from the Central Bus Station where I take National Express Coach 502 to Taunton. First, I had to wait 30 minutes for a bus to the station. Then I spent an hour waiting for the coach. The journey took about three hours (£42.40 for a return ticket). By the time I arrived at my godmother's place, it was almost 11pm. I have never seen Mrs Thorn so exhausted: she had been expecting me anxiously for two days without proper sleep.  She went to bed after having letting me in!
April 1 Sunday: Taunton
I seldom have jet lag. Today, I felt fresh after an 8-hour sleep. Mrs Thorn looked much better after having a good sleep too. She told me that for some reasons, she thought I would be arriving around 3am on March 31. As a result, she had not slept much for two days.
Mrs Thorn though house-bound, is cheerful and good at keeping herself occupied. Her neighbours wave at her whenever they walk past her flat. Some drop in for tea or coffee. Her mind is alert and she does crosswords and handicraft. I gave her an update on my brothers (Alan and Lawrence) and their family. She was keen to find out what I had been doing and where I had been. I showed her photos taken in Mozambique and told her my eventful trip in Northern Mozambique. She was shocked to see the wound on my left leg.
I fancied roast chicken for lunch. It's available at Tesco about 2km away. I was surprised to find it closed. On my way back, I went the mini-Tesco which is only five minutes from Mrs Thorn's place. It was OPEN! Though there was no roast chicken, I found a pack of two sausages and two drum sticks for just over £3 and a nice bottle of red wine.  I put the meat in the oven for about 40 minutes and we had a delicious hot meal with red wine. I was glad that Mrs Thorn enjoyed the wine.
Time passed quickly. We had a leisure chatty afternoon. I also spoke on the phone with Mrs Thorn's 90-year-old sister Kay who has recently moved to a retirement home in Chichester. Kay and her late husband Vince had visited me a couple of times in Hong Kong. I told her I would visit her before leaving the UK. I went to sleep at 8pm.
April 2 Monday: Taunton
I woke up around 2am after a 6-hour sleep. I picked up a book from the shelf and read for two hours before returning to sleep till 8am. Today, I took a leisure stroll to the town centre in order to get a couple of things from a shop and to get online in a café.  I discovered that I could take a train to Chichester from Victoria Station at 3:06pm for about £30 return.  This would work out as my bus departing Taunton would arrive in London around 2pm.  I made my way back to Mrs Thorn's place in time for lunch around 1pm. We drank tea, had a glass of red wine and cashew nut from Mozambique, and chatted for the rest of the day.
April 3 Tuesday: Taunton – Chichester – London
I always try to spend a couple of days with Mrs Thorn whenever I am in the UK.  After spending three nights in Taunton, I was ready to resume my journey. I took the 9:19am local bus to Taunton bus terminal. The 10am coach to London was late by some 20 minutes. I did not arrive at the Victoria Coach Station till 2:40pm. The train to Chichester departed on time at 3:06pm sharp and I got off at the Chichester station around 4:30pm. Kay's home is about five minutes' walk from the station.
Kay has settled nicely in her one-bedroom apartment in the retirement home. Kay is jolly and sociable and loves to sing in the church choir. The home provides a 3-course lunch and she takes breakfast and supper by herself. She meets her friends and dines outside occasionally. I told her about my recent travel and she seemed amused.  She wishes to take a cruise and make a trip to Hong Kong. But she is not sure she can get insurance cover for her age and health condition.
Kay had bought roast beef and cake for tea. I had not eaten and thoroughly enjoyed my meal of the day. I stayed for an hour and took the train shortly after 6pm to return to London. By the time I settled in my room in Sydney London Hotel in Belgrave Road near the Victoria Station, it was 9pm. Another long travel day!
April 4 Wednesday: London – Oxford – London
Today's plan was to visit Margaret and Steuart (my boss in Brussels) in the morning and to see a musical in the evening. I bought a day return coach ticket for senior citizens for £14.  The coach left Victoria just before 9am. Steuart picked me up at Thornhill park-and-ride station at 10:30am.
It was raining and cold. Steuart drove me to Oxford to see a few recent development projects including the Blavatnik School of Government and the Asian Studies Centre at St Antony's College. By 11:30am, we were back in their lovely house by the canal. Margaret has wonderful green finger and her garden is most beautiful with colourful spring flowers. She prepared a light but most delicious lunch with trout and salad. We chatted for a couple of hours before Steuart dropped me off at Thornhill.
I hopped off the coach at Marble Arch and walked in the direction of Leicester Square with a view to buying a half-price ticket. Just before 5pm, I passed by the Prince of Wales Theatre which is presenting the musical "Book of Mormon", I saw a man telling passers-by to fill in and drop a form in a ballot box for a lucky draw at 5:30pm. Every day, the theatre offers 20 tickets at £20 each. Though I seldom have luck with such draws, I dropped a form in the box. Then I walked to the half-price ticket office to find out what was on offer. I returned to the theatre before 5:30pm only to find a huge crowd waiting for the lucky draw. I could not believe when my name was called. Bingo! I got a ticket. When I went into the theatre, I was thrilled to find myself seated at a premium seat in the stall which ticket price is £95.50!
This comedy about two young Mormon missionaries sent to Uganda to preach was first staged in 2011. The play which mocks Mormon beliefs and practices and has won nine Tony Awards and four Olivier Awards, is lively with jokes and vulgar acts. But I do not fully appreciate it owing to my poor sense of humour.  Moreover, as I had some problem with my ear at the beginning of my stay in Mozambique, I could not hear well. I found the music too loud and could not concentrate (I hope the hearing problem would go away).  Anyway, I enjoy a night in a theatre especially with an excellent seat for £20!
April 5 Thursday: London, UK (GMT) – Bergen Norway (GMT+1)
I had a full day in London as my flight to Bergen would depart around 9pm. Though I have lived in London for four and a half years, I still do not have enough of it! I would go to the British Museum whenever I pass through London. This museum is a key to the ancient worlds and helps me better appreciate the history, art and cultures of ancient civilisations and countries I have visited.
I began my day at the Rosetta Stone founded in 1799 with inscriptions of a decree issued at Memphis, Egypt in 196 BC in Ancient Egyptian using hieroglyphic script (top) and Demotic script (middle) and Ancient Greek (bottom). The stone proved to be the key to deciphering Egyptian hieroglyphs.
With my recent tours in Southern Africa, I spent much time in the Sainsbury Galleries (room 25) which has a rich collection on Africa. Highlights here include sculpture, textiles and weaponry from Central Africa, a brass head of a Yoruba ruler from Ife in Nigeria and the Tree of Life (2004). After my recent trip to Mozambique, I am particularly drawn to this art installation which is meaningful and symbolic!  A 'Swords into Ploughshares' project was launched in 1995 after the ending of the civil war in Mozambique in 1992 to encourage people to hand in weapons in exchange of ploughs, bicycles and sewing machines. Some of the weapons were cut up and turned into a tree of life by a group of artists in Maputo.
On display are exhibits from the Benin Kingdom (an area of Nigeria, Benin City in that region) which walls with nine gates when finalised around 1460 was regarded as the world's largest earthwork and second largest man-made structure after China's great wall. The exhibits of brass which was associated with kingship and ivory are impressive. Of the known over 900 brass Benin plaques in the world, some 300 pieces are in the British Museum. I sat in front of the awesome plaque wall for a while.
Then I went to Rooms 6 – 10 with exhibits from Assyria which existed as early as the 25th century BC and collapsed sometime between 612 BC and 609 BC. I have never set foot in this ancient empire as this area was not considered safe for inclusion in the Iraq tour in 2011. I am fascinated by the Assyrian sculptures and Balawat Gates, Nimrud,  Nineveh, Lion hunts, Siege of Lachish and  Khorsabad in Rooms 6 – 10. The exhibits dating as far as 11 centuries BC are exquisite and most impressive.
Before leaving I saw a special exhibition that focuses on the friendship and shared love for Greece of two artists Niko Ghika and John Craxton and the writer Patrick Leigh Fermor.
At 1:30pm, I met up with Betty at SOAS (close to the British Museum) who was busy preparing for the opening of an exhibition of Thomson's photos. I had seen most of the photos in the exhibition in Hong Kong and Thailand. She had time for a coffee before rushing back to the exhibition hall. She has featured the photos in some 25 exhibitions around the world. I admire her passion and wish her luck.
Then I returned to Victoria and had tea with Ada at 3pm. She looked great and happy and we chatted for two hours. Time to go! I returned to my hotel to pick up my bag. Then I took the train to Gatwick to fly to Bergen on Norwegian Air. The plane departed on time and I landed in Bergen around 11:30pm. I had booked my first night at the Scandic Hotel near the airport in case the plane was delayed. The hotel is new and the room is modern and spacious.
April 6 Friday: Bergen
I did not sleep well despite the comfortable bed. I therefore got up, had a wholesome Nordic breakfast (which served at my main meal of the day) and took a shuttle to the airport where I took the light rail train to the city centre. I purchased a single ticket for 35NOK. The journey took about 45 minutes and I walked to my hotel, Scandic Byparken Hotel on Christies Gate close to the museums KODE1-4. I arrived at the hotel before the check-in time. As my room was ready, the staff kindly handed me the key.
Located on Byfjorden (the city fjord) and surrounded by mountain, Bergen is known as 'the city of seven mountains'. It is Norway's second largest city with a population of less than 300,000. According to tradition, the city was founded by king Olav Kyrre in 1070 and served at Norway's capital in the 13th century and from the end of the 13th century, it became a bureau city of the Hanseatic League and enjoyed exclusive rights to mediate trade between Northern Norway and abroad until 1789.  It remained Norway's largest city until 1830s. Today Bergen is an international centre for aquaculture, shipping, offshore petroleum industry and sub-sea technology.
Bergen, gateway to scenic fjords on the west coasts, is the country's top tourist destination. The old Hanseatic wharf Bryggen in Bergen is a World Heritage Site. The famous coastal steamer Hurtigruten runs its classic 12-day round trip from Bergen to Kirkenes in the Arctic every day.  Hundreds of cruises also come to Bergen a year.
Despite two previous visits to Bergen while working in London, I hardly know the city. This time, I would buy a 24-hour Bergen Card for 208NOK to spend some time in the museums and other attractions. I got a Bergen Card at 12 noon and walked around the colourful Bryggen. As it was cold and grey, there were few tourists around. I enjoyed exploring the old wooden buildings which were once offices, shops, warehouses and homes to the thriving traders. I spent a while in the Bryggen Museum which shows the remains/foundations of the oldest structures in the area and a wooden boat. Some exhibits show the daily life of the people and artefacts used.
I found an interesting exhibition called 'Frithjof Sælen's Treasure Chest'. Sælen (1917-2004) was a talent man: a writer, a freelance journalist, a poet, an illustrator, an art critic, an advertising man and above all, a member of the resistance during WWII.  He is best known as the author of Snorri the Seal (1941) which was a satire on Nazi Germany and the Three Cold Fellows (1942) caricaturing the Axis Powers of Germany, Italy and Japan. He also wrote a book on Shetlands Larsen, a Norwegian naval officer famed for leading the Shetland bus operations during WWII. I am impressed by the breath and diversity of his work and creativity.
Behind the museum is St Mary's Church which is believed to have started in the 1130s or 1140s and completed around 1180. It is only remaining of the twelve churches and three monasteries built in Bergen from the reign of Olav Kyrre (1066-1093) to the end of the twelve century. It was significantly damaged in the 1198 city fire. The church was damaged again and again during subsequent town fires especially the one in 1248.  Major renovation and reconstruction took place between 1863 and 1876. Today, the church is a two-towered, three-naved, mainly Romanesque-style church with a well-preserved wooden alter piece, a pulpit and many paintings on the wall, most of which dated from 17th centuries.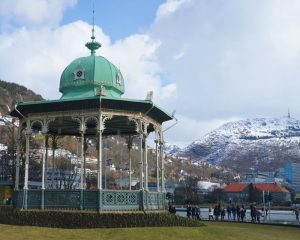 My next stop was the Bergenhus Fortress located at the entrance of Bergen Harbour. It is one of the oldest and best preserved stone fortifications in Norway. Inside the fortress is a beautifully restored medieval stone hall first built between 1247 and 1261 by King Håkon Håkonsson (1217-1263) where a banquet for 2000 guests was held in 1261. It was the largest and most imposing building of the royal palace in the 13th century when Bergen was the political and commercial centre of Norway. Today, it is still the largest medieval secular building in Norway.
The sky began to brighten up when I came out of the fortress. I immediately walked to take a free scenic tram ride with the Bergen Card to Mt Fløyen. Surrounded by snow-cladded mountain tops and fjords, Bergen looks stunning from the top of the hill.
Bergen has numerous museums offering free entry for Bergen Card holders. KODE Art Museums of Bergen housed in four buildings is known for its extensive collection of art and design.  When I arrived at KODE 1 which was first opened in 1896, it was already well past 3pm.  I had at the most 40 minutes to look at the exhibits. The highlights of KODE 1 are the unique 'Silver Treasure' (a permanent exhibition of silver and gold objects produced in Bergen), the Singer Collection and some paintings and works by Nikolai Astrup and other Old Masters.
After a whirlwind tour of KODE 1, I rushed to KODE 3 which presents the rich Rasmus Meyer Collection including the second largest collection of works by Edvard Munch (1863 – 1944) outside Oslo with more than 100 paper works and 50 paintings.  From an art historical perspective, this unique collection exhibits works from all the major paradigms in the painter's artistic career. I have been to the Munch Museum in Oslo. But I find this collection equally impressive. I barely finished looking at the paintings of Munch and some paintings by Norwegian painters from the Golden Age of Norwegian Art on the first floor when the museum closed at 4pm. The museum would open at 11am the next day and I planned to return to spend an hour before heading to the airport.
The weather was good when I came out of KODE 3. I decided to take the Light Rail to Fantoft to look for the Fantoft Stave Church located in a woodland between Fantoft and Paradis. I have seen similarly wooden stave churches before. As the gate was locked, I could only take photos from outside. Then I took a different path to Paradis where I took the Light Rail back to town. It was after 6pm when I was back in the city centre.
It got cold and windy. I strolled along the deserted streets trying to find something to eat. But everything was expensive and nothing appealed to me. I went to the theatre hoping to see a show. The lady at the ticket office told me the play would be in Norwegian and would be too boring for me. I therefore returned to the hotel, had instant noodles and sardine in my room and went to bed before 9pm.
April 7 Saturday: Bergen Norway – Stockholm, Sweden
I got up early and began my day at 7 am with an excellent breakfast. The restaurant though small, is cosy, comfortable and colourful with a variety of coffee and tea, a large selection of cold cut, salad, smoked fish, meat, egg, bread beautifully laid on a few tables. I enjoyed the ambience and everyone looked cheerful and lively.
As the museums would not open till 11am, I decided to explore the city that I had not set foot on so far. First, I walked uphill to the University of Bergen, strolled through the Nygardsparken to reach a cluster of university science buildings along the Damsgardsundet. I walked past the Hurtigruten Terminal and soon found a cluster of colourful and picturesque wooden houses in a few narrow uphill alleys. I walked uphill again before descending to a park where the Bergan Aquarium is located.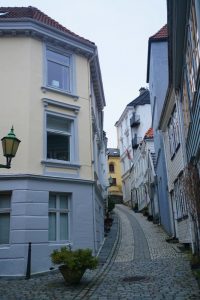 I turned back and walked from one end of the town to the other in order to reach KODE 3. I took longer than expected to walk thus having less than 40 minutes for the museum. I have heard KODE 4 has an important collection of Nikolai Astrup and paintings from the 14th century icons to Norwegian and international Modernism, ranging from Norwegian artists like J.C. Dahl and Christian Krohg to international masters like Pablo Picasso and Paul Klee.
As I have already seen the important Munch collection in KODE 3, I decided to spend my time in KODE 4. I first saw the exhibition "Nikolai Astrup – Out of the Shadows" on the ground floor. It is well-presented with English titles. Hence, I am able to better appreciate how the darkness of night, the mystique of childhood and the landscape in the west coast of Norway were important sources of inspiration for him.
I had a quick tour of the first floor which exhibits paintings from the Modernism era. The most easily recognised paintings are certainly those by Picasso. There is too much to see. I hardily finished touring the first floor before I had to leave. If I return to Bergen one day, I shall leave enough time for KODE.
I rushed back to Scandic Byparken Hotel to pick up my suitcase. With my Bergen Card, I took a free ride on the Light Rail to the airport shortly after 12 noon. I arrived at the airport before 1pm. There is no lounge for Priority Pass holders. Unfortunately, the Norwegian Air flight for Stockholm was delayed for almost two hours and I did not depart till 4:30pm. It's a short flight and I arrived in Stockholm an hour later. I took a free shuttle bus to Hotel Connect where I had left a bag of winter clothes and warm boots in the luggage room two months ago. I was glad to find my bag untouched in the corner: people in Scandinavia are honest and remarkable.
April 8 Sunday: Stockholm, Sweden (GMT+1) – Hong Kong (GMT+8)
My flight for Hong Kong would be departing at 3pm. Instead of staying at the hotel, I preferred to spend time in the airport lounge. Hence, I took the shuttle to the airport at 10am and spent almost four hours in the lounge with my Priority Pass reading and sorting out my Mozambique photos.  The plane was fairly full. The seat is comfortable and the service is good. I watched five films during the 9-hour flight. I landed in Hong Kong around 7am.
I was pleased to arrive home shortly after 8:30am ending my 64-day journey from 78°N (Longyearbyen, Svalbard) to 26°S (Maputo, Mozambique) and setting foot on ten islands. I have had a scary but truly African experience with a bleeding leg, threats from a local policeman and a long ride on smelly local bus and broken truck. I survive with sweet memories of Madeira, the Azores and the enchanting Quirimbas Archipelago of Mozambique!