Madeira & Porto Santo
February 16 Wednesday: Whale and Dolphin watching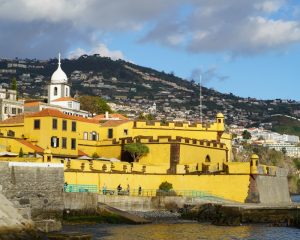 Today the group had a free day in Funchal. On the recommendation of Andre, most of us took a whale and dolphin watching tour in the morning. We boarded a small 14- seater boat and set off from the marina at 10am. We saw several schools of bottle-nosed dolphins swimming not far from the harbour. After an hour with the dolphins, our boat moved further away where half a dozen short-finned pilot whales which are not much bigger than the dolphins. At 12:30pm, we were back in the marina.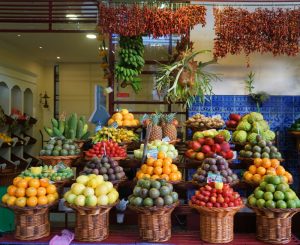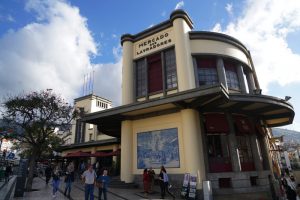 In the afternoon, I wandered around the market which was particularly lively on Saturdays with farmers bringing in their produces. I also walked all the way to the church at the end of the old town and had a poncho (orange and rum) in a bar before returning to the hotel.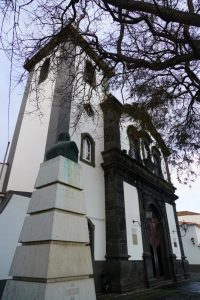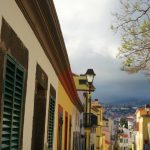 Sue had not feeling well since we arrived in Funchal. She stayed in bed most of the time today. Before joining the group farewell-dinner at 7pm, I tried to download photos of the trip taken with my Olympus camera. Somehow, I could see the photos on the screen of the camera but my computer could not read the memory card. I was puzzled and decided to try again later (Then my camera got lost/stolen between February 17 and 18. So I lost my photos of the hike).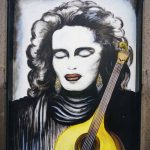 Today we had dinner in Restaurant Combantentes which is very good. I ordered a pepper steak which was tasty and tender. We had a great time! I also said good-bye to my friends as I would not see them the next day.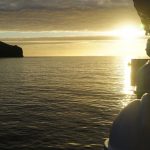 February 17 Saturday: Happy Chinese New Year Day in Porto Santo
I decided to make a side trip to Porto Santo 43km northeast of Madeira Island. With an area of 42.17 km2, it is the northernmost and easternmost island of the archipelago of Madeira.  It is famous for its 9km-long golden sand beach and peaceful and calm atmosphere in contrast to Madeira Island. Explorer Christopher Columbus married the Portuguese noblewoman Filipa Moniz Perestrelo, daughter of Bartolomeu Perestrelo and lived on Porto Santo for two years. His house behind the cathedral is now a museum.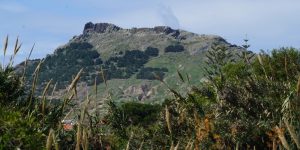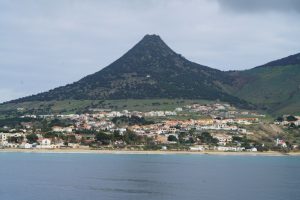 Today was the first day of the Year of Dog. I packed my stuff the night before in order not to disturb Sue. I set my alarm at 6:30am. But I did not sleep well and was up well before 6am. I left the room stealthily by 6:15am.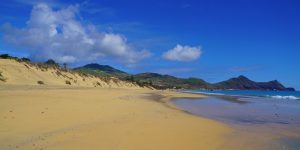 When I checked my documents in the lobby, I could not find my Mastercard which had been used to purchase the ferry ticket the day before (47 euro). I tried to call the Hang Seng Bank to cancel the card but forgot my password. I immediately sent a WhatsApp to my friend Cathy to ask her to contact the bank to cancel the card. Bingo! Everything was done within ten minutes. I am most grateful to Cathy.
I stored my suitcase at the hotel and walked to the pier. I got there by 7:30am and the boat left at 8am. I arrived at Porto Santo around 9:30am. The bus to the town centre (1,60 euro) was gone. Instead of walking 45 minutes to the hotel, I paid 9 euro for a taxi to Hotel Porto Santo. It is one of the first luxurious hotels by the beach with a spa.
The staff were helpful and helped me booked a hiking tour at 3pm and a jeep tour the next day. I walked along the beach to the town centre and had lunch by the cathedral. Nearby is the Casa Colombo.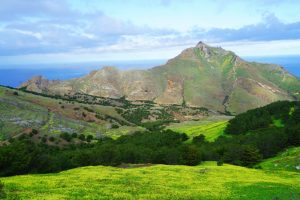 I had lunch and a beer at the town square. As I arrived at Casa Colombo after 1pm, it was closed. But the keeper was kind to let me see a few items from a special exhibition including a 400-year-old wooden box with a three-faced Jesus by French craftsman.
I had a pleasant walk with my guide Ninda for over three hours. We walked up to Pico do Castelo (437m) for a panoramic view of the western side of the island and a leisure walk on a path around Pico Facho. I felt great after the 5km walk.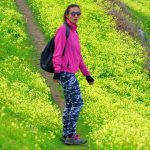 I had dinner at Mar e Sol by the beach close to the hotel. The grilled fish was good. I had a good sleep as I was tired.
February 18 Sunday: Porto Santo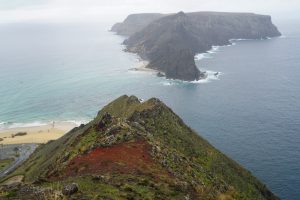 I joined a jeep tour at 10am for 25 euro. As the guide speaks German and little English, I am unable to understand 90% of what she is saying. Fortunately, the scenery is great.
The weather was unpredictable. When we arrived at the first view point on the western side of the island, it was raining heavily. We sat inside the jeep for ten minutes before venturing out. We had fantastic views of Ilheu de Baixo, the golden sand beach and the eastern part of the island.
At the second stop we looked at the Mugearite columns which are also found in Hong Kong, Ireland and many other places. It was sunny now. We had good views of the golf course and the airport from her.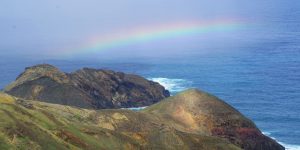 We then arrived at an oasis with lots of palm trees and birds. Fantastic! Others had coffee or poncho. But I had left my wallet in the jeep and had no money for a drink.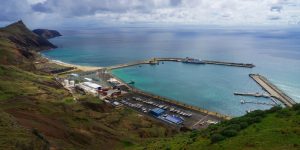 Next we drove along the northern coasts passing through fields where grapes are grown between stone walls.  It started to drizzle again. Suddenly we saw a rainbow just above the sea.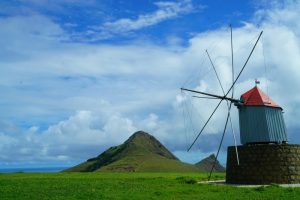 The final stop was on the Portela Viewpoint on a cliff. It was sunny with blue sky. We had fabulous postcard view of the town centre, the harbour and the island.
It was 1:30pm when I was dropped off at the hotel. I had a light lunch with grilled lapas (limpets) and garlic bread. Then I went to the spa and had a 2-hour spa session with massage for 30 minutes (44 euro for hotel guests (i.e. a 20% discount). I found the indoor heated pool too cold and spent most of my time in the jacuzzi which was hot and soothing.  I was the only customer in the spa that afternoon. So I was treated with 45 minutes of massage of my back and legs. It's truly a Chinese New Year treat for me. A most affordable gift for myself!
I took the 7pm ferry and was back in Madeira at 9:30pm. I had to pick up my suitcase from Hotel do Centro and moved to Greco Hotel next door. It is run by the same management. When I tried to download photos, I suddenly realised my small camera (Olympus) had gone missing. Where and how I had lost it, I did not know!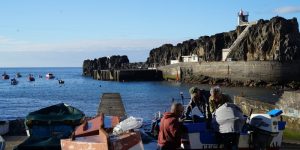 February 19 Monday: Whole Day Mini-bus Tour to Porto Moniz
I had a long day from 8:30am to 6:15pm. The tour bus with six passengers left Funchal around 9am. The driver Miguel is a heavy smoker and I find the cigarette smell irritating. But nothing I can do!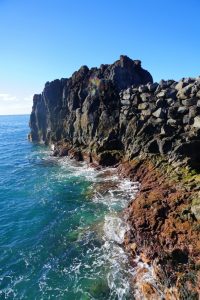 We had half a dozen stops. We began at Camara de Lobos a picturesque fishing village near Funchal which is also known for monk seals. The famous "espada" or black scabbard is also fished here. There were already more than a dozen tour buses around. I had a stroll to the rocky coast and visited a small church. But I saw no seal nor espada.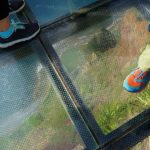 After a short ride, we arrived at Cabo Girao Europe's highest sea cliff at 580m. Visitors can stand on a glass platform to view the vegetation and cliffs below. The experience is nothing compared with my recent experience in Mont Blanc! Here I saw a sea of tourists arriving in droves.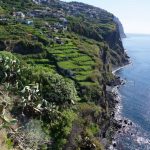 Around noon, we had a coffee stop was at Ribeira Brava. Instead of having a coffee, I walked around looking at the rocky coast, watched seabirds and visited the church.  
After Ponta do Sol the sunniest area in Madeira, we began our ascent to the plateau of Paul da Serra at 1400m. It was misty, windy and cold. I must be tired and dozed off most of the way.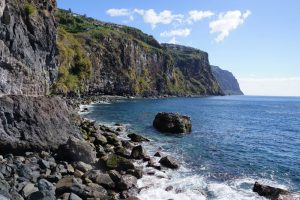 After the plateau, we began our descent to Porto Moniz famous for its natural pools. We arrived at Pole Norte and had a set lunch for 15 euro. As soon as I finished my lunch, I walked around for half an hour before boarding the bus. Off we went at 3:45pm.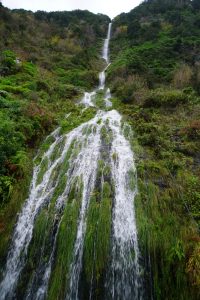 Now we were driving along the north-western coast of the island and I could see as far as Ponte Sao Jorge. We had a photo stop at Seixal to look at waterfalls. Soon, we had a brief stop at Sao Vicente which I had seen while hiking. The church is impressive for such a small community.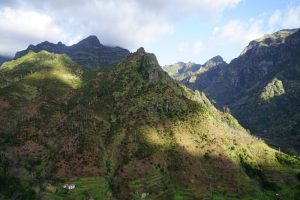 Our final stop was at Encumeada, with views of both the cloudy north and sunny south coasts.  It was freezing and windy. I stepped out of the bus to take a couple of photos as I had lost the photos of the mountains I had taken before.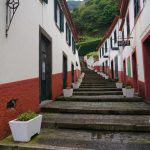 I was glad to be back to Funchal as I had arranged a drink with Andre. I was happy to meet his lovely girlfriend and his dog. We had a beer in the old town.  Andre kindly offered to take me to the airport. Though I was not hungry, I went to a restaurant and had a 3-course meal for 10euro! The starter (shrimp and mussels) and main course (grilled fish) were both delicious.
February 20 Tuesday: Madeira – Azores by Air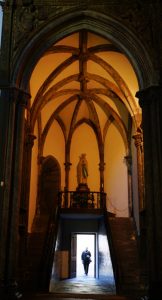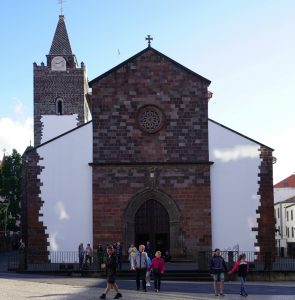 Before leaving for the airport, I spent two hours strolling in Madeira from the Praca do Mar (a large park by the sea) to the market. I had time to take a close look at the beautiful Se Cathedral.
Time to go: I walked back to the hotel and checked out. At 10:30am, Andre drove me to the airport which took 20 minutes. My flight to Azores took off on schedule at 12:30pm.
Remarks
I had a fantastic hike in Madeira with an amazing and charming guide, Andre who has made the place endearing. I like Andre and hope to meet him and his girlfriend in Hong Kong or in Madeira again!
Madeira is a great place to hike. The fauna and flora are fascinating. The landscapes are stunning. Though it is a small island, it offers dozens of hikes that are doable for all level of abilities. I love to return to hike when the flowers are in blossom. Though I find Funchal too crowded and built-up to my liking, the island as a whole is charming and full of natural wonders!
I also like Porto Santo which looks barren and empty after the hectic and touristic Funchal. My brief weekend escape has offered me a totally different experience. I enjoy the spa, the walk and the jeep ride.   All in all, I had a wonderful Chinese New Year in Madeira and Porto Santo!