December 3 – 8: Thiruvananthapuram, Alappuzha and Munnar
Trip Plan
After two organised group tours, it's time to relax and roam freely on my own. My plan was to spend ten days exploring South India including its west coast. I would begin at Thiruvananthapuram on December 3 and travel by road in Kerala to Alappuzha, Munnar and Fort Kochin before taking an overnight train to Goa. I would end my trip in Goa and fly to Mumbai on December 13 to catch my connecting flight to Hong Kong.
December 3 Sunday: Mumbai – Thiruvananthapuram (Trivandrum)
My plane arrived at the Trivandrum airport around 7pm. I took a taxi and paid 350 rupees to a hotel which has been converted from a royal house. I paid US$33 a night with breakfast and had a spacious and comfortable with balcony.
December 4 Monday: Kovalum
Kerala located on the west coast of India near the extreme south of the mainland, has a population less than 4 million and an area of over 38,000km². The state is known for its backwaters – meandering inland lakes networked by canals – stretching to over 900km, 600km-long coast with beautiful sandy beaches, wildlife sanctuaries and hill stations. The state
Trivandrum is the state's capital and the largest city. It has a population of a million and is ranked among one of the best cities to live in India. It is a major information technology hub in India contributing 70% of Kerala's software exports. It is also a major tourist centre, known for the Padmanabhaswamy Temple, the beaches of Kovalam and Varkala and its backwaters.
I intended to visit Napier Museum. But as it was Monday, the museum was closed. I was lazy and asked the hotel to arrange a taxi to take me to Kovalum 18km from the city (900 rupees for four hours). I set off at 10:30 am in a small car with Mani as my driver. On reflection, I might be better off taking a tuk-tuk or a local bus!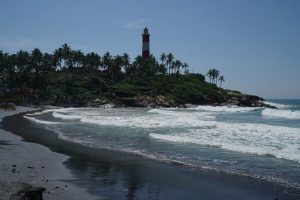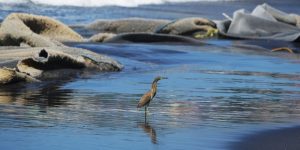 At 11am, I arrived at Kovalum which comprises three adjacent crescent-shaped beaches with a picturesque a lighthouse. I am not a beach person but am curious to look around.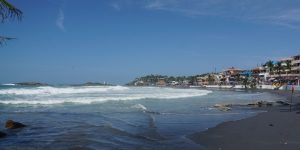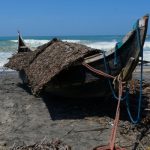 I had not arrived at the right time to see the area at its best: the western coast of India had just battled a very severe cyclonic storm Ockhi which was originated in the Gulf of Thailand, hit Sri Lanka on November 29 and dissipated near the south coast of Gujarat on December 6. It had caused massive damages and claimed at least 174 lives in Kerala. Today, the sea was still very rough with big waves. Swimming was prohibited. I heard some fishermen out at sea had vanished. Sad! I find Kovalum touristy with countless restaurants, shops and places to stay. Not my cup of tea!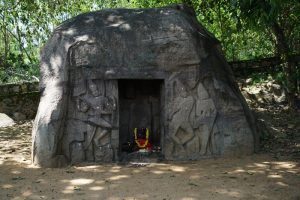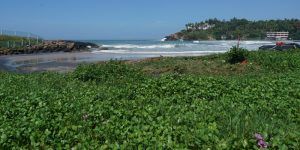 After spending an hour walking along an almost empty beach, I asked Mani to take me to see a rock cave about 5km away. He did not know the way. Luckily Google Map came to his rescue. Dedicated to Shiva, this small and inconspicuous temple was established around 8th century.
It's time to have a good meal. After checking, I decided to go to Villa Maya which has been described as the best restaurant in the area. I am impressed by the traditional house with fine wooden carving, stylish furniture and elegant decorations, ponds with water lilies and lush green garden. I spent over two hours enjoying a fish curry dish and dessert. My lunch only cost me 1300 rupees. My best meal!
Instead of taking a tuk-tuk, I walked to Padmanabhaswamy Temple dedicated to Vishu. It's built in an intricate fusion of the indigenous Kerala style and the Dravidian style of architecture associated with the temples located in Tamil Nadu featuring high walls, and a 16th century Gopuram. The temple surrounded by high walls, is open only to followers of Hinduism. Hence I could only see the top part of the shikhara or spire.
I strolled aimlessly for another half an hour and took a quick look at another Hindu temple close to the hotel. Nothing exciting in this sleepy town! I was back in my room shortly after 5pm and skipped dinner. Instead, I had my instant porridge and went to bed early after flipping through some old magazines.
December 5 Tuesday: Trivandrum to Alappuzha by taxi (150km)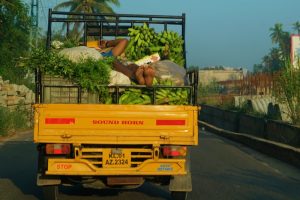 As business was slow, Mani offered to drive me to Alappuzha (also known as Allepey) for 3500 rupees. Though the bus would cost less than 300 rupees, I decided to give him a job. Nonetheless, I made a mistake: I should have asked him to make a side trip to Varkala famous for its cliff beach.
Mani suggested we leave at 7am to avoid traffic jam. The highway to Alappuzha is surprisingly new and well-maintained. More roads and flyovers are under construction. I also noticed many new and decent developments including technology parks, univeristy and college complexes. Even the buses and tuk-tuks look tidy and in good conditions. The locals look healthy, clean and happy.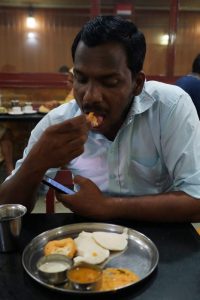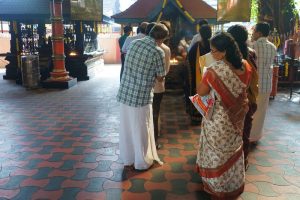 As I had to skip breakfast at the hotel in order to leave at 7am, Mani took me to a local eatery in Kollam for breakfast (93 rupees for two persons) around 8:30am. The dosti and marsala tea are delicious.
Mani showed me two Hindu temples of note on the way to Alappuzha. As I have not written down the temple's name and there are so many temples along the road, I cannot ascertain which temples I have visited. Looking at the road map now, I guess I might be visited the Aadimoolam Vetticode Sree Nagaraja Swami Temple (no photo inside the temple ground) and Sree Krishna Swamy Temple  (13-15th century).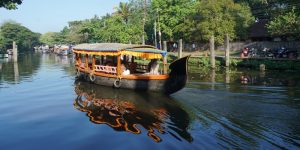 Alappuzha, a city on the Laccadive Sea and nicknamed "Venice of the East", is best known for houseboat cruises along the rustic Kerala backwaters, a network of tranquil canals and lagoons. It is also famous for its marine products and coir industry. Kuttanad in the Alappuzha district is known as the 'Rice Bowl of Kerala' is the very heart of the backwaters and is one of the few places in the world where farming is done below sea level.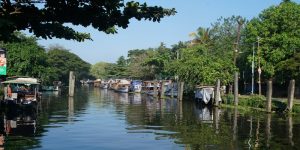 Homestay is a popular way to interact with local and sample the local way of life. I therefore decided to try 'homestay' if possible. I booked two nights at Alaphatt Homestay next to Havelli Hotel by the north canal.
I arrived at the house at 1:30pm. My room on the first floor is basic with ceiling fan and attached toilet and shower. But I am not pleased with the room which faces Havelli Hotel's central air-conditioning generator and there is no mosquito net. Hence, I could not open the window owing to the noise and mosquito. The room was stuffy and a bit hot. But my host who is a Catholic, is honest and helpful. He arranged for me a massage (1200 rupees) and a full-day backwaters boat cruise with breakfast and lunch (1000 rupees).
I had biriyani in a nearby eatery before boarding a local bus to Allepey Beach (7 rupees). The beach is barren and unattractive. I suppose I should have come for the sunset: the ruins of a 137-year-old pier at the beach provides an atmospheric foreground for a sunset photo.
I walked past the Allepey Lighthouse but had no incentive to pay for a visit. There are many churches and temples in the city. But it's hot and I was not in a mood for sightseeing. Instead, I took a tuk-tuk back to the house (70 rupees).
I took a shower before going for a massage at 5pm. I have massage regularly but this one is totally different: a young lady poured hot oil all over me literally from head to toe. Her strokes were powerful: her palms ran from the neck down the spine. Another stroke would run from the shoulder to the foot. Her hands are rough like sand paper. It is definitely an unusal and strange experience!
I took a shower to get rid of the oil as soon as I got back to my room. My host advised me not to wander around in the evening. I had instant porridge in my room and did not go out.
December 6 Wednesday: Backwaters boat ride
Around 8am, I was picked up by a guide who walked me to a ferry pier on the opposite side of the canal. A big group of foreigners were also waiting. When a local ferry arrived before 9am, my guide told me to get onboard. The ferry is old and dirty. I was on the ferry for about an hour and the ferry made a dozen of stops before arriving in a big lagoon with a luxurious resort. Some 20 passengers got off at one of the villages but the guide did not tell us the name of the village.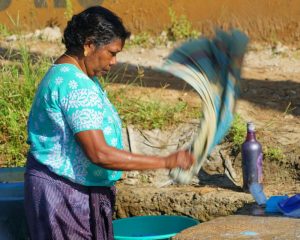 A few locals met us at the pier and we had local food and marsala tea in a hut. We ate with our hands. Then we were put in six small boats: I was in a boat with two couples (two Polish ladies, an American lady and her Indian boyfriend). It is a small boat with two narrow benches under cover. The boatman rows at the back. Being alone, I took a seat at the bow without cover. Luckily I had an umbrella and soon discovered many locals also had umbrellas in their hand.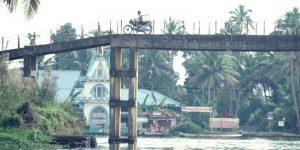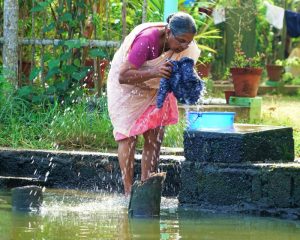 The boat was moving slowly in the Kainakary district. It is a beautiful and relaxing experience: some of the canals are very narrow with huts/houses scatter along the waterway. It is green with paddy fields and palm trees, peaceful and quiet without traffic sound. The soil is rich and fields under cultivation that are below sea level, are protected by embankment.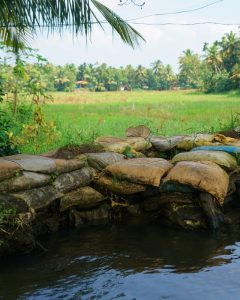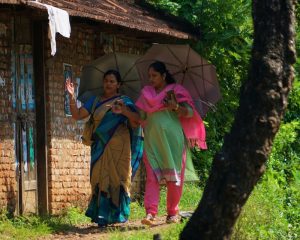 We were cruising for almost two hours. The only problem is the noises made by the two Polish ladies who talked non-stop. I wished they had shut so that I could have enjoyed the soothing sound made by the boat skimming smoothly through the water.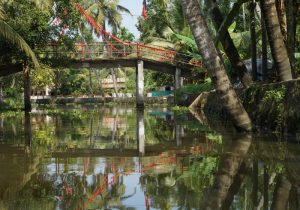 Today, I was on a slow lane getting a feel of life in this region for centuries. Ladies wash clothes in front of their house, men load bags of rice on and off a barge, locals sit in front of their house and children with a happy face walk along the canals to school. Some men work in the field.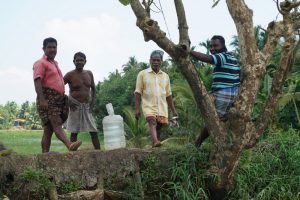 I looked at my google map to chart the route. As I had not written down the names of the main landmarks, I could not ascertain the exact route the boat had taken. But I remember passing by St Antony's Hospital established in 1957, many churches, a couple of mosques and hindu temples and a smart looking "xx Higher Secondary School, Kuttamangalam".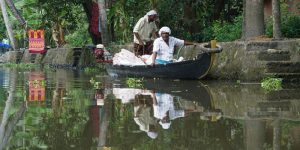 Around 1pm, we stopped at a village for a snack. Though we were supposed to stay for 20 minutes, we ended up spending like an hour. We ordered juice, tea or coconut juice. I paid 70 rupees for pineapple juice. In this part of India, it would be better to take coconut juice which only costs 35 rupees.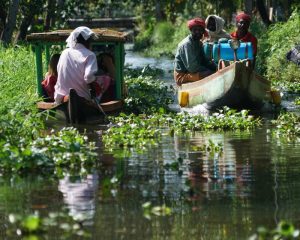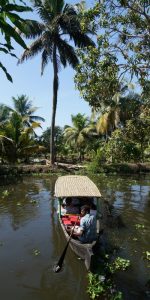 We took a shortcut back to the starting point of the boat cruise. Around 3pm, we had lunch on a banana leave: fish curry, rice, chutney and salad etc. Around 4:30pm, we hopped on the ferry and I got off at the terminal at North Canal before 5:30pm.
I met an English couple who highly recommended the Halais Retaurant on the South Canal. I always love to see the night life of a place. So I walked along the main street which is lined with shops of all kinds. The whole area is lively and brightly lit up swarmed with pedestrains, cars and tuk-tuks.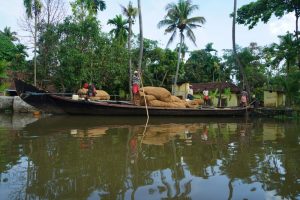 I stopped at the Vishnu Temple on Mullackal Road to watch devotees coming in for an evening ritual. Candles stands line the walls of Hindu temples in Kerala: in the evening, the candles are lit up giving the temple a warm yet mystical atmosphere.
Afterwards, I followed the south canal road to Halais Restaurant. It was about 7 pm when I had a chicken biryani and mint tea. It is the best biryani I had on this trip. I paid 200 rupees for the dinner and 80 rupees for a tuk-tuk to the house. A great and relaxing day!
December 7 Thursday: Alappuzha – Munnar by bus (170km)
The bus terminal is located on the other side of the north canal. Without luggage, I can cross the bridge and walk to the terminal within ten minutes. But with a heavy suitcase,  I had to take a tuk-tuk for 70 rupees. The A/C Volvo bus which looks new and in good conditions, departed at 9am for Munnar. The bus fare is 354 rupees. Very cheap!
Kerala lying on the windward side of the Western Ghats, has a long chain of lush mist-clad hill stations. Munnar situated at the confluence of three mountain streams, 1600m above sea level, was once the summer resort of the British government in South India. Today, it is a popular resort town owing to its cool climate and picturesque lush green mountains, waterfalls, villages and sprawling tea plantations.  I had a wonderful scenic ride. But too many oversized buses and trucks are travelling on the narrow and winding country road which must have been constructed during the British Raj days. Drivers all seem to be going at full speed. On several  occasions, I thought we would have a head-on collision!  At one particularly narrow bend, our bus  encountered another A/C bus. As a result, both drivers took 20 minutes to navigate to get pass each other! I sighed with relief when I arrived at the Munnar bus terminal at 3:30pm. Six and a half hours to cover 150km!
I had not booked a place to stay. A tuk-tuk driver, Mani, offered to take me to a very clean homestay nearby. He kept his words: the Nirimala Homestay near Mount Carmel Church is super clean with a beautiful garden, a fish pond and a couple of parrots in a cage.  The host asked 900 rupees for a non A/C room. It suits me perfectly as I do not like air-conditioning. Anyway, Munnar is cool: the temperature in the evening is below 20C.
I walked downhill and reached the city centre within five minutes. I had an early dinner (biryani again) in the covered market. I was very full and walked uphill to visit a Hindu temple dedicated to Krishna before returning to the house around 7pm. I met a retired French couple who stayed in the room next to mine and would spend five months exploring South India. I would love to do something similar if I find a compatible travel companion.
December 8 Friday: Munnar – Fort Kochi by bus (140km)
Mani picked me up before 8:30am and took me on a five hours' drive for 1200 rupees. He stopped whenever I wanted in addition to the standard photo stops including the Mattupetty Dam, Echo Point, Kundala Dam Lake and the Top Station.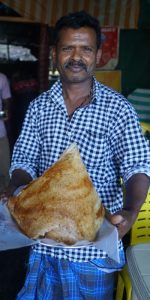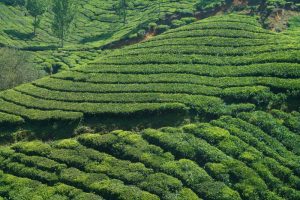 I had a great time. First, the best dosa at Echo Point. I had a great breakfast with dosa, roti and chai for breakfast (80 rupees). 
Second, the tea plantations. They are beautiful and picturesque. I stopped in one of the plantations to watch locals to pick tea leaves. But it is sad to learn that the ladies are exploited and underpaid: 300 rupees a day for picking 30kg of leaves. If they hand in more, they get extra.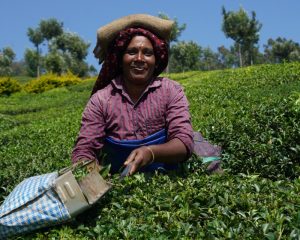 Third, I was mesmerising at the sight of a lovely lush green valley under cultivation. Above the valley was mist and clouds covering mountain ranges. It is beautiful, tranquil and peaceful.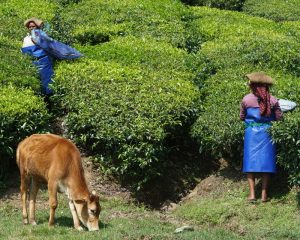 Mani dropped me off at the bus station and was glad when I gave him a tip in addition to the agreed price. He is a nice guy and showed me a photo of his kids.
While waiting of the bus, I met a young couple, Christ (German) and Elisabeth (American) who came on a day trip from Fort Kochi without realising that it would take six hours one way. The bus cost only 267 rupees. The bus left at 2pm and we did not arrive in Fort Kochi till 7:30pm! Hence, they had spent over 11 hours on the road!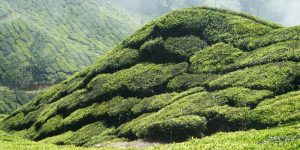 I booked a room at Pod Cochin Homestay which was recommended by the Polish ladies on the boat cruise in Alappuzha. As the house is located on the main road, the bus driver kindly let me off close to the house. I was net by the owner Joseph and his wife Jennifer who is Chinese from Hong Kong. What a small world!
It was 8:30 pm when I walked to Fusion Bay which is said to be one of the best restaurants in Kochi. Then I ran into Christ and Elisabeth and we had a great time. Chris teaches art history and is now based in France. He highly recommends the art biennial in Fort Kochi, the next one will take place from December 12, 2018 to March 29, 2019. They paid for me as their guest. They are too kind and I hope to meet them up again.