TMB Day 11-14 Pontet to Mont Blanc August  15- 18, 2017

Day 11 Tuesday: Rest Day
I got up at 7am and was delighted to see the blue sky again. I joined Dimitra and Jeremy and took a cable car ride to 1900m (€14 return) with good views of Mont Blanc. There are many hiking trails. Dimitra walked all the way to the peak of Mont Joly (2525m). I took an easy one and reached just above 2200m.
I sat on the grass for a long time enjoying the view of Mont Blanc and the pristine scenery. I was so happy that I celebrated with a glass of kir (€4.50). When I saw the cloud coming in, I began my descent at 1:15pm. I was back in the campsite an hour later.

After having a cup of tea and a rest, I walked to Les Contamines (1164m), a lovely village with a pretty old church. I headed back to the campsite at 5pm. We had paella in the restaurant. I must be hungry and missed my rice: I had several helpings finishing about four bowls of rice! My feet were tired and I wondered whether I could walk another 18km the next day.
Day 12: Pontet to Les Houches (est 14km 1200m up about 500m down)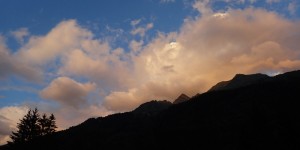 I was glad it's the last time I packed my tent: I finally managed to do it on my own without assistance! After breakfast, we set off shortly after 8am and walked towards Les Contamines. We began our ascent next to the church and steadily climbed some 600m for the next two hours.
The weather was fine and I enjoyed the walk through the woods. We reached Chalet du Truc at 1720m without problem. Then we dropped 200m to a beautiful valley with wild flowers, Chalet de Miage (1560m) with fantastic view of Mont Blanc and hanging glacier. It was after 11am and I had a nice coffee looking at Mont Blanc and the hanging glacier.
Then we began a steady climb of 600m to reach Col de Tricot (2119m) where we had lunch. Afterwards, we descended close to the snout of the Glacier de Bionnassay with good views of the north side of the Mont Blanc massif.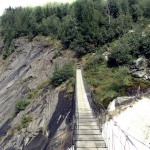 After reaching the Col de Voza (1652m), we re-entered the Chamonix valley. We soon arrived at the Bellevue plateau (1800m). Instead of spending 90 minutes walking downhill to Les Houches, Ed, Jayne, Jeremy, Huguette and I took the cable car (€11,90 for senior citizens). I had two beers while waiting for the young energetic hikers to arrive. We took the 4:25pm bus to our campsite at Les Bossons – the crime scene where I had the allergy incident on Day 1 and was take to hospital right away.
I was concerned but remained calm. I do not know the cause and there's not much I can do. Anyway, I did not walk bare-footed and had long-sleeved shirt on all the time.
Day 13: Hiking to Le Brévent(8/9km; 1480m up)
Today, we took the Grand Balcon trail starting from Les Bossons on the north side of the Chamonix Valley and ending at Le Brévent (2525m). We had an early start before 8am. I spent over an hour and a half walking through thick pine forest. Once I got out of the forest, I began to enjoy full views of the Mont Blanc massif.
Around 11:30am, I reached the Bellachat Refuge (2152m). I had lunch while gazing at Mont Blanc.  Jim urged me to move on: I walked slowly but steadily on a well-trodden path for the next two hours before reaching Le Brévent just before 1:30pm. I saw Lac du Brévent(2159m) from the ridge.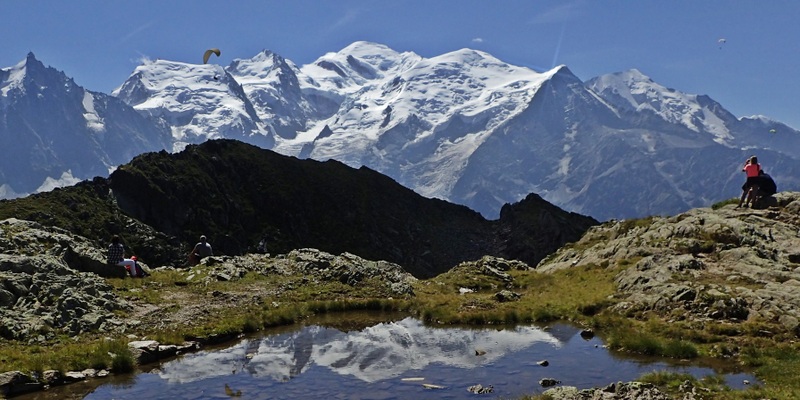 Jim opened a bottle of champagne celebrating happy ending of our TMB trek. While the group walked down to Plan Praz (1970m) to take the téléférique to Chamonix, I used Robyn's cable car ticket which took me all the way down to Chamonix. I spent almost two hours at the top enjoying the 360ºmountain views and had a Mont Blanc beer (€7) in the restaurant. I left the top after 3:30pm. But it was almost 5pm when I was back in the campsite as I had to wait for the bus.
Day 14:Mont Blancby Cable Car; Geneva, Switzerland – Venice, Italy
I had a full day before taking an evening flight to Venice. Getting up around 6am, I joined Dimitra, Jeremy, Leah and Paul to discover the massif by cable car. We took the 7:09am bus to Chamonix and were already on our way up by 8 am. I paid €89 for the cable car ride which is the most scenic and value-for-money ride I have ever had!
I cannot stop admiring the engineering achievements and visions of the French and Italian in constructing this magnificent project linking the two countries. The idea of a cable car to the summit, the Téléphérique de l'Aiguille du Midi, was originally proposed around 1909 but did not come into operation until 1955. It is still the highest vertical ascent cable car in the world, from 1035m to 3842m. The system on the French side was fully modernised in 1979 and upgraded again in 2008.
My first ride took me from Chamonix to Plan de l'Aiguille (2317m) followed by a 10-minute vertical rise to Aiguille du Midi (3842m) on which a modern fortress for sightseers and skiers has been constructed. I had to put on my down jacket, wind breaker, wind-proof pants and gloves to keep me warm.
A lift took me to the Summit Area and the 3842 Terrace which afford the best panoramic views of Mont Blanc and the massif.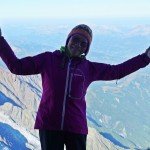 The French are creative: they have come up with a unique glass sky walk experience – "The Step Into The Void" for visitors standing in a glass platform which is 1035m above the glacier. It can be a thrilling or most scary experience! First opened in December 2013, it is very popular with tourists. I handed my camera to a staff who took a few photos for me. I also walked in "The Pipe" – a 32m long steel gallery giving complete access circuit around the central pillar of the without backtracking.
Then I hopped onto the "Panoramic Mont Blanc Gondola" providing a 5km-long scenic ride over the Vallée Blanc with full views of the glaciers, ice-falls and crevasses before landing in the Point Helbronner (3462m) in Italy. I saw a few tents and many people walking on the glacier.
| | |
| --- | --- |
| | |
I look with amazement at the state-of-art new Italian building with cantilevered terraces. The structure has been developed using high performance materials of titanium panelling, zinc plated steel and exceptionally tempered glass. I visited the crystal museum and went to the top level with a 14m diameter circular terrace providing 360º panorama with views of Mont Blanc, the Dent du Géant, Les Grandes Jorasses and the Vallée Blanc. Unfortunately the cloud had come in covering Mont Blanc. After having a coffee in the cafe, I took the elevator down to the Torino Hut with access to the glacier. I had walked on and slept in a tent in the glacier in Greenland. So I moved on without venturing onto the slippery glacier.
I headed back to the French side after 11:30am. The queue was longer now and I had to wait for over 20 minutes for the gondola which can take up to four persons. By the time I was back in Chamonix, it was 1:15pm. Perfect timing.
I made my way to meet up with the friends for lunch. I had mussels which were small but tasty. It was almost 4pm when I got back to the campsite. I was told to wait for a minibus at 5pm. But it never came. Then Matt found out from Mark who booked the transfer that the minibus would come at 6:20pm. Suddenly the sky darkened with thunder and lightning. A storm was coming.
I was worried as the rain could cause chaos and I might miss my flight to Venice. I had missed my flight from Hong Kong to Beijing once owing to torrential rain. I was relieved when the minibus finally turned up around 6:40pm. I was finally on my way to the airport.
The traffic was smooth as there was no rain once we left the Chamonix Valley. I arrived at the airport an hour later. But I had to queue almost half an hour to drop bag at the Easy-jet counter. Ridiculous! The gate in section D is far away. As a result, it took me some 20 minutes to get to the gate. The plane was delayed for half an hour and I did not arrive in Venice till 11:15pm. I had to queue over 15 minutes for a taxi though the hotel is nearby. The 4-minute taxi cost me for €20 (a fixed rate).
I had an exhausting day! After having spent 12 nights in a tent, I was happy to be able to spread my stuff all over the room and slipped into a comfortable warm bed for a change!
Remarks (to add)