TMB Day 1 – 4 Les Bossons to Champex-Lac August 5 – 8, 2017
Why Tour du Mont Blanc (TMB)
On completion of the GR20 trek last September, Jo, our guide, encouraged to take on the TMB which is beautiful and not as challenging as GR20. She said the 15-day camping trek with stay in many beautiful campsites and more rest days would be an excellent way to fully appreciate the massif. My success in summitting Mt Kilimanjaro last November gave me further boost in confidence. I therefore booked this camping trek with Exodus in early 2017. But as I planned to join another Exodus trek in Dolomite starting on August 19, I decided to leave the group on August 18 instead. Hence I only had 14 days with the group.
Mont Blanc meaning "White Mountain" standing at 4,808m, is the highest mountain in the Alps and the highest in Europe west of Russia's Caucasus peaks. The mountain lies in the Graian Alps, between the regions of Aosta Valley, Italy and Savoie and Haute-Savoie, France. The summit is located on the watershed line between the valleys of Ferret and Veny in Italy and the valleys of Montjoie and Arve in France. The three towns and their communes that surround Mont Blanc are Courmayeur in Italy, and Saint-Gervais-les-Bains and Chamonix in France. A cable car ascends and crosses the mountain range from Courmayeur to Chamonix through the Col du Géant. The 11.6km Mont Blanc Tunnel constructed between 1957 and 1965 running beneath the mountain, is a major trans-Alpine transport route.
The TMB circling the Mont Blanc massif is one of the most popular long-distance walks in Europe covering roughly 170km with 10km of ascent/descent and passes through parts of France, Italy and Switzerland. The trek can take anywhere between 5 and 12 days to complete. Each day can involve a significant ascent up to 1000m and a similar descent.
I have been looking forward to this classic trek. Unfortunately my knees, legs and hip started to trouble me around April and I had no training before leaving Hong Kong. Can I complete the TMB? I wonder. Anyway, I am not over concerned: I would go ahead, enjoy the landscape and scenery and walk if I can. C'est la vie!
Day 1 Saturday: Geneva – Les Bossons – Sallanches Hosptial: Day of DRAMA & TRAUMA
I made my way with excitement to the Geneva Airport to meet up with the group at 11:30am. Things ran smoothly and I had a free 75-minute ride to the first campsite at Les Bossons (1012m), France. It was a hot sunny day with temperature hovering around 30ºC.
I arrived at Camping Les Marmottes around 1:45pm and was greeted by Jim, the expedition leader and Matt, the deputy who provides logistic support including driving, cooking, setting up tents etc (a super man). Matt had already set up a dining tents with tea, fruits and biscuits on the table. A dozen of sleeping tents in a semi-circle was neatly set up under the trees. I had a tent on my own.
Jim told us to relax and to visit Chamonix before dinner. I was bitten by insects as soon as I had my shoes taken off. It's itchy. I had no lunch and picked an apricot from the bowl. On the first bite, I felt a sting on my tongue. I took it out immediately but could not see any insect. Then I had a biscuit. After a small bite, I felt an even sharper 'sting' feel on my tongue which seemed to be swelling. My horrible experience in Yosemite National Park few years ago sprang to my mind. Had I been bitten by a wasp again as there were several wasps flying around. I asked Jim to take a look at my tongue to see whether he could spot something unusual. He said 'Nothing'.
SOMETHING MUST BE WRONG. Within 15 minutes, hives appeared on my arms, then my neck and body. It was so itchy that I could not stop stretching. I know I am allergic to insect bites but I have ever experienced this before. Jim suggested me take antihistamines. Robyn, a nurse who sat next to me immediately told me to go to hospital. My instinct was 'go to hospital now'. Fortunately the emergency clinic is only 3km away. By the time I arrived at the emergency clinic in Chamonix before 3pm, I was sweating and could feel my chest heavy and tight. But I knew it's not heart attack.
The nurse took my blood pressure which was shockingly low at 80/50. The oxygen level was around 70. I was put on drip immediately but the blood pressure remained roughly the same for the next three hours. The doctor told the nurse to put on an oxygen machine an hour later. What's the problem? The doctor could only say it's allergy. But whether it's caused by insect or food, the treatment would be the same.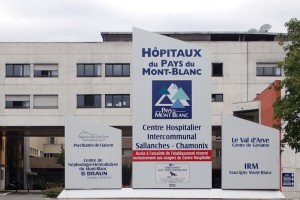 As the clinic would be closed at 8pm, I was transferred by ambulance to the region hospital at Sallanches after paying a bill of €50,32. I was admitted to Hopitaux du Pays du Mont Blanc at 6:19pm. By now,60-70% of my body was covered with skin bumps and welts. This's the second time I am hospitalised. The first time was on Ch ristmas eve 1996 when I was suddenly unable to walk. I ended up spending almost a week in the Eastern Hospital in Hong Kong.
By 7pm, my blood pressure began to rise and gradually returned to 110/70-80 in the evening. I continued to be on drip and oxygen machine till 8am the next day. I spent a night in Room 2 with an elderly lady from a retirement home. The room is spacious and well-equipped with views of the valley. I had a decent dinner with chicken and vegetable. Before going to bed, I called Jim to give him an update on my condition and told him not to worry. As I would not be discharged early enough to join the group hike, I would make my own way to the campsite. When the nurse came around midnight to take blood pressure reading, I was still awake. Anyway, I had a decent sleep though I had to get up three times to go the toilet.
Day 2 Sunday: Sallenches – Mont Blanc Express to Montroc
It was cloudy and cold when I woke up. Doctor Julie came round after 10am and said I could leave. She gave me a prescription and told me to take medication for two more days. She said the rash which might last a few more days, was not a problem. But if I suddenly had problems with my throat and breathing, I should give myself an injection of 'anapen/epinephrin pen' and go to hospital immediately. I was told to stay somewhere with easy accessibility and not the mountain.To my HORROR, I had to pay a medical bill of €1111 before leaving the hospital at 12:49pm.
I took the train to the campsite at Montroc (1252m) to meet up with the group (the ticket cost €8,40). I found my way without problem and was met by Matt around 3pm. From my tent, I could see Aiguille Verte and d'Argentière and glaciers on the opposite side of the valley. The weather had improved. Matt suggested me take a 20-minute walk to Argentière, a lovely picturesque village with Aiguille d'Argentière and glacier as backdrop. I like this small village: the interior of the Saint Peter's Church (1724) is most beautiful and the old houses are charming. There was a village fair with children playing in front of the church. It's lively but not touristic.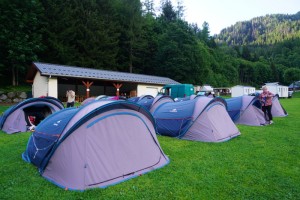 I returned to the campsite after 6:15pm and had a quick shower. Now I met my hiking mates: Leah from Ireland, Ed and Huguette from Canada; Deniz, Francis and Robyn from Australia, and Dimitra, Jayne, Jeremy, Norma and Paul from the UK. The oldest is 70 while Matt, our deputy leader is at 26. We had a buffet dinner in the hotel: I enjoyed my dinner after blend hospital food.
Tonight, the valley was bathing in moonlight. First, I watched the moon breaking through the clouds on my way to my tent after 10pm. As usual, I do not sleep well camping unless I am dead tired. When I came out of the tent in the middle of the night, I was surprised that air was not cold. The sight of the moon lifted my spirit.
Day 3 Monday: Chamonix – Mont Blanc Express to Le Châtelard Frontière– Bus to Tirent
I followed Dr Julie's advice and made my own way to meet up with the group by road. The group set off after 8:30am. Matt gave me a lift to Chamonix (1012m) where I could find a pharmacy.
Chamonix, the site of the first Winter Olympics in 1924, has been a popular resort in the Haute-Savoie region. It was part of the historical land of Savoy emerged as the feudal territory of the House of Savoy during the 11th to 14th centuries. The historical territory is now shared between the modern countries of France, Italy and Switzerland. Chamonix has grown from a market town in the early 19th century to become a centre for French mountaineering, winter sports and holiday makers.
After having bought the prescribed drug, I spent two hours strolling around this touristic resort town full of hotels, old historic buildings, shops selling mountaineering and sport equipment and clothing, eateries and restaurants. I saw Mont Blanc from the village. In the centre of the town is a monument with Horace-Bénédict de Saussure  (1740-1799) who was often called the founder of Alpinism and modern meteorology and considered to be the first person to build a successful solar oven and Jacques Balmat (1762-1834), a mountaineer who made the first ascent of Mont Blanc with physician Michel-Gabriel Paccard on August 8, 1786.
I took the 12:54pm Mont Blanc Express to Vallorcine (the last station on the French side). As I had a free bus/train pass, I did not need to pay to travel in the valley. But I had to buy a ticket to go to the Le Châtelard Frontière station (€1,40). The Swiss train is located on the adjacent platform: a seamless transit!
I crossed the border and was in Switzerland before 2pm. The bus to Trient (1300m) did not leave till 2:30pm. Switzerland is expensive: this 10-minute ride cost CHF8.40!
Our campsite in Peutly is a short distance from Trient, a small village with a population of less than 200. I walked along the river and found the campsite easily as Matt had already set up our tents. It was 3pm and the weather was lovely: sunny and warm. I spent the rest of the afternoon exploring the valley which is bounded by mountains on all sides with Trient's pretty pink church perching on a mound hill in the middle of this narrow valley. This village camp ground is free and does not offer shower facilities. But I find it most appealing and peaceful.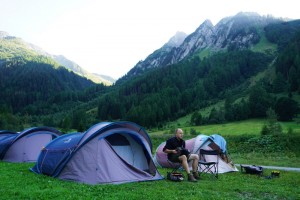 The group also had a wonderful day with superb views of the Chamonix Valley and Mont Blanc before crossing the Col de Balme (2191m) into Switzerland. They arrived after 5pm. We had a lovely dinner in the hotel in the village. On my way back to the campsite, I watched the moon rising: the full moon lit up the valley. Atmospheric!
Day 4 Tuesday: Trient – Bus to Le Châtelard Frontière – Mont Blanc Express to Martingy – Train to Orsière – Bus to Champex-Lac
We had terrible weather: it began raining heavily with thunder after 6am. I had great trouble in taking the tent down for the first time. Norma came to my rescue. By the time I finished packing my tent, I was soaking wet without appetite for breakfast.
Today, I was joined by Francis who did not want to walk in the rain. We spent a total of CHF44.60 on public transportation to get to our next camp at Champex-Lac. First, I had to take a bus to Le Châtelard Frontière train station (CHF6.80) in order to catch the Mont Blanc Express to Martigny (CHF19.60). We made a mistake and watched the train went by at 9:52am. We waited for an hour for the next train. Luckily the sky cleared up when we were on the train. It's a most scenic ride through the Alpine mountains.
| | |
| --- | --- |
| | |
It was raining again when we arrived in Martigny. Francis was not keen to walk around in the rain. We therefore boarded a local train on the next platform to Orsière (CHF11.40) from where we took a bus to Champex – Lac (CHF6.80). We arrived at the centre of Champex – Lac around 12:45pm. It was still raining. We spent the next two and a half hours in a restaurant. I had two glasses of wine while Francis had two Irish coffee and a salad. I loved to take a walk around the lake. The bad weather made this impossible.
Shortly after 2:15pm, we spotted Matt's van speeding past. We settled the bill and walked to the campsite. It was around 3pm: I was surprised to find the group already at the campsite. Our friends were all wet and cold! We had dinner at 7pm. It was Jim's birthday and we sang "Happy Birthday". The weather gradually improved and the rain stopped after dinner.
I took a short walk to the village and had a quick glimpse of the lake before going to bed. I felt better after some exercise. It rained heavily the whole night.