Rome & Campania October 7 – 12, 2016
October 6 Thursday: Bonifacio, Corsica – Sta Teresa, Sardinia – Oblia
My ferry departed Bonifacio at 11:30am. It was cloudy and windy with showers. I landed in Sta Teresa before 12:30pm and had to find my way to the bus station on the upper part of the town. The last bus had already departed at 12:05pm and the next one would be leaving at 3:50pm. So I had a set lunch with pasta, meat and wine for €18 in a family restaurant near the Town Hall. The town is quiet with a small colourful centre just above the entrance to the harbour. I did not bother to pay to get into the watch tower nor to walk to the beach below. I had a good ice cream before heading back to the restaurant to pick up my luggage.
Oblia is about 60km from Sta Teresa. I paid €5,40 for the bus ride and got off right at the port around 6pm. The port was busy with four boats in. Boarding commenced at 7:30pm though the boat would not be sailing till 10:30pm. I tried to get a bed/cabin without success. It's not the high season but all cabins had been taken! I could not believe it.
There are plenty of lounges with comfortable big seats. But many Italians were well-prepared bringing their own air mattress. Some occupied a bench turning it into their bed. I tried to get to sleep in my seat without success. At the end, I went to the deck and found a quiet and sheltered corner. The wind, though not warm, was not chilly. I took my down sleep bag and an eye-shade out of my suitcase and slept on the bench on the deck till 5am. The last time I slept on a deck was on the boat from Piraeus, Greece to Brindisi in Italy 36 years ago. Luckily, I survive despite my age!
October 7 Friday: Civitavecchia – Rome
I got up when the boat was approaching the port of Civitavecchia which looks enormous with dozens of berths for containers and cruise boats. I disembarked at 6am. A free shuttle bus dropped passengers at the gate of the port. It was wet and cold. I walked slowly with my luggage and finally reached the station before 6:30am. By the time I got a ticket (€5), the 6:37am train to Rome had already gone.
I took the next one at 7:02am and arrived in the terminal before 8:30am. I found Hotel Marsala on Via Marsala next to the terminal without problem.
The hotel owner was kind and let me have my room as soon as the guest had checked out. After having a shower, I felt much better and went out immediately so that someone could come in to clean the room.
I felt tired and did not want to exhaust myself. I strolled around the area close to the railway station and saw a brick red dome in a distance. From the map, I knew it's the Basilica of St Mary of the Angels and the Martyrs. I entered it through a side door and was immediately captivated by its unique shape, form and atmosphere. First, I was amazed to find a meridian line on the floor. It was commissioned by Pope Clement XI and completed in 1702. Second, I sensed it was built on some sort of ruins: Michelangelo worked in 1563-64 to adapt a section of the baths of Diocletian to enclose a church dedicated to the Christian martyrs. Third, the subsequent reading enables me to understand why the building is striking and unique. Michelangelo had achieved an unexampled sequence of shaped architectural spaces with few precedents or followers. There is no true facade and the simple setting is set within one of the covered apses of a main space of the thermae.
When I tried to take my compact camera out of my handbag, I discovered it's gone. I had taken pictures in Sta Teresa. Did I drop it somewhere or was it stolen? I don't know. Luckily all the photos on Corsica except the last few days had been downloaded to my computer. I could not report loss till I reached Montefalcone di Valfortore.
I exited the Basilica from its main entrance which is right at the Piazza Repubblica. I followed Via Nationale for less than 100m and spotted a restaurant with grilled lamb chop as its daily special. I love lamb and decided to have an early lunch. The meat was delicious and I paid less than €18 for a set menu with a main course and dessert and a glass of beer. Very reasonable!
Time to return to the hotel for siesta. I took a side street and suddenly saw the Teatro Dell'Opera di Roma. Tickets for the coming season were on sale today. I was thrilled to find out that Un Ballo in Maschera by Giuseppe Verdi would be performed on October 18. I queued for an hour and got an excellent I seat on Row 6 for €115. I was lucky! I also visited the Basilica in Via Marsala next to my hotel and saw an advertisement of a free concert at 6pm in the Basilica di San Nicola on Via del Teatro di Marcello.
I had a wonderful nap for two hours. At 4pm, I made my way to the concert venue by taking a bus (€1.50 for a single ticket). I saw the heart of Rome on bus. As I had time, I visited the Church of Santa Maria in Cosmedin and found a long queue at the Bocca della Verità (The Mouth of Truth) with keen tourists waiting for their turn for a photo with their hand inside the mouth of the stone lion. If he/she is not telling the truth, his/her hand will be beaten off! This is one of the places Audrey Hepburn and Gregory Peck visited in the classic film Roman Holiday (1953).
I arrived at the Basilica di San Nicola before 6pm. Francessa Simonelli, the soprano and Federico Corsetto sang 12 songs including Ave Maria thrice. The acoustic is good and the soprano had a powerful and touching voice. Unfortunately, I had to wait more than half an hour for the bus and was not back in the hotel till 8:30pm.
A Private Group Tour in Southern Italy October 8 – 17
In end March, I was in Lofoten for the second time for its an annual fishing competition. I stayed in a BnB run by Ben (an Italian) and Neil (a Norwegian). Ben is passionate and lively. He told me about his BnB in Montefalcone di Valfortore in Campania. As I had a gap after my trip to Corsica, I contacted Ben to see whether I could visit him. He suggested me join a tour from September 30 to October 2 he had organised for a Norwegian group. As my hiking trip would not end till October 2, I could not join. He then proposed to organise a tour for me after October 8. My Hong Kong friends Bing, Aliena and Rupert decided to join. In the end, Ben worked out an interesting itinerary to Campania, Southern Italy from October 8 to 17.
Campania (meaning fertile countryside) is a region in Southern Italy with an area of 13,590km² and a population of about 6 million. Naples is its capital city. Original inhabitants were ancient people of Italy including the Cumaeans from Euboea in Greece and the Samnites moving down from central Italy. They all spoke the Oscan language. The region was first colonised by ancient Greeks. During the Roman era, the area maintained a Greco-Roman culture. In 79AD, Mt Vesuvius erupted and buried the cities of Pompeii and Herculaneum. Campania is especially rich in culture especially in regard to architecture, archeological and ancient sites. It now boasts five World Heritage Sites including the Historical Centre of Naples, Pompeii, Caserta, Amalfi Coast and Salerno.
October 8 Saturday: Rome – Montefalcone di Valfortore
Bing, Aliena and Rupert arrived at the airport in Rome just before 8am. Ben arranged a limo to pick them up and they arrived at our meeting place on Via Marsala before 9am. As Ben would not be meeting us till 11:30am, I suggested my friends take a morning walk around Piazza Repubblica while I kept an eye on their luggage. Ben turned up at 11am after seeing his Norwegian group off at the railway station. Things were smoothly and we set off in a 7-seater vehicle with Antonio, Ben's relative as the driver around 11:15am.
We had a pleasant ride as the weather was perfect. On the way to Montefalcone di Valfortore which perches on a hill with an elevation of about 1200m, we passed by many vineyards and fertile fields on hillsides and in the valleys. The main crops are tobacco, maize and tomatoes. We were surprised to find an expansive wind-farm which according to Ben is the largest one in Europe.
Around 2pm, we arrived in the village with a small population of 1,200. Ben's BnB opened since 2012 is a lovely white-washed villa with a pretty courtyard with lots of plants. We had a self-contained apartment on two floors with three bedrooms, a spacious sitting and dining room, kitchen and a veranda. Carmala, Antonio's wife and Ben's cousin, is our housekeeper and chef for the entire trip. His 82-year-old grandma dropped to welcome us. They made us feel at home. We had a relaxing afternoon resting and doing nothing.
Before dinner, Ben briefed us about the travel plan and we decided to take a food course and a wine tasting tour. Carmala is an excellent cook who is obsessed by healthy eating and traditional cooking. She uses organic produce from the area: we had local white and red wine, olive, tomato sauce, cheese and home-made sausage. After a light and delicious dinner, my friends from Hong Kong were ready for bed. I stayed in my cosy room to work on the travel notes till midnight.
October 9 Sunday: Montefalcone di Valfortore
My friends had no jet lag and were up at 7am. It's Sunday and the place was dead quiet. We had breakfast at 9am and Ben took us on a historical and cultural walk in this medieval village. Divided into the north and south parts, it has three churches. We climbed up many flights of steep staircases with uneven steps before reaching the ruins which afford commanding views of the valleys and a sea of wind turbines. The hillsides which have been under intensive cultivation for centuries, look like artful patchwork.
What impresses me most is the village's rustic but intimate atmosphere. Ben stopped every ten steps to greet well-dressed elderly ladies on their way to the church. It's amazing to see the locals in their 70s and 80s walking up and down the steep staircases with ease. We also noticed many houses were put on sale. Ben said that a small derelict house might be around €10-20,000. But the buyer has to spend a fortune to fix it up. Apparently, the village owing to its high altitude is a summer retreat. It is now trying to get a new lease of life by attracting new owners who might restore some of derelict houses for use as BnB. We met an owner who showed us her BnB with two/three rooms. Ben has brought a few abandoned old stone houses which would become BnB after renovation. I told him I would come for its opening!
| | |
| --- | --- |
| | |
We walked past another house when an elderly lady came out to greet us. She is 84. We asked her secret for longevity. Her answer is simple: she makes her own pasta and eats 100g of flour a day with meat and fish a few times a week. She showed us how easy to make pasta and gave us a pot of home-made tomato sauce when we left. We then went to the oldest church in the village which was packed. The highlight was the ruins at the top which affords panoramic views of the region.
We had lunch and a siesta. In the late afternoon, we walked to the other side of the village to visit a church, a cemetery and a school. On our way back, an old lady came out of her house to give me some apples from her garden. These villagers lead a simple life and must be pleased to see tourists taking an interest in their village.
October 10 Monday: Culinary Lesson & Visit to San Marco del Cavoti
In the morning, I watched the rising sun climbing up behind the mountain with the silhouette of countless wind turbines with mist in the valley below. Enchanting!
We had a 3-hour culinary lesson (€80) in the morning given by Ivanka, a Swiss lady of 75 and Carmala's mentor. She came here on holiday when she was 19, fell in love with the place and later married a local villager. She now lives with her 82-year-old husband while their two sons are in Switzerland.
The secret of a good pasta lies in the dough. We watched Ivanka putting flour on a wooden board (as big as a table), put an egg in the middle and how she used her hands, fingers, wrist and palm to make a dough which took less than five minutes. Like magic, she and Carmala used it to create several types of pasta including angel hair and tagliatelle, small ones in the shape of an ear and a hat. She also made a typical biscuit of the region using flour, egg, lemon juice, olive oil and a local liquor topped with grains of sugar. Finally they made a pizza. Aliena who likes cooking, is the best student. We had our home-made pasta for lunch.
The class was conducted in Carmala's self-contained flat below our sitting/dinner room. We were all impressed by the interior design and layout of her loft-like apartment with wooden beams, high ceiling and a basement. Ben had spent a few years seeking planning permission to build two more floors above the original structure and on renovation. Ben, his architect and Antonio have indeed done an excellent job!
After lunch, Antonio drove us to San Marco del Cavoti (about 30 minutes' drive from the village), the city of torrone (chocolate). One of the best-known places in Italy for torrone, this small city has around ten local companies engaged in the production of torrone. We were met by the boss of the factory with a workforce of 20 producing some 200kg of torrone a day. He explained how this hand-made chocolate with a dozen of flavours is made and packed. We could not stop tasting. I like the one with pistachio, nuts and fig most. We all brought some as souvenirs or Christmas presents.
| | |
| --- | --- |
| | |
Ben gave us a quick guided tour in this sleepy small city. Shops and offices were closed for siesta till 4-5pm. We walked past the main street with half a dozen torrone shops before passing through a medieval tower to reach the church which was closed. After enjoying a panoramic view of the area, we walked around the small town centre which has not much to see. We were glad to return to Montefalcone. As we had pasta for lunch, we had fish for dinner. Light and delicious!
October 11 Tuesday: Benevento
We had a full programme. In the morning, we spent over two hours in Benevento, the capital city of the province of Benevento which is about 90 minutes' drive from Montefalcone. We had a walking tour with Ben as our guide. Benevento occupies the site of ancient Beneventum (which originally called Maleventum). It was inhabited by native Samnites and later conquered by the Romans and the Longobards.
We were impressed by this city which main street is lined with stately and elegant mansions. The main attraction here is the Santa Sofia Church, one of the seven historic World Heritage Properties inscribed as Longobards in Italy (568-774 AD). There are still some frescoes with colours and roman pillars inside the church. Then we moved on to see other Roman monuments including the Arch of Truimph built after Roman victory, Roman baths and the Teatro de Benevento (€1,50).a theatre which is also the school to train gladiators.
| | |
| --- | --- |
| | |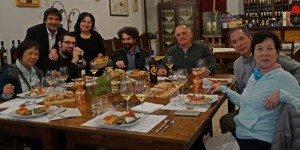 We had a picnic lunch. While we were enjoying our ice cream, cake and coffee in the main street, it started to rain. In the afternoon, Ben took us to visit a family-owned winery called Venditti. Campania is one of Italy's wine producing regions. The son showed us the 20 types of grapes they grow and how wine is made. The father is the engineer and the wine-maker. We tasted three types of wine including a nice red wine from 2011. Our excellent wine-tasting tour only cost €20 each. Rupert brought two bottles of the 2011 wine (€15 each). Excellent value!
We stopped at the Carabinieri in Montefalcone to file a loss report on my camera. I am impressed by the officer's efficiency. He gave us a nice surprise: each of us had a sounvenir (a police officer in clay for me, a small clay bag for Rupert and a wood cat for Bing).
October 12 Wednesday: Sepino, Altilia & Morocone
We visited three places today. First we went to Sepino, where the population of Altila relocated to after destruction of Altitla by earthquake. We had cafe in the Central Cafe and met some locals before visiting the St. Katherine Church which is a pilgrimage site with the remain of St Katherine.
We walked through this medieval village with narrow alleys and well-preserved stone houses.
Then we headed to the old city of Altilia which used to be a central town in the Roman times. The Samnites moved with their herd from the mountains of Abruzzo to the downlands of Puglia. The site is large and atmospheric with few visitors. We walked around the theatre, strolled outside the curved city walls and passed a mausoleum before reaching one of the main entrances with an impressive arch gate.
Like other Roman towns, it had a main road with shops on both sides. The stone foundations are still there. Then we reached the public areas with a restored temple with many columns next to the forum. After a picnic lunch, we strolled leisurely for a while before leaving for Morocone at 1:30pm.
Morocone, another village high up a hill built upon an old Samnite settlement. We were met by a local and his daughter who showed us their village again with steep and narrow alleys and staircases. We had coffee in a local pub which is atmospheric with old furniture and pictures. We also visited a community hall built upon the remains of an old church.
It's our last night in Montefalcone and we had to pack after dinner.