GR20: North Part from Calenzana to Corte September 19 – 26, 2016
Day 2 September 19 Monday: Calvi – Calenzana to Bonifatu (11km); Altitude gain +800m & loss –540m
We set off around 9am in a minibus which dropped us off at Calenzana(190m) the starting point of GR20. We were lucky with the weather and had blue sky sunshine.
We began our 11-day hike just before 10am taking agentle path uphill. We also had to several river crossings. After walking for a couple of hours, we arrived at Bocca au Corsu (586m) where we had a picnic lunch. I enjoyed the fantastic views of Balagne region and could see all the way to Calvi.

Then we left GR20 taking a side route for an overnight stay at Auberge de la Forêt de Bonifatu (718m). On our way, we spent half an hour by the river where some had their first dip. I did not want to get wet and was happy to rest in the shade watching the beautiful rocks around us.
I found my fellow hikers very fit and they all walk fast. As a slow walker with weak legs, I was always trailing far behind them. Simon insisted in walking behind me to make sure I would not be left behind. It took me a while to convince him to walk ahead if the path was clear and relatively safe. Otherwise, it would be too tiring for him to slow down and walk at my snail pace.
We then followed a shady path on the right side of the river which winds gently up the hill. After an hour's hike, we were back on the road and I arrived at the auberge at 3pm. The place is comfortable and cozy with a couple of chalets with bunk beds, a large camp ground, a toilet and shower block and a bar and restaurant. I shared a chalet with seven ladies of the group. We had a wholesome 3-course dinner. However the room was hot and I did not sleep well.
Day 3 September 20 Tuesday: Bonifatu to Haut Asco (12km); Altitude gain +1430m & loss –546m
Before setting off at 8am, Jo gave us a briefing. She pointed at a col in the far end of the valley and told us that would be the highest point of our hike today.
We first followed the river valley and crossed the river a few times. We made a steady ascent till arrival at the refuge at Carrozzu (1270m) at 10:45am. It's tough climb for me towards the end of the hike. We had a tea break for some 15 minutes.
The second part of the hike would be demanding as we had to climb over the Spasimata slabs. Jo told us to put away walking poles thus freeing our hands to hold onto cables while climbing and crossing the slabs. We should also walk closely together. After dropping about 100m from the refuge, we arrived at the famous 30m-long Spasimata footbridge suspending above a waterfall. I took some photos while waiting for my turn to cross the bridge.
Then we continued with our climb over rocky terrain for over an hour before reaching the Bocca Muvrella (1980m), the highest point of the day. I do not like rocks and boulders as I have to pull myself up or lowering myself down carefully. Today I used my four limbs to climb over the rocks in order to reach the pass. I moved slowly but made steady progress. But about 50m below the pass, I suddenly stepped on a loose rock and fell forward with my left knee hitting hard against the rock. A sharp pain shot through my knee and I sat down for five minutes wondering whether I could continue. I touched my knee and was relieved that it was not breeding and no bone was broken. Nonetheless, I could feel a big lump below my knee.
As soon as I reached the pass, I sat down to take a look at my left knee. It had swollen a bit and the bone looked bruised. After lunch, we followed a narrow path crossing more slabs before reaching another col which gave us our first glimpse of Monte Cinto and the valley below where we would stay for two nights.
Then we began our descent. The rocky and vertical path looks scary. Jo stayed at the back with me for the first half of the descent. I used my pole and my four limbs. Sometimes, I simply slided down.
My injured knee started to hurt. I took almost three hours to reach Gite-Hotel Le Chalet (1422m). Anyway, I was thankful that I managed to arrive safely at the destination at 5:30pm. I shared a dormitory with five members. After taking a hot shower, I applied Moov cream on my bruised left leg.
There are several lodges in Haut Asco which is a ski resort in winter. I had a delicious dinner with soup, lamb and Corsican cheese. I went to bed before 10pm and had a decent sleep until 7:30am. Though the bed looked clean, I was badly beaten by bed bugs.
Day 4September 21Wednesday: Haut Asco – Rest Day
Jo and Simon took the group on a short hike and swim nearby. But I did not join as I had to give my swollen knee time to heal. I took two tablets of Ibuprofene from Jo and hoped I would be fit for the long climb the following day. I sat in the sun massaging both knees from time to time. Things seemed to work though my knee was stiff and I could still feel a slight pain. Unfortunately, I could not sleep owing to noises in the dormitory and itchiness caused by bed bugs.
Day 5 September 22 Thursday: Haut Asco to Vallone (11km); Altitude gain +1380m & loss -1337m
I got up before 6am and had breakfast at 6:30am. We all had to carry a heavier backpack as we had no access to our luggage that evening. Jo told us that the hike to Bocca Crucetta (2600m) which is only 100m below Monte Cinto would take about five hours. Climbing Monte Cinto would take another two hours. Then the hike to Vallone would take 4-5 hours. It's a steep climb and we had to scramble for a couple of hours before reaching the foot of Monte Cinto.
We spent the next two hours traversing a hidden valley and climbing another 500m to reach Bocca Crucetta. I was exhausted but excited to reach the Bocca Crucetta highest point of the hike around 12:30pm. I had a sandwich while enjoying the amazing 360º views of the surrounding mountain ranges with rugged peaks and Calvi in a distance. The weather in the mountain is most changeable and unpredictable. Monte Cinto which was behind clouds and mist suddenly emerged when the mist was lifted.


Simon led a group of five to climb Monte Cinto while I followed Jo to hike to Vallone. It's a long and steep downhill hike over rocky and uneven terrains. Mike, Jeff and Phil were very kind giving me a hand to climb down.
After walking for about three hours without problem, I suddenly fell flat on the path about 100m from Refuge de Tighjettu (1683m). I had no idea why and how I had fallen. Anyway, my cap had saved me from hitting my head on the stony path. I got up and was surprised to find no injury. When I told Jo about my fall, she looked very worried. Mike brought us tea and hot chocolate. After a rest, we moved on.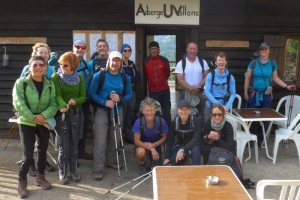 At 5:20pm, we arrived at Bergeries de Vallone (1440m) which offers stunning views of the surrounding mountains and the valleys below. I shared a spacious tent with Ella. We were surprised to find an excellent hot shower in this camp site. The toilet is clean too. We had a 3-course dinner and wine for dinner. I was exhausted and collapsed into the tent immediately after dinner. I did not get up till 6am the following morning.
Day 6 September 23 Friday: Vallone to Col di Verghio (12.3m); Altitude gain +900m & loss –950m
Another long though less demanding hiking day. I began the day at 9am with a gentle walk through a forest of giant Laricio pines. Then I had a long rocky climb to Bocca di Fuciale (1960m).
Once over the saddle, we walked towards the Ciotulu l Mori Refuge (1991m), beneath the distinctive Paglia Orba Peak (2525m). From here, we had great views down towards the Golu Valley.

I enjoyed the final stretch of the walk through a dense forest for a couple of hours was blissful. I went over the Col du Verghio (1484m) before reaching the Gîte-Hotel Castel di Vergio (1404m) at 5:20pm.

Owing to accumulated fatigue, I could hardly move by the time I walked into the dormitory. We had an excellent meal at the restaurant and Jane brought us nice red wine. As the toilet door in the dormitory could not be closed without a horrible noise, I was kept awake. A sleepless night!
Day 7 September 24 Saturday: Col du Verghio to Sega (23km); Altitude gain +900m & loss -1150m
I felt tired when I woke up. My left knee was still swollen and my legs were tired too. We had to carry our sleeping bag today as we would not see our luggage till we arrived at Corte. Luckily, though we had the longest walk today in terms of distance, it was a relative relaxing walk.
We had varied terrains today. We set off at 8am. I walked slowly but steadily hardly with any stop till I reached Bocca A Reta (1883m). The views of the mountains and Lac de Nino (1743m) below are magnificent.

We followed a gentle path to the lake which is very picturesque with meandering streams, little ponds (pozzines), green pasture, grazing horses and cows. Unfortunately, we had no time to stop to take a walk around the lake.
After half an hour's walk, we stopped for lunch. There are several farmsteads in the valley with beautiful foliage colours. After lunch, we followed the river course with big granite boulders and many swimming holes. The group stopped for a quick tip: Jeff, Steph, Jane and Ian jumped into the freezing cold water. Good for them!
We followed GR20 till Refuge de Manganu (1601m). Around 2pm, we turned left following the river valley all the way to the Refuge de Sega. We passed many woods with tall pine and silver birch trees, thick undergrowth of ferns and junipers. The woods with rocks covered with moss and tall tress and lush green , brown and golden colour undergrowth are atmospheric.
As it started to drizzle, I had to put my camera away and had hardly taken any photos of the river and the beautiful autumn colours. Towards the end of the 3-hour walk in the wood, we saw two impressive waterfalls and a couple of salamanders in black with big yellow spots. At 5:20pm, I reached the refuge which is surrounded by mountains at the end of a gorge. I was exhausted.
We had two dormitories for 12 persons. But as our room was smelly, Ella and I decided to sleep in a tent in the wood. I made the right decision. Both Ella and I had an excellent sleep. We were lucky to have Mike a senior staff of Exodus with us. His mission is to check out facilities and the route and discover new interesting routes. Mike is a great guy. Embarrassed by the appalling conditions of the accommodation we had, he treated us with free beer and wine! The food and the bar are good though.
Day 8 September 25 Sunday: Sega to Corte (14.4m); Altitude gain +620m & loss -1563m
I had set my alarm clock at 7am. But it did not work. By the time Ella woke up, it was 7:20am. We had a mad rush to get ourselves ready as we had to set off at 8am. I was quick, took my breakfast and was ready before 8am.
Today, I had one of the most enjoyable walks of the trip. Sega is in the middle of nowhere and the nearest town is Corte. The landscape of the gorge with rugged rocky mountains on both sides, is stunning. We followed a well-maintained footpath cutting through the rocky cliffs. We also had a nice lunch break by the river.
It's very hot and humid. I was glad to arrive at Hotel du Nord in the centre of Corte (486m) just after 2pm. I spent the rest of the afternoon working on my travel notes in my room. I joined my friends for dinner at 7pm and went to bed early.
Day 9 September 26 Monday: Corte – Rest Day
Corte is rich in history. Pascal Paoli chose it as the seat of the Corsican Nation from 1755 to 1769. Today, it is an university city and a cultural centre housing the Museum of Corsica. I did not get up till 8:30am and finished my breakfast just before 10am. I took a leisure stroll in the old town. My first stop was the Belvedere which affords a fantastic view of the citadel and the whole area. Unfortunately, I could not visit the Museum of Corsica which was closed.
I stopped at Pl Gaffory and the Church of Announciation. Then I walked aimlessly along the narrow alleys. The town has a distinct Italian feel and atmosphere with many dilapidated buildings.
I followed the road downhill and soon found myself at the old bridge over the Tavignano River. I returned to the town centre taking a different route which ends at Pl Paoli, a picturesque square with a statute of Paoli in the centre.
I spent the afternoon in the hotel giving my tired legs and knees a rest. I managed to finish the travel notes on Elba. At 8pm, I attended a group dinner hosted by Exodus and had a wonderful 3- course dinner. The first course with Corsican cold meat and sausages was so substantial that I could not eat any more. I decided to skip the second course. The manager insisted that I should have something. As a result, I had stir-fry vegetables and two scoops of ice cream. The Corsicans are friendly and welcoming.