Tokyo & Mount Fuji July 29 – August 3, 2016
Mount Fuji, the symbol of Japan is one of the few items on my bucket list. Setting off with seven friends on August 2, I reached the top with bliss the following morning. I then spent a week in exploring the Fuji Five Lakes, Nikko and Karuizawa.
Mt Fuji, the highest mountain in Japan at 3776m, a national symbol and one of the 'Three Holy Mountains' 三霊山, has been inscribed on the World Heritage List as a Cultural Sitesince 2013. As per UNESCO, Mt Fuji has 'inspired artists and poets and been the object of pilgrimage for centuries'. This World Heritage property consists of25 sitesof cultural interest within the Mt Fuji locality including the upper 1500-metre tier of the mountain, pilgrim routes, crater shrines and six other Sengen shrines around the base of the mountain, Fuji Five Lakes, eight Oschino Hakkai hot springs, two lave tree molds, the remains of the Fuji-ko cult in the Hitoana cave, Shiraito Falls, Miho no Matsubara pine tree grove and the Taisekiji temple complex. All these sites are revered as sacred.
Mt Fuji is open for hiking from July to early September. It is popular for hikers and pilgrims as it requires no technical skill for the hike. There are four trails (Yoshida, Fujinomiya, Gotemba and Subashiri) and hikers can reached the respective Fifth Station by car or climbers' bus. The Kawaguichiko-Yoshida-guchi trail is most popular and takes about six hours for ascent and three and a half for descent. The Fujinomiya trail is the shortest i.e. less than 4km and one can reach the top in five hours. The descend takes less than three hours. It is possible to reach the summit in a day. But many hikers spend a night in a mountain hut for acclimatisation purpose.
At the top of Mt Fuji, there is the rim of the crater (600m in diameter and 200m deep) that looks like a bowl, a 'hachi'. When connecting the eight peaks at the summit, it is shaped like the image of Sakyamuni seated in the form of a lotus flower thus making this walk more significant and symbolic. The 4-km Ohachi-meguri trail leading to the Kengamine Peak (3776m) takes an hour and a half.
Trip Planning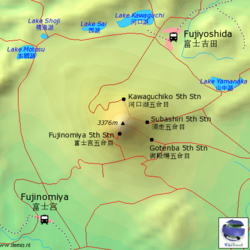 Mt Fuji has been on my 2016 list. Kai, my HKU classmate who is always super busy, indicated in January that he would be available in end July. Wini, my cousin living in Minnesota saw me in a family gathering in end February, expressed a keen interest in Mt Fuji. With two firm participants, I immediately contacted Miyo, my Japanese friend who found us a local company that provides guiding service. I was thrilled when Miyo decided to join. Our guide suggested the Fujinomiya Trail which is shorter,more scenic and less crowded.
At first, we had a group of seven – Kai, Elaine & HM, Judia, Miyo and I. The HK group brought tickets (about HK$3,500 pp) with Hong Kong Express, a budget airline. A week before departure, Donna, another HKU classmate decided to join but flew with another budget airline, Hong Kong Airline for over HK$5,000. Two days before departure, we brought a 5-day flex JR East Japan Pass for ¥17,000.
We finally formed agroup of eight: six from Hong Kong, Wini from the US and Miyo from Japan. We paid ¥17,000 and ¥7,500 for the guided hike and an overnight stay in a mountain hut with breakfast and dinner respectively.
July 30 Saturday: Hong Kong (GMT+8) – Tokyo, Japan (GMT+9) – A Travel Day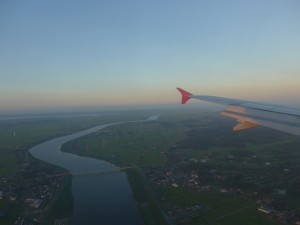 I left Hong Kong with Judia, Kai, Elaine and HM at 1pm after a light dim sum lunch at the airport. Given the time difference, we did not arrive at the Narita Airport till 7pm. As we had to buy drink and food on the plane, we decided not to eat till we reached Tokyo.
We spent half an hour at the airport to get the JR rail pass so that we could use it on the Narita Express to Shinjuku. We were lucky to get on the train before 8pm and arrived in Shinjuku around 9:15pm. But it is so large that it is not easy to our way to the west exit. Then we took a taxi to Tokyo Stay close to Shinjuku Central Park.
We were exhausted and hungry. By the time we found a local eatery, it was around 10:30pm. I had a rice bow with beef and eel, a beer and an ice-cream for ¥1,200 (¥1,00 for HK$75 at the time).When we returned to the hotel, Donna who took a later flight, arrived. Kai, Judia and I took her to the same place for dinner. By the time I went to bed, it was almost 1am!
July 31 Sunday: Tokyo
The first thing we had to do was to reserve seats on Shinkansen trains. Our plan was to travel to Fujinomiya on August 1 and spend a night at APA Hotel. Miyo and the hiking guide would meet us there on August 2. The most direct way is to take Shinkansento Shinfujinomiya and then a taxi to the hotel. But we discovered at the JR office that we could only travel on the Tohoku Shinkansen with our JR East Japan pass to Atami. Then we had to pay ¥760on on a local train heading to Fujimoniya. Wini who had not brought the pass took the other Shinkansento Shinfujinomiya direct (under ¥6,000). By the time we left the train station, it was almost 11am.
We had free time for the next two hours. I went to a sports shop as I need to get a quality rain jacket and pant. I had given my old set to my guide in Madagascar. I eventually brought a rain jacket and pant and a super light wind-breaker for about ¥50,000. As this shop does not arrange for tax refund, I lose about ¥4,000 on tax. Tourists who want to shop tax free should only shop where they provide tax refund facilities!
My friends went on to Ueno for lunch followed by a buffet dinner. As I would be meeting Wini at 7pm, I decided to return to Tokyo Stay to leave my stuff. I also need to look for my mobile phone which had been left in my room.
By 3pm, I was ready to go out again. Where to go? I looked at the map and decided to visit the Shinjuku Gyoen National Park nearby. I took the underground toShinjuku Gyoemmae Station and spent over an hour strolling in the park which is a famous spot for autumn colours. This park, like the Central Park in New York,is an oasis. I saw hundreds of people gathering in several spots with their mobile in hand: they were all searching for Pokemen. I noticed that they had their eyes glued to their mobile and had hardly lifted their head to look around the beautiful setting, trees and flowers around them.On my way out at 5pm, I saw a rainbow. I pity these poor guys who are captives of Pokemen!
I love walking as it is my way to see and have a sense of the place. I walked past Shinjuku Southern Terrace before reaching the Tokyo Metropolitan Government offices, Nishi-Shinjuku Skyscrappers andShinjuku Central Park.I discover this part of Shinjuku which is surprisingly pleasant and quiet with office buildings, hotels like Hilton and Hyatt Regency, parks and some residential areas.
It was a very hot day. I had a cold shower before walking to Hyatt Regency to meet up with Wini. We took a free hotel shuttle to the west exit of Shinjuku. Wini got a ticket for the 4:20pm Shinkansen to Shinfujinomiya. Then we found a nice restaurant and had cold spaghetti with clams in tomato sauce for dinner. A good choice for a hot day!
I shared a room with Judia. As we had a washing machine in the room, we decided to have our dirty clothes washed. We cannot read Japanese. There are icons and we pressed one of the bottoms. It took an hour to wash. Then we pressed the 'dry' bottom without knowing how long it would take. When we wanted to stop it, we tried to press the 'Stop' bottom without success. We were horrified when the whole wash icons were lit up again. We called the receptionist for help: he fixed it in a second. After he left, we found the red light was still on and the machine was very hot. We were scared and asked him to come again to check. He looked with dismay at us: he must have thought we were stupid or crazy! We could not stop laughing at our stupidity and did not sleep till 1am.
August 1 Monday: Tokyo – Fujinomiya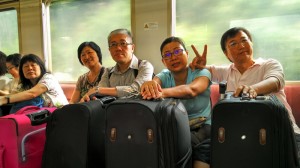 Our Tohoku Shinkansen train would leave Tokyo at 1pm. We checked out at 10am, took the underground to the Tokyo Station where we waited for almost two hours! The train took about an hour and a half to Atami. We waited for another 20 minutes for a local train. It was about 3:30pm when we arrived in Fujinomiya, one of the bases for the Mt Fuji hike. We took a taxi to the APA Hotel (¥1300). I had a decent single room for ¥7000.
We found many hotels and eateries in this small town and picked a nice a family-run restaurant specialised in eel. Wini left Tokyo at 4:20pm and arrived at the hotel shortly after 6pm. Really fast! I met her at the lobby, took to the restaurant to meet my friends. We had a most delicious dinner with eel, sashimi, tofu and salad for ¥3200pp. Great value!
August 2 Tuesday: Mt Fuji on Fujinomiya Trail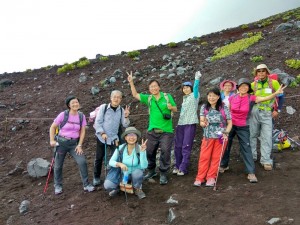 Miyo who is always beautiful and charming, turned up at the hotel lobby at 9:45am. Our guide arrived at 10:30am to take us to the Fifth Station at 2390m. It looked grey and started to drizzle when we passed the First Station. The guide pointed out the former hiking trail to Mt Fuji which is covered with dense vegetation now.
We spent almost an hour here for acclimatisation and had a pack lunch. We assembled at 1 pm at the starting point. It was drizzling and we had to put on our rain coat and pant. Our 72-year-old guide who walks up and down the trail everyday with hiking groups, is slim and super fit. We posed for a group photo before setting off before 1:30pm. The guide said we would stay at the Nineth Station Munatsuki-sano at 3460m i.e. an ascent of 1070m.and we should walk slowly and arrive there between 6 and 7pm.
We had a relatively easy walk from the Fifth to the new Seven Station: the path of sand and gravel is windy and gentle. Our guide reminded us to breathe deeply and walk slowly in a single file. He asked Judia to walk behind him. Then came Wini, Donna, Kai, Elaine and HM. Miyo and I stayed at the back. On the way, I noticeda wide emergency driveway closed to traffic and hikers next to the hiking pathway. The Japanese are indeed meticulous and cautious making all necessary preparation for rescue work.
Our guide already noticed Judia's panting and wobbling legs. Donna had to slow down after having cramps. By the time we arrived at the New SeventhStation Goraiko-sano,the guide suggested Judia spend a night here as the path ahead is rocky and steep. Judia is a lovely and emotional person and keen to reach the top. Tears rolled down her eyes. We could understand her disappointment and Kai offered to stay behind with her. Then Donna and Wini who found the hike challenging, decided to stay with Judia.
Our guide urged us to move on as we still had a long way to go. It was shortly after 3:30pm when Elaine, HM, Kai, Miyo and I said good-bye to our friends. From the Seventh Station(3010m) up, the path is more challenging. On the way up, we had commanding view of the crater of Mt Hoei-zan.
We took over an hour to reach the Eighth Station (3250m) where there is a first-aid centre. Our guide reminded us to walk slowly: we stopped almost every five-ten minutes sometimes for rest and sometimes to let hikers pass by! Kai did not slow down and went ahead of the group. I walked so leisurely that I did not feel tired at all.
We made steady progress and soon our hut came into view. The guide told Miyo and I to go ahead to report to the receptionist and secure our places before the arrival of a large group of 30 hikers who were trailing behind us. I therefore did not know about Elaine's problem until she walked into the dining hall. Apparently she suddenly felt weak and exhausted (signs of altitude sickness) about 30m below the hut and struggled to reach it. She drank some hot water and laid her head down on the table. Being young and healthy, she recovered soon and was able to eat. She went to bed after dinner.
I have stayed in a mountain hut in La Réunion recently which is well-built and fairly comfortable (though I could not sleep). Miyo has warned me about the poor conditions of mountain huts. I cannot agree more after spending a sleepless night at Munatsuki-sano.
The hut has three main areas for dining, sleeping and toilet. The dormitory is large spreading over two levels. At each level there are 8-10 large bunk beds each sleeps 7-9 persons. In addition, there are a dozen of smaller compartments sleeping 3-4 persons each. I guessed there were 200-250 hikers in the hut that evening. Kai stayed in male bunk bed. Miyo and I took the next bed for eight hikers. Elaine and HM stayed in last bed for female at the end of the row. Elaine slept next to a Japanese lady and HM slept next to his wife at the end corner. Two to three persons share a quilt.
Our guide did not recommend an ascent in darkness. He suggested we depart after sunrise which would be around 4:40am. The Japanese are known for cleanliness. It's the first time I find a smelly toilet. As water is a problem, there is no shower and hot water. All lights went off at 8pm.
August 3 Wednesday: Mt Fuji – Kawaguchiko
I am a backpacker and survivor. But I find the conditions in this mountain hut unbearable. First, I cannot survive without fresh air. Tonight I had headache and felt suffocated. Second, the quilt is uncomfortably heavy: I was boiling. Third, people moved around and made lots of noises.
The lights were turned on shortly after 1 am with hikers rushing around. I could not stand the stuffy air any more and went to sit down the dining room. My stomach was churning and I felt tired. I immediately paid ¥200 for a cup of hot water and sipped slowly. I felt slightly better but still tired owing to lack of sleep. By 3am, all hikers in the dormitory had gone except five of us. I knew I was in trouble and would not make to the top unless I could get some sleep. Hence I searched for a place with better ventilation close to the door and rest for an hour. The headache disappeared immediately and I recovered by 4 am. Miyo and I joined others to watch sunrise outside the hut. It was cloudy. I suppose I had just a good view of the sunrise at the Nineth Station as at the top of Mt Fuji.
Reaching Top of Mt Fuji
At 5am, our guide told us to get ready. I went to the dormitory to see whether others were ready to go. Kai looked tired and could not even open his eyes. Elaine decided to stay. HM is fit and ready to take up the challenge despite his hip replacement operation a couple of years ago. So a group of three (HM, Miyo and I) set off shortly after 5am with our guide scaling the last 200m to the top. We walked steadily for an hour and reached the top without problem. The path is steep but not too difficult. We followed the Japanese tradition and stepped into the Sengentaisha -Okumiya Shrine. I watched a group of pilgrims (the men sleeping next to Kai) receiving blessing from a monk.
We then walked to the rim of the Dainain Crater. The last eruption took place in 1707-08 and I find the landscape and colours not as impressive as those in Hawaii, Lanzarote and La Réunion. I would love to follow the Ohachi-meguri trail and reach the Kengamine Peak. As it would take two hours with photo stops and we need to reach the car park around 1 pm, the guide seemed anxious to make a descent as soon as possible. Hence we decided not to go on and soon began our descend.

The sky cleared up for a while and we had wonderful full views of the Izu Peninsula, the peaks at the summit, Fujinomiya, the expansive plain below and the coastline. But we could not see the Fuji lake district which lies on the opposite side of the mountain. A plan emerges: I would go to top of Mt Fuji taking a different trail and follow the Ohachi-meguri trail.
We took the same path down. By 8:30am, we were back at the Nineth Station. I woke Kai up. He said he felt much better. But we could not find Elaine. Where was she? We got really worried after searching everywhere including each compartment in the toilet. Suddenly Elaine came into the dining hall looking refresh and energetic. She had changed her clothes and sat at the terrace. Hence we all missed her!
At 9 am, we began our descent. I was familiar with the path and could walk fast without effort. The guide agreed that I should walk ahead to get Judia, Donna and Wini ready for the descent. It's blissful to walk downhill and I reached the New Seventh Station at 10:15am. The weather changed fast: it became foggy and then rained heavily as I approached the hut. I was lucky to escape the rain and was glad to find the girls in good shape and spirit. I expected Elaine, HM, Kai and Miyo to arrive in 20 to 30 minutes later.
I was hungry and had a bowl of udon noodles. At 11 am, the group of four had not arrived. Then the receptionist of the hut told us in broken English that our guide had called to say they had some trouble and would take a different path to the Sixth Station. He asked us to descend and wait for them at there. What had happened? Who was hurt? We were puzzled and worried. As it was raining heavily, we could not leave till 11:30am.
The path was slippery after heavy rain. Judia was scared. I gave one of my walking poles to Wini and another to Judia. Wini and Donna walked slowly but steadily. I gave Judia my hand so that she could walk more confidently. Once she had learnt how to use the pole, she walked more steadily. We were relieved when reaching the Sixth Station without mishap shortly after 12:30pm. But the group of four was still nowhere in sight.
We sat down and had another bowl of noodles. I saw a young guide from the same company in the dining hall with his group of four Japanese hikers. I asked whether he had heard from our guide. He told us to wait. As we had no news by 1pm, I asked him whether he could call Miyo for me. He did and told us that my friends would be arriving soon. Around 1:30pm, we were relieved to see Elaine, HM and Miyo. What had happened to Kai?
Apparently Kai had slipped a couple of times on the way to the Eighth Stations. He asked the guide to arrange a vehicle to take him down. Elaine made the same request. But our guide did not want to do so as Kai had not fallen or hurt himself. By the time Kai could not walk downhill anymore after 11am, they devised a way to carry Kai to the new Seventh Station. They put three walking poles together and asked Kai to lean over. Then two persons carried each end of the pole. They reached the New Seventh Station after we had left. The guide called the police for help. Two policemen and two nursing staff accompanied by a TV news reporter and a camera-man arrived half an hour later to check on Kai's conditions. Then they called the Rescue Team to help. Our guide told Elaine, HM and Miyo to desend to join up with us at the Sixth Station.
| | | |
| --- | --- | --- |
| | | |
We were all anxious about Kai's conditions but felt helpless. The young guide told us to hurry up as four passengers had been waiting for us for over an hour in the minibus at the Fifth Station car park. We were taken back to the APA Hotel to pick up our luggage. Before Miyo left, she found out from a local guide on the minibus that he had high blood pressure and would be taken to a hospital for checkup. Miyo then dropped Wini at the Shinkansen Shinfujinomiya Station while we would be taken to our hotel Wakakysa No Yado Maruei by Lake Kawaguchi.
We had a long ride and reached the hotel after 4:30pm. We pressed the local guide for updated information on Kai's conditions. He kept reassuring us that Kai was fine in an orthopedic hospital which name in Chinese characters means a 'plastic surgeon hospital'. Kai would take a taxi to join us later. But when? Today? Tomorrow? He did not know but would call the receptionist who would keep us informed. We were annoyed and helpless: everything seems lost in translation!
We were hungry and decided to have dinner at 5:30pm. We had a private dining room which our dinner was already beautifully laid out in a traditional Japanese tray on a long table. There must be more than a dozen dishes on the tray: soup, salad, sashimi, preserved vegetables, beef and rice. Soon, the manager told me that Kai was on his way and would arrive around 7pm. We were relieved and awaited Kai's arrival with hightened curiosity! Finally Kai walked in with a cheeky broad smile before 7:30pm. He was barraged with questions and hardly time to enjoy his dinner with sashimi and chicken.
Kai's Ordeal on Mt Fuji
Kai felt he was fine at the beginning of the descend. But shortly after the Eight Station, he could not command his legs though he had no pain. When he could no longer walk downhill, he leaned on the poles and was carried to the New Seventh Station using the emergency drive way. He was hungry and had a bowl of noodles when two policemen, two nursing staff, a TV news reporter and a camera man arrived. He felt they were surprised to see him cheerful and without pain.
Shortly after Elaine, HM and Miyo left after 1 pm, our guide left as well. Two members from the Rescue Team arrived. After checking his blood pressure which arose to 160 LDL, they called two more members to come. Upon their arrival, they put him on a stretcher. Four men took turns to carry him and took three brief rest before arriving at the car park. Kai was met by two police cars. Around 3:40pm, he was transferred to an ambulance.
On each transfer, Kai was asked the same set of questions including his name, the trail he had taken, what had happened, whether he had fallen and had any pain. Inside the ambulance, the nurse who speaks simple English, used a pile of laminated cards in A4 size to ask the same questions which are written in Japanese, English, Simplified Chinese and Korean. Apparently, in the first report, someone had indicated that Kai had 'severe pain' (which was written in same Chinese character). Kai took great pains to explain that he had no pain at all. The nurse was puzzled.
The ambulance took Kai to an orthopedic hospital (or rather a private clinic) in Fujinomiya. He was amazed to find a young lady from the Civic Center awaiting him at the reception and greeted him in English and said "I am your interpreter". The doctor after examining his legs and studying the X-ray films, found no problem with his legs. He believed Kai's problem had been triggered off by rapid descent without regular exercise. Given Kai's age (65 in November), he should be well trained before the hike. No further consultation was required. Two nurses assisted him to get off the bed and the doctor watched him carefully to see whether he was able to stand and walk. Kai proved he could walk without problem. The doctor gave him six packs of medicated patches which are essentially pain killer. As the nurse of the ambulance and the interpreter were somehow told that our guide would come to pick up Kai, they waited for him to turn up. After waiting for 15 minutes, they called his number without success and had to call the company. Then they were told our guide had gone home and no one would come for Kai who would take a taxi to Kawaguchiko. They called a taxi and saw him off. The ambulance stayed outside the clinic till Kai had departed. Both the nurse and interpreter consider the company and our guide irresponsible and urged Kai to file a complaint. Was it a misunderstanding or an irresponsible act?
Kai was relaxed as long as he could walk again. He paid ¥7,800 for consultation and ¥18,000 for the taxi. He was most impressed by the efficiency, organisation and the high standard of service of the Rescue Team, the nurse in the ambulance, the doctor and above all the interpreter. What an eventful and unforgettable day! We all laughed hilariously for the rest of the trip.
In the evening, Kai and I worked out the travel plan for the next two days. We would spend a leisure day in Kawaguchiko and rent a car for a day for ¥70,000 on August 4 for sightseeing. The car would drop us off in our hotel in Hakone-Yumoto.